All you need on your family vacation packing checklist!
Looking for the ultimate family packing list? We've got you covered with this super comprehensive family travel checklist. We cover what you need for travel with babies, toddlers, and older kids.
We've thought of everything with this family packing checklist that I've also made it available as a free pdf packing list. I typically print out this packing list pdf template right before my trip and use it to make sure I've got everything on the list.
I'm a little organization obsessed when it comes to packing for my family and I could not live without my list!! I've been using this list since our first trip with kids and I just love that I know I won't forget anything when I use it!  
This packing list sample pdf is a compilation of my list of toddler travel essentials, baby travel essentials, my travel first aid kit checklist, AND I've also list of packing essentials for moms and dads!
If you're headed on vacation with your family I hope you enjoy this free printable vacation packing list!
[toc]
Ultimate Family Vacation Packing List
Baby Travel Checklist
In this section, we'll be going through all the items you need for travel with a baby. This baby travel packing list comes in a handy pdf below. If you're not traveling with a baby, skip down the to toddler section for exactly what you need!
Here's our ultimate traveling with a baby checklist:
Baby Clothes
Obviously, clothes are one of the most important must-have items for traveling with baby. We always pack more outfits than there are days because of many baby messes and spills!
This is one of the reasons we love staying in an Airbnb with young kids, it usually means we will have laundry so we can pack less! I tend to pack about two outfits per day.
I always bring one fancy outfit for taking pictures of the family on vacation. Check the weather in advance to decide whether to bring t-shirts/shorts or long sleeve items.
Baby Sleep Essentials
We were blessed with some terrible sleepers, so we do everything we can to get our kids to sleep on vacation! We like to make the room as much like home as possible, so we bring blackout curtains and a noise machine. We love using sleep sacks both at home and while traveling and for babies, I am a huge fan of the Merlin's sleep suit, it was magic for our second!

Feeding
When it comes to feeding, there is a lot of gear to bring a long with baby! Feeding baby on the go is easy when you remember all the right stuff!
We used baby food pouches as snacks and these were great for feeding baby on the plane. I also brought along my electric breast pump so that I could have a chance to have dinner with hubby while the kids were with a babysitter (another great reason to bring grandma on vacation!)
Baby Diaper Bag Checklist
I would recommend a backpack style diaper bag for travel with baby. These diaper bag essentials made it easier to take care of our baby on the plane.
We packed a few diapers in our diaper bag and in general, brought 10 diapers per day of travel. Baby wipes are one of the best travel items with a baby as they are good for almost all messes!
Bringing disposable diaper bags is key as many hotel rooms have open garbages and your room can quickly become quite stinky!
Since we are often traveling in hot and humid weather, we've run into problems with diaper rashes on a few occasions. I recommend a spray diaper cream and some yeast treatment in case of a severe rash.
Baby Gear
There is lots of baby travel gear to bring on vacation. We have an entire article on the best portable car seats for travel and why you might not need a travel stroller on vacation.
We also cover all the best baby carriers for travel in this article. If your hotel or resort does not come with a baby crib, check out our article on the best portable cribs for baby.
For the Pool
Hanging out by the pool is absolutely the highlight of most of my vacation with young kids! Our kids have loved splashing in the water from an early age.
We have got a great guide to the best baby floaties here. These baby floats make it easier to enjoy time in the water with your little one. Don't forget to pack a mineral sunscreen that is safe for babies!
Baby Toiletries
Babie's don't need a lot when it comes to the toiletry department. A good all over body wash can work for hair and body. We don't go anywhere without our Frida nasal aspirator. This thing is amazing for little babies when they have a cold!
Baby Toys
A few packable baby toys for travel can be helpful, especially on when trying to keep baby entertained on the plane. Here's my entire list of the best travel toys for vacation.
Toddler Packing List
Our toddler travel packing list has some of the favorites from our baby essentials as well as some specific items that are essential for traveling with toddlers. You can find the checklist for traveling with a toddler in pdf at the bottom of this article.
Our packing list for toddlers:
Toddler Clothes
Of course, number one on our travel checklist for toddlers is some clothing. Just like with babies, I like to pack more outfits than there are days since my toddlers have always been quite messy!
We always put these waterproof toddler shoes on our toddler travel list, as they are super convenient for hanging out at the pool or the beach.
Toddler Sleep Essentials
Having our kids sleep well is the number one key to a great vacation with kids! We have lots of tips for getting our kids to sleep in this article.
We now bring a noise machine on vacation even when its just adults, I love how it drowns out any extra street noise or hallway noise when I am staying in a hotel.
Toddler Feeding Essentials
The key to a successful vacation with a toddler is UNLIMITED snacks! We love our yumbox for storing a variety of snacks whenever we are on the go.
We even bring it with us when we are at an all-inclusive resort for kids and fill it up in the buffet before we check out the beach or the pool! Definitely add a snack container to your kids travel list!
Toddler Diaper Bag Checklist
Toddler Gear
For the plane, we LOVE our Kooshy Kids inflatable footrest that turns your airplane seat into a toddler travel bed for the plane. Our son was able to sleep really well on this thing until he was 4 years old!
We also usually bring our Cosco Scenera Next car seat, which is hands-down the best toddler travel car seat, as it's super lightweight and helps keep our toddlers contained on the plane.
For the Pool
If you don't already own a puddle jumper, you have got to get one as it is absolutely the best toddler floatie. For a while, it was literally the most important item on our family vacation packing checklist.
We also like to pack some wet bags for swimsuits and it's nice to be able to keep your wet clothes away from everything else when you are hanging out by the pool or beach.
Toiletries
Toddler travel toiletries include some body wash and toddler toothbrush and toothpaste. Don't forget some natural sunscreen that is safe for kids!
Toys
Our kids still need some downtime to play with their toys when on vacation. We bring some of our favorite toddler travel toys on vacation and our kids like to bring their toys out to restaurants.
For the plane, keeping toddlers entertained can be tough! I tried out all the tricks, and these are the best toddler toys for the airplane!
Mom and Dad Packing List
Don't forget mom and dad! Here's our family vacation packing list template for the adults. For our free printable vacation checklist, check out the packing list template pdf at the bottom of this post!
Clothes
I usually bring 1-2 outfits per day, including some casual rompers and sundresses for the beach or pool and a few nice outfits for dinner.
If you want to keep your clothes smelling fresh on vacation, pack a few dryer sheets into your luggage!
We pack using packing cubes, its awesome to have a different color for each member of the family and makes it so easy to unpack when we arrive at our destination!
Toiletries

Electronic Gear
Don't forget a travel adapter and your charging cords for your electronics! We use an iPad to help keep our kids entertained on the plane and love this super durable kidproof case.
You can read about our favorite educational iPad apps for kids here.
For the Pool
We usually bring our own inflatable floaties on vacation as well like to be able to lounge in the pool.
I am obsessed with this portable travel safe that allows you to lock up your personal belongings by attaching it to a beach or pool chair. This is so convenient on a family vacation where I want to be focusing my energy on my kids and not worrying about someone stealing my wallet!
Shoes
For the Plane
You'll feel like your flying first class with all these plane travel essentials. I especially love the foot hammock on long red eye flights.
Bringing chewing gum helps me a lot with the pressure on the plane, I also usually bring lolllipops for my kids.
Important! Don't forget!
Before we leave for a trip we always say 'Wallet, Keys, Passports, Phone?' to make sure we have everything that we 1000% need on our trip. Now with kids we've changed it to 'Wallet, Keys, Passports, Phone, iPad, Puddle Jumper' because without those two items our vacation would be ruined!
First Aid Kit Checklist
Looking for the family vacation packing list pdf?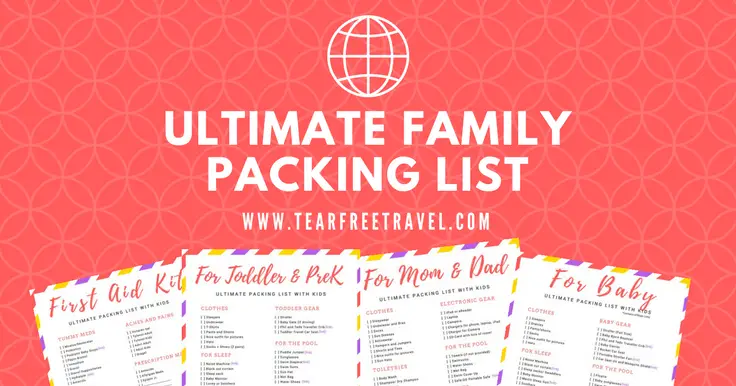 Ultimate Family Packing List (CLICK HERE FOR PDF File)
When you're done with my list head on over my post on how to rock packing with kids.