When it comes to the parks at Walt Disney World, Disney's Hollywood Studios is certainly full of thrills. From the Twilight Zone Tower of Terror to the Rock 'n' Roller Coaster, it's packed with exciting attractions.
But, the fun doesn't stop with the rides. The food is sure to excite you as well. Here are a few of the snacks you simply must try before you leave Hollywood Studios.
Carrot Cake Cookies Brought to You by Sweet Spells Hollywood Studios
Initially, the carrot cake cookie was a fan-favorite at The Writer's Stop in Hollywood Studios. Now that the shop is unfortunately closed, these delicious cookies can be found at Sweet Spells Hollywood Studios on Sunset Boulevard.
The snack is made up of two giant cookies, made out of carrot cake, sandwiched around a layer of sweet cream cheese filling. Anyone who loves carrot cake is sure to get hooked on these tasty treats.
Milkshakes at Min and Bill's Dockside Diner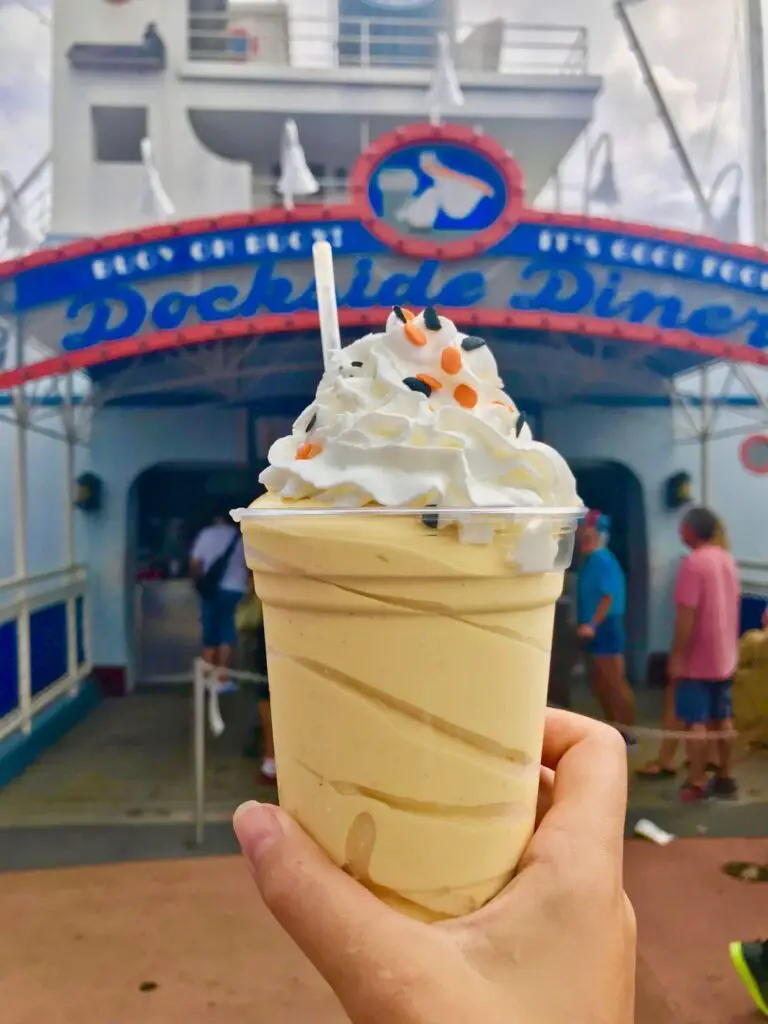 Min and Bill's Dockside Diner has a bit of a secret. This restaurant serves a seasonal flavor of milkshake that's never included on the regular menu.
The only way to discover the flavor on any given day is to show up at the diner and inquire. As an example, some of the past flavors they've served include red velvet peppermint, caramel apple, and a cinnamon sweet churro. YUM!
Planning a trip to Disney? Check out our super EASY guide to planning Disney for beginners.
Apple Crisp a la Mode at Hollywood Scoops
For additional frozen treats, head over to Hollywood Scoops for a bit of yummy ice cream. Sure, there are plenty of places in Disney World to purchase ice cream. But, visiting Hollywood Scoops means you can get specialty treats like apple crisp ala mode.
This delicious dessert is made with cinnamon apples topped with ice cream and a delicious caramel sauce.
If you're not careful, Disney can take your last dollar, one Dole Whip at a time! Check out our favourite hacks for staying under budget at Disney.
Crispy Bites at Hollywood Brown Derby Lounge
When you're looking for a snack that isn't so sweet, you may want to try the crispy bites at the Hollywood Brown Derby Lounge.
These delicious snack plates consist of Parmesan and goat cheese risotto sticks served with mustard aioli, brie cheese along with a sweet onion and orange jam. There's also mushroom arancini with a fig and balsamic dip to enjoy.
Are you counting? That totals three exotic and delicious snack dishes on one plate! The best part is that an order of crispy bites is big enough to share, if you can bring yourself to part with it.
Lunch Box Tart at Woody's Lunch Box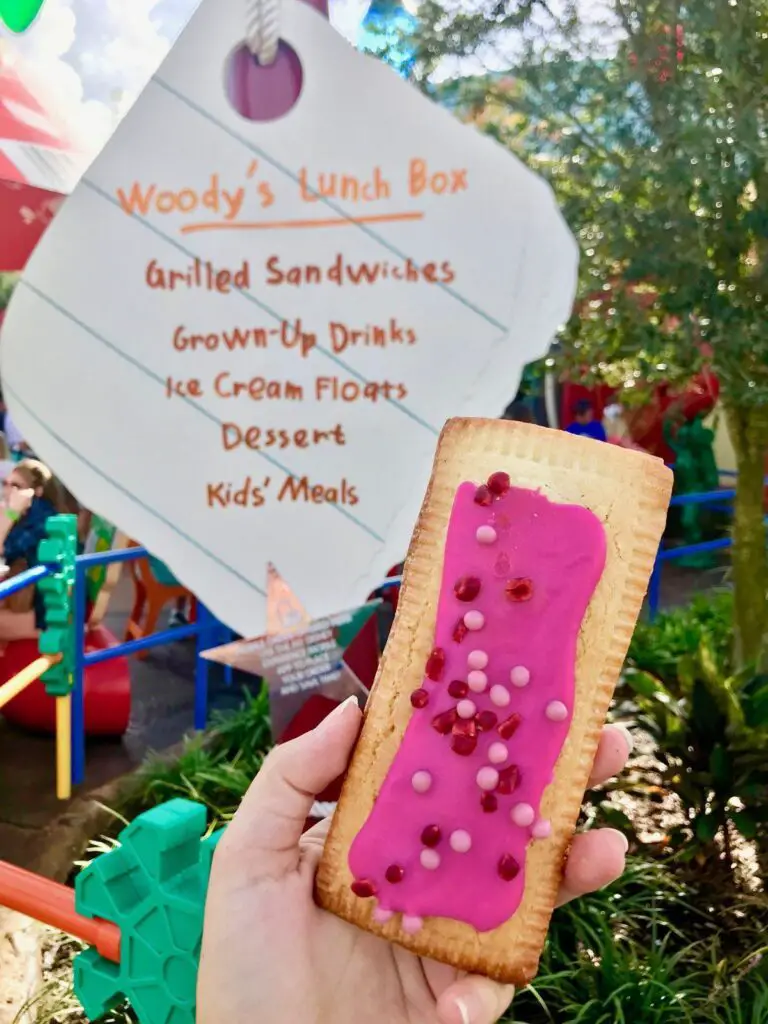 Hollywood Studio's Toy Story Land offers so much to discover including one of the best coasters in Slinky dog Dash. Not to be outdone by the rides, Woody's Lunch Box is a quick service restaurant offering up some delicious treats.
Included in its snack offerings are the Lunch Box Tarts that come in a variety of flavors. These delicious throwback snacks are the perfect way to wait out the long lines for the rides in this part of the park.
A yummy stuffed pastry with a delicious topping of icing and other goodies. You have got to try one of these!
PB&J Milkshakes at Tune-in Lounge
If you want to get your kids excited about eating at the Tune-in Lounge, all you need to mention is "peanut butter and jelly milkshakes."
These delicious beverages are a crowd favorite at the lounge, combining everyone's favorite snack sandwich with delicious ice cream. They're sure to delight both the young and the young-at-heart.
Don't forget to book your dining reservations in advance! Read about the hardest Disney dining reservations you'll need to book in advance!
 Must-Try Snacks at Hollywood Studios
These are just a few of the tempting must-try snacks at Hollywood Studios. Chances are high that you'll be able to find a tasty treat that coincides with what you're hungry for.
One of the things that all the Disney parks are famous for is the wide variety of food they serve. So, don't forget to bring your appetite!
Pin for later!