Cruising is one of the best value vacations for families. There are dozens of kid-friendly cruise options for all ages. We're going to be reviewing the benefits of cruising with kids and our list of the best cruises for kids. Why cruise? Many cruise lines have a family-focused plan developed to offer perks from enhanced children's activities and suite cabins, to free or reduced pricing for children. A family cruise vacation aims to please everyone and has a variety of adults only activities as well.  Regardless what your interests are, there's a cruise that's right for you.
There are many benefits that come from taking a family cruise and no shortage of amazing cruise lines for families. Let's start by talking about all the benefits of cruise travel.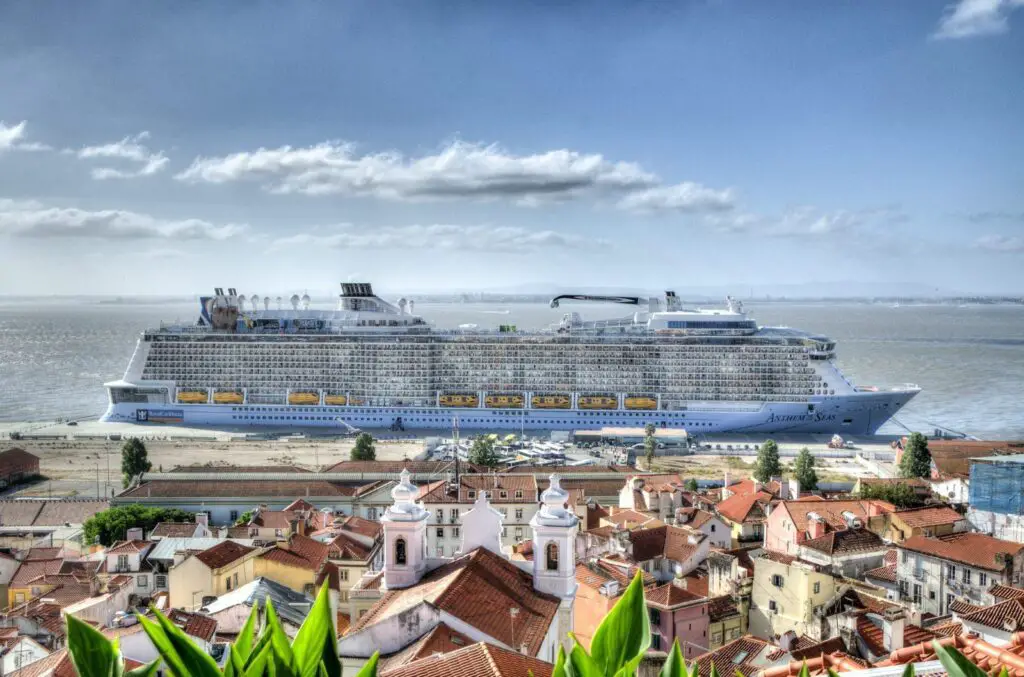 Why Cruise? The Benefits of a Family Cruise
Save Money
Cruises can help keep your family on a budget, meaning that no one is going to have to worry about who is going to pay for activities or dinner. When you take a cruise, usually the onboard entertainment, meals, and activities are covered by the cruise rate. There are also several promotions offered a few times a year through different cruise lines that help to accommodate kids at a special rate, or even free. Taking a cruise as a family reunion is an excellent way to stick to a budget. A word of caution: most cruise lines charge extra for drinks. If you're not careful, these extra charges add up quickly! Be sure to budget carefully for these extra expenses, and consider buying a drink pass or drink package if you want to be 100% sure of your cost in advance.
Lots of Kid Friendly Activities
Many cruise lines have supervised and structured recreation programs and facilities for teens, tweens, babies, and tots. From bird watching to rock climbing and basketball, there is plenty to choose from. If all else fails, they can go relax at the pool. A family cruise is a one-stop shop that will keep the kids entertained and busy.
Qualify for Group Discounts
A family reunion is a great trip to have on a cruise. Not only will there be something for everyone, but virtually all cruise lines offer group discounts and perks. While the minimum number of rooms you need to book to qualify for a group rate differs from line to line, there is something to be said about the benefits. Seemingly, the bigger the group the better the extras.
Minimal Planning
There is virtually no planning required once your family is onboard the ship. This allows all attendees to relax and spend some quality time together without worrying about arranging activities and meals. When in port, you can opt to participate in a cruise excursion, and have all the touring planned for you. This is a great way to see the highlights of your stop without having to worry about reading a bunch of guidebooks or websites before you travel.
A Variety of Destinations
One of the best parts of taking a cruise vacation as a family reunion is that you can take in multiple destinations throughout your travels. Only unpack once and visit a variety of destinations all in one trip. Cruises are great for checking out places that you may want to visit more in-depth in the future. Visiting multiple locations and taking in the culture and exploring the destinations with your family is a spectacular way to spend a family reunion.
The Best Cruises for Kids
Disney cruises are very popular for a good reason, their attention to detail is unparalleled.  As always, Disney brings the 'magic' on vacation and your kids will be enthralled by every finishing touch on your cruise. Each stateroom is filled with Disney fun to entertain the kids. Their staterooms are also set up with families in mind. On our cruise, we loved the in-room divider curtain that gave us a dark space for the kids to nap and sleep before we went to bed.  As only Disney can provide, there are themed characters throughout the ship for fun photo ops and entertainment. The kids' clubs on the Disney cruise can't be beaten. Our eldest son still talks about the kids club to this day. Disney absolutely does it right for infants as well. We loved the small world nursery and found that a Disney Cruise with a Baby was an amazing vacation. 
The live shows on board are fun and amazing for all ages. Planned activities with supervision are available for a little alone time for the adults. It wouldn't be a cruise without water slides and even a splash pad area for the toddlers. There is plenty of selection when it comes to dining. I highly recommend Remy, the adults-only a la carte restaurant. It was the best meal of our lives!  As you may have guessed a Disney cruise has endless perks and possibilities but it can be pricey. This is the biggest drawback of this cruise line. Read more about the pros and cons of a Disney Cruise here. 
Disney Cruise on Your Horizon? Get a Quote Now!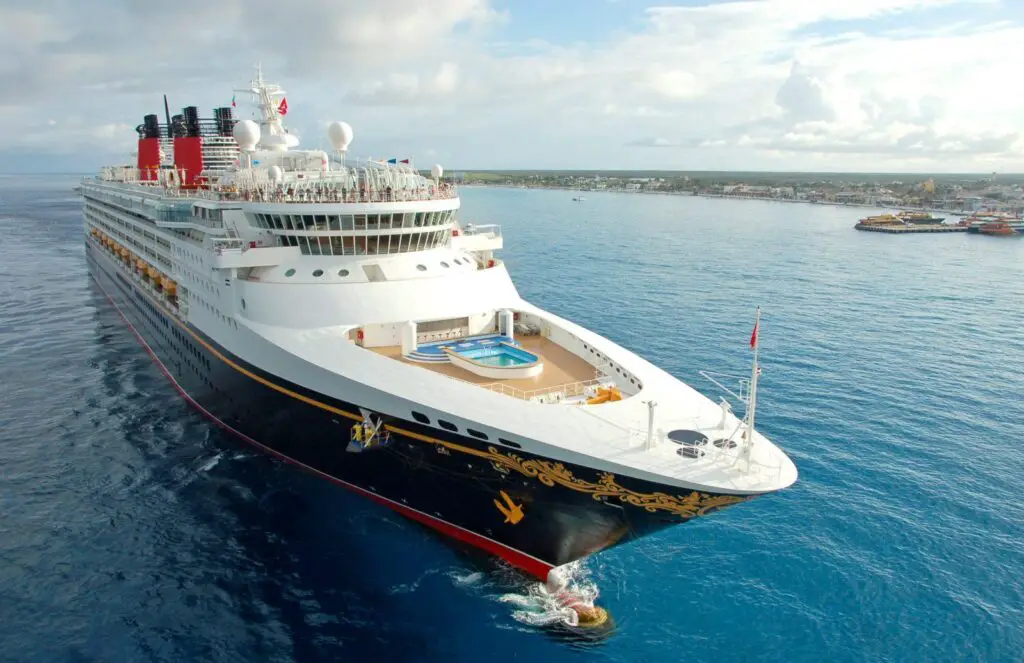 Celebrity is another must-try on our list of the best kid-friendly cruises. There is just so much to love about celebrity, and you get a lot of value for the price. Celebrity has a high-end feel with lots to love for families of all ages. The ships are clean and classy and the staterooms are gorgeous. For an extra splurge, consider a family suite. These staterooms have a small second bedroom perfect for the kids.
Celebrity is known for going out of their way to provide excellent service on the ship. The staff are accommodating, and this is especially important when cruising with kids. The food selection is excellent, and there are a variety of choices. Celebrity has a mix of casual and fine dining and even offers room service breakfast, an awesome perk when traveling with kids. It's nice to have breakfast on your verandah and slow down your morning routine.
Celebrity cruise offers excellent entertainment for kids and adults. There are spots on the ship to relax for a quiet afternoon and spots to have fun and enjoy a more upbeat atmosphere.  Their kids' club offers entertainment for kids from age 3 and up. Of note, kids must be fully potty trained to participate in kids activities. Celebrity offers a lot of value for the teen crowd, with specific programming for kids aged 12-17 in their own hangout area.
Celebrity Cruises – Liquor Packages, We'll Pay Your Onboard Tips, Up to $1,800 to Spend Onboard, Free WiFi @ Sea & More! Valid on Select 2017 & 2018 Celebrity Sailings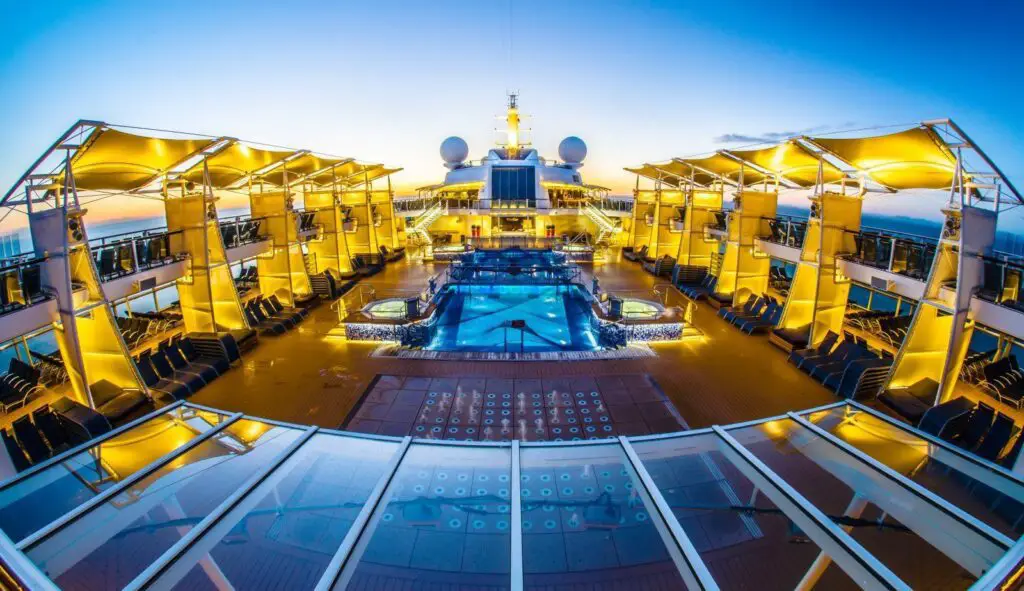 Royal Carribean is hands-down one of our favorite cruise lines for kids. It's hard to argue with a skating rink, zip line, and surf simulator all on the ship! Staterooms on Royal Carribean are designed with families in mind. There are a wide variety of choices on staterooms, including a good number of family suites. If the grandparents are going it is even possible to have a luxurious family stateroom that sleeps 8! 
Although all the Royal Carribean ships get great reviews, the Oasis-class ships are very popular with families.  They have a great choice of family fun activities so choose based on the ages of your children. The Oasis offers an ice skating rink, FlowRider surf simulators, rock climbing, 3D movies, and zip lines. It has kid-friendly restaurants from Johnny Rocket to hot dog stands. However, if it is gourmet dinners that you are craving fine dining is available too. The water park features pools, fountains, and slides.
Royal Carribean has an excellent kids program and offers lots of kids club space for kids to hang out and relax. Their programs start at 6 months of age, which is a huge draw compared to some of the other cruise lines. Even the tween group will love the cafe lounge specifically for them. In the evenings there are live shows, parades and meet and greet with awesome Dreamworks characters such as Shrek. 
There's a lot to love about Royal Carribean and it's certainly one of the best cruise lines for kids!
CruiseDirect: Limited inventory on Last Minute Cruise Deals. Best Price Guarantee & No Booking Fees – Book Now!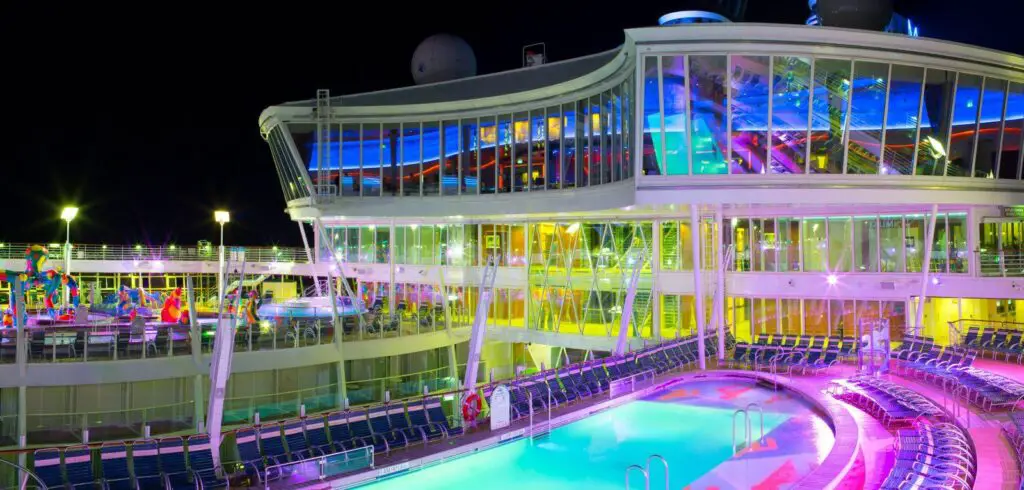 The Norwegian Getaway, Breakaway, and Escape are also popular cruise ships for families.  These ships are newer to the NCL line and offer all the bells and whistles that other large cruise ships have. They feature large family friendly staterooms and a huge variety of different restaurants to feed your crew. Passengers appreciate flexible dining options and times on NCL ships. Norweigan Escape offers a huge selection of two-bedroom family suites that are perfect for families. They also offer mini-suites that have a bathtub, which is great for families with young children. 
For kids, there is, of course, the water slides and pirate-themed water park. Norweigan also features rock climbing, large screen movies, mini golf, live shows, rope courses, and a bowling alley on some of their ships. They have a well-supervised kids camp program for kids 3 and up all ages which make for the perfect opportunity to get away for some adult time. The Norweigan Escape offers an extra fee nursery for kids 3 and under, making this a preferred ship for young families. 
FREE Open Bar, Up to $500 to Spend Onboard & 10% Off Shore Excursions at CruiseDirect.com! On Going Promo Applicable Sailings: 3 & 4 Night Bahamas Cruises on the Norwegian Sky
The Princess Cruises have really upgraded their game to be competitive for kid-friendly cruises by redecorating,  and expanding kid-friendly areas and offering more of a family variety of activities. The staterooms sleep anywhere from 3-6 people and are very comfortable. The larger Grand-class ships offer a variety of large pools and even a  splash pad area for younger kids. One of the amazingly fun features is the large 300-foot movie screen by the pool for movies under the stars. They also offer a fun cooking class for kids that parents are welcome to attend. A Discovery Program for kids is broken down by age with supervised fun activities starting at age 3.  Their newer ships offer batting cages, laser tag, and poolside cabanas. A large variety of restaurants are available that are fun for the kids and sure to please the adults as well.
Princess Cruises with up to $1,500 to Spend Onboard & 10% Off Shore Excursions at CruiseDirect.com
Final Thoughts
With so many great cruise lines for families, it's hard to choose our favorite cruise for kids. Certainly, in terms of amenities, Royal Carribean and Disney Cruise line have a whole lot to offer families. Keep your eye out for kids cruise free deals which are regularly offered by several cruise lines (including RCL) and grab a cruise at a great value for the entire family.
I do advise doing your own research along with the information provided so you may select something that fits your family and budget. Remember to check what extra costs you might have on the cruise because not everything is inclusive (e.g. excursions, drinks, fine dining etc). 
What do you think are the best cruises for kids?
Did we get it right? Don't be shy! Drop me a line in the comments below to talk about your cruise experience. What is your favorite ship and what could you have done without? I'd love to hear your experiences so that we can all benefit when we choose our next family cruise.
Pin for Later: