When it comes to traveling with toddlers, safety is the number one priority. In this review, we'll breakdown the best toddler travel car seats popular for 2 year olds. We will review the most lightweight portable car seats for travel with your active toddlers. These are the best travel car seats for 2 year olds.
Travel Car Seats for Two Year Olds
According to the CDC, the average 2 year old girl is 27 lbs and the average 2 year old boy is 28 lbs. We've compiled a list of carseats which can be used appropriately at this average weight. Many of the seats selected can also be used for extended rear-facing!
There are quite a few lightweight travel car seats on the market that are perfect for 2 year olds. We've included a selection of seats from every price range in this review. The good news is that most of the lightweight car seats out there are also quite inexpensive!
Here is our list of the best car seats for 2 year olds:
Carseat
Tribute LX Convertible Car Seat, 2-in-1, Neptune Blue
Evenflo Sonus Convertible Car Seat, Lava Red
Bestseller
Cosco Apt 50 Convertible Car Seat (Black Arrows)
Diono 2019 Radian 3R All-in-One Convertible Car Seat, Black, 22 Count (Discontinued by manufacturer)
Preview
Weight range:
5lbs-50lbs (rear facing to forward facing)
5-65 lbs (100 lbs in booster setting)
Carseat
Tribute LX Convertible Car Seat, 2-in-1, Neptune Blue
Preview
Carseat
Evenflo Sonus Convertible Car Seat, Lava Red
Preview
Weight range:
5lbs-50lbs (rear facing to forward facing)
Bestseller
Carseat
Cosco Apt 50 Convertible Car Seat (Black Arrows)
Preview
Carseat
Diono 2019 Radian 3R All-in-One Convertible Car Seat, Black, 22 Count (Discontinued by manufacturer)
Preview
Weight range:
5-65 lbs (100 lbs in booster setting)
Cosco Scenera Next Car Seat
The Cosco Scenera Next is our top choice of car seat for a 2 year old toddler. We love that this car seat is very affordable, extremely lightweight and super portable. We take this car seat on all of our vacations and have not been disappointed. The Cosco Scenera next is FAA approved for use on aircraft and we LOVE to bring this car seat ON the plane.
Evenflo Tribute LX
Tribute LX Convertible Car Seat, 2-in-1, Neptune Blue
This convertible car seat helps protect rear facing infants from 5-40 pounds and forward facing toddlers from 22-40 pounds. Age at least two years of age
The Tribute LX meets or exceeds all applicable Federal Safety Standards, as well as Evenflo's Side Impact Test Standard for Structural Integrity. Forward facing Fit: The top of the child's ears is at or below the top of child restraint seat back
The 5-point harness system with 4 shoulder strap positions allow this convertible car seat to accommodate growing children longer. Rear facing fit tip is top of child head is at least 1 inch below the top of the child restraint seat back
The light and compact weight of the Tribute LX makes it an excellent choice for smaller vehicles, movement between multiple cars, and air travel
Easy to remove machine washable seat pads allow for quick and easy cleaning; Also comes with a removable cup holder and Plastic and metal parts may be wiped clean with mild soap and water and dried with a soft cloth, do not use abrasive cleaners or solvents
The Evenflo Tribute LX is another great option for portable car seats for toddlers. This car seat is also at an amazing price! I love that at this price you could buy this car seat exclusively for travel. This means you don't have to worry about uninstalling your seats at home, which in my opinion, is a huge plus! I find the design of the Evenflo Tribute a bit bulkier than the Cosco Scenera Next, which is why it is our second choice car seat for toddlers.
Evenflo Sonus Convertible Car Seat
Evenflo Sonus Convertible Car Seat, Lava Red
VERSATILE: The Sonus Convertible Car Seat helps protect rear facing infants from 5-40 pounds, and forward facing toddlers from 22-50 pounds, extending the life and use of this full-featured car seat. Rear facing height is 19-40 inches and forward facing height is 28-50 inches
TESTED & TRUSTED: In addition to meeting or exceeding all applicable federal safety standards, this car seat also passes Evenflo's comprehensive Side Impact and industry leading Rollover Test Standards.Age: At least 2 years old,Fit: The tops of the child's ears are at or below the top of child restraint seat back
ALL-SEASON COMFORT: The Sonus features a revolutionary air flow ventilation system that provides a temperature-regulated, comfortable traveling experience regardless of the season or your climate. Rear facing fit tip- Top of head is at 1 inch below the top of the child restraint seat back
TRAVEL WITH FREEDOM: This restraint meets FAA Inversion requirements for airplane use allowing it to serve as a seat that can travel with you during family vacations or holidays around the world
OTHER VALUABLE FEATURES: Up-front adjustment for easy access to harness, 5 shoulder strap positions for proper fit, removable pads for easy machine washing, 2 cup holders, and head pillow for support
The Evenflo Sonus Convertible Car Seat is another great option. This lightweight toddler car seat is rated for up to 50lbs forward facing making it stand out from the options above. For a larger toddler, this or the Cosco Apt 50 are likely your best bet. The Evenflo Sonus convertible car seat is also FAA approved for airline travel. The biggest complaint about this car seat is that it is much bulkier and heavier than the Cosco Scenera Next above.
Cosco Apt 50 Convertible Car Seat
Cosco Apt 50 Convertible Car Seat (Black Arrows)
With 2 modes of use, this latch equipped Cosco car seat accommodates infants from 5 pounds up to toddlers weighing 40 pounds in rear facing mode and kids up to 50 pounds in forward facing mode
The 5 point harness adjusts easily from the front of the seat and features 6 heights and 3 buckle locations
In both the rear facing and forward facing modes, built in side impact protection keeps your little 1 extra secure
Easily remove the machine washable and dryer safe car seat pad to clean
Perfect for travel, the seat is certified for use on aircraft and gives your child a familiar seat during a flight
The Cosco Apt 50 Convertible Car Seat is Cosco's car seat which is rated for kids up to 50lbs (forward-facing). Having the rating to 50lbs is definitely a plus for larger toddlers that don't have the height or stature to safely use a booster seat. This lightweight seat is also rated for airline use. Weighing in at 11 lbs, this seat is similar in size to the Evenflo Sonus above.
Diono Radian 3R
Diono 2019 Radian 3R All-in-One Convertible Car Seat, Black, 22 Count (Discontinued by manufacturer)
JOY OF THE JOURNEY: From birth, keep your little one rear-facing longer to 40 lbs., and as they grow to 100 lbs. (10 years approx.) our long-range lifespan protects your child facing-forward.
THREES NOT A CROWD: For safety that fits 3 across the Radian 3R packs all our innovative safety features into a sleek and slim design that allows you to fit three across (in most mid-size vehicles). Now the whole family can travel, together
LOVINGLY ENGINEERED: The Radian 3R is built with automotive-strength steel, engineered into a dual spine, which manages and dissipates energy with an unyielding structure to protect your baby. Our audible click SuperLATCH system makes installation easy.
BUSINESS CLASS COMFORT: Inspired by the best in European style, our Radian 3R has bright soft fabric covers, and a memory foam seat bottom. Lined with energy absorbing foam, comfort and safety go hand in hand
MADE OF SEATTLE: We are from Seattle, a city where being different is the norm and so is the Radian 3R. It folds flat, so you can travel the world and is FAA approved for use on an aircraft, so you can take safety with you wherever you go.
The Diono Radian 3R is the heaviest car seat on our list. Weighing in at 28lbs, I don't consider this to be a lightweight seat. The reason I added this car seat in is because this is an excellent car seat if you want to use the same car seat for travel and every day use. One of the really nice features of the Diono is the slim profile. You can easily fit 3 across in most cars. This car seat is also super practical for long term use. It converts to a booster and is rated up to 100lbs in booster mode. The Diono Radian is rated up to 65lbs making it the carseat with the highest harnessed weight rating on our list. I own this car seat as my every day seat and LOVE its versatility. Personally I don't travel with it though because of the weight.
What is the best car seat for a 2 year old?
Here are 10 reasons why we love the Cosco Scenera Next for travel with 2 year olds.
It is super lightweight. Carrying it through the airport and security is a breeze!
Certified for airplane use. We use this seat ON the plane and it has been a game changer for us! Our little toddler stays content to play in his seat when he is strapped in.
Cheap enough to replace. One of the biggest hesitations in traveling with our expensive car seats was that I didn't want to risk damage while traveling. This car seat is so affordable, I feel better about replacing it in the worst-case scenario (has not happened to us yet!)
Meets or exceeds safety standards. This car seat has been tested to meet US car seat safety standards.
Extended rear-facing. You can use this car seat in the rear-facing position until 40 lbs or 40 inches.
Narrow profile. When traveling we often rent a car and are short on space. We traveled with 4 adults and 2 kids in a 7 seater SUV and this car seat didn't get in the way. Two adults could still sit comfortably on either side in the 2nd row of seats.
Fits in my stroller basket. I travel with my Uppababy Vista stroller and love that this car seat fits in the bottom of the stroller. I barely notice that I'm traveling with a big car seat at the airport because its loaded nicely in the basket.
Easy to install. We always recommend that you practice installing the car seat once or twice before travel. Comfort installing the car seat is one of the most important factors in picking a travel car seat. I find the Cosco Scenera super easy to install, even quickly in a Taxi.
Easy to clean. The Cosco Scenera Next has removable machine-washable seat pad for easy cleaning.
Lots of cute designs. Of course, safety and functionality are number one, but this car seat also has a bunch of awesome designs available!
Car Seat Tips with 2 Year Olds
Use the car seat on the plane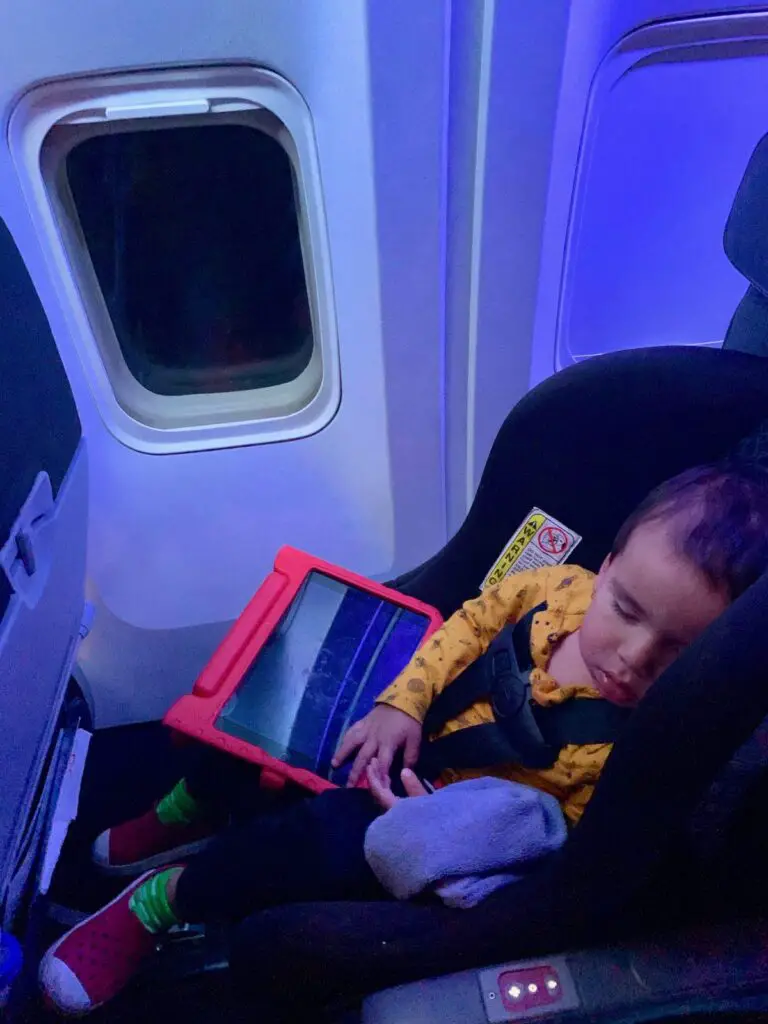 Our kids travel really well in cars, and they are used to the idea of being in a car seat. When we started strapping our son into a car seat on a plane, he never thought twice about it. All of the sudden we went from a toddler who wanted to say hello to every single person on the plane, escape the aisles and be anywhere BUT his seat to a child who happily played and slept in his car seat for 5 HOURS STRAIGHT! I highly recommend that if your child is over the age of 2, you bring the car seat ON the plane! If under 2, you'll have to weigh the cost of the extra seat. It is safer to have kids in their own seat, and personally if I could do it again I would have just paid for the extra seat.
Bring your own car seat instead of renting
Renting a car seat typically costs $10/day. For a 7 day trip, this adds up to more than the price of the majority of the car seats we listed above. Not only will bringing a car seat along be cheaper, you will also be assured of your child's safety. I have heard horror stories of car rental companies having seats which don't work correctly or are incorrectly rated for the child's size. We haven't had such experience in the times that we have rented, but generally if we are going to be renting a car, or using a car frequently, we will bring our own seats.
Bring your favorite car seat accessories
We always bring along some car seat accessories when we travel. I really like the head supports to prevent kids from slouching when they fall asleep in the car seat. We use ours for long road trips and our kids find them really comfy. We also bring a travel tray, especially for road trips with the kids, so the kids can be entertained by activity books on the go.
Kids Travel Tray for Toddler Car Seat | Toddler Car Seat Tray Organizer | Large Ipad Holder A Road Trip Essential | Soft Padding, Waterproof, Food & Snack Lap Tray Carseat, Stroller, and High Chair
💕 SPILL-PROOF | FOOD, DRINK, DROOL … Clean up the mess in one swipe of the waterproof, BPA free surface (instead of all over the floor). Your carpets & lower back will thank you.
💕 ANTI-SAG WALLS THICK ZIPPER … Many kids travel trays tend to sag & dump items onto the floor. The 3" tall reinforced walls are sturdy still flexible enough for safety in case of accidents.
💕 CONTAINED PORTABLE ENTERTAINMENT … Engage toddlers with all their favorite toy without creating a massive clean up job. They get all of the access without you needing to constantly pick things up.
💕 UNFOLD & GO | CAR, HIGHCHAIR, ANYWHERE … The patented easy-fold design fits toddler car seats, airplane seats, high chairs, & keeps babies busy in any travel situation, and less "ARE WE THERE YET".
💕 STRONG BUT SAFE CONSTRUCTION … Children's Safety is the # 1 priority & close behind is the sturdiness of the lap tray. Sturdy enough to support a tablet & toys but soft enough for safety.
Have a car seat specifically for travel
As I mentioned above, we have a car seat that we use specifically for travel. Our travel seat was inexpensive compared to our day to day seats so I'm not going to be as upset or worried if there is damage to it when we fly, it will be easy to replace. I also like that I don't have to uninstall and re-install the seats, potentially risking installing them incorrectly on return.
Turn your car seat into a stroller
If you aren't planning to bring a stroller on your trip, or if you are planning to check your stroller, you can consider buying a special strap to turn your car seat and your carry on luggage into a makeshift stroller. This neat product is a great way to use the stuff you are lugging around at the airport with purpose.
V VOLKGO Сar Sеat Travel Belt - Easy Carry & Saving Money - Car Seat Travel Strap to Convert Your Car Seat and Carry-on Luggage into an Airport Car Seat Stroller
TRAVEL WITH KIDS MADE SIMPLE – Make traveling with kids less chaotic with our сar seat travel strap that can effortlessly turn your rolling luggage into a stroller and free up your hands!
COST EFFECTIVE – Not only is this сar seat travel belt a great value for money but this baby travel gear also eliminates the need to spend fortunes on bulkier & a difficult to carry сar seat carrier. You can use the belt to conveniently navigate around the airport, and can then use a VolkGo сar seat travel bag (Not included) to check-in the сar seat before boarding.
COMPATIBILITY – Works with all Top Tether equipped сar seats. Compatible with most 13"- 56" roller handbags and suitcases.
HIGHLY RELIABLE – A simple, safe and practical way to move around the airport with your baby, сar seat and suitcase, all fastened together. The relatively wider & sturdy сar seat luggage strap with strong seams along with the robust metal buckle ensures utmost safety.
COMPACT & EASY TO STORE – Strap size 80"L x 1,5"W. Does not take up much space in your handbag and comes in extremely handy, especially during flights with long layover time.
Gate check your car seat
If you aren't planning to bring your car seat onto the plane, I would highly recommend gate checking it, rather than checking it with the oversized luggage. Although it's more convenient to check it in oversized, I always worry about the handling of the seats and potential damage this way.
In terms of a travel car seat bag, I haven't used one yet. I have seen some backpack car seat bags which I do like. One time I used a stroller travel bag at the airport and then I watched the flight personnel drag the bag across the asphalt all the way to the plane. When we arrived there was damage to my stroller and a large hole in the bag. Since this time I figure that the bags might give the carriers a false sense that the thing inside is protected.
Final Thoughts
Hopefully this guide was helpful for choosing the perfect travel car seat for your two year old. If you have another favorite portable car seat, drop me a line in the comments below with your suggestion!
Pin for later!