We've compiled the ultimate list of the best travel hacks for your next vacation. We've got 101 amazing vacation hacks for a seamless family vacation. Check out our favorite family travel hacks below. What is your favorite travel hack with kids? Drop me a line in the comments below with your idea.
Best Beach Hacks
The Safe Go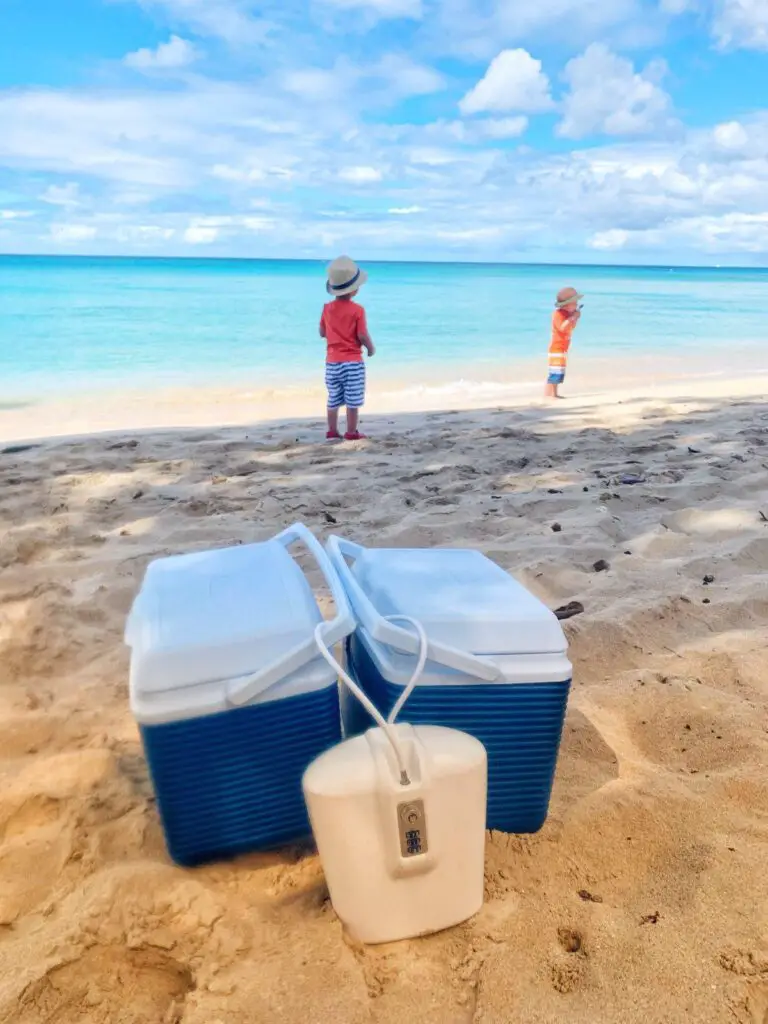 The Safe Go is my #1 favorite travel hack on vacation. Before I learned about this little travel essential, I was constantly fighting the need to stay back with my stuff at the beach. With the safe go, you can lock your stuff up to your beach chair and enjoy your time at the beach! 
I just discovered these amazing sandless beach mats and am pretty obsessed with this awesome beach hack. Of course, staying away from the sand at the beach is impossible, but these mats help to keep sand to a minimum on our towels and beach chairs, which is great when we are having a snack or meal at the beach.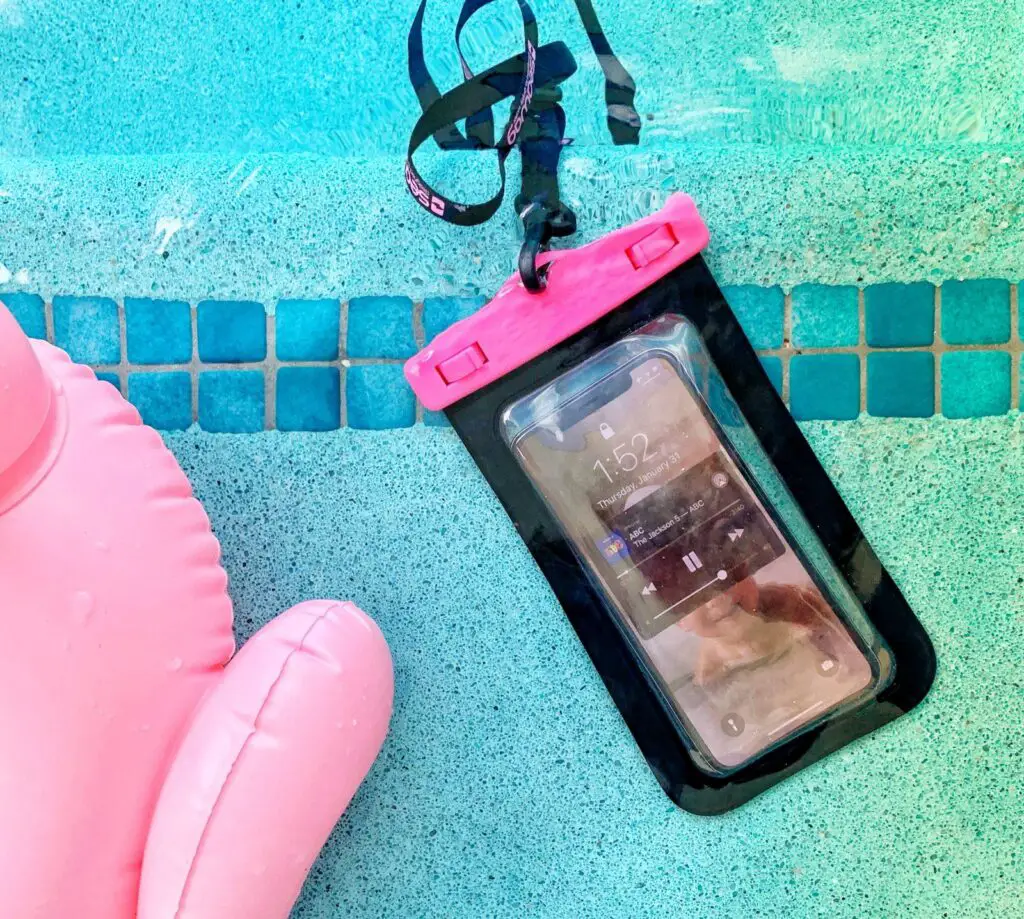 Waterproof phone cases are great for being able to snap some shots of your family at the beach. I love our case from SEAWAG. It keeps my phone dry and my pictures have all turned out great, even with the case on! 
Use a portable cot as a beach bench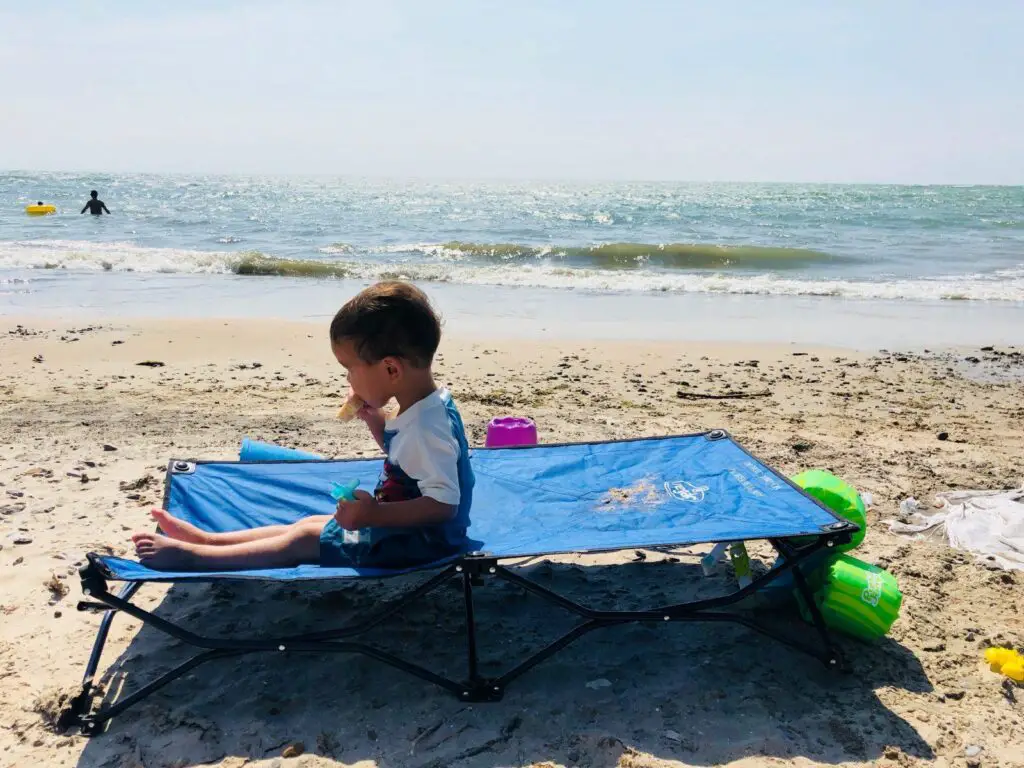 We love the Regalo my cot for camping trips or hotel rooms where we don't have room for an extra bed. This portable cot is great for young kids and it also works great at the beach for keeping sand off your little ones. We use it as a place to eat snacks and the little bit of elevation means there is less sand getting on all the food!
Bring water shoes
Unless you know the beach is perfect and sandy, water shoes are a great idea on vacation with kids. These water shoes are perfect for beaches that have some rocks or seaweed near the shore. Our kids felt much more comfortable in the water with these. 
Portable speaker
A portable speaker is great for the beach, especially if you are staying at our own private Airbnb or home rental. With a portable speaker on board, your kids will be able to listen to baby shark to their little heart's desire! We have this one by JBL and love the quality of the sound.
Bring a Puddle Jumper
The puddle jumper is hands-down the greatest floatie invented for little kids! With this thing on your little one will be swimming like a fish in the water in no time. The design keeps the head and chest above water giving your little one the confidence to swim without fear of taking a big gulp of water. 
Pack baby powder for your beach bag
Baby powder works well to get the sand off your kids' feet at the beach. Sprinkle on a little and it will help the sand stay off. 
Bring a portable fan (or two!)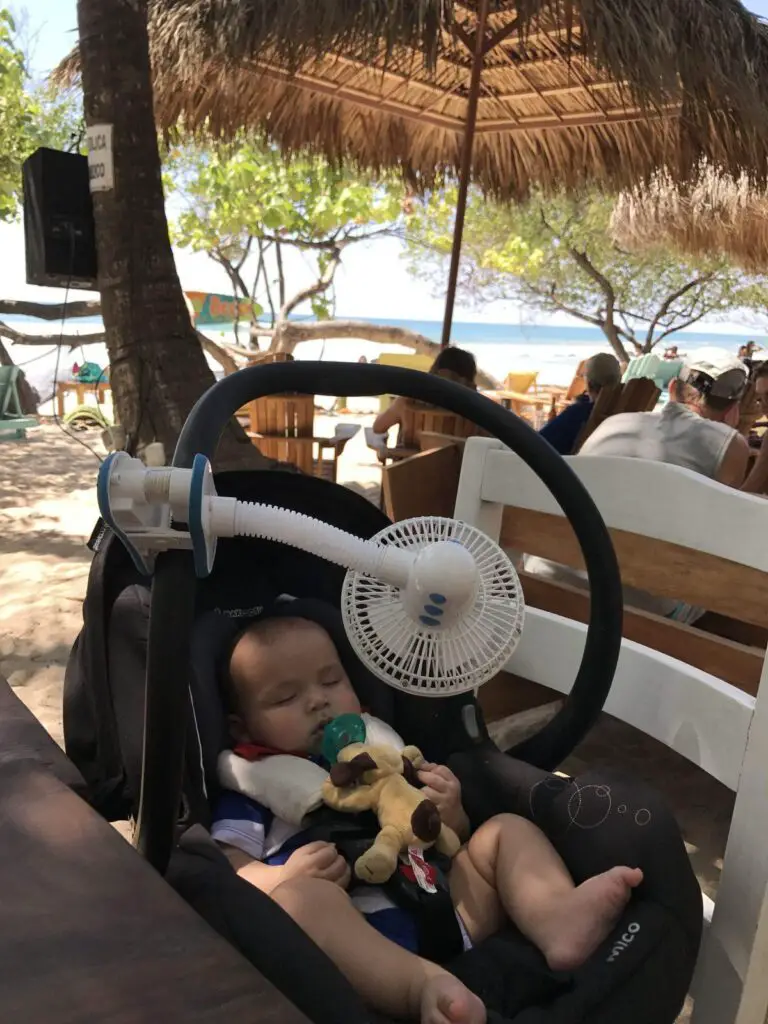 We bought these amazing stroller fans for our kids and found they came in handy a bunch on vacation. Especially for a hot trip, we wanted to keep our kids cool when they were sleeping in the stroller.
Pack a wet bag for your swimsuits
A wet bag is essential for a beach trip with kids. You can use it to keep a spare change of dry clothes when you are at the beach and you can also use it to keep any remaining wet items separate at the end of your trip. 
Use a full face mask for snorkeling with kids
If you are planning to snorkel with kids, using a full face snorkeling mask is a must. These masks are so easy for kids to use, there is no practice required. 
Buy your sand toys at your destination
Sand toys don't pack well so I would advise that you buy them at your destination. Stop at Target or Walmart on arrival and buy a cheap set and then leave them with another family on departure to pay it forward!
Use a shower curtain to make a mini pool at the beach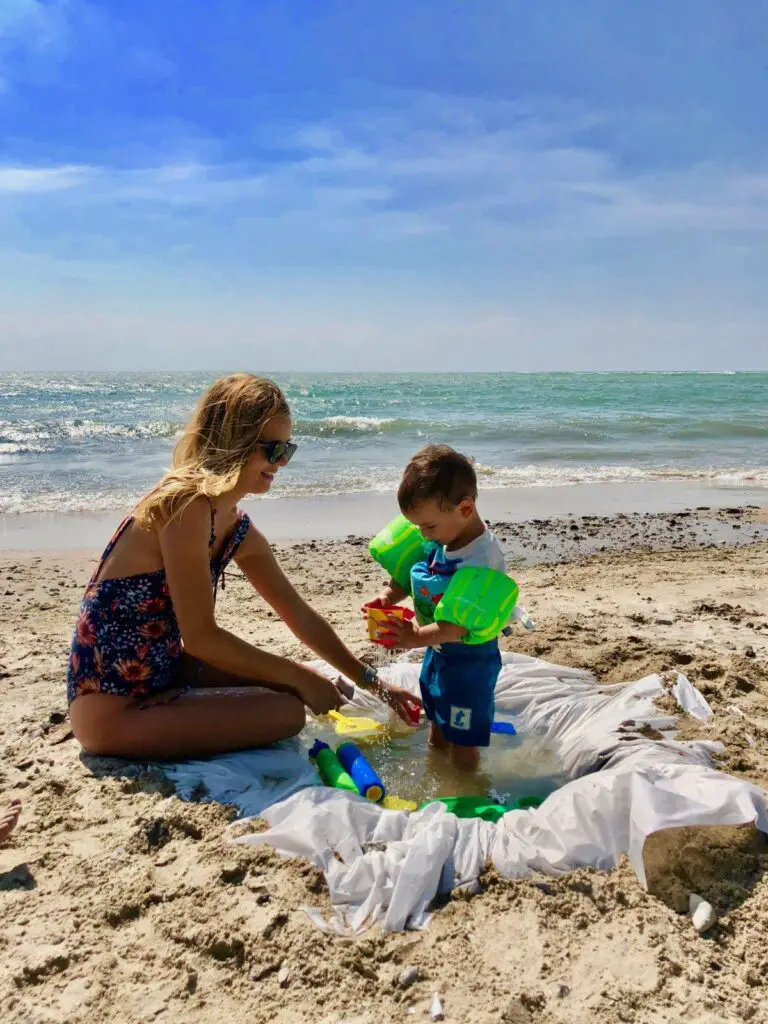 Little ones don't like the waves at the beach but still want some water fun! This $1 dollar store shower curtain hack is a perfect way to allow your little one to enjoy the beach in their own mini pool! 
Best Hotel Hacks
Book a separate sleeping space for kids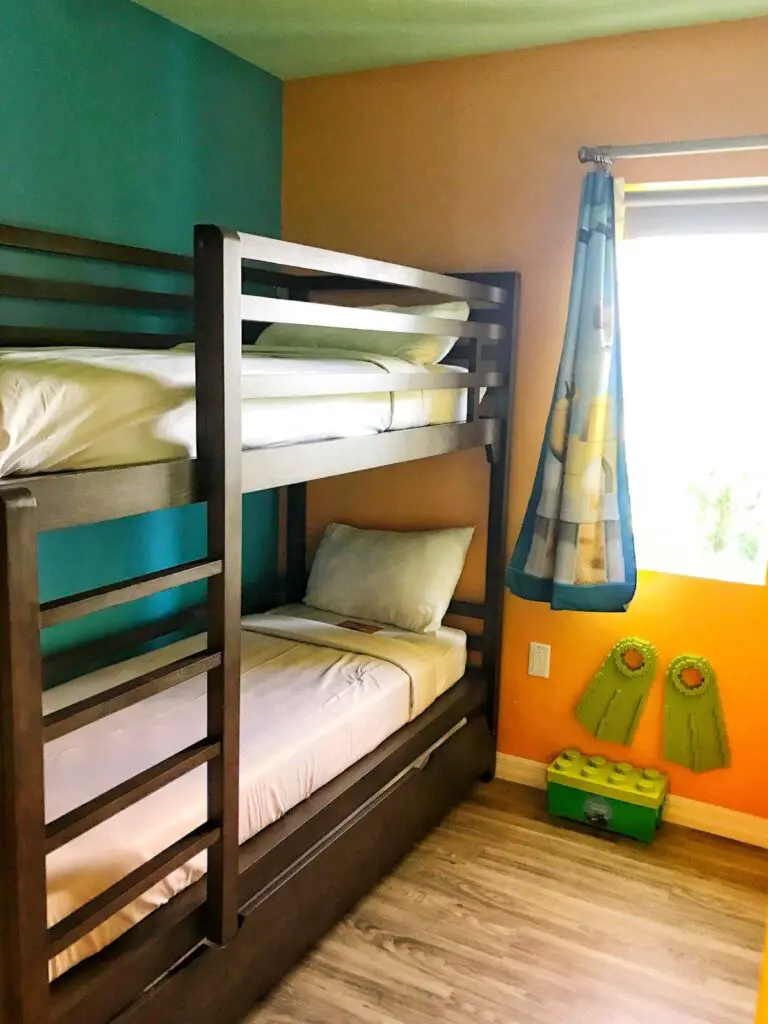 For us, sleeping all in the same hotel room is not our ideal vacation! We like to have a separate space for the kids to sleep so we can enjoy time as adults and not have to sit in the dark from 8 pm. We've booked family suites at our favorite resorts like the Finest Resort and the Legoland Beach Retreat in order to give us that much-needed space. 
Stay in accommodations made for kids
Wouldn't it be nice to stay in a home rental that already has toys and items your kids need? Well, that's exactly what Kid and Coe was started for! These curated homes have amazing kid amenities to help you and your children feel at home on vacation. 
Book an Airbnb with laundry facilities to save on packing space: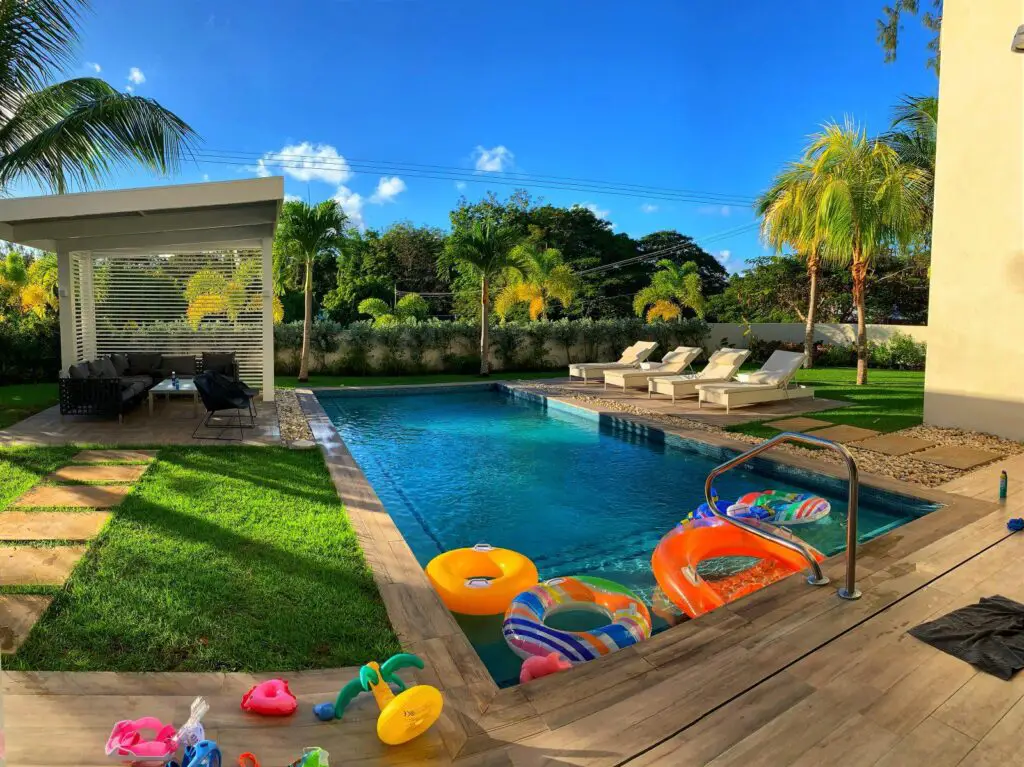 When we travel with our kids we love vacations in home rentals like Airbnb and VRBO. Not only do we get the feeling of being 'at home', but we also love the amenities like a Kitchen and laundry facilities that come with many of these places. Laundry is especially important when you have kids who make a big mess everywhere they go! You can pack way less clothing when you have the ability to do laundry mid-trip. 
Use points to upgrade your hotel experience
We use Marriott Bonvoy points to enjoy luxury hotels on vacation. With a travel credit card, you can accumulate travel points and redeem them for free nights at any of the Marriott Bonvoy affiliate hotels including luxury brands like the Ritz Carlton and Luxury Hotels Collection. 
Bring your own Chromcast
If you are staying in a hotel room or villa with a TV, consider bringing your own Chromecast. Thay way you can enjoy Netflix, Youtube or other shows that your kids love.
Hotel room Hacks
Use Suction Cup Hooks for Wet Clothes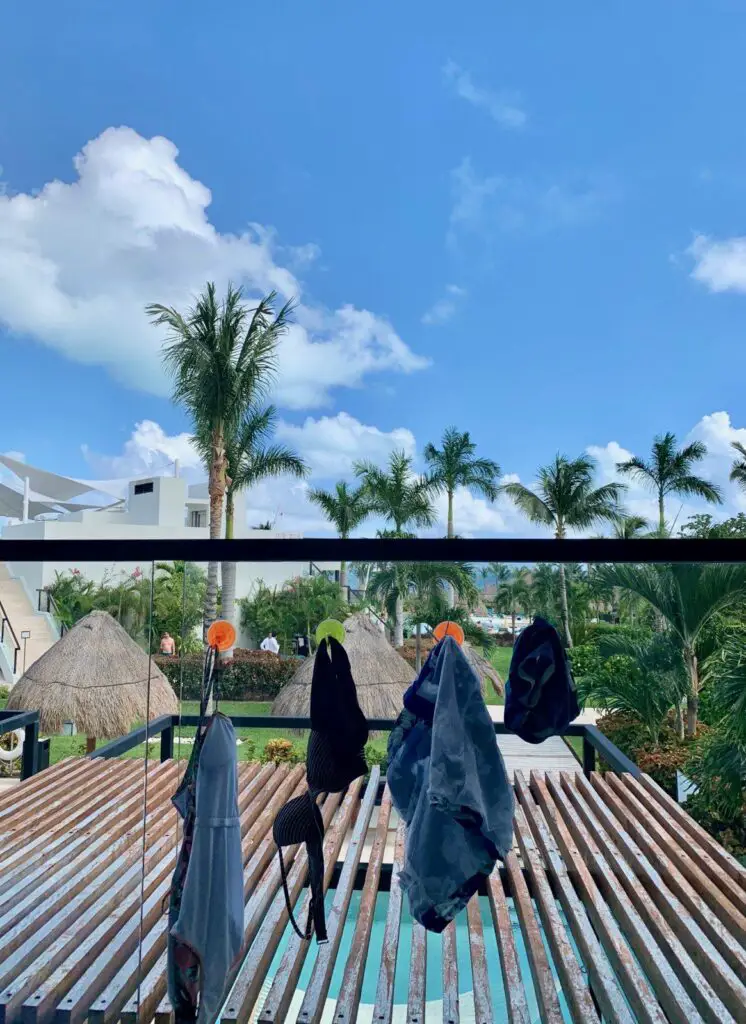 Suction cup hooks are another travel essential that I don't leave home without. Hotels and resorts never have enough hooks to hang your wet clothes. Suction cup hooks suction to the glass door of a shower or to a balcony and dry your clothes out faster without having to drape stuff all over the furniture. 
I bring a dollar store pop up laundry hamper with me on every trip. It doesn't take up much space in my suitcase and its awesome for keeping all the dirty clothes in one place. Even if you don't have laundry where you are staying, the hamper keeps the clothes from ending up on the floor. 
For us, a sleep routine is the MOST important factor in an enjoyable family vacation. If we don't get our sleep, we are bound to be a complete mess on vacation. We keep our routine strict on vacation and try to recreate our home environment as much as possible. We travel with a portable sound machine, that helps us all to sleep better and minimize distractions from our neighbors overnight. 
Blackout curtains
There is nothing worse than arriving at your destination and trying to put your cranky toddler to nap in a room that is bright as day! We bring travel blackout curtains when we are staying in an Airbnb or VRBO so that we can enjoy some adult time while our kids' nap peacefully in the dark! This is one of my best tips for getting your kids to sleep on vacation.
Bring diaper bags to reduce the smell in your room
Hotel rooms often have an open garbage can and the room can quickly stink up with a dirty diaper. Bring your own small diaper bags to keep the smells to a minimum. We love these scented ones that you can buy on Amazon.
When in doubt, use a closet for the crib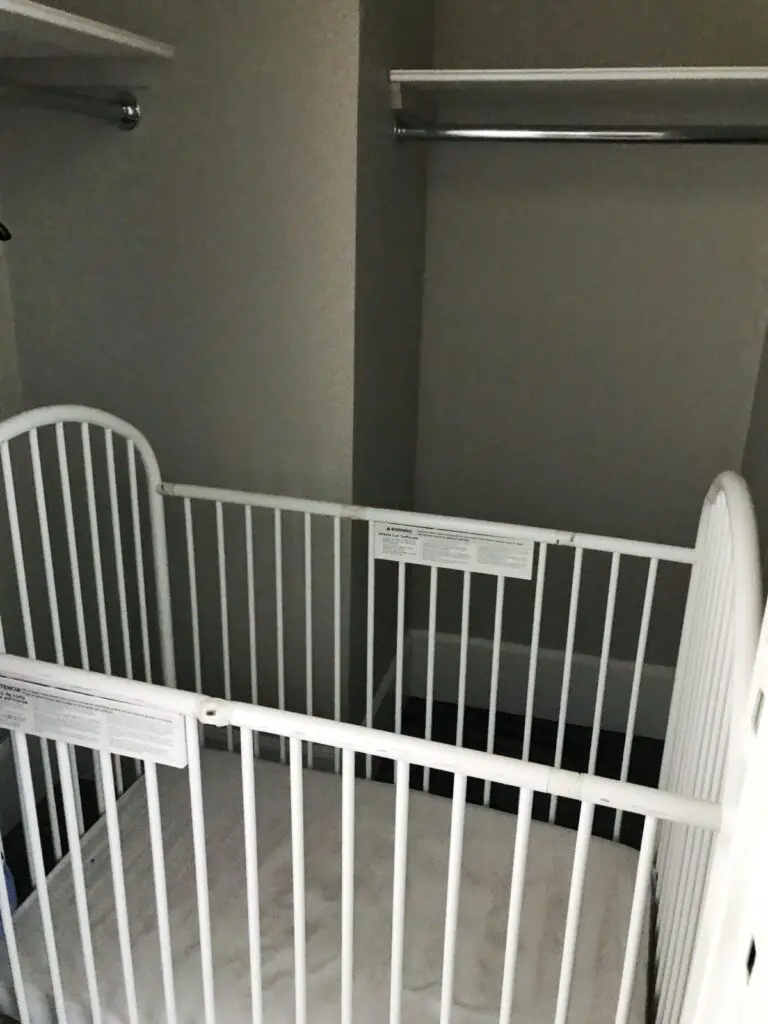 On a few trips, we had a lovely walk-in closet in our hotel that we used to put our toddler's pack and play! In a pinch, this works as a separate area for the kids to sleep! We've done the bathroom more than once too! 
Use two chairs pushed together for an impromptu play space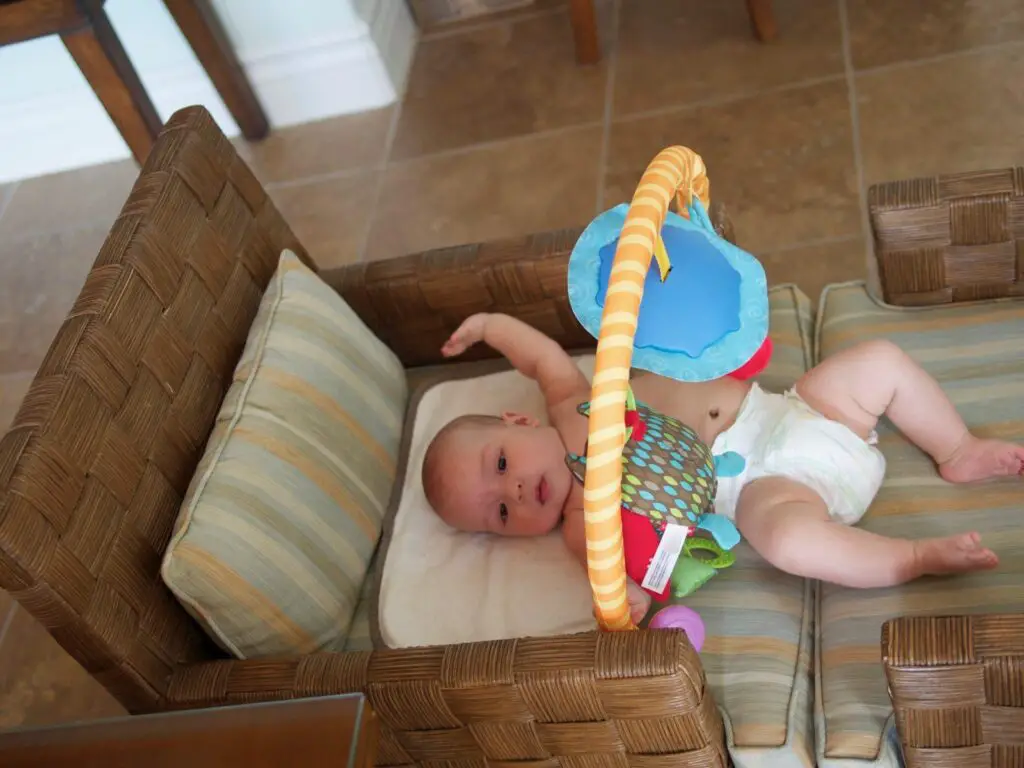 In a pinch, this works for a baby or small toddler on vacation. It always works as a great play spot for little ones! Supervision is required, of course!
Bring your baby monitor
We bring our baby monitor on vacation to keep an eye our kids while we sleep. This is great if you have a swim out room or a private villa so you can enjoy some sun while your kiddos sleep. 
Bring crib/playpen sheets for the hotel crib
Hotels never carry proper sheets for their playpen or hotel crib. Instead, you often end up with a queen size sheet folded down. We bring our own playpen sized sheets and don't have to worry about having loose blankets in the crib.
No speaker on vacation?
Stick your phone in an empty coffee mug. The mug will create an amplified sound so you can enjoy your tunes on vacation.
Best Flight Hacks
Melatonin is the best way for our family to fight off jet lag on long haul flights. We used melatonin with both our kids on planes and it has worked wonders to get them to sleep in tight spaces. Of course, check with your doctor first to make sure melatonin is safe for your family. We bought these gummy versions, and my kids took them without any fuss! 
Book the aisle and the window seat and leave the middle seat open
This is a hack that a lot of my friends swear by however I haven't personally done this trick. The idea is that the middle seats are the last to be filled so in the case that your flight isn't full, you are most likely to have an empty seat. Of course, if someone does show up to the middle seat they will be likely happy to switch to either the aisle or the window and you can still sit next to your travel partner.
Use the Skyscanner 'everywhere' feature
Want to get away but not sure where you want to go? Try the Skyscanner everywhere feature. Simply type in your home airport and in the destination field type 'everywhere'. Skyscanner will let you know where the best and cheapest places to travel are during your preferred time. This is a great way to plan a new adventure!
Flying With Toddler Hacks
Use the Yumbox to pack your snacks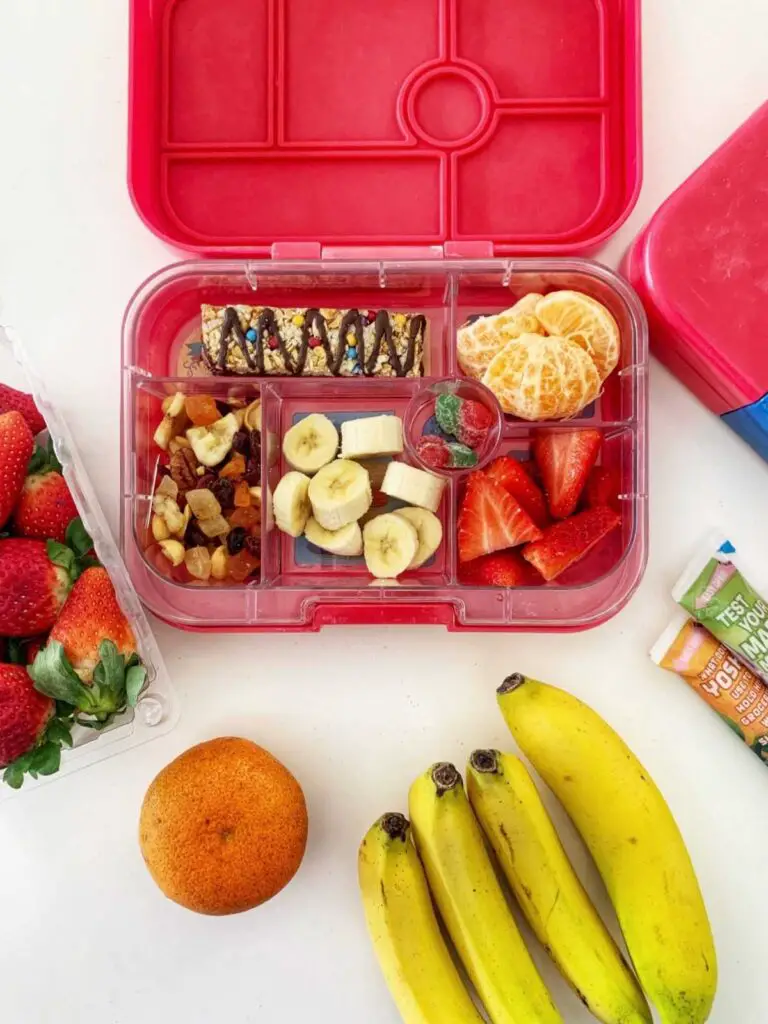 The yumbox is my favorite snack box to bring with me on trips with kids. This little bento box styler container is perfect for plane rides and day trips with small kids. I will pack a selection of fruit and other small treats for the kids to snack on during our trip.
Pack a power bank
On long flights with kids, an iPad is the number one essential on the plane. This is the only place that they are allowed unlimited screen time, as it makes the flight so much easier on everyone. Not every plane has a power source, so bringing a power bank is important to keep all the devices charged. 
Bring your car seat ON the plane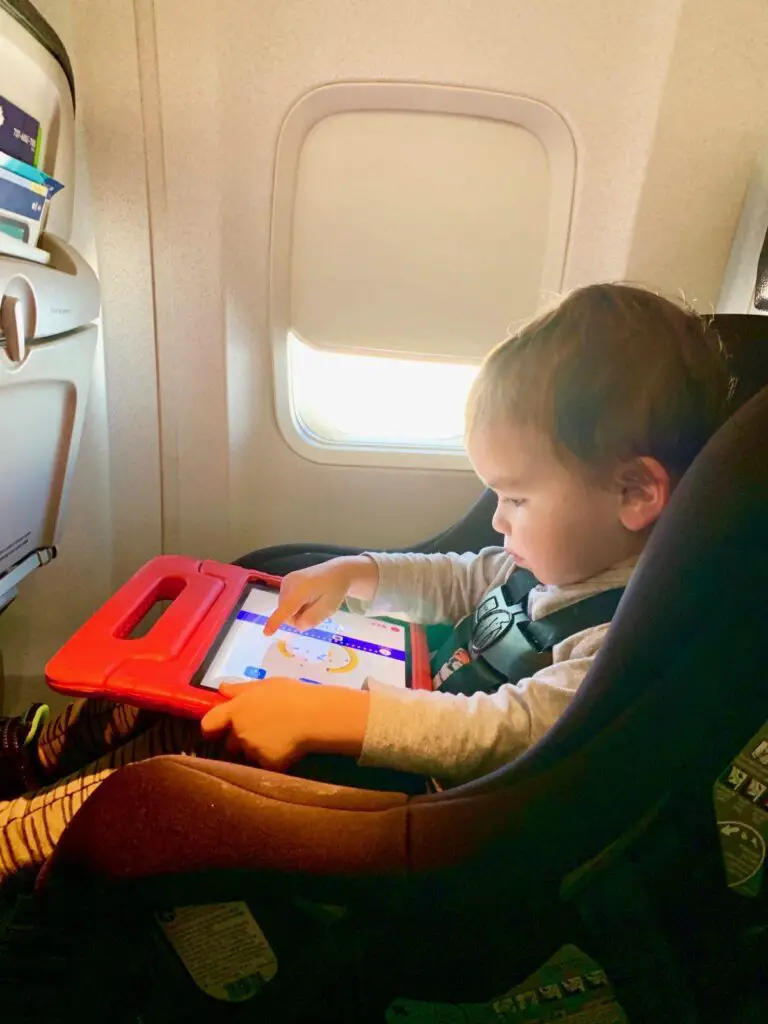 CBringing the car seat ON the plane is my best advice for traveling with toddlers. Having your toddler strapped into their seat makes the plane ride SOO much easier for everyone. With the Cosco Scenera Next, it's super easy to travel with car seats. If you aren't planning to use a car seat at your destination, you can also use the airline approved cares harness for the same effect. 
Kooshy kids travel bed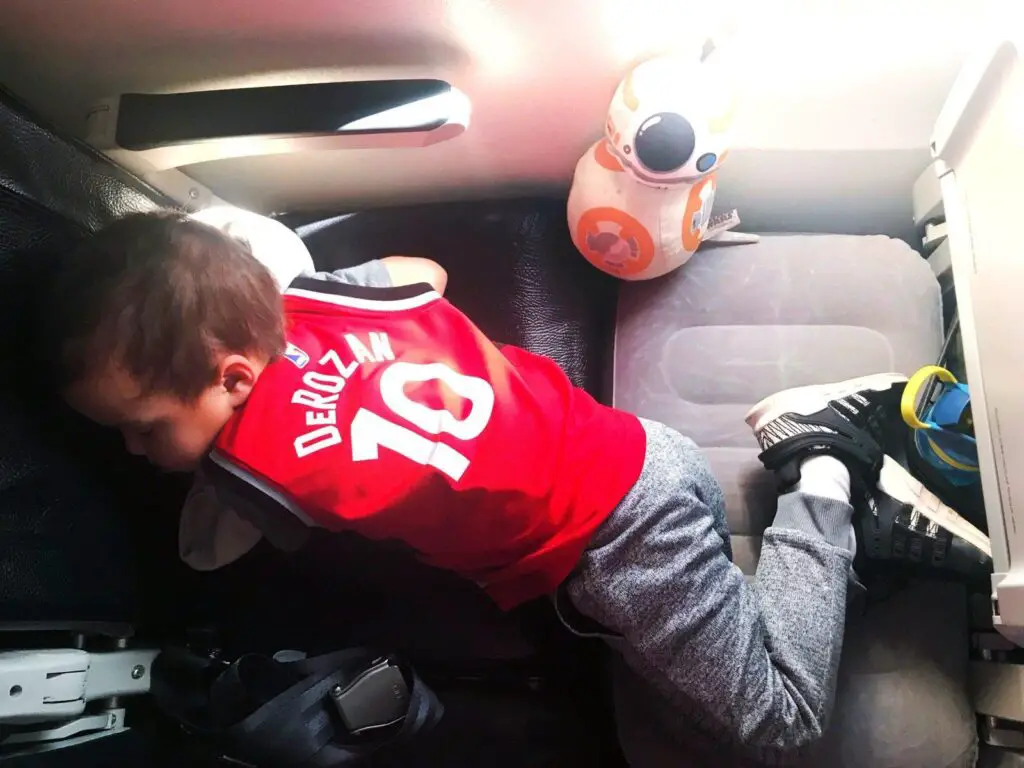 Turn your airplane seat into a travel bed for kids with this amazing inflatable footrest. Especially for long haul flights with babies and toddlers, this inflatable cushion is a lifesaver. Your kids can lie flat and you will be jealous of them making the economy seats look like business class! 
Bring lollipops for the plane
Bring lollipops for the plane ride to avoid your kids having ear pain on descent. We have also tried these ear planes for our youngest, who has a lot of pain with flying and they worked great! 
Book flight times during sleep times
When our kids were little we always aimed to book our flights during our kids typical nap times. When our kids napped for at least a few hours on a flight it made the trip so much less exhausting for everyone. 
Use a baby carrier for the airport security
 Passing through airport security can be a challenge with little ones and I've found that using a baby carrier is the best way to bring my kids through the airport. I still use my stroller, but I use it to pile on all our stuff instead! Although the security officials are likely to make you take off the carrier for a brief moment, having yourself hands-free as you pack your things onto the conveyor belt is very convenient. 
Pack new toys for the plane ride back
We often come very prepared for the plane ride to our destination with goodie bags full of new Pinterest plane ideas for our kids. The plane ride back tends to be an afterthought. I always save at least one new toy or activity for the plane ride back to keep the kids entertained on this end of the journey. 
Check out our list of airplane activities for toddlers that actually kept my toddler entertained!
Take advantage of family washrooms at the airport
I love that most airports now have family washrooms as its a great to have a place to get everyone refreshed before or after a long flight! We make a habit of stopping at one of these after airport security. 
Bring pull-ups for naps on the plane
If your child isn't yet dry at night I would suggest using a pull up on a long flight where you expect your child might nap or sleep. It makes it a lot less stressful than having to worry about an accident or washroom emergency when the seatbelt sign is on! 
Pack a mini first aid kit for the plane
Illness tends to always strike our family ON the plane so I make sure to pack a mini first aid kit with all the essentials on the plane.  I pack Tylenol, Advil, and Dramamine for kids and adults, as well as some Pepto-Bismol and Immodium for the adults. 
Pack a spare change of clothes for the plane
For everyone. My friend learned this lesson when she traveled on a flight with her infant whose diaper leaked all over her lap. She had to sit for the rest of the flight with pee all over her lap. Bring a spare change of clothes, and not just for the kids! 
Make sure to download your Netflix shows in advance of your flight
More and more airplanes are moving away from in seat entertainment and want you to use your smartphone to watch shows via their app. It's the worst if you arrive on a plane with small children and realize you aren't able to use netflix to keep them entertained. Download their favourites in advance and then don't forget to renew them for the trip back!
Travel Packing Hacks
Packing cubes are my favorite way to pack for our family of four on vacation. Each family member gets a different color and I love that you can mix and match the cubes into all of the suitcases so if one piece of luggage gets lost you won't have lost an entire family members clothing for the week. 
Use a shower cap to keep dirty shoes separated from the rest of your luggage
This one is a classic hack that always comes in handy on vacation. This is probably the most important use of the hotel shower caps! Wrap them around the soles of your shoes to keep the rest of your luggage clean!
Use a wipes container for toiletries
Wipes containers make the best packing cases for toiletries and first aid items. It's a great way to repurpose something that would otherwise go to waste. I use old wipes containers to store all the essentials and they pack really easily inside my case. You can see everything I pack in my travel first aid kit here. 
Roll Your Clothes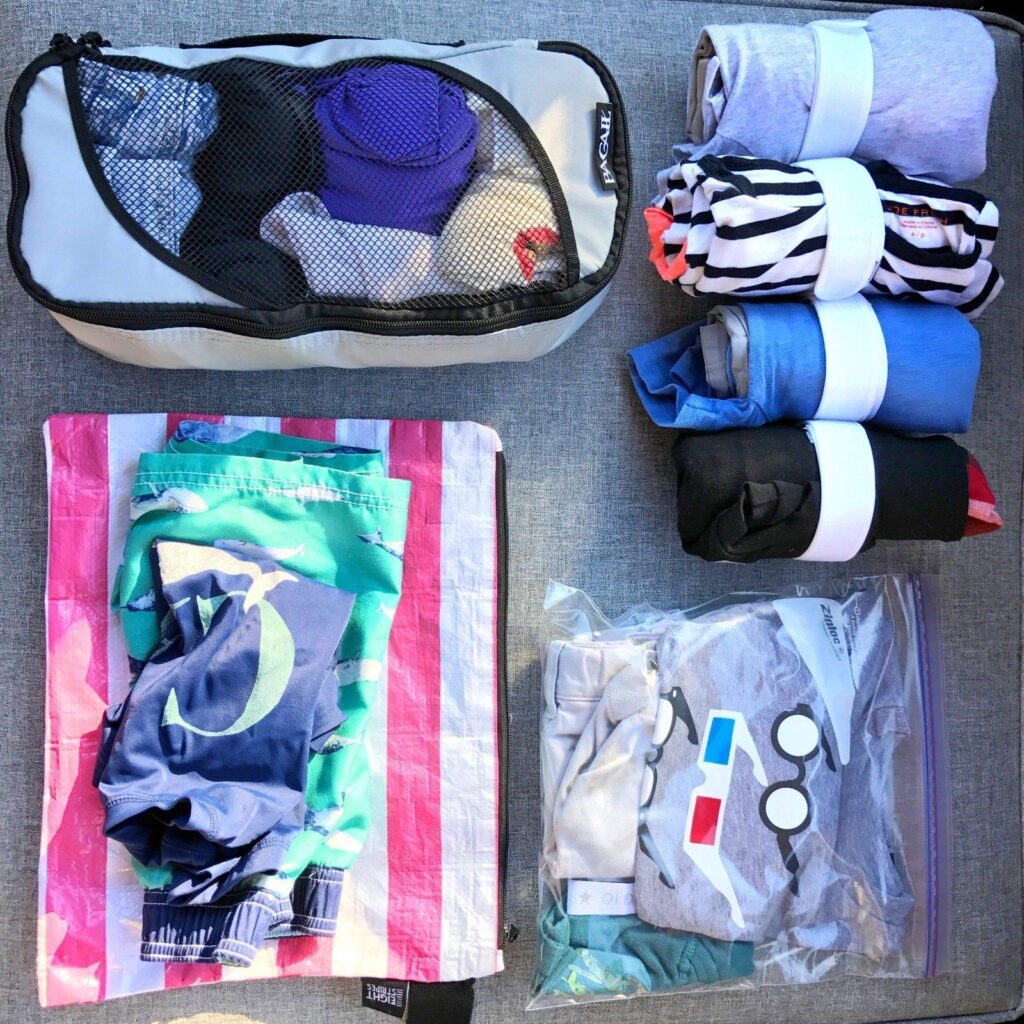 Rolling clothes is my favourite family packing hack. We roll all the clothes needed for one outfit into one roll when on vacation with our kids. These make planning the outfits for each day super simple and works great for my husband who would likely dress the kids in pajamas if I didn't pack this way! 
Bring constipation meds
We often get a bit behind on our water consumption on travel days and that can lead to uncomfortable constipation. I travel with these travel packs of restoralax and they've been helpful for the whole family on vacation! 
Use old baby bottles to store liquids
In an effort to reduce plastic waste we try not to buy plastic containers when we can repurpose old ones. I've found that our old 6oz baby bottles are perfect for storing liquids like dish detergent and laundry detergent when we travel.
Throw some dryer sheets in your luggage!
Dryer sheets inside your shoes and amongst your clothes keep everything smelling fresh on vacation.
Add some flair to your luggage so it stands out
Tie a bow, strap, or sticker to your luggage so it stands out. The last thing you want is to arrive at your destination only to find out you accidentally took someone else's luggage with you!
Travel Hacks to Save Money
Take advantage of discounts for kids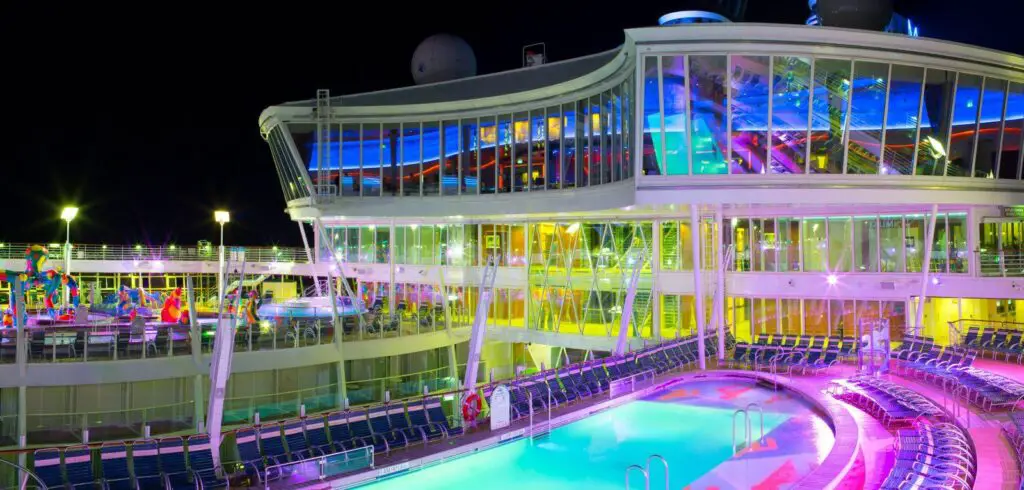 Many hotels and cruise lines offer unique promotions for kids. Royal Carribean typically offers a kids cruise free promotion yearly. Read about the best cruises for kids here.
Consider bidding on a flight upgrade
Many airlines now offer goes the chance to bid on unsold business class seats prior to their flight. This is often the most affordable way to fly business class with kids and sometimes a low bid will win suprirse you and win!
For global wifi, consider Sky Roam
Getting Wi-Fi in a foreign country can be a pain. I often don't want the hassle of getting a sim card and having to set up a new number and plan. Unless you have a 'roam like home' package from your cell phone provider, the Sky Roam can really come in handy. We use this portable wifi spot to connect to our phones while we are on the road, giving us access to our GPS and Internet-based messaging features.
Use a credit card with no foreign transaction fees
Nowadays, I rarely bring a lot of cash on vacation and prefer to use my credit card for most spending. Not only do I get to collect points or rewards, but I also don't have to worry about having a lot of cash on hand. Grabbing a credit card without foreign transaction fees is key for an avid traveler, those can really add up!
Using cashback rebates
Ebates.com is my favorite website for cashback rewards. There are multiple hotel and travel booking sites available on Ebates and you can earn a hefty cashback cheque when you book a weeklong vacation for the entire family using their site.
Subscribe to pages that post mistake fares
You can sometimes score a really awesome deal on flights by catching an error fare. There are loads of Facebook pages and websites that post error fares. You can find a list of them here.
Use Priceline to score a luxury hotel room for cheap
Priceline allows you to book a hotel room in your preferred city and neighborhood for an amazing price. The catch is that they won't tell you exactly what hotel you will be staying at, just a list of amenities and the star rating. I've gotten some great deals to some amazing hotels using this feature.
Road trip hacks
Download your maps ahead of time for use offline
Did you know that you can download an area on google maps to be able to use offline? This is so helpful when you are out and about in a new city and may not have access to wifi. Learn how to download offline maps here.
Prevent Head Slump with a Car Seat Head Band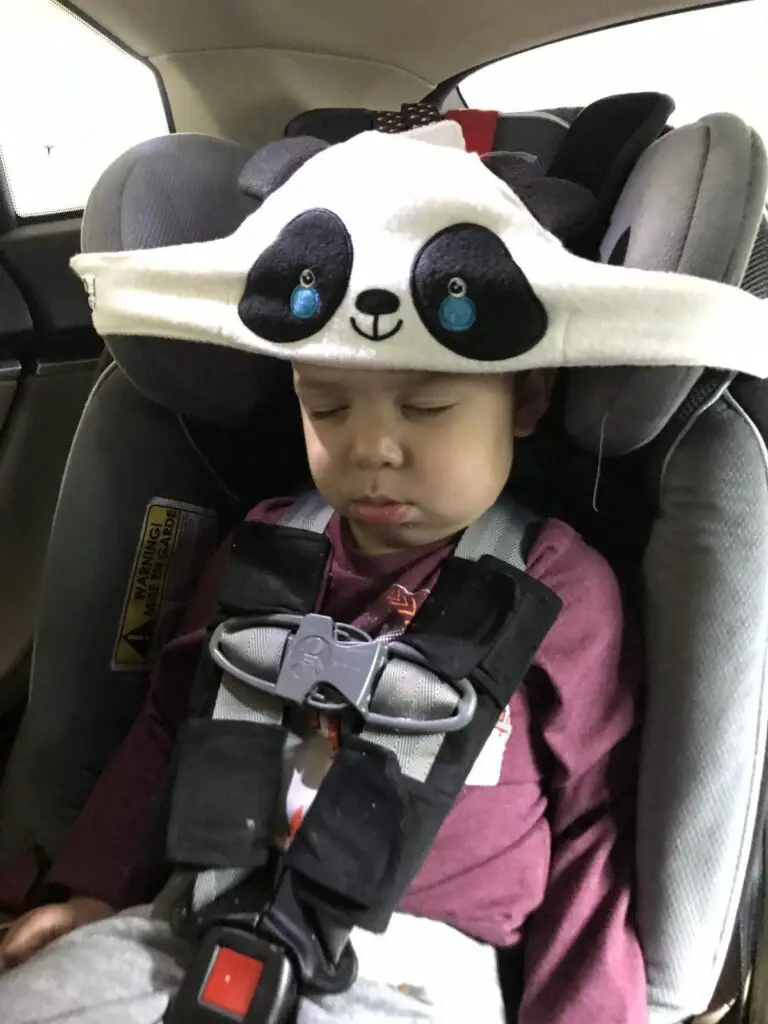 If you are going to be road-tripping with your young kids, you have got to check out this amazing product that helps with the inevitable head slump when your kids fall asleep. This awesome accessory is called the No-Bob Head Support and worked great for my kids on long road trips. 
Use the MiFold for easy and safe car travel on the go with kids
The MiFold is the perfect portable booster seat for kids who are older than 4 years and more than 40lbs. The MiFold is so small it fits in your purse and still meets the safety requirements of a booster seat in Canada and the US. This little pocket travel car seat is amazing if you are going to be taking taxis or other cars while traveling. 
Lint rollers work great to clean up kids mess
Lint rollers are the ultimate quick cleaning tool! They will even clean up larger crumbs that kids inevitably make while eating just about anything. We also use one in our car to clean up all the mess under the car seat
The dollar store is your friend
Before your next trip, head to the dollar store. There are so many great travel items available at a great price compared to other retailers. The dollar store often has travel size toiletries and first aid supplies for a great price.
Travel Hacks for on the go with kids
Portable toddler travel bed
You never know what condition a hotel or AirBnb's cot for babies will be in so we often bring our own portable toddler travel bed. Our Phil and Ted's traveler is so lightweight and small it can even be stowed in the overhead compartment. Playpens are also great for a day at the beach when you need a spot for your little one to rest and nap. 
Bring your full-size stroller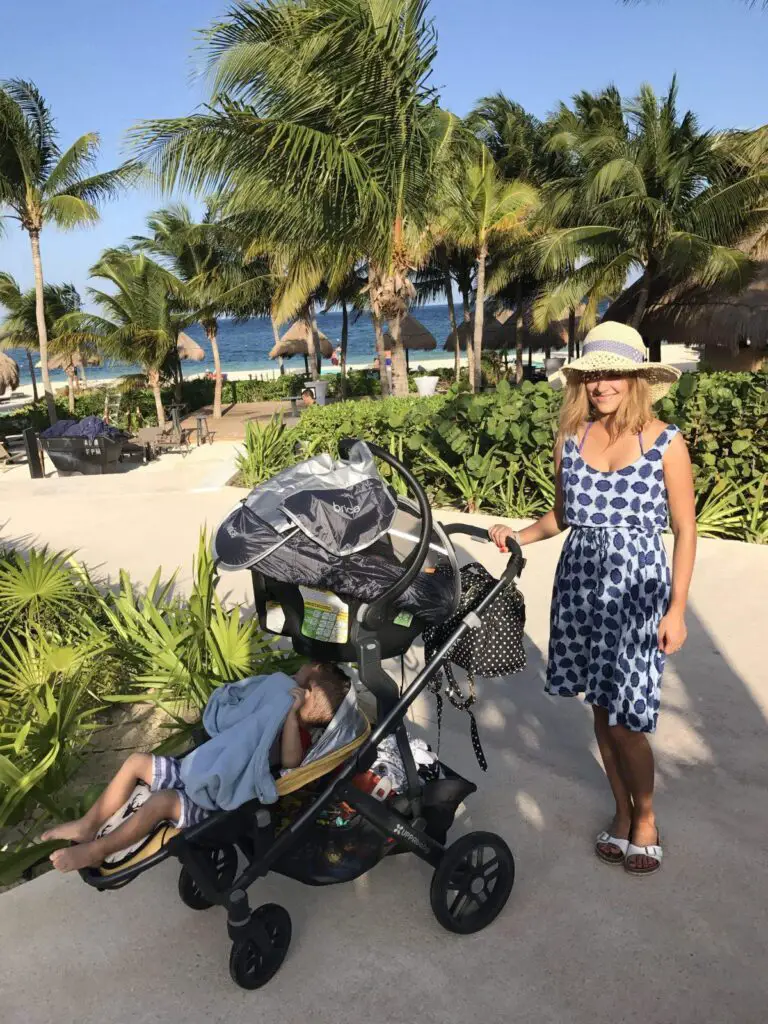 There is no need to spend another $400 on a travel stroller unless you are going to be really tight on space! Bring your full-size stroller and enjoy the extra room you have to store stuff on vacation! 
Rent equipment that's too bulky to travel with
We have rented baby equipment on vacation in order to minimize packing so much stuff for our trips. We have even rented a swing, baby gates and toys at some destinations! You can check out a baby equipment rental site like Babyquip for your next vacation. 
Rent a car (or a van!)
We find we really get to enjoy and see more of a place when we have our own vehicle. By having our own ride we don't feel locked down to the confines of the resort and can explore other places. With kids, there's a lot of stuff to hold though, so you may need to upgrade when it comes to size! We typically rent with a reputable car rental company like Budget.
Use your stroller as a luggage carrier
Our UppaBaby Vista holds two carry-on bags in its large storage bin and this makes traveling with kids at the airport a breeze. I have traveled a few times solo with my eldest son and it's a disaster trying to push the stroller and the bags at the same time. Having a large stroller gets the job done easily. 
Wear comfortable shoes!
When traveling with kids, fashion comes second! Chasing around kids all day and your legs and feet are bound to be sore! Bring a comfortable walking shoe or running shoe. My favorites are these wool runners by Dr. Scholls.
Bring a Camelbak for a long day of sightseeing
If you are out for a day of sightseeing make sure to bring lots of water. We carry a Camelbak water backpack so that our kids can always have access to water and we don't have to worry about carrying bottles.
Travel Hacks for Relaxation
Get your groceries delivered
If you are staying in a resort of home with a kitchen, you'll need to do some grocery shopping when you arrive. At the end of a long day of travel, stopping in to grab groceries (with kids!) isn't very appealing. Instead, use a grocery delivery service, as offered by your resort, or through a service like Amazon Fresh to have your groceries delivered and save you the time and energy. This will also prevent those impulse buys you didn't actually need 😉 
If you are traveling with young kids and want to enjoy your day past 7 pm, noise canceling headphones are a great buy. We brought them with us to Mexico so we could still check out the evening entertainment and bring our little guy sleeping in his stroller along. 
Bring an iPad for downtime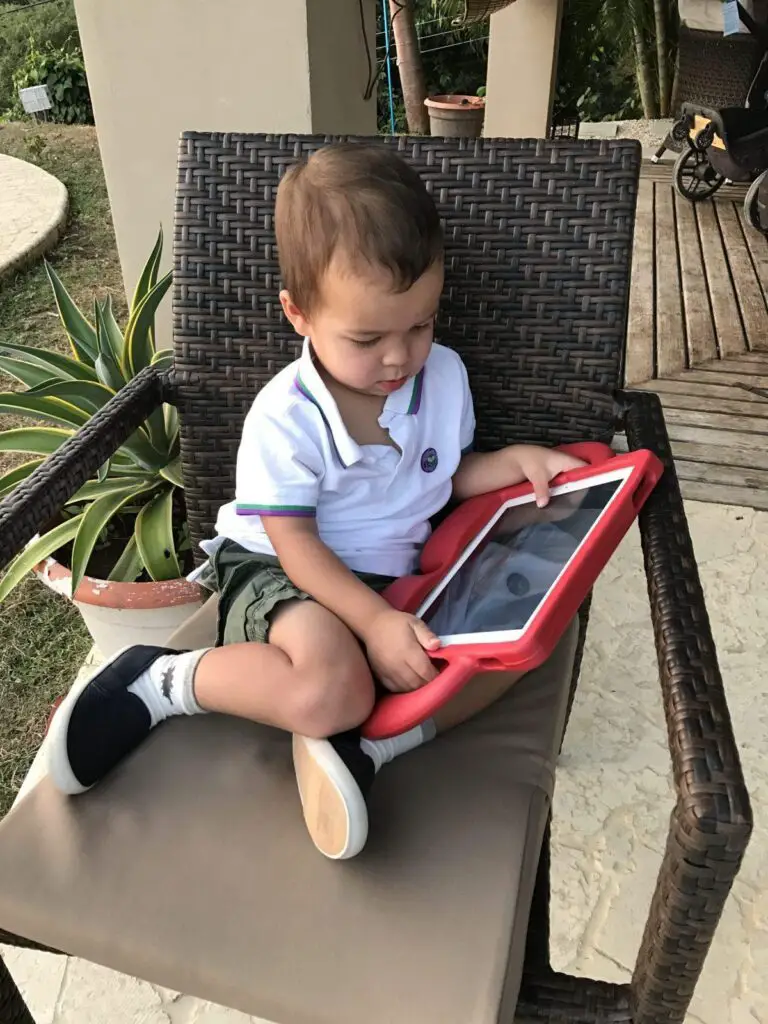 Although vacations are often about unplugging from the technology we use daily, there will be some points on vacation where technology is helpful! Bring along an iPad with some educational kids apps to keep your children entertained during those rare down moments on the trip. We use this amazing iPad case to keep our iPads indestructible on vacation. 
Bring the grandparents along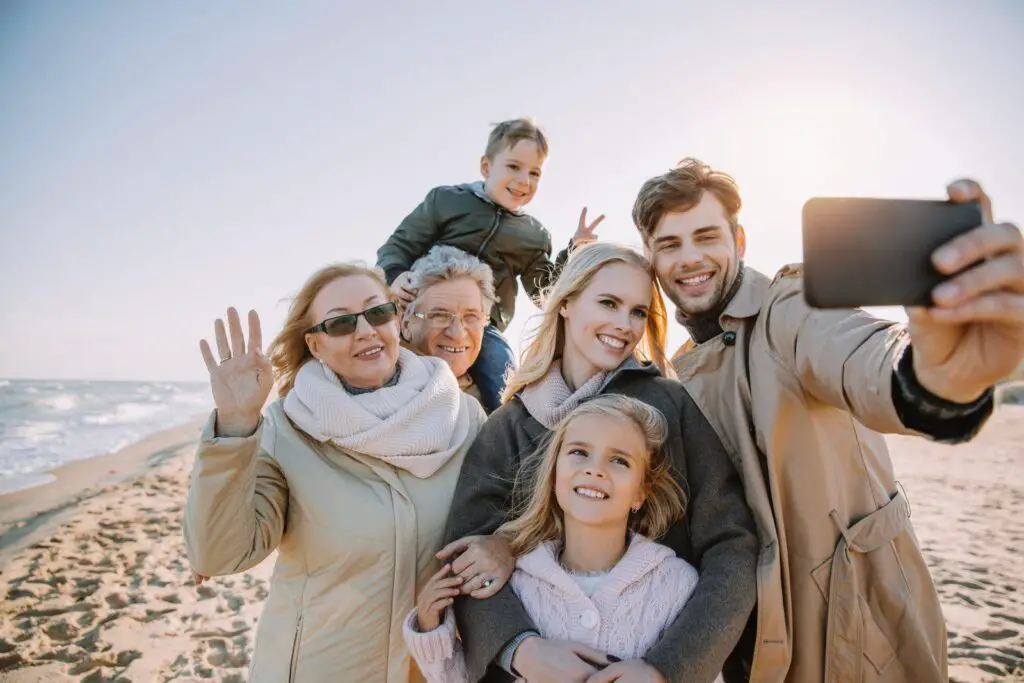 Before having kids I never would have thought that I would LIKE the idea of bringing my parents along on vacation, but things change when you have a family! Not only is a multigenerational trip great for family bonding, but traveling with the grandparents means there is built-in babysitting to enjoy some time with your spouse. 
Use uber eats to enjoy a relaxed meal in your home rental
Sometimes it's easiest to stay home and eat when traveling with kids! If you don't want to cook, consider an option like Ubereats for your next vacation. You can enjoy a nice meal in the comfort of your house and your kids will be able to relax and play. 
Take advantage of the kids club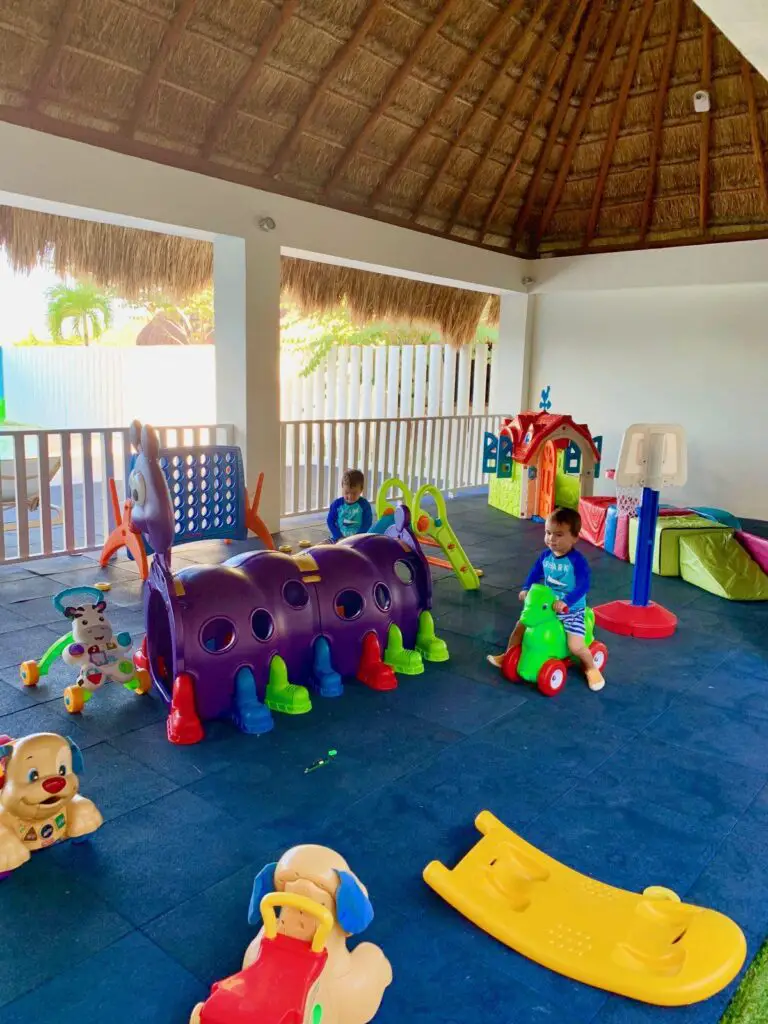 If your hotel or resort offers a kids club be sure to check it out on vacation. Some resorts and hotels offer amazing activities for kids as part of their kids' club program. At our favorite all-inclusive, Finest resort, kids will get a chance to go horseback riding on the beach, all as part of the kids club! 
Disney Hacks (or other Theme Park Hacks)
Pre-measure your child's height before you leave
If you are heading to a theme park or a water park, it's best to take your child's height in advance. That way you avoid any day of disappointment at the park when they find out they are too short to ride what they wanted. 
Set souvenir expectations in advance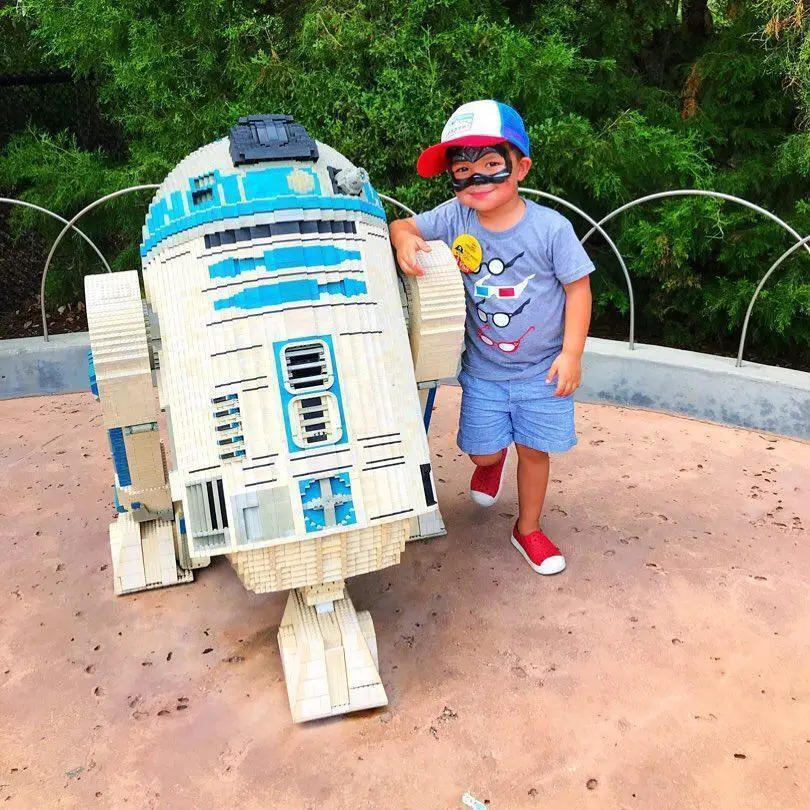 On our first trip to LEGOLAND, I had NO IDEA that my son would spend the majority of the first day begging me for a Lego set. With a LEGO store on every corner, I could see why he would be upset, but I also wanted him to enjoy an amazing day at the park! On our next trips, I sent the expectations out from the start, one souvenir, chosen at the END of the day. This made it so much easier for my son to understand and I didn't hear any complaints on our next trip! 
For Disney, consider renting DVC points to save lots of money on your Disney World resort stay
We have rented DVC points on our stays at Disney to get the maximum value for our stay. By renting DVC points we are able to stay in larger 1-2 bedroom suites for the same price as a regular room on the Disney website. DVC guests still enjoy the same perks that Disney resort guests enjoy including early access to FastPasses on their vacation. 
Buy dollar store ponchos in advance
Every time we head to a theme park we always end up with a rainy day! I'm not sure if it's just our bad luck or if it's just always raining in Florida 🙂 Instead of spending money on overpriced theme park ponchos, pick up some ponchos the next time you are at your local dollar store.
Travel Hacks for Eating Out with Kids
Siliskins straw
These straws and cup covers are perfect for dining out with kids under the age of five. I don't know why restaurants insist on giving toddlers large breakable glass cups but these straws with covers help prevent inevitable spills and breaks while dining out with kids.
Stainless steel straws
Speaking of straws, we bring these stainless steel straws on vacation in an effort to reduce plastic waste on vacation. If you enjoy your beverages with straws, consider bringing your own so that we don't add any more plastic straws to the ocean! 
Full sleeve bib
Full sleeve bibs are a lifesaver on vacation with kids! If you don't want to have to change your toddler's outfit after every meal, consider a full-sleeve bib where you don't have to worry about all the mess! 
Have two dinners
When we travel to an all-inclusive resort we typically plan for two dinners. First, we head to the buffet to feed our kids and have a little snack. Then we typically put our kids to bed around 7:30 or 8 pm either in the stroller or with a babysitter and then go out for dinner adults only. This allows the adults to have a nice meal on vacation. 
Have snacks everywhere
The most important thing you always need when traveling with kids is snacks! You never know when a particularly bad case of being hangry will strike, and snacks are always the answer! We visit our local bulk foods store prior to vacations to pick up our kids favorite items for the trip. 
Travel Hacks with Babies
Bring your child's blanket or lovey along
Before kids, we used to joke that all we needed to remember were our passports and our wallet because there was nothing else so invaluable we couldn't replace on arrival. With kids, it's a whole different story. Both our sons could not sleep without their baby sleep sacks at night! Bring along your child's favorite lovey or blanket to help ease the transitions on vacation!
Take advantage of sleep on the go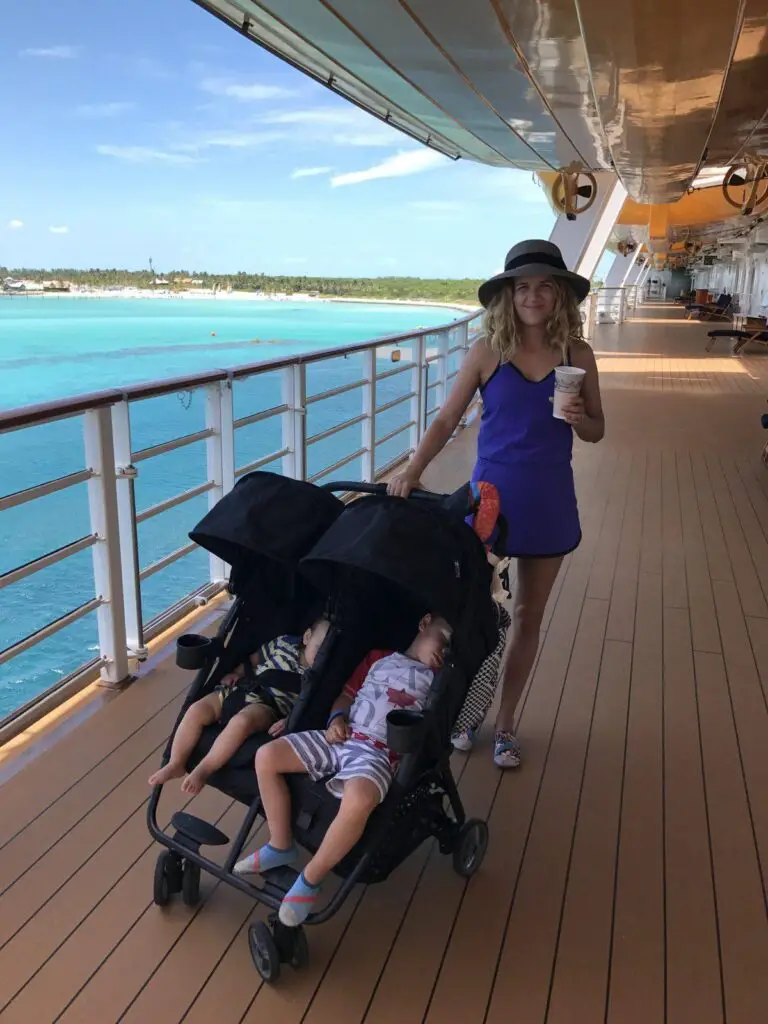 Our kids sleep well in the stroller and in the car so we plan our adventures with this in mind. Take advantage of times when the kids can nap on the go so you don't have to spend your whole day at the hotel! 
Microwavable sterilizer bags
With young babies, sterilizing bottles and other items is a challenge on vacation. If you are staying in a place with a kitchenette, I love these microwavable sterilizing bags to keep all my kids' stuff clean on vacation. 
Use a backpack style diaper bag to carry your stuff
If your kids are still in diapers, a backpack style diaper bag is the way to go on vacation. It's so much easier on your back to carry your diaper bag backpack style and allows you to be hands-free and focus your attention on the kids. 
Bring wipes everywhere!
Wipes are the best travel item to have in your purse on a trip with kids. Wipes help to keep everyone (and everything!) clean on vacation. In a pinch, they are great for getting stains out on your own clothes as well. 
Travel Hacks With Kids
Hire a photographer at your vacation destination
We try to have professional photos done yearly with our kids to send out in our Christmas cards and for our family photo album. Getting the photos done on vacation is a great way to celebrate your trip and as well provide a unique backdrop for your photos. You can look for packages with your resort photographer or use a company like Flytographer for your next family photo sessions. 
Go in small spurts
When we went on our first skiing trip with kids, our son only went skiing for about 40 minutes each day. Although it wasn't a lot he had a great time doing it, and that was what was most important towards getting him out there again and again! If you're doing something new (and challenging with kids) expect that they aren't going to want to spend the entire day doing it. 
Bring a deck of cards
If you're looking for something to do at dinner that's not electronic, why not start a game of cards? We love to play go fish and crazy eights with our kids while on vacation. We have this awesome Melissa and Doug set of cards that is great for little ones.
Pack some of their favorite toys from home
For young kids, bringing some familiar toys might help to ease the transition to a new place. It's also something for them to do as a quiet time activity on your trip. We pack this foldable road map and a bunch of hot wheels cars for our boys on vacation. 
Painters tape makes for a fun toy on vacation
Painters tape can actually be a lot of fun for kids on vacation. You can make hop-scotch, tic-tac-toe, or a car race track with painters tape. Best of all, it won't damage the floor or walls. Our boys love Hotwheels and we always bring a roll of painter's tape along to make a small racetrack for the kids.
Use your phone as your camera
The majority of the photos I've taken on this blog were taken with my iPhone X. Most cell phones these days have an amazing camera to take shots of your kids. You don't need to lug around fancy photography equipment, it's so much easier to pull out your phone for those family pics!  
Personalize your passport with a small sticker
I can't believe how simple and brilliant this hack is. At the airport, I'm always having to open up each of our four passports to find the right person when we are asked to present our passports at security or the ticket counter. A small colored circle sticker on the passport helps you identify who is who!
Get a phone number bracelet for your kids
God forbid, if your child wanders off in a crowd a safety bracelet helps them to be identified. These child safety bracelets can include your phone number and address.
Take screenshots of reservations in advance
It's happened to me countless times that I've arrived at my destination and told my taxi driver the name of my hotel only to find out they have no idea where that hotel is. Then I'll usually have to turn on my data ($$!!) to look up the reservation and give the address. If you take screenshots of all your important reservations in advance you will be able to show them to taxi drivers and check-in staff on arrival.
Pin for later!