If you are planning a trip to Disney, scoring a spot at the most popular Disney World restaurants can be a challenge! We're going to review the hardest Disney World dining reservations to make, and how you can maximize your chances of getting a reservation before your next trip.
Disney World is not just about characters and rides, Disney offers some amazing dining experiences, you just have to know where to look!
Check out these tips to score a Disney dining reservation early and enjoy a meal at one of the most popular Dinsey restaurants. If you are planning on eating at one of these restaurants, follow my advice, because these are the hardest dining reservations to book. 
Planning a last minute trip? Check out our suggestions for booking great last-minute reservations at popular Disney restaurants.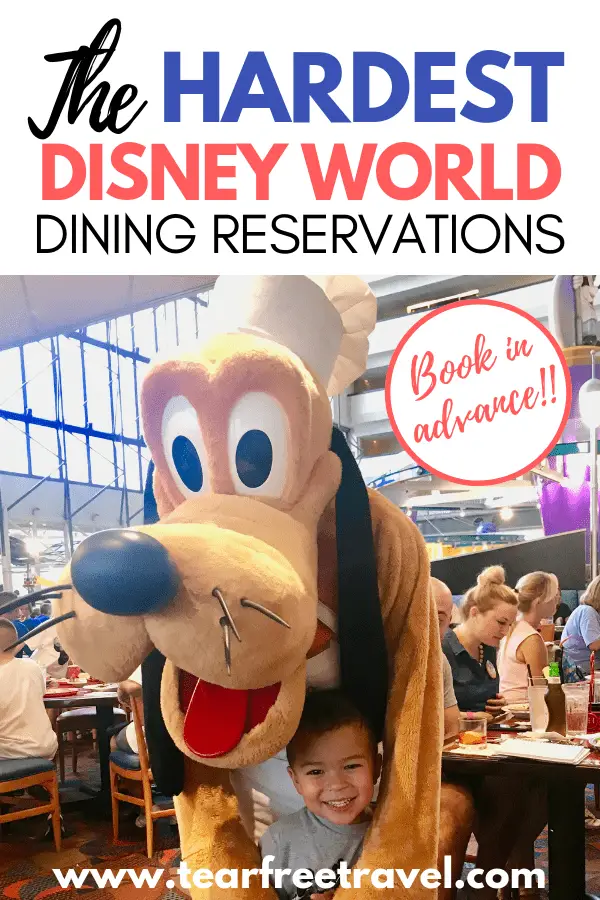 Do you need to make reservations at Disney Restaurants?
The short answer is yes! Of course, many Disney World restaurants accommodate walk-in seatings, but having a reservation is the best way to ensure you won't be disappointed on vacation.
Reservations at Walt Disney World restaurants are important to get because thousands of people are there visiting every day and the popular restaurants simply can't accommodate all of them. 
This makes it difficult sometimes to book the reservations you want while planning a vacation. In particular, character meals and Signature Dining are in such high demand among so many, that even the most diligent planners can miss out.
Should I Get the Disney Dining Plan?
Whether or not to get the Disney Dining plan is a personal decision that is based a lot of your eating habits and goals for your vacation. We have gotten the dining plan in the past and it was nice to know EXACTLY how much our entire vacation was going to cost.
If you don't eat large portions or tend to order the cheaper items on the menu, you might want to think twice about the dining plan. Just like any other 'all-inclusive' plan, you may feel tempted to 'maximize' your value by ordering things you wouldn't normally have chosen.
Of course, one of Disney's most popular promotions is their free dining discount. This year, Disney is offering free dining from July 5-Sept 30 2019. A huge steal over the summer months!!
Please visit our recommended Disney Travel Agent for more details on how you can snag this deal!
The Most Popular Disney World Restaurant Categories:
Character Dining
Signature Dining
Generally, dinner is the most popular time for reservations. You can sometimes score a reservation at a popular restaurant for breakfast or lunch last minute.
If you are looking to keep to a budget on your Disney Vacation, I would highly recommend booking a table service restaurant for breakfast or lunch. You will save a lot and still get an amazing experience.
How to make Disney Dining Reservations:
Disney Dining reservations are completed easiest online. You can book through the Disney App or through the Disney World website. You can also call (407) WDW-DINE to book a reservation.
If you are wanting to dine at a popular Disney world restaurant, be sure to follow Disney Dining Tips:
Book as soon as you are able to. These hot ticket reservations book up extremely fast! Set your alarm For 7am E.T. and make your reservations 180 days prior to the start of your vacation!
Book the most important reservations first. If you are dying to visit Cinderella's Table, make sure to check for this reservation first! You'll want to book your most important reservations as soon as you log on.
Schedule your most important reservations toward the end of your trip. You are able to book for your entire trip 180 days in advance of your first day at Disney. If you are staying at a Disney resort you are able to book ahead for the entire duration of your stay starting 180 days before that first day. Take advantage of less competition to book your most difficult reservations!
If you miss your shot at a table, check back regularly in case there are cancellations. Every day is a new opportunity. We scored a reservation at Chef Mickeys two days before our trip. For a 5pm time! Check back every day. Spots become available all the time!
How early can you book dining at Disney World?
Disney lets you book dining reservation 180 days in advance of the START of your trip and the clock starts at 7:00 am ET.  That means that if you are on the west coast, set your alarm for 4:00 am. Yikes!!
If you are planning a 10 day trip to Disney world you can book your dining for the ENTIRE trip 180 days before the start. This means it will be easier to book the most popular reservations towards the end of your trip as there will be fewer individuals eligible at that time.
The Hardest Disney World Dining Reservations: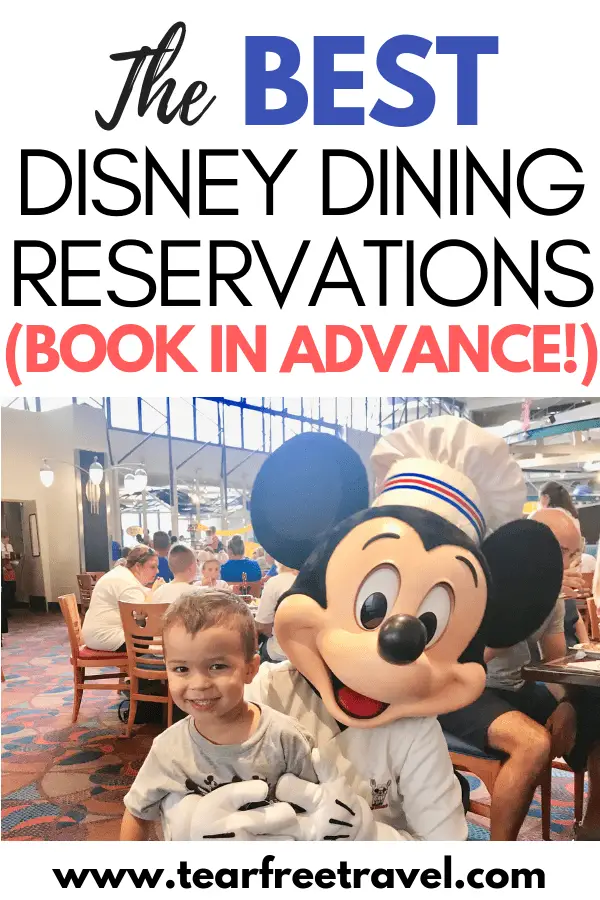 Cinderella's Royal Table
This is the crown jewel of Disney's character dining experiences.  It is the leader among the hardest dining reservations. Meet with princesses and eat a lavish feast within the walls of Cinderella Castle.
The beautiful setting is to die for.  It's the most sought-after reservation.  The menu is just diverse enough to please practically anybody who's hungry.  Overall, there is a very good reason it's difficult to get in.
To add a little more magic, consider letting your kids dress up in costume for this occasion.  Although princess dresses aren't required, you'll be sure to see lots of little princess and other Disney characters at Cinderella's Royal Table.
Character Dining with the classic Disney Princesses at Cinderella's Royal Table – Check out Cinderella's Royal Table Reviews
Chef Mickey's
Right next door to the Magic Kingdom is Mickey's premier character restaurant. This buffet is located within the Contemporary hotel. 
One of the benefits of dining here is that a theme park admission is not required. Being on the monorail, this restaurant is just a short stop away from the Magic Kingdom.
Chef Mickey's offers a buffet for breakfast, lunch, and dinner. Kids will get the chance to meet and interact with their favorite classic Disney characters including, Mickey, Minnie, and the whole gang.
If you are planning to partake in a character dining experience don't forget your Autograph book. We ordered these autograph books online and saved money compared to the ones sold in the parks.
Character dining with classic Disney characters. Check out Chef Mickey's Reviews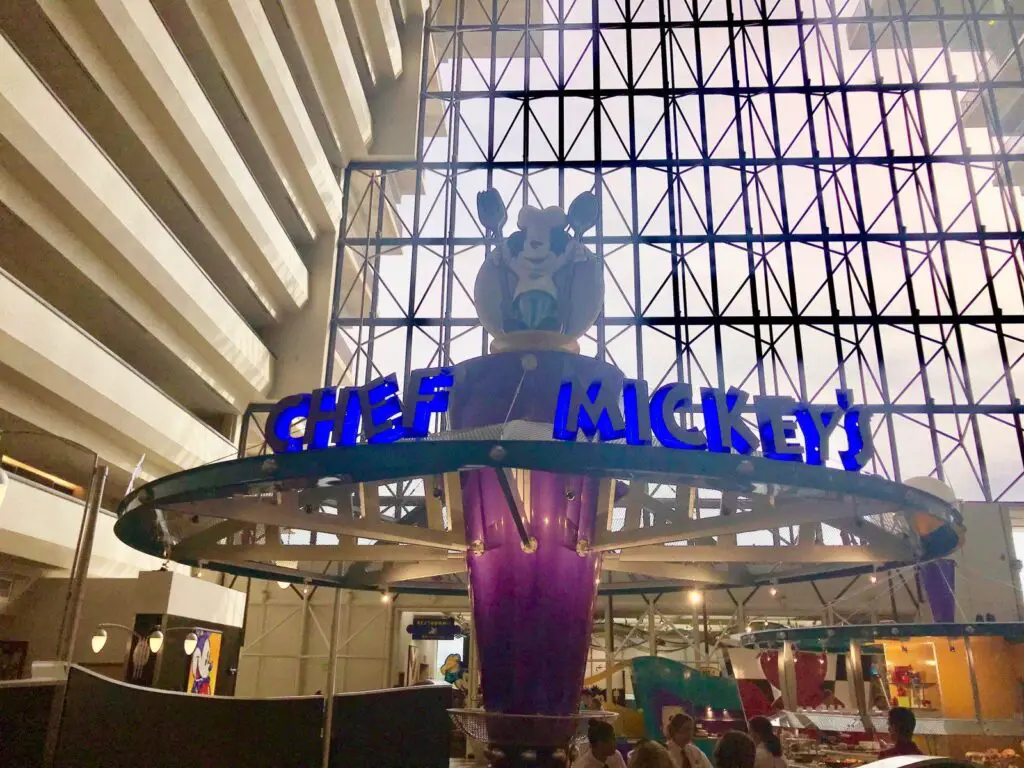 Victoria and Albert's
This restaurant, located within the Grand Floridian will not feature any cartoon characters or princesses.  It's popular for a completely different reason. 
It is the most refined and elegant meal you are likely to have in Disney World.  Victoria and Albert's has been a AAA Five Diamond Award recipient since 2000.
This meal is also the most expensive meal at Disney. This meal will set you back the price of one night in a deluxe Disney resort!
Is it worth it? Check out its incredible rating on TripAdvisor and see for yourself if it lives up to the hype!
Elegant dining at Disney World. Check out Victoria and Albert's Reviews
Akershus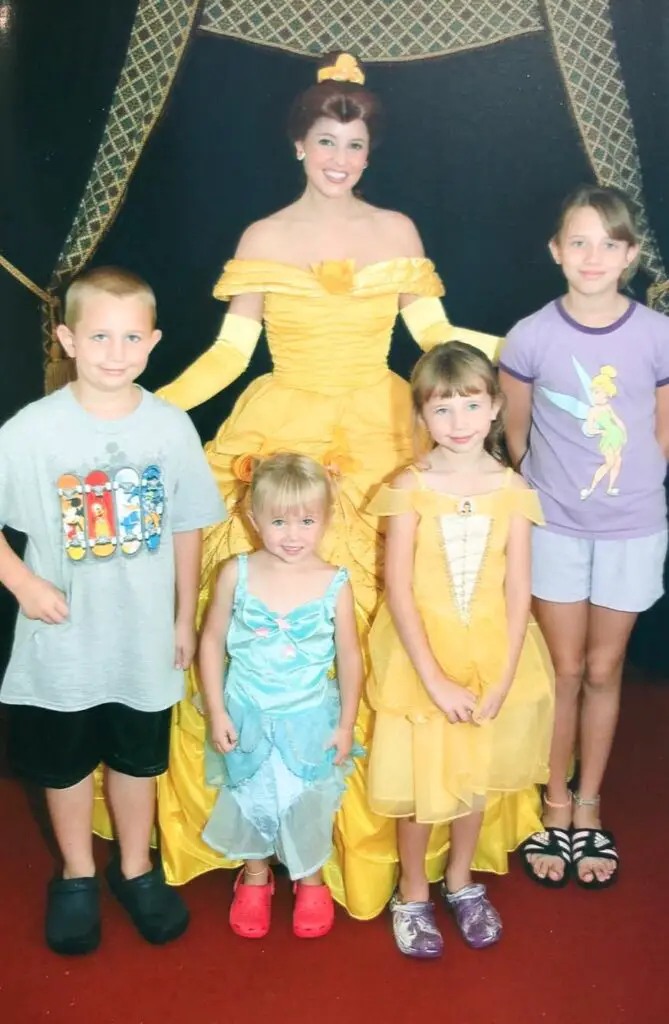 Like Cinderella's Royal Table, Akershus provides a lavish dining experience mixed with princess meet and greets.  The setting is not quite as extravagant as the castle, but it does have its regal atmosphere nonetheless. 
Akershus is located in the Norway Pavilion of Epcot right next to Frozen Ever After, but don't expect to see Anna and Elsa in the restaurant.
This restaurant offers a 'Taste of Norway' with a variety of Norweigan inspired selections for breakfast, lunch, and dinner.
Character dining with Disney princesses. Check out the Akershus reviews
Christa from The House That Never Slumbers shares her review:
Akershus Royal Banquet Hall is not just for little girls. My son and nephew enjoyed this experience just as much as my daughters!
The character interaction is some of the best of all the Walt Disney World restaurants, and it's a great way to find several of the princesses in one place if you are collecting autographs.
Before you are seated, your party has a photograph taken with Belle. Every meal includes the "Taste of Norway" cold foods bar with a nice selection of salads, cured meats, cheeses, fresh fruit, baked bread, and Scandanavian seafood. Even the pickiest eaters will find something to fill their bellies.
The entre menu boasts a variety of authentic Norwegian dishes, but there are also options similar to American fare – pork tenderloin, herb-roasted chicken, and so on – for the less adventurous diners.
The princesses circulate throughout the room pausing at each table for pictures and a chat with the occupants. Every time we've dined at Akershus, I've been extremely impressed with the effort each princess makes to ensure the young men of the party feel just as much included as the young ladies.
We found cheap t-shirts with several of the Princesses pictured on the front and had the princesses sign next to their image. It was a great souvenir for each of my girls. (Please note, the characters are not allowed to sign articles of clothing that are being worn at the time, so you must bring the t-shirt with you. We had a piece of cardboard in each t-shirt to keep the Sharpie from bleeding through.)
Be Our Guest Restaurant
This Magic Kingdom restaurant has had guests charging the Beast's castle-like villagers with a battering ram since the day it opened in late 2012. 
The articulately themed restaurant lets you dine within the forbidden west wing and the iconic ballroom from the film Beauty and the Beast. You will want to request your preferred room as there is a third room which is nice, but less magical. 
This Summer, Be Our Guest began a new Prix Fixe dinner menu for a more luxurious and authentically French experience.
Themed signature dining. Check out the Be Our Guest Reviews.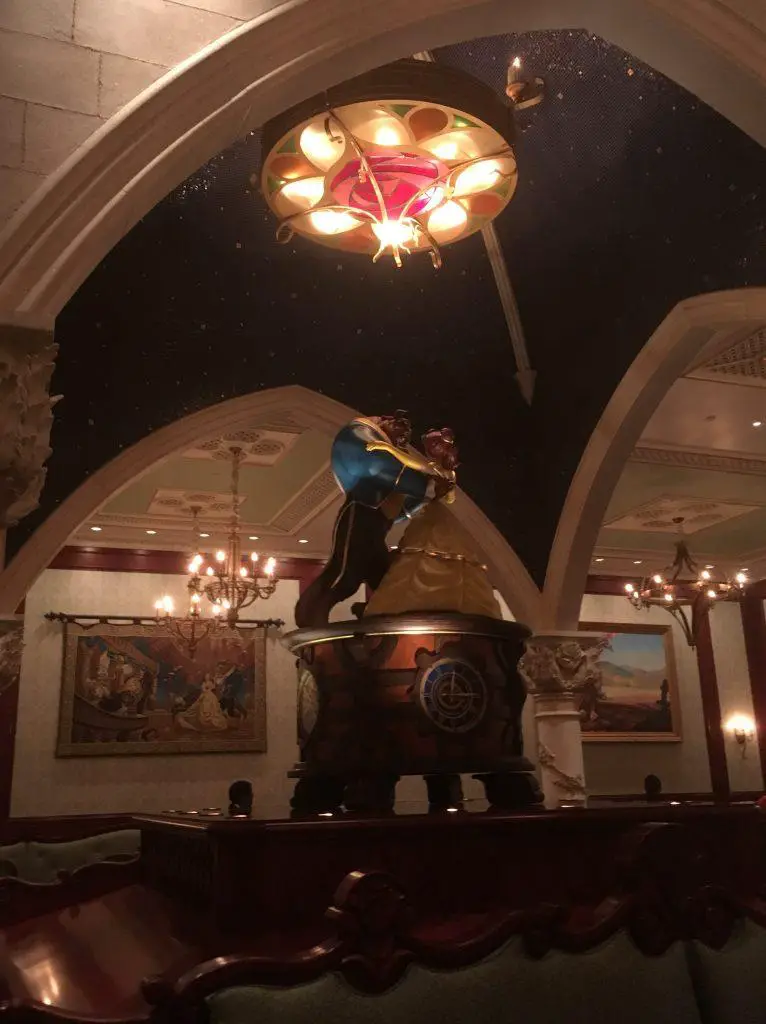 Seely from Mouse Ear Memories shares her review:
Be Our Guest is one of our favorite places to eat in Magic Kingdom! Both Breakfast and Lunch are quick service, but you can grab reservations and order your food ahead of time so you don't need to wait.
Dinner is a signature meal that you need a reservation for, and you can meet the beast! The food for breakfast and lunch is pretty standard- waffles, eggs, and pastries then sandwiches, soups, salads for lunch. Dinner is a three course signature meal. 
Tips for Last Minute Disney Dining Reservations:
On our last trip to Disney, we booked less than 60 days before the start of our trip. By the time we got around to planning our fast passes and our dining reservations, there wasn't much left!
We were still able to dine at Chef Mickey's, T-Rex, and Jiko (Signature Dining) despite being so last minute. Here are my tips for booking dining last minute:
Check the app every day!
There are a million reasons that some families need to cancel a reservation. Sometimes a great reservation will become available last-minute. We scored a reservation at Chef Mickey's the two days before our seating.
I checked the app every morning and all of the sudden a 5:30 pm prime time reservation was available! It is worthwhile checking and rechecking on the app if you have a specific reservation in mind.
Be flexible with timing.
If you are booking last-minute you are less likely to have access to the best times to dine. We usually like to have dinner early since I like to keep my son on a pretty strict bedtime routine.
On our trip, we had to make a few late reservations so that we could enjoy the restaurants we wanted. We were able to compensate by grabbing afternoon snacks and even taking an afternoon nap so that everyone could be refreshed for a great dinner.
Need help planning your Disney Vacation?
There is a lot that goes into planning a Disney Vacation! We ALWAYS use a travel agent because it doesn't cost extra and Disney agents are always full of helpful information to make your trip more magical!
You can check out our recommended Disney travel agent for a quote on your next Disney vacation.
Pin for Later!