Top Baby Travel Gear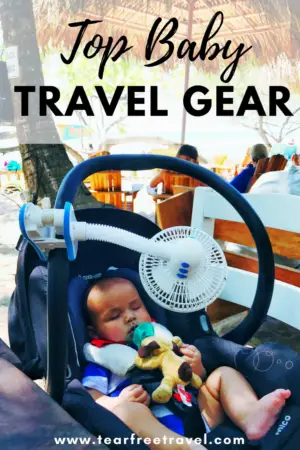 Wondering what is the best baby travel gear for your next vacation? Here is my review of the best travel accessories for babies that I have found helpful on my travels with my kids. These baby travel essentials have saved my butt on more than one occasion! Do you have any other favorites? Drop me a line in the comments below!
When my husband and I traveled before kids we would always try to pack carry-on only. We would zip through the airport, bypassing the baggage claim, high-fiving each other for our awesome packing skills. Now I look back longingly on those days as I stare at the mega suitcases, car seat, stroller, and other gear I've packed for our latest vacation.
Our first trip with a baby and I felt as though we literally packed our entire house for one small infant. Our luggage quadrupled in size.  Although my packing has gotten a bit more streamlined with experience, I actually think overpacking with kids isn't a bad thing. I like to be prepared, and if the airline will let me take it, I will usually use every last pound of my baggage allowance to bring the things I might need.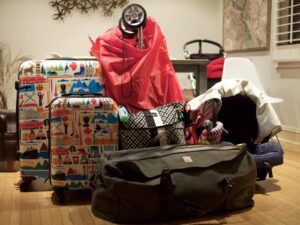 Here is my list of must-have baby travel gear: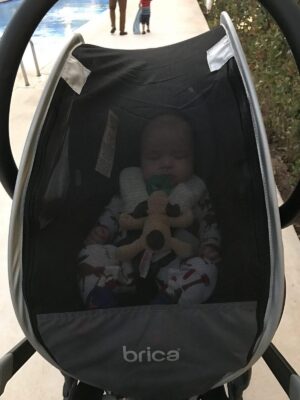 I actually picked up this car seat canopy at my local used clothing store and am so happy I got it! This was perfect for my most recent sun vacation with a 6-month-old. The reflective shade protects from the sun and the mesh protects from bugs at night. This combined with my diono stroller fan and my baby was cool and protected from the sun on the beach. If you are wondering about the best lightweight car seat for travel, check out my post here. Pictured above is the Maxi Cosi Mico AP (we love this one!!) 
The Merlin sleep suit is quite possibly the most amazing sleep invention I've ever tried (and I've tried a lot!).  The best part is that it's portable and packable, so it's perfect for vacation. My son went from 30-minute naps to 3-hour naps with this suit. It really is magic!  Check out my post on how to get your kids to sleep on vacation for more tips.
Speaking of sleep, I think the Phil and Teds travel crib is the best portable crib for travel! This thing is so lightweight and compact. You can take it as carry-on. Once you've built it once, it's super easy to set up on the go. I like that it is a little longer and narrower than a traditional play pen so it's great even as a travel crib for toddlers. This is the best travel crib around (we've tried a LOT!!!) We used this until my son was 3 years old.  It also subs as a great beach tent (pictured below!)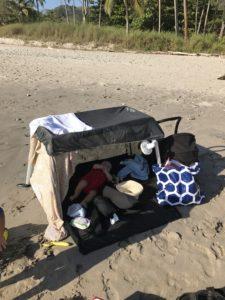 This was a recent discovery and it was great on vacation. I only wish I had bought more than one because everyone wanted to use it! This portable fan clips to a stroller or car seat and helps the little ones to stay cool especially if they are napping in their stroller.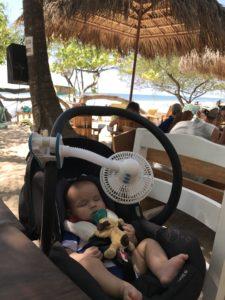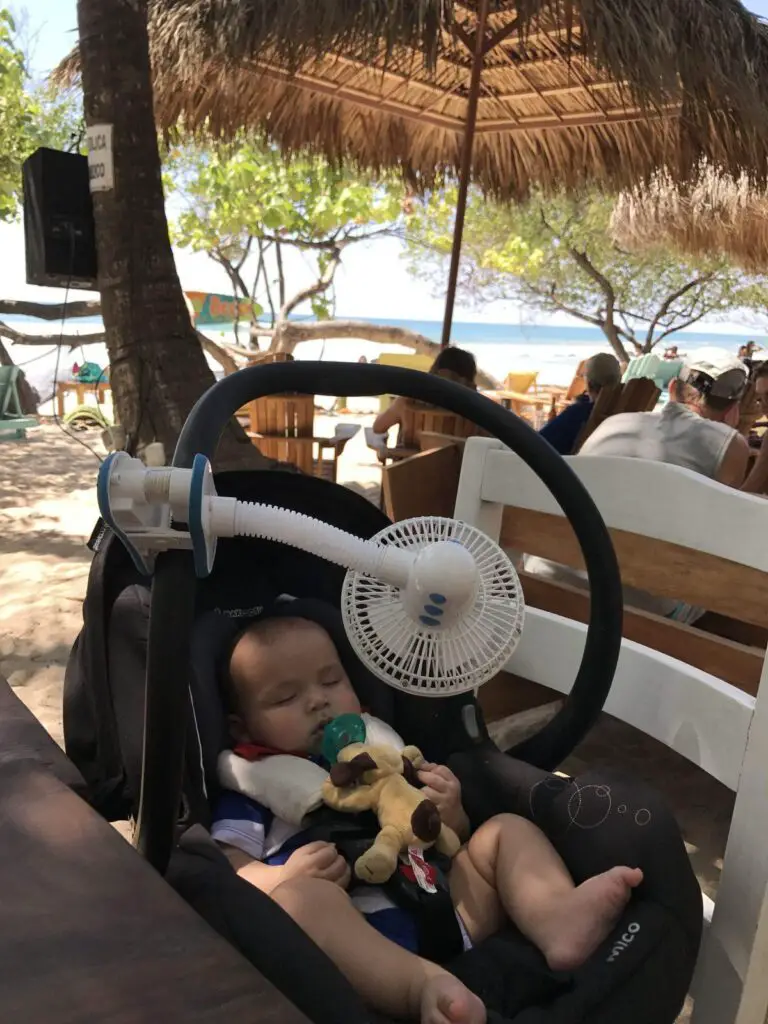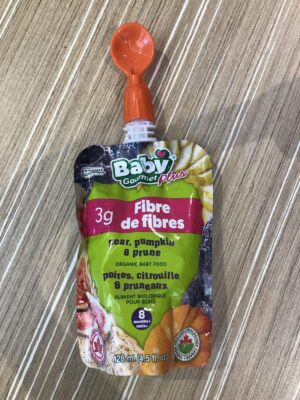 We love baby pouches on vacation as they are easy to store and pack. These attachable spoons are a total game-changer for on-the-go use. No dishes to clean and I love it!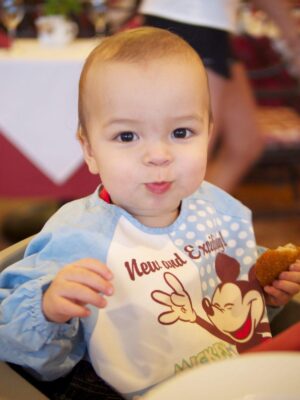 Regular bibs just don't cut it in my house. I find that they protect minimally from food mess and mostly just result in me having to wash both the bib AND whatever clothes were on underneath. Since getting a full-sleeve bib though I've finally been able to keep my outfit changes to a minimum. Fewer outfit changes = less packing. Win, win!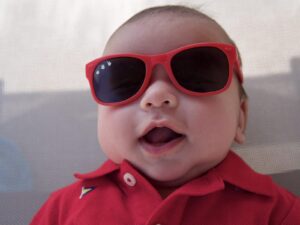 These were also featured in my toddler travel gear post. These sunglasses are awesome for kids as they are virtually indestructible. They are also chewable (and adorable!)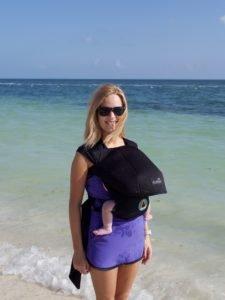 I have tried almost every style of baby carrier around from buckle carriers, ring slings, woven wraps, stretchy wraps, and mei deis. Babywearing will definitely save you stress on vacation and is great for touring around at your destination. I like to use my miamilly baby carrier in the airport (and use my stroller as a luggage carrier), and I use my water carrier  while out and about so I can still chase my older son up and down the beach.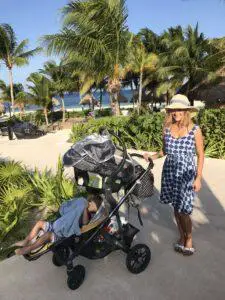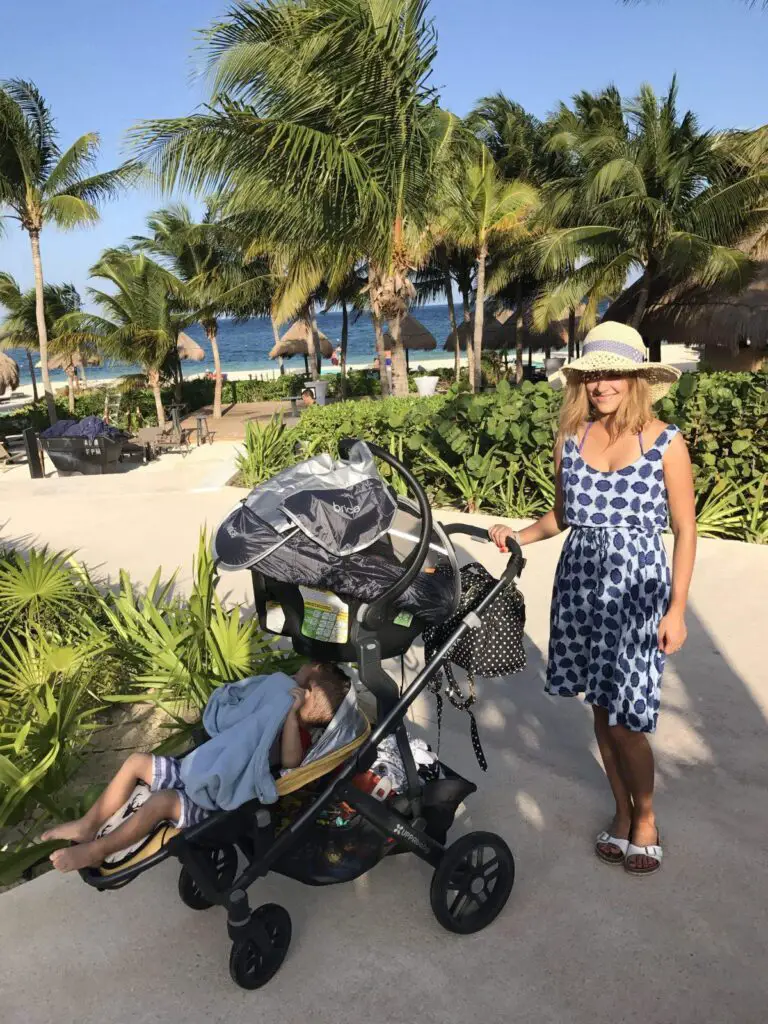 If you've read my toddler tips, you will know that  I am just not a fan of umbrella strollers. I really don't understand why you would need one unless you are going to be really tight on space (cruise ship, small rental car etc).  In my experience, umbrella strollers simply do not have many of the features I look for in a stroller, especially a travel stroller, like lots of storage room, full recline for naps on the go, and a great sun canopy. If you are interested in the one umbrella stroller I have actually enjoyed, check out my post here.  When we travel we almost always bring our full-size stroller and we do not regret it!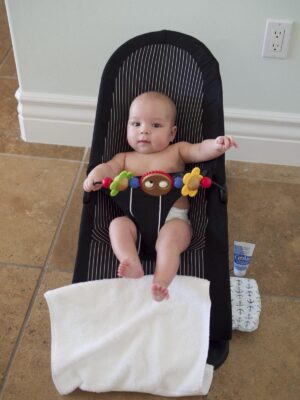 I love this portable bouncer. We brought it on our first trip to the Bahamas as carry-on. It is light and compact which makes it easy to travel with. It's great to have a place to put the baby down on vacation especially if you are staying in a condo or rental that doesn't have any baby amenities. If you don't have room to bring along a bouncer, consider renting baby gear at your destination. We used Baja baby gear on our last trip to Mexico (see my review here) and we loved the convenience of having everything delivered to your door!
If you are breastfeeding, a nursing scarf is super handy to have on vacation. My son was super distracted breastfeeding in public and the nursing scarf actually helped him to 'focus in' so to speak. I love these nursing scarves by Itzy Ritzy, I still wear them now despite having stopped nursing a few months ago! By the way, if nursing is an option for you, it is really convenient on vacation!  Not having to worry about sterilizing things in a foreign country was a big blessing. I love this article written by my friend at Merry Go Round Slowly which highlights the 7 ways breastfeeding can simplify your travel. Be sure to check it out!
We were recently gifted this adorable (and completely indestructible) book and I am absolutely loving it for travel. If you've read my sleep tips for traveling post you know the importance of sticking to a consistent bedtime routine, even when traveling. For us, reading books is part of that routine. This book packs so easily and can be chewed, pulled, crushed and even washed and it still looks as good as new! We brought it to the beach and it survived the ocean! Love love these for travel with kids.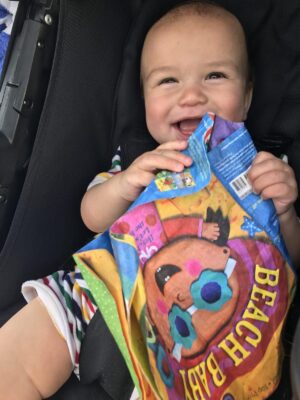 Happy Travels Everyone!
xo
Kate