Baby-friendly vacation? Relaxing family getaways? No such thing! When we first starting traveling with our kids we felt exhausted. all. the. freaking. time. What happened to the hours lounging on a beach chair? Long strolls and hikes? What about sleeping in?! (GLORIOUS SLEEP HOW I MISS YOU!) We've come to realize that although traveling with kids certainly adds a new challenge to vacations, it is still possible to ENJOY family vacations, and part of the magic was figuring out what the best type of vacation with young kids was.
Cruise? All-inclusive? Sightseeing? Beach? Check out my tips on the best kid-friendly resorts and unique family destinations to consider for your next trip.
I've come up with a list of Pros and Cons to help you choose the best type of vacation with young kids.
Cruise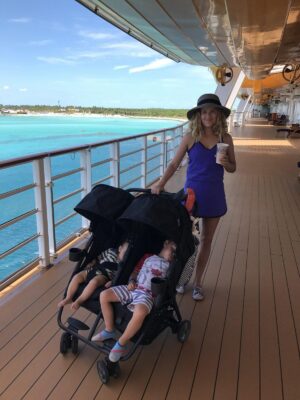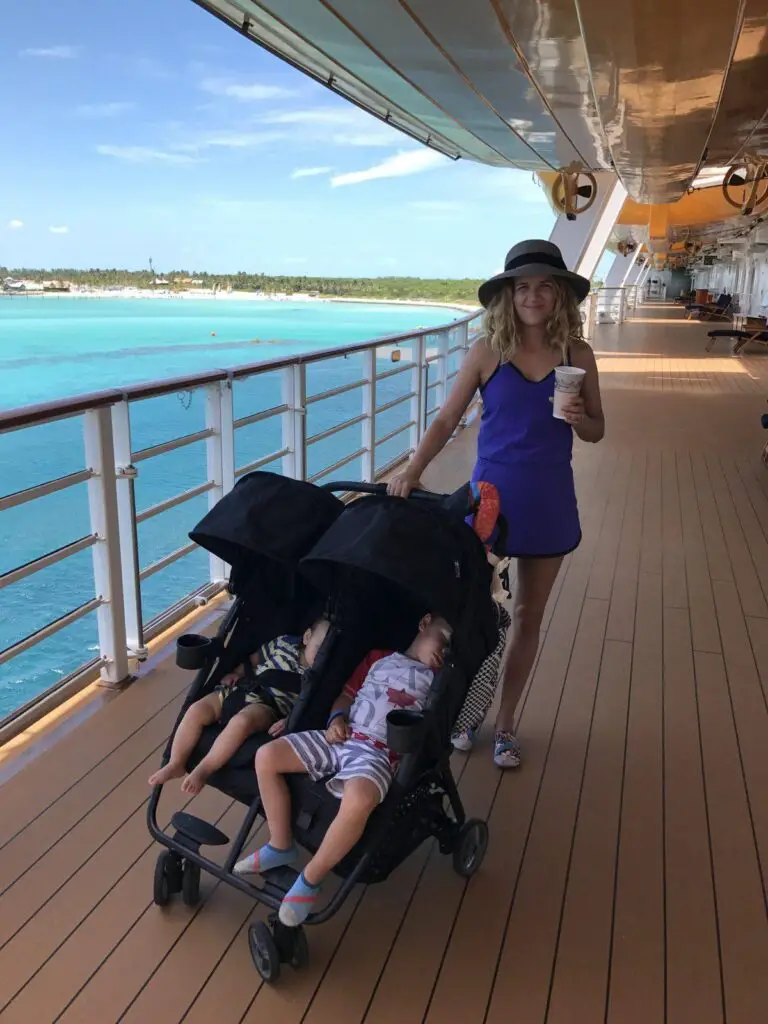 We recently went on a Disney cruise when my youngest son was 8 months old. Disney is definitely a cruise line that caters to babies and toddlers as they have a lot of baby amenities and child-minding services on board. If Disney isn't on your list, check out my post on the best cruise lines for families here. We booked our trip through Expedia Cruise Centers and we were so pleased with the level of service we received. We had originally been booked into the late seating for dinner but our lovely Expedia agent called Disney and was able to have it changed because we had an infant in our travel group. Check out my tips for cruising with a baby before you go!
Pros:
There is child-minding for babies age 6 months to 3 years with qualified and experienced caregivers. This is really specific to the Disney cruise line as they offer the It's a Small World Nursery as part of their services. The nursery is amazing and we felt so comfortable leaving both our kids there for dinners and some excursions.
One of the best parts about cruising is that you don't need to pack and repack at each destination. This is important for me because I'm a bit type A when it comes to packing. I like to completely unpack when I am on vacation so that I remember all the things I've bought! Check out my list of baby travel essentials before you go!
High quality and reliable food. Cruises offer dependable all-inclusive food choices that will suit grown-ups and picky eaters. Disney cruise line offers pureed food for babies at all of their restaurants which was a great bonus.
You can do almost any type of trip on a cruise, from beach, city, sightseeing, and adventure. The options are endless.
Cons:
Space is tight and the ship can feel crowded! We stayed on Disney's Dream, which is one of the cruise lines with the biggest staterooms. We had a balcony room and although it did the trick it certainly was cramped having a baby, a toddler and two adults in such a small amount of space.
There is limited time in each destination to explore. This is my biggest criticism of cruising, as I like to really explore a city when I travel. I've decided that cruises are great to get a quick taste of a city or area and then decide if I want to come back to this destination for an extended stay in the future.
Cruise ships do not allow swim diapers in the pools! This is a big negative and certainly separates out cruises from other all-inclusive options that allow babies to be in pools. Disney offers a splash pad for little ones who aren't potty trained, which can be a nice alternative.
Thankfully, our family doesn't have any issues with motion sickness but this can certainly be a factor for some families who want to cruise. No one wants to spend their vacation feeling queasy so I wouldn't recommend cruises if this is you!
Baby-Friendly All-Inclusive
Going to an all-inclusive resort is absolutely one of our favorite vacations with young kids.  We love Mexico for the short flight, excellent food, and reliable resorts. We tend to head to Cancun or the Mayan Riviera, but I have also heard wonderful things about Cabo San Lucas with kids.  Looking for an excellent all-inclusive? I always use Tripadvisor when booking my trips. I check their reviews and pay attention to the overall rating and comments from travelers who are also traveling with their kids to get a realistic impression of the place. Our favorite family-friendly all-inclusive resort to date is The Finest Resort in Playa Mujeres, Mexico. Read my review of the Finest Resort here!
Pros:
The absolute best part of going to an all-inclusive is not having to lift a finger when it comes to cleaning or meal prep.  No dishes for a week and I am sold!
All-inclusive resorts are also great for picky eaters. Our eldest son is notoriously picky no matter how hard we have tried to get him to explore new foods. It appears he is 'allergic' to the color green – at this point even getting him to eat some guacamole would be a win. We love all-inclusive buffets because there is always something he will eat. So much better than preparing a million things only to have them all rejected!
If your kids will nap in the stroller, you are set! Both of our kids (who are otherwise horrible sleepers) sleep well in the stroller. This means we can hang out by the pool or have a drink in the evenings' guilt free! If your kids don't sleep well "on the go," this may actually be a con (see below)
Many resorts will have kids amenities like splash pads, playgrounds, and kids play areas. This has been great for us to have a place to go when the kids are starting to get into the "witching hour" and burn off some steam. Be sure to read my post on my favorite toddler-friendly all inclusives with awesome kids amenities here.
Cons:
Although many resorts offer paid babysitting services for babies and toddlers under 3 or 4 years of age, there is typically not an official kids club for young babies or toddlers. This means that you have to plan ahead if you want to book a babysitter and often they will come to your room which can be quite boring for the little ones. I would love to see more all-inclusives offer a formal kids club for ages 3 and under!
If your baby/toddler doesn't nap well "on the go" you might be stuck in a dark room multiple times a day. I recommend a room with an extra bedroom or a balcony so at least you can enjoy some time alone!
All-inclusive resorts are fairly similar wherever you are. There is much less experience of culture and this is a big negative for me. I love an all-inclusive for a quick getaway to some hot weather (especially in the cold winter) but part of the joy of traveling with kids is having them experience the unique aspects of the culture of that place. Unfortunately, this really can't be done well at an all-inclusive.
Sightseeing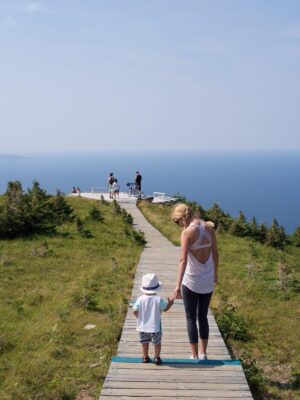 When we first started traveling with kids I thought that a sightseeing trip would be a complete disaster. I figured I would be sticking to all-inclusives and cruises for the next 5-10 years. We decided to go on a road trip to Eastern Canada along the Cabot Trail (Cape Breton, Nova Scotia) and I have to say it completely surprised me. For me, this is my absolute most favorite family trip yet. We've used Airbnb and HomeAway to book small cottages/houses along the way which was perfect for traveling with young kids. Having a kitchen and a separate bedroom for baby to nap is so important!
Pros:
 Beautiful landscapes and scenery are still beautiful even with kids in tow! My kids want to do two things and two things only: LOOK AT STUFF and RUN AROUND IN CIRCLES. All. Day. Long. This is actually perfect for trips where the scenery is the highlight! Although my son didn't appreciate the beautiful vistas, I appreciated chasing him around much more when I was doing it in a beautiful setting.
You are in charge of your own itinerary and can adjust your stops according to your kids' needs. Cranky kid? Stop for a snack! Need to burn some energy, stop for a hike? These trips go with the flow and you can adjust your schedule as you see fit.
I love staying at Airbnb or HomeAway rentals on vacations with kids. I feel much more in touch with the local community and I love the variety of places you can stay at. On our road trip to Cape Breton, Nova Scotia we stayed at an oceanside villa, a country acreage and a quaint village house. Each place had its own special charm and the changes kept our toddler entertained.
Our kids nap well "on the go" so trips that involve a lot of driving work well for us.  We could drive an hour or two and be at the next destination ready to explore with a well-rested and (mostly) happy toddler in tow.
Cons:
Packing and repacking at each stop is my biggest complaint about sightseeing trips. I love the variety of places but it can be a huge pain to set up your "camp" at each house, especially with all the baby gear we have. We have a very specific sleep routine (see my post on getting your baby to sleep on vacation) and it takes a while to set this whole thing up at each place. I think the trade-off is worth it, but I wouldn't want to stay at more than 3 places on a typical 7 or 10-day trip.
If your baby isn't good in cars or trains then this trip really isn't for you! We are lucky that both of our kids sleep well on the go and this has helped us to have some more "adventurous" trips with our kiddos.
Unless you bring a babysitter, no child minding services are available. My husband and I love to eat out and enjoy trying different food experiences when we travel. We have brought our parents and a babysitter so that we can still have a chance to escape for the odd night out. If you don't have the luxury of a built-in sitter, you'll be stuck at your place once bedtime arrives.
Beach Villa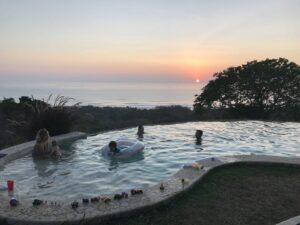 We have done two vacations in a beach villa (Santa Teresa, Costa Rica and Great Exuma, Bahamas) and this is quickly becoming my favorite type of trip. We usually book on Airbnb and look for a place with baby amenities available. A beach villa is a perfect compromise between an all-inclusive resort and a sightseeing road trip as you get a bit of culture and local experience but you don't have to move around to different places.
Pros:
Since you will be staying in a private house, bring your baby monitor and enjoy the pool/beach/outdoors while your kids sleep. No more being stuck in hotel rooms whispering with the lights out!
The beach villa we stayed at in Costa Rica (Casa Makasi via Airbnb) was completely secluded and private. We didn't have to worry about disturbing anyone when our kids inevitably woke up at 5 am ready for the day.
Having a home base means that you can unpack completely and really set up your place to be kid-friendly. We brought our list of the best toddler travel toys that my son had a blast playing with by the pool. It was great to be able to leave them out and not having to worry about constantly toting things back and forth from our room.
Staying "off resort" forces you to eat out at local restaurants and enjoy the local attractions. We met so many friendly people and young families traveling this way.
Cons:
Unfortunately, although having a kitchen is great for kids, it also means that dishes and meal prep are part of the deal. This vacation might be a little less relaxing than an all-inclusive in this way.
Unlike a hotel or a resort, most privates villas don't have daily housekeeping. Some do though, inquire with your host to find out!
As with the sightseeing trips, staying in a private house means there isn't access to childminding services unless you bring your own babysitter (we brought the grandparents, woo hoo!)
Baby travel items like high chairs and cribs may be less likely to be available at an Airbnb as compared to a large chain of hotels or resorts. We usually bring our Phil and Ted's Portable Crib and Lobster Chair as they both pack easily and are perfect for traveling.
So which trip is the best type of vacation with young kids?
Of course, I don't really have an answer to this question! We have made such wonderful memories on each of our trips and we've also had times on each trip that we've thought "WHAT WERE WE THINKING BRINGING OUR KIDS HERE!!" We love variety, so I plan to continue going on all of the types of trips above recognizing that each one has a different thing to offer. One of the most important rules for travel with kids is to be flexible, and recognize that part of the adventure with little ones is having a few hiccups along the way. Vacations with kids are a wild ride, and although things might not always go as planned, the memories are well worth the struggles along the way.
My Bucketlist trips:
We still have so much to explore and so many places to visit! I've got these trips on my 'travel with kids' bucket list
RV travel (Hoping to do this in Iceland next summer)
Yacht/Sailboat travel (Will wait until the kids can both swim)
Southeast Asia! We fell in love with Bali pre-kids and would LOVE to go back and do EVERYTHING in this amazing guide! 
African Safari. I can't wait til my kiddos are old enough for this kind of adventure!