Headed on vacation with a baby? Add a travel baby carrier to your MUST-PACK list. We seriously could NOT function without babywearing while traveling (or at home for that matter!). Especially once our second came along, we needed to be hands-free! Choosing the best baby carrier for travel will depend on your vacation and your babywearing needs and experience. I've listed some of my favorite baby carriers for travel for different needs and trips below.
Although I usually also bring along a stroller when we travel, having a travel baby carrier allowed for a lot of flexibility when we travel. Baby carriers are great for hikes, airports, tight spaces, and when you want your little one to 'nap on the go'. When looking for a travel baby carrier, I usually think about wanting something that is lightweight, breathable and compact. Although I love my super duty hiking backpack carriers, it's not really practical if I'm going to be flying for our trip. If you haven't yet tried baby wearing, I encourage you to give it a try. Here are some of the many benefits to babywearing while traveling:
Benefits of Baby Carriers While Traveling
Hands-free!
Great for airport security and airplane travel
No need to lug around a heavy stroller
Easy for naps 'on the go'
Awesome for hiking and the beach
Below is a list of baby carriers I have personally tried. Everyone is different, especially when it comes to babywearing, so keep that in mind! What's comfortable for me, may not be comfortable for you and vice versa. Trying out a similar style at a babywearing meetup or in a store is your best bet to ensure you get the best carrier for you.
[toc]
Best Baby Carrier for Airplane Travel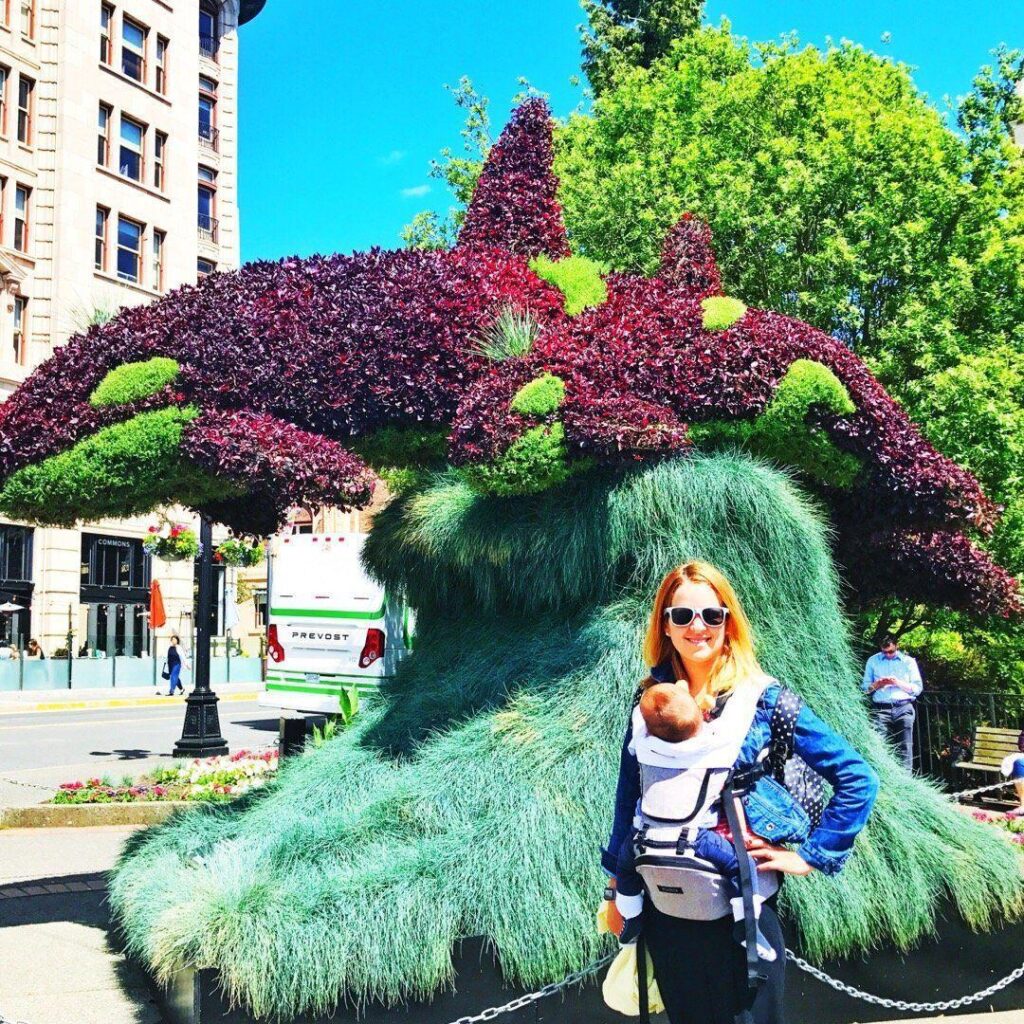 When thinking about the best baby carrier for airplane travel, there is so much to consider and choose from! It was tough to pick out my favorite as I've used almost all of the carriers I have listed below on an airplane and they all have their pros and cons. I chose the MiaMily Hipster+ which is one of my personal favorite baby carriers for flying. It is a hipseat carrier, which was originally made popular in Korea, and has recently made its way to North America. I bought this baby carrier early on Kickstarter because I was THAT excited when it came out.
So what makes this the best baby carrier for air travel? TWO WORDS: Fanny pack! This baby carrier has a built-in seat which is basically a hard surfaced fanny pack! Why is this so key for air travel? MOST airlines/flight attendants will make you take off your carrier for takeoff and landing. With the MiaMilly, you can actually take off the shoulder straps and the front part and LEAVE the 'fanny pack' part on. Since I almost ALWAYS try to get my little one to sleep JUST before I get on the plane, this is perfect for being able to KEEP him asleep. Although I've tried to be 'NINJA quiet' (as my 4-year-old says) I haven't managed to get off another carrier without waking up my baby and PANICKING!!
Also, let's be real, fanny packs are awesome. I'm really hoping they make a comeback!  You can put your money, passports, and cell phone in the fanny pack to keep them safe. This is great at the airport when you are always looking for a quick place to stash your passports and boarding passes.
MiaMily Pros:
Fanny pack!!
The hip seat is great for planes
Breathable
Easy to fit
MiaMily Cons:
Best Baby Carrier for Water
It's important to note that baby carriers are not meant for the water! It's very dangerous to have a baby strapped to your body in a pool or anything more than ankle deep water. If anything happens to you, well, your baby is going with you – it would be very hard for someone to pull the baby off of you. Ps. this is also the same argument that airlines have for having the baby out of the carrier for takeoff and landing. Once I realized this, I felt a LITTLE less annoyed when they kept telling me to take the baby out of the carrier for takeoff and landing.
I do have a water carrier that I LOVE using on the beach and at the splash pad. The water carrier I have is called Aqua Buboose and it is SUPER comfortable.  It has a double ring sling design which is really nice for spreading out the weight evenly to both shoulders. I found this wrap super comfortable and easy to use. It was lightweight, very packable, and quite breathable. You could definitely bring just this carrier if you are short on space!
Aqua Buboose Pros:
Breathable
Comfortable design
Packable
Aqua Buboose Cons:
Not as easy to get in and out quickly
The black material can be hot in the sun
Best Baby Carrier for Hiking
Outback Child Carrier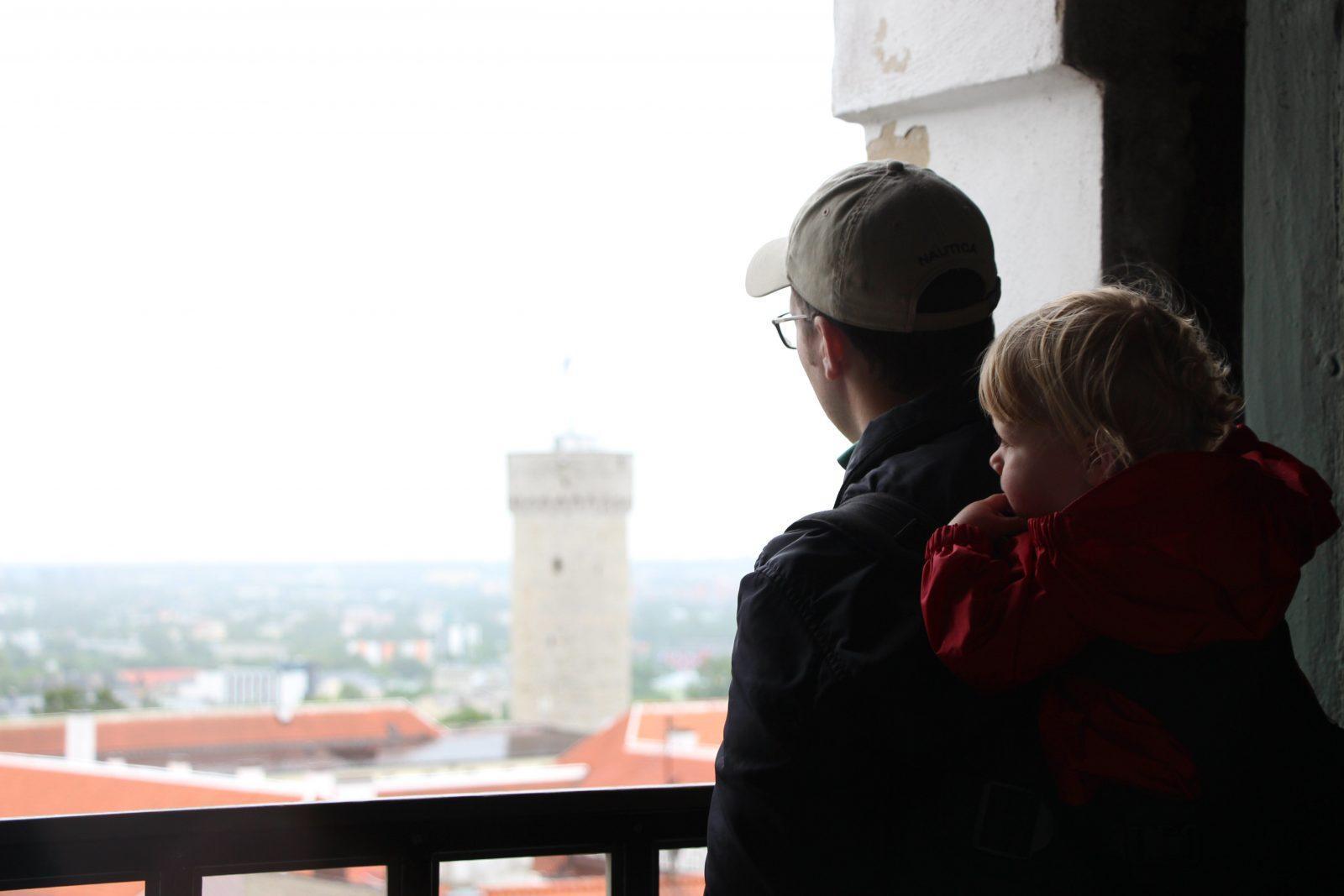 This recommendation comes from my best friend who wrote a popular post on my blog called '6 Reasons Why I LOVE Traveling to Europe With Kids'. She bought this backpack carrier 2nd hand and used it on her trips taking her young kids to Europe. Europe often doesn't have the best roads or surfaces for strollers, so a baby carrier is key! Her report? She loved that this backpack distributed the weight easily. It was great because both herself and her husband could use the carrier.
I personally have a Deuter Kid Comfort III as our Hiking backpack. This thing is NOT compact and would absolutely need to be checked as a piece of luggage if you took it traveling. That may very well be worth it if you are going on a trip that involves a lot of hiking. We LOVE the Deuter. It is super comfortable, we have worn it for a few hours at a time carrying kids almost 30lbs and it stays comfortable. The kids get to ride high which is nice for them to be able to see what is going on. There is lots of storage and there is also storage for a water bladder –  perfect for long hiking trips. We haven't taken this backpack on any long trips, but it is great for camping, and hiking close by.
Deuter Kid Comfort III Pros:
Comfortable
Sturdy Design
Lots of storage
Deuter Kid Comfort III Cons:
Very bulky, needs to be checked luggage
Geared towards hiking and less practical for everyday use
Best Toddler Carrier for Travel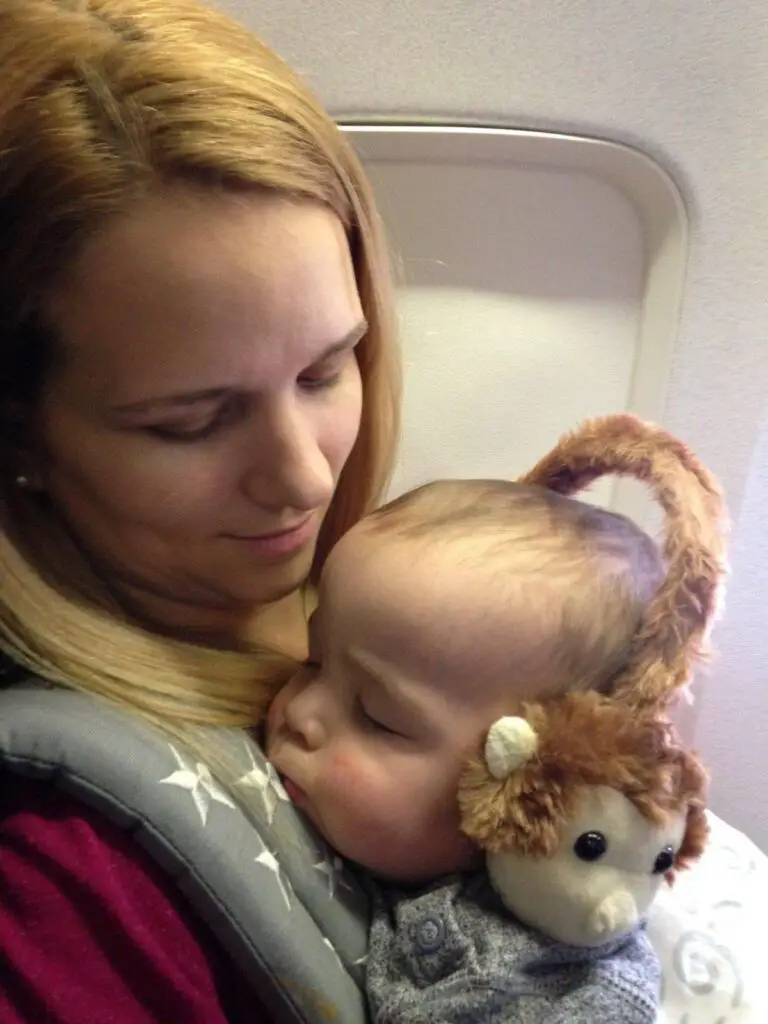 Heavy toddlers present a different problem when it comes to babywearing. Having a supportive carrier that doesn't hurt your back or neck is essential. Again, this is a personal fit type of thing, and I definitely think it would be worthwhile to try out a style in person if you can. We use both our MiaMilly and our Ergobaby (old version, but the 360 has better hip positioning) with our now 25lb 18 months old son. I think both are great toddler carrier for travel! I can't say that I prefer to carry him for long these days, but it's still great for a busy place where a stroller isn't an option.
At this age, my husband is a much better baby carrier than I am. He absolutely rocks the toddler carry, and is strong enough to not complain like I do 🙂 Both the MiaMilly and the Ergobaby are great baby carriers for dads, and they come in gender neutral colors that are easy to adjust to different sized people.
Ergo 360 Pros:
Lightweight
Packable
Easy to fit all sizes
Ergo 360 Cons:
Not as supportive as woven carriers
Best Baby Carrier for Advanced Wearers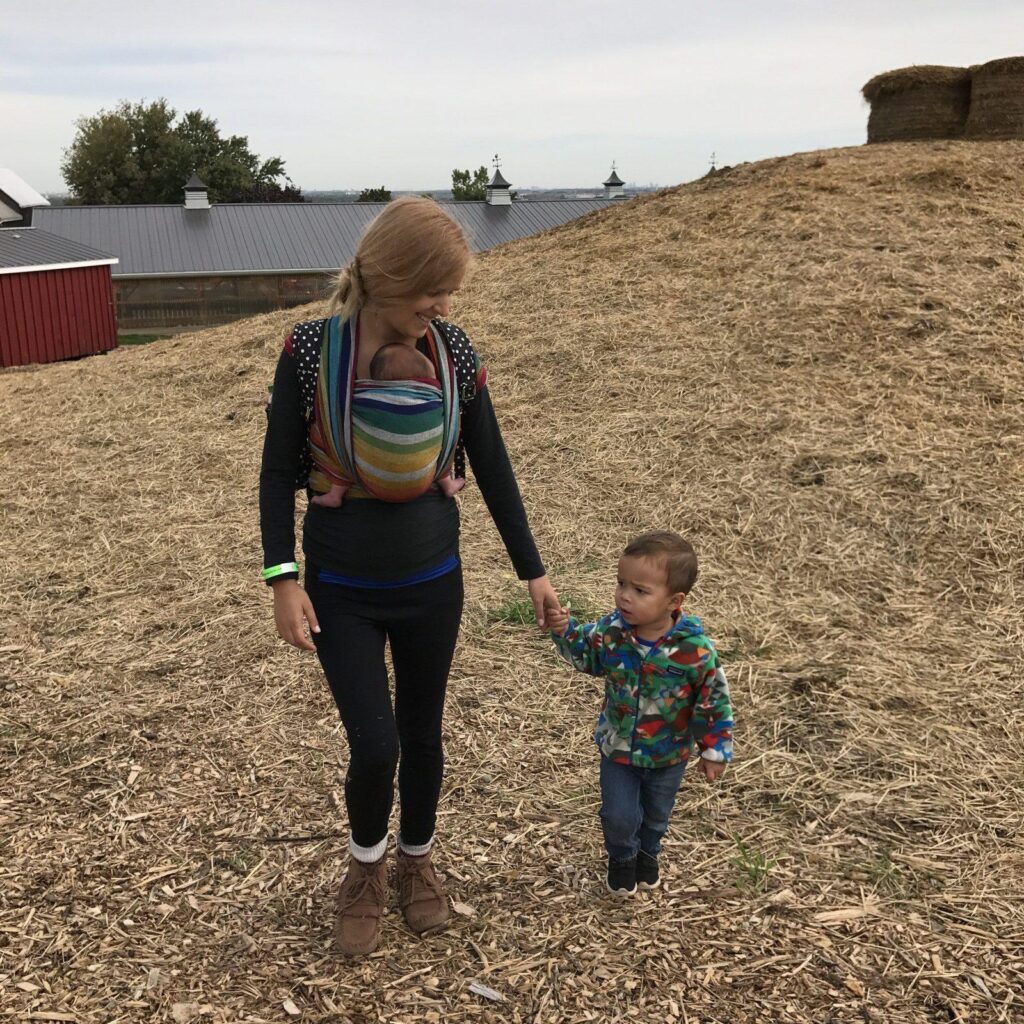 Anyone who has been around babywearing circles for a while will eventually get lured into the world of woven wraps. Then they will also spend a lot of money on said wraps. And possibly develop a 'stash'.  Not that I have any experience with this or anything…
Woven wraps require a bit more finesse and skill than buckle carriers but once you get the hang of them, most 'hardcore' babywearers will only use wovens. The great thing about a woven wrap is the comfort factor. With adjustments in the way you carry or the way you fan the fabric out across your shoulders weight is more evenly distributed. The other big bonus is being able to perform multiple carries (back, hip, front) without ever having to change your carrier.
Woven wraps range from $50-$500+ (!!!) and there is a wide variety in the types of fabric. For travel, a lightweight more breathable wrap is preferred unless you are going to a colder destination. If you are thinking of a woven wrap, definitely join a babywearing group. I bought all of my wraps off of facebook, gently used, from other babywearing mamas.
Woven Wrap Pros:
Fully adjustable
Comfortable
Packable
Multiple carries with one wrap
Woven Wrap Cons:
Not as easy to get in and out quickly
Takes a LOT of practice
Quality of material varies a lot between brands
Best Baby Carrier for Quick Carries
Ring slings are great for quick up and down carries. Once you get the hang of them, you can get your baby set in a few seconds. I have a lot of friends who LOVE ring slings. Personally, I never got comfortable with them. I wore my Tula Ring Sling (above) when my baby was just a LITTLE SQUISH and then couldn't get the hang of it afterward. No matter how much I adjusted, the ring sling always pulled on my shoulder more than I would like! Tula Ring Slings have gorgeous designs, I have to say I am more than a little obsessed with a few of their patterns. If you are learning how to use a ring sling or any other carry with a woven, be sure to check out Wrap You In Love's Youtube Channel. She has all the best videos for all things babywearing and it's important to get the fit and position right for the best comfort.
Ring Sling Pros:
Easy in and out
Super compact
Affordable
Aqua Buboose Cons:
Might bother your shoulder (it did mine!)
Limited in the types of carries you can do
Best Baby Carrier that Packs FLAT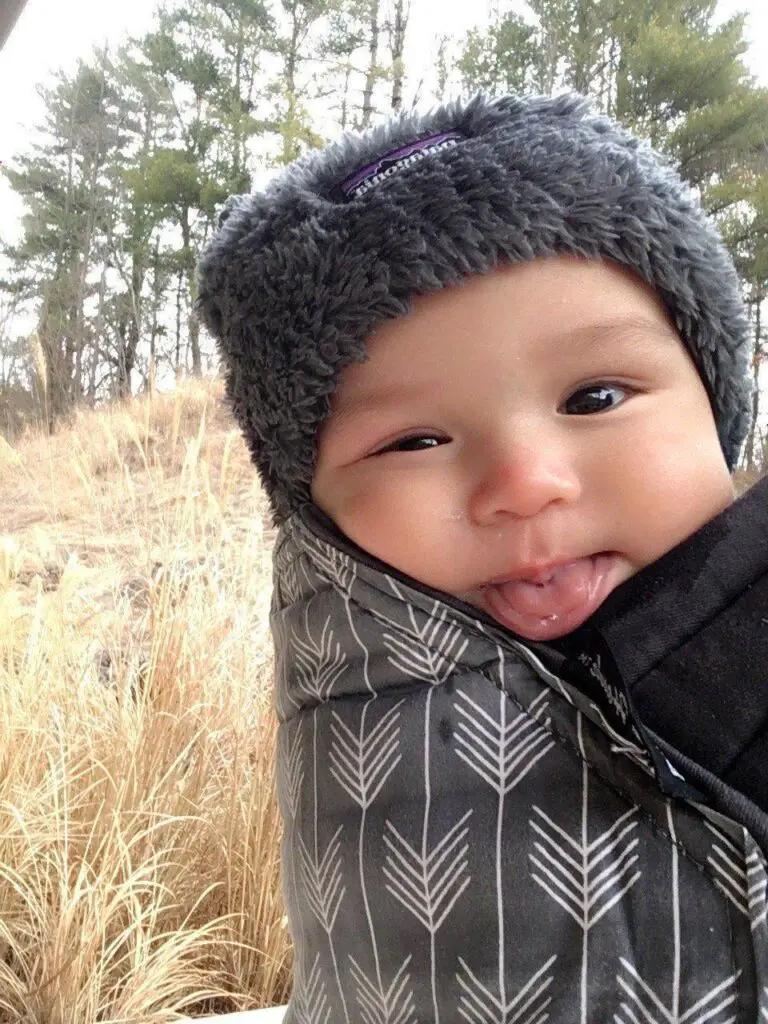 Another baby carrier that we got a LOT of use out of was our Babyhawk Mei Dei. This carrier is very simple to use and is easy for beginners. It is buckle free and has a variety of carrying positions (front, back, side). For a semi-structured carrier, it packs really flat and it super portable! It comes in cute patterns and compared to other carriers, is pretty affordable!
This was my 'throw in the car' carrier at home, that I used when going to the grocery store or running an errand for a quick carry. On vacation, I loved that this carrier was very breathable. There is no layer of fabric between you and baby so I found this was a good carrier for hot weather!
Babyhawk Mei Dei Pros:
Compact! Packs flat.
Lightweight
No buckles, fully adjustable
Babyhawk Mei Dei Cons:
Takes a bit of practice to get the ties down
Best Overall Baby Carrier for Travel
If you are looking for a carrier that is super functional, beginner friendly, great for all sizes of wearers, AND great for travel,  I LOVE the MiaMilly Hipster + carrier!
As I mentioned above, the fanny pack/hip seat is an AWESOME feature that I use all of the time to store my stuff. With the newborn insert, this carrier takes you all the way from infant to toddlerhood. It can be worn 9 different ways making it very flexible for all types of travel. It also has a breathable mesh that is perfect for baby carrying on hot days.
I personally have a bad upper back and shoulders and I find any pressure on my neck and shoulders to immediately give me a headache. This carrier places a lot of weight on the hips and takes the pressure off of the shoulders and neck. I can wear this carrier for at least an hour without it bothering my back, which is huge for me! I also love the design of this carrier, and my husband thinks its the best baby carrier for dads because it's not too feminine in design.
A note about babywearing safety
It's important to stay safe and practice safe babywearing guidelines. I like this helpful infographic from Babywearing International. Check out more babywearing resources on their site.
Babywearing backpacks!
If you are going without a stroller, you will suddenly need a space to store all your stuff. Over the shoulder bags do not work well when baby carrying so backpacks are really the best bet.
We have the JuJuBe Backpack Diaper Bag and I love this bag. It's so great to be handsfree and I actually like wearing a backpack to balance the weight out. Other options include hip satchels (aka fanny packs!) or carriers with pockets.
What Is Your Favorite Baby Carrier for Travel?
I'm always curious to hear what is new in the babywearing world, even though my babywearing days are limited now! Don't be shy! I would love to know what your favorite carrier for travel is. I am also looking to update and add more content to this post.  Drop me a line in the comments below if you have another favorite suggestion.
Happy Travels!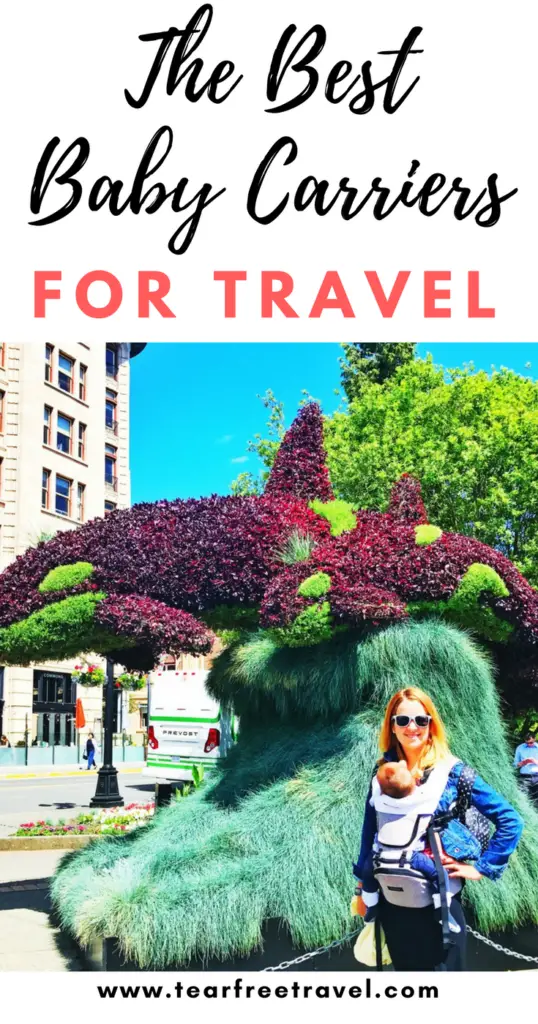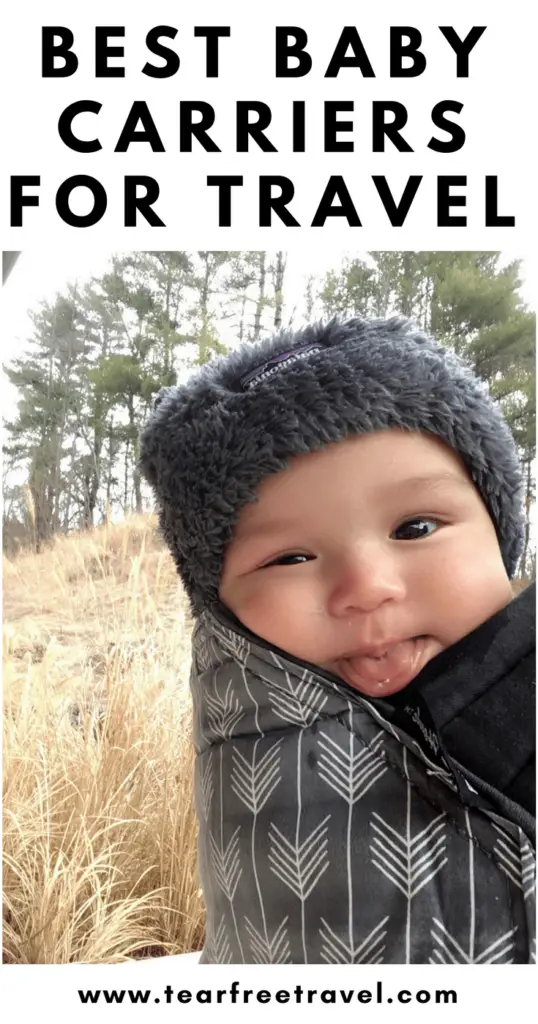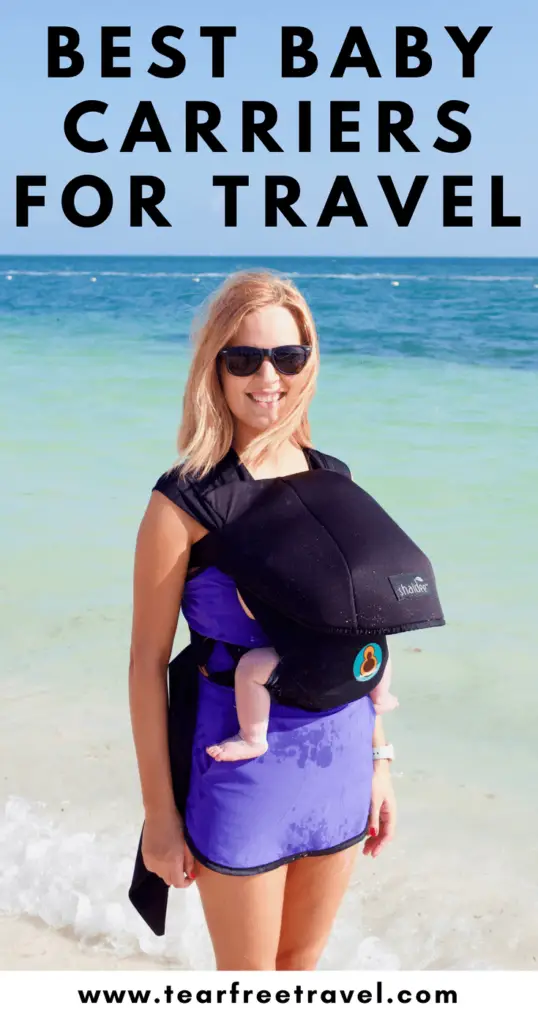 xo
Kate