Looking for the best toddler sleep sacks? I'm here to give you the 4-1-1 on some of the most popular toddler sleep sacks. I've tried them all, and want to share my experience with each sleep sack. If you've read my article on 'the 8 tricks we use to get our kids to sleep ANYWHERE' you will know I am a huge fan of sleep sacks. We use sleep sacks with our kids until the bitter end! They keep the kids warm, are safer than a blanket, and are perfect for travel.  In my opinion, sleeping sacks for toddlers are a must-have item to add to your baby registry list!
We used a sleep sack with our eldest until he was age 3. Even now, at 4.5 he still sleeps with his sleep sack as a snuggle because he's become attached to it! It's amazing how to see how both kids start yawning and getting 'heavy eyes' just as we zip them into their sacks. Since we use our sleep sacks for so long, I wanted to find the best sacks that will work for taller toddlers. My eldest can still squeeze into his largest sack at almost 5 years old!
I've compiled a list of the best sleep sacks for toddlers. I've rated them based on material, size, warmth, breathability, and mobility. All of these things factor into your decision regarding the best sleep sack. We have tried the majority of these sacks ourselves, so this is a first-hand review of the best sleep sacks we have enjoyed ourselves. If you have any favorites, please drop me a line in the comments below and I will try to add your sleep sack!
Best All Around Sleep Sack for Toddlers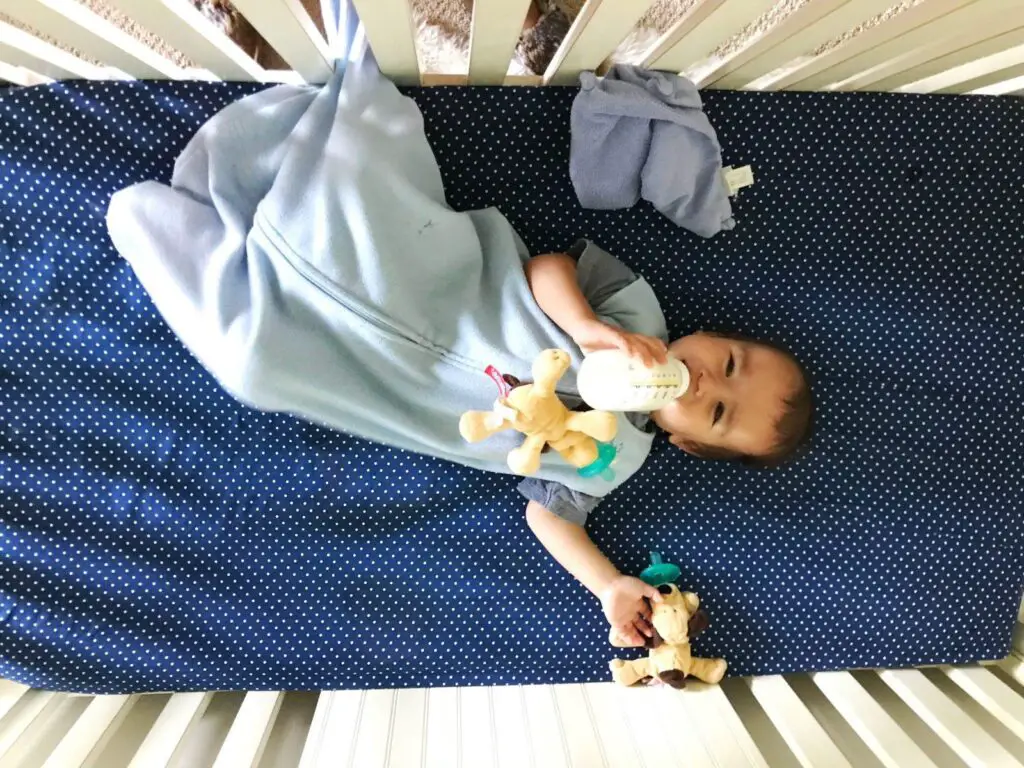 The Halo Sleep Sack is our all-time favorite all-around sleep sack for toddlers. This is the sleep sack that has turned into my kids 'blankie' and we have to bring it with us everywhere! There was a point when my son was in preschool that he carried it around with him all day.
The fleece material is great for cold weather, but my kids didn't seem to mind it in summer either. I could always adjust what my little one was wearing under the sleep sack to keep him warmer or cooler. We've even used this sleep sack on a hot vacation. In the summer months we will just use a onesie or a t-shirt and in the winter months, my kids will wear fleece pajamas.
The Halo Sleep Sacks are affordable and of high quality. Ours are going strong for 5 years now! These sleep sacks have been through a lot and they always come out fresh in the wash. The zipper mechanism hasn't faulted, which I find quite impressive after all these uses. Considering the great price, this is the brand that I always recommend to my friends and family.
Pros:
The material is cozy and of high quality
Works in winter and summer climates
Affordable price
Unzips from the bottom, this is perfect for diaper changes!
Cons:
Not as warm as other sacks, will need layers in the winter
Designs are limited
Material:
Sizes:
Small (10-18lbs), Medium (16-24lbs), Large (22-28lbs) and X-Large (26-36lbs)
Tog Rating:
This cozy sleep sack is made of soft and eco-friendly Bamboo material. The colors are gorgeous and it comes in a variety of options. This toddler sleep sack features a double zipper design that is perfect for diaper changes. This sleep sack is rated 1.0 tog which is perfect for year round weather.
What I love the most about this baby sleeping bag is the soft material. Check out the reviews of this product before you buy, everyone is RAVING about how soft this sleep sack is!
Sleep Sacks for Toddlers with Legs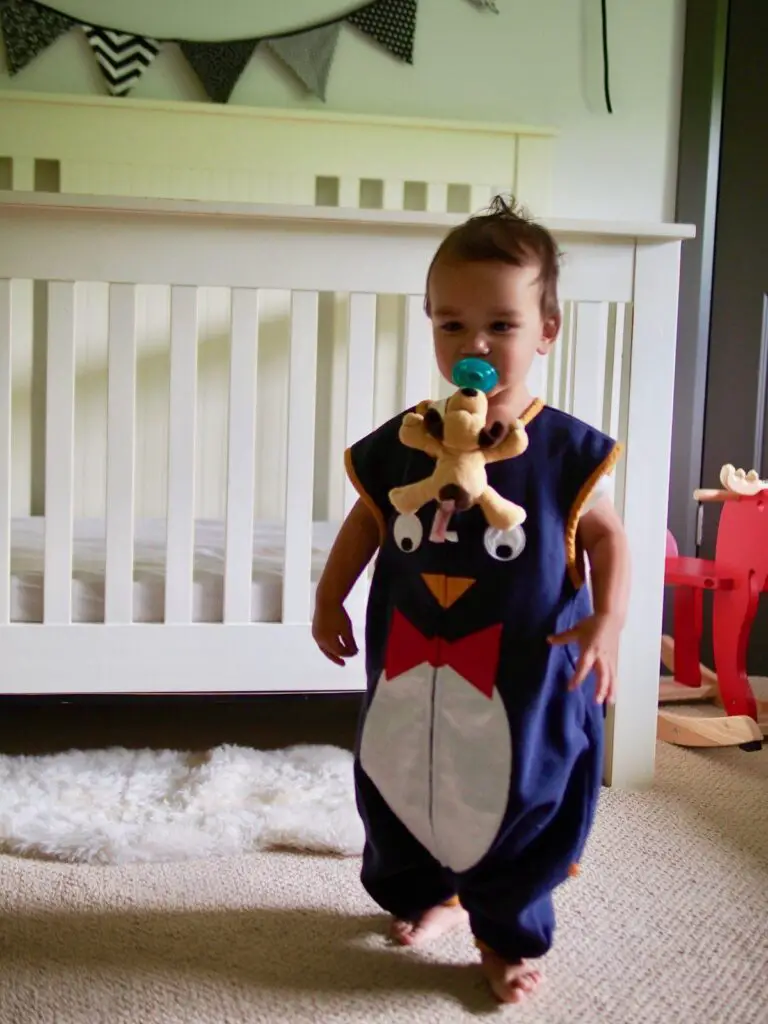 For kids who are walking, having a toddler sleep sack with legs makes it easier to move around. Now, this can be a good or bad thing, depending if you are using the sleep sack to keep your toddler from climbing out of the crib! I know that we quite enjoyed that our youngest son wasn't able to move too quickly in his full toddler sleep sack as it kept him in his crib longer. 
We have the Vaenait baby fleece toddler sleep sack with legs. Let's be honest, this sleep sack is ADORABLE. And that is 100% the reason why I bought it. Just wait till you see all the other patterns they have too. I mean, PLEASE, I just want them all! I like that the sleep sack is very large and roomy, so it still has the feeling of a blanket and not just 'pajamas'. My youngest son prefers this sleep sack because he is always GO GO GO and he wants to be able to move freely.
You can buy this sleep sack on Amazon. Compared to some of the other options, this toddler sleep sack is very affordable! It also comes in size large for Age 5-7!!
Pros:
Kids are more mobile
Super cute designs
Warm material
Cons:
Kids are more mobile (!)
May be too warm for hot months
The fleece material is not as soft and cozy as the Halo sacks
Material:
Sizes:
Small (1-3 Y), Medium (3-5 Y), Large (5-7 Y)
We do not have this sleep sack but we have several other Halo Brand sleep sacks. I love the fleece material that these sleep sacks are made of. It's very cozy in winter, and my kids don't even mind it in the summer months. Our regular Halo brand fleece sleep sack has lasted through two kids and MANY MANY washes. I've been really happy with the overall quality of this brand.
This sleep sack has a similar design to the Vaenait brand above. I'm sure it's just as functional, it's just not nearly as cute! 
Best Winter Sleep Sack for Toddlers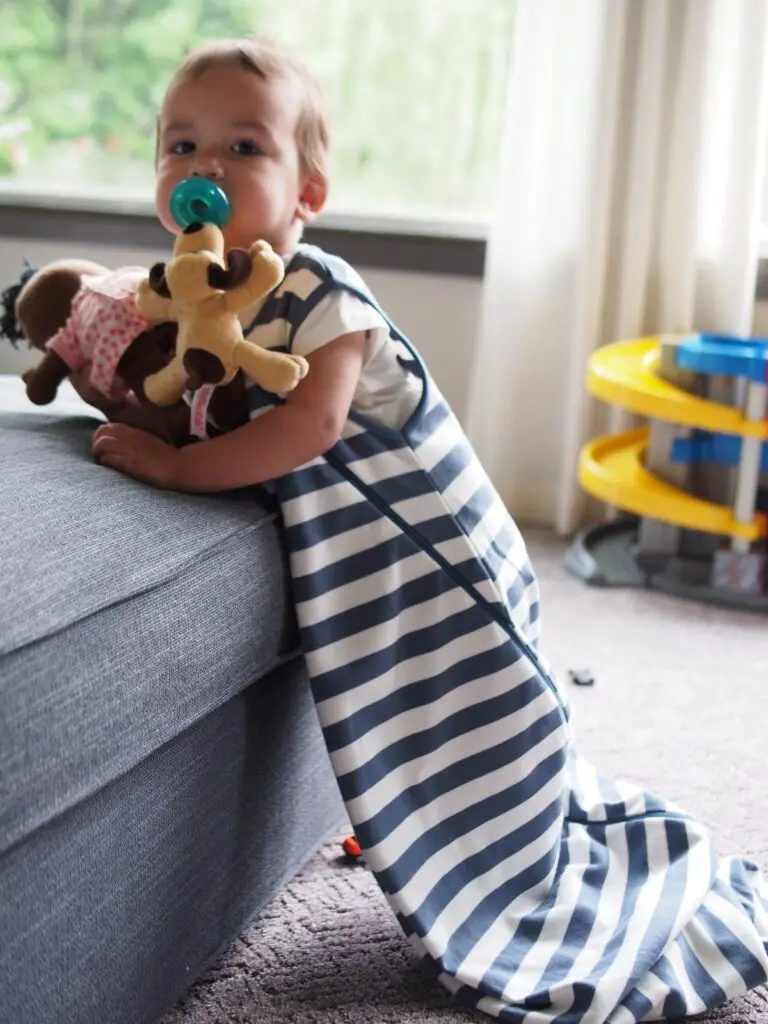 We live in Canada, where the weather is pretty darn cold for 8 months of the year. Most of our sleep sacks are warm and cozy. Our favorite warm sleep sack for toddlers is the Woolino Brand toddler sleep sack. They have two options, the organic cotton sleep sack and their extra warm merino wool winter sleep sack for toddlers.
We have the organic cotton sleep sack which is the more affordable option. It is still quite warm, but the merino sack is certainly the favorite for cold winters. Both sacks have incredible quality and design. I like that the zipper goes to the side as this keeps it out of the mouth of little ones.
This sleep sack has got great length and is big enough to fit even the tallest toddlers. We have the 18-36 month size in organic cotton and I love that this sleep sack will last right to the bitter end. My 4.5-year-old was able to fit in the 36-month sack. They even make a size 2-4-year-old option in the Merino Wool. If you have a toddler or preschooler who loves his sleep sack to the bitter end, you will get great value from this brand.
Pros:
High-quality warm material
The zipper goes to the side, away from the face
There is a two-way zipper function making diaper changes easy
Extra long for tall kids!
Cons:
May be too warm for hot summer months, especially the merino wool version
The extra length makes it more difficult for kids to be mobile in the sack (this might be a pro, depending on your view!)
Material:
Sizes:
Small (0-6 months), Medium (6-18 months), Large (18-36 months)
Another great option for the winter months is the Merino Kids Winter Sherpa Sleep Bag for Toddlers. This sack gets great reviews from my mom friends who have purchased it. We tend to keep our house temperature fairly stable so I've never felt the need for a super heavy duty sleep sack, but it would be nice if you keep the house a bit colder in the winter.
This high-quality sack is made from super warm and cozy merino wool. It is a thicker sack that is perfect for cold winter months. If you are worried about your toddler being too cold in the crib, this is certainly a sleep sack to keep in mind. You can't beat this material for those cold days!
Best Lightweight Sleep Sack for Toddlers

If you are looking for a summer sleep sack for toddlers, my favorite is the Aden+ Anais muslin sleeping bags. The Muslin material is super lightweight and breathable, it's great for hot summer days. I don't know about your kids, but mine are SWEATY at night. We used this sack a lot when my kids were little until they both developed obsessions with their Halo sleep sack (see below).
I love all of the Aden and Anais designs and I've got more than my fair share of their muslin blankets in my collection! The material is gorgeous and also easy to care for. This sack is not as 'cozy' as the other ones above but it certainly would be nice on a hot day. Since we live in a cold climate we didn't get as much use out of this sack. The price is good, so it is nice to have on hand for even the occasional hot day.
Pros:
Lightweight material that is perfect for summer months
A variety of super cute designs
Easy to care for
Cons:
The material is not as 'cozy' as other sleep sacks
This sleep sack is not warm enough for cold winter days
Material:
Sizes:
Small (0-6 months), Medium (6-12 months), Large (12-18 months) and X-Large (18+ months)
Why use a sleep sack?
We certainly love our baby and toddler sleep sacks. These 'wearable blankets' are perfect for travel and are safe in the crib. I think the fact that neither of my kids has tried to escape the crib at an early age is related to the fact that they were always wearing a sleep sack in the crib. Kids won't be able to 'kick off their blankets' at night and this will keep them warm in the night. When my eldest son stopped wearing his sleep sack he started waking up more in the night because he was getting cold!
If you are already using a baby sleep sack, using a toddler sleep sack is an easy transition. We typically have used a safe swaddler until about 3 months and then transitioned to the sleep sack after that. The American Academy of Pediatrics recommends no loose blankets or objects in the crib and even recommends the use of a 'wearable blanket' in their Safe Sleep guidelines. 
Sleep sacks are also great for travel! Despite the fact that my kids might be sleeping in a new playpen, crib, or bed, having a familiar blanket makes a huge difference! My son knows it's 'sleep time' whenever he gets the sack on. It even worked for getting my youngest to sleep on a plane! I've found that using sleep sacks has made my kids more adaptable with their sleep environment.
What are your thoughts?
Do you use toddler sleep sacks? What do you think are the pros and cons? Has it made getting your kids to sleep easier? What are the most important features in a sleep sack for you? Is it the types of material, zipper functionality or the length? Do you have a separate sleep sack for winter or do you add layers and use the same sleep sack all year?
I value your feedback on what your favorite sleep sacks have been. I learn so much from hearing for you about what has worked for your kids! Of course, I haven't had a chance to try every sleep sack around so I would love to hear from you about your favorites.  Drop me a line in the comments below if you have another suggestion. I would love to check your suggestions out.
Sweet dreams and wishing everyone some sleepy dust tonight!