What is the best stroller for traveling?
I'm asked this question ALL the time by my friends and by my readers. Is there a lightweight stroller for travel that will make my life easier on my next trip? My answer is almost always the same: the best stroller for travel is the one you have at home. Don't get me wrong, prior to my first trip with a baby, I scoured lists of the best travel strollers and was determined to find a lightweight travel stroller that would be perfect for our trip. $200 later, I had a crappy stroller that had very little storage, rode poorly on anything but smooth cement and didn't really recline.  I came home and sold it immediately on Kijiji. The whole trip, I wondered, why didn't I just bring my regular stroller from home?!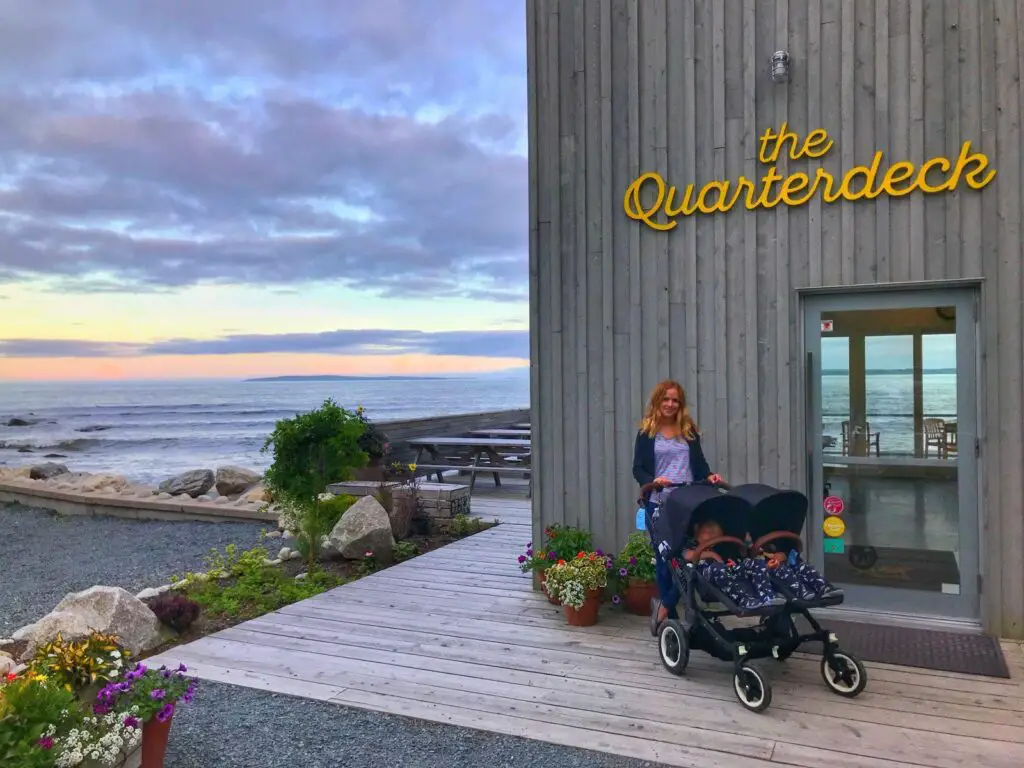 The Best Travel Stroller
The best stroller for travel is a full-size stroller with lots of storage and excellent wheels. Being that I am a stroller addict, I alternate between my Uppababy Vista and my Bugaboo Donkey for our trips. Several of my friends have a Baby Jogger City Select and I would also highly recommend this stroller for travel. In the side-by-side travel double stroller category, I would recommend a Mountain Buggy Duet as an alternative to the Bugaboo Donkey.
The benefits to a full-size stroller are endless:
Your kids will be comfortable in it
Full recline in most full-size strollers
Great canopy/shade
Storage space! Full-size strollers make great hand luggage carts at the airport and can lug all of your stuff to the beach!
Smooth ride: Our full-size stroller has a smooth ride no matter the surface. I hate pushing a flimsy travel stroller through a cobblestone street.
Accessories: I bring my mom hook, stroller fan, diaper bag clips, and Safe Go with my stroller. All though some of these options work with travel strollers, many travel strollers don't have the right handlebars for adding these accessories.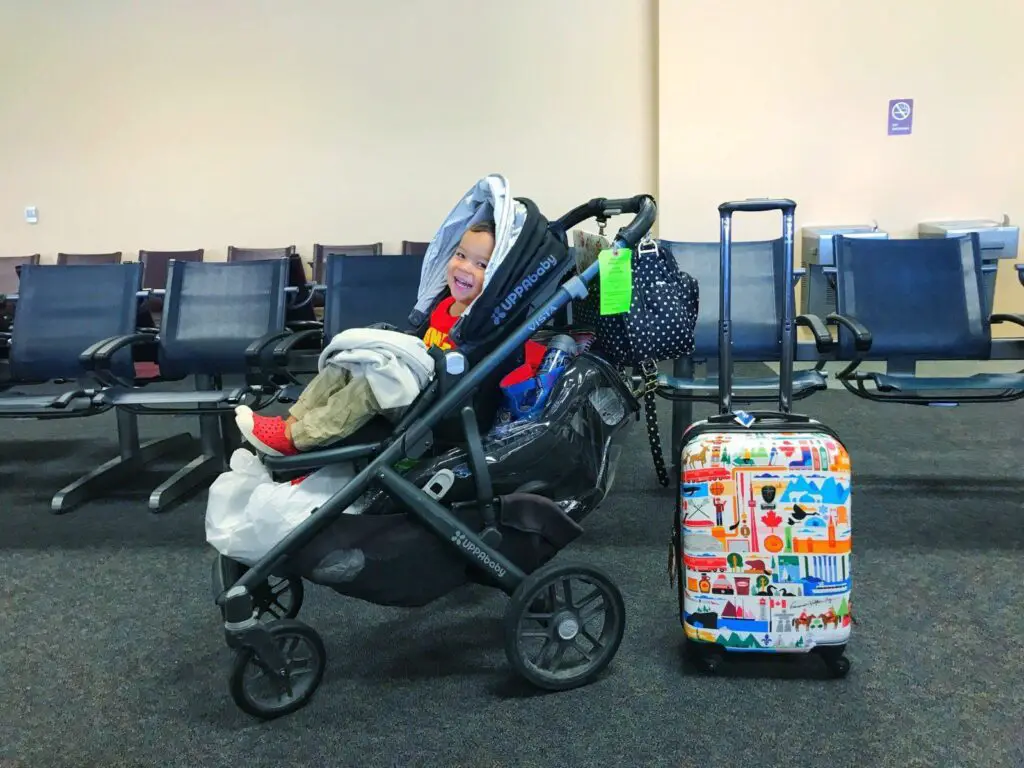 Our stroller can hold a car seat in the basket!
Or Skip the Stroller Entirely
Some trips just aren't stroller friendly, and that's where a baby carrier comes in handy! We love to babywear and often bring along our carrier for trips. Carriers are great in the narrow cobblestone streets of Europe where a stroller may be harder to manage.  If you are looking for an awesome carrier, check out my post on the best baby carriers for travel.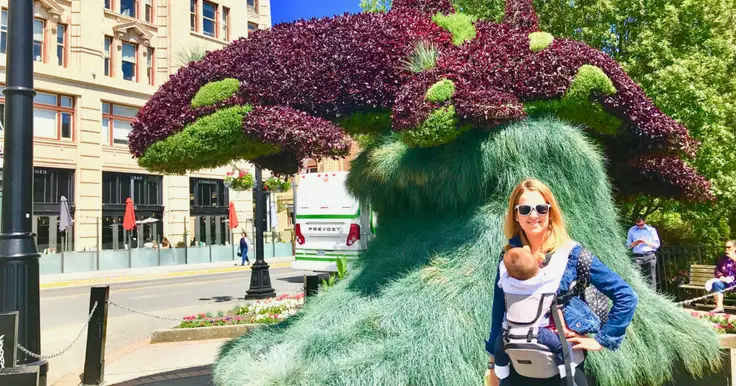 But what about ruining my full-size stroller?
A common reason I hear for buying a travel stroller is so that the full-size stroller doesn't get damaged. Many credit card companies will actually replace or repair a stroller that has been damaged by an airline. Along with lots of other benefits, this is why we have a premium travel credit card! Many airlines themselves also have a damage policy (although some, notably exclude strollers!). Although I personally tend not to use a stroller bag, there are some heavy-duty bags that guarantee that your stroller will not get damaged.
We ALWAYS gate check our stroller and I haven't had any damage to our (bagless) full-size strollers yet. My flimsy travel stroller on the other hand? We had a broken wheel after our first flight! Honestly, the damage is just as bad when you are paying $200+ for a travel stroller that is easier to break.
What about traveling with a baby?
If you are bringing a bucket car seat for your baby, there is absolutely no need for an additional 'travel stroller!' Just snap in your bucket seat to your full-size stroller frame and Voila! A travel car seat stroller 🙂  With just the frame you are saving on space, and you also now have your car seat for any car travel you will do on your trip.
Check out my post on the best car seats for travel for more information about the car seats I've tried and tested on vacation.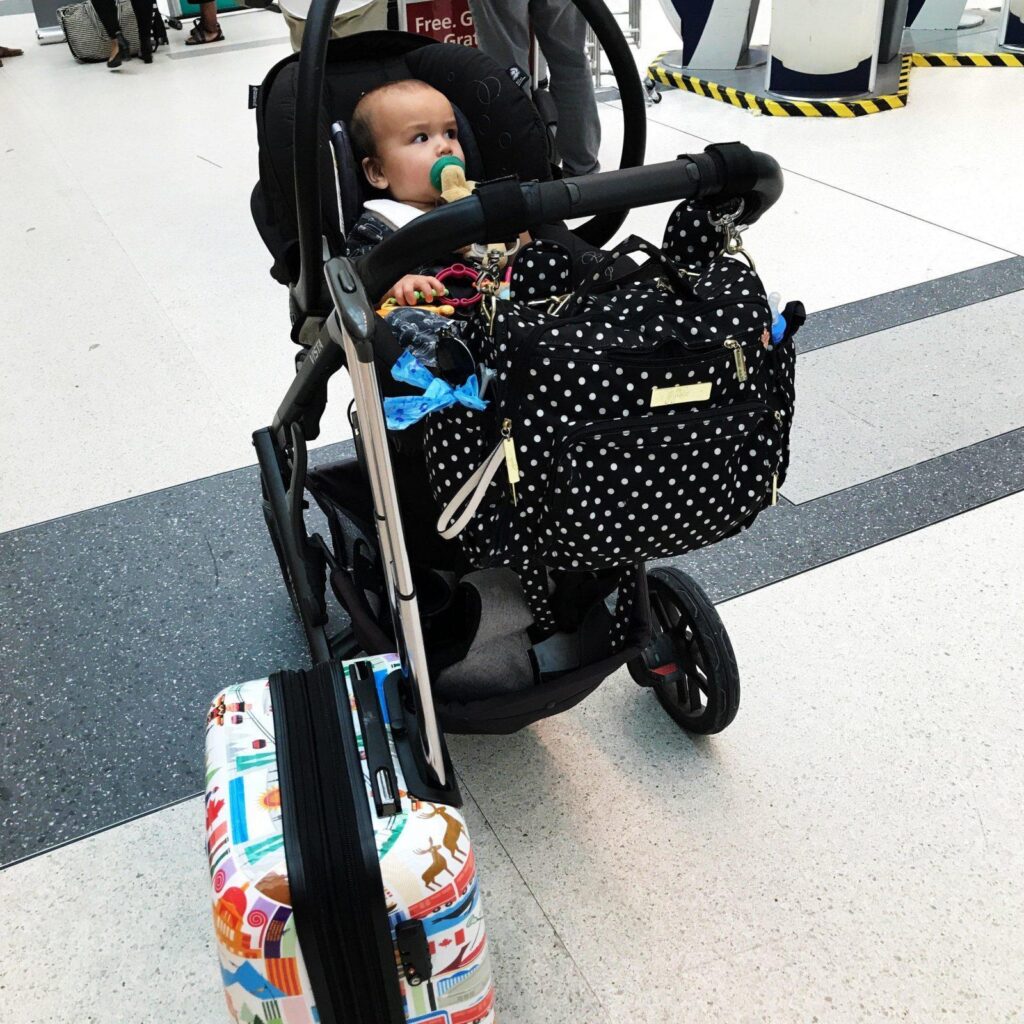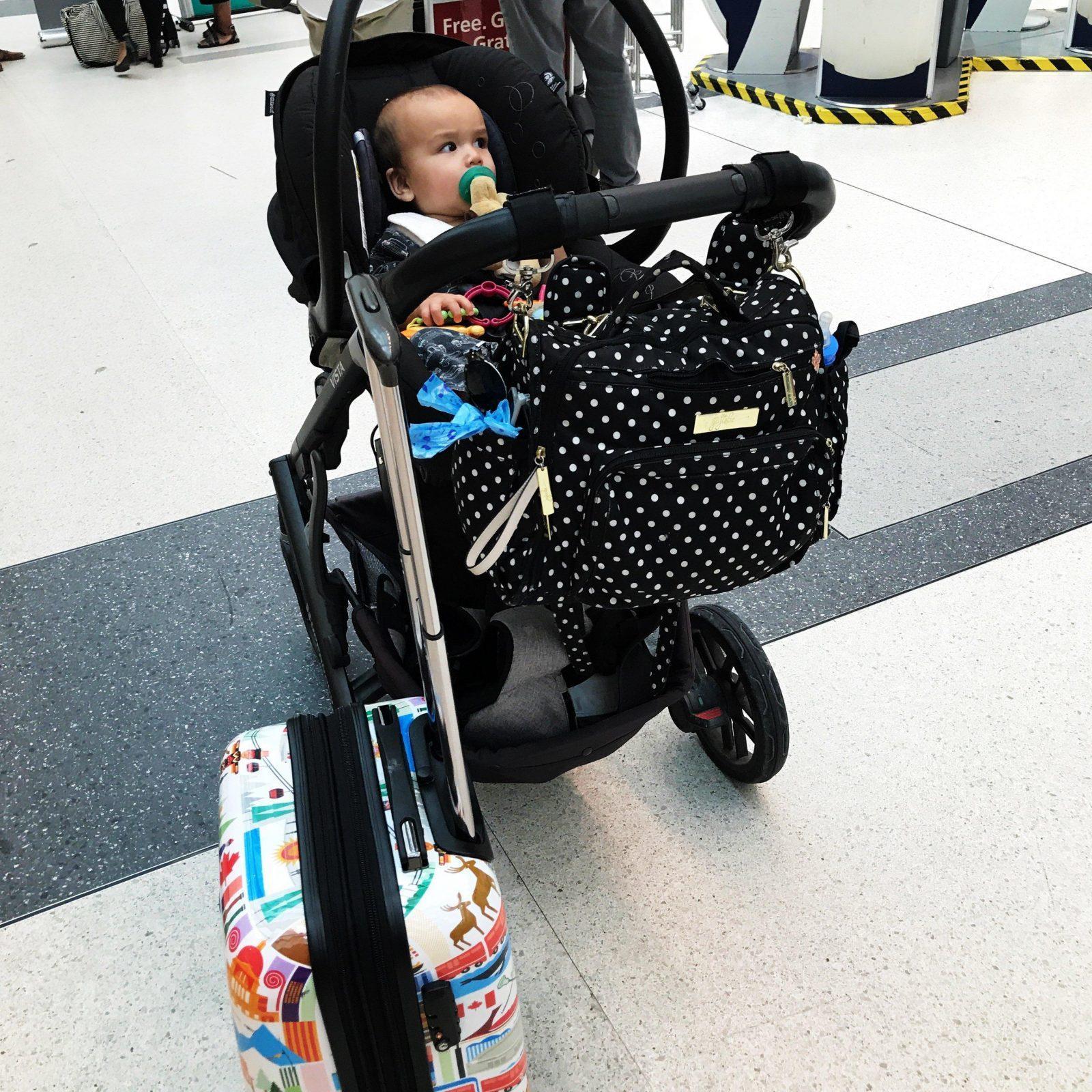 When would I need a compact stroller for travel?
Even though I gave up on my first travel stroller, I do own a travel stroller again *gasp!* I bought it for our Disney Cruise after I posted on a Disney forum asking if a Bugaboo Donkey would fit on the ship and was met with laughter. Since my kids sleep well in the stroller, I wasn't going to be without a stroller on my cruise. After scouring a lot of reviews, I bought a travel double stroller, ZoeXL2, and it's done the trick. What it lacks in storage space and a full recline it makes up for in compactness, which was important in our Disney stateroom. We still bring our full size when we can! I did think about renting a stroller for that trip, which might have been more economical, but the ZoeXL2 holds pretty good resale used, so I figured it would even out.
Other reasons to consider a compact or umbrella stroller for travel would be when you are *really* limited on space. If you are renting a small car in Europe for example, you may not have enough trunk space for a full-size stroller. It's true that I have opted to rent larger cars because we are taking our full size but personally, I haven't regretted it in the least.
If you have a child that barely uses a stroller a compact stroller may make sense. I haven't yet tried out the BabyZen YoYo or the Mountain Buggy Nano but these are two of the most compact travel strollers on the market. Both have hefty price tags though, so I can't imagine that this purchase would be justifiable if I was only going to use it once or twice.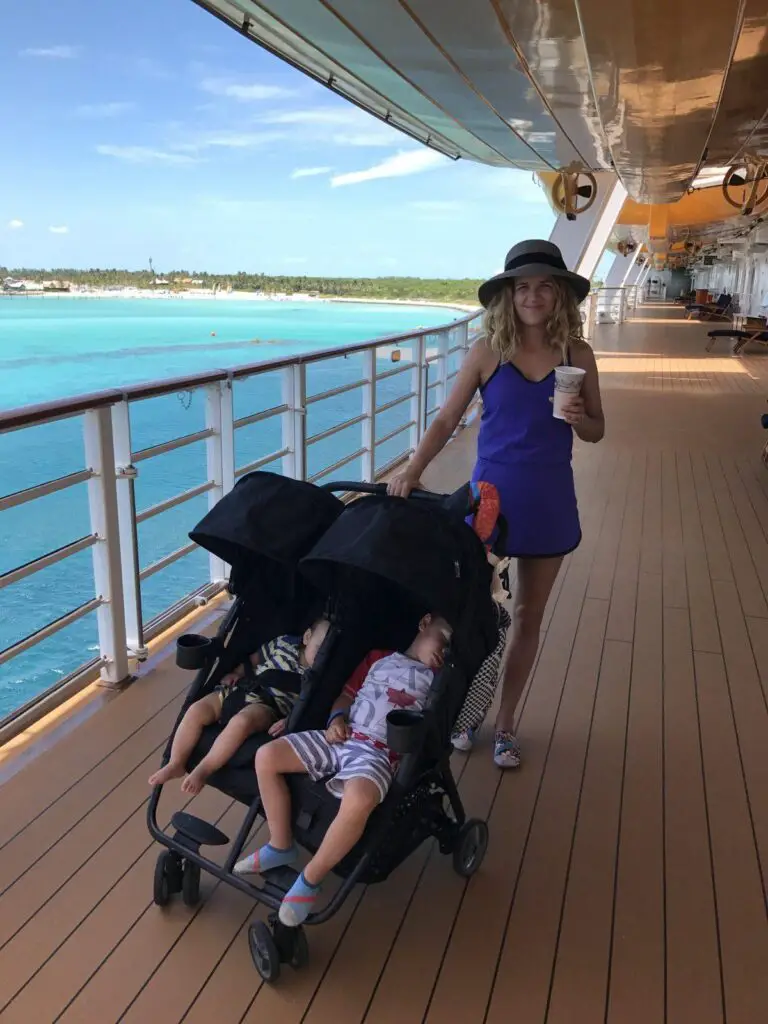 Do you love or hate travel strollers?
I would love to hear from you! Do you buy a separate 'travel stroller' or just use the one you have? What has been your experiences? Let me know in the comments below!
Pin for later!