Are you looking for an amazing family beach vacation? Well, look no further than the beautiful island of Turks and Caicos. If you aren't sold by the stunning turquoise blue water then you'll be amazed at all the activities this island has to offer. These are the best things to do in Turks and Caicos with kids.
We just got back from an AMAZING family trip to this gorgeous island and I'm so excited to share all the fun we had! There is so much to do in Turks and Caicos, it was SOO hard to pick just the top 10 activities!! Whether you are headed to Turks and Caicos with kids (highly recommend!) or doing an adults-only trip, Turks and Caicos has got something for everyone.
I'll be reviewing the best Turks and Caicos activities we did with our kids on Providenciales island, and I'll also review our favorite Turks and Caicos excursions.
[toc]
Grace Bay Beach, Providenciales, Turks and Caicos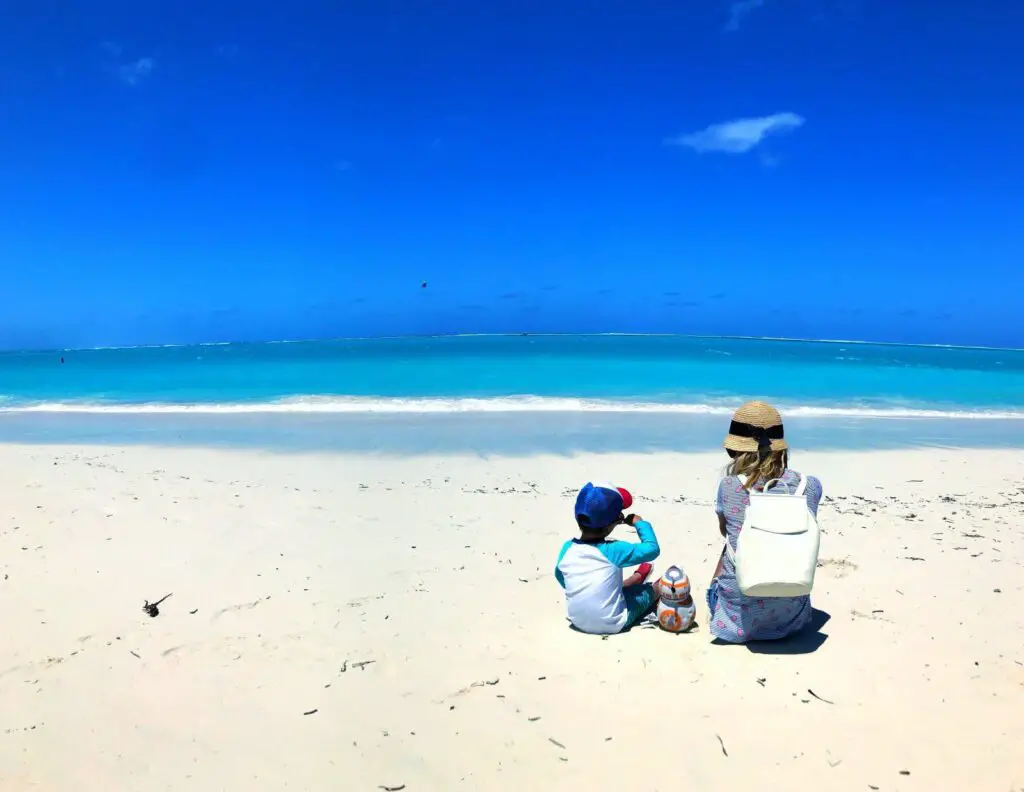 Hands down the best part about Turks and Caicos is the beautiful beaches and crystal clear water. Seriously the beach here is INSANE! Grace Bay Beach is the most popular beach on Providenciales. Many of the popular hotels and resorts are on this beach. We stayed at Bianca Sands Resort during our stay and this resort had an AMAZING spot on the beach. The sand was gorgeous, the water crystal clear, and SOO AMAZINGLY blue!
There is lots to do on the beach for kids and families. We brought along a few small sand toys, and a wave runner ball to play in the sand. Our hotel also had sand toys you could rent. I've got a whole post about 'the best beach hacks with young kids' you should definitely check it out if you are headed somewhere warm!
For adults, there is nothing better than a lounge chair and some walks along the beach. Grace Bay is expansive and it's great to walk along the beach in the mornings and evening when the sun isn't too hot. Near our resort, there was parasailing and a jet ski rental nearby.
Take a Boat Tour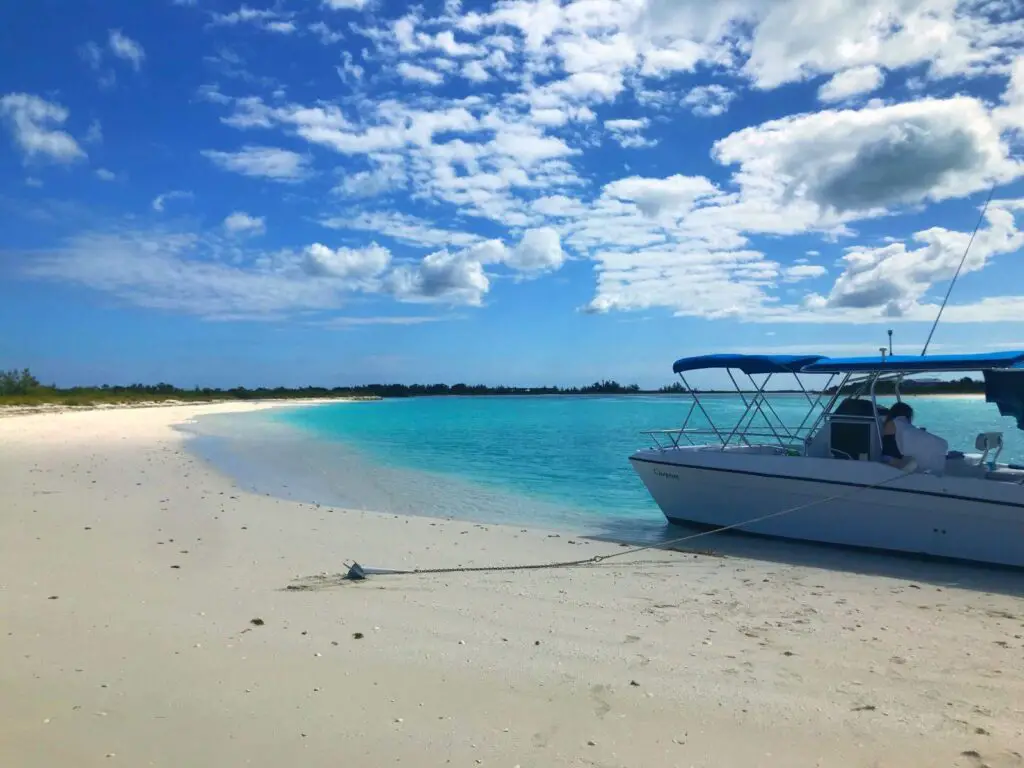 I spent a long time researching all the best things to do in Turks and Caicos before our visit. Since we were traveling with our young kids, I was worried we wouldn't find any excursions which could accommodate young children. I was so happy when I found Big Blue Unlimited and their Caicos Cays cruise which is perfect for young families. We took our four-year-old on this excursion, and he had SUCH a blast!
This tour involves some island hopping on some of the beautiful Turks and Caicos Cays. The water here is so calm and you could walk for miles and still be only waist deep in the water. We got a chance to explore the cays and Big Blue also provided a snack for everyone to enjoy. Snacks are essential when you are traveling with young kids!  Big Blue keeps their groups small, which I thought was a huge plus. Despite traveling during peak season, we only had one other young family on our trip. We felt like we had a private tour!
There is also a snorkeling stop, and this is where we taught our four-year-old to Snorkel. We went to a shipwreck snorkel site on our tour, and that was so cool for my son to see! Our son didn't last too long in the water, but that was a-ok. The boat was always available for us to relax while we waited for the rest of the group.
If you are interested in a Catamaran tour, it might be worth checking out this Sesame Street themed Cataraman Cruise. We didn't get a chance to check it out this trip, but the cruise gets awesome reviews!
Go Snorkeling
Snorkeling is a definite must-do in Turks and Caicos. The islands are known for some gorgeous reefs and snorkeling spots. I was surprised to see that there were lots of LITTLE kids at our resort who were trying their hand at snorkeling. I think the calm waters really make a difference for encouraging little kids to try to snorkel. We also have a FULL FACE snorkel mask and I seriously can't rave enough about it. My normally timid son took to it right away and it made snorkeling a breeze.
There are two awesome kid-friendly snorkeling spots on Providenciales you can access right from the beach. Both of these spots are kid-friendly snorkeling sites in Turks and Caicos. One is called Bight Reef, which is just off the beach in front of Coral Gardens resort. The second was called Smith's Reef and this is where we decided to go.
We ran into a bit of bad weather when we headed to Smith's Reef, but we still got a chance to explore the reef for a little while. It was amazing how many colorful and beautiful fish you could see right off the shore. A few friends from our hotel saw turtles and their kids were talking about it for days!
For directions on how to get to the Reef and the best spots to explore, check out this information from the Turks and Caicos Tourism Board.
For all my best tips on getting young kids to snorkel, check out my full post!
Hang out at the Pool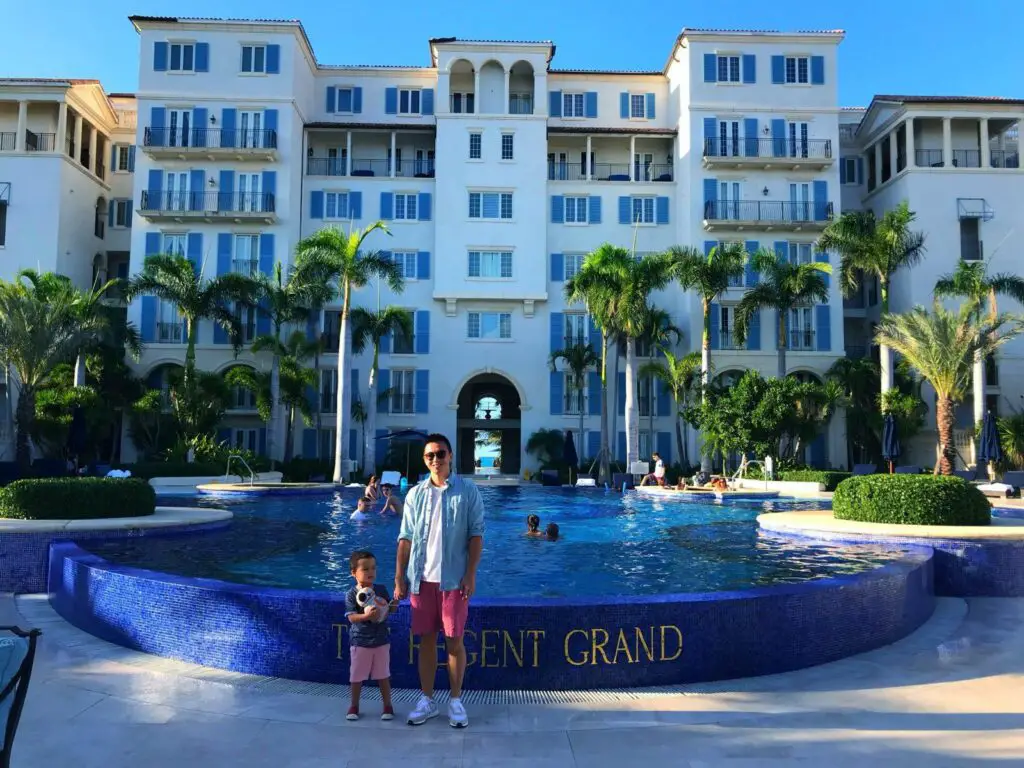 Turks and Caicos IS all about the beach, but having a nice pool is great for mixing it up. I LOVED the pool at our hotel (Bianca Sands, which is part of the Regent Grand Property). The pool was gorgeous AND (most importantly) it was HEATED. I don't know about you, but I hate going to a resort and swimming in a cold pool with my kids for HOURS.
The pool here was amazing and the temperature was perfect. My son spent hours swimming, practicing snorkeling, diving for treasures,  and hanging out with other kids from the resort. There are also two hot tubs which were great for relaxing at the end of the day.
Grab Some Lunch On The Beach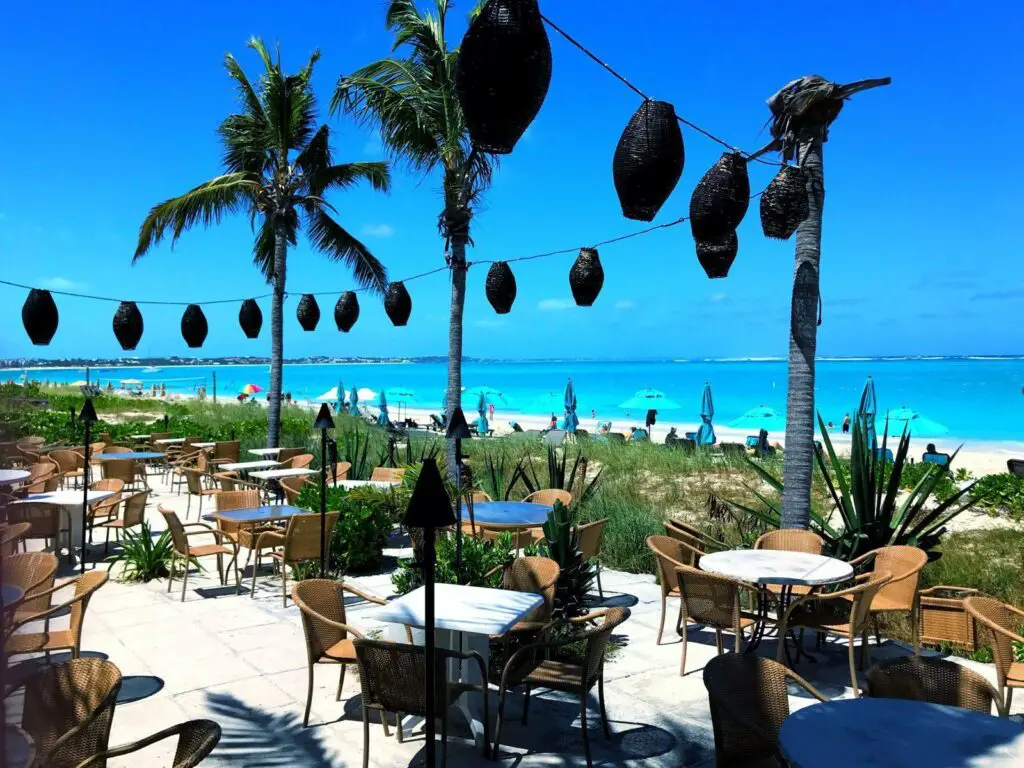 Eating right on the beach tops my list for must-haves on a beach vacation. There is something just so relaxing about enjoying your dinner right next to the waves! There are a lot of beachside restaurants on Grace Bay and we only got a chance to visit a few of them. One of our favorites was Bay Bistro, an unassuming restaurant with an EPIC view of the beach! It was walking distance from the Regent Village and our hotel. The food at Bay Bistro was one of the best we had on the island, and my son really enjoyed their homemade ice cream for dessert.
For another AMAZING beachfront option, check out this post on the best places to eat in Turks and Caicos!
Try Kite Boarding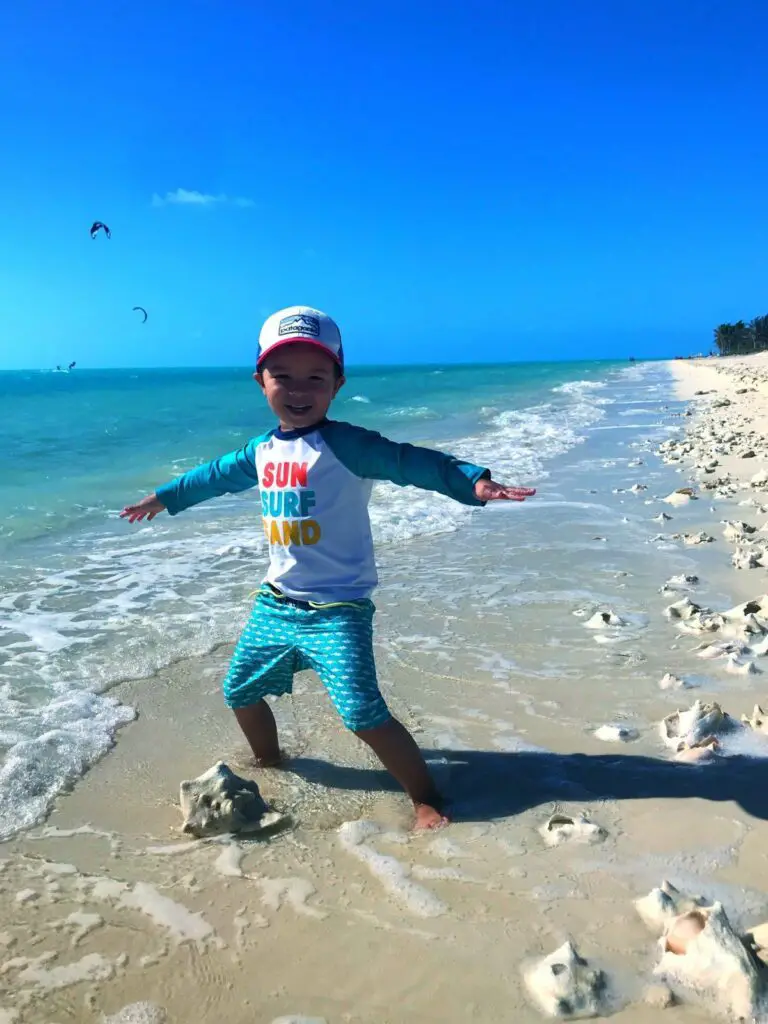 Kite Boarding is super popular in Turks and Caicos. I would love to try it, but WOW, does it look like a workout. I think I would be sore for weeks! One morning, we headed to the Shore Club Resort and checked out Long Bay Beach, which is where the Kite Boarders hang. We had a windy day, and it was amazing to see all the kiteboarders out on the water.
Long Bay Beach is a great beach for little kids. There are tons of Conch Shells on the beach which is fun for kids to explore. The water is also SUPER SHALLOW for miles. We caught a brief glimpse of the Shore Club hotel and it was absolutely gorgeous. Next time we head to Turks and Caicos, we would definitely consider a stay here.
Rent a Car and Explore the Island
Since this was our first trip to Turks and Caicos, we decided to mostly stick close to our hotel. When we went snorkeling or to Long Bay Beach we took a cab, which ended up being fairly convenient. Cabs are expensive, but so is renting a car, and since they drive on the left side of the road, we weren't sure if we would get the hang of it!
Next time we head back to TCI, we will definitely rent a car and explore more of the island. Having a car is actually great with little kids so you can make a nap happen 'on the go' on your way to the next destination.
Take a Puppy for a Walk (and maybe take him home!)
Kids + Puppies = PURE JOY. Kids + Puppies + Vacation? Well, that's just unimaginable! Very close to our hotel, in the Salt Mills Shopping mall, was Pot Cake Place. Pot Cake Place is an animal rescue organization that helps to rehome dogs on Turks and Caicos. You can check out their facebook page to see all the puppies up for adoption, and if you fall in love, well you can bring one home with you!
If you aren't interested in adopting, there is a better alternative! Puppy walks! When available, the adoption center offers kids the chance to take a puppy for a walk on the beach to help socialize them and give them their much-needed exercise. What an amazing and unique activity!
Little Water Cay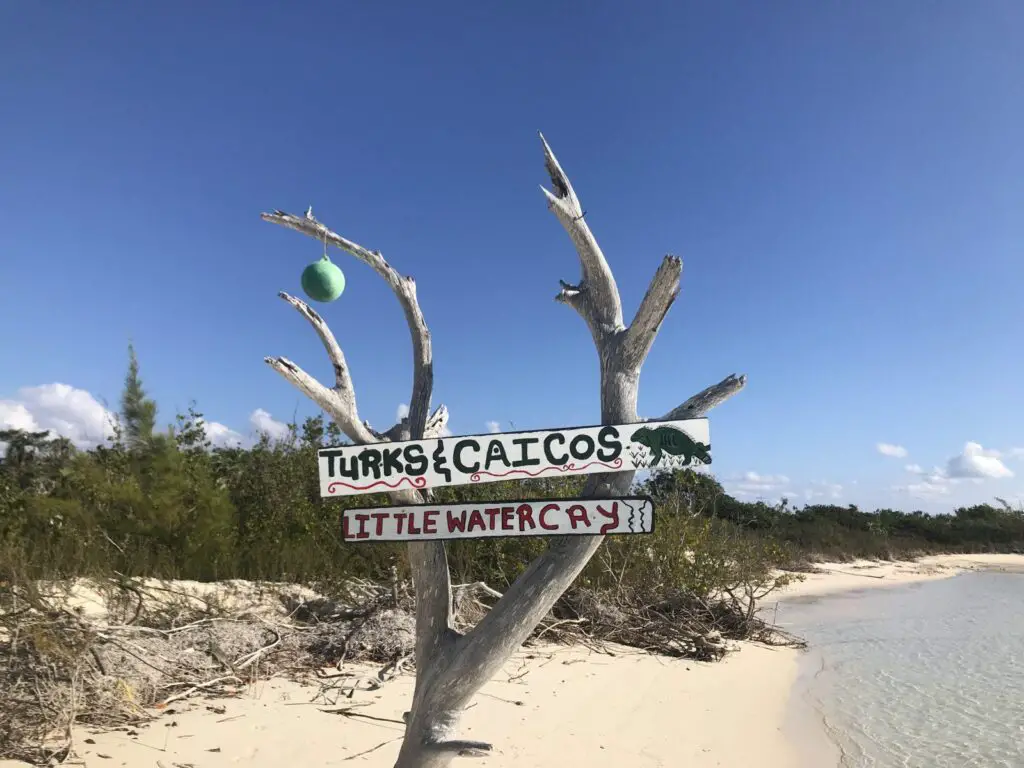 Little Water Cay is definitely worth checking out if you have kids. This place is also known as "Iguana Island" and there are hundreds of Iguanas living on this island. We were barely off the boat, and had already seen at least ten little iggys!! Not only are the Iguanas fun to check out, but there is also a great little beach that is fun to splash about in.
We visited Little Water Cay with our Big Blue Unlimited tour. You can also access it via Kayak and these can be rented from big blue unlimited.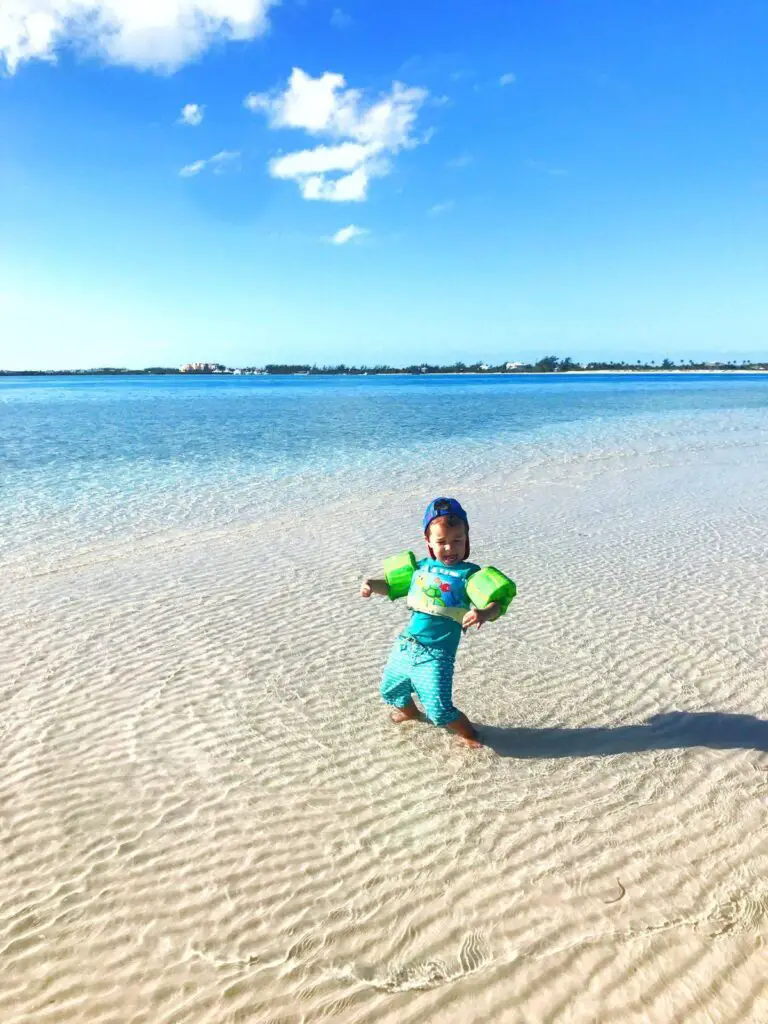 Hunt for Shells
There were lots of shells on Grace Bay beach and Long Bay beach to explore and discover on this trip. We love 'hunting for shells' and then sorting by colors, shapes or size. Since I want to teach my kids the importance of conservation, I only let my kids pick one or two shells to take off the beach at the end of the trip.
There were a ton of Conch shells on Long Bay Beach and my son loved digging these up and checking them out. Listening to the 'sound of the ocean' through the shell gave him a huge thrill.
Final Thoughts
Overall, we had a great trip to Turks and Caicos with kids! If you are looking for a place with a BEAUTIFUL beach and crystal clear water, Turks and Caicos has got to be on your list. We will definitely be back and I would love to check out TCI in summer when the ocean is really warm!
Have you been to Turks and Caicos? Drop my in a line in the comments below with your favorite things to do in Turks and Caicos. I love hearing about new ideas for my next trip!