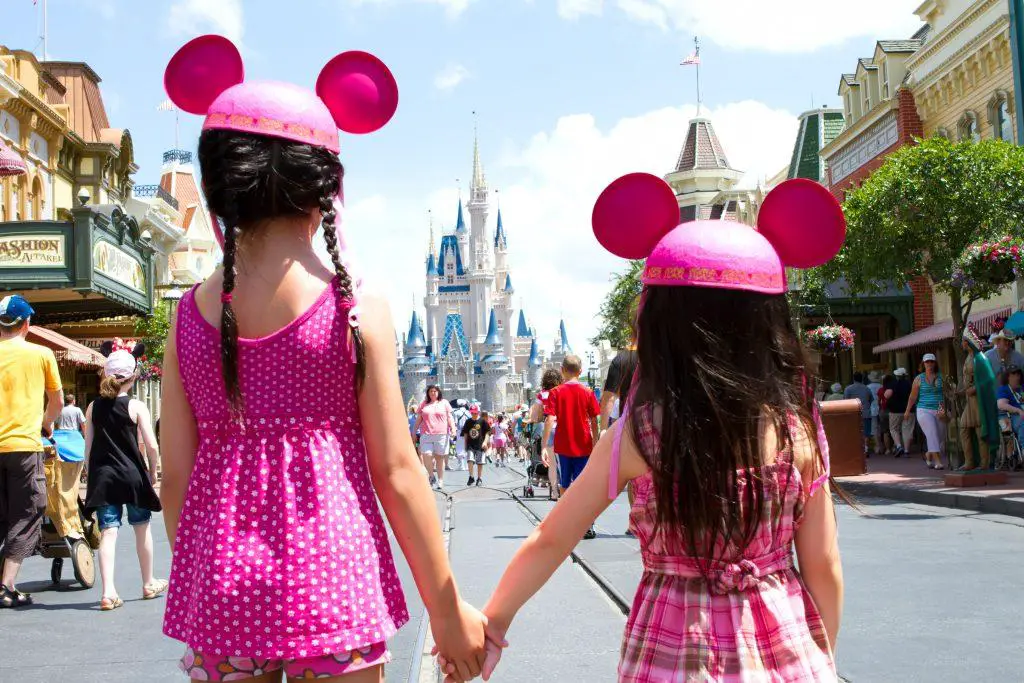 Disney World is a place of magic that really can't be found anywhere else. With enchanting princesses, magnificent light displays, and breathtaking rides, going to Disney World is a childhood dream!
Although most parents know taking their child to Disney World is a once in a lifetime opportunity for their child, one of the questions that comes to mind is when will my child be old enough to remember? 
Many parents believe taking their toddler to Disney World is way too early of an age. Parents fear their children won't remember it, won't have anything their age to do, or will not make it through the whole experience. 
However, I have taken my toddler to Disney World, and it was the best decision I ever made! Here is why Disney World with toddlers is still an awesome vacation!
You Never Run Out of Things to Do
We all know how, ahem, *fun* a toddler can be when they are bored, tired, or hungry. What is amazing about Disney World is that it is not only catered to older kids, but little kids as well. From rides to shows and restaurants, there is always something for toddlers at Disney World.
When you travel with a toddler in Disney world, the staff will also go out of their way to make your little one's day magical. During our stay, the cast members all took the time to interact with our kids, say hello and ask them about their day. Toddlers in Disney World aren't a 'hassle' or a 'distruption', the staff will bend over backwards to make them smile! I found that the restaurant staff especially were really helpful when the kids started getting fussy by finding some entertainment to keep our kids busy.
There are Rides Galore
There are so many rides for toddlers at Disney World, that you will never get bored in the park. Many rides don't even have a height requirement. So, your little one can ride until their heart 's content. Although there are obviously many adrenaline-inducing rides, Disney has gone above and beyond to create a magical world for little princes and princesses to fall in love with. Check out this list of rides with no height requirement. 
Here are the best toddler rides at Disney world:
Best Toddler Rides at Disney World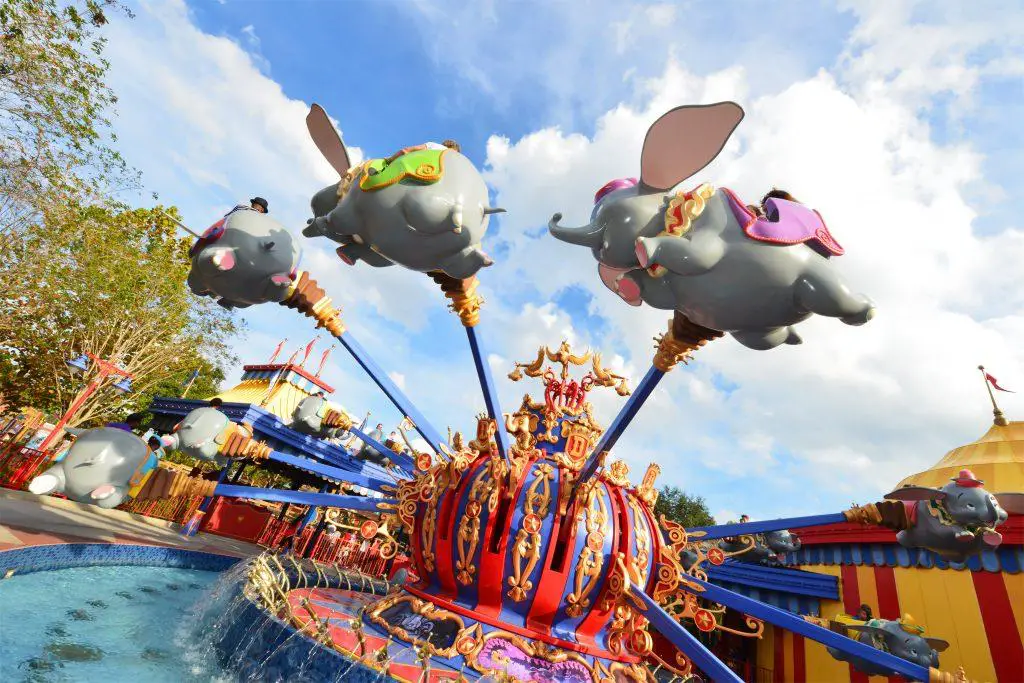 Best Magic Kingdom Rides for Toddlers
Best Animal Kingdom Rides for Toddlers
Kilimanjaro Safaris (get a FastPass)
Maharajah Jungle Trek
TriceraTop Spin
Best Hollywood Studios Rides and Shows for Toddlers
Alien Swirling Saucers (get a Fastpass, 32 inches or taller)
Lightning McQueen's Racing Academy
Muppet Vision 3D
Toy Story Mania (get a FastPass)
Best Epcot Rides and Shows for Toddlers
Frozen Ever After (get a FastPass)
Bruce's Shark World
The Seas with Nemo & Friends (get a FastPass)
Not sure which park to head to at Disney World with a toddler? Need help with FastPass selection? Talk to a Disney certified travel agent! I always recommend using a travel agent for Dinsey World as they know the ins and outs of the park and know exactly the best parts of Disney World for toddlers.
Toddlers still Believe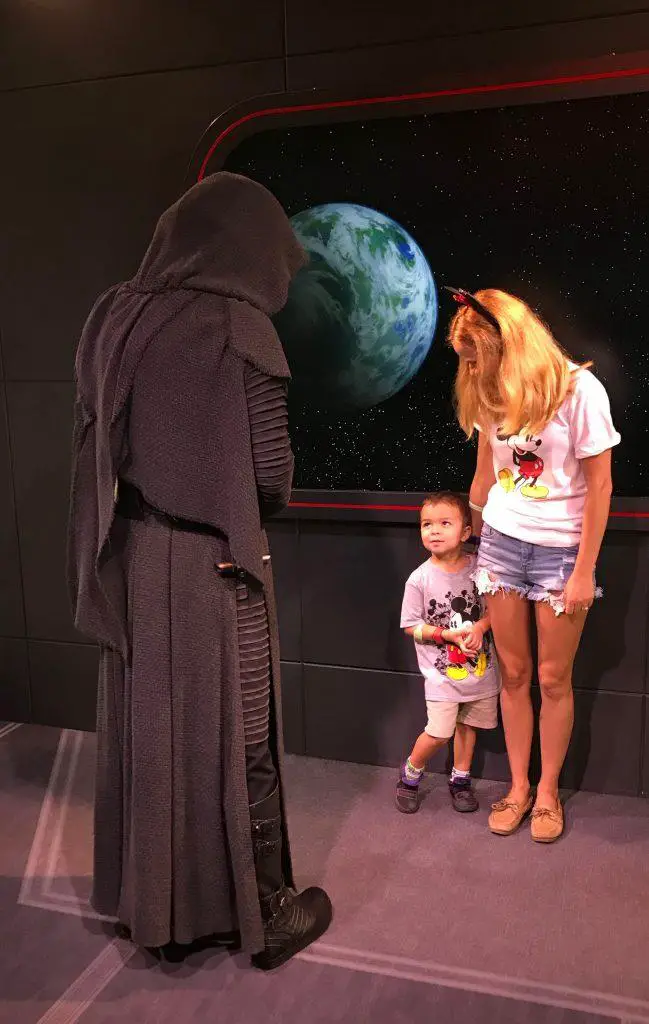 Many older kids don't believe in fairy tales, magic, princesses, or fairies. When you take your preschooler or toddler to Disney, the magic comes alive in their hearts. A toddler at Disney world is magical because they still believe in all these amazing Disney characters. Watching that twinkle in their eye is worth every second at Disney. 
We took our son to Toy Story Land and he was convinced that he had met Woody and Buzz Lightyear in real life! Then we went to see the Star Wars characters at Launch Bay and again he was absolutely star struck! I will remember the look on his face forever!
For an up close and personal look at your favorite Disney characters, consider booking a character dining experience. We went to Chef Mickey's and my son still talks about it to this day! You can find all the best character dining experiences here.
Nap Time is a Breeze
Now, you know that nap time for a toddler can be a battle. But, when you stay on Disney resorts, it's a breeze. Disney prides themselves on being the most family-friendly vacation spot in the world, and I have to say, I think they are. By the time you have spent half the day at the park, your little one is tuckered out and ready for a nap in their magical hotel room. 
If you are staying on the monorail, which I would highly recommend with little ones, you can pop in for a quick nap in the middle of the day. During our trip we planned an afternoon nap for everyone (adults included!) so that we could all stay up late and enjoy Mickey's Halloween Party in the evening.
For Disney Resort options, including pricing on Monorail hotels, ask for a quote from a Disney Certified Travel Agent.
Memories Last a Lifetime
Even if your little one doesn't remember in 5-years, you will. You will remember the joy on their face and the twinkle in their eyes the first time they see Goofy. You will remember the excitement they had when they got on their first "big kid" ride. There are lots of things that we do for our kids that they won't remember! Why else do we read to them, sing to them, and play with them before age 5?
Plus, the more pictures you take, the more you can show them and keep the memories alive within them for years to come. Some of my best memories were before I was 5.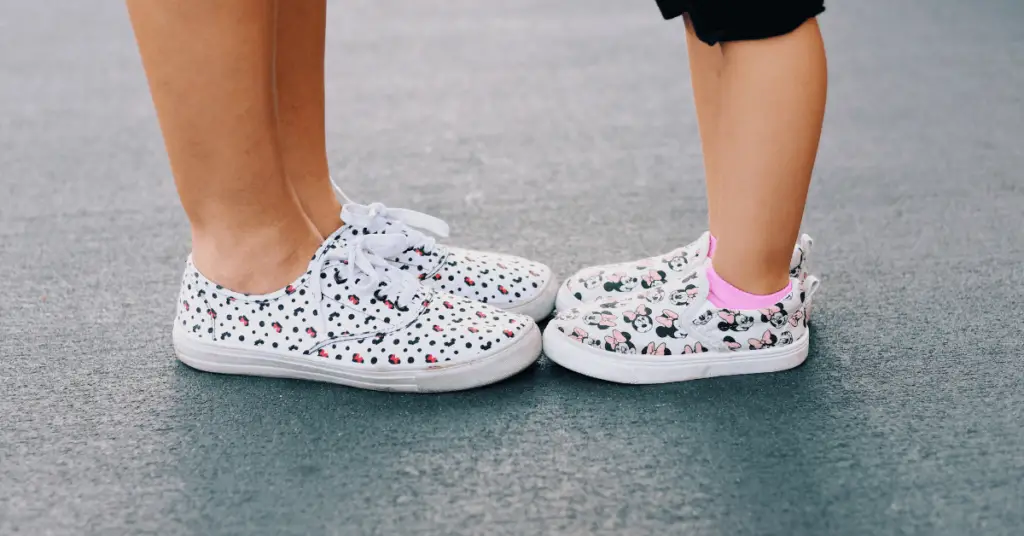 Disney World Tips with Toddlers
We asked some Disney-Savvy Moms and Dads for their best Disney World with toddlers tips. Here's what are their best tips for Disney World with toddlers.
Bring a Disney costume for your toddler!
Written by Karen at Mini Travellers
Our best tip for Disney with a toddler is to bring a toddler Disney princess costume from home.  We, like many of you, have a full box of fancy dresses at home.  To save on spending at Disney, we decided to pack our Disney princess costumes from home. If you stuff your Disney clothes in a zip-lock bag it actually presses down quite small and your little ones can have their very own toddler Disney clothing on to meet the princesses/characters. It's very nice not to have to buy it in the shop when you've realized they 'need' it. This saved us a fortune!
Toddler Girl Disney Costumes
Toddler Boy Disney Costumes
Best Toddler Disney Shirts
Make A List of Must Dos in Advance
Written by Brittany from We Get Around Travel
Make a list for each day with your most important MUST do things. Things that you would be happy and feel accomplished with even if those are the ONLY things you get done. Everything else will be just a bonus. That way if your toddler gets too exhausted and starts throwing tantrums you can cut some of the extras but still feel at peace that you got to do the most important things on your list. This tops the list of our tips for toddlers at Disney World!
It is tempting to try to get as much done on your trip as possible but you'll do yourself a favor by slowing down and going at your toddler's pace. This will prevent meltdowns from being overstimulated and overtired. But also when we slow down and just try to enjoy things the way our children see and experience them, we ourselves can have more fun and make more memories! Sometimes it takes seeing things from a child's perspective to see the wonder and beauty and in Disney World's case, the magic! So on your Disney World trip with your toddler, try to focus on quality not quantity. 
Bring Extra Snacks!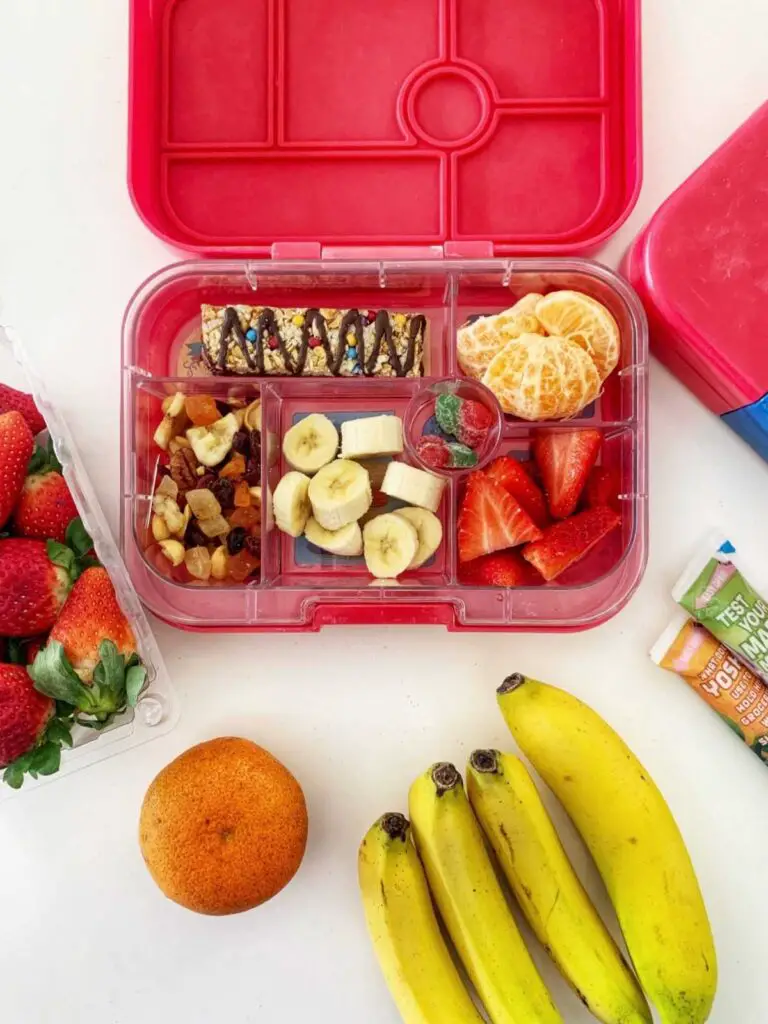 Snacks are probably the most important tip when taking a toddler ANYWHERE. A steady supply of snacks is the key to a toddlers heart in many cases! Snacks are definitely one of our best Disney World tips for toddlers. We love our yumbox for packing a variety of snacks on the go when we are traveling or visiting them parks. One amazing thing about Disney World is that they absolutely allow outside food into the park. We like to do a Target or Walmart run when we arrive in Orlando to make sure we are stocked up on healthy snacks for our trip. Buying snacks in advance and not at the park will save you a ton of money on your trip!
Skip the Extra Magic hours
Christine from Tapped Out Travellers
Among our many tips for taking a toddler to Disney World, we strongly recommend you avoid extra magic hours. Extra Magic Hours (EMH) is a perk one receives when staying at a Disney owned resort. This is only a perk if you plan on using it, but suggest you forget EMH and make other plans for those extra hours in the morning.  
Plague level avoidance, to be specific. Early morning risers will be waiting at the gates at least one hour before EMH even begins and they plan to stay for the rest of the day. Add that to the usual days' worth of crowds and you have a formula for a busy day at that park. Not to mention the fact that without Park Hopper tickets, which we also don't advice you purchase when taking small children to Disney World, you are now "stuck" in that Park for the rest of the day – there is no changing your mind when the lines get too long and you are out of Fastpass selections. 
Sleep in, and visit any other Park that doesn't have Extra Magic Hours!

Stay on the Monorail
Consider your location for a trip to Disney World with a toddler. Staying on the monorail is definitely a huge perk when you are visiting Disney with little ones. Although there are a lot of pros and cons to staying on and off resort at Disney, if you can afford the splurge, I would definitely recommend a monorail hotel. Staying on the monorail means you have incredibly easy access to Magic Kingdom, and that is likely where you are going to spend most of your time.
Being on the monorail means that you can easily head back to your hotel for a midday nap, to relax at your hotel pool, or even just for an hour or two of quiet time. This is so key with a toddler who might get cranky during a full day at the park.
The hotels along the monorail are Contemporary Resort, Grand Floridian and Disney's Polynesian Resort. Talk to a Disney Certified Travel Agent to get a quote. We always recommend using a travel agent when planning Disney as they have access to a lot of insider perks and tips.
Plan Carefully for Amazing Photos
By Marcie from Marcie in Mommyland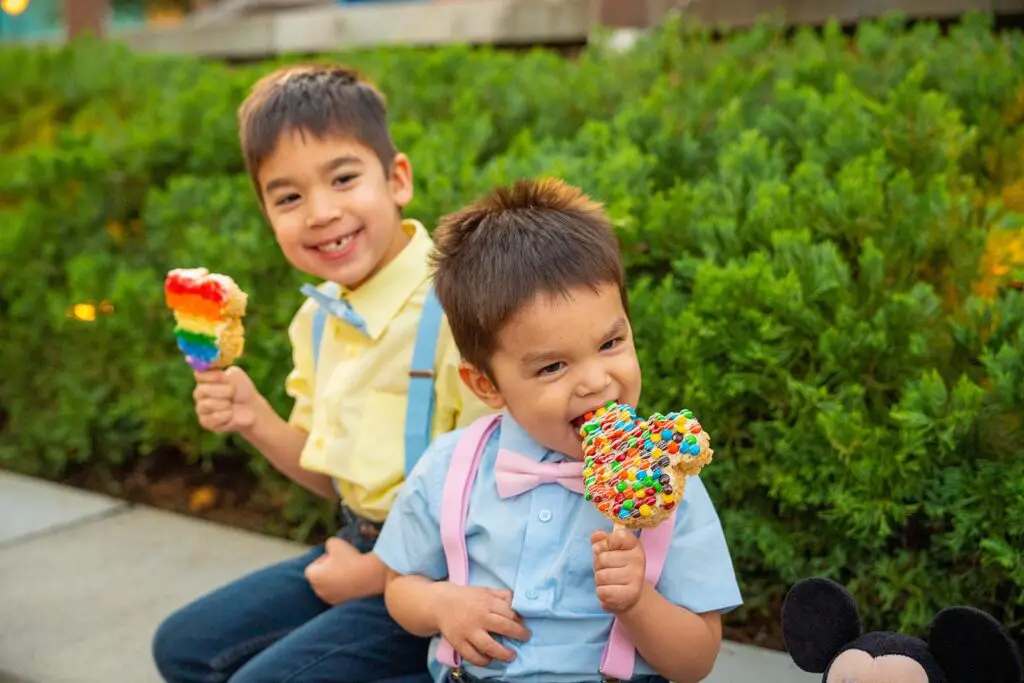 After investing in a Walt Disney World vacation, you're going to want amazing photos of your kids having the time of their life, right? Well, we all know that getting good photos of toddlers is easier said than done!
I like to pack special photo clothes in a packing cube and keep them in the bottom of the stroller until we're ready to take photos. Neutral colors work best in colorful areas of the Parks, but I love dressing my toddler in a fun bow tie!
Now, you're not going to want them to do their "cheese" face at the camera. In order to get a more natural smile, think about the things that crack them up. With our boys, it's talking about smelly toots!
Props are your best friend. Let your toddler hold a bubble wand, balloon, or their favorite Disney plushie.
You can also purchase giant Mickey hands and get photos where it looks like they are high-fiving Mickey! And if all else fails, hand them a Mickey-shaped treat and snap away!"
Plan time for Rest
By Aimee from Mommy Baby Life
We learned how important it is to plan time to rest at Disney.  This is definitely one of our most important Disney World for toddlers tips. I didn't realize my toddler would be so excited about the flight and the hotel that she refused to go to sleep until after midnight!  Of course, she was up at 6 am and ready to go, but that enthusiasm didn't last all day. Plan a slow morning after a late travel day.
Opt to hang out at the pool or Disney Springs for the morning and allow time for a nap before heading to the parks.  If you are staying onsite, taking a trip back to the room is the easiest for a quick nap. Otherwise, find a quiet area with shade where your toddler can lay down in their stroller or on the grass and hopefully shut their eyes. Another option is an indoor show or slow ride that is air-conditioned and dark where they will more than likely fall asleep.  Keeping toddlers well rested in an overstimulating place like Disney World, (even if only for a quick nap) will help avoid meltdowns in the park!
Plan your Disney Vacation Today
If you aren't sure if your toddler is ready for Disney, put your fears aside and just do it! You won't be disappointed. 
Pin for later!