We just returned from an awesome vacation to Barbados with kids. I'm here to report back on the highlights, so you can plan the perfect family Barbados vacation. Barbados was certainly one of our most favourite Carribean family vacations yet. We loved that we really had a chance to get to be immersed in the local culture.  Barbados offers something for everyone: great beaches, lots of sunshine, and plenty of nature and adventure.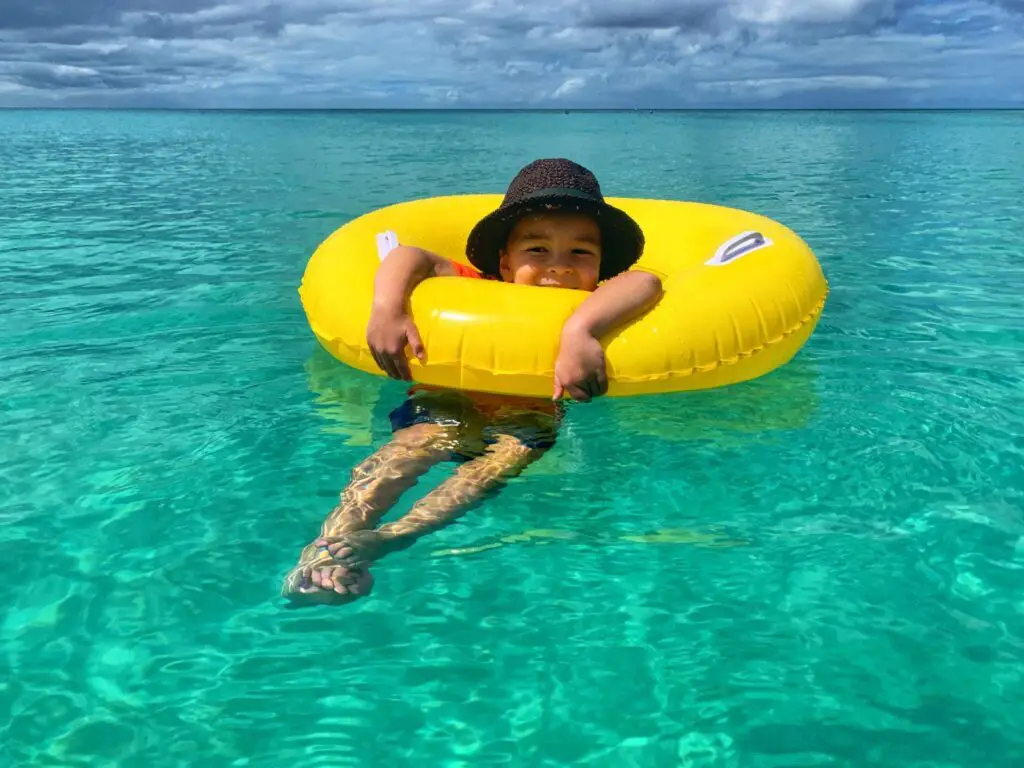 When is the best time to visit Barbados?
Barbados has awesome weather at all times of the year. Being close to the equator, Barbados experiences sunshine year round. Winter is the most popular tourist season to visit. However, you may want to avoid Hurricane season, which runs from May to October. 
What is the best area to stay in Barbados?
The most popular spots to stay on the island are the South and West Coast. If you are traveling with young children, I would definitely recommend staying on the West Coast, which is where the water is the calmest. This area is known as the Platinum Coast, here the beaches are perfect for young children. 
Popular towns on the West Coast include Holetown and Speightstown. Staying nearby, either of these towns will give you access to amenities like restaurants and grocery stores. We stayed in the residential Gibbs Glade, on our vacation to Barbados. This quiet residential neighbourhood is very close to Gibbe's Beach, which is one of the most popular toddler-friendly beaches in barbados. 
What are the best accommodations in Barbados?
There are lots of options of where to stay when headed on a Barbados family holiday. Massive high-rise hotels aren't one of them though. Although Barbados does have a few big chain hotels and resorts like Sandals, The Crane Resort, and the Hilton Barbados Resort, most travelers stay in small boutique hotels or villa rentals. 
Best Hotels in Barbados for Families
Here's a list of some of the top rated Barbados family hotels:
Best Barbados All Inclusive Resorts for Families
These are the best all inclusive resorts in Barbados for families:
The Best Guest Houses in Barbados
On this trip, we stayed in a Villa through Homeaway. There are SO many reasons that I like to stay in a villa with kids. For us, a villa was definitely the best place to stay in Barbados. Having lots of space to unwind and having the amenities of home like laundry and kitchen, top our list. Our villa also came with house cleaning, so I didn't feel like my vacation was ruined by cooking or cleaning either. 
Some of the amenities to look for in a villa with kids:
Laundry facilities– I found this especially great with little kids as they make a mess of all their clothes. On this vacation I only needed to pack half as much!
Access to a pool– A private pool is great, but access to a shared pool may be a more affordable option. Although the beaches are wonderful in Barbados, my kids get bored of 7 days straight of beach. Having a pool mixes up the fun. 
Air Conditioning– Having AC is key in such a warm climate, although we did find that Barbados had nice cool breezes at night. 
Dishwasher– No one wants to spend their vacation washing dishes! 
Best Barbados beaches for kids
The beaches are definitely one of the most appealing features of Barbados for kids. The water is really warm, calm and clear! Our two favorite beaches were Mullins beach and Gibbe's beach. It was nice because both are about a 5-minute walk from the neighborhood of Gibbes glade. 
Mullin's Beach: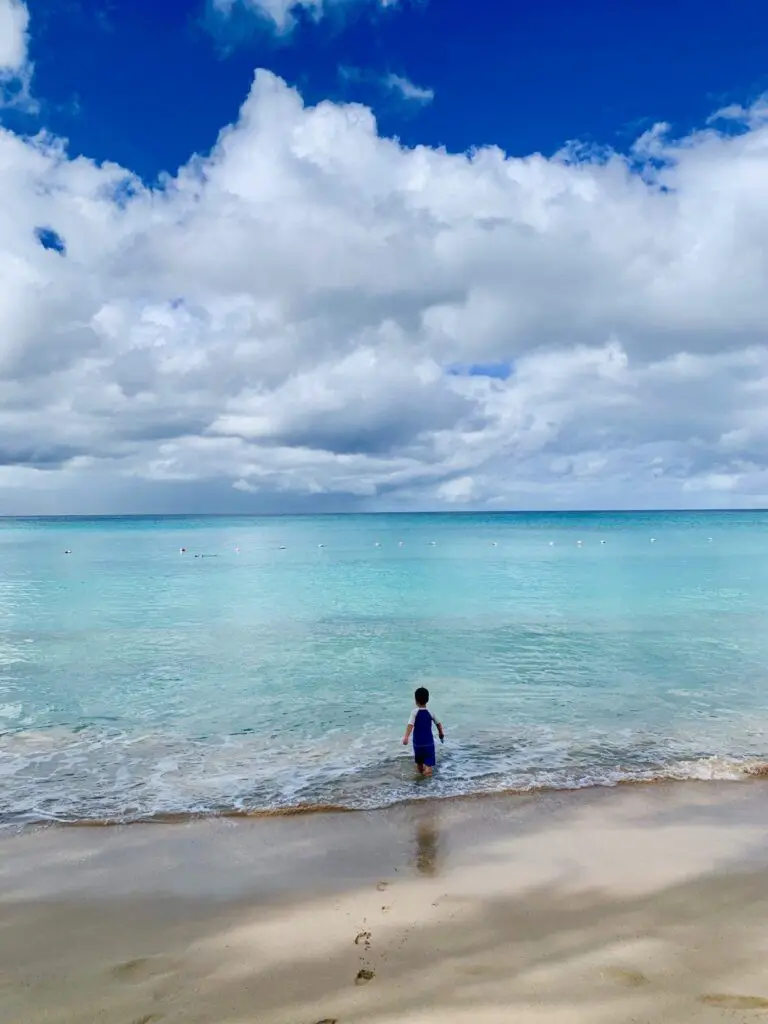 Mullin's beach is the livelier of the two beaches. There is a small stall selling ice cream, drinks, and essentials. Some essentials you may need for the beach are sunscreen, bug spray, and snacks. 
There are also several companies offering watersports like jet skis and tubing right from this beach. Mullins Beach used to be home to Mullins Beach Bar, but this has closed down and is now being operated by the Royal Westmoreland Luxury Resort in Barbados. 
If you would like access to their beach chairs, towels, and umbrellas, you can consider a day pass. Otherwise a lounger on the beach will run you between $10-20USD per day at Mullins beach. 
Gibbe's Beach: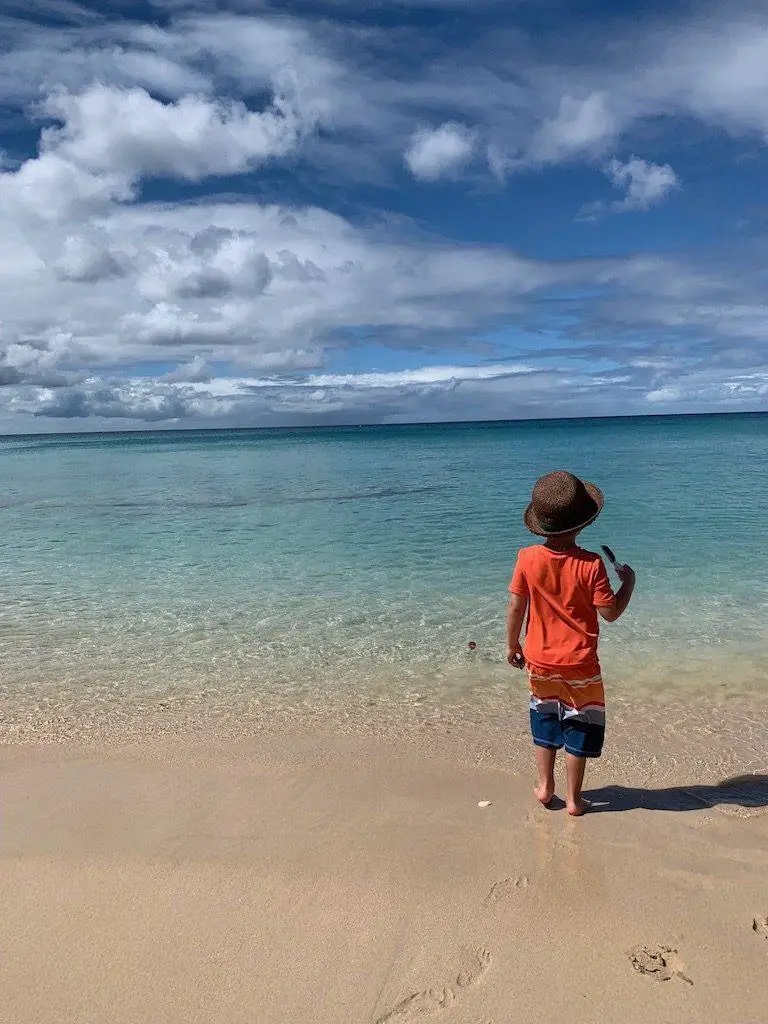 Our absolute favorite beach was Gibbe's Beach. This quieter beach is harder to find. The entrance is a small open path between two villas off the main road. There are no watersports or loungers, and no one selling you anything at this beach. 
This beach is known as the most family-friendly beach in Barbados. The water was so calm and gorgeous each day we came. Both our kids weren't afraid of jumping right in. The ocean in Barbados is very warm, I found the ocean warmer than the pool at our villa! 
You'll want to bring your essentials when you come to this beach. We packed a few towels and our sandless beach mat (which has been awesome for the kids!). We bought a few floaties with us including our puddle jumpers, our beach hammock, and a baby floater.
Don't forget your sunscreen
The sun in Barbados is no joke! We used SPF 60+ and were still a little red. Our favorite sunscreens for little ones are Thinkbaby, Goddess Gardens Organics spray, and the Aveeno Sun Stick which is the only sunscreen our toddler will tolerate on his face. 
Watch out for poisonous manchineel trees
Barbados is home to the poisonous manchineel tree which lines many of the beaches, including Gibbe's beach! Don't let this tree ruin your vacation! The fruit, which looks like small green apples, is poisonous. Be careful with your little ones who might be tempted to try a bite! You should also avoid staying under these trees in the rain, as even the sap can cause burns to the skin.
Things to do in Barbados
There's so much more than just the beach in Barbados with kids. We got a chance to check out quite a few attractions on our trip, and have a few more to check off for next time we come back. By doing an 'activity' every other day, we still had plenty of time to lounge and enjoy the sun. 
Harrison's Cave: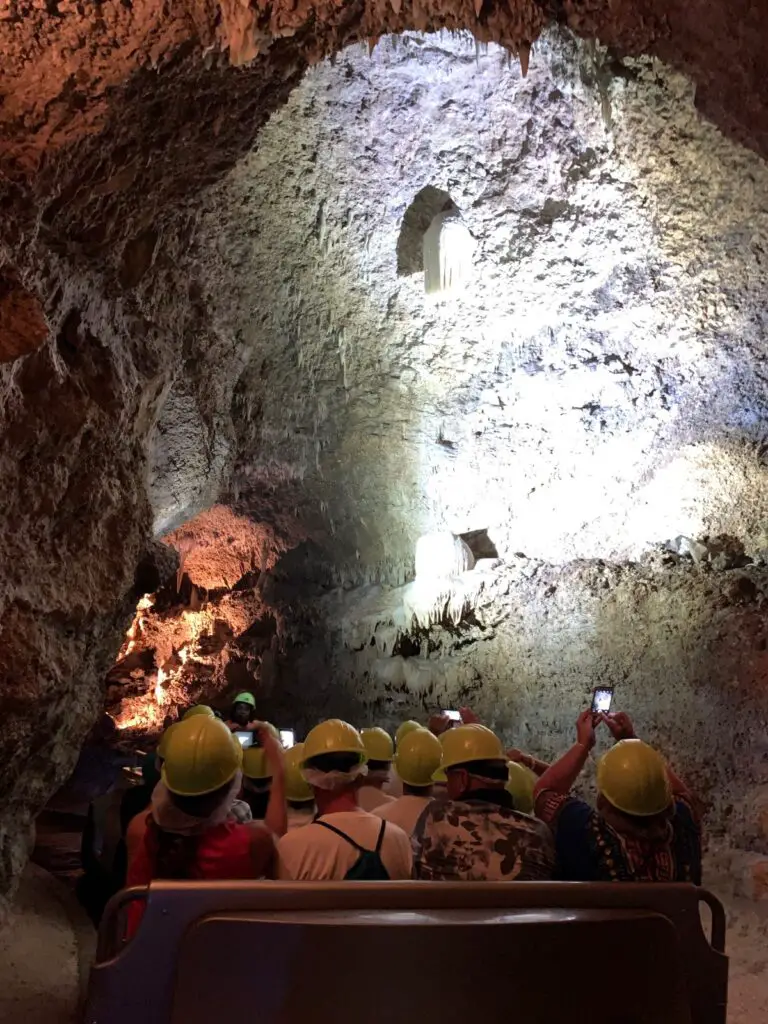 Harrison's Cave was a huge hit with our entire family! My husband, in particular, LOVES caves, so this was one of his favorites. Harrison's cave is at 700 feet (210 m) above sea level. You will find lots of gullies, sinkholes, and caverns. 
Barbados Wildlife Reserve: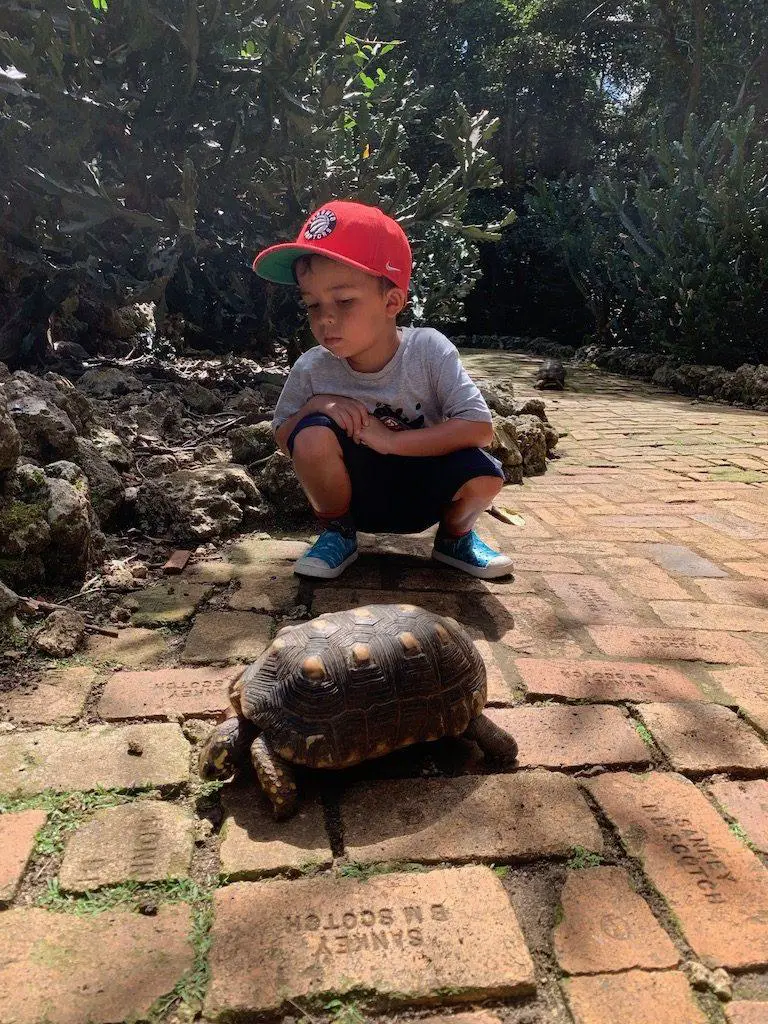 The Barbados Wildlife Reserve was an amazing gem, and definitely one of the most fun things to do in Barbados. I can't believe we almost passed up this attraction. Set on the hilltops, the Barbados wildlife reserve is home to a variety of animals including turtles, monkeys, reptiles, and even peacocks. This wildlife sanctuary ethically takes care of animals, so make sure you visit if given the chance. 
Our kids loved seeing the animals up close and personal at this awesome and educational reserve. 
Atlantis Submarine: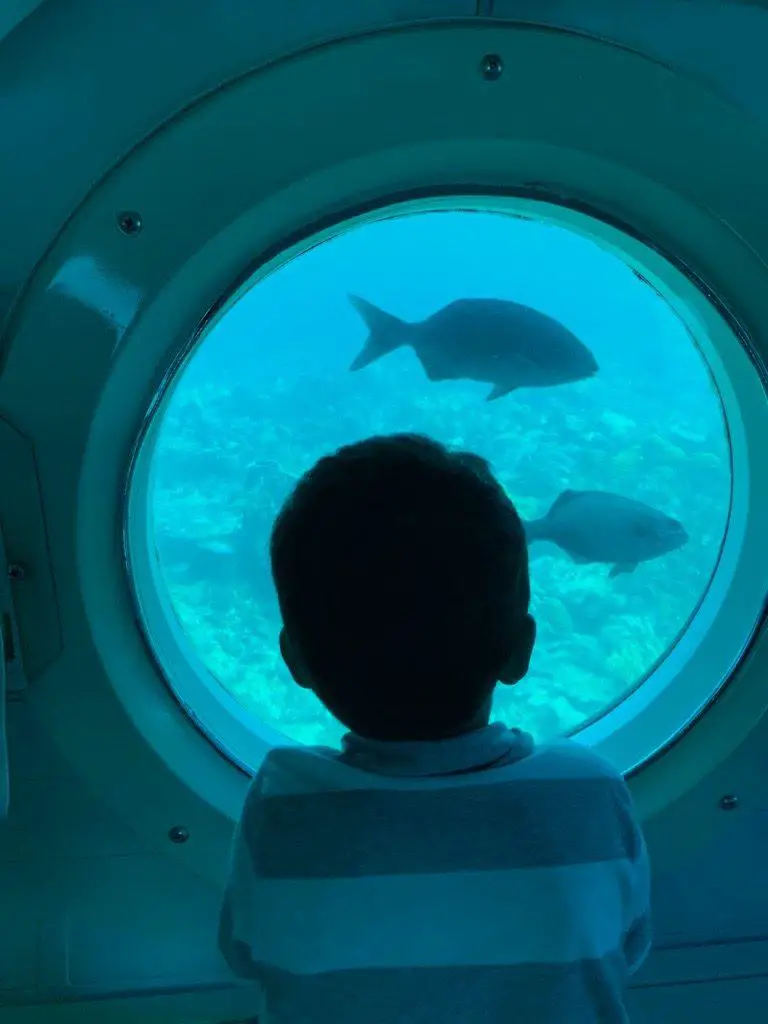 The Atlantis Submarineis another not to be missed activity in Barbados. At first, I thought that the submarine was a glass bottom boat, but I soon found out that this was a legitimate submarine! Going to depths of up to 150m, we had a chance to explore the ocean floor and see some truly beautiful coral formations.
Both kids were enthralled with the variety of fish and corals as well as all the controls and gadgets on the submarine itself. We even had a chance to see two turtles on our voyage. Kids need to be 3 ft tall (our 2.5 year old just make the mark) in order to ride on the Atlantis submarine. 
Swim with the Turtles
We didn't get a chance to swim with the Turtles this trip, we certainly are going to give it a go for our next time around! We have already taught our 5 year old how to snorkel, so now we just need to get the 2.5 year old on board! There are a variety of tour operators offering swimming with the turtles tours.
Catamaran Tours 
Catamaran tours are very popular in Barbados. There are a variety of tour operators offering catamaran. One of our favorites was with Jammin Tours, they're super popular in the Barbados area. If you'd like to choose another Catamaran tour, there are tons to choose from. 
Check out our tips for teaching young kids to Snorkel!
Check out the East Coast 
The rugged east coast of Barbados is much less populated than the calm Western Coast. The town of Bathsheba is a popular surfing spot on the East Coast. We took a drive along the east coast and were amazed and how different the landscape was on this side of the island.  Seaweed is a huge issue on this side of the island. 
Hunte's Gardens Barbados:
This is a botanical garden that you will want to check out. Here you will be able to find peace of mind and much more! This Hunte's Botanical Garden is very much like a work of art and totally worth checking out. 
Best Barbados Restaurants
A few things to note about eating out in Barbados is that everything is VERY pricey! Being a small island without much farming, most food in Barbados is imported. The cost of importing goods to a small island is high, so you can expect most items in Barbados to be expensive. Most meals were between $20-40 USD per person, with a nice meal costing 200+ USD per person. 
Grocery Stores in Barbados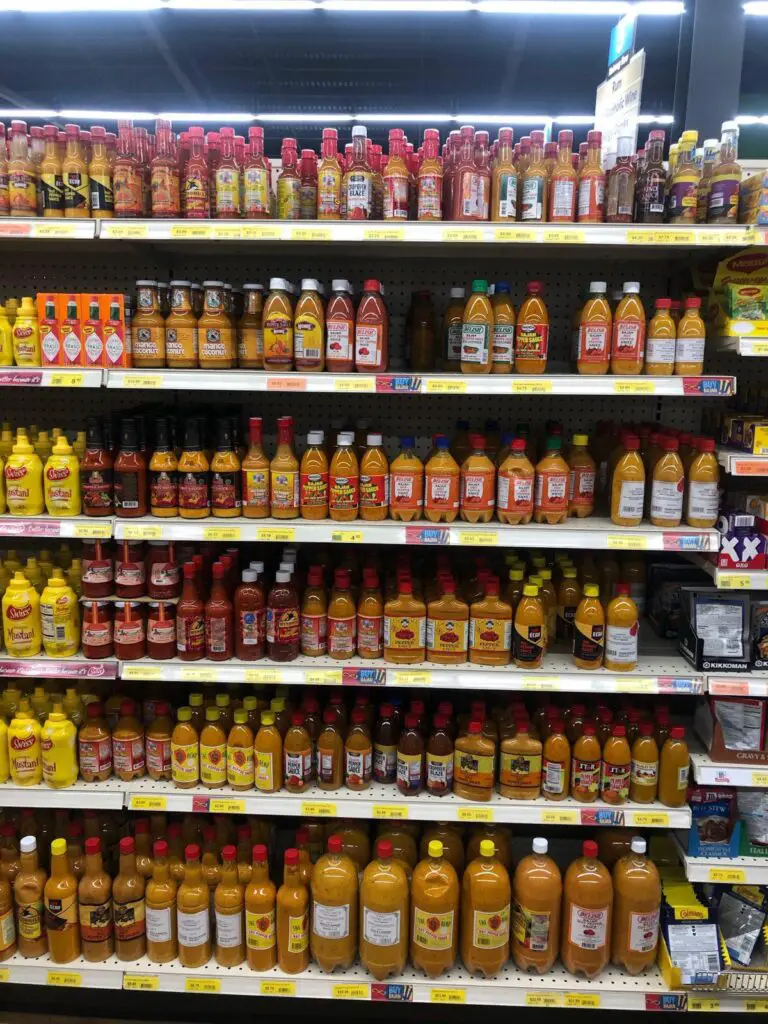 We ate the majority of our meals in our HomeAway Villa during our vacation. It's much easier with kids to eat at home, and it saves you some money on your vacation. Grocery stores are expensive in Barbados, expect to pay more than double what you pay back home. We shopped at Massy's, which is a popular, more 'upscale' grocery store chain in Barbados. They had everything you would expect in a typical American grocery store. Barbados is famous for its pepper sauces, and we just had to try as many as we could!
How to Get Around Barbados
If you are planning to do some sightseeing while in Barbados, you'll likely want to rent a car. We rented a van for our stay and found it very useful to buy groceries and tour the sights. 
If you aren't from the UK, you'll need to get used to left hand driving pretty quickly! Hubby drove on this trip, and he seemed to pick it up quite quickly. The roads in Barbados are narrow and at times can be a bit treacherous. 
If you are planning to stay close, taking a Taxi from the airport is another possibility. Make sure to get a reputable taxi from the official Barbados Taxis and Transport Services website. Believe it or not, there are people who will pose as a fake taxi and try to rip you off. 
Public transportation is really good in Barbados. If you are staying on the west coast, you can easily use public transportation to get to the main towns. Fares are $2 BBD.
Flights to Barbados
Visiting Barbados means you'll need to have a flight into the country. There are several airlines that operate in Barbados. Barbados is accessible from many countries. Whether you're flying from the USA, UK, Canada, Europe, or even South America, there are tons of flights from major cities into Barbados. Here is a full list of flights and estimated flying times from each country or city. 
We always price compare with sky scanner for the best airline prices. You can set up a price alert for your trip here.
What currency to use in Barbados?
Barbados currency officially is the Barbados dollar. USD is accepted in most places on the island however you will likely get more bang for your buck using BBD. A few of the smaller restraints accepted cash only but most larger establishments take credit cards including AMEX, Mastercard and Visa. $50 USD is approximately equivalent to Bds accommodations (June 2019).
How to Stay Safe in Barbados:
Is Barbados Safe?
Safety is always important when you're traveling to a new country. When you're traveling to Barbados, it is no diference. Although Barbados is a relatively safe country, there is crime in every city, no matter where you're going. 
Avoid unlit areas at night
Always use the hotel safe in your room
Always be aware of your surroundings
Know the number for police which is 211
Know the number for fire which is 311
Know the number for an ambulance which is 511.
What to Wear in Barbados? What to Pack?
When you're in a country like Barbados, you may be wondering what one should wear. Remember this is a tropical area, so you will want to bring light clothing. I like to pack cotton dresses for myself and lightweight clothing for the kids. My husband packs cargo shorts and light polo shirts. Of course, we bring sandals for the beach! I also make sure everyone has a pair of comfortable tennis shoes for all the walking that we do! 
Knowing what to pack is important! Download our free packing list here. 
Cultural Information to Know About Barbados
Whether you're a visitor or a citizen of Barbados, every country has unique things you should know about before you visit. Barbados is a tourist town, but there are also people who live here year round. Here are a few cultural things to know about Barbados. And if they're not cultural, they're rules/regulations you should know about.
You cannot wear camouflage clothing in Barbados. It's reserved for the Barbados Defense Force only. 
Swimwear is for the beach only. You may be denied access if you try to enter a restaurant in swimwear. 
Drinking and driving is illegal in Barbados, so make sure you grab a Taxi! 
What Bugs Should I Watch Out for in Barbados?
Heading to Barbados means you need to be aware of the type of bugs that are in the area. A few of the popular insects include mosquitoes and sand flies. Bug spray will be your saving grace, while you're visiting Barbados. This area has been known to be hit with Dengue Fever from the mosquito population. 
Pin for Later!