Are you headed on a family vacation? Don't forget these amazing packing hacks for kids! I've compiled my list of the best space saving packing tips for organized luggage on vacation. If you dream of packing light with kids these tips are absolutely for you!
I'll be the first to admit that I am a little Type A when it comes to packing for a holiday with kids. Where possible, I *TRY* to take carry-on only or at least limit ourselves to one big suitcase.
I've found since my kids are past the baby stage now, it's MUCH easier to travel with a carry-on. In the baby and toddler stage, you're likely going to want to check a suitcase!
 You can find out all my toddler travel essentials here. I've also got a free pdf packing list to help you remember all you need for packing for vacation with kids! You can find the pdf here.
Unlike my hubby, I ALWAYS unpack when I get to my destination. I love that feeling of being 'home' on vacation and having my clothes and my kid's clothes easy to access.
Having a suitcase organizer and using packing cubes have really made it SOO much easier to stay organized on vacation.
Listed below are my tried and true space saving packing hacks for your next family vacation with kids.
Watch this video for all the tips (and join my facebook page for more!)
Family-Friendly Space Saving Packing Hacks
Packing with Packing Cubes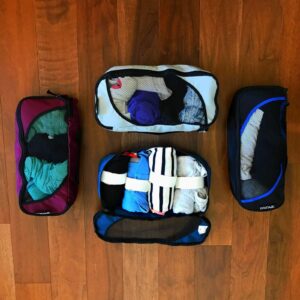 Luggage cubes are definitely one of the most popular suitcase packing hacks. And for good reason! I purchased a few sets of these after hearing rave reviews from my friends who had been traveling with them for a while​.
These packing cubes allow you to 'travel with drawers' just like you would have in your own home.
 I bought my luggage cubes off of Amazon and I purchased the BagAil brand. You can read reviews of these specific luggage cubes here. I've been very happy with the quality so far (10 trips and counting!).
I bought one color for each member of my family so that I can keep everyone's clothes separate and easily identifiable. The nice thing about this method is that you no longer have to keep stuff separated by suitcase.
FAMILY PACKING HACK #1: Mix each family member's packing cubes into different suitcases so that if one suitcase is lost you won't be without clothes for one person!
The only negative I find about luggage cubes is that the outfits aren't really organized this way. This is why I've now added the MeeBands (see below) to my packing routine.
Especially for my kids, I like to plan their outfits in advance, and if I don't have the outfits organized my husband is sure to pick something ridiculously mismatched. I know it's a very type A, but hey, if I'm spending $$ on some nice outfits, I want them to get used!
Check out the latest prices on the BagAil packing cubes here!
MeeBands: Wrap up your outfits!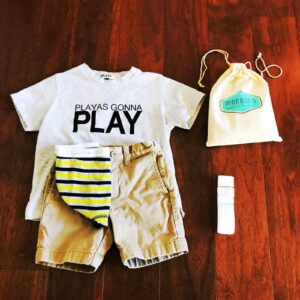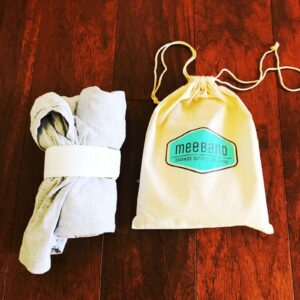 I discovered these super awesome packing organizers on Instagram when I started my @tearfreetravel account. Made by a momtrepreneur who has a lot of experience traveling with kids, these little bands are pretty genius.
What I LOVE about these bands is that you can pack outfits all into one roll (underwear, socks, headbands all included!). I have been using these bands in my diaper bag to keep my kid's 'spare change' of clothes organized and together. I've also been using them to keep a set of gym clothes in my car.
I think the ultimate suitcase packing hack is to use these and the packing cubes together. That way you still get the 'drawers' but you can also keep the outfits organized.
Headed to the beach and then out to dinner? Throw the rolled up outfits into your beach bag without the clothes unraveling and getting all mixed up!
The Ziploc Bag Method: FAIL!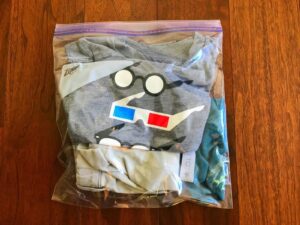 After seeing a bunch of Pinterest posts about organizing outfits into Ziplocs I've tried it on my last three vacations (before discovering MeeBands above).
I only did it for my kid's clothes as Ziploc bags don't really hold a full adult-sized outfit. To be honest, I really hated this method. Ziploc bags are slippery, so it's impossible to unpack them properly onto a shelf in our destination.
It's also pretty wasteful as the bags often end up getting thrown out at the destination.
FAMILY PACKING HACK #2: Using a band (like this one!) around rolled up clothes keeps outfits in order!
I definitely like the roll up outfit idea much better for keeping outfits organized. Fasten with a band and you are good to go. It's a better space saver in the luggage too!
Check the latest prices and reviews of the MeeBands here.
Pack a Wet Bag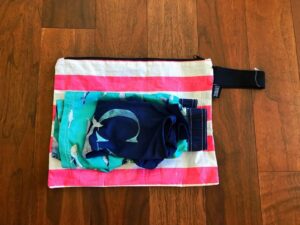 If you are going on a beach vacation, a wet bag is essential! organizers​ is great for keeping your wet swimsuits away from the rest of your stuff. If you use reusable swim diapers like we do, it's also a great place to keep them.
FAMILY PACKING HACK #3: Wet bags are essential for a beach vacation! These are great for throwing in your beach bag to keep the swimsuits away from all your dry stuff. If your clothes haven't dried completely at the end of your vacation its nice to have a place to store them that will keep the rest of your clothes dry
You can check out a selection of a variety of wet bags here on Amazon.
Use a Wipes Container For Your Travel First Aid Kit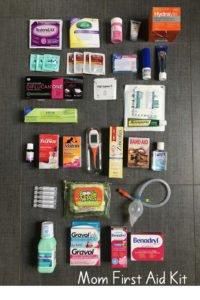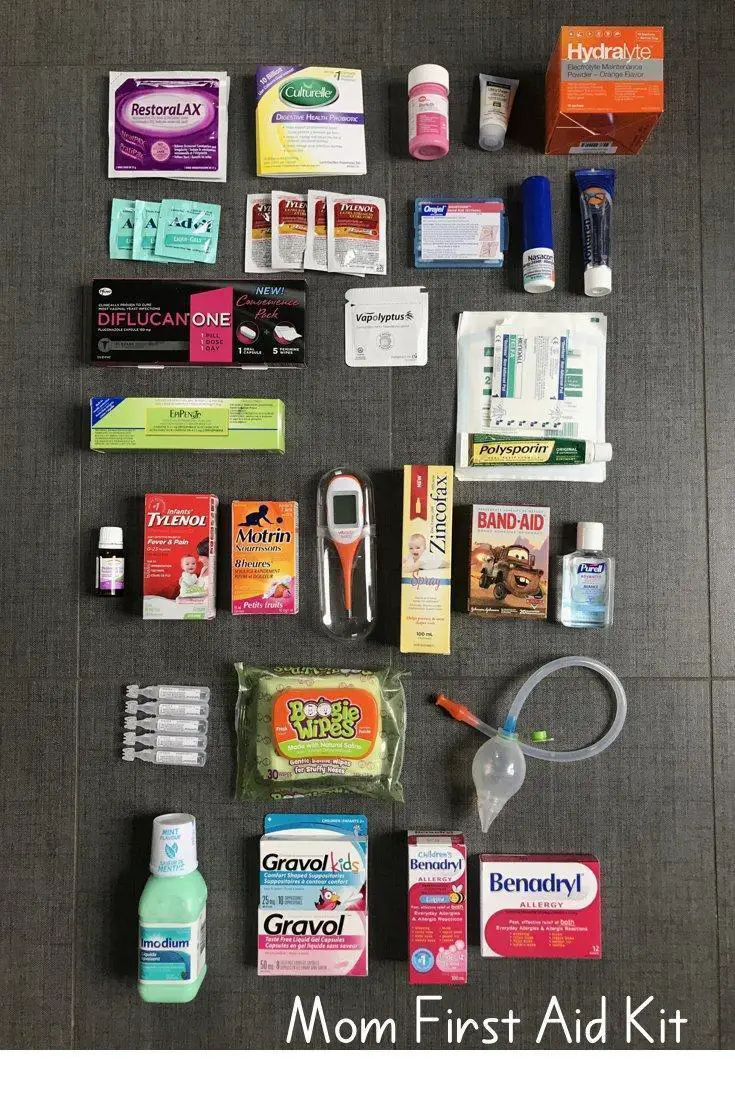 Speaking of being Type A, my first aid kit for travel is very 'all-inclusive'. I come prepared!
I pack my first aid kit in wipes containers and I use a pill organizer for the items I bring in my carry-on. This first aid kit has ABSOLUTELY come in handy on almost every vacation I have been on.
Check out the full list of contents of my first aid kit here.
FAMILY PACKING HACK # 4: Someone is bound to get constipated, a stomach bug, a red eye or a cut on vacation. I don't want to be spending hours at a pharmacy or clinic in a foreign country unless I absolutely have to. A travel first aid kit is essential!
If you don't have time to prepare your own first aid kit, there are a lot of great pre-made options online. Check out the amazing reviews on this travel first aid kit that has almost everything from my list.
Keep your liquids in old baby bottles
Storing liquids is always a dilemma when traveling with kids. I typically don't want to pack full-size bottles and the travel size bottles are either ridiculously expensive or don't have enough for a week-long trip.
Instead of buying fancy travel containers, I'd highly suggest re-using containers you may already have at home!
We have a whole lot of old baby bottles lying around our house that have accumulated through two kids.  Fill them up with any liquids you might need and voila! No special travel containers needed!
I pack them in a plastic bag (just in case!) but I haven't had any issues with leakage. I only bring these if I am checking luggage as they are usually over the liquid allowance on a carry on.
PACKING HACK #5: Old Baby bottles are great for packing laundry detergent, dish soap, shampoo, conditioner or other liquids you might want to bring on vacation.
What is the best luggage for family travel?
I have a whole post dedicated to the best suitcases for kids. You can find the post here. We usually pack one 'kid friendly' carry on suitcase for the plane.
I use my Trunki suitcase, as my son LOVES that he has his own carry-on. You can check out prices and read reviews for the Trunki suitcase here.
In terms of carry-on packing hacks, I come prepared with lots of items I know the kids will love.
Since my plane strategy mostly consists of unlimited iPad and unlimited snacks, the YumBox is key! The YumBox is my absolute favorite lunch and snack container for kids. My kids use this container every day, but I find it especially helpful for travel!
I love that I can pack a variety into a small space, that it is leak proof, and that it keeps the food from getting smashed in a backpack. We also use the YumBox at our destination, especially for the beach to pack fruits and snacks.
Check out the latest prices for the YumBox here.
I pack a container of small toys for the kids to have on the plane. My older son will mostly stick to an iPad (It's a special treat just for planes and restaurants!) but my younger son still needs constant entertainment.
I pack my toys into a packing cube so that they won't end up all over our bag and out of place. Check out my post on the best toddler travel toys for some ideas for toys that actually keep my kids entertained on vacation!
Also in the carry-on, we have our wipes, diapers and other essentials. I've compiled a MEGA list of EVERYTHING we bring on vacation in one fancy PDF. You can check it out here: Ultimate Family Packing List.
Want more hacks? Join my facebook page!
If you are looking for more hacks and tricks for traveling with kids, join my facebook page! I've curated some awesome content about traveling with kids to share on this page. Lots of travel inspo for wanderlusting parents like me! Hope to see you there!
What are your best tips?
Do you love to be organized on vacation? What family packing hacks have you used? Suitcase organizers? Kids packing cubes? Compression bags? Let me know what you loved and didn't in the comments below!
Pin for later!