My kids would bring their whole playroom if they could on vacation! As space is tight, I've come up with a list of the best travel toys for toddlers that have kept my kids entertained on long trips or when adults need some 'me time' on vacation. I'll cover all the best toys for traveling with toddlers, including travel toys for toddlers on airplanes, the best car travel toys and the best toys for the beach and pool.  The ultimate list of the best travel toddler toys for your next vacation!
Although our vacations are often jam-packed with activities and entertainment, I've found that having some toys on vacation is essential for the inevitable downtime on our trips.  This is especially true when we are renting an Airbnb or HomeAway that doesn't have a kids club with toys. We prefer things that are lightweight and packable, and also versatile in terms of creative and imaginative play. One of my son's favorite things to do before we go away is to pack his little toddler suitcase full of his favorite travel toys!
[toc]
Travel Toys for Toddlers on the Airplane
Entertaining a toddler on an airplane is challenging! I often try to time naps on the plane so a good portion of the trip can be taken up by blissful sleep! Check out the magic tricks for getting my kids to sleep anywhere for more ideas on that front! Snacks are also KEY to keeping toddlers busy on a plane. We pack our yumbox full of snacks and that usually provides for at least 45 minutes of entertainment!
I was pleasantly surprised by how much my kids loved playing with resuable stickers on our last plane ride! I am always skeptical that these toys will last three seconds, but the reusable stickers were a big hit.  You can get them in a variety of patterns that are appealing to little ones. There are lots of characters to choose from. Our kids loved the Paw Patrol collection!
Mess-free coloring sets are pretty genius! Unfortunately, my youngest loses his MIND when he doesn't see the color right away, so they have been a bit of a fail at times for us. On two occasions my kids have 'colored' on the furniture in a hotel room with the free hotel pens (WHY OH WHY DO YOU PUT THOSE TEMPTING THINGS OUT) so I think these mess free sets have a lot of potential! Ps, now the first thing I do when I get to a hotel room is hide all the pens!
For preschool age kids, there are more options when it comes to travel toys. At age 3.5, my son has just started being able to play simple card games like "Go Fish."  Although he doesn't follow all the rules, he loves being included with the "adults" and has so much fun trying to keep up. We have this Melissa and Doug set of cards and it's perfect for tiny hands.
Even though we try to keep screens to a minimum in our everyday life, a tablet is a must for us on a plane. If there was only room for one travel toy, this would be it!  The greatest thing about the iPad is that it packs so many options into such a small package. Check out my list of educational iPad apps for toddlers for our favorite apps for travel.
If an iPad isn't in the budget, you can check out the more affordable Kindle Fire, or smartphone works well for travel too. My son LOVES watching youtube – who knew watching kids unbox toys could be *just* as entertaining as actually playing with toys yourself! We also have this kid-friendly iPad case which is great for small and clumsy hands.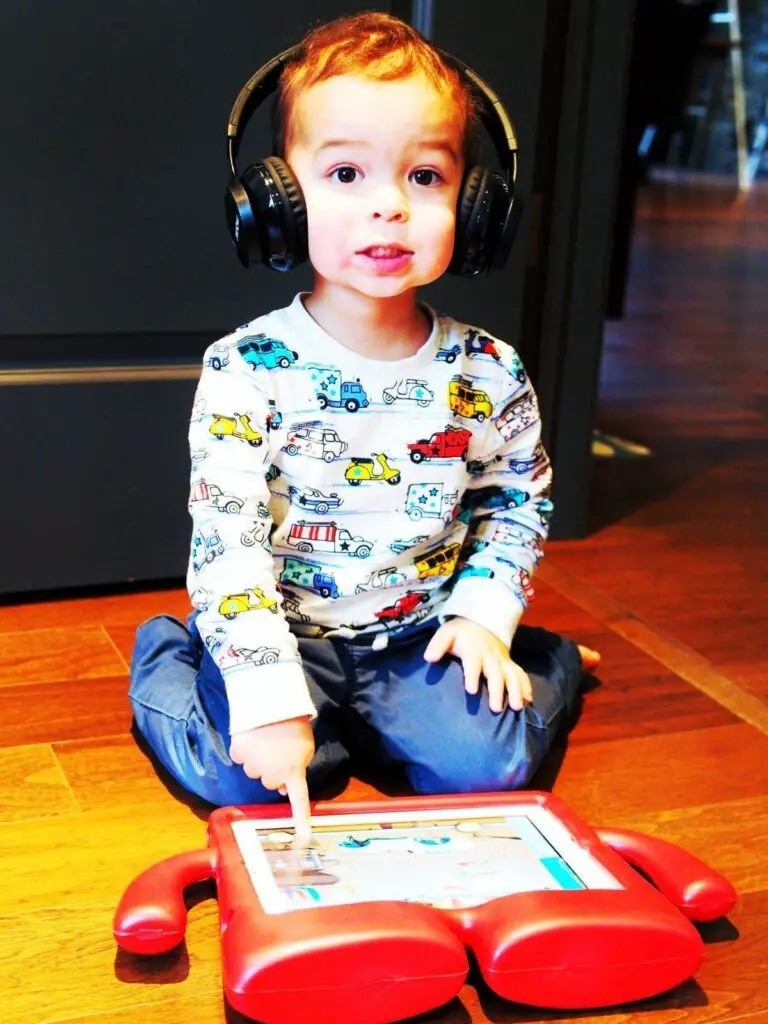 The Best Car Travel Toys for Toddlers
Our kids do pretty well traveling in the car, so we've been lucky not to have to work too hard to keep them entertained. Toys for the airplane can also work for the car but the car also allows for some larger items. I try to pick toys that my kids are not likely to DROP, as it's hard for me to reach to the back seats and both my kids seem to want to lose their mind when something drops!
We have one of these car seat travel trays and it is great for long trips. I like how this one has a holder for a tablet as well. My eldest son loves to color and practice his letters so he loves having a hard surface to play on. It's always great for storing snacks and drinks. Make sure to check out my post on the best toddler travel car seats before your next trip!
These AquaDoodle travel mats are great for the car. My kids have a lot of fun practicing their drawing skills and they aren't constantly asking for new paper!
As a kid myself I LOVED playing car bingo when we went on long trips. My favorite was looking for license plates from all of the different states when we would make the long car trip from Canada to Florida. There are lots of great options for car bingo and many of them are easy for even young kids.
For older kids (age 5 and up) Games on the Go is a lot of fun for a family road trip. This little book has a lot of great ideas for games you can play 'on the go'. It's great for a family road trip or even plane travel. I loved playing these type of games as a kid!
The Best Toddler Travel Toys for Indoors
Once on vacation, we like to have some downtime every day to relax in our room or house rental. It's great to have some toys to bring along to keep the kids occupied while the adults unwind. I always pack a few items that I KNOW my kids will always want to play with to keep them occupied.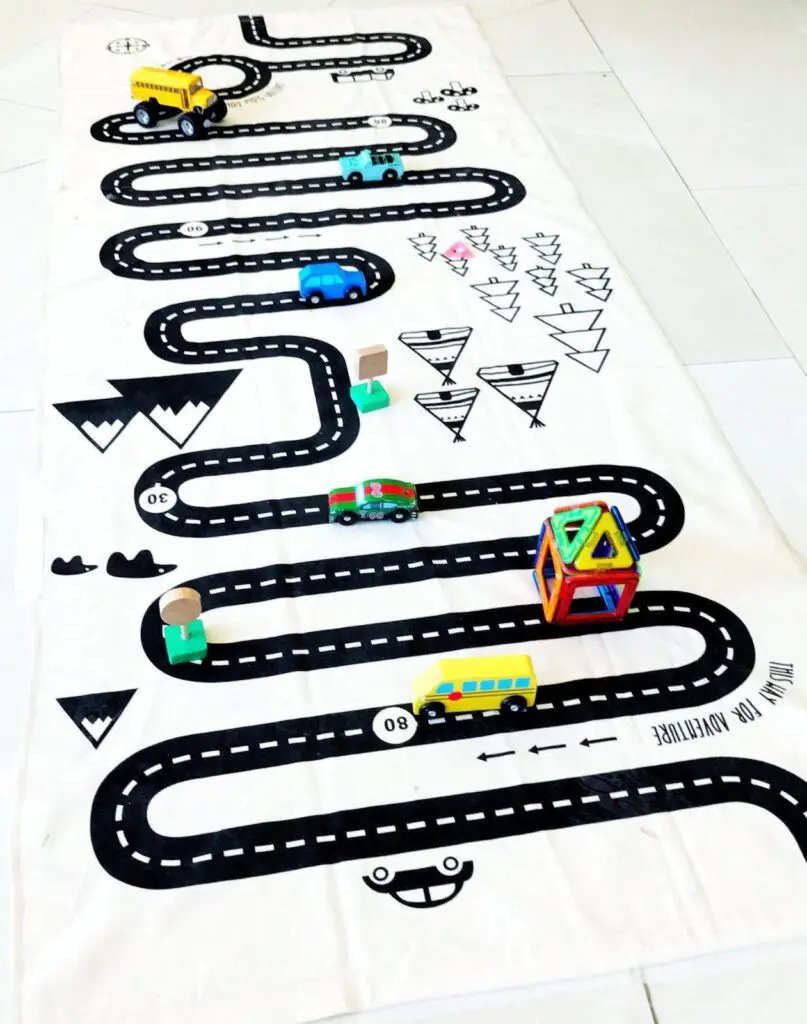 My toddlers love toy cars and this rug was a huge hit on one of our latest vacations to Santa Teresa, Costa Rica. It is absolutely one of my must-have toys for travel! This canvas map folds flat and packs super well in our suitcase. My kids love cars and this playmat has provided hours of entertainment! Hot Tip: Use masking tape to tape the canvas to the floor so that it doesn't bunch up when you drive cars over it.
Cars, Cars, and More Cars!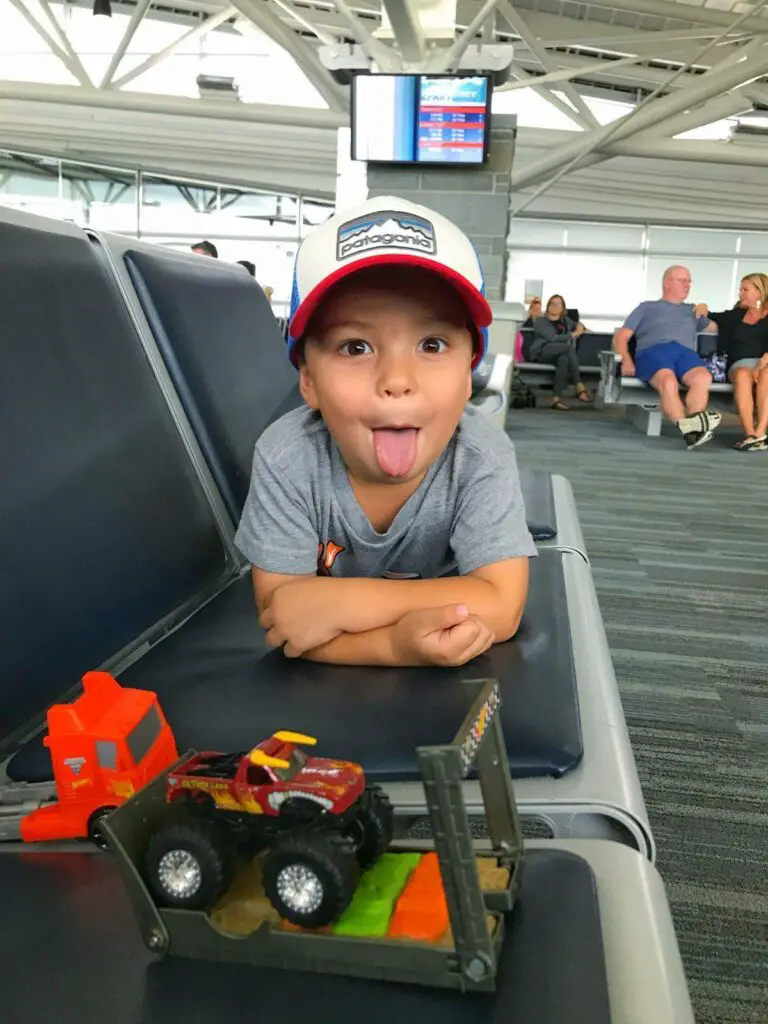 My toddler loves toy cars. LOVES cars. We can't go on vacation without him bringing at least a few travel toy cars along. Our latest vacation we let him "pack" his Trunki suitcase and he filled the entire thing up with toy cars. We have a large collection of Hotwheels cars, and these are great toddler toys for the airplane as well! Blaze and the Monster Machines is also popular around here, and these guys had fun swimming in our rental pool in our last Airbnb.
Packing a few balloons in your suitcase is a great vacation hack! Balloons don't take up any space in the luggage but are always fun to play with. My kids love to throw balloons around the house and use small nerf guns or balls to have 'target practice'. You can always make simple crafts with balloons. I recently bought one of these new Wubble balls from Amazon. It blows up like a balloon but is sturdy like a ball. Lots of fun for my boys!
We are big time LEGO lovers here, so LEGO is a must on vacation. Since we got back from LEGOLAND Florida we build LEGO pretty much every single day! Lego is a great toddler travel toy as it promotes creativity and imagination and is so versatile (and packable!)  My son started using real LEGO at age 3 and used Duplo when he was 2. A small box of Lego can go a long way at a restaurant and give the adults time to relax and enjoy their meal. My four-year-old is pretty good at following the instructions so I usually buy him a few small sets and bring them out at restaurants. For the younger crowd, a Tupperware container lets kids use their imagination to build what they want!
Magnaformers are also great for building creativity and imagination. We used our Magnaformers to create houses and cities on our street map the last trip. Be careful, Magnaformers can be just as fun for adults as they are for kids (Same goes for Lego above!) These are great toys for airplane travel as well, download some of the idea booklets before you get on the plane, you can actually build a lot with a small number of tiles!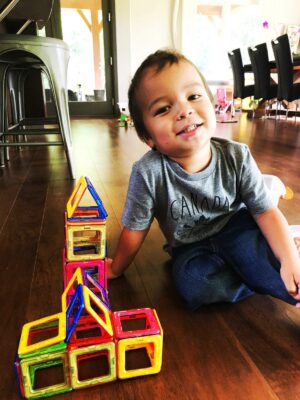 Books
Books are an important part of our travel night time routine and are an essential travel item on vacation. A few of our favorites are Goodnight Moon, The Little Engine that Could, and Don't let the Pigeon Stay up Late. We also like the indestructible books collection for books that can be chewed, washed, and crushed and still be good as new!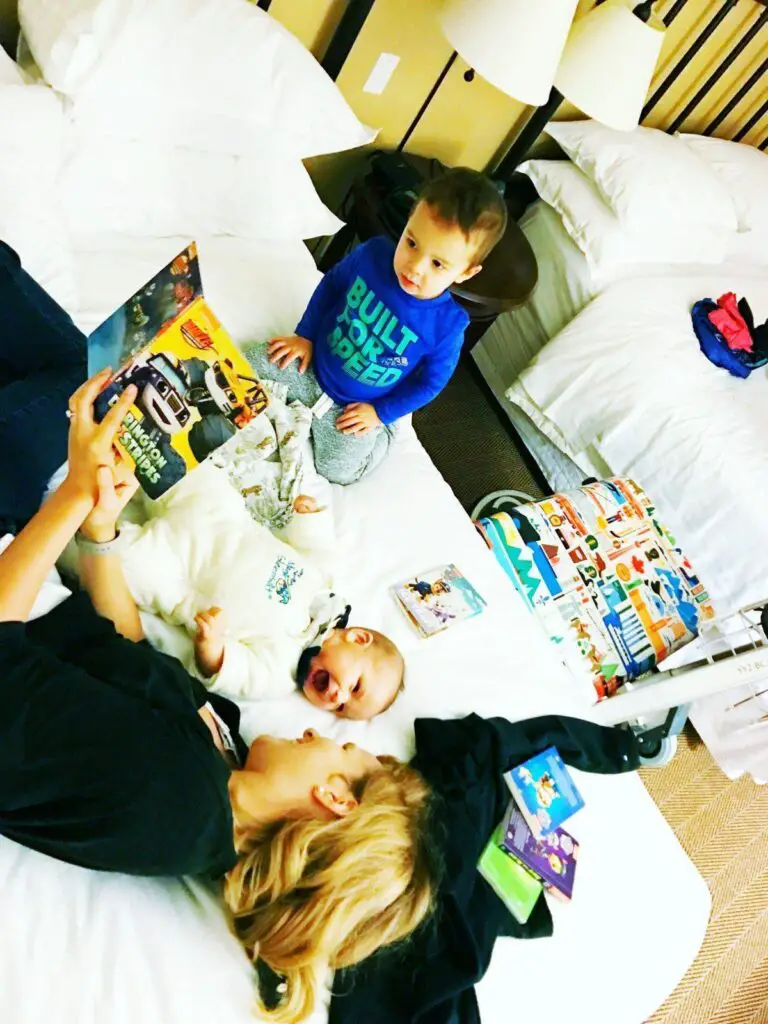 The Best Pool and Beach Travel Toys
Sand Toys
If you are going on a beach vacation, travel sand toys are a must! My son likes diggers and dump trucks best and so we bring a small set with us that packs easily in the luggage. Once we are at our destination, we usually buy our travel beach toys there to save on space. We try not to buy at the shops right on the beach as they are seriously overpriced. Last trip we got a huge set for $3 at Target!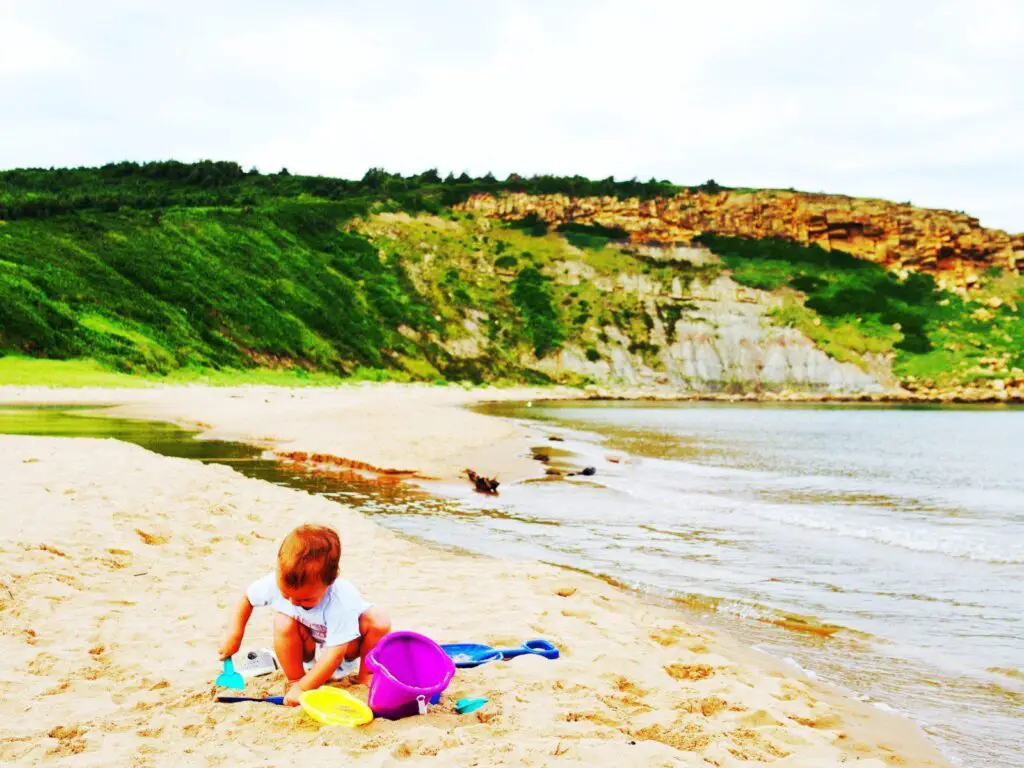 Our two boys go crazy for water guns! They will squirt each other for hours on end. I love to bring a few water squirters for a beach vacation since my kids have never much been into the sand castles yet.
Cranky, crying toddler? Bring out the bubbles! Seriously, it REALLY DOES work every time. A classic, and it's not to forget! The simple things can certainly provide the most entertainment. This is also a great travel toy for babies 🙂
Bubbles are great for hikes or touring outdoor attractions like castles, forts, or parks. Don't forget them camping either!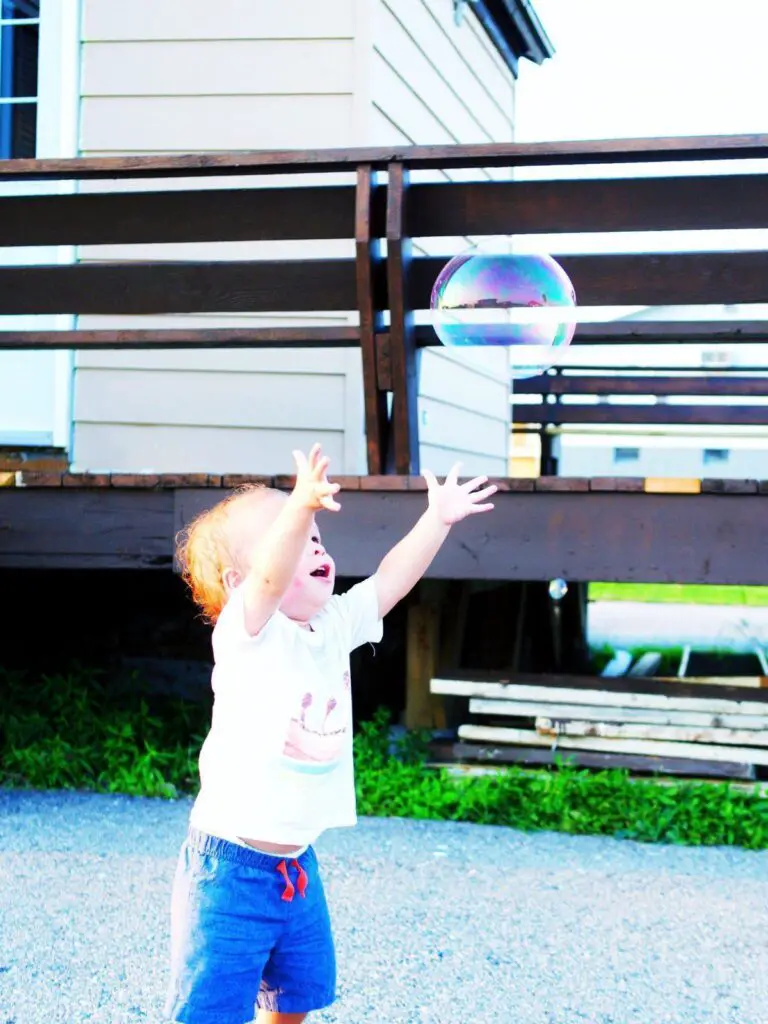 Now that you've checked out my favorite toddler travel toys, be sure to drop into my other posts on the best travel toddler gear and top baby travel gear.
What are your favorite travel toys? Drop me a line in the comments with your favorites!
Happy travels! Hope you all enjoy some fun and relaxation on your next trip!
xo
Kate