I've been so excited to write about our incredible trip to Santa Teresa, Costa Rica. This was my first time exploring Costa Rica and it did not disappoint! Santa Teresa has an amazing combo of awesome restaurants, incredible adventures like surfing and waterfall hiking, as well as some of the most gorgeous beaches I have ever seen. We traveled to Costa Rica with kids, but this destination is certainly welcoming to all types of travelers. We saw mostly 'millennials' traveling, but were happy to see a few other families and some retirees on our travels. Enjoy this guide to Santa Teresa, Costa Rica, and feel free to drop me a line in the comments below if you have any specific questions about this awesome destination.
If you are looking for a guide to the rest of Costa Rica with kids, be sure to check out this 'Ultimate Guide to Costa Rica with Kids.'
[toc]
Where is Santa Teresa Costa Rica?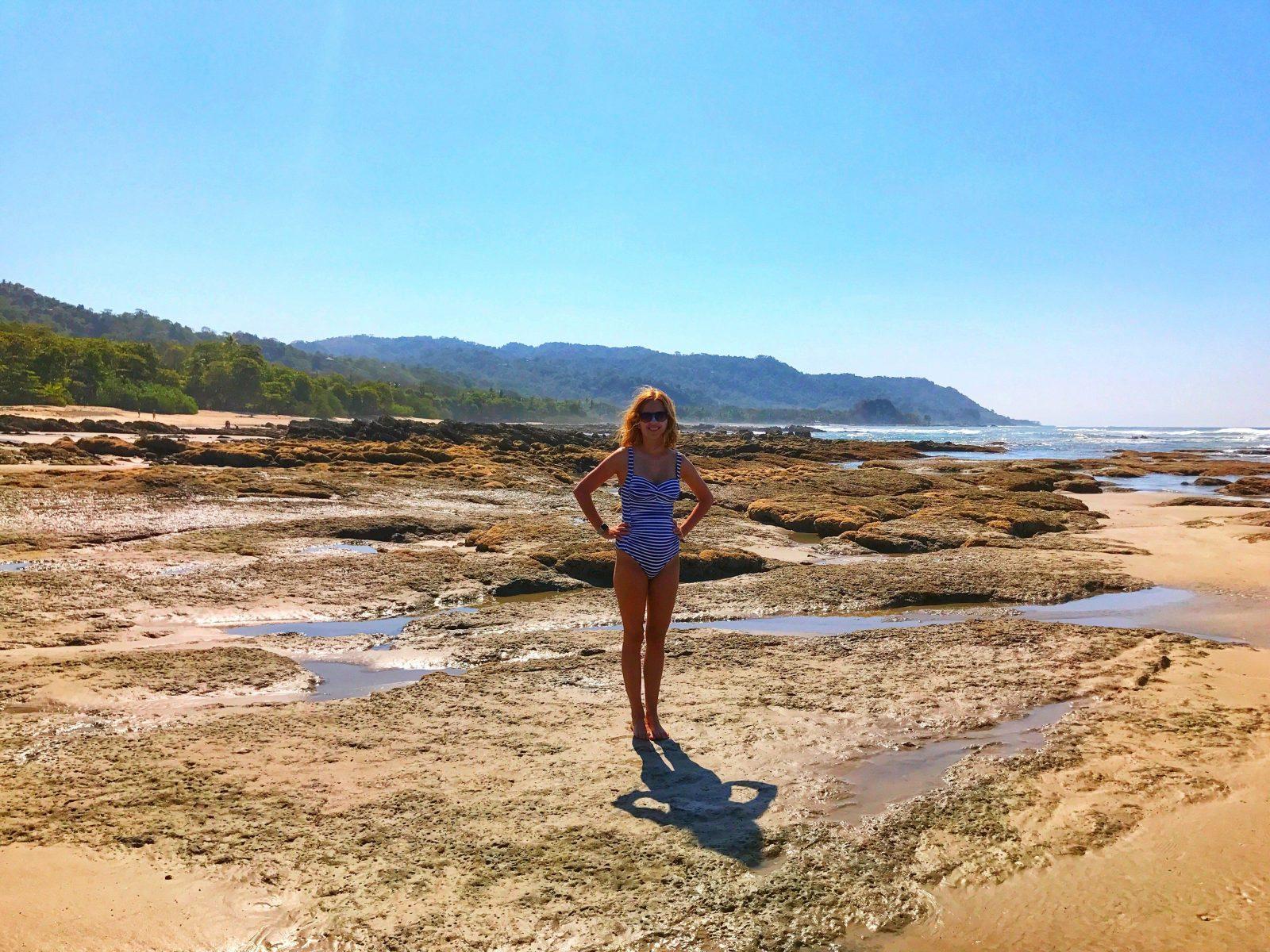 Santa Teresa is a small town in the Nicoya Penninsula in Costa Rica. It is located on the Pacific coast of Costa Rica and is most well known as a surfing destination. Right next to Santa Teresa, is the neighboring town, Mal Pais. Mal Pais and Santa Teresa tend to go hand in hand for travelers to this area. Our Airbnb rental was actually located in Mal Pais.
The Pacific coast of Costa Rica is known for surfing and yoga retreats. The lifestyle is laid back, and the people are friendly. Although the official language is Spanish, English is common in the tourist spots.
How to get to Santa Teresa Costa Rica?
There are two major airports in Costa Rica: San Jose and Liberia. San Jose is a larger airport and may have more flight options, but we chose Liberia to Santa Teresa Costa Rica as the journey is more straightforward. If you are looking for deals to Costa Rica, I always use Skyscanner to compare prices and set price alerts to notify me when fares drop.

The journey from Liberia to Santa Teresa is not for the faint of heart! First off, you NEED a 4×4 vehicle to make this 4-hour trek. We rented a car from Budget Rent A Car Costa Rica and we were really happy with the quality of the car and the service. We even got two car seats for our two young kids and the seats were in perfect condition. My parents and brother rented from Alamo Costa Rica and their car was a basic 4×4 and they wish they had upgraded. The ride was definitely smoother in our (larger and more expensive) 4×4 and for us, it was well worth the $$!
We drove at night as our flight landed late in the afternoon. This certainly added to the adventure of the trip! 50% of the drive was dirt roads and street lights were limited. There are lots of twists and turns but overall the conditions of the road were good. It's definitely a bumpy ride no matter what you are driving!  My kids have always been great car travelers so they were happy to sleep for most of the long trip. We stopped halfway to enjoy some local food and take a much-needed break.
On the way home, we drove during the day, and the roads were much more appealing in daylight. Although it was certainly a trek to get to Santa Teresa, it was well worth it in the end!
Other options:
You can take a small charter plane from Liberia airport to Tambor Airport. Airline options include Nature Air and Sansa Airlines. This significantly cuts down on the driving time but you will still likely need a rental car to get around town.
You can fly into San Jose Airport and drive 1.5-2hs to Puntarenas where you take a ferry boat (Naviera Tambor) across to Paquera. From there, its another 1.5 hours drive to Mal Pais/Santa Teresa (total trip 5-6h).
Santa Teresa Costa Rica Weather
We traveled in January and the weather was HOT! The temperature was in the low 90s every day. During the afternoon, we preferred to head back to our villa and enjoy the pool. The lucky childless members of our family napped and my husband and I encouraged some 'Netflix and chill' for our 3-year-old.  Most of the surfing crowd tended to go out in the morning or the late afternoon.
The dry season in Costa Rica is late-November to mid-April. During this time, you can expect mostly sunny skies. I have never traveled in the wet season, but from what I've heard, it is a lot more difficult to get to Santa Teresa during this time. Road conditions are not as good due to potential flooding.
We were a bit worried about mosquitos, especially as we were traveling with young kids. I didn't see a single mosquito the whole trip. The dry season tends to have fewer mosquitos but we still came prepared with our kid-friendly mosquito repellant.
Santa Teresa Costa Rica Hotels
There are so many great options for hotels or villas in Santa Teresa and Mal Pais. Before we booked, I scoured Airbnb, HomeAway and Booking.com and it was SOO hard to decide!!
Mal Pais Villa Rental: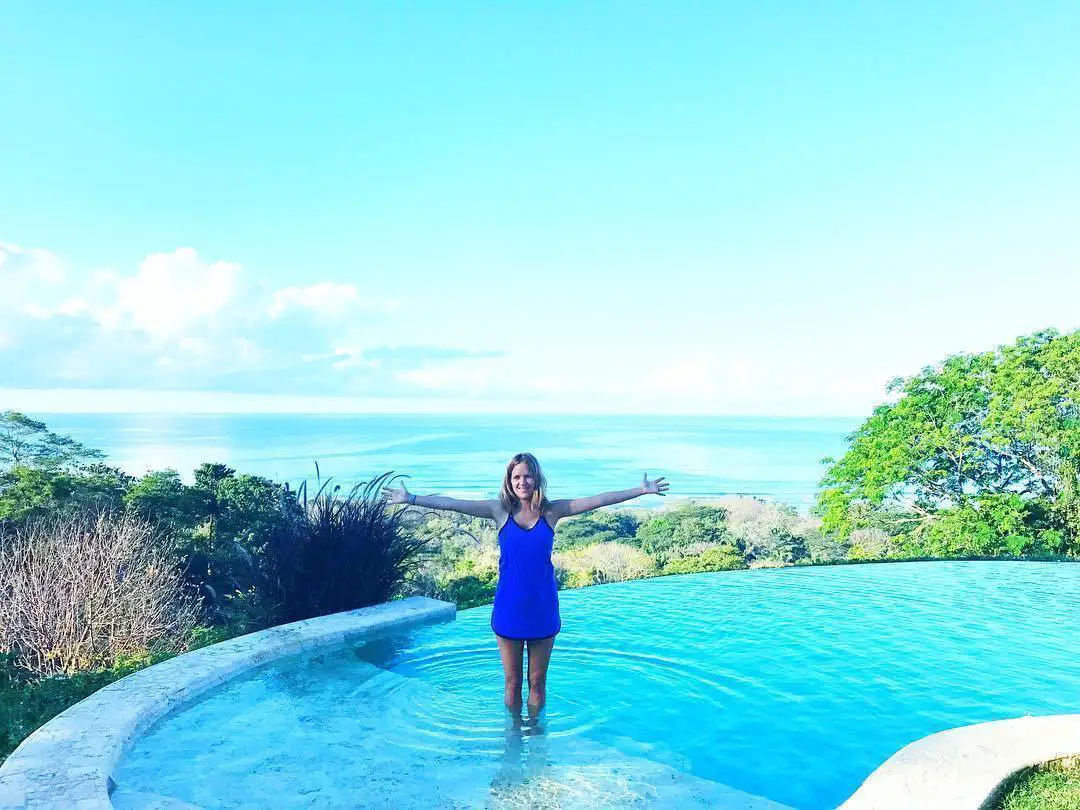 As we were traveling with kids and extended family, we opted to go for an Airbnb that had multiple bedrooms. The rental did NOT disappoint. I absolutely loved the pool with an amazing view of the ocean and amazing sunsets. It was also perfect for kids as it had a very shallow area that even babies could sit and splash in.
If you are checking out Airbnb for the first time, you can use my referral link for $20 off your first stay!
Santa Teresa Hotels
Although we didn't stay here, my Aunt did and loved this peaceful property. She loved the suite rooms which had a HUGE balcony that was great for lounging. Check out the TripAdvisor reviews here.
Check out these Santa Teresa Hotels, there are a lot of great places to choose from!
Santa Teresa Costa Rica Restaurants
The restaurants in Santa Teresa and Mal Pais were AMAZING. I was absolutely not expecting such an amazing selection of interesting cuisines. Every single place we ate at was good, and the prices were pretty affordable compared to our prices back home. We had two vegetarians traveling on the trip and the vegan/vegetarian options were also awesome. Certainly the surf/yoga vibe meant that there were a lot of healthy whole food options.  A few of my favorites were:
The Bakery: An amazing spot for delicious breakfast or lunch. Air-conditioned, which was a huge plus with little ones. We went here for breakfast almost every morning! OMG, it was so good!
Fish Bar: Loved the fish selection at this restaurant. My husband loved the tuna dish they prepared. They also scored some big 'family-friendly' points as they had some chalk available and let my son draw all over their concrete floors!!
Umi Sushi: Not only were we surprised that there was a sushi restaurant in Santa Teresa, we were even more suprised when it was delicious!
Las Caracolas: The views at this small restaurant are amazing and the food was delicious too. We ate here twice we loved it so much.
Banana Beach bar: Loved the selection of delicious smoothies at this popular beach spot. They had a DJ and my son was feeling the beat.
Santa Teresa Costa Rica Beach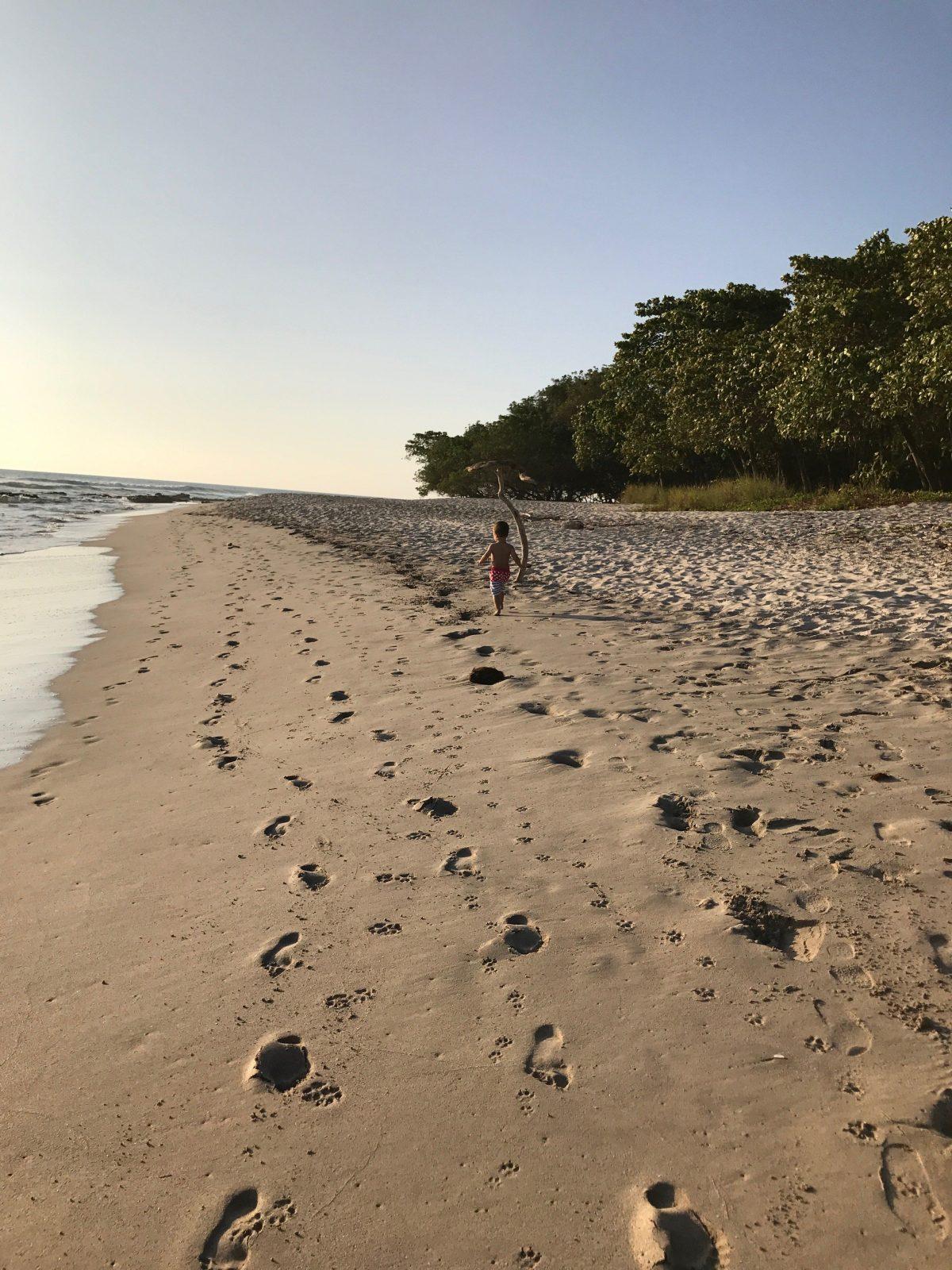 We spent most of our time at Playa Mal Pais as it was closest to our rental villa. The sand was gorgeous and the beaches were expansive. The beach was not crowded at all. We often felt like we were the only ones there.
We were warned not to bring anything valuable as theft from parked cars is common on the beaches. I never felt unsafe in any way when we were in Costa Rica.
The only negative about the beach is that the water is rough and the current is strong it is not great for swimming (especially with kids!). Of course, these are great conditions for surfing, which is why this place is so popular among the surfing crowds. We still had a great time at the beach as our kids were too little to want to spend any significant time in the water.
Activities
Since we were traveling with extended family and kids we didn't do a whole lot more than lounging and eating. There is so much to do in this area though, so we will have to come back when our kids are older to really take part in all the adventure.
Surfing Lessons:
We had a few hours of adult time while the grandparents watched the kiddos and it was awesome to try surfing! We went with Ollie's Adventures and had a blast. It was the first time surfing for everyone in our group and I was so excited to be able to get up on the board for a few seconds. None of us looked graceful on the boards and I was sore for days afterwards, surfing is HARD WORK!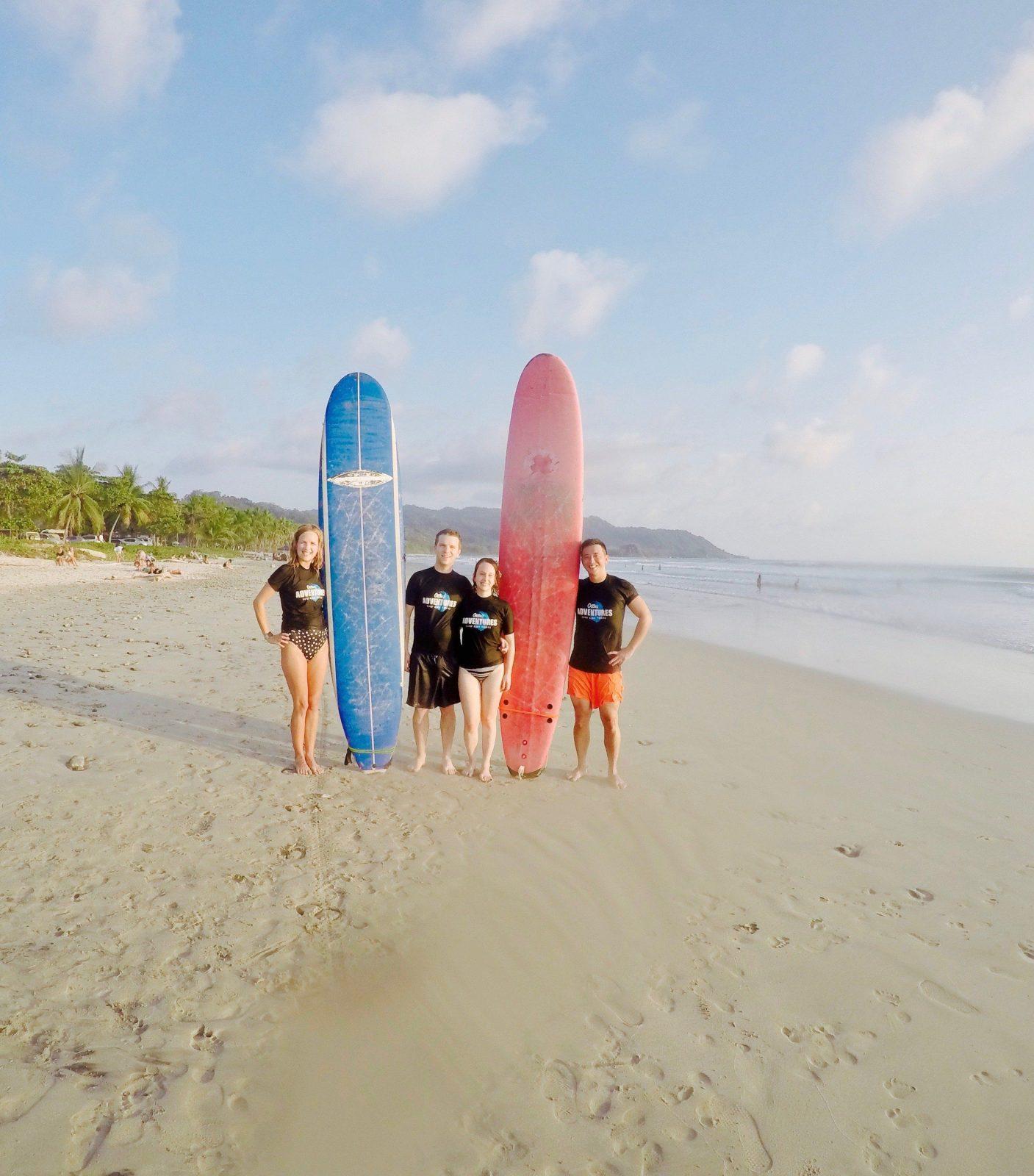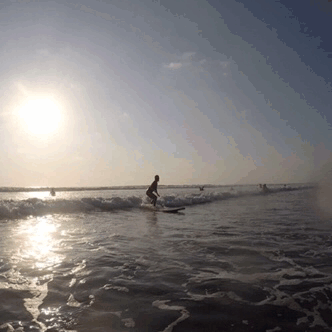 Hiking Montezuma Waterfalls
We again went with Ollie's Adventures for a hike of the Montezuma waterfalls. This hike is pretty advanced, I thought parts of the 'hike' were more like rock climbing than hiking! It was well worth it though, as the waterfalls were beautiful and we loved trying out the cliff jumping! I saw one family with a young child and I was pretty impressed at their sense of adventure. We were glad to have left the kiddos behind for this one!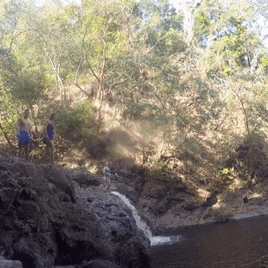 Costa Rica with Kids
Despite not being a typical family-friendly destination, I found Santa Teresa to be an awesome spot to vacation with kids. Everywhere we went, we were welcomed, and servers in restaurants went out of their way to entertain and accommodate our (well-behaved) kids.
Given that Santa Teresa is a surf destination, the ocean is very rough. There is also a really strong undertow and there are signs up all along the beach warning tourists about this. My kids were very little (3yrs and 4 months) when we traveled so they really weren't interested in swimming in the ocean. We preferred to hang out in the pool and play on the beach. My mother, on the other hand, had to literally be rescued from the Ocean due to the undertow, so this just goes to prove that stubborn adults are far worse to travel with than little kiddos 🙂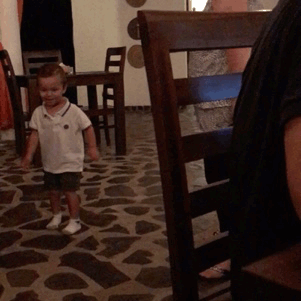 What to pack for Costa Rica?
Check out my article on what to pack for Costa Rica which includes a free printable pdf. Enjoy!
We will be back!
After such a great trip to Costa Rica, we are sure to be back soon! I would love to check out other parts of Costa Rica that our family might enjoy. Where should we head? Drop me a line in the comments below if you've been to Costa Rica with Kids!