For many families headed to sunny Florida, a fun pool is essential. Disney World offers fantastic pools at each of their resorts. Many of them feature a main, themed pool as well as smaller "quiet" pools which are tucked in around rooms. The pools follow the theme and feel of the resort itself, from pirates to pyramids to amusement parks, you're bound to find the perfect place to stay cool when you're not at the parks. These pools are so incredible that you may just want to set aside a whole day to enjoy rather than just a couple hours. Here's our top picks for resort pools that are sure to have you saying, "Just keep swimming!".
For Disney Resort options, including pricing these amazing resorts, ask for a quote from a Disney Certified Travel Agent.
Big Blue Pool – Disney's Art of Animation Resort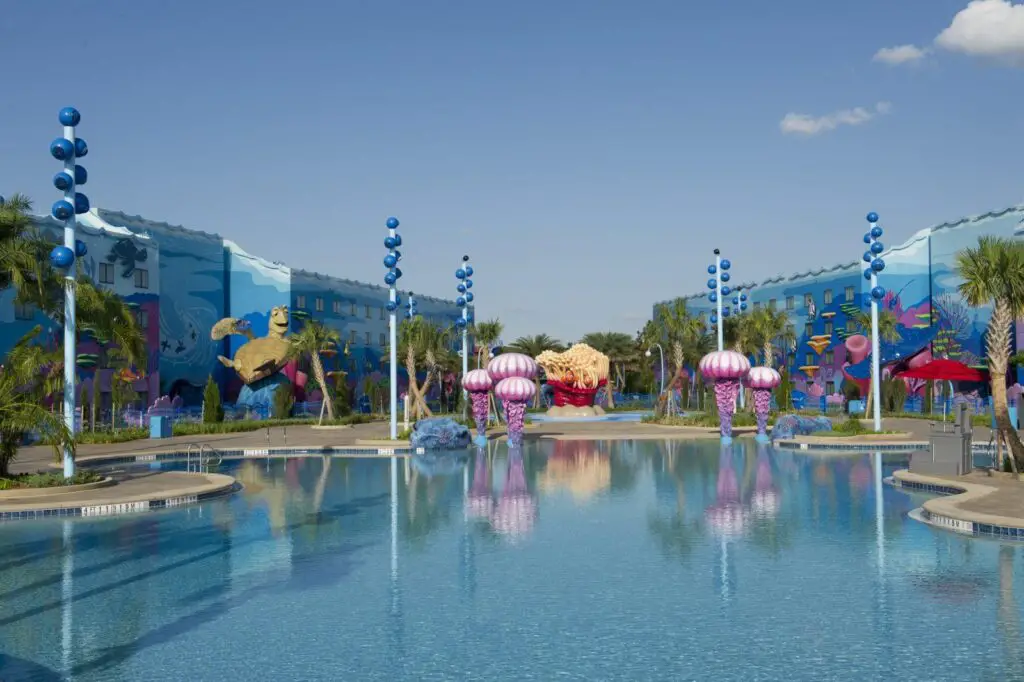 This resort has the distinction of having the largest pool in Disney World! Affectionately called the Big Blue Pool, this zero entry pool has 308,527 gallons of water! Big Blue is Finding Nemo themed and features larger than life characters including: Nemo, Marlin and Crush the Turtle. While swimming, you'll be able to hear music and voices of Nemo, Dory and others through the underwater sound system. Nearby is the Schoolyard Sprayground, a splash pad for littles, that features all of Nemo's new, school classmates. 
The Dig Site- Coronado Springs Resort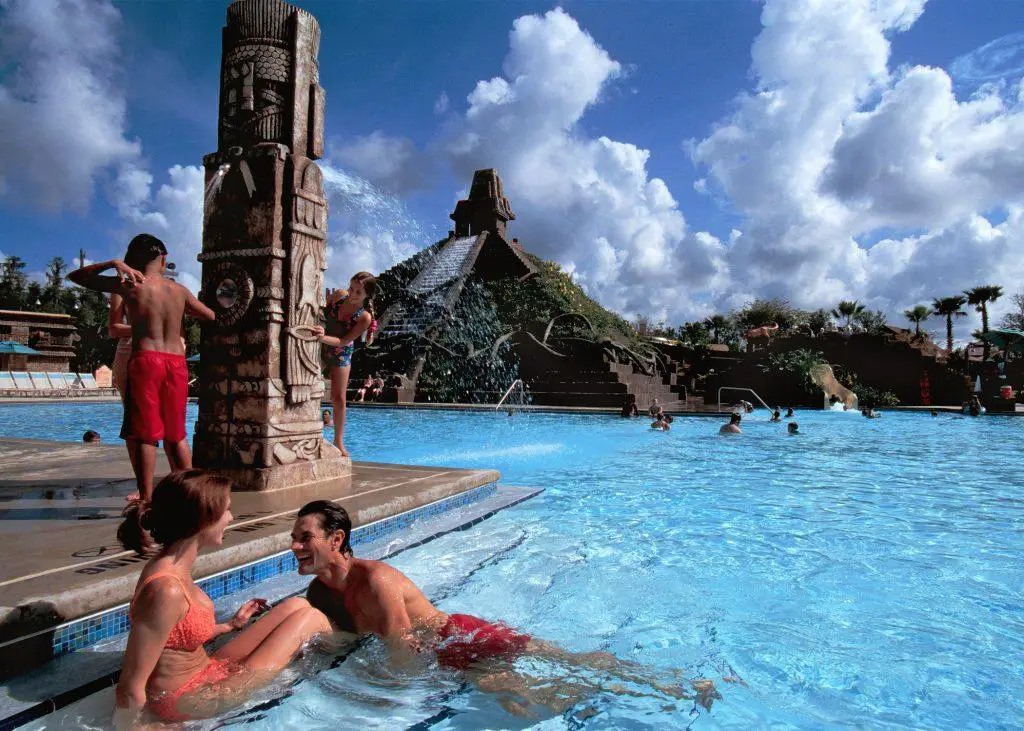 The undisputed focal point of the Lost City of Cibola's pool is most definitely the 50-foot Mayan pyramid. This pyramid features a cascading waterfall and overgrown vegetation. Nearby is the spitting Jaguar Slide, a 123- foot long water slide that flows right out into the huge pool. The pool is so large that guests have room to toss a small football around without disturbing others. The Mayan ruins theme is extended to the nearby kiddie pool, Siesta Pool Bar and the two hot tubs. In fact, one of the tubs is the largest outdoor hot tub in Disney World with plenty of room for 22 guests! 
Copper Creek Springs Pool – Wilderness Lodge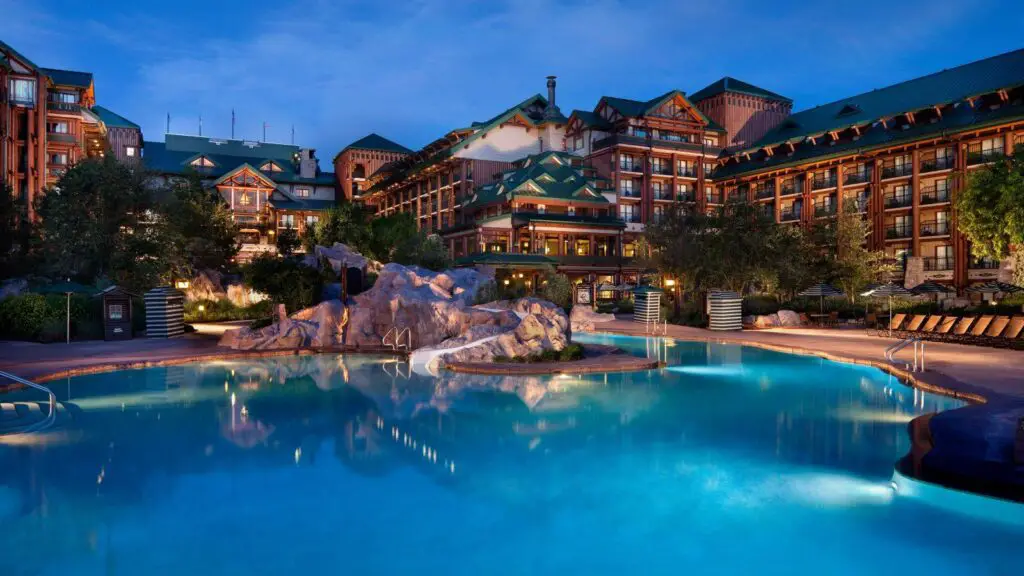 This gorgeous heated pool is a dream after a long day at a Disney park. It features a 67-foot water slide nestled into the rocks. There are two hot tubs that are themed to look like hot springs. Small children will love the nearby water play area that has water slides, water jets and a bucket that periodically dumps water. 
Luna Park Pool- Boardwalk Inn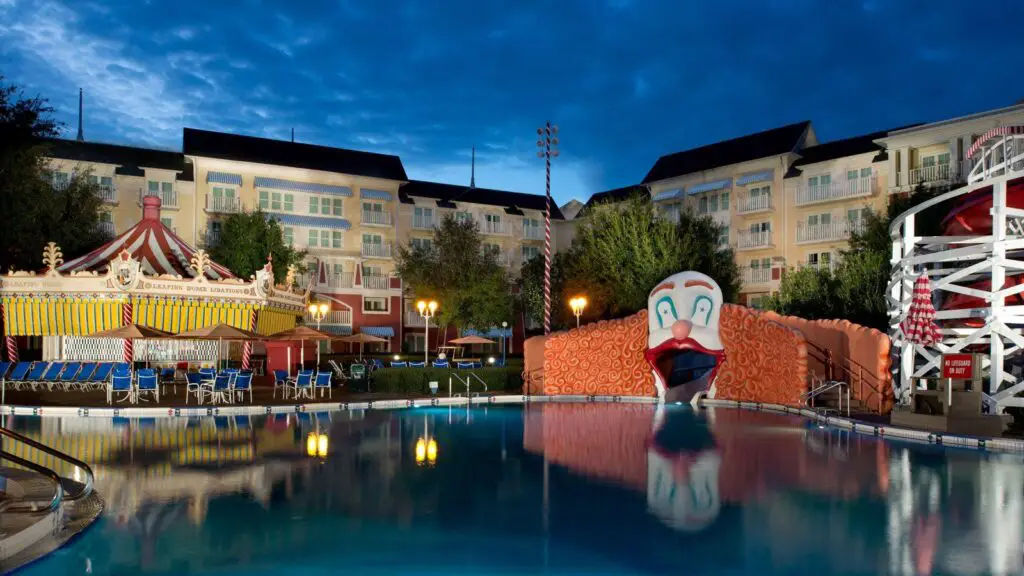 Seaside boardwalk meets 1920s amusement park at the Luna Park Pool to give you the best of both worlds. The water slide is roller coaster themed and guests shoot out of a clown's mouth into the refreshing, blue water. The red and white big top houses a pool bar and the adorable elephant statues spout water.There is a small kiddie pool off to one side and a whirlpool on the other. There will be clowning around at this pool for sure!
Stormalong Bay – Beach and Yacht Club Resorts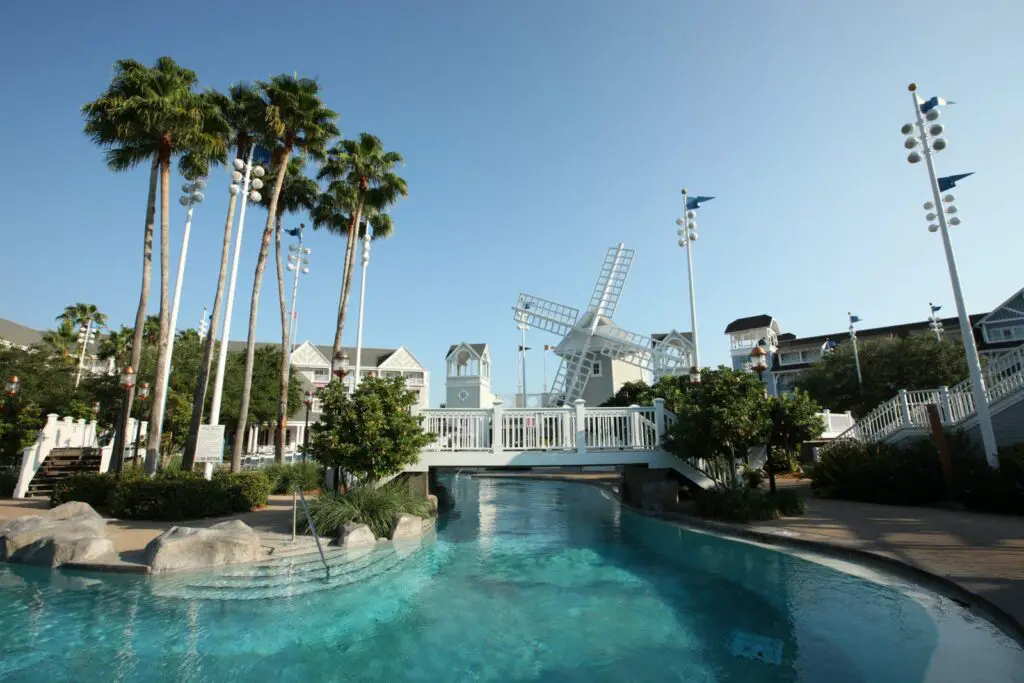 This is not so much a pool, but an unbelievable 3-acre resort size water park that both Beach Club and Yacht Club guests can enjoy. Featuring multiple pools, whirlpools and tanning decks, this truly is a must see! The zero entry pool has sandy shores and is sand-bottomed. It has large boulders and gentle waves that really makes you feel like you're spending a day at the beach. The seaside themed area also shares its 795,000 gallons of water with a lazy river and several water slides. One of the water slides is one of the highest in WDW and it shoots out of a pirate ship. This aquatic playground alone can be the highlight of any Disney trip! 
Uzima Springs Pool and Samawati Springs Pool – Animal Kingdom Lodge
The Uzima Springs Pool is truly an oasis. Surrounded by the savanna, this main house pool is 11,000 square feet and is shaded by tall Floridian palms and trees. The pool mimics a serene beach with its zero depth entry and lush foliage surrounding the pool deck. There is a 67- foot long water slide, small kids pool and 2 whirlpool hot tubs and a nearby bar and lounge as well. The Samawati Springs Pool is smaller but does have zero depth entry and the same tropical beach feel as the Uzima Springs Pool. The pool area has a slide, as well as a hot tub and children's water play area. For being the smaller of the two pools, this one seems to attract the families with small children.
There are so many pools and so little time at WDW. We hope you get the chance to take a dive in these pools yourself!
Pin for later!