As a family that loves to travel, we have spent our fair share of time at the airport.  If you have a long connection or are like me (Type A, always super early!) finding ways to keep the kids occupied at an airport can be challenging. Our airport strategies center on getting out some energy pre-departure, getting babies to fall asleep *RIGHT* before we board, and generally letting the kids explore and have fun in places where we aren't going to be a nuisance or a safety hazard.
The MOST important strategy for keeping kids busy at the airport is NOT to break out any of your airplane strategies now. Flying with a two-year-old and taking a young baby on a plane requires patience, caffeine, and endless energy, so I try to make the airport time as low-key and low maintenance as possible.
PS – In case you are wondering, my strategies for taking toddlers on the plane are VERY simple.
Unlimited iPad.
Unlimited snacks (unhealthy is A-OK)
Unlimited naps.
If you are looking for more ideas on how to entertain a young toddler on a plane check out this post on 'Tips for Flying with a Young Toddler'. This mama took her 18-month-old on a 24-hour journey to Australia, so she absolutely knows what's up when it comes to flying with little kids!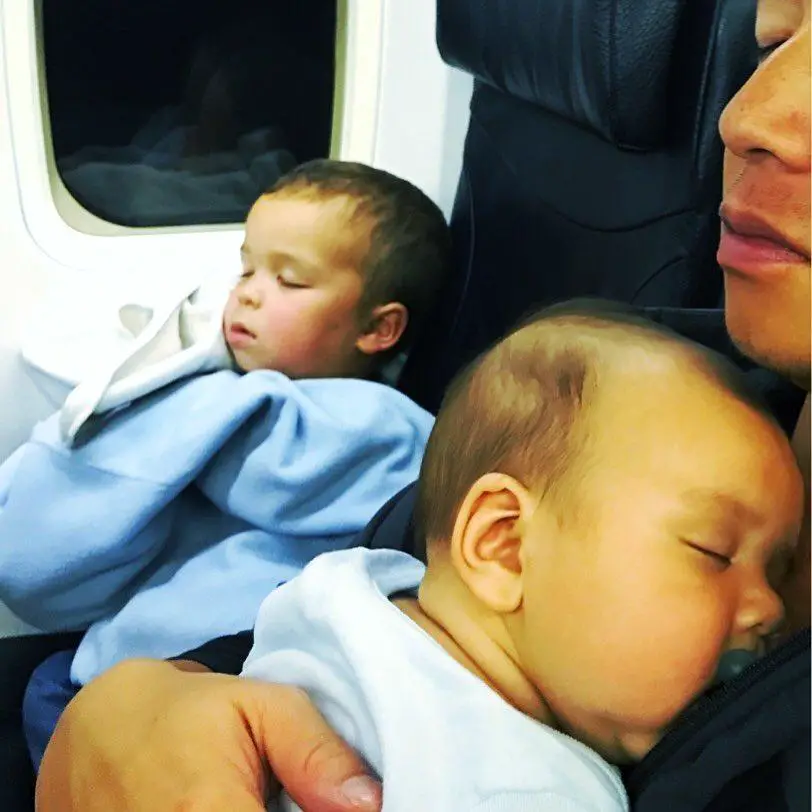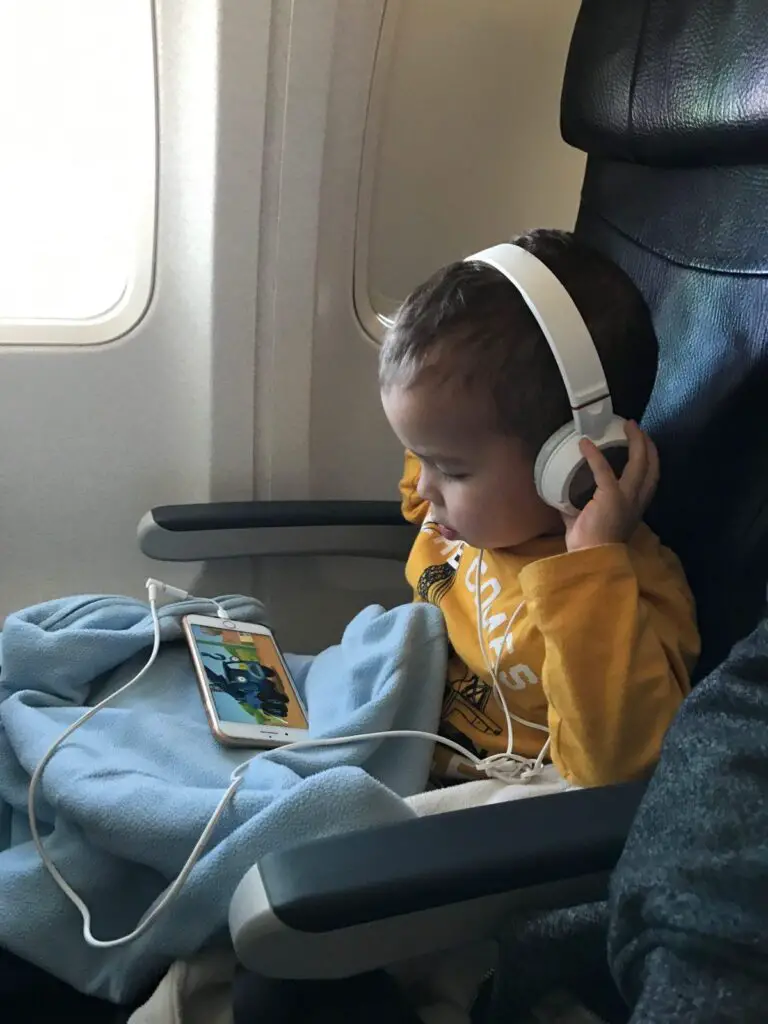 We are certainly not flying every day, or even every month, so I am 100% OK with breaking any and all of my parenting, screen-time, healthy eating rules for plane trips (and doctor's offices, important meetings etc)
15 Way to Keep your Kids Occupied at the Airport
For babies (0-18 months)
Bring a travel baby carrier and go for walks. We always use a carrier in the airport when we are traveling with an infant. First, it's super convenient to be hands-free and second, babies love looking around at all the sights in the airport. Guaranteed I'll find a couple of sweet older ladies who will ooh and ahh over my baby and help my keep him entertained. I also bring my stroller as well because it is great for hauling all my stuff!
If you have a crawling baby and you are hoping they will SLEEP on the plane (which is always my goal!!) let them move around at the airport. I let my youngest crawl around the seats, and around all the stores and generally burn off some energy before a long plane ride
Diaper change before the plane: I always try to do a diaper change after passing through security. First, it's a chance to get reorganized after inevitably having all my stuff displaced in the security debacle. Second, if you've ever tried diaper changes on the plane you know how awkward and uncomfortable the space in the washrooms is so I try to keep those changes to a minimum. We always try to find a 'family washroom' (single) so that we can lock the door and not have to chase the kids under the stalls…
Watching the planes take off: Really, this goes without saying.  This is basically the best part of the airport for kids!! We watch the planes and watch the suitcases being loaded and talk about all the different parts of a plane.
Find a children's area. Most large airports have areas for kids in the airport. Usually, they will have a small climbing structure or plastic play equipment that most babies will find fascinating. If you need a chance to sit down and rest, letting your baby explore one of these areas is perfect. Also, most airports have breastfeeding rooms. This can be a nice quiet spot to a) feed your baby b) let them crawl around without worrying they are going to get in the way or crawl onto an escalator or something.
Toddler age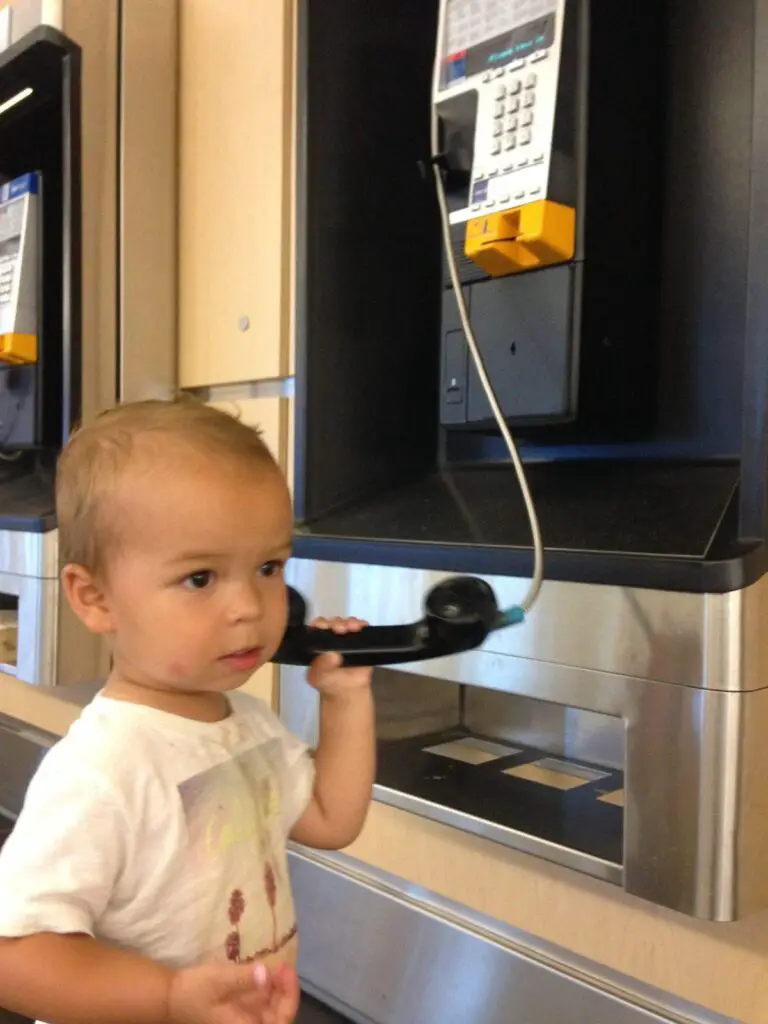 Walks, walks, walks! Let your little one toddle all around the airport and explore to his heart's desire. Bonus points if you can grab a Starbucks and casually sip it in your hand while pretending that little rascal is not yours 😉
I Spy. As a child, I remember playing I spy every time we went to the doctor's office. These 'waiting games' are less popular now that everyone has ipads and YouTube for entertainment. However, these classic waiting games are still a lot of fun and it's nice to take some time away from electronics. Check out these great waiting game ideas for a car trip – These games work any place you need to keep kids entertained!
If you have a long connection you may need to bring some actual travel toys to keep your kids occupied. An inflatable beach ball is a great toy to bring along because it packs up easy.  There is usually a gate or two at the airport with no one around where you could play with a ball. Again, rather than reading or doing crafts (which would be better on the plane!) I think getting your kids up and moving is the best bet.
Our two boys LOVE toy cars and so we always have a few Hot Wheels in pretty much any of our bags at all times. My son has spent many hours driving Hotwheels cars along the vents, chairs, and floor of the airports. Hot Wheels aren't as great for the plane unless you want to be constantly picking them up on the floor so I think this is a good toy to break out at the airport!
Payphones. Obviously, payphones are not so common these days with everyone having mobile phones. The first time my son ever saw a payphone was at the airport. AND OH MAN was it fun. The game went something like, son picks up the phone, my husband picks up other phone and talks to my son in a silly voice. Son thinks this is HYSTERICAL. Repeat x 1000.
Escalators. This one I suggest with caution as riding up and down the escalator 1000 times can get old pretty quickly and depending on the airport the escalator can be full of hurried passengers with very little patience for toddlers. However, we've definitely used this strategy at the airport. My son LOVES riding escalators. It is the highlight of his day when he gets to ride him. We often travel out of smaller airports which aren't too busy and in those cases riding up and down is a great way to entertain a little one.
Preschool/kindergarten age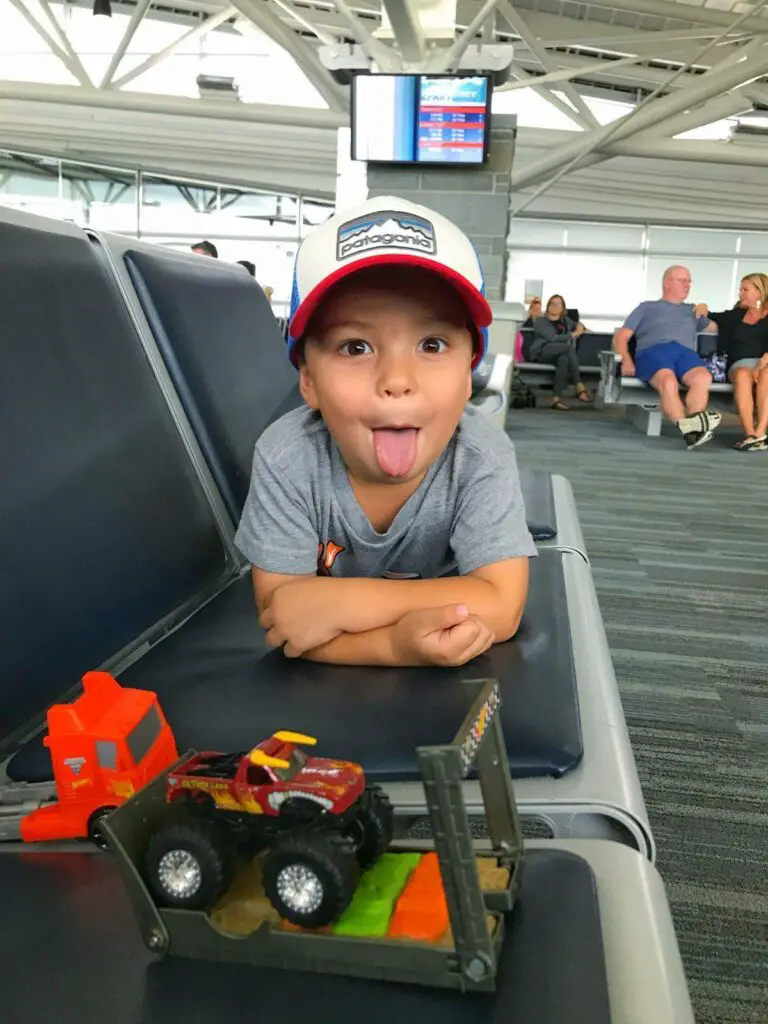 Go fish. My son has been playing go fish since he turned 3. He doesn't *really* know how to play it but he thinks he is following the rules and he loves that he is playing a 'big kid' game. Again, this is something that could also be great for the plane, but I find card games to be particularly great at restaurants when the adults are trying to eat.
Coloring. Again, I would save this for restaurants and on the plane if possible. We have these wipe off tracing books for my four-year-old and they are great. The wipe off part is awesome so it can be used AGAIN and AGAIN. As well my son (who is a little perfectionist) likes to be able to make his letters PERFECT.
Magnaformers. We love Magnaformers at home AND for travel. We usually bring our Magnaformers with us as part of the 'Toys we pack for travel." If you have a long connection, breaking out these guys can buy you a little quiet time.
Suitcase races. At every airport I've been to, I'm always able to find a less populated area to let my kids run some energy off. We have the Trunki suitcase and this is a good time to ride on the trunki. See my full review of the best kids suitcases for travel before you go.
Yoga for kids. We love these YouTube videos for Yoga for Kids. My son loves to practice his Yoga moves and this is something that can easily be done in a quiet corner of the airport.
Do you have any tips for keeping kids busy at the airport? Feel free to drop me a line in the comments below and let me know!!
xo Kate