Why this Blog Income Report?
Blog Income reports are pretty popular in the blogging world. Especially for bloggers who blog about blogging.
Since I started blogging in May, I've read many income reports.
I enjoy reading them. They are a bit addicting. They give me some motivation and inspiration, and they also help me to see which income streams most bloggers tend to be most successful in (e.g. ads? affiliates? sponsored posts? blogging about blogging? etc). I like to see how some bloggers are 'making it big' quickly, however, I noticed that there weren't too many people bragging about their losses (go figure!). I do know, however, that there are a lot of others like me who AREN'T making money blogging because I see posts about it almost every day in my blogging facebook groups.
I know LOSING MONEY is not as sexy or exciting as earning thousands in a month, but IT IS THE REALITY for the majority of new bloggers.
Overall, I'm actually very happy with how my blog's progressed! I have seen steady page views over the past 6 months and I am FINALLY starting to see some organic search traffic (which is what I am aiming for!!!). I'm sharing this report because I think it's important to have a balanced perspective and recognize that not everyone is making money on their blog.
My Traffic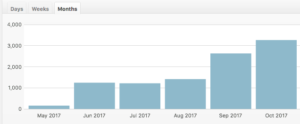 My traffic has climbed steadily since month one. It's definitely not EPIC traffic. I haven't had any posts go viral. My two most popular posts are:
The Pros and Cons of a Disney Cruise (2834 views)
What to Pack for the Beach with Kids (1045 views)
The majority of my traffic comes from Pinterest. Instagram, which I actually quite enjoy, sends me essentially ZERO traffic. I did install linktr.ee recently which is an awesome FREE service that allows you to put multiple links on your Instagram profile and increase your clicks.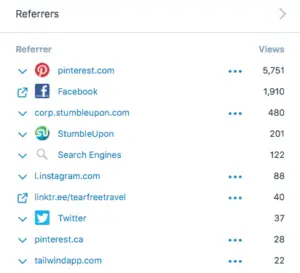 For the first few months, I was lucky if I got one hit a month from Google. Now I am finally seeing some steady growth from Google. Google traffic is absolutely my end goal for this blog! I want someone to be searching 'which toddler bed is best for travel' and BAM, there's my post. In order to increase my google search rank, I have been focusing on SEO. For this, I am using Keysearch and so far this is absolutely the best money I've spent blogging (and I've spent a lot as you'll see!).
Keysearch is super simple. For example, for my post on LEGOLAND Florida, I typed in "Legoland Florida" in the search bar. I then got a list of potential keywords with a difficulty score and an estimate of the search volume. The key for new bloggers is that you want to pick a keyword that is GREEN that has the highest search volume. Then I put that keyword a few times in my post, ideally in a headline and in the URL/title if it makes sense.
I totally recommend Keysearch if you are going to invest in a product for your blog. You can use my discount code KSDISC for 20% off!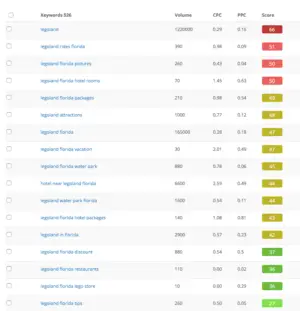 My "Income"
Affiliates Income Report:
Amazon Associates: $63.10 (not paid yet).  Amazon affiliates in my highest earning affiliate (by far!). Amazon is the most popular e-commerce website and is a very popular affiliate program for bloggers. I personally use Amazon for almost all of my household shopping and I have been well before my blog was created.
Flexoffers:  $0.63. I am part of a few affiliate programs through flex offers including booking.com, TripAdvisor, LEGO, and Nordstrom. So far, as you can see, I  haven't had much traction from these links.
iTunes: $0.63. I have one post on the best iPad apps for toddlers which uses iTunes affiliate links. I've had 344 views to this blog post and made a whopping $0.63 (I wonder if I will ever reach the minimum for this one!)
Share-a-Sale: $0.00. I am an affiliate for Viator on this affiliate network. Better luck next time, I guess!
Ad Income Report:
Adsense: $8.25. Adsense is easy to install and simple to use. I don't often get a lot of clicks to my ads but I don't mind the ads and I do hope to eventually make money off of advertisements.
Sponsored Posts: $0 (but I have signed up for several networks including, Linqia, IZEA, Heartbeat and Social Native). I do hope to work with brands eventually, although given my niche is Travel, I would like to eventually be able to reach out to specific hotels, resorts, and tours to collaborate.
Total Income: $72.61($0 actually paid)
My Expenses
Website Hosting and Domain Name Registration: $166.92 (one year paid in advance)
I went with Bluehost and so far I have no regrets. I've only had one technical issue on my blog when I was switching to https and I called the Bluehost support and they resolved the issue easily over the phone.
Theme: $100
OK, LONG STORY LONG when I had no idea how to make a blog I bought a theme that I thought looked pretty and immediately regretted it. It looked horrible on mobile and when I emailed technical support I got no response. So I ended up doing more research and then getting a second theme (free) which was much better than the first but still not perfect.  Once I actually started blogging and reading other blogger's posts I finally started to get an idea of what I ACTUALLY wanted in a theme and decided to change AGAIN. 3rd time's the charm, I picked another paid theme which I love! (My theme is called Highend)
Tailwind: $119.88 (paid one year in advance)
I use tailwind to schedule other people's content on Pinterest. My Pinterest strategy is really simple: 1) participate in pin threads 2) repin popular content in any niche 3) use group boards and tailwind tribes (when I remember). By using Tailwind I can schedule a WHACKLOAD of popular pins all at once and not have to think about pinning for a few weeks. I'm also in a bunch of Tailwind Tribes and have found these to be very helpful for my traffic!
BoardBooster: $42.90
I use board booster to schedule my own pins to group boards and my own boards. I like that they have a looping feature so you can literally set it and forget it (I have, I haven't checked it in months….).  IMO BoardBooster is better than Tailwind when it comes to pinning your OWN content. My "best of board" is just constantly looping around to all of my group boards and related boards.
KeySearch $40.80
As I mentioned above, this is one expense that I feel REALLY good about investing in for long-term payoff. I've been using keysearch for about 2 months and just in the past two weeks I've really noticed an upswing in my google search referrals. Use my promo code KSDISC for 20% off.
THE GRAND TOTAL: -$470.50
So there you have it! My completely honest 6-month blog income report. Actually adding up the numbers made me mildly more depressed than when I started!
My Goals for 1 Year
Traffic: I would like to hit 15k page views per month
$ earnings: I would like to BREAK EVEN on the blog! In order to break even, I will need to earn $90/month in the next 6 months (including projected expenses).