I love to snorkel on vacation!  One of the first things that I wanted to teach my little ones was how to snorkel so we could share in this experience together. As it turns out, teaching kids to snorkel is pretty easy with the right kids snorkel gear and motivation.  When we found the kids full face snorkel it was a total GAME CHANGER for getting our little kids in snorkel gear early on. The full face snorkel mask was the secret to getting my normally SUPER HESITANT 4-year old was into the water.
Read all my best tips that we used snorkeling with our kids below!
[ez-toc]
Is there a minimum age for snorkeling with kids?
Wondering what age to start snorkeling with your kids? I'm often asked by readers 'How old do you have to be do snorkel?". My answer is always that there is no snorkeling minimum age. We were easily able to get our 3 year old snorkeling with supervision. Of course, the most important thing about taking a toddler snorkeling is to supervise carefully and stay safe!
We started with our eldest son as son as soon as he was comfortable moving around in the water and could safely take a snorkel mask on and off. For him, this was around age 3. Of course, at first, he needed a lot of supervision and practice, but it was great to get him comfortable with the kids snorkel mask early on. The absolute easiest way to get young kids snorkeling is with a kids full face snorkel mask. This snorkel mask was a total game changer for us. The kids full face mask was so easy for our kids to figure out. Even our 2 year old has used it in the pool! Hands down I believe the full face mask is the best snorkel for kids. You can read more reviews here.
The Best Snorkel Gear For Kids: Quick Comparison
Here's a quick comparison of snorkel gear for kids.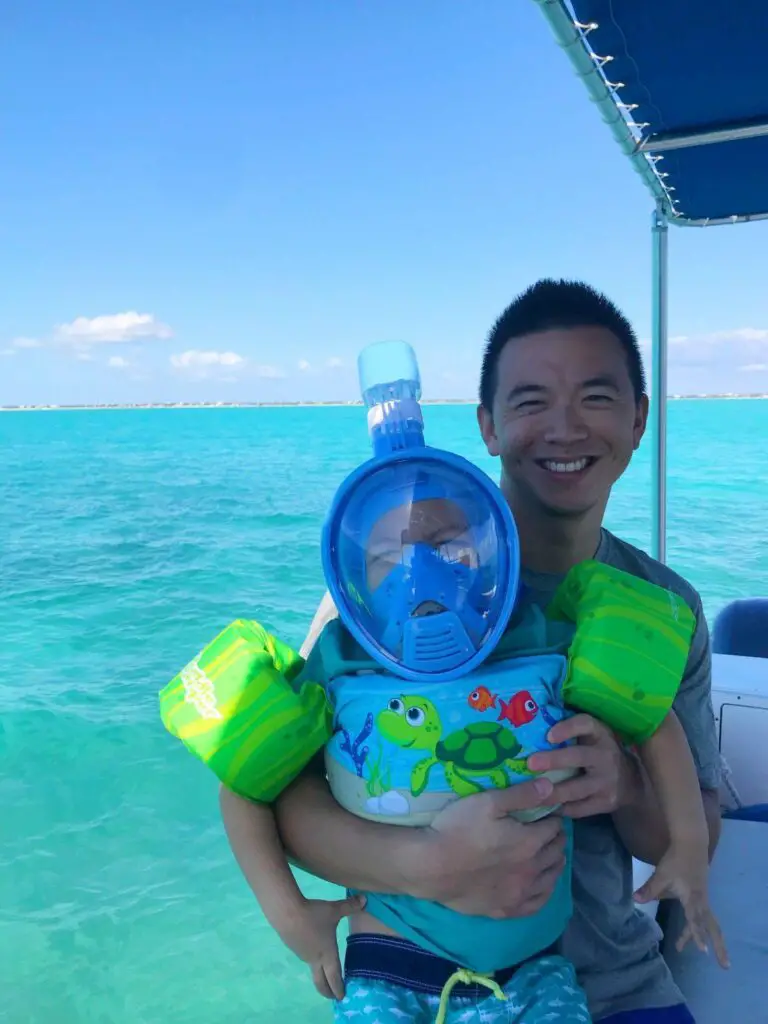 The Best Snorkeling Gear For Kids: Detailed Review
Kids Full Face Snorkel Mask
We have the full face mask for kids and LOVE IT. As I said above, it has been a game changer for us and in my opinion, is the best toddler snorkel gear around. We have both the child's full face snorkel mask and the adult full face snorkel mask. For myself, I really like that my face doesn't get cold and wet with this thing on! I find it super comfortable and I like the wide angle of viewing.
The mask allows for a wide viewing space which is great for kids to be able to see what they are doing in the water. There is no breathing apparatus in the mouth, so there is no need for kids to figure that out.
We have a GoPro, and I love that our mask has a GoPro attachment. My son always wants to be the 'videographer' and it's another bit of motivation to get him in the water!
We started using our snorkel mask and gear when my son was 3 and he took to it with no issues. He is even able to jump into the pool and keep the seal on the full face mask. There is a bit of a learning curve to make sure it is tight enough at the beginning but once you get the hang of it, I've found the seal to be great. We have size XS for our four year old and it fits perfect (he has a large head).
Mask defogger is great to have around to keep the view clear in the water. Kids hate when the mask fills up with fog or water, so having the defogger is worth the small investment.
Are Full Face Snorkel Masks Safe?
There have recently been some concerns about the safety of full face snorkel masks. In Hawaii, there were recently 8 snorkel related deaths, and in two cases, a full face mask was used. In ALL cases, the snorkeler was swimming ALONE. The concern is regarding the potential build up of CO2, especially if the mask is poorly manufactured. Based on recommendations in this article, I have recommended the TriBord Brand, for its safety and reputation within the industry.
We use our masks for very light leisurely surface swimming, and we ALWAYS swim with a buddy. With kids, we are always directly in eyesight at all times. Stay safe everyone and practice safe snorkeling habits!
Other options for kids snorkel masks
Cressi is one of the best brands when it comes to snorkeling for kids. This deluxe mask and snorkel set for kids is perfect for those who are ready to graduate to a more traditional snorkel maks. This set gets some of the best reviews on Amazon. You can check out the reviews and review pricing here.
Kids Swimming Fins
Fins are certainly optional for kids but they can be a lot of fun in the pool or open water. I didn't think my son would ever want to try fins at this age but when he saw how fast the other kids could swim, he was inspired. We got these Cressi Fins that adjust to a variety of sizes and snap on and off easily.
Even if your kids don't want flippers, I highly suggest fins for the adults in the group. I did a lot of chasing around in the water, and I needed those fins to keep up with the kids!
Kids Wetsuit
We don't currently have a wetsuit for out kids but I WISH I had one on our last vacation to Turks and Caicos. The ocean was a little cold and my son was hesitant to really go for a long snorkel as he was getting cold quickly. As kids grow quickly, it may make sense to rent a wetsuit if you are planning on a snorkel trip.
You can find this wetsuit on Amazon here.
Kids Floatie
I have a whole post on the best floaties for toddlers and young kids. If you don't have a strong swimmer, a floatie is essential for a snorkeling trip. For young kids, my absolute favorite floatie is the Puddle Jumper. The puddle jumper will have your toddler or pre-schooler 'swimming' in no time. For older kids who know how to swim but can't swim for long distances, I love the design of the SwimFin. Check out my post above for more details on both!
I also prefer to have a floatie for myself when I snorkel as I am not the strongest swimmer. Especially with kids, I want to ensure we are ALL safe. I used this one on my last trip and it was great. In a pinch, a pool noodle or an inflatable ring will work just fine as well.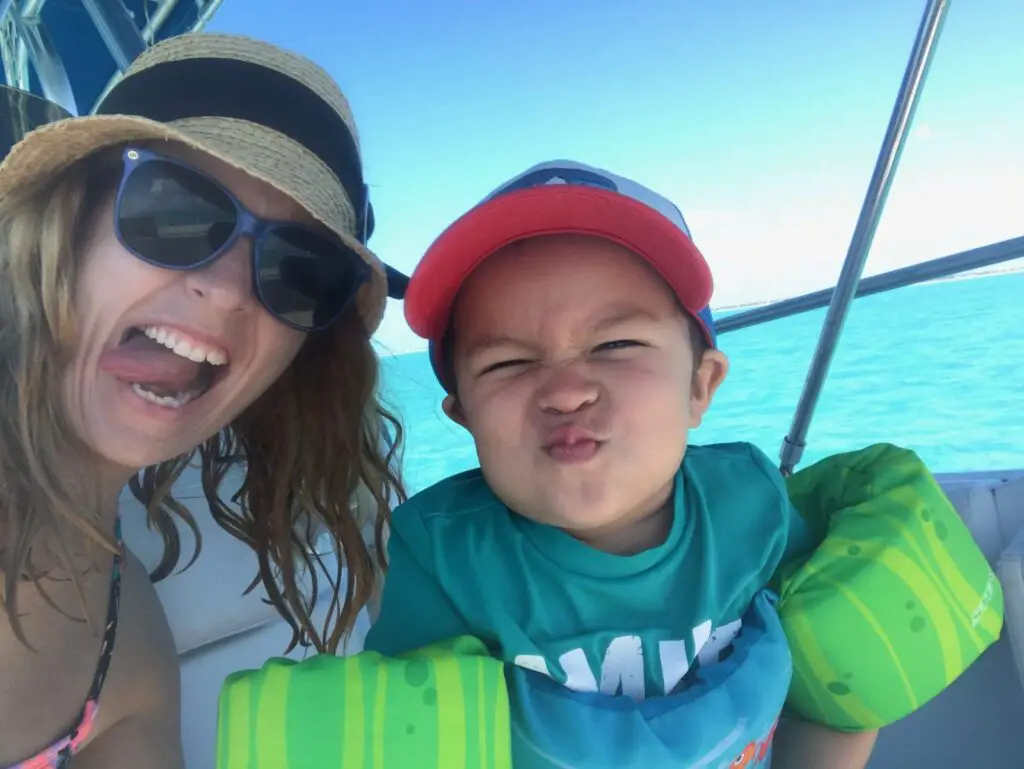 Tips for Teaching Kids to Snorkel
Practice in the Pool First
The first step to teaching kids to snorkel is to PRACTICE, PRACTICE, PRACTICE! You can even try practicing in the bath to start! We have a membership to a local gym with a pool so we practiced with the full face snorkel for kids for a few months before our first hot vacation.
I encouraged my son to wear the mask at least once every pool outing, but I didn't push it if he didn't want to after that. I wanted him to have fun with the mask. We also have an adult full face mask and it was helpful for our son to see us use it. He always wants to be just like us!
And Then Practice Again!
Once our son was comfortable with the mask on we added some fun to snorkeling in the pool. We bought these super cute treasure gems and coins that sink to the bottom of the pool for our son to 'hunt' for. This was a blast and my son loved hunting for 'pirate treasure'.
There are a lot of different diving toys on Amazon, or you can just use regular toys to help your kids get motivated to see what's under the water.
Read Books and Watch Videos to Prepare
Before we do anything new, I find it helps to prepare my kids in advance. First airplane? Read a ton of books about planes! First time skiing? Watch youtube videos beforehand. Before snorkeling, we watched a few videos on the type of fish we might see in the ocean. We also read a few books from National Geographic about ocean life that my son found fascinating. Preparing in advance helps to get kids excited about the idea of snorkeling.
Don't Sweat the First Attempt
Our first attempt taking our kids snorkeling in the 'real ocean' was not a great success. The water was cold and wavy and there wasn't enough to keep my son's attention. I find that my kids need to be exposed to things a few times before they get excited about it, so I didn't sweat the first trip. Just keep swimming, as they say 🙂
Make Sure There Is LOTS to see in the water!
My kid's attention span is about 3.5 seconds. There is no way he is going to enjoy snorkeling unless he sees something AWESOME every five seconds. In Turks and Caicos, we got to check out the 'ghost ship' which is an awesome snorkel site in the shallow water off of long beach bay. This shipwreck, 'La Famille Express,' became grounded during hurricane Frances in 2004.
We booked our snorkel tour through Big Blue Unlimited. They are great with young kids and have a specific snorkel and cays trip that is aimed at young families. I definitely recommend them if you are heading to TCI.
Awesome Places to Snorkel with Kids
We loved Turks and Caicos for snorkeling with kids. The water is crystal clear and is pretty warm, even in winter. There are lots of family-friendly snorkeling spots right off the beach. Check out my post on the top things to do in Turks and Caicos with kids for more details on the best snorkeling spots.
The Bahamas is also a great place for snorkeling as a family. Just like Turks and Caicos, the water is very clear, and there are lots of great spots right off the beach. Of course, Atlantis resort is amazing for kids and adults and is the perfect spot for a family vacation. Check out this review of Atlantis Resort from Two Traveling Texans for more information!
Of course, this list would not be complete without a shout out to one of the best places snorkel with kids, Hawaii! Not only does Hawaii have some of the most beautiful beaches in the world, it also boasts some of the most amazing snorkel spots. Check out this guide to the best beaches for kids in Oahu for some tips about snorkelling in Hawaii.
What to Pack for your Snorkel Vacation
If you are headed to a beach destination with your kids, don't forget to check out my free printable family packing list before you go!
Have you snorkeled with kids? What age did you start? Drop me a line in the comments below if you have any comments or suggestions. Have fun on your next trip!