Are looking for the best toddler travel bed? Do you want a travel bed That will last a long time and fit a tall toddler? This was exactly our dilemma when we were evaluating the best portable cribs for travel. We wanted something that wouldn't need to be replaced every time our kids grew a few inches!  
We wanted a portable toddler bed that would allow us to keep our kids precious sleep and give us peace of mind on vacation. When looking for a portable travel crib we wanted something that would be easy to set up, lightweight, and large enough for our son to grow into.
So here it is: I've done all the research for you, and picked out the best toddler travel beds for family vacations that meet these requirements below!
The Best Toddler Travel Beds: Quick Comparison
Check out my list below to learn about the best travel cribs for toddler travel sleep on the go.  These are the top rated travel cribs for toddlers around!
What to look for in a Toddler Travel Bed
There are a lot of things to consider when purchasing a toddler travel bed. Here are the 5 factors that we have taken into consideration when ranking our toddler travel beds:
Length
Overall product weight
Compact fold and ease of set up
Durability
Price
Toddler Playpen vs. Toddler Inflatable Beds
If your toddler is still IN the crib, chances are you want to keep her that way on vacation! My eldest son (the escape artist) definitely needed the constraints of his crib for as long as possible, and there was no way I was giving that up on vacation. Also, having always slept in the crib, my son would not have even known what to do if I tried to put him in a bed! There was no way I was going to try to make such a transition on vacation. We wanted to look for a travel bed for a toddler still in the crib.
The problem I've found is that most portable cribs for toddlers are too small for taller and older kids. We wanted a large toddler travel bed so we wouldn't be stuck replacing this item when our toddler turned 3 or 4. I've broken down my review below to include toddler travel beds for kids who are still in the crib and toddler travel beds for kids who are out of the crib.
The Best Toddler Travel Bed for Tall Toddlers
This is my favorite toddler travel bed and is the perfect travel crib for a tall toddler.  We used this travel toddler bed until our son was 3 years old and transitioned to a 'big boy bed.'  This playpen is longer than traditional playpens so it accommodates taller toddlers. This will be a great travel crib for a 3 year old and for many would still work for a 4 year old or 5 year old.  I love that is still like a crib, keeping your little one contained.
The Phil and Teds kids travel bed is really lightweight and will easily fit in a suitcase. It's the best travel crib for flying as it can be brought on as a carry-on. We often store it in the overhead compartment of a plane and it fits perfect.  Also, it's lightweight, it weighs only 6 lbs! We have gotten so much great use out of this tall playpen, and it's still in great shape.
The one negative when rating this portable toddler crib is that the setup is not instant. There are some other toddler travel cribs like the Guava below that set up in just a few seconds. Although it's not a one-step setup, once you've set it up once it's really easy to set up and take down after that. It takes me about 2 minutes to set it up now that I have the hang of it. For me, this little bit of hassle is worth it for the extra length and lightness!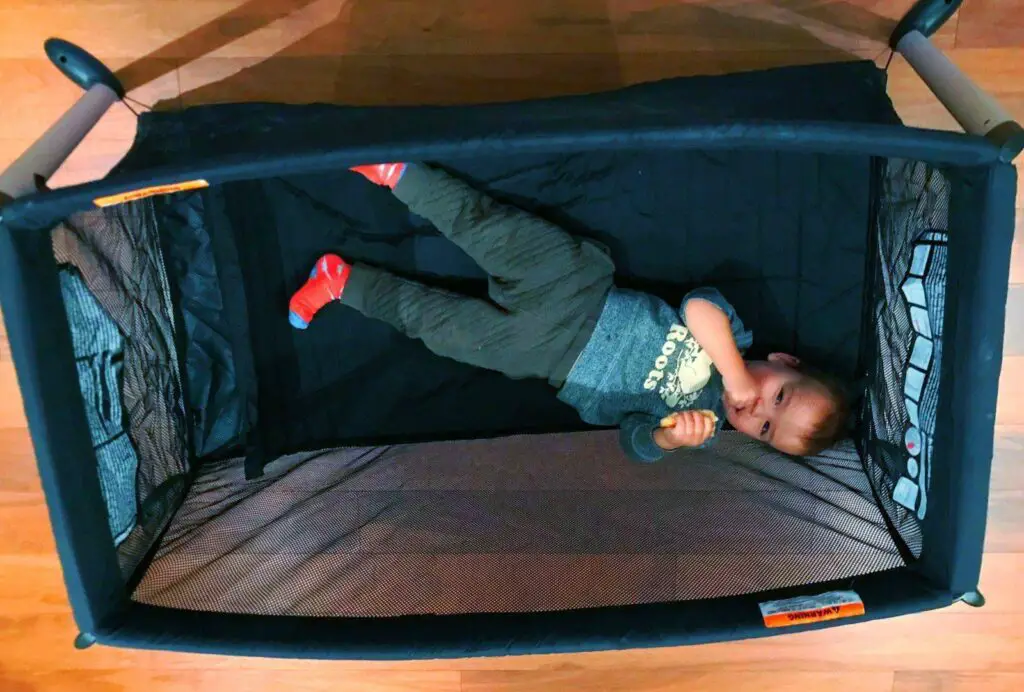 We've used this portable travel bed not only just for sleeping – we have also used it as a makeshift beach tent and fort in our backyard. I love that this compact travel crib is not just for sleep, it's also a space for our kids to play and stay safe when we are on vacation.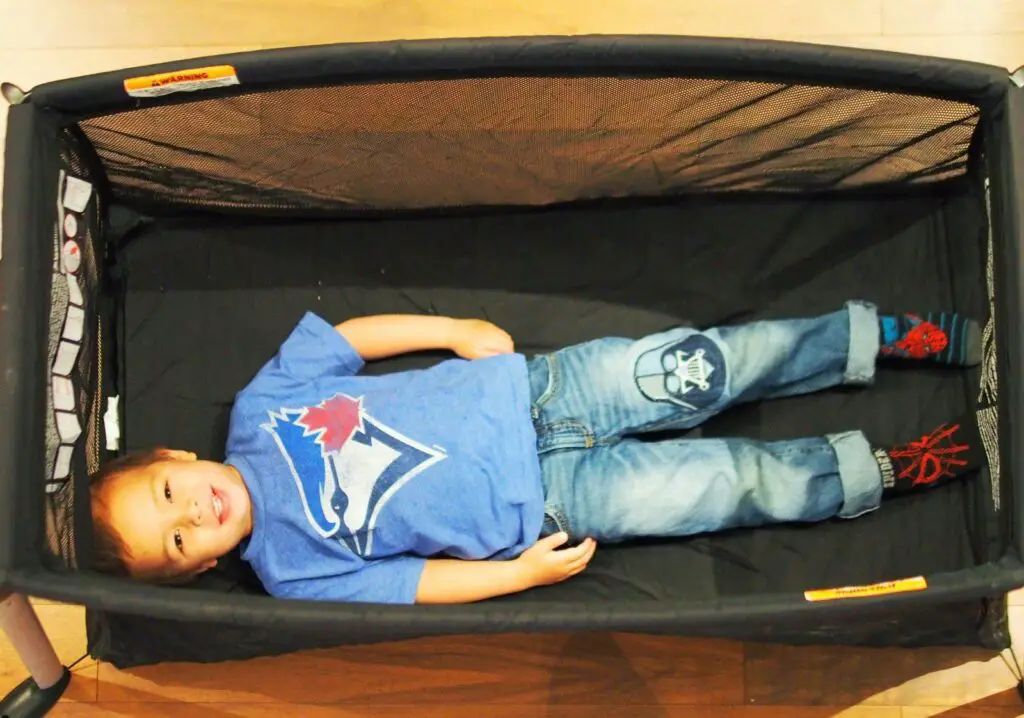 As you can see above, the length of this travel bed is the big selling point! I brought it out to take pictures for this blog and was surprised to find that my 4.5-year-old son STILL fits in this large toddler bed. Now he's not the tallest 4-year-old out there, but STILL, I was really impressed. My 18-month-old is much taller than my first and he still has PLENTY of room in the Phil and Teds traveler. This is definitely the best travel crib for a 2 year old and up!
The Best Toddler Travel Bed for a Play Space
If you are wanting extra space in your portable toddler travel bed, this extra-sized playpen is perfect for you. The Joovy Room 2 is 50% larger than a standard playpen making it great for large toddlers and also great as a play spot during the day. It still packs up compact and can be checked with your luggage depending on your airline regulations.
It's definitely heavier than some of the other options on the market, but that might be worth it for the extra room! I love that this playpen is large enough that you can throw some toys in and your little one can also play safely in here without feeling too cramped. Especially on vacation, this can be useful because the places we stay aren't always baby proofed how we like them! I've also heard this playpen is great for twins!
The Best Travel Bed For The Toddler that is Still in the Crib
The Guava Lotus Travel Crib and the Baby Bjorn Travel Crib are both popular options for toddler travel beds. If you check out Amazon there are lots of head-to-head reviews comparing these two options. The setup for the Guava playpen is really simple and intuitive and the crib folds up very compact for easy portability. There is even a backpack carrier which is a really nice feature for airports and more adventurous trips.
The dimensions are not as long as the Phil and Teds travel crib above which is why it's not my first choice for a portable travel crib. It may work fine as a portable bed for a 2 year old but will be pushing it as a travel bed for a 3 year old. I like the longer length of the Phil and Ted's traveler crib for my growing toddler.
The Guava Lotus crib is Greenguard certified meaning that it is non-toxic without the use of harmful chemicals. The cover is removable and machine washable which knowing my toddler is an absolute necessity! Overall, I love the design of this portable crib. Although I haven't tried it myself, I asked my friend Emily over at Henry and Andrew's Guide for her review. Here's what she had to say:
'The Guava Lotus is the best toddler travel bed because it's easy to carry, it's so light, and it's perfect for even the bigger toddlers. We took ours on our 5 countries in 14 days trip in Europe. That meant we carried it through 5 plane rides, 1 train ride, and numerous car trips. We didn't mind it at all! You can carry it as a backpack so your hands are free, or it folds up in a perfect rectangular shape, so it can be easily stacked on top of your rolling bag. Another perk is that even though it's not a stroller, we've never been charged for checking it through the airlines as a "baby itemâ€. This was the best travel bed for our 2 year old, until he grew out of his own crib at home! Their customer service is excellent too.'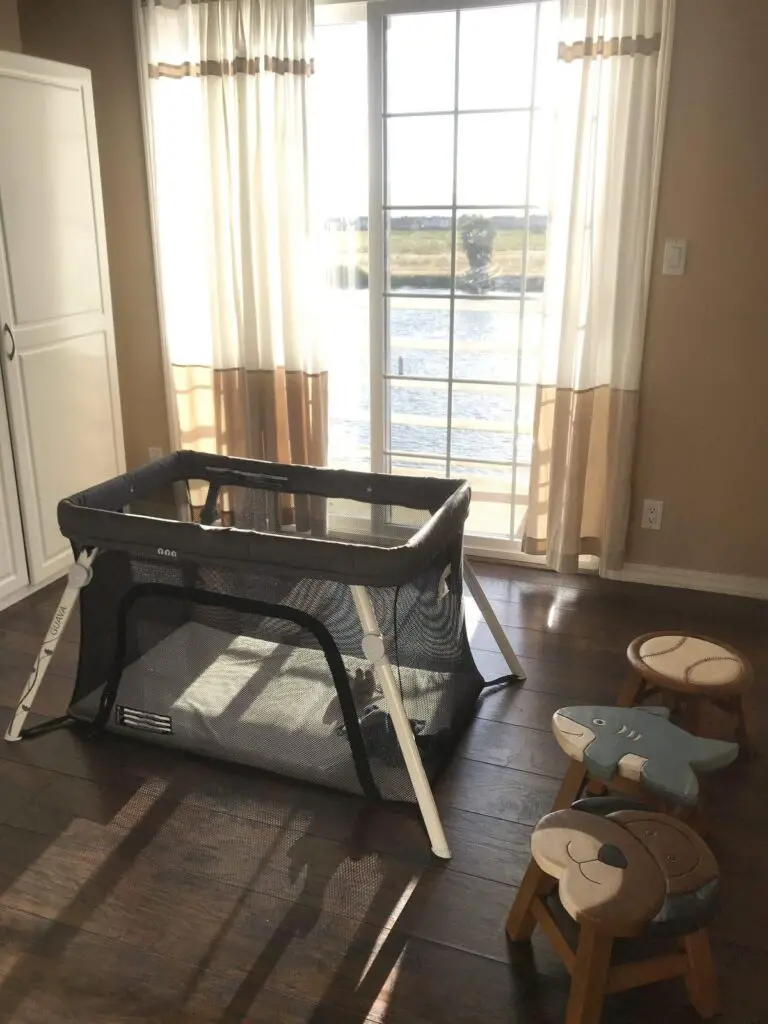 The Most Compact and Lightweight Toddler Travel Bed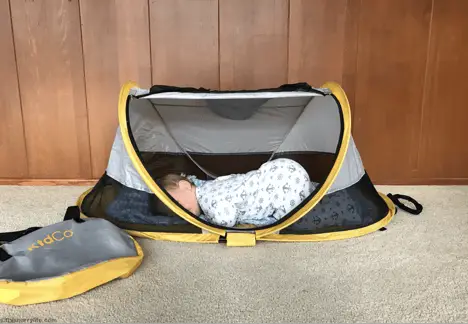 The PeaPod is a popular option that is particularly marketed as a travel bed for baby. It's one of the most compact toddler beds as it folds down into a small bag that's easy to throw in a suitcase. It certainly has small size in it's favor but it's otherwise impractical as a long term solution for more mobile toddlers and preschoolers.
I'm happy to have my friend Jill from This Harry Life drop in to give her review of this popular toddler travel bed. You may be surprised to see what she has to say!
'The most appreciated aspect of this baby travel bed is it's compact size. Folded up, it's 18 inches in diameter by about 6 inches deep (this compresses to about half that depth when packed). It was extremely reasonably priced compared to other travel sleep accessories we considered, and with the zipper closed you can keep your child safely contained inside. We purchased this thinking it was the best option for a portable travel bed for baby.

There are drawbacks to the PeaPod, though it works OK for us. My primary issue is the interior "floorâ€. Safe sleep guidelines dictate the included mat be snapped underneath, and there is no option to secure it inside. This is fine, but the interior is a a harsh polyester surface to place my child directly on. Anything I put underneath to soften it shifts and bunches as my child moves. It is also incredibly bright, and I have occasionally had to drape towels over it in an attempt to provide darkness to nap in bright spaces.

Further, this item only has a single use: for your child to sleep in. It is not a space that I can safely place my child to play or be occupied, which is necessary sometimes when in non-baby-proof settings. For that reason if I were in the market for a travel bed for baby again, I would not likely buy another PeaPod, despite it being the most affordable option.'
The Best Travel Bed For The Toddler that is Out of the Crib
Once our toddler was out of his crib the options for sleep were so much easier! Depending on where we were though, I did worry about him escaping his sleeping quarters at night. To solve this I have rented baby gates at my destination on multiple occasions. This gave me peace of mind that if my toddler woke up in the middle of the night he would be safe until we got to him.  (You'll find more toddler travel hacks here!)
A Mattress on The Floor
Nothing wrong with simplicity when it comes to kids travel beds! There are lots of great travel toddler beds out there but when push comes to shove, a mattress on the floor is really all you need for toddler sleep. We often rent Airbnbs and in these places, it is usually quite easy to do this. In hotels, space is tighter so we have had to use inflatable bed rails (see below). Once my eldest had transitioned out of the crib it was great not to have to pack an extra piece of equipment. A mattress on the floor works great and means you can keep your packing minimal!
The Best Toddler Travel Bed for Compact Spaces
Another great option for toddler travel beds is a portable cot. Travel cots for toddlers are generally easy to fold up and store and provide a more comfortable surface than the ground. I love this as a toddler camping bed. We bought this for my son when we were going camping knowing that we wouldn't have access to a mattress to put on the floor. We used a kids sleeping bag like this one and it made it a bit comfier for him to sleep on. He enjoyed having a special 'big boy bed' on the trip and we loved the portability and easy setup.
The portable kids travel cot folds up compact and is extremely simple to set up. I'm not sure that I would take it on an airplane because it would definitely need to be checked! We got lots of use with it on road trips. It's certainly not the comfiest thing in the world, but my son didn't seem to mind it. This thing work as a portable travel bed for a toddler and wins points on easy set up and storage.
Now that my son can sleep in a real bed we aren't using it as much as a child travel bed. I have, however, found a great hack for it – we bring it to the beach and we use it as a raised platform for the kids to sit on when we eat. It keeps us somewhat out of the sand and is comfier than sitting directly on the ground. I love a product that can be used for longer than a few months. I'm glad I've found ways to make this purchase worthwhile!
The Best Toddler Travel Bed for Grandma's House
This portable toddler bed is perfect for toddlers transitioning from the crib to an adult bed. The travel bed bumpers on the side are a really nice feature which keep little ones safe and comfortable inside this bed. I think this bed is best portable crib for grandma's house or a cottage that is tight on space. It would also be great for camping, I wish they made it in adult size!! It's not carry-on size so it would need to be checked for flying. I think this makes it less desirable for this type of trip.
The Best Toddler Travel Bed for a Hotel Room
These are definitely the best travel bed rails for toddlers! I find that hotels always have beds that are sooo high off the ground! I was constantly worrying that my son was going to fall out of the bed until I found this product. These inflatable bed rails are the perfect travel option. They keep my restless sleeper from taking a tumble in the night. Since they are inflatable, they are super easy to set up and pack. You just slip them under the sheets and kids won't roll off the mattress in their sleep.
Having recently slept with my toddler on our last trip, he is a little MOVING MANIAC. I felt like I was getting kicked all night. I'm glad to have these bumpers to turn our bed into a portable toddler bumper bed and to keep him from Karate kicking right off the bed. If I don't have these available I will unusually throw some extra pillows on the floor JUST IN CASE 🙂
Sleeping on a real mattress in a nice hotel is so much better than a thin pad in a travel toddler bed so I like that these rails give me peace of mind to let my toddler sleep on the 'big bed' and have a really comfortable sleep!
The Best Toddler Travel Bed for Camping
The Shrunks also makes a Shrunks inflatable toddler bed that has gotten rave reviews from my friends who own one! An inflatable toddler bed is a great option especially for things like camping or hotel rooms where there aren't extra mattresses lying around.
This award-winning inflatable toddler mattress has some really cool design features that make it a great option. First, it has raised edges that act as toddler bed bumpers and keep your little one safely on the mattress. As well the inner mattress within this inflatable toddler travel bed raises up allowing you to tuck in standard size crib sheets. This is a really nice feature that makes keeping the mattress clean super easy. It's also nice to be able to use standard crib sheets as this will likely be a familiar comfort for your little ones.
The Shrunks inflatable mattress comes with an electric pump which is essential for inflating quickly on the go. It comes in a compact case that's easy to carry from one place to another. Keep one of this toddler air mattress at grandma's house, its a convenient option for places that are short on space.
The Best Inflatable Toddler Travel Bed with Bumpers
Another inflatable mattress for toddlers is the Intex kids travel bed. It has built-in bumpers as well that make it perfect for little ones.  It also has the ability to tuck in sheets by pulling out the inner mattress. I'm more of a 'glamper' than a true camper, so we bring an inflatable air mattress when we are camping. The Intex kids travel bed is perfect for camping with kids! It's also great in a hotel room where space is tight. The Intex toddler travel bed comes with a pump included
Let's hear your toddler travel bed reviews!
What do you think is the best portable travel cribs for toddlers?? I'd love to hear your favorites! Drop me a line in the comments below and let me know! I always love to hear what you think. Before you head on vacation, be sure to check out my other posts on the best car seat for travel, the best kids suitcases, and my (completely free!) downloadable packing list to keep your packing organized on vacation. Safe travels and wishing everyone a good nights rest! xo Kate
Pin for later!