Are you looking for the best beach gear for toddlers? Before having kids, I imagined that going to the beach with little ones would involve me relaxing on a beach chair while my beautiful, well-behaved children played nicely in the sand building sand castles and splashing in the waves. Of course, real life at the beach goes something like: "My hands are too dirty! My hands are too clean! I'm too hot! I'm too cold! I want a snack! The waves are too big! There are no waves! I don't LIKE sand"
Packing smart for a beach vacation with kids is essential.  I've compiled a list of beach must-haves for toddlers that make my life easier (and more enjoyable!) on the beach with kids. I'll cover all the best beach necessities for toddlers and I even include a printable beach packing list pdf at the end of this article.
[toc]
The Best Beach Gear for Toddlers:
Beach Clothing for Toddlers
Obviously packing the right beach clothing and accessories is essential for a great start to your beach trip. Here are some of my favorite clothing and accessories for the beach with toddlers:
I discovered these sunglasses in one my babywearing groups, and am now totally obsessed.  These are the best toddler and baby sunglasses around. Not only are they super cute and stylish (clearly, priorities!!) they are also completely indestructible. These moldable plastic glasses can be chewed, bent, pulled and twisted and they WILL NOT BREAK. Seriously. They are that awesome. I own them in several colors. (Sizes: Baby, Junior, and Adult)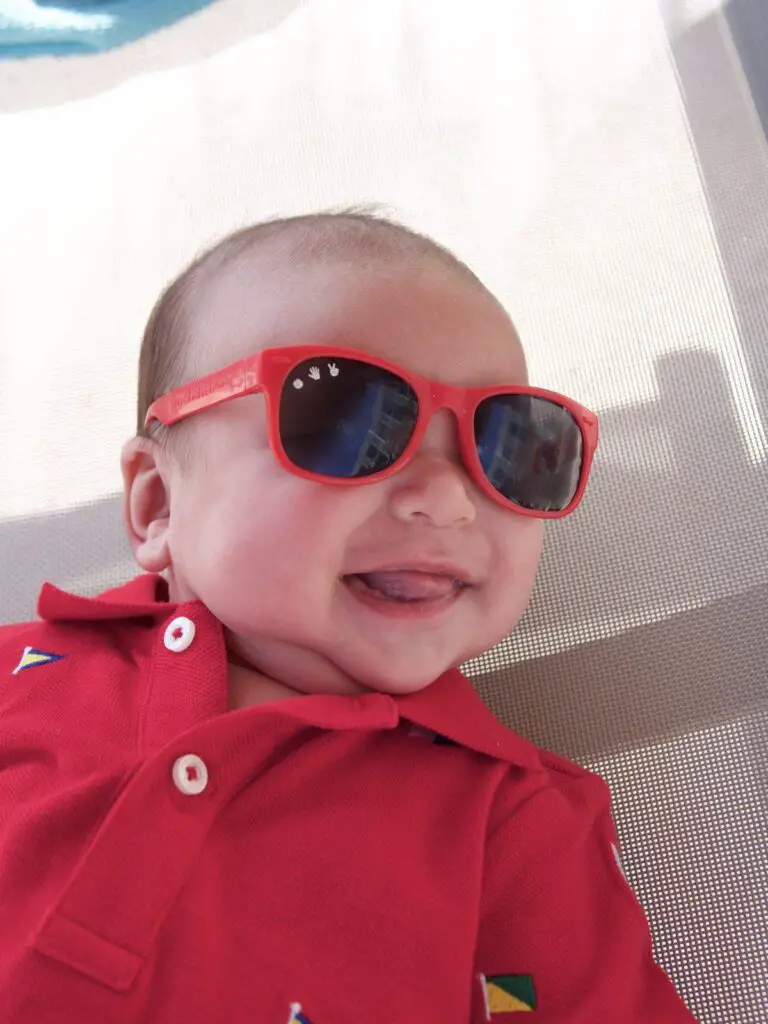 A good sun hat is essential on a beach vacation with kids. For babies and younger toddlers, I try to get a hat with a large brim, ties under the chin, and a neck cover. Especially with my toddler, who screamed every time we came near him with sunscreen, a good hat was so important. I love this affordable hat from Amazon. For my older son (age 4), he prefers a baseball cap. I love these cute designs from Patagonia. They tend to look great with the rashguard style swimsuits.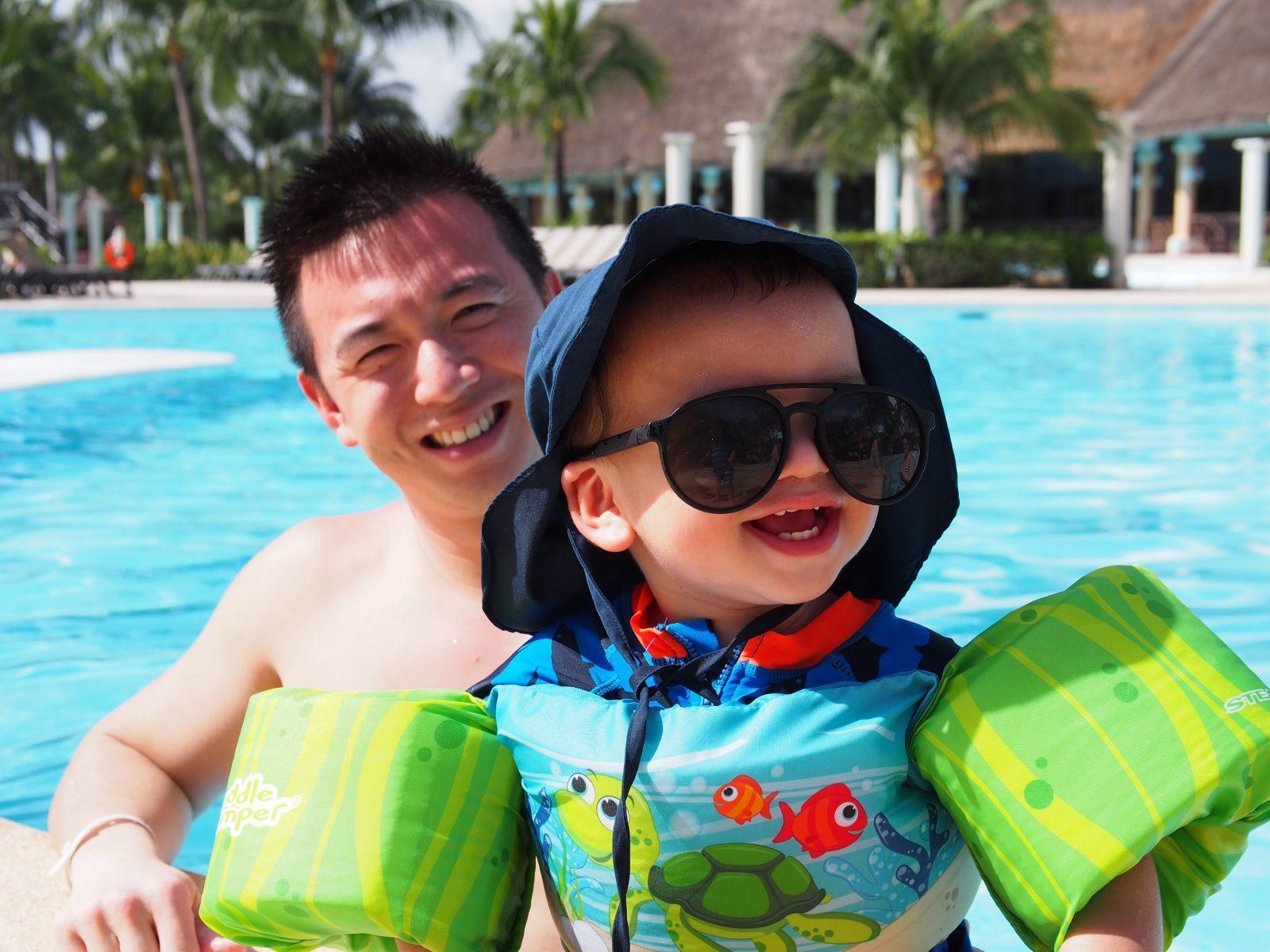 Toddler Swimsuits
I love Target for the cutest and most affordable swimsuits for toddler boys. Swimsuits are one of my favorite items to shop for my kids. I look for a swimsuit that has a high UV rating and that covers as much skin as possible. Although I don't have any girls, if I did I would TOTALLY dress them in these super-cute rashguard designs. They are just adorable!
I first came across these awesome toddler-friendly water shoes at a friends cottage. I absolutely love the adult version for myself and the toddler version is just as practical (and adorable!). The best part about these water shoes is that they keep the sand OUT! For some reason, my toddler HATES sand on his feet so these shoes actually helped us avoid multiple meltdowns.  So far, they have also been great for several family-friendly hikes and beach walks. These shoes pack completely flat which makes them a great travel companion.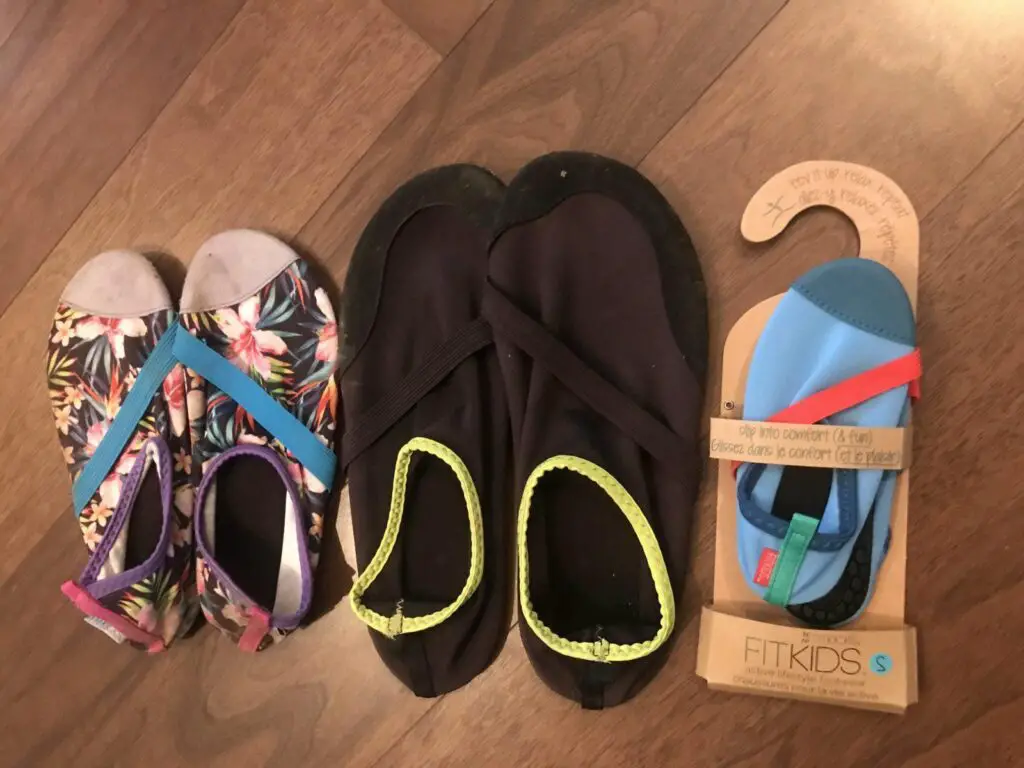 Toddler Beach Gear for Swimming
I have a whole post dedicated to information about the best floatation devices for toddlers and babies. For me, the puddle jumper is one of the best toddler inventions around. It has allowed my son to be very independent in the water from a really young age. My son used to be petrified of the ocean and clung to us for dear life if there were any waves. With the puddle jumper, he is a little swimming fish! Although it takes some space, this item is a must-have in our suitcase for any beach trip.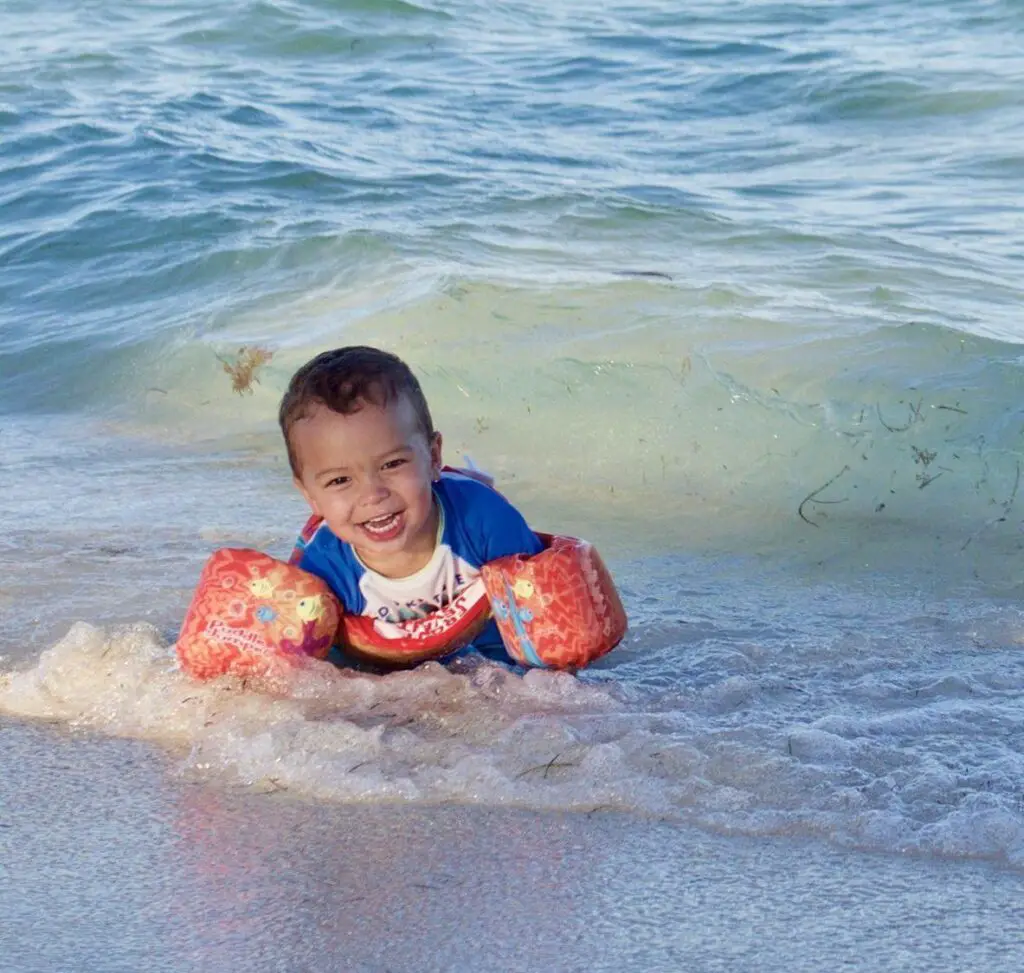 We recently decided to teach our 4-year-old to snorkel. He had a blast exploring the pool and ocean on our trip to Turks and Caicos. See my post on getting your kids ready to snorkel for the first time. I am obsessed with the new full-face style of snorkel masks. I have one for myself and absolutely prefer it to a regular snorkel mask. The views are amazing! These masks are also great for kids as it's easy to use them right from the start. Our 4-year-old was snorkeling within minutes. The only challenge is getting the right seal on the face. We ordered size XS for our 4-year-old.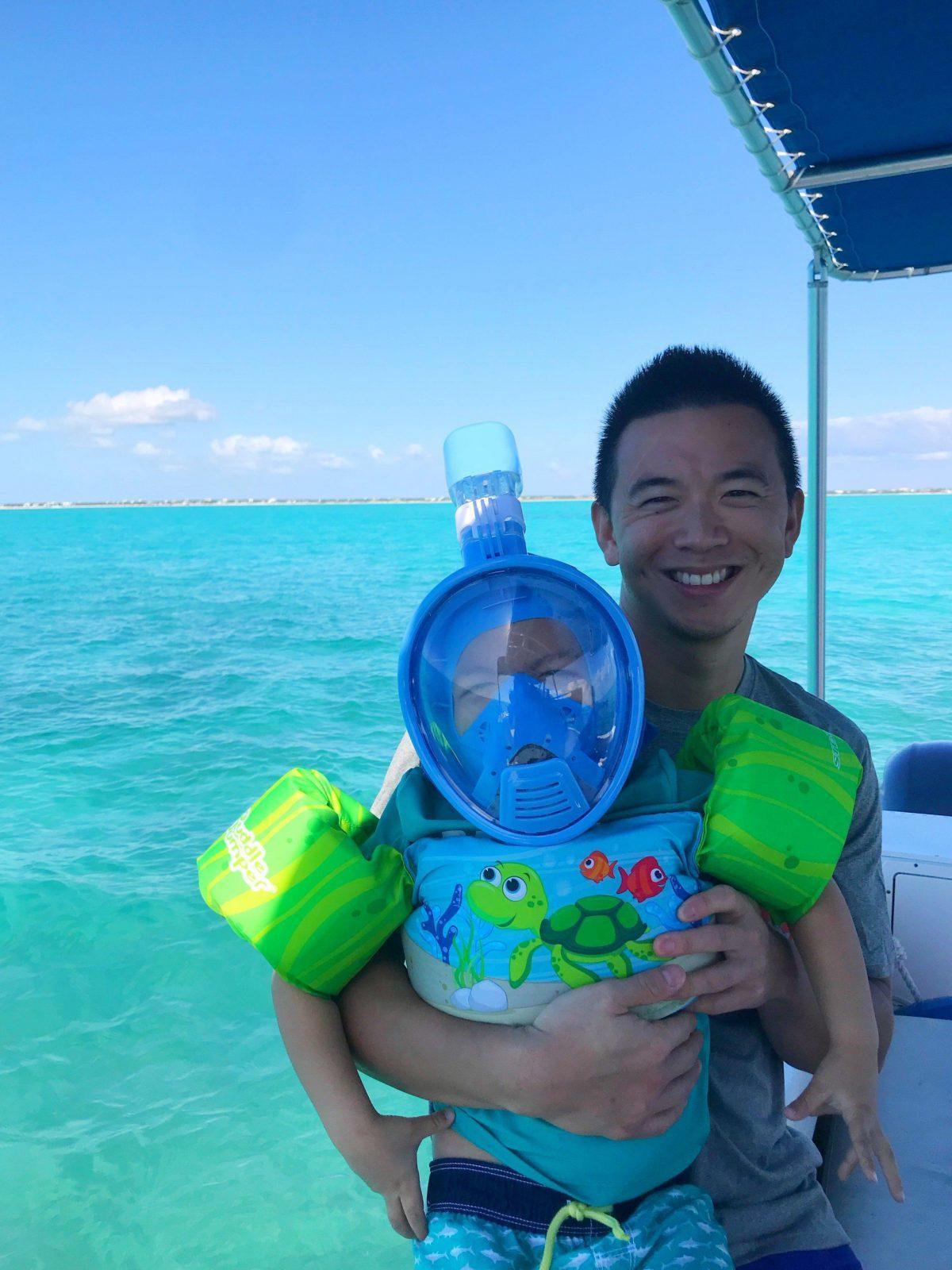 If your little one needs some encouragement with the mask, going on a 'treasure hunt' for these Gems and Coins in the pool is a lot of fun!
I didn't think my son would like using swimming fins, but he LOVED them in the pool on our most recent trip. They allowed my son to swim a lot faster in the water, which is exactly what he loves to do! These are definitely not a 'must-have' but can be a lot of fun if you are planning on trying snorkeling on your trip.
Beach Toys for Toddlers
Diggers and Dump Trucks
For my son, the best beach toys are definitely diggers and dump trucks. He is NOT into the sand castles and would much rather create a construction site in the sand. We don't tend to bring along any sand toys if we are headed to the beach on a beach vacation that requires a plane trip. I typically buy sand toys at our destination (go Target!) or even better, we rented toys on our last trip to Mexico!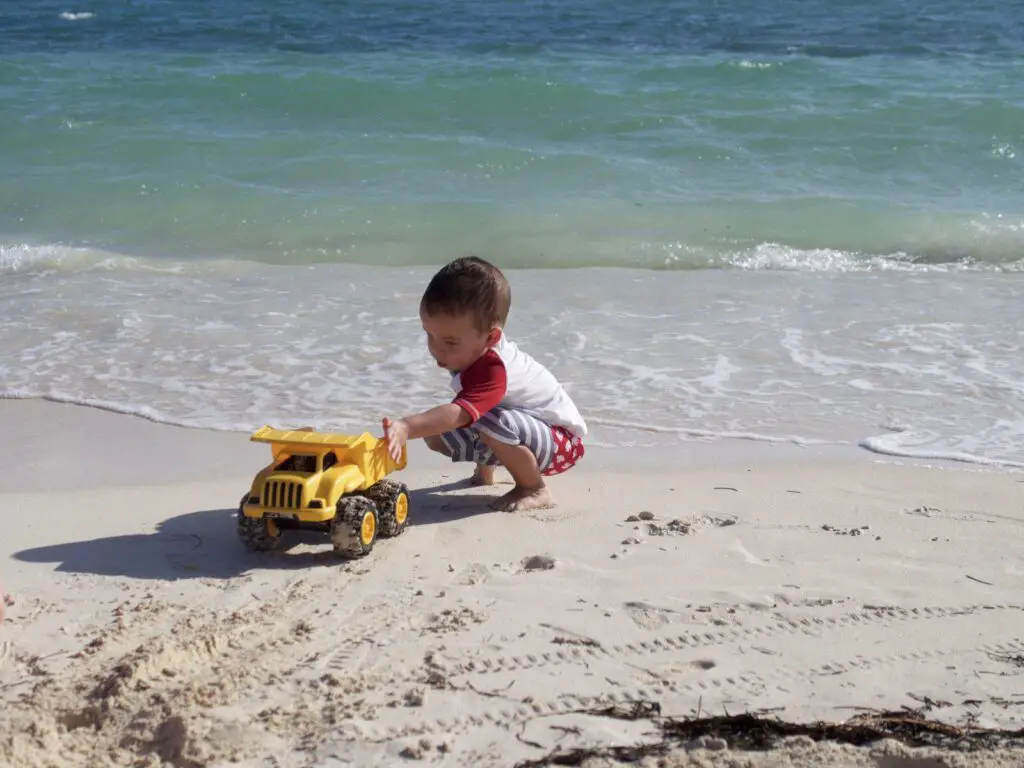 As I mentioned above, we tend to buy our sand toys at our destination to save on packing space. I usually find a family to give them to at the end of the trip to pass on the love. I like to shoat Walmart or Target so I don't get ripped off by the high prices on the beach. With Amazon Prime, I can even get the sand toys delivered quickly to my hotel.
These packable pails do look like a cool option for toys on the beach. I haven't tried them out, but the reviews look great. Definitely, a solid option if you aren't going to be able to buy or rent toys at your destination.
We love these water bouncing balls for playing in the pool or at the beach. They are great for kids to practice their catching and throwing skills and they won't get lost in the water. Inflatable beach balls are always a hit too if it's not too windy!
Water Guns and Squirts!
There is literally NOTHING like a water squirter to keep my boys occupied for HOURS at the beach. This is absolutely my kids favorite game to play at the beach. We have these foam water blasters which are easy for even young toddlers to use.
Check out my post on the best travel toys for toddlers for more ideas.
Beach Equipment and Gear
We bring this spiderman chair when we are taking a car trip to the beach. It packs flat, and my son loves Spiderman! It's nice to have something to keep the kids off the sand especially when it comes to snack time.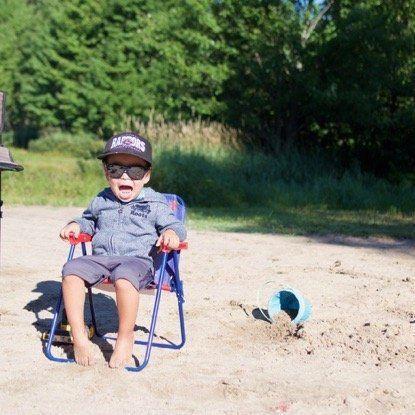 This may seem like an odd addition to a beach packing list but let's be honest, I don't have room to pack a beach tent for the majority of my beach vacations. We usually travel to resorts where there are already beach umbrellas available for use.
If you've read my post on 'The Best Toddler Travel Beds you'll know that I'm a fan of the Phil and Ted's Traveler Playpen.  The Phil and Ted's is so versatile and that is what I absolutely love about it! We bring this on all our vacations for our littlest one to sleep in. When it's not being used as a crib for sleep it also makes a great shady area at the beach! We put a UV cover on top and it was perfect for an afternoon nap.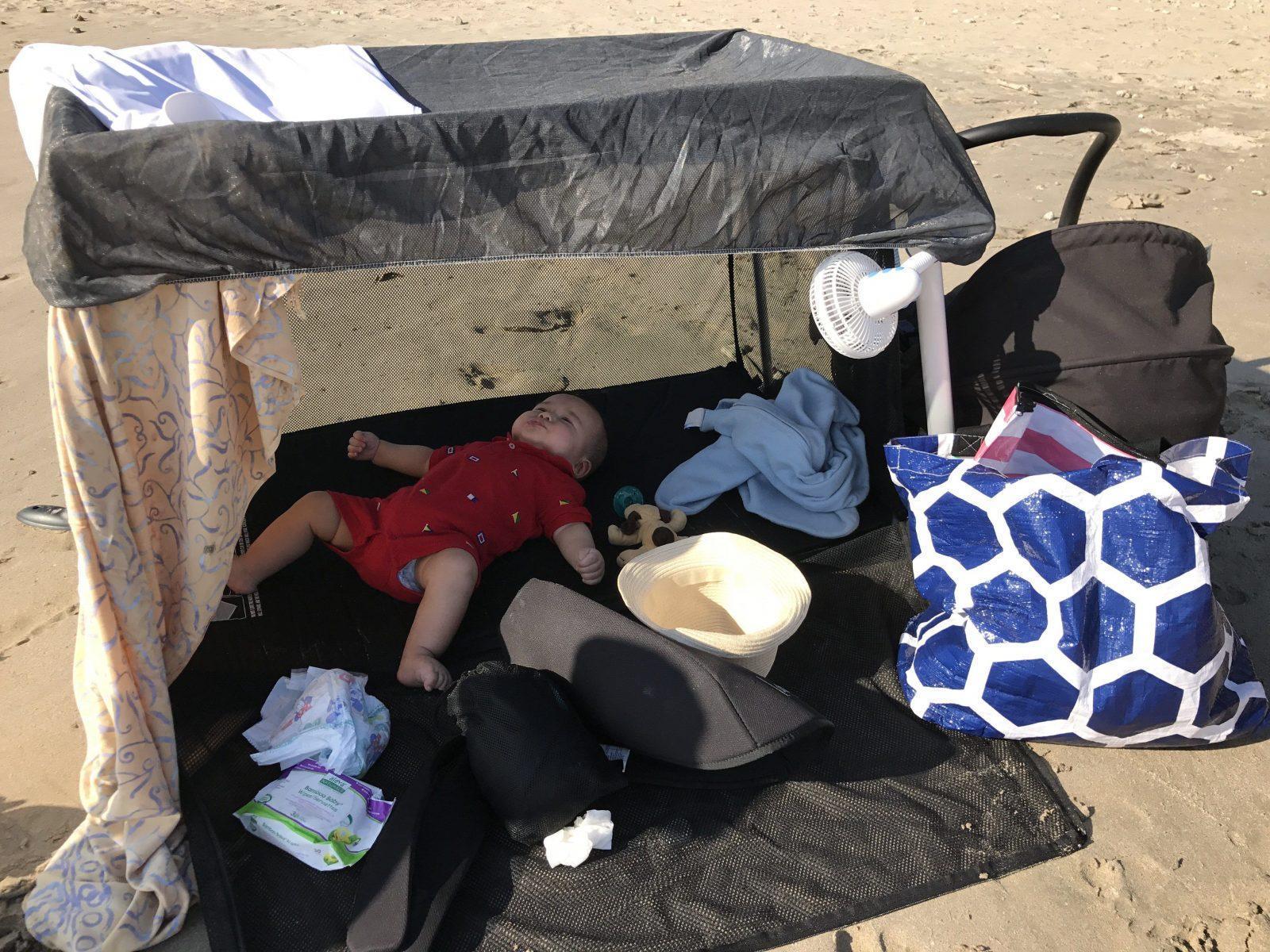 This was a recent discovery and it was great on vacation. I only wish I had bought more than one because everyone wanted to use it! This portable fan clips to a stroller or car seat and helps the little ones to stay cool especially if they are napping in their stroller.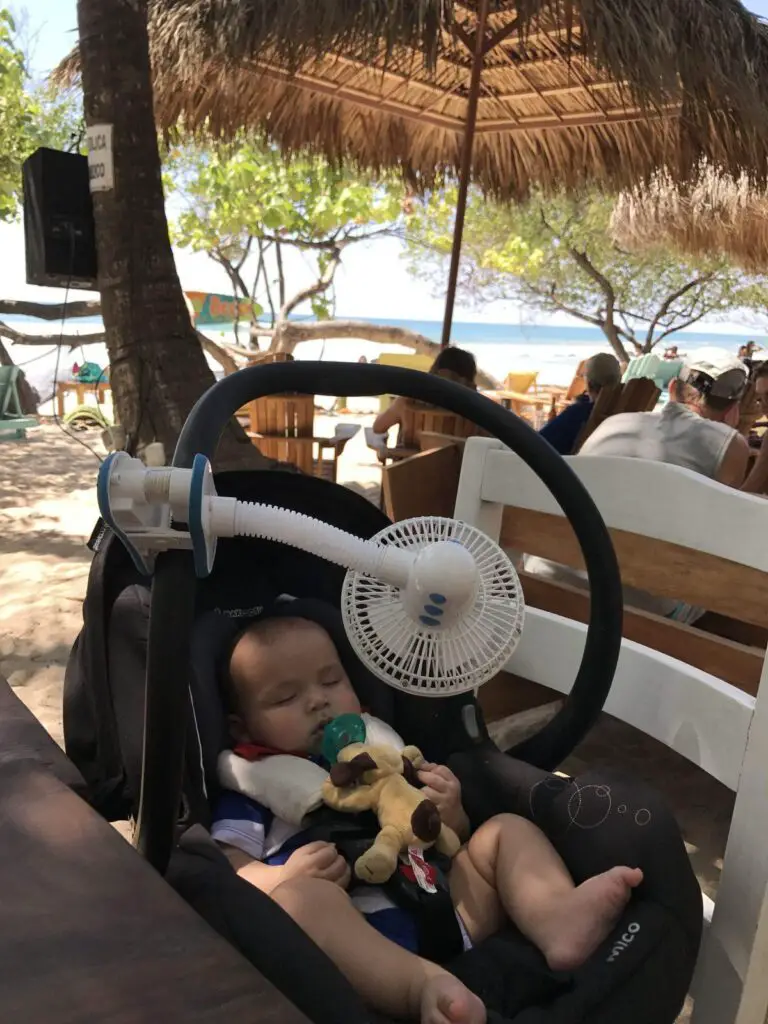 For young toddlers and babies that like to be carried, this waterproof baby carrier is amazing. It is so comfy and adjusts easily to any size. I have used this at the beach and at the splash pad and it is great fun. I am also wearing the shaidee which straps on top of the carrier to provide some shade for little ones who aren't quite ready for the sun.
Keep Valuables Locked up With a Beach Safe: Safe-GO
This is another beach game changer for us. One of the things that drives me CRAZY at the beach is having one person stay behind to watch over the valuables. We don't bring a lot, but usually have a wallet, cell phone, and camera. The SAFE-GO is the perfect solution. You can lock it to a beach chair or umbrella and feel free to chase your toddler up and down the beach to your heart's desire!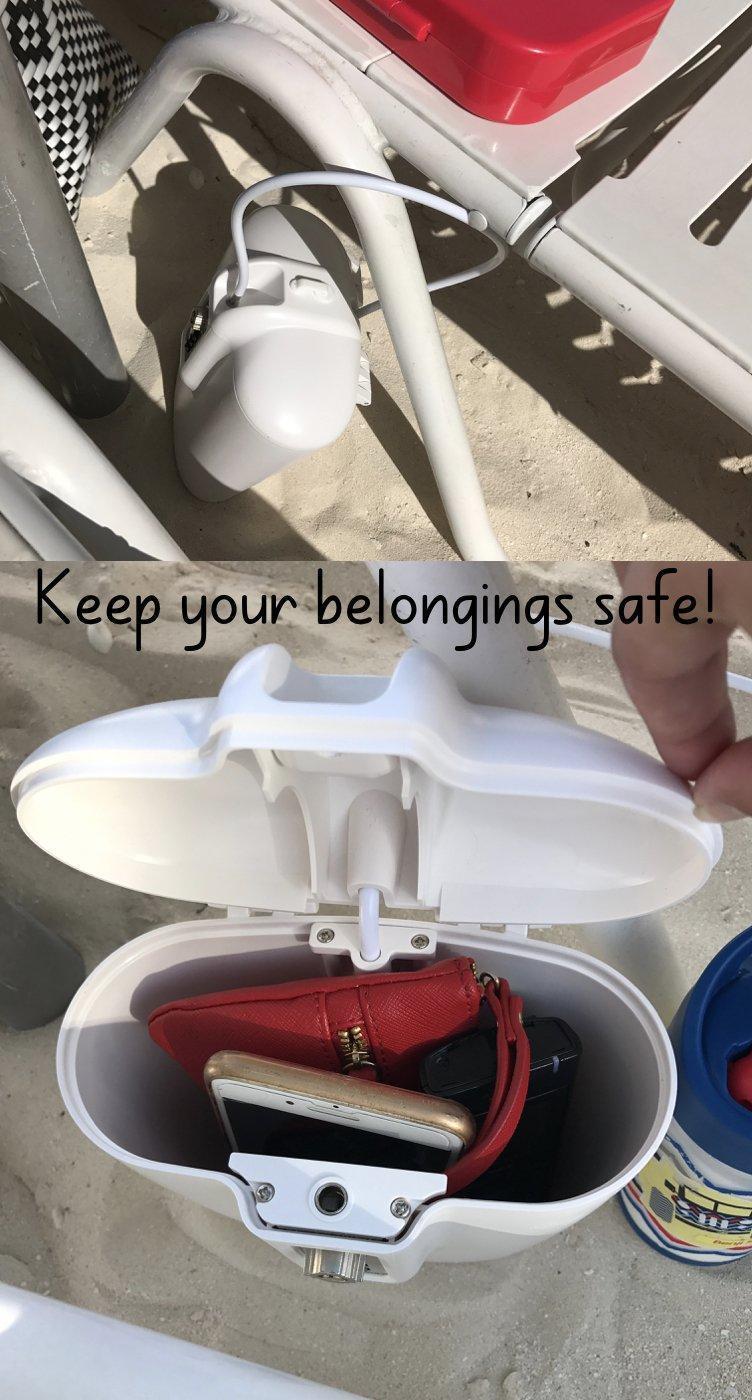 Beach Stroller
As far as I'm concerned, there are no great strollers for the beach. Sand presents a problem for most wheels and a stroller is really only useful for GETTING to the beach. As I've mentioned in a few posts, I almost always bring my full-size stroller on our beach vacations. Although I see the appeal of some of the super tiny 'pock-it' strollers, I love that my full-size stroller can hold a TON of stuff. We have an UppaBaby Vista stroller and it is PERFECT for travel.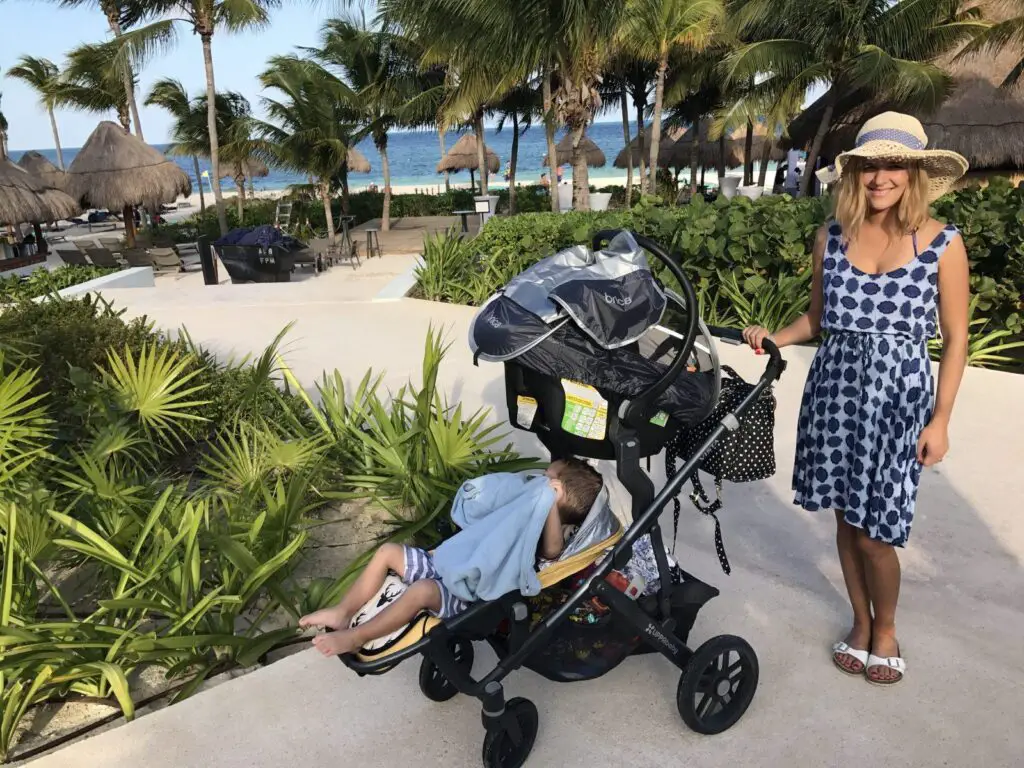 Toddler Beach Accessories
This all-natural sunscreen is perfect for babies as the main ingredient is the same as diaper cream: zinc oxide. We have tried SO MANY kids sunscreens and this one is definitely my favorite. It isn't too greasy and goes on easy. Now if anyone can figure out how to get my toddler to stop LOSING HIS MIND when we put on sunscreen, I'm all ears!

Best Snack Container: YumBox
This is a repeat from my travel essentials for toddlers post but it is worth it. I love the YumBox! It is great for the beach to offer a variety of snacks in minimal space. It also is easy to clean when the inevitable sand gets in it. Pack it in a rotomolded cooler with some cold drinks and you will be good to go for the day!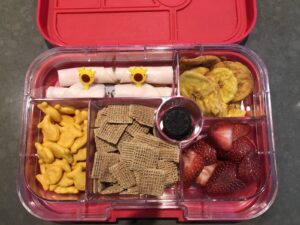 Beach Bag and Waterproof Bag
We always end up hauling so much stuff to the beach, and I couldn't do it without a great beach bag. I have a few different designs and my favorites are the designs I have gotten from Target. They are affordable and you can pack them easily in a full-size luggage. We often bring our stroller and use this mommy hook to latch our beach bag.
A waterproof bag is also essential to bring along. Use it to store wet bathing suits at the end of the day, or if everything is wet, use it to keep a dry change of clothes. It's great to have something to keep the wet and dry items separate.
Waterproof Camera or Camera Bag
I have a fancy camera but these days I find I take almost all of my pictures with my iPhone. You can't beat the convenience combined with the picture quality. I recently tried out these Seawag bags so I could use my iPhone in the water. I was a huge fan!
For videos, we have a GoPro Hero 4 that is great for underwater photography and video. For the longest time, I was having a problem with fog on my pictures and videos until I discovered these reusable anti-fog inserts. They have really improved the picture quality from my GoPro.
Free Beach Printable Packing List
I've made it super easy for you to pack for your next trip to the beach with my printable packing list here. This list contains all of the essentials in my post and a few extras.
Click HERE to download the pdf.
Be sure to also check out my family packing list which is a comprehensive packing list for a beach vacation with the entire family.
There you have it! My ultimate guide to the best toddler beach gear. I hope you enjoy the beach! Drop me a line in the comment below if there is anything you can't live without at the beach and I will try to add it to this post!
xo
Kate