Wondering what to pack for Costa Rica? We seriously had the time of our lives in Costa Rica and can't wait to get back.  Since I can't be there now enjoying all the beautiful beaches, delicious food, and amazing adventures, I'm focusing on my packing list for my next trip to Costa Rica. Check out my ultimate 'Pura Vida' Costa Rica packing list below!
If you are thinking of a trip to Costa Rica, check out my guide to the surf town of Santa Teresa, Costa Rica. I've included some family-friendly options as we traveled to Costa Rica with our young kids.
[toc]
Packing List for a Week in Costa Rica
Packing for Costa Rica

(For Her)

Casual tees and tanks (2-4): Costa Rica is laid back, so jean shorts and a graphic tee was pretty much my uniform when we were out during the day. I usually pack two plain tees and two fun tees and let's be honest, I wear the fun tees!


Jean Shorts (1-2): I usually pair my casual tees with an awesome pair of jean shorts. Comfy and practical!


Rompers and Dresses (2-3): I am obsessed with rompers! If I don't have to plan out a matching outfit, I am sold!  Cute, lightweight and easy to pack. Rompers are perfect for travel. I wear them at the beach and out for dinner, they are super versatile. I also bring along a few light dresses that can be worn for a nice night out.


Activewear (2-4): Costa Rica is all about adventure! If you are going to be hiking, zip lining, or exploring the beautiful lush interior of Costa Rica you will want to pack some moisture-wicking activewear.


Bikinis (2-4): I usually pack 4 swimsuits for a week because I HATE wearing wet bathing suits. If you are planning to try surfing in Costa Rica, a rash guard is a good idea!

Beach Cover-Ups: There are so many beautiful beaches to explore in Costa Rica. I always bring along a few cover-ups that are easy to throw on top of my swimsuit.

Light Jacket/Long Sleeve: When we went to Costa Rica it was super hot. We didn't need a long sleeve even at night.  Depending on where you are and what time of year, it can get cool at night. A light jacket or cardigan is also key for the plane, which is always too cold! I love my denim jacket!

Comfy wear: We usually rent an Airbnb and I pack some loungewear that doubles as PJs for the night.


Underwear! Umm, don't forget!

Sunglasses: So I typically buy cheap sunglasses because I ALWAYS lose them. I've been using my hubby's polarized Ray Bans lately and I'm pretty obsessed with them. Might just have to splurge on some real sunnies.

Footwear: I always back one pair of casual sandals, one 'fancy' sandals and my dual purpose beach/hiking shoes. I don't typically bring any heels and just opt for some pretty sandals when I want to look nice.

Beach Bag: A study beach bag essential if you are going to be hitting up the beaches in Costa Rica. Especially if you are traveling as a family like we did. Check out my post on our kid-friendly beach essentials here.

A Travel Backpack: A travel backpack is essential for a trip to Costa Rica, especially if you are planning more adventurous travel! It keeps you packing light, and allows you to be handsfree when moving from place to place. For a comprehensive review, check out this post of the best womens travel backpacks from my friend at The Family voyage.


Safe-Go Portable Safe: We love our safe-go safe and bring it everywhere. It is perfect for Costa Rica as there is some concern for petty theft on the beaches. The safe-go allows you to lock up your cell phone, keys, and wallet in a tiny portable safe and enjoy the beach without worrying about your stuff. I LOVE this thing.

Wet Bag: A wet bag is key for a beach trip or a hike. Throw in the wetsuits and clothes and keep the rest of your stuff dry.

 
Costa Rica Packing List (For Him)
Casual Tees (2-4): My husband usually packs 6 plain white tees for pretty much any vacation we take. We could be going to the Arctic and he would probably pack 6 plain white tees! Plain tees are definitely versatile, but I always sneak a few graphic tees into to his luggage.

Shorts (2): A great pair of chino shorts are super versatile on vacation. Shorts pair great with the basic tees and are perfect for the hot days in the sun.
Activewear (2-4): For Costa Rica, moisture-wicking activewear is super important. My hubby got a ton of use out of his dri-fit tops and shorts.  Especially if you are going to be hiking, pack lots of sportswear!
Polo Shirts (1-2): Every time we go on vacation, my husband whines about having to wear 'nice clothes' out for dinner. Polo shirts are still dressy, but comfy – everyone is happy!

Long Pants and Long Sleeves (1): One pair of long pants and a long sleeve shirt is perfect for a nice night out to dinner. It can always get pretty buggy at night, so long sleeves help to protect against bites!

Swim Suits: My hubby is probably one of the only guys who isn't into having long swim shorts. He likes the midlength shorts and I love these Polo Swim Shorts.

Underwear! (7-8 pairs) I bought my hubby Saxx underwear for Christmas and he was such a fan. I never knew underwear could be so life-changing! He literally texted all his friends to tell them how great his new underwear was, HA!

Footwear: My hubby packs a pair of comfy sandals, water shoes, a pair of deck shoes, and some running shoes for hiking or sports activities.
Toiletries For Costa Rica
Toiletry Bag: A functional travel toiletry bag is essential for any trip. I like the roll-up/hanging designs as they are functional for travel and help to keep all my stuff organized and tucked away.
Shampoo/Conditioner: I am super picky about my shampoo and conditioner because I have super thick hair that needs moisture! I love the Morrocan Oil shampoo and conditioner. Either buy the travel size or use reusable travel bottles.
Face Wash: Cerave makes the best face wash that is gentle and affordable. I use it every day and bring it with me on vacation.
Face Wipes: Cerave also has the gentlest face wipes around. I love these for taking makeup off at the end of the day and they are great for travel. Pack them for the plane!
Moisturizer: I use the Cerave facial moisturizer at night and the Cerave facial moisturizer with SPF during the day. Can you tell I like Cerave?
Hairbrush: I don't go on vacation (especially the beach!) without my wet brush. I always pack this in my beach bag to brush out my hair after it gets massively tangled in the waves.
Makeup: I'm a chapstick and mascara kind of gal. So pack whatever is in your normal routine!
Deodorant: I've been using Dove deodorant FOREVER and I don't plan on changing!
Hair Products: I have thick wavy hair, and definitely need to pack some curl cream to keep the frizz tamed in a hot destination!
Toothbrush and toothpaste: Hot tip! Travel toothpaste can but bought in bulk on Amazon for a great price!
Razor: I love the Gillette Venus razor blades. Razor + soap bar in one = genius!
Hair elastics: I'm obsessed with these new no crease hair ties. They don't give me headaches when I put up my hair! Love them so much!
Mosquito Spray: When we were in Costa Rica, we actually didn't get a single mosquito bite. Mosquitos can certainly be a problem in some areas, so we pack lots of spray. I use a picaridin-based spray for my kids and use a DEET-based spray for myself.
Sunscreen: We love the Thinkbaby sunscreen for our kids and we love the Neutrogena ultra sheer sunscreen for ourselves.
First Aid Kit: I always pack an EPIC first aid kit, especially for an adventure trip like Costa Rica. My first aid kit has saved our butts on more than one occasion. In Costa Rica, my dad got the stomach flu and was able to stay hydrated with my Hydralyte tabs. Check out my post with all the items in my epic travel first aid kit.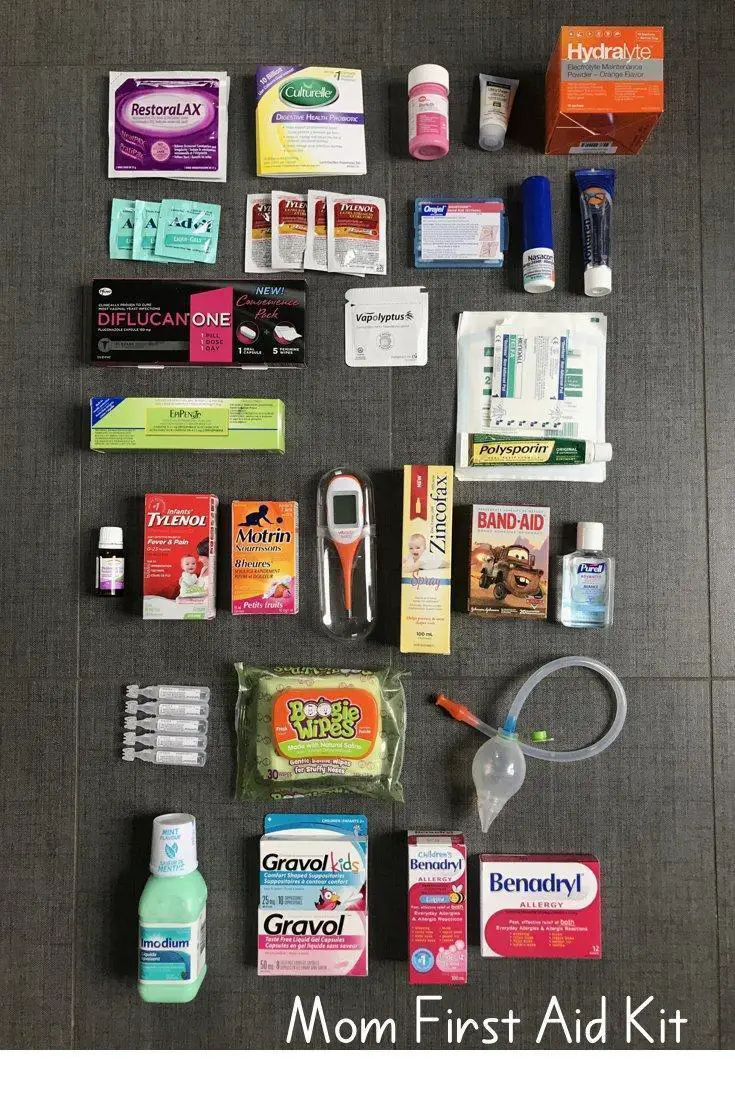 Costa Rica Packing List (For Kids)
Check out my PDF family packing list for all the things you need for a baby and toddler.
Want the PDF packing list?
You can access the pdf here!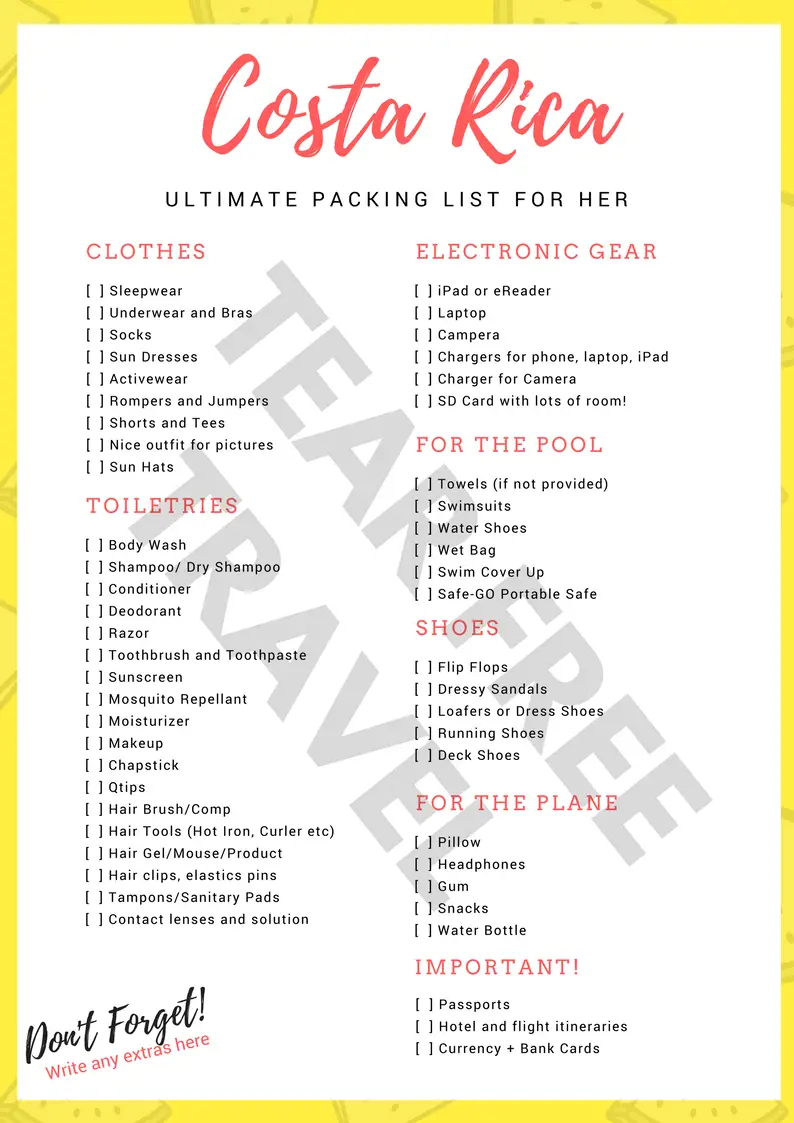 Pin for later!