I learned about travel first aid kits as a member of the Girl Guides when I was a young kid. 'Be prepared' was their motto and I think they would be proud of the family travel first aid kit I've assembled! I have been scouring posts on the best kids travel first aid kit and travel kit for baby and toddler to come up with what I think is the ULTIMATE children's medical kit.  There is nothing worse than being sick on vacation (oh wait, yes it's having your kids sick on vacation!) so I hope that this first aid kit for families will help to keep everyone safe and in good spirits on vacation.
I don't have a specific first aid kit bag, but after removing all the packaging I'm able to fit ALL OF THIS into a diaper wipes container, a small ziplock, and a pill sorter. There hasn't been a vacation yet where I haven't used at least one or two items so I am happy to use up space for this family first aid kit.
Our first aid kit for vacation checklist is available in PDF! You can find the pdf first aid kit checklist at the bottom of this post. For more ideas, check out our guide to packing hacks for families right here.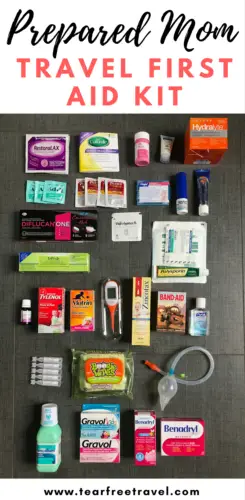 Travel First Aid Kit Contents List:
Tummy Medications for Travel First Aid Kit
When we travel as a family, its not uncommon for one member to come down with a mild stomach ache. This is especially more likely in a foreign country with a different water supply. We bring along lots of medications and supplements to help with tummy aches so that everyone can still enjoy their vacation. It can sometimes be hard to find some of these specific items in a foreign country, so I always make sure to bring my whole kit along.
Pain Medications for Adults
I suffer from occasional headaches, so I am always sure to bring some pain medications when I travel. I like to bring the medications either in individual packs (great for carry-on) or in a pill organizer (see below) so that I'm not bringing a bunch of large bottles.
Pain and Fever Medications for Kids First Aid Kit
Teething has struck more than once on vacation with my kids and it's one way to ruin a vacation quickly! We always pack some children or infants Tylenol and Advil/Motrin in case of an illness or teething.
Diaper Rash Essentials
Especially if you are traveling somewhere hot and humid, come prepared with Diaper rash cream in your travel baby first aid kit! I find that the hot and humid climate makes my little ones more susceptible to diaper rashes. We really love the spray diaper creams, especially on the go, as it saves your hands from getting all messy!
Cold and Allergy Symptoms First Aid Kit Essentials
Cold symptoms are also brutal on vacation, so we come prepared with our baby first aid kit. Especially for little babies, can get congested so quickly! I really like the Hydrasense nasal applicators and the nasal aspirator for when my little ones are sick.
Wound Care First Aid Kit List
We also have some bandaids and gauze in our family travel first aid kit. Our kids are bound to scrape a knee or two on vacation, and they will always request a fun band-aid for their 'boo-boos'. We also pack some antiarebiotic cream and this has come in handy more than once on vacation with some infected bug bites.
Sun Care and Bug Spray
A 'must-pack' for a hot climate trip, sunscreen and after sun gel is important. With the risk now of Zika and other mosquito borne illnesses we also make sure we pack a strong mosquito repellant if we are going to be traveling somewhere with a Zika risk.
Miscellaneous Items – First Aid Checklist for Kids
Prescription medications: Don't forget to bring any prescriptions medications along.
Pill Sorting Hack
It can be a pain to travel with so many different pills and packages so I used a pill sorter that I had lying around the house to create a custom travel pill container. I used white duct tape and a permanent marker to label each compartment. It doesn't need to be pretty, just functional!  This makes it so easy to find what you are looking for. I suggest making one for the car to always have on hand as well!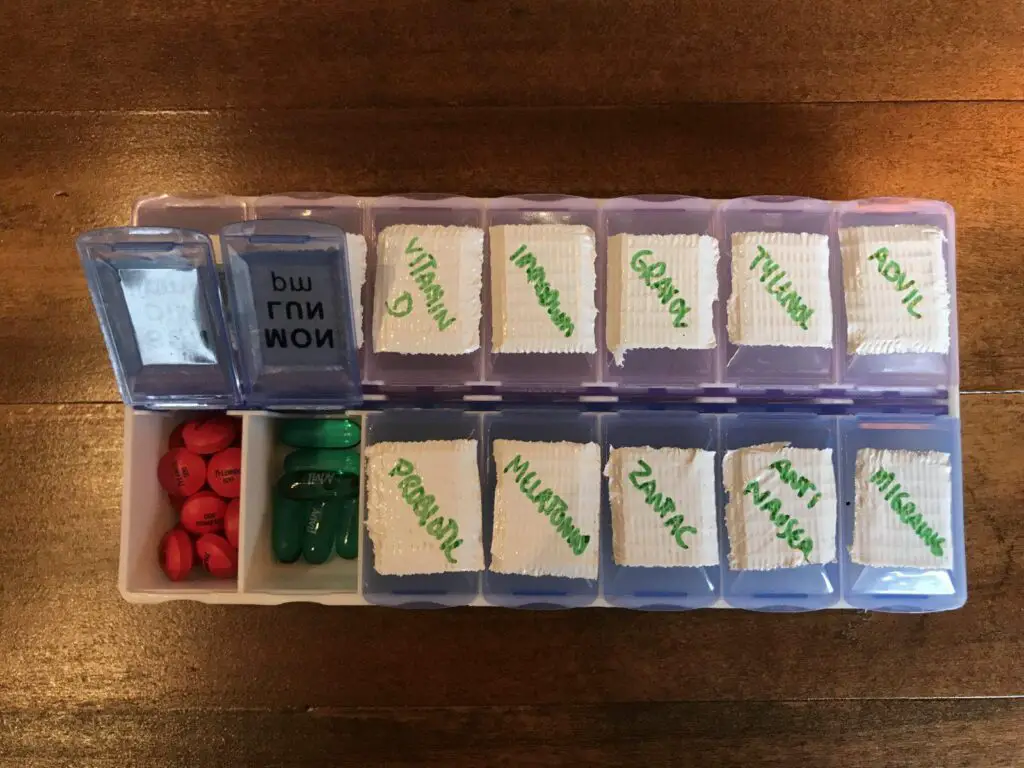 The First Aid Kit 'Bag'
Packing the first aid kit is easy. I used an old wipes container for the larger items, a pill sorter for any pills, and a ziplock bag for anything that I wanted to bring with me on the plane. Super simple and compact. The only items missing from the kit are the Zantac cream and the Boogie wipes because these go in my diaper bag.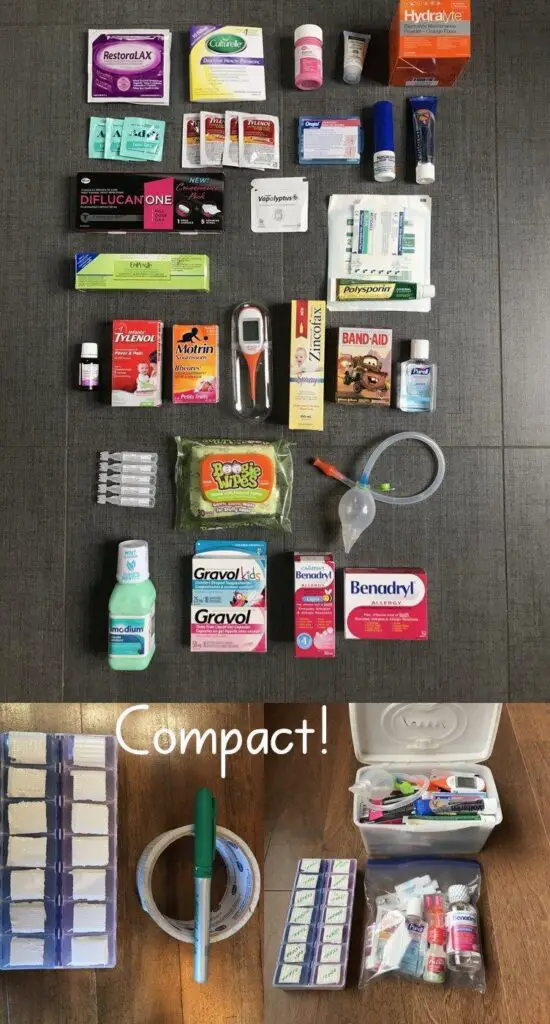 Voila! A travel first aid kit that is prepared for anything! Happy travels everyone!
Do you want the first aid kit list as a PDF?
Grab the link to the PDF in my family packing post! 
xo
Kate