Are you planning a trip to Halifax with kids? We just got back from an AMAZING week-long adventure in Halifax, Nova Scotia. It is an awesome place to take the kids, and there are lots of family things to do in Halifax.  There is so much to do in this beautiful Canadian city, and the best part is that many of the activities we did in Halifax were completely FREE! Detailed below, I'll review the best Halifax activities for kids for your ultimate family Halifax itinerary.
[toc]
Explore the Halifax Harbourfront
The Halifax harbourfront is not to be missed on any trip to Halifax. Our Airbnb was steps away from the boardwalk, and we spent a lot of time exploring this area. Since our kids love to get up at 5 am no matter what time they fall asleep, we had plenty of time to stroll the boardwalk in the wee hours of the morning light.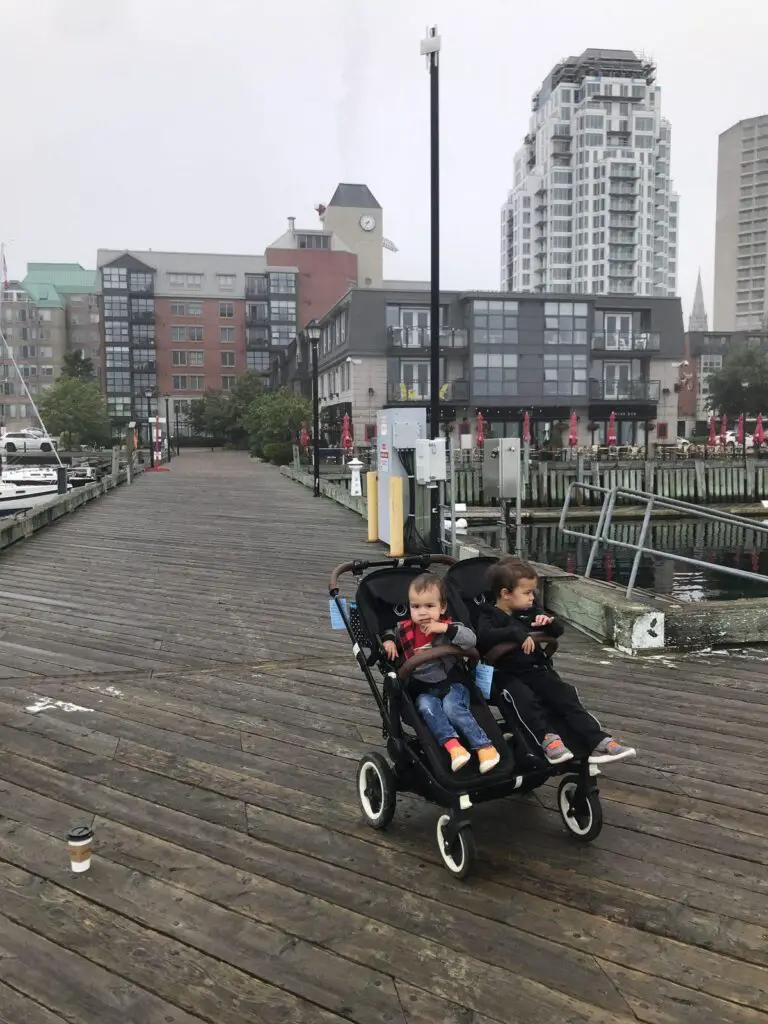 Along the harbourfront, there are some great restaurants (see below) and an awesome kids playground, with beautiful views. Our kids loved looking at the cruise ships which were docked in the harbor and running around on the docks.
Rent a Bike in Halifax
On the first day of our trip, we blew the tire on our beloved Bugaboo Donkey stroller. By the way, yes, we brought a MASSIVE full-size stroller on our trip, and yes, I highly recommend it! See more about why I hate travel strollers here!
We were able to get a new inner tube for our stroller (thank you MEC!) and now we had to find a place to help us inflate it. Right near our Airbnb, we found I Heart Bike rentals. Not only did these guys help us get our Bugaboo back in working fashion, but they also rented us an amazing bike set up for kids.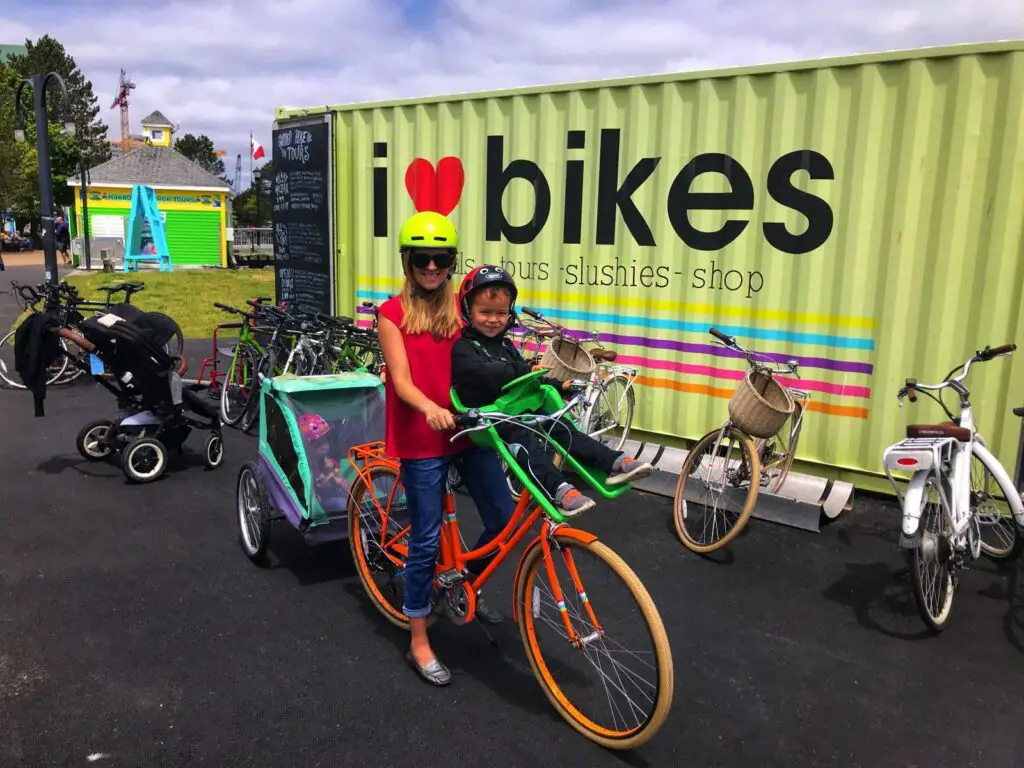 I Heart Bike rentals has a double chariot carrier to rent that will fit two kids (max total weight 100lbs) and it also has a handlebar infant carrier that will hold up to 40lbs. Since our (small) 4-year-old couldn't make up his mind where we wanted to ride, we rented both!
From the harbourfront, there is a great biking trail passing along the shipyards that is perfect for an hour of easy biking. After biking, head next door to our favorite East Coast ice cream, COWS!
Farmer's Market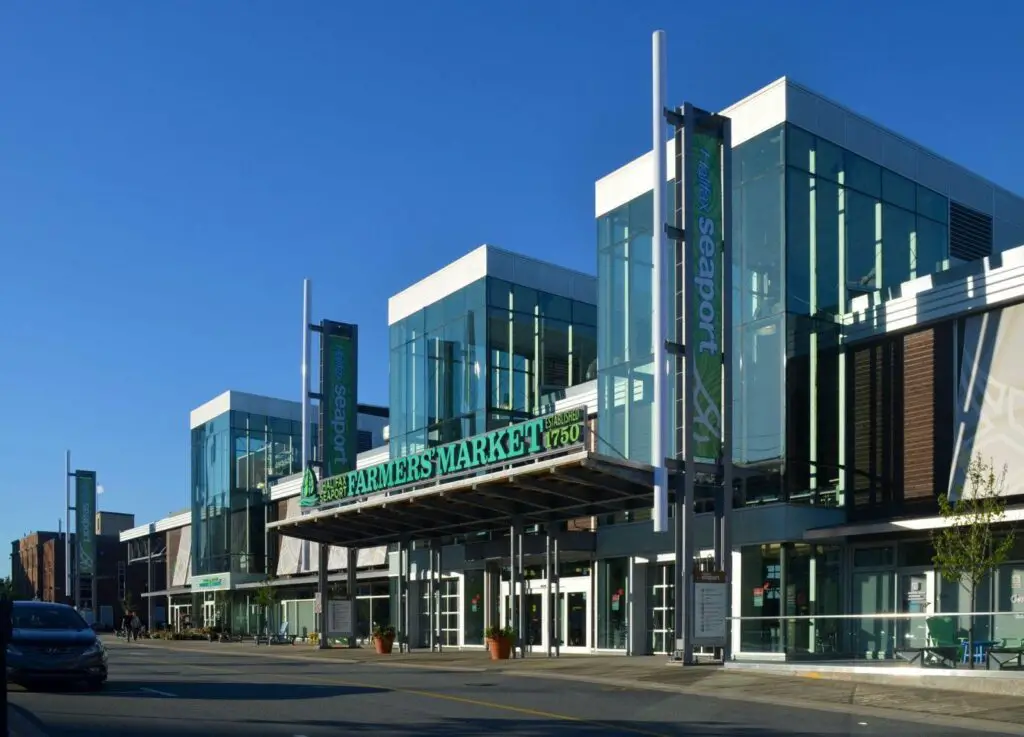 The Halifax farmer's market is top on the list of things to do in Halifax. It is the oldest continuously running farmer's market in all of North America!  The building itself is gorgeous and in a perfect spot right on the harbourfront. Inside, there are a lot of unique artisans and shops. Definitely head there on a weekend for the biggest selection of vendors.  There are also a lot of delicious foods to try! We got crepes AND some freshly baked pretzels and they were SO delicious!
Across the street from the farmer's market is the Garrison Brewing company. This is one of our favorite local craft breweries in Halifax. We picked up a growler to bring back to our Airbnb to enjoy while the kids were asleep. It's definitely worth a visit if you enjoy craft beers!
Halifax Public Gardens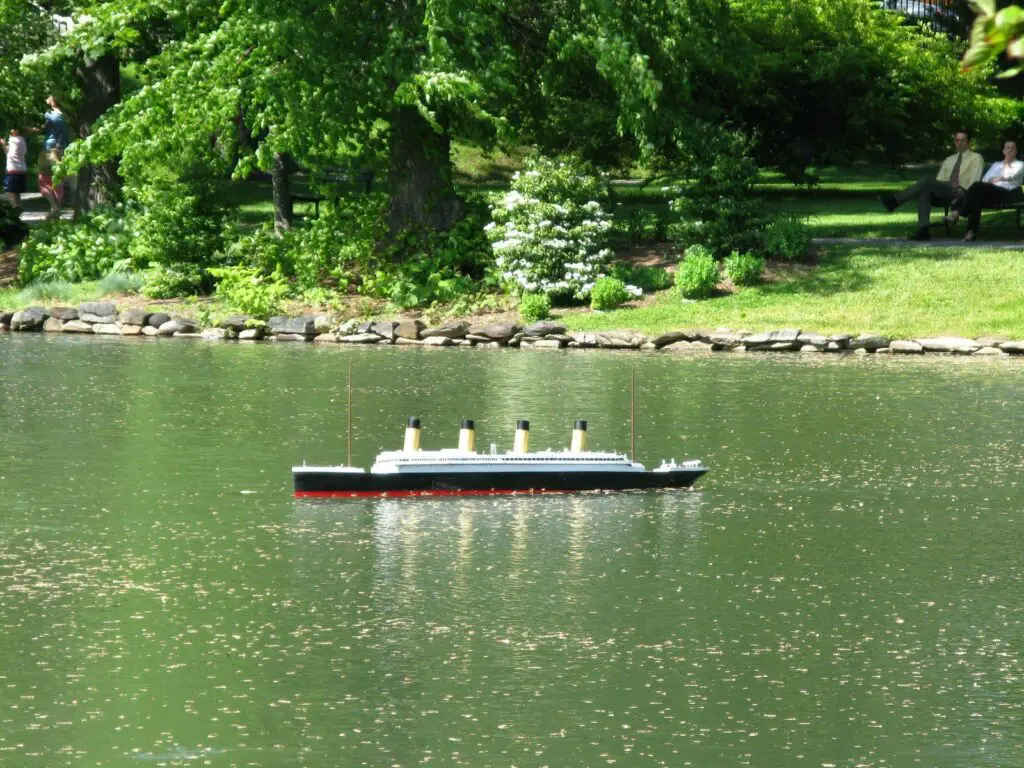 Visiting the Halifax public gardens is another perfect Halifax activity for kids. It's one of the most popular things to do in Halifax, and you could easily spend a quiet afternoon here. One of the coolest things for kids to see is the model of the Titanic that floats in Griffin's pond. My kids were thrilled to see this (well and the ducks of course!)
Halifax Citadel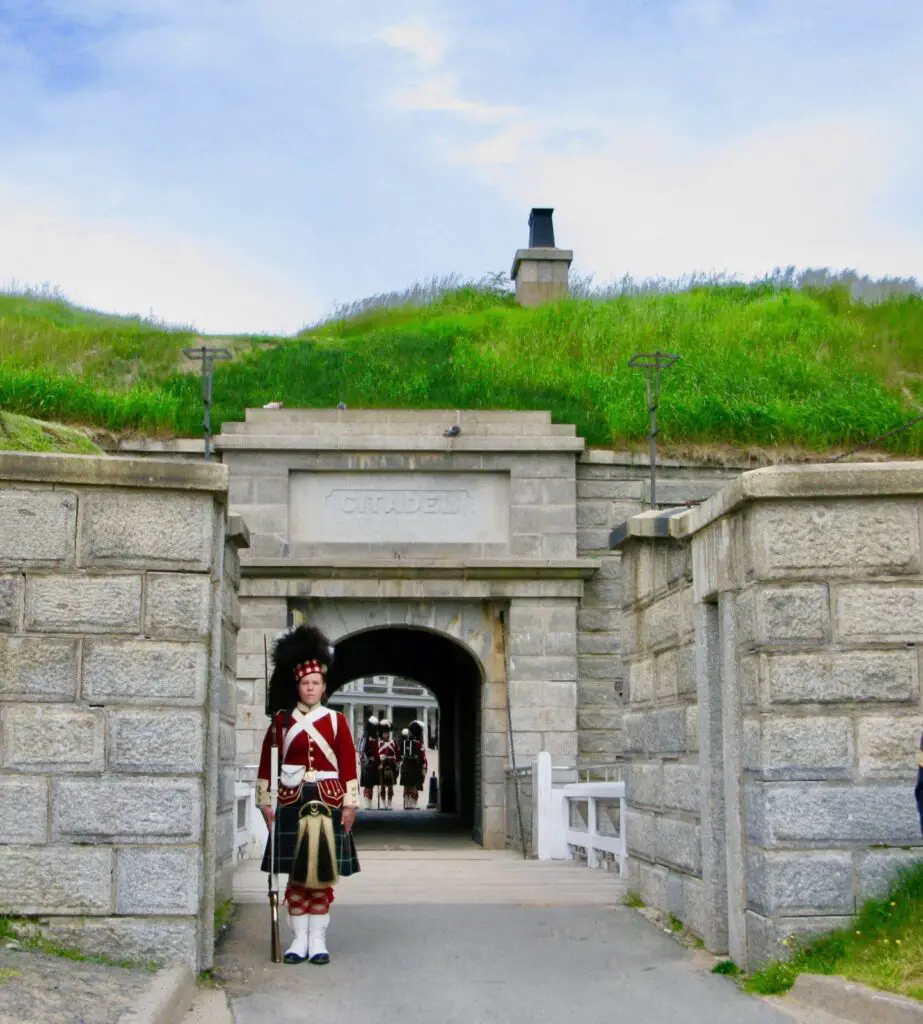 We did not get a chance to visit the Citadel this trip (bad weather!), but did drive through it on our Bus tour. I have visited it in the past (pre-kids) and it's definitely worth a look, especially if you have any history buffs in the family. The Citadel is an awesome space for kids to explore. The staff are all enthusiastic and kids will love to see what life was like as a soldier in the 19th era. You can sign up for a guided tour, or check out this self-guided tour. Don't miss the 21 gun salute!
Halifax Central Library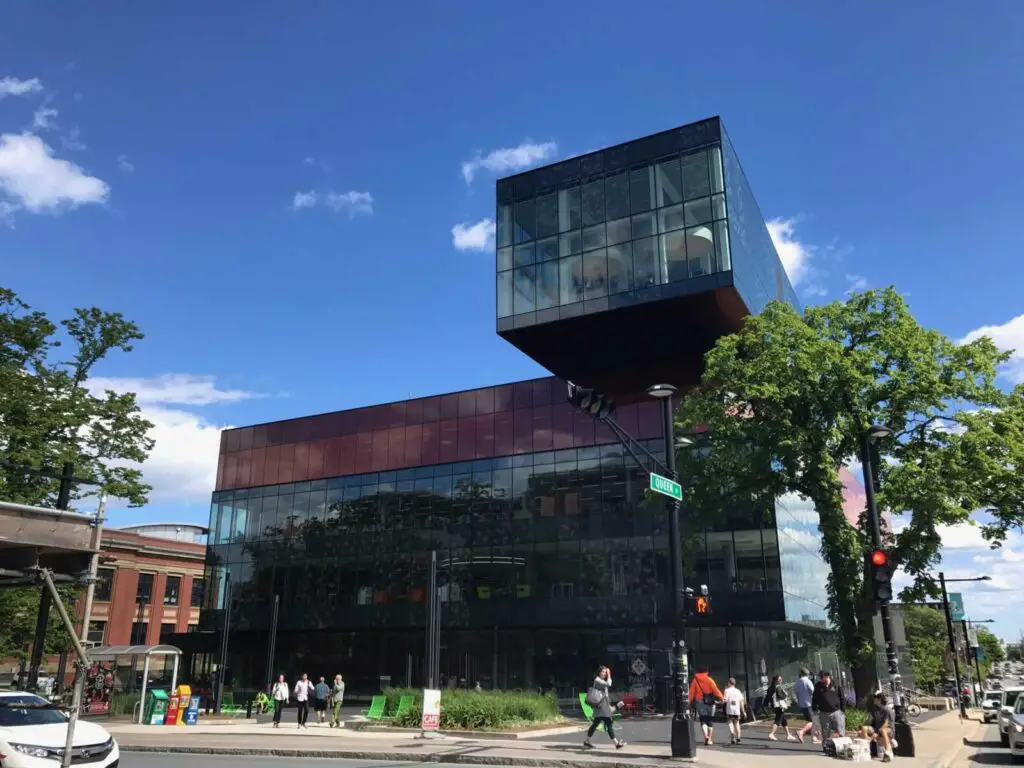 Add the Halifax central library to your Halifax itinerary! This gorgeous building was completed in 2014 and is a perfect place to stop and relax after some shopping on Spring Garden road. There is an entire floor dedicated to children's books so there is lots to read for little ones! Of course, my rambunctious boys decided to spend their time climbing the furniture. That counts as reading, right? There is also a LEGO table which is always a hit among our boys. Definitely worth a stop even for a brief visit to check out the awesome architectural design. Perfect for a rainy day activity in Halifax.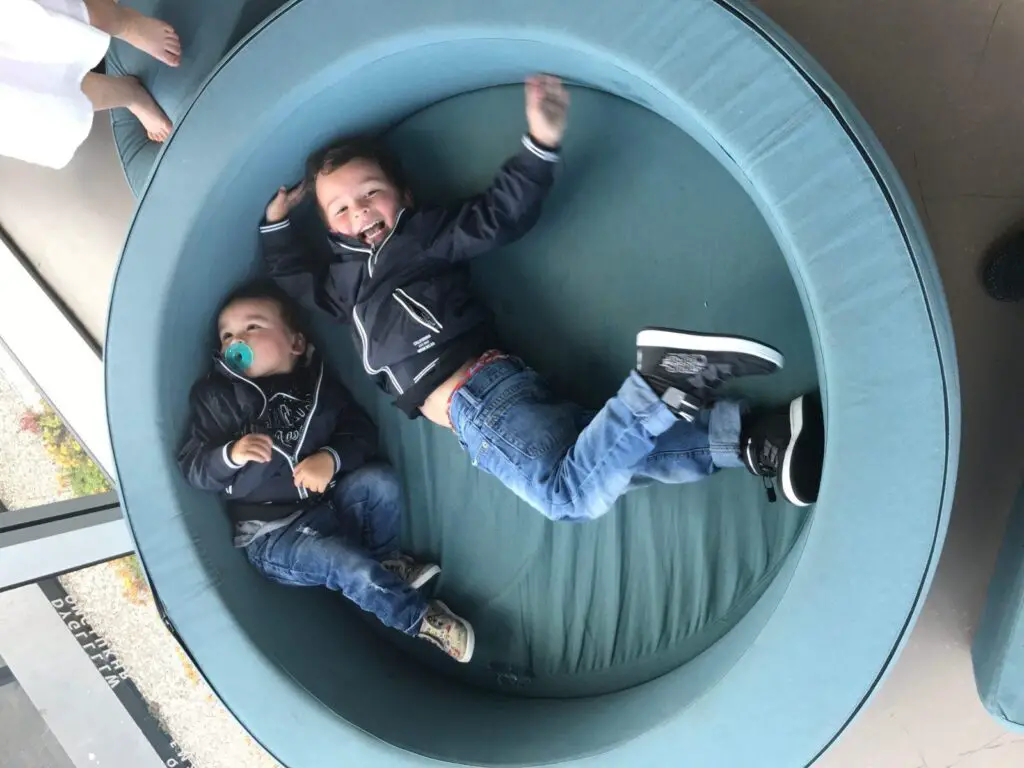 Halifax Discovery Centre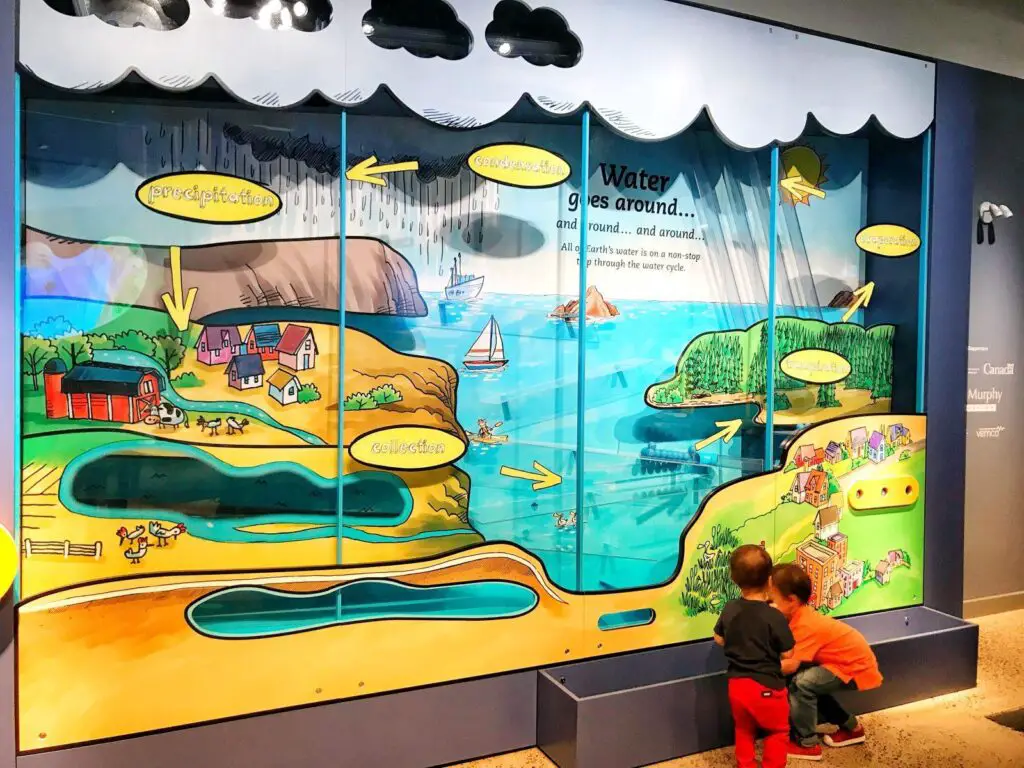 The highlight for my sons was definitely the Halifax Discovery Centre. This topped the list of super fun things to do in Halifax with kids. We had quite a bit of rain on our trip, and the Discovery Centre was a perfect rainy day activity in Halifax.
My boys loved everything about this place, which focuses on hands-on science for kids. When we went, they were showcasing an exhibit on video games, so of COURSE, my 4-year-old was loving that section. I loved the coding and robotics section, which even my 4-year-old was able to try.
The 3rd level of the Discovery center is perfect for little kids. There are lots of hands-on learning stations and both my 20-month-old and my 4-year-old played up there for a few hours. My kids LOVE messy play, and the discovery center was full of fun activity centers that got the kids using all their senses.   Highlights included the GIANT BUBBLE maker, the musical instruments section, and of course LEGO LEGO LEGO.
Harbour Hopper: Halifax Sightseeing Tour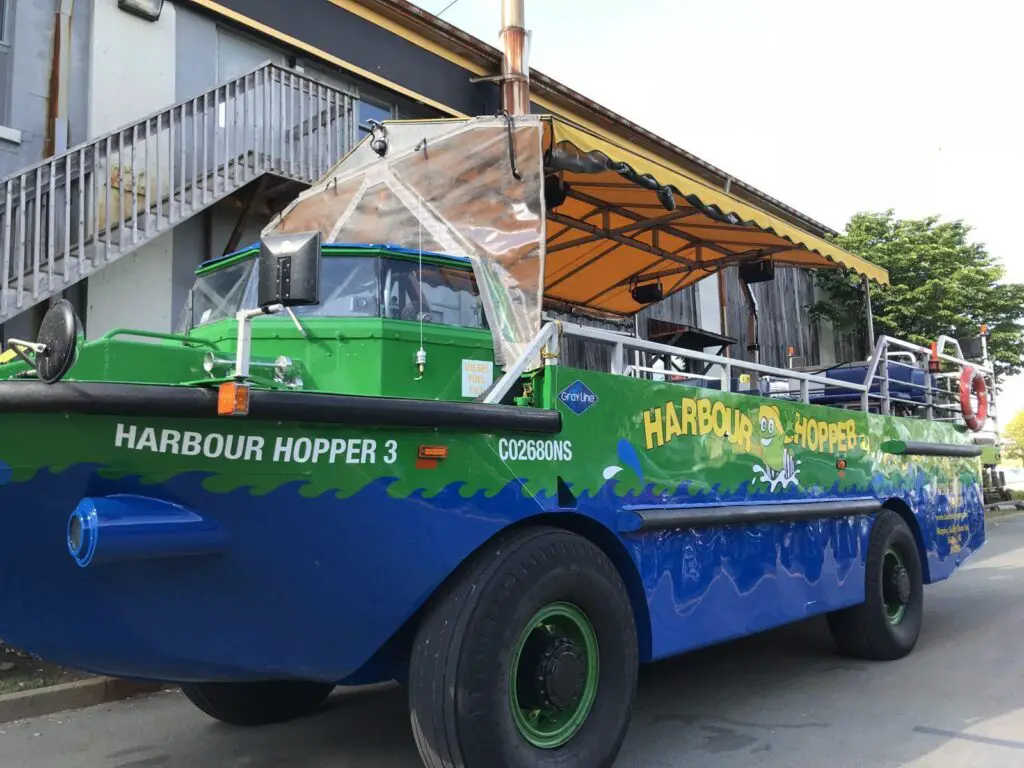 It's a boat! A bus! It's both?!? Meet the Halifax Harbour Hopper. When I told my kids we were going to ride a bus/boat they were so psyched!! This alone was enough to keep them happy for our tour. Unfortunately, inclimate weather prevented us from going in the water on the day of the tour, but we still were able to do a land tour, and the manager offered all of the passengers 50% refunds (or to reschedule) which I thought was great.
Our tour guide was very knowledgeable and entertaining and despite having been to Halifax 5 times previously, I learned so much about the city! The kids weren't paying much attention to the history, but they loved to watch the sights from the top of this double deck boat/bus and that was enough to keep them interested for the 30-minute bus ride.
Halifax Playgrounds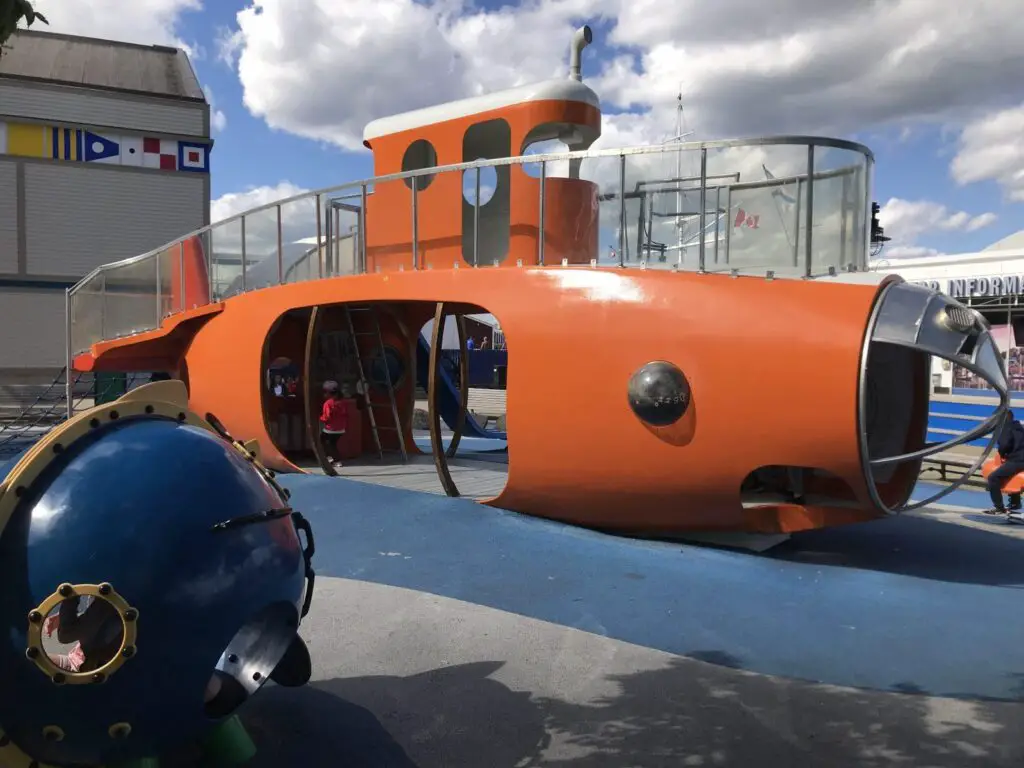 We found lots of amazing playgrounds to hang out in Halifax with kids. Heading to a playground is a great evening activity to tucker the kids out before bedtime. Across the street from the Westin hotel, there is a great playground that both our kids loved. It was only a three-minute walk from our awesome Airbnb.
We also enjoyed the playground on the Halifax harbourfront which was shaped like a giant submarine!
Halifax Day Trip: Lunenburg and Peggy's Cove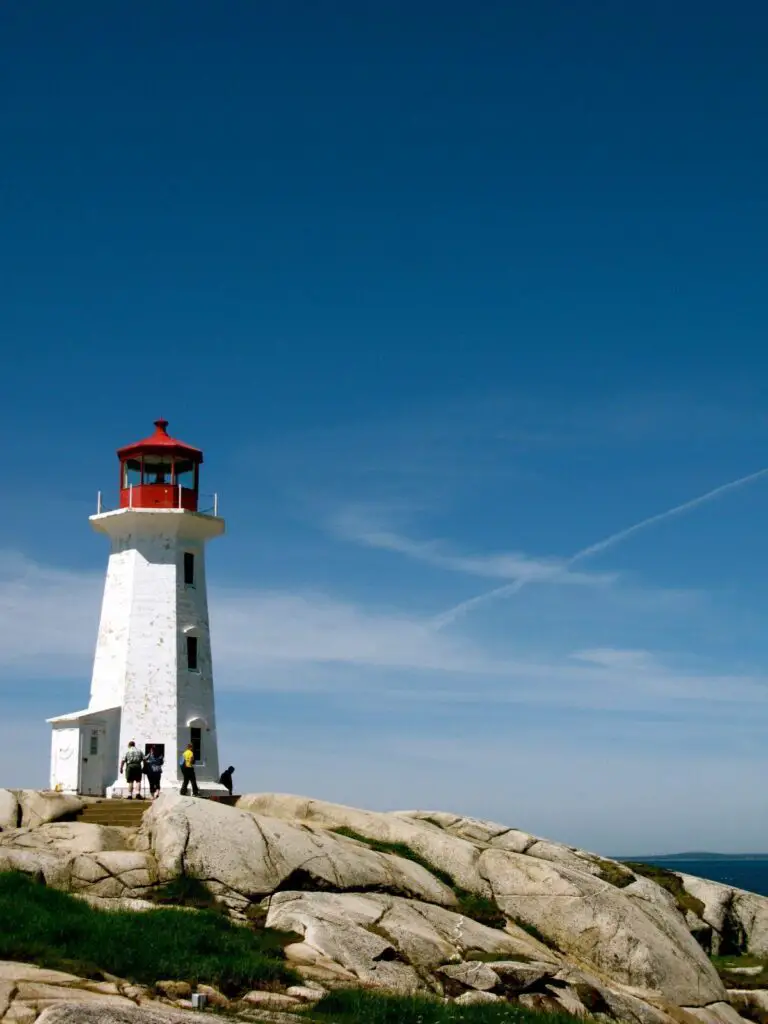 We rented a car while in Halifax and actually spent a few days touring Halifax's South Shore. If you won't have time for an extended trip, it's easy to make a quick day trip to Peggy's Cove and Lunenburg.
Peggy's Cove has one of the most iconic Canadian lighthouses and has been named one of the most 'insta-worthy' places to take photos in Nova Scotia!
Lunenburg is a quaint town about an hour drive from Halifax. Named a UNESCO world heritage site, Lunenburg has kept its historic charm. There is lots to do in Lunenburg that is fun for kids. Take a stroll along the harbourfront and enjoy the sights of many boats in the harbor. Lunenburg is home to Canada's most iconic sailboat, the Bluenose II. You can sail aboard the bluenose on select dates.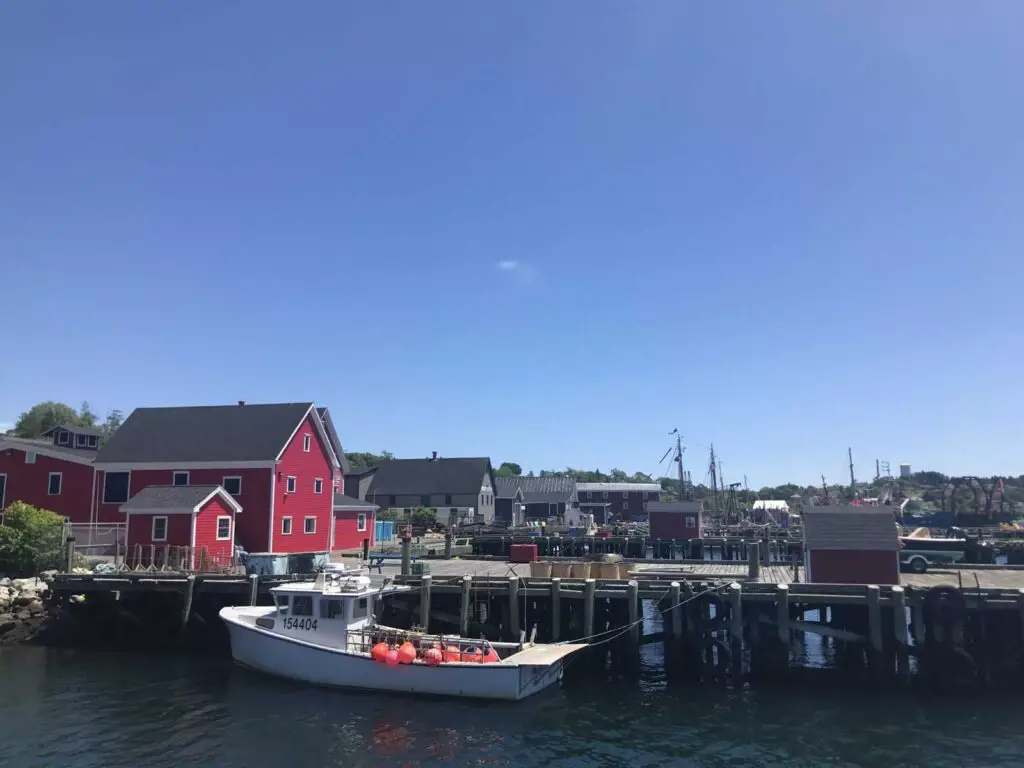 There are lots of shops in Lunenburg, and also the neighboring town of Mahone Bay that are worth checking out. Word of warning, however, many of the shops are not stroller friendly!
We ate at the Salt Shaker Deli, which is one of the most popular restaurants in Lunenburg. For good reason, our meal was absolutely DELICIOUS! The Salt Shaker Deli has an awesome view of the harbor from the patio, and we found the restaurant welcoming to kids!
Where to stay in Halifax with kids?
We stayed at an amazing Airbnb in Halifax that I would highly recommend. If you have yet to try Airbnb, use this link for a discount on your first stay! Check out my blog post where I cover all the reasons I absolutely love Airbnb's with kids. The best parts about our Halifax Airbnb were that it had LAUNDRY and a DISHWASHER. SO Key with little kids.
Our Airbnb was attached to the Courtyard Marriott and included access to their hotel pool. Having access to a pool was SOO amazing with kids! We went swimming every morning and the kids LOVED it.
Where to eat in Halifax with kids?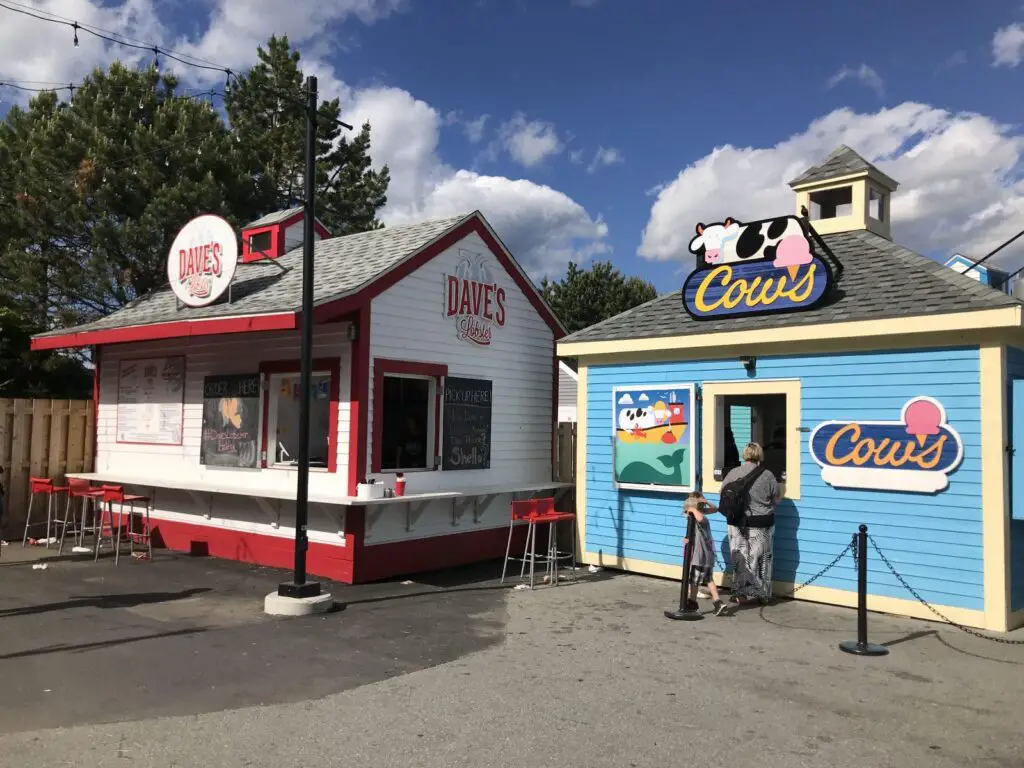 There are lots of great restaurants in Halifax to check out with kids. Here is a list of our favorites:
Halifax Waterfront
One of the easiest places to eat out in Halifax was the food stalls along the Halifax waterfront. They have all the Canadian staples including COWs Ice Cream, Lobster Rolls, Beaver Tails, and Poutine! You can't get more Canadian than that! There were lots of picnic tables set up and it was a great place to stop for a casual lunch or dinner and not having to worry about the kids misbehaving in a restaurant.
The Farmer's Market has a great selection of food. It's casual and easy for on the go eating. We loved the crepes and my kids loved the homemade pretzels. Definitely worth a stop for a lunch break while exploring the city. The farmer's market is right next to the Halifax Discovery Centre so we went here for lunch instead of eating at the Discovery Centre.
While in Halifax, my husband and I planned one 'fancy' dinner for the two of us. We managed to achieve this great feat by having our kids fast asleep in our double stroller while we dined! What I LOVED about The Bicycle Thief was that the restaurant went totally out of their way to accommodate our HUGE stroller with two sleeping kids for us. Despite being a fancy place, they were totally accommodating to kids. I was SUPER impressed. Oh, and the food was AHMAZING! Check them out if you get a chance!
On your day trip to Peggy's Cove and Lunenburg, Shore Club lobster suppers is a must stop for dinner on your way back! This place has a traditional Lobster supper with all you can eat mussels and salad and your choice of lobster size. They also have a great kids menu since I can't get my kids to try lobster yet!
Join My Facebook Page!
If you are looking for ideas on the best places to travel with your family, check out my Facebook Page. I post lots of travel inspiration for family-friendly travel.
— > LIKE the PAGE here <–
Pin for Later
If you are planning a trip to Halifax, pin this post for later on your next trip!