Of course, I love my toddler. BUT when I think about traveling with a toddler on a plane, I can't help but start to panic a little.  I mean, who wouldn't want to sit in an enclosed space with an unpredictable and emotionally unstable tiny human? What could possibly go wrong?!
And don't forget the disappointed stares of everyone within a 5 m radius of you when you first grab your seat. I just *can't wait* to be judged by my fellow passengers on my parenting skills for the next 4-5 hours! Yeah, taking a toddler on an airplane sure is fun!
Despite my reservations, we've been fortunate to take our babies, toddlers and now kids on planes for some wonderful vacations. For the most part, we've had relaxed flights with very little drama (from the adults or the kids!)
Over time, I've developed a few tricks up my sleeve for keeping kids entertained on an airplane. I am always checking out posts and ideas for the best airplane activities for toddlers and the best toddler toys for airplane travel.
I've tried out MANY of these suggestions and I'm here to report back on what WORKED and FAILED with my energetic boys. We've all been there, spending hours, preparing an activity or game for our little ones, only to have them spend approximately 3 seconds on it.  
I simply don't have the time (or space!) to have a limitless supply of Pinterest perfect activities for every airplane trip.
The Best Toddler Airplane Activities that WORKED for us:
Crayons
Let's start it off simple. Crayons are a staple in our carry on bag. My youngest especially, LOVES to color. All you really need for 20 minutes of entertainment is a few blank pieces of paper and a set of crayons.
If you really want to get fancy, printing off some coloring pages adds more excitement. I like these airplane themed coloring pages. Honestly, one of my sons had just as much fun taking the crayons in and out of the box as he did coloring with them.
Grab yourself a set of crayons on Amazon here.
Your kids don't like crayons? Try some of these washable markers instead!
Getting to color with markers is actually a treat for my kiddos. They SENSE the danger. Give them a permanent marker and they are literally in heaven (not advised on a plane 😉 ). I usually bring a set of washable markers in my bag for when the crayons lose their appeal.
Compare prices for washable markers here.
Tangram Puzzles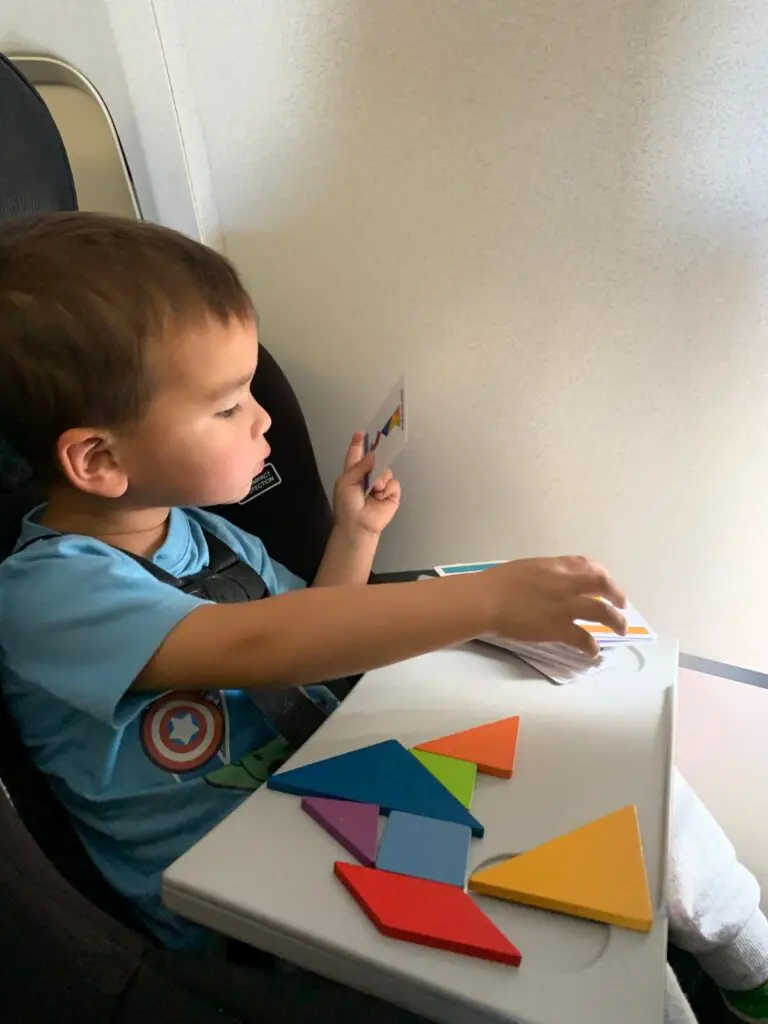 Tangram puzzles are a lot of fun and a great brain boosting activity for toddlers. We recently found this amazing magnetic version that is perfect for travel as the pieces stay put. The one I had previously was not magnetic and it was harder to keep track of the pieces on the plane.
For toddlers, I like ones that have the shapes already outlined on the magnetic board, as its much easier for a toddler to complete the puzzle that way. Tangrams are great for little ones that loves to solve puzzles!
Snacks!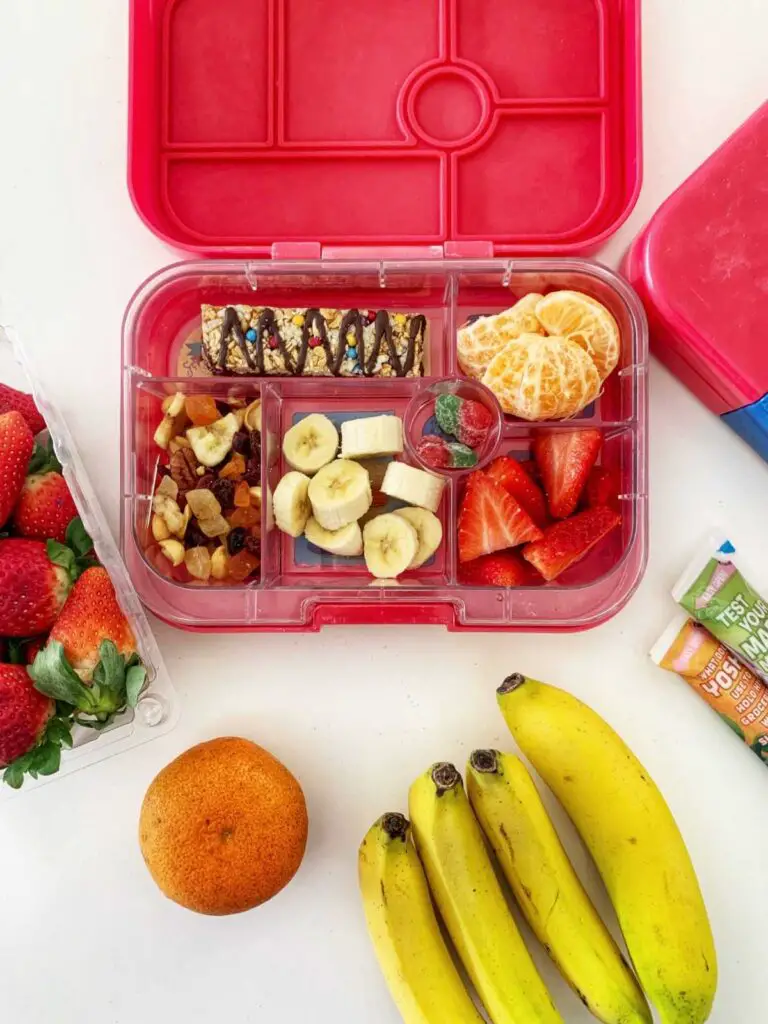 The key to a toddler's heart is quite simple. Unlimited snacks. Add in unlimited FUN and UNHEALTHY snacks and you pretty much have a home run for your whole trip.
Snacks have absolutely SAVED OUR BUTTs on the airplane. Before our trip, we typically hit up a bulk foods store to stock up. Finger foods are the best as they aren't messy and easy to 'trickle' out to our kids.
We often use our YumBox, which is my favorite snack holder, but sometimes I hide the snacks so I can literally give them out ONE -BY-ONE to take up as MUCH TIME AS POSSIBLE (hello, long-haul flights!).
Check out reviews of the YumBox here!
Goldfish crackers, animal crackers, dried fruit and granola bars have all been big hits with us.
My youngest son has a lot of trouble with ear pain on flights so we also pack sour patch gummies and lollipops for the takeoff and descent.
They LOVE have special treats since I don't let them have those kinds of snacks at home and they work really well to get kids swallowing (and drinking) to relieve ear pressure.
For more toddler travel hacks, check out this post!
Re-Usable Sticker Books
To be honest, I didn't think these sticker books were going to be a big hit with my kids. Their attention span is fleeting and I thought stickers would go the same way as the window clings and play-doh (read: FAIL!).
Stickers turned out to be a big hit! It helped that I bought characters that my kids loved like Paw Patrol and Peppa Pig. My kids were entertained taking the stickers on and off (and on and off and on and off) and putting them all over the boards.
You can find these sticker books on Amazon here.
Duplo

We are LEGO lovers in our family, and LEGO is a staple toy around our house. Building with LEGO can be a great airplane activity for toddlers.  
The only problem with LEGO is that the pieces are so small, they are often falling under the airplane seats and that DRIVES ME NUTS. I've found the Duplo sets to be easier to keep track of and perfect for the toddler age group.
Duplo makes an airplane/airport set that is perfect for an airplane trip with a toddler.
Grab this Airplane set on Amazon here.
Growing up with Etch-a-Sketch, I have a soft spot for magnetic drawing boards.
Since toddlers don't quite understand the etch-a-sketch, magnetic boards with a pencil and shapes work great for this age group. This is better for the 3-4-year-olds who are starting to make shapes and lines or who might be practicing the letters of their name.
My youngest loves scribbling on it and watching the scribbles disappear!  I love that you can erase and start over. Such as space saver!
I came across these toys reading an occupational therapists blog, as they are great for fine motor development in kids. I decided to save them to break them out on our next plane trip as they came in a small travel sized bag.
It usually helps to have something new that my kids have never seen before when we are taking our kids on a plane. My toddlers have always loved screwing on and off the tops of water bottles, so this activity was an immediate hit!  
These nuts and bolts practice the same skills without the possibility of drinks being spilled all over the plane. For my youngest son, who was around 18 months when we brought these out, these kept him busy for a LONG time. He was so focused on the task at hand! Fun and educational? Yes, please!
Check out reviews of the the nuts and bolts toys here.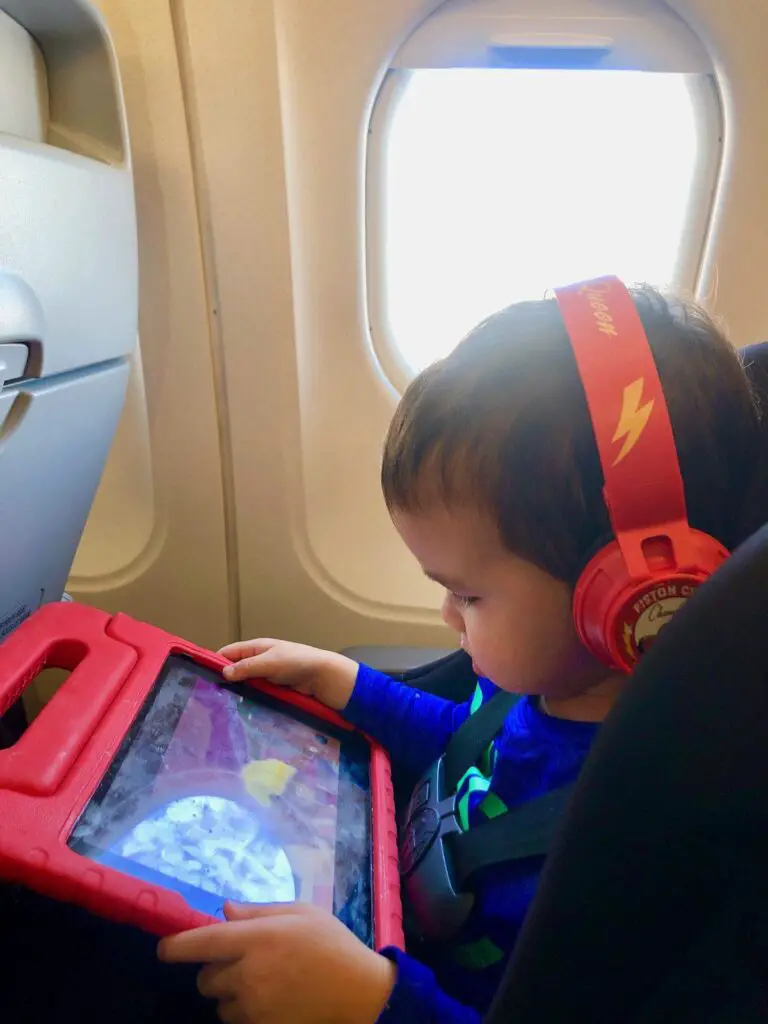 Alright. I was thinking of writing a post about the 'best airplane activities for toddlers' and then just having it open to a blank page with the words iPad in 1000 pt FONT.
Truly, the iPad has been a lifesaver on our flights and has been the reason we have managed to keep calm and avoid dirty looks from other passengers while flying.  There is definitely a time and a place to limit screen time. In my opinion, a plane ride is just NOT one of these times.
We have two iPads that we use for our kids on the plane. I bought these special kidproof cases for them so that they avoid destruction when our kids are inevitably not careful with them.
We also have these special noise-limiting headphones for them, but to be honest, we often forget them and our kids seem to do just fine with the sound off or turned very low.
On the iPad, we have Netflix shows (download them in ADVANCE) and we have iPad apps. For my 18-month-old, the Wiggles and Pocoyo were huge hits.
 I try to keep the iPad apps educational as much as possible. I have an entire post dedicated to the best education ipad apps for toddlers you should check out for your next trip!
If you are going on a long flight, be sure to bring some power banks to recharge your iPads during the trip. Although most airlines have plugs I have recently been on a few that had no power outlets anywhere in sight! 
Hoping to get your kids to SLEEP on the plane? Read my post on the tricks I use to get my kids to Sleep ANYWHERE. Then check out this GAME CHANGING toddler bed for the airplane. 
Bring the car seat ON the plane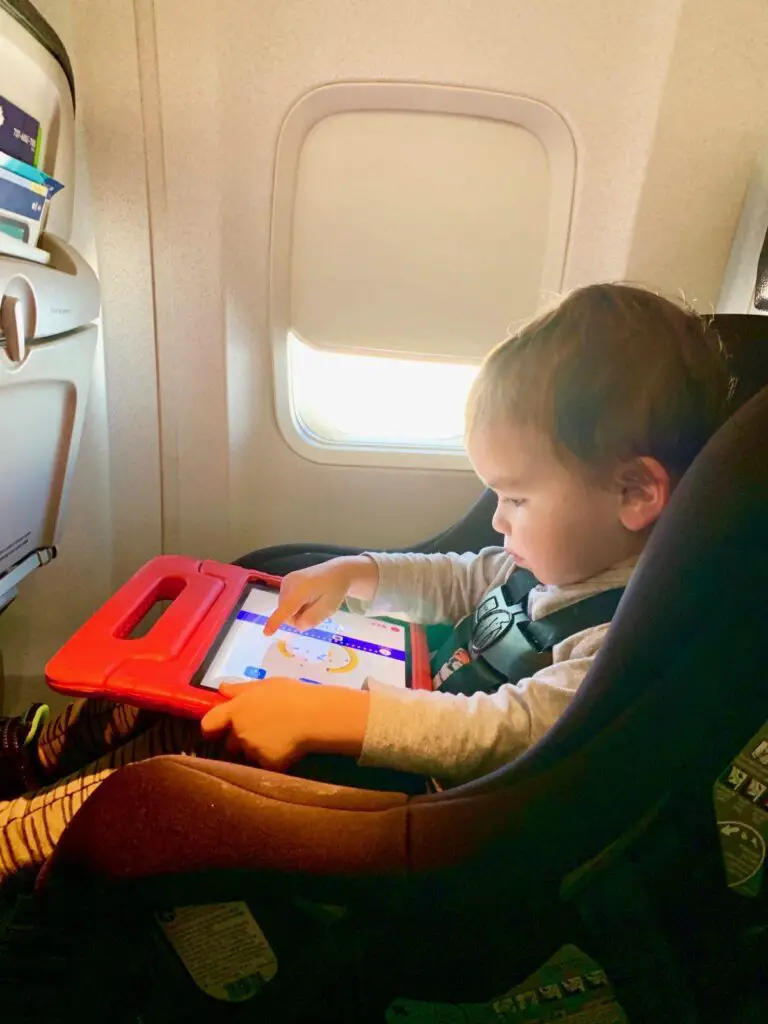 One of the biggest GAME-CHANGERS for us was bringing our toddler's travel car seat onto the plane. If I had known how much this was going to make my life easier, I would have paid the money for a separate seat under age two!
Bringing our 2 year old's car seat meant our little one was in a familiar seat that he already loved AND he was strapped in and was very happy to sit still for hours on end. It was much easier to get him to focus in on the activities I had planned as he was less distracted by everything else on the plane.
We found the most amazing travel car seat that is super lightweight and costs less than renting a car seat for a week. I can fit this car seat into the basket of my Uppa Baby Vista stroller, so I don't find it cumbersome at all to travel with.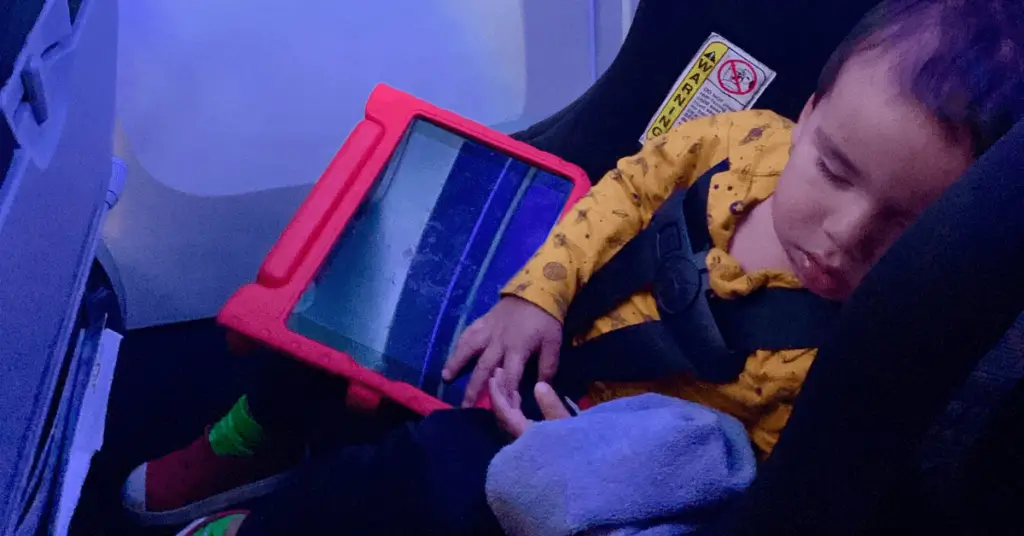 The Worst Activities: The things that only lasted 3 seconds or LESS
There are a few items that I see time and again on articles that just DID NOT work for us. Obviously, some of these will be child-dependent, but I found these toddler airplane toys to be a waste of space and $$$ on my trips.
Don't get me wrong, Magic Ink or Mess Free Colouring books are a totally genius idea. I guess I didn't start them early enough, because when I cracked them open for the first time on a plane, my youngest son LOST HIS MIND.
He just kept staring at the marker tip and getting mad when the color didn't work as he furiously tried to color on the plane tray table. He also didn't seem to like that when he DID USE THE PROPER PAPER it took a few seconds for the color to show up.
I have seen lots of kids enjoy these toddler travel toys, but mine were just NOT one of them.
Play-Doh is another toddler plane activity that I see floating around on a lot of blogs. You can buy Play-Doh mini containers and mini playdoh cutters in a travel size version.
I brought Play-Doh on one of my most recent flights and here is how it went down: My kids were interested in making shapes for three seconds. Then they were interested in whipping the Play-Doh at each other.
Then when I tried to divert that they became interested in tearing up the Play-Doh into small pieces so miniscule that picking them up off the floor was an impossible task.
Just as they were about to start sticking tiny pieces in their hair, I ended this 'genius' travel hack. FAIL!
From one Target Dollar Stop lover to the next, I always have my eye on the latest window clings at Target. Window Clings come up a lot on blogs as one of the best toys for toddlers on a plane.
The first problem with this idea is that you need to have a window seat. The second problem is that these things are fun literally ONCE. You put the thing on, you pull it off, and that's it. It gets OLD really fast. I'll definitely pass on these next time.
For our last trip, we picked up a few small puzzles for my older 4-year-old son. Although he totally enjoys puzzles, I quickly realized my mistake when he kept dropping the pieces EVERYWHERE.
It's already cramped enough in those tight airplane seats, bending down every minute to pick up a puzzle piece was NOT fun and I won't be buying this again for our next trip.
What has worked for you?
What has worked for you on a plane? Drop me a line in the comments below. I would love to know what you found worked for your kids!
Pin for Later!