LEGOLAND Beach Retreat: Everything You Need to Know
Today we are going to be sharing our review of Legoland Beach Retreat, which is located right next to LEGOLAND Florida. If you are planning a trip to Orlando, you should definitely consider a trip to LEGOLAND, and we loved our stay at their Beach Retreat hotel.  This was our second time to the LEGOLAND Beach Retreat hotel, and each time has been just as enjoyable as the last. Although some might see Legoland Beach Retreat as second rate compared to the main LEGOLAND hotel, I think the Beach Retreat hotel is SO MUCH better and I'll tell you why below.
LEGOLAND Beach Retreat is modern, clean, and quiet. It's a nice escape from the hustle and bustle of the main park and I felt truly relaxed at Beach Retreat. The theming is great, my son went nuts for every last LEGO detail! They have some really nice LEGO touches throughout the resort.  The pool is warm and the beach entry is perfect for little kids. It's an affordable hotel, especially when you combine your stay with park tickets in a package deal.
Quiet, clean and relaxed atmosphere
Beach entry pool that is warm and uncrowded
Pod style rooms with a playground for kids
Separate sleeping area for kids
LEGOLAND Beach Retreat Check In (Drive-Thru!)
You can really tell when a hotel has planned their process with kids in mind.  There were so many wonderful touches at LEGOLAND Beach Retreat that made my life easier with kids, and the check-in process was no exception! The check-in is done when you drive up to the hotel entrance. No need to get out of your car as the process occurs right through your window! As a mom, I love it when ANYTHING is drive-thru. I wish my entire life could be drive-thru. Not having to lug the kids out of the car to check in was amazing. The process was simple, took less than 5 minutes, and we were on our way to our room.
Once you've checked in you will be directed to park your car and walk to your room. There are luggage wagons provided if you have a lot of luggage. We always do carry-on so we found it easy to get from the parking lot to our room without any difficulty. Depending on which cove you are staying in, it could take 3-5 minutes to walk to your room.
LEGOLAND Beach Retreat Set Up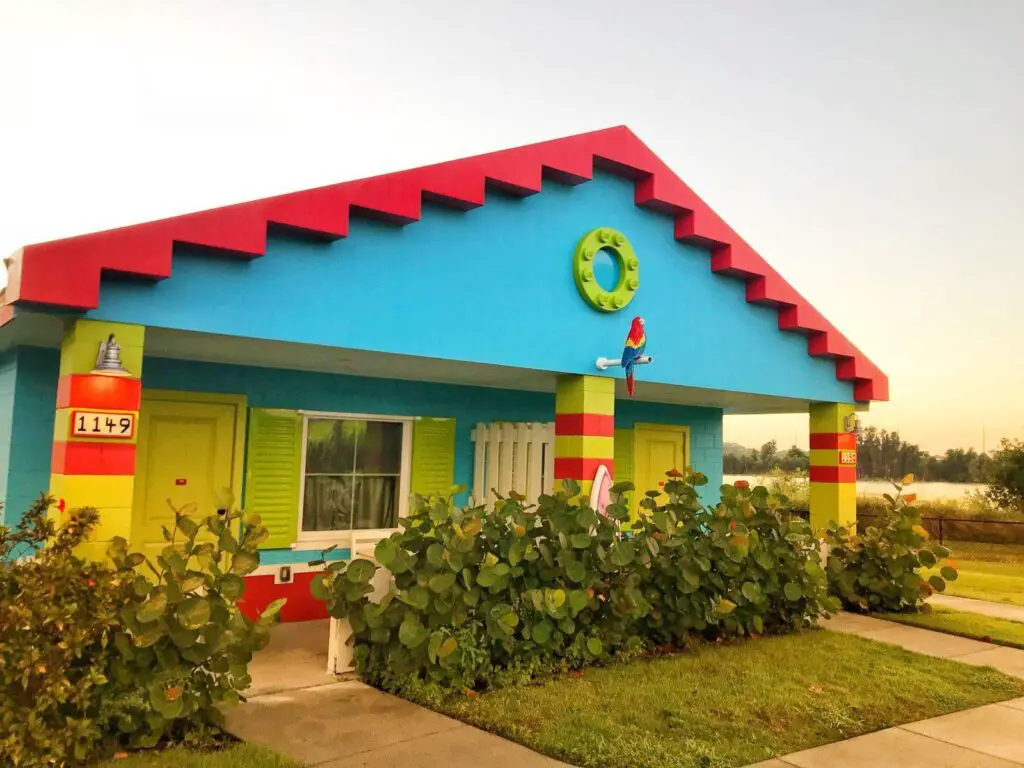 This hotel has a unique set-up in that the rooms are small semidetached bungalows set up in pods throughout the property. Each pod or cove is named after a Lego Character, and my son was so excited that we got to stay in 'Shark Suit Guy's Cove'. Each room has one neighbor, and we didn't hear ours at all throughout either of our trips. At the center of each pod is a playground, and there is a small deck for parents to relax in front of each room. The setup of the resort makes it feel very uncrowded. Despite going during peak times on both trips, we didn't feel like the resort was busy at all.
With guests spread out in pods, the resort has a quiet feel. There are never more than a few kids playing on each playground, and the rooms are quiet during the day and at night. Everything is close by, and I found the pod setup super appealing on both occasions. I think this setup really differentiates this resort from the main LEGOLAND Florida resort hotel.
LEGOLAND Beach Retreat Rooms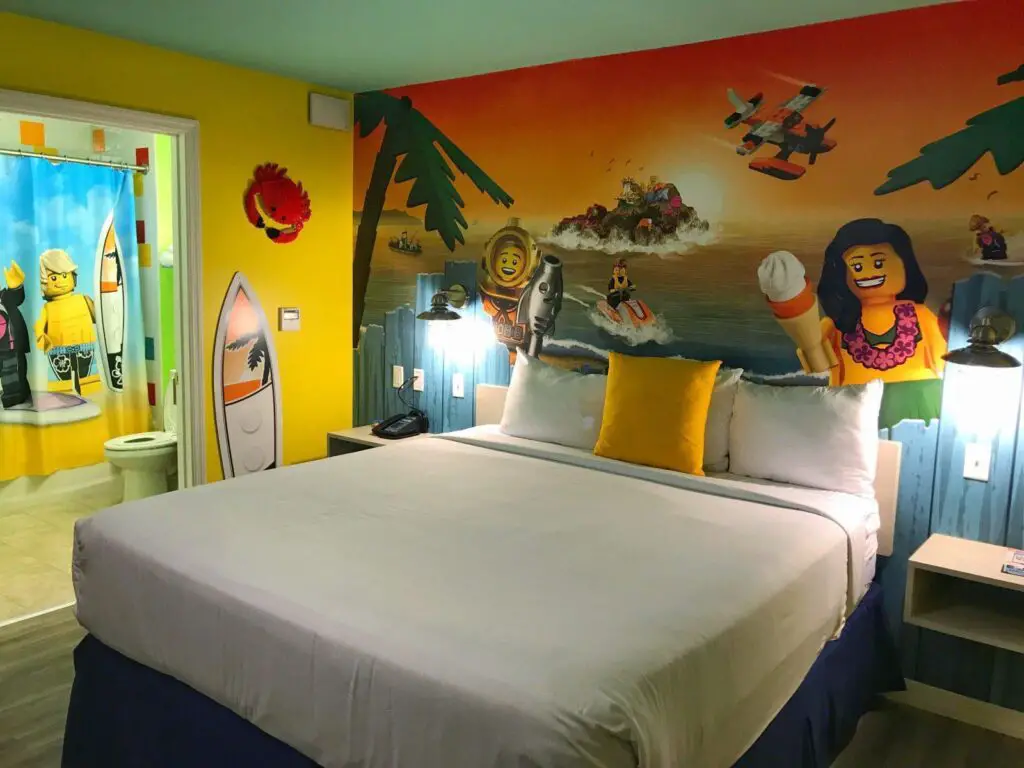 Inside each room, there is a large sleeping area with a queen size bed for adults, a small separate sleeping area for kids that includes two single bunk beds and a trundle bed, and a bathroom with a full-size bathtub. Since the kids sleeping area can sleep 3, it's perfect for larger families in that everyone can stay in the same room. The room itself is very spacious and clean and I LOVED the separate sleeping area for the kids.  My son typically goes to bed around 7:30 (even on vacation!) so it was nice to have him curtained off and still be able to do my own thing once he was asleep! The curtains are all blackout curtains which again really helps to keep kids sleeping in the mornings!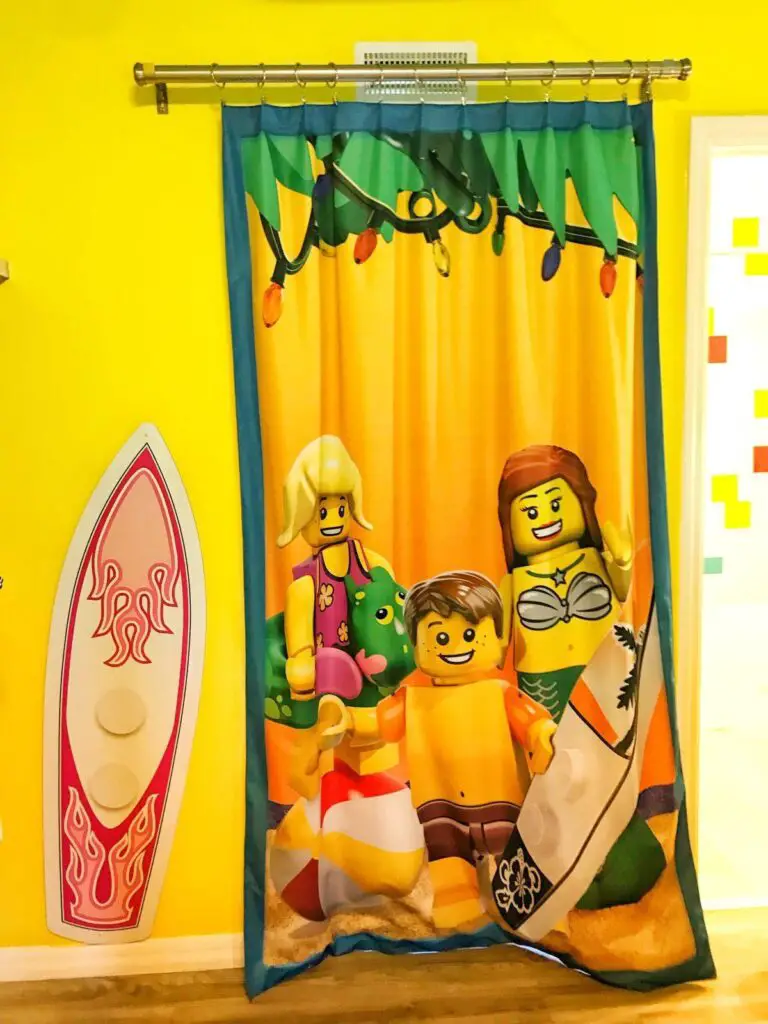 Obviously, being a theme hotel, there were lots of LEGO features throughout the room.  This included a large LEGO mural, lego curtains, and our room even had a crab decoration built entirely out of LEGO. My son LOVED that there was a Duplo set right in the room and quickly got to building the minute we arrived.   The room is equipped with all the regular amenities and the TV has a good selection of channels and also played the LEGO movie on repeat.
The bathroom has a full size bath which is important with kids, and I loved the added touch of a built in toddler 'potty seat'. There were fresh towels daily and a good selection of soaps and shampoos. And the beds? They were super comfy! I am always nervous about staying in a hotel that the bed is going to be awful but the beds at LEGOLAND Beach Retreat were really nice and I had a relaxing sleep each night.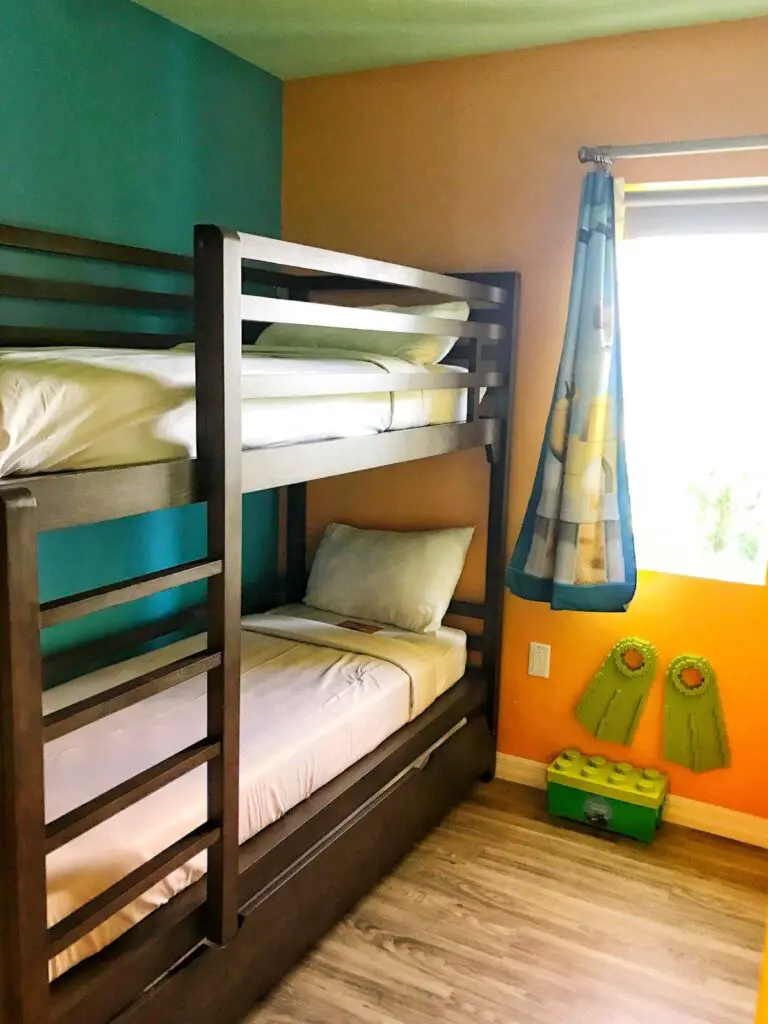 LEGOLAND Beach Retreat Playground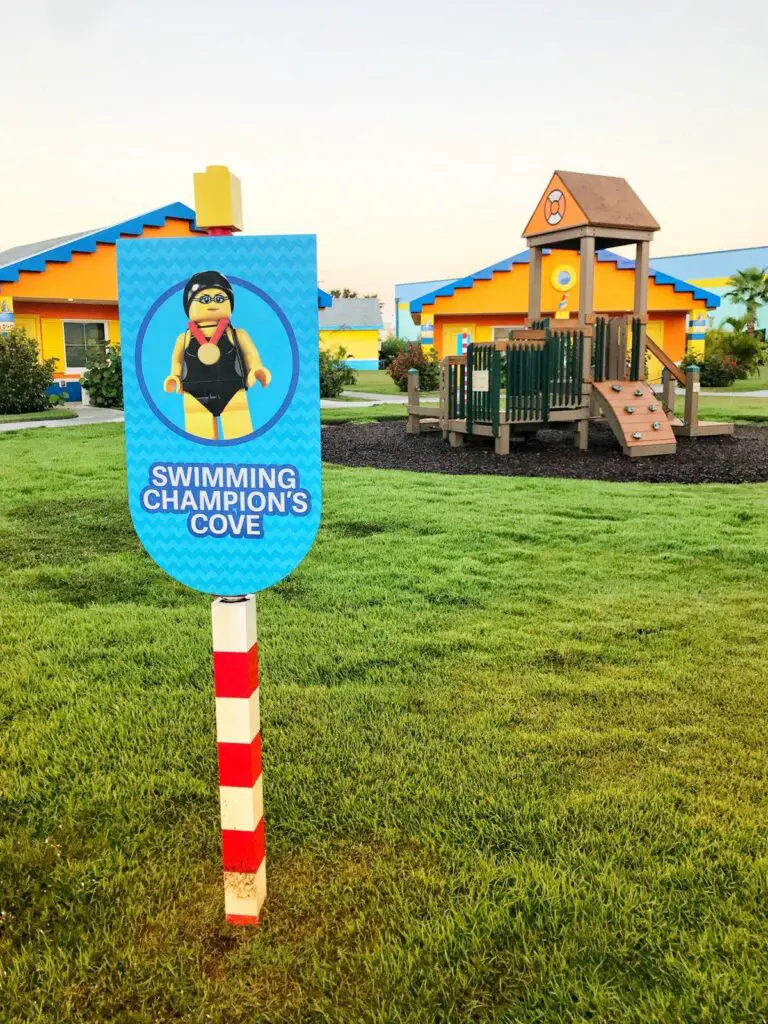 As I mentioned above, the rooms are oriented in little circular pods and in the center of each pod is a play area/park for the kids. This was SO GENIUS! In the mornings or evenings, I would sit out on the patio with my computer and coffee and be able to watch my son play. Especially since I was traveling alone I found this a great chance to wind down at the end of the day and still keep my son entertained.  I really liked the organization of the rooms this way, it was great to feel like I was actually at a 'beach retreat'.
LEGOLAND Beach Retreat Food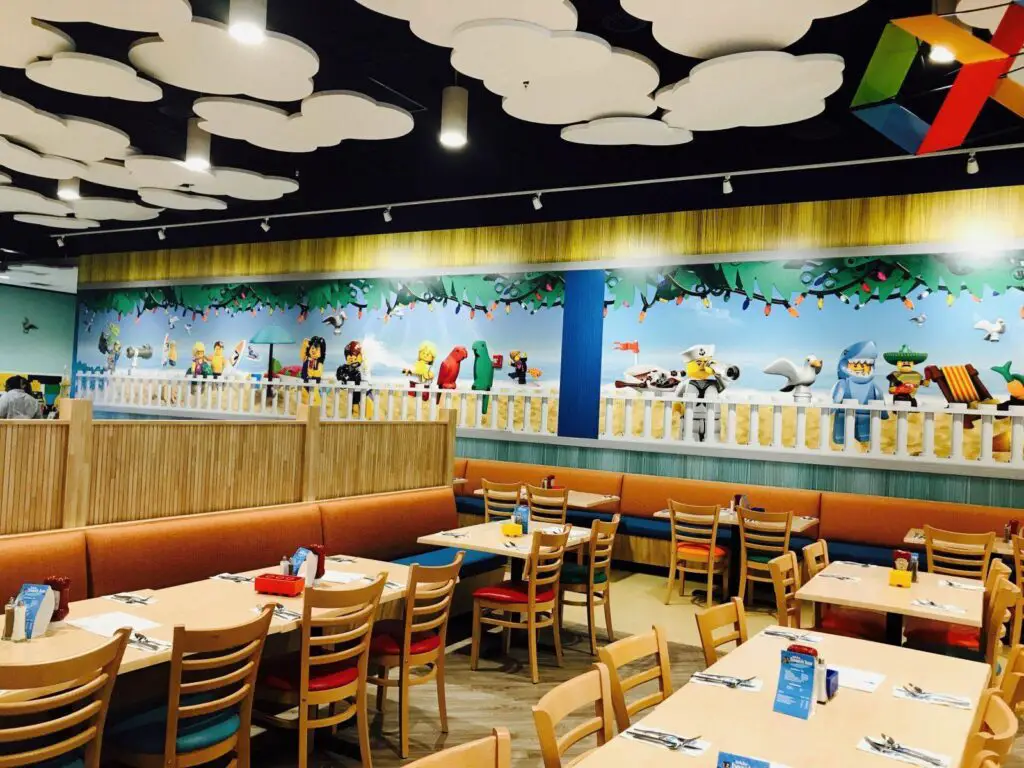 The Beach Retreat offers breakfast, lunch, and dinner at their main restaurant, Sandy's Castle. Breakfast was included in our stay, check with your package for more details.  Breakfast is a buffet and lunch and dinner are a la carte meals. Guests have the option to dine at Beach Retreat, but can also check out restaurants at the main LEGOLAND hotel or within LEGOLAND park for their lunch or dinner.
OK, so 100% honesty here. LEGOLAND food is definitely 'theme park food'.  It's nothing special, and at best, the options are limited. Overall, I don't think LEGOLAND is going to win any awards for their food but I had no real complaints and was happy to have easy options for my son every day given that I was parenting solo on both of our LEGOLAND vacations. What LEGOLAND does do exceptionally well is provide little extras that are perfect for kids. They had lego coloring available for kids, and a whole section of LEGO bricks for kids to play with during meals. Those little extras made the dining experience that much better.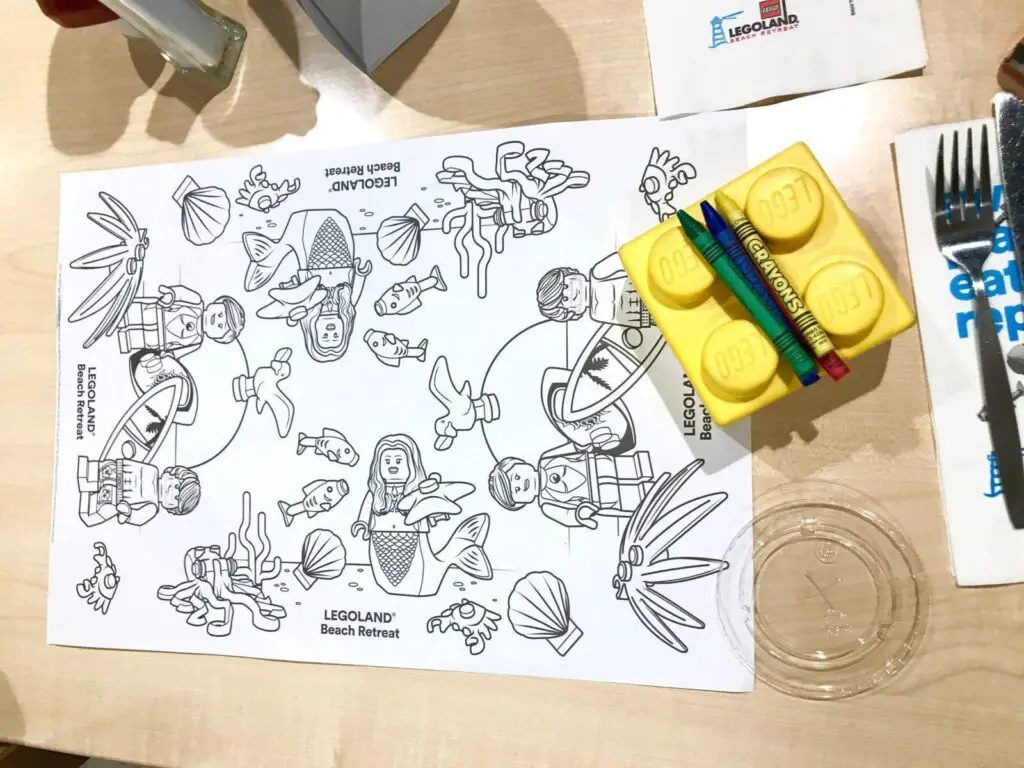 Breakfast
Breakfast at LEGOLAND Beach Retreat is a buffet. I thought there was a good selection at the buffet and the food was overall pretty good. There is your typical bacon, scrambled eggs, hashbrowns, toast, cereal, and fruits. There are also some cold meats, boiled eggs, veggies and cheese for healthier options. My son was very happy to eat pancakes and fruit loops for breakfast, so he certainly wasn't complaining!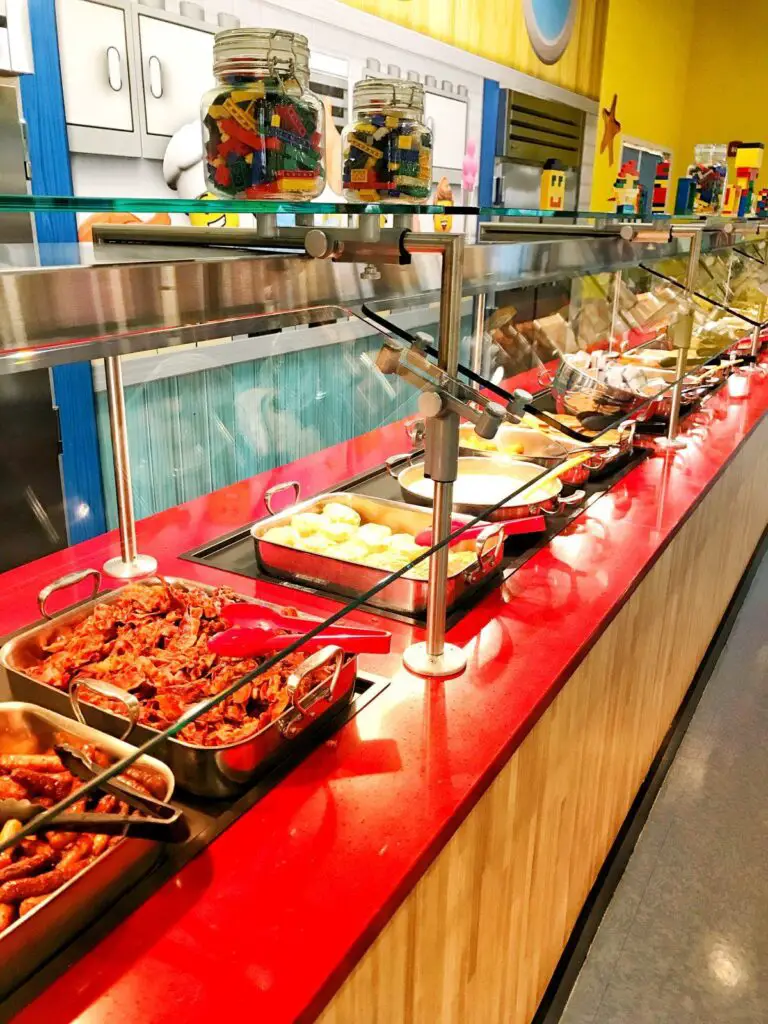 Dinner
For dinner, we ate a few nights at the Beach Retreat restaurant and did a few nights at the main hotel. The Beach Retreat offers a la carte items with a good selection of American classics. The portions were large and they do have some nice specials for family combos that make the meal pretty affordable.
We also ate at the main LEGOLAND hotel for dinner (buffet style) on two occasions. This buffet offers a small selection of meats, fish, salads, veggies, and sides. I found that the kid's selection was a little limited, my son ended up eating a bowl full of plain spaghetti both times.  Since we aren't huge eaters, I'm not sure if the value is really there for us, but it was convenient to be able to have a nice dinner so close to the park entrance.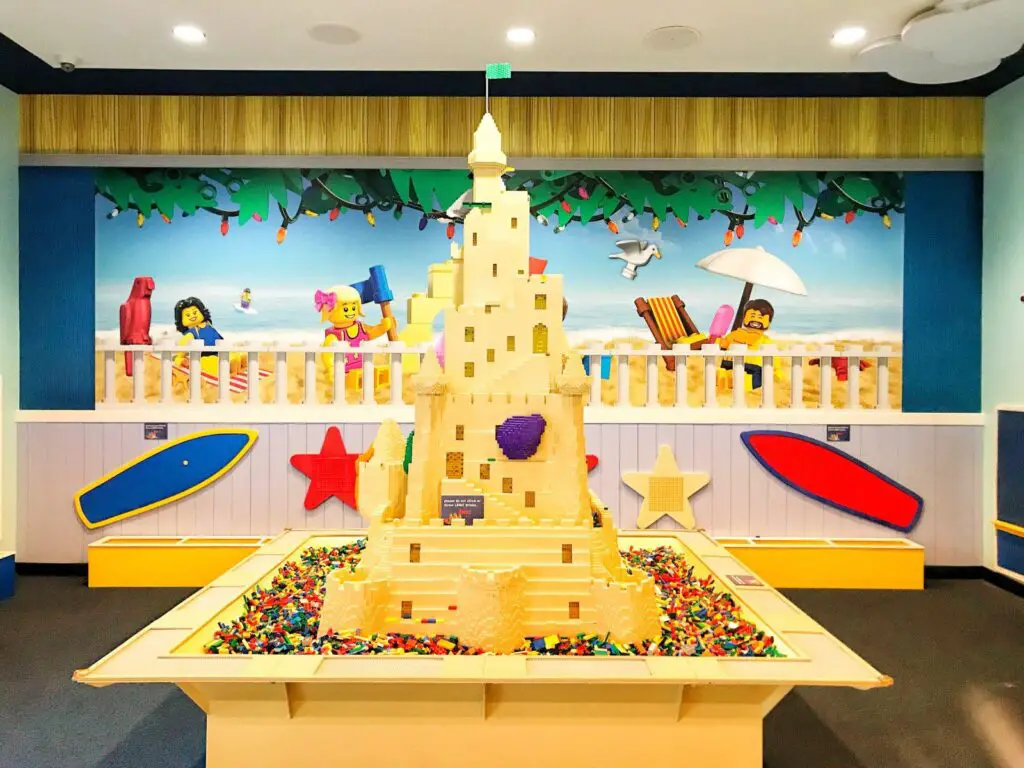 LEGOLAND Beach Retreat Pool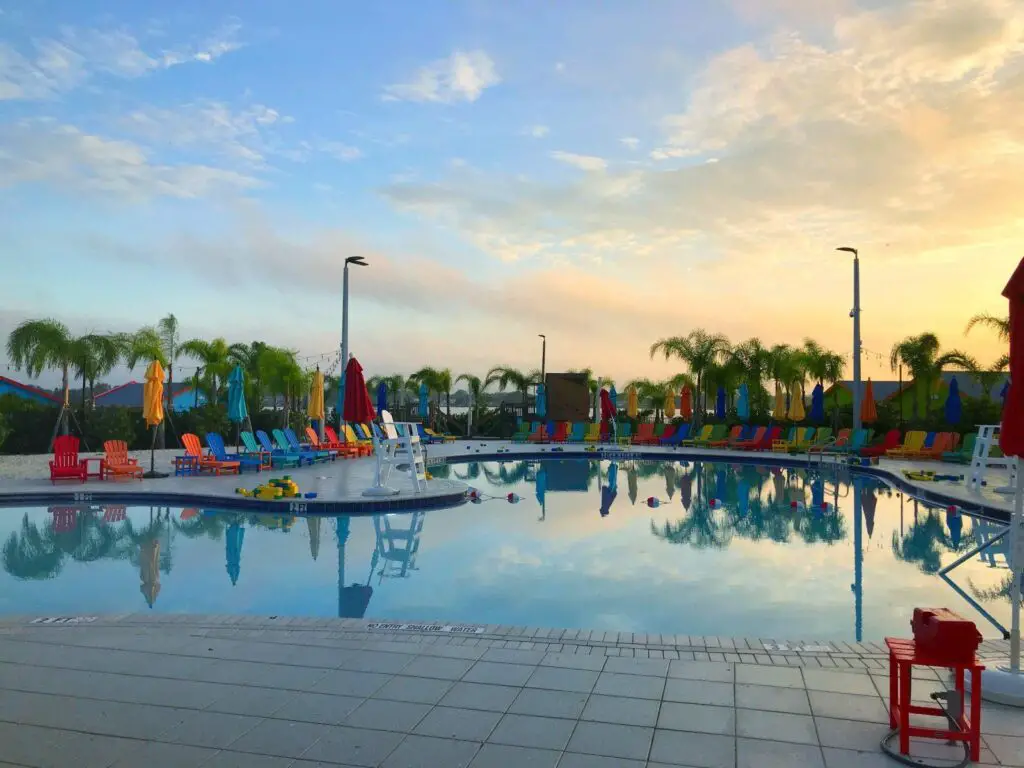 The Pool at LEGOLAND Beach Retreat is REALLY nice. It has a beach entry which is great for little ones and the LEGO shaped plastic floats are a lot of fun. My son loved 'building' with the floats on the edge of the pool. At Beach Retreat, there is a sand area for the kids to play and my son loved vrooming his LEGO cars up and down this area.  For me, the most pleasant surprise about LEGOLAND Beach Retreat was how relaxing it was!! Sitting by the pool watching my son have a blast I actually felt like I was on vacation! I think this is something that separates Beach Retreat from the main hotel. The main hotel is REALLY BUSY. There are kids running everywhere and its hard to feel relaxed in that chaos. Mind you, the kids are having a BLAST!
By the way, have I told you how much I love Puddle Jumpers for little kids who are learning to swim?! Because they are my favorite! I love how independent my son is in the water with his puddle jumper on. Check out my post on the best toddler floaties for all the details!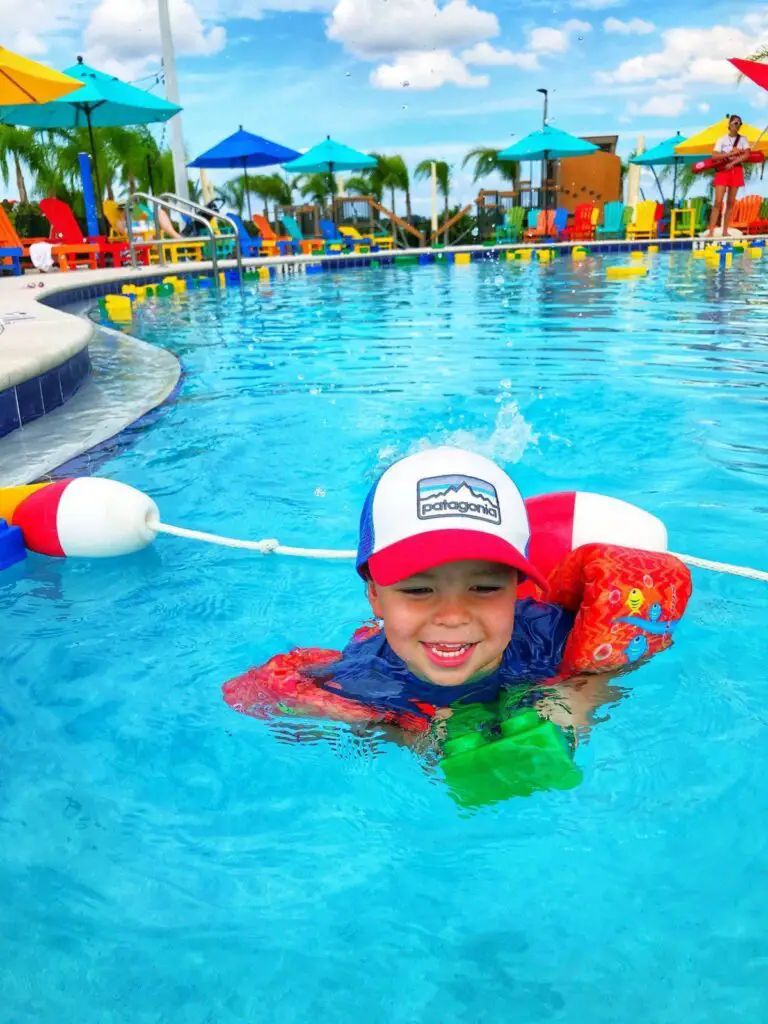 The Kids Activities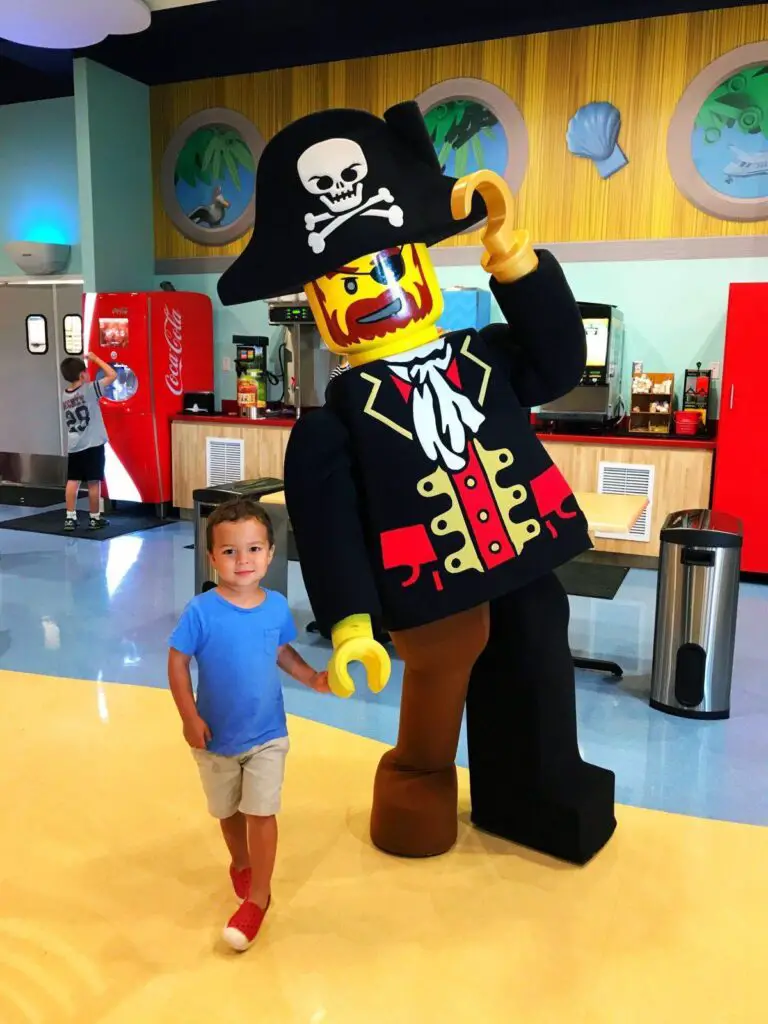 Beach retreat offers a variety of activities to keep kids entertained throughout your stay. There are several character appearances throughout the day, a dance party, and s'mores at the beach retreat pool. I found all of the staff excellent and everyone went out of their way to make the resort very accommodating to kids.
Comparing the two hotels, it does seem that the main hotel has a few more structured activities for kids.  There aren't any 'master builder' sessions or other LEGO-based activities. That being said, my son was completely exhausted after a day at LEGOLAND followed by hanging around the pool so we certainly weren't looking for things to do.
One of the best features of the hotel is the LEGO building space located in Sandy's Castle restaurant. When the kids finish their meals early or are waiting for their food, you can send them off to build LEGO and enjoy some peace and quiet! I loved this special LEGO area and my son had a blast building while I could casually finish my meal. Request to sit by the LEGO area if you want to be able to keep an eye on your kids while they play.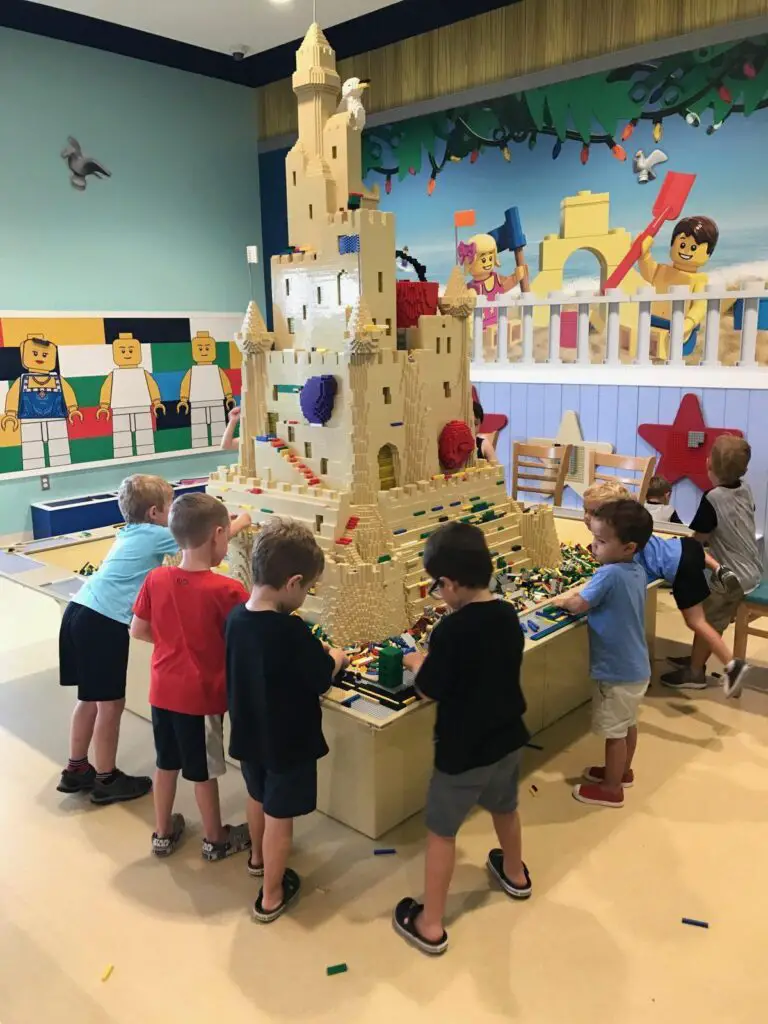 Proximity to LEGOLAND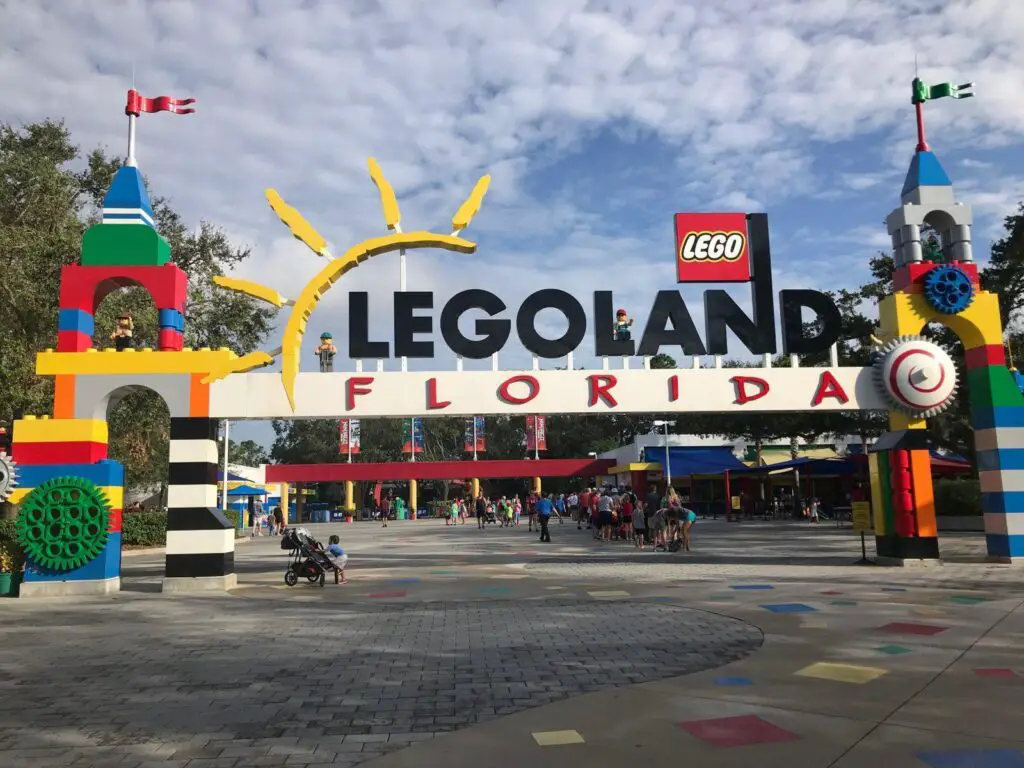 The biggest advantage to the main LEGOLAND hotel is the proximity to LEGOLAND. Beach retreat is about a 10-15 minute walk over to the resort. There is a shuttle and we did receive free parking at LEGOLAND so I personally didn't mind this minor inconvenience. The first day I walked to LEGOLAND with our stroller and the walk was absolutely fine. The second day we were expecting a big rainfall so I took our rental car and it was simple. For me, having that extra bit of peace and quiet made the short trek to the beach retreat worth it.
If you have really small kids and expect that you might want to go back and forth between the park and the hotel throughout the day, the main LEGOLAND hotel may be more convenient. If you are planning to spend the day at the park I would save the extra cash and go for the Beach Retreat since I think it offers far more bang for your buck!
How many nights should you stay?
We have always stayed two nights at LEGOLAND and done two days in the park. I find this allows us to have a really relaxed pace and gives us the opportunity to really enjoy the amenities of the hotel, like the pool. LEGOLAND is not a huge park, so you can certainly get it done in one day if you wish. I think that two nights is the perfect way to enjoy both the hotel and the park and not feel rushed or pressured to get everything done.
How to book a LEGOLAND package?
I love Booking.com for finding the best deals on hotel stays. They offer both the Beach Retreat and the main hotel and you can add tickets to your stay. You can also check out the Legoland website to compare. On our second trip to LEGOLAND, we also added on three nights at a Disney World hotel. When you compare the price that we paid for Disney World to LEGOLAND, its unbelievable how much more affordable LEGOLAND is. Of course, Disney is certainly a class of its own, but if you have a child who loves LEGO, there is a lot of magic to be had at LEGOLAND!
Have you stayed at a LEGOLAND hotel?
Don't be shy! Drop me a line in the comments below if you have any experiences staying at a LEGOLAND hotel! I would love to hear your experience, good or bad about your stay. Which hotel was your favorite? What would you change and what would you keep the same! I'm sure we have a few more LEGOLAND stays upcoming with two young boys who both love to build so I would love to hear from you before we plan our next trip!
Pin for later!