The Ultimate List of LEGOLAND Tips
We had such as blast on our epic mommy-son date to Legoland Florida! LEGOLAND Orlando is perfect for any LEGO lover, and they have lots of great details for parents too. I wanted to share all of my favorite Legoland tips, including the best rides at LEGOLAND for young kids, the best places to eat, and where to stay near LEGOLAND. We had such a blast, we will definitely back again soon. (UPDATE: We did go back, every year!)
Why LEGOLAND Florida?
LEGOLAND is a great vacation for kids who love building and using their imagination. I love that LEGO encourages creativity and problem-solving so I'm happy to encourage this obsession as much as possible! LEGOLAND had a good mix of rides and attractions, character appearances, and building with bricks. Be prepared to spend a lot of money on LEGO after you return from a trip to LEGOLAND because LEGO sets will be on the birthday and Christmas lists for the next few months!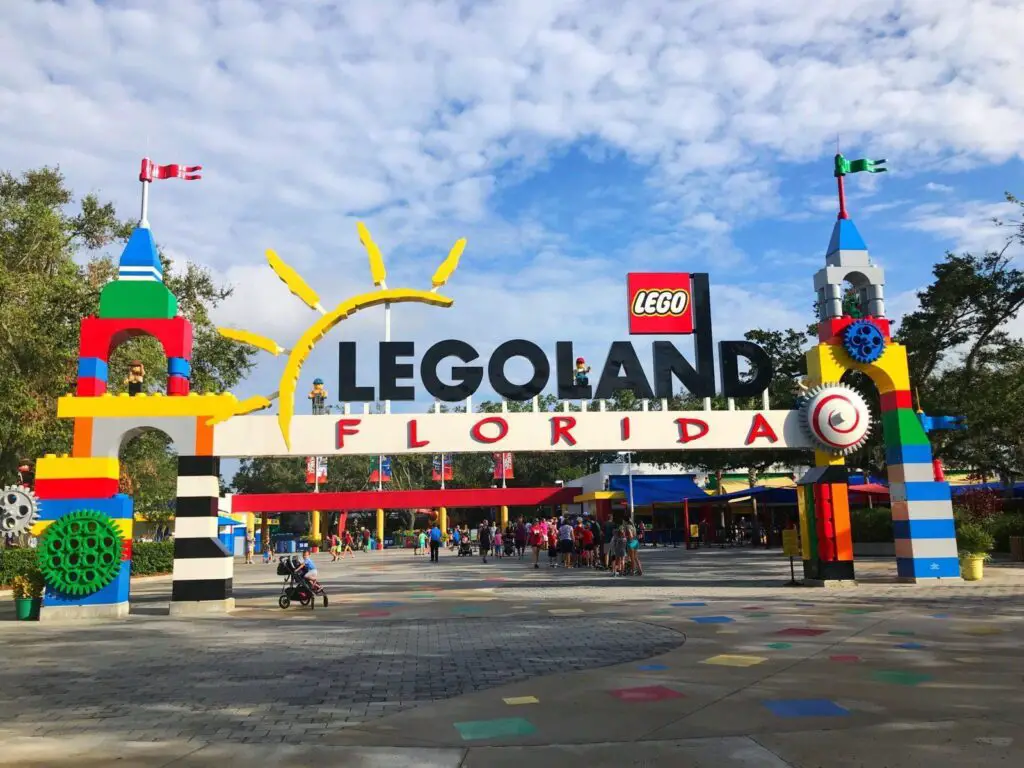 Reasons we think LEGOLAND is great:
Kids who love LEGO will have an awesome time meeting and greeting with their favorite characters
A great selection of rides for kids under age 5
The park is small enough to do in one day
The LEGOLAND Beach Retreat Hotel is an underrated hotel that has a lot of great features for families
Compared to Disney, LEGOLAND is so much more affordable and still brings the magic to kids who love to build!
[toc]
How to get to LEGOLAND Florida
LEGOLAND Florida Theme park is located just an hour outside of the Orlando Airport in Winter Haven, Florida. Unless you live nearby, you will most likely by flying into Orlando to get to LEGOLAND. We always rent a car in Florida because it's much easier to get to all the attractions this way.
Driving distance from Florida airports:
There is a charge for parking at LEGOLAND. If you are staying in one of the LEGOLAND hotels, parking is included with your hotel charges.
Where to get discount tickets for LEGOLAND
We love Undercover Tourist for the best prices on LEGOLAND tickets. You can visit undercover tourist and buy our discount Legoland tickets here.
LEGOLAND Overview
LEGOLAND Florida is divided into 14 sections. Each themed section offers a variety of rides and attractions. If you are limited on time, you might want to plan out your route in advance so that you can be sure to visit everything on your list.
LEGOLAND Sections:
The Beginning:
As you enter the park, your first stop is 'the beginning'. This is where the large LEGO gift shop is and includes a variety of restaurants and other shops.  In order to avoid meltdowns at LEGOLAND, I laid out my souvenir expectations to my son well in advance. He knew he was allowed to pick one new LEGO set and he had to wait until the end of the day to choose it.
Fun town:
Fun town has the LEGO-themed carousel ride and the Wells Fargo 4D theatre. The carousel is perfect for kids of all ages and usually doesn't have a long line. My son loved the short 4D LEGO movie, the special effects were really cool! This theatre is perfect if you get some rain during your stay.
Heartlake City: 
Heartlake city is popular for the thrilling 'Mia's Riding Adventure' ride. Guests need to be 48 inches to ride, so we didn't get a chance to try this one out. From the sounds of the screams, it looked like a whole lot of fun!
Miniland USA:
Not to be underestimated, I am always surprised by how much my son loves Miniland. He truly is a LEGO fan, so seeing the bricks in action is right up his alley. Miniland USA is an amazing display of LEGO creations designed to replicate some of America's most iconic attractions. There are push buttons throughout Miniland which are used for some of the motorized features. Not to be missed, the Star Wars Miniland has some amazing builds of your favorite star wars characters and scenes.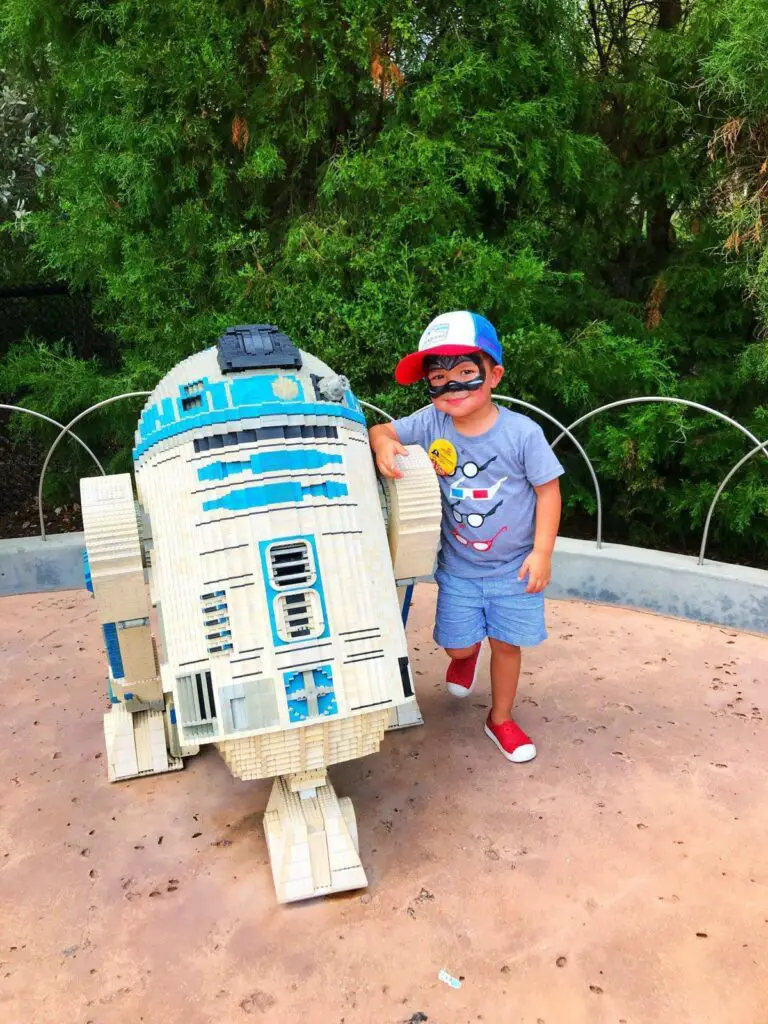 Duplo Valley: 
We have traveled to LEGOLAND when my son was 3 and 4.5. My son LOVED Duplo Valley at age 3 but was much less interested in this on our last trip. Certainly, Duplo Valley is geared towards the toddler crowd. Duplo Valley has a few cool rides that are perfect for the youngest LEGO fans including the Duplo train and a Duplo tractor ride.
LEGO Kingdoms:
LEGO Kingdoms houses my son's favorite ride, "The Dragon," roller coaster. This coaster has the smallest height limit of 40 inches and is a thrilling ride for kids and adults! Inside LEGO Kingdoms, you will also find a large wooden playground that is a perfect spot to let the kids run off steam while adults take a little rest!
Land of adventure: 
Land of adventure is set back in time with prehistoric and adventure-themed rides. Most popular is the wooden roller coaster Coastersaurus. Guests need to be 42 inches to ride this coaster. For the smaller crowd, my son loved the Safari Trek ride where kids ride their own Jeep through a maze of LEGO animals.
LEGO Ninjago world: 
Inside LEGO Ninjago world there are a variety of small activities for kids to do. There is a play rock climbing wall and an interactive target game just as you enter Ninjago World. The featured attraction is LEGO Ninjago: The Ride. We rode this ride quite a few times on each trip! There were no lines on either of the days that we went. In this interactive 3D ride guest use their arms to shoot at targets and score points towards defeating Evil in Ninjago world. This was a huge hit with my son!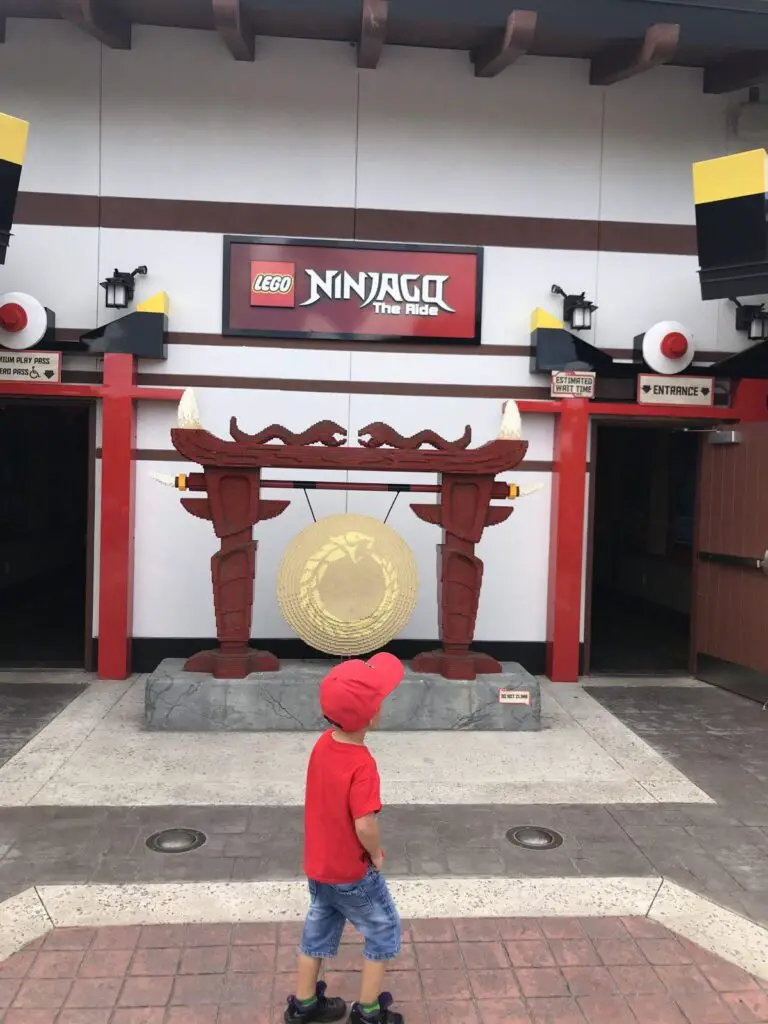 LEGO Technic:
LEGO Technic is home to one of the most popular coasters at LEGOLAND, the great LEGO race. Guests wear VR headsets for an added thrill. Guests must be 48 inches or more for this ride.
Imagination Zone:
Imagination zone is a popular spot to go if you get caught in a quick Florida rain storm. Inside this building, kids can build racing cars and planes to race to the finish line. If your kids love building, this place will certainly be a big hit! Just outside is the Kid-Powered Towers ride. In this ride kids and adults need to use their own strength to PULL themselves up a tower and then enjoy a 'free fall' back down. This ride was so much fun and I felt I got my workout in for the day too!!
LEGO City: 
LEGO city has some of the most popular attractions in the whole park. Here you will find Boating School, Ford Driving School, and Rescue Academy. Ford driving school was a big hit with my son, especially when he was 3 years old. He loved getting a 'pretend license' at the end from members of the crew.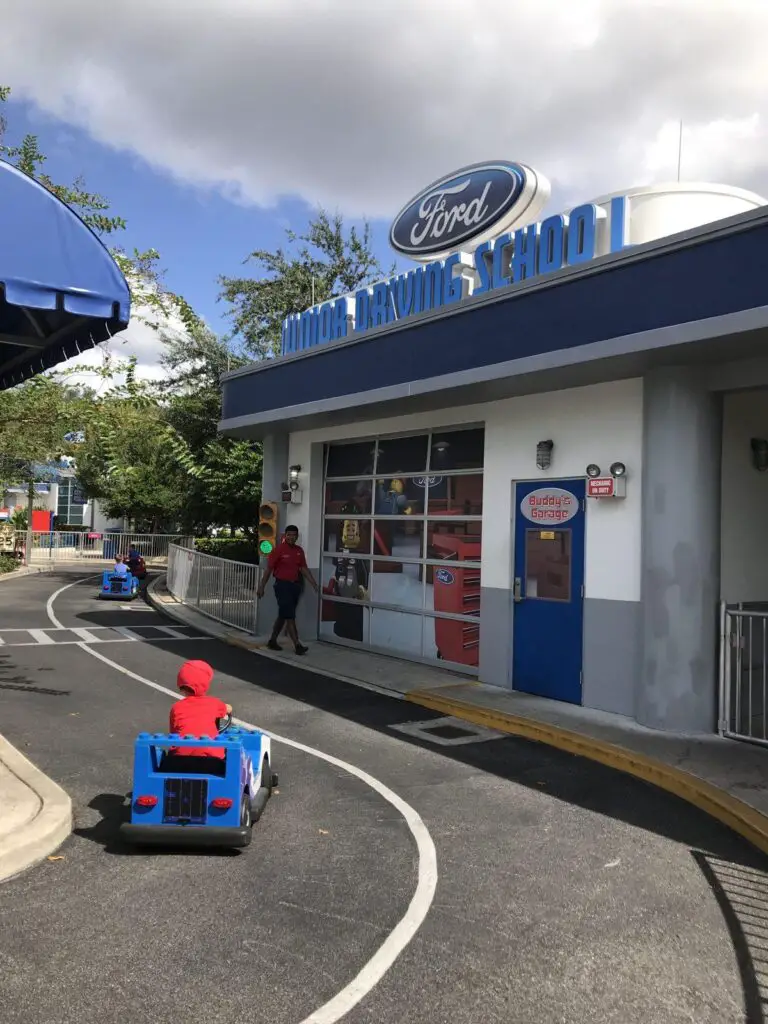 Pirate's Cove: 
Pirate's Cove is home to the live-action jet ski show performed daily at the park. We caught about 5 minutes of this show and my son was absolutely ENTHRALLED. It was pretty cool to see the LEGO characters out on jet skis doing stunts in the water. This is a great chance to take a break from walking the rest of the park.
Cypress Gardens: 
Did you know that LEGOLAND was a different theme park before it was bought by LEGO? Prior to LEGOLAND's existence in 2011, LEGOLAND was formerly Cypress Gardens theme park. LEGOLAND has kept the botanical gardens of Cypress gardens for guests to enjoy. A perfect way to escape the hustle and bustle of the park!
LEGOLAND Water Park: 
LEGOLAND water park is a separate ticketed area. The water park is a lot of fun, especially on a hot day at the park. The Joker Soaker splash area is perfect for young kids and has waterslides for kids 40 inches tall. We also loved the lazy river and the wave pool. See below for more details about the water par.
The Best Rides at Legoland for Younger Kids
We went to LEGOLAND when my son was 3 and 4.5. I think these are perfect ages for the park, and we will probably come back another 2 times when my son is 6 and 7 and can ride the bigger coasters. There is a good selection of rides at LEGOLAND for younger kids, and we didn't feel like we were missing out on any fun.
If you are looking for a short list of the best rides for kids UNDER 42 inches, these were our favorites:
Merlin's Challenge | Lego Kingdoms | 36 inches
The Dragon | Lego Kingdoms | 40 inches
The Grand Carousel | Fun Town | With an adult
LEGO Ninjago: The Ride | LEGO Ninjago World | With an adult
Ford Jr. Driving School | LEGO City | Age 3-5
Boating School | LEGO City | 34 inches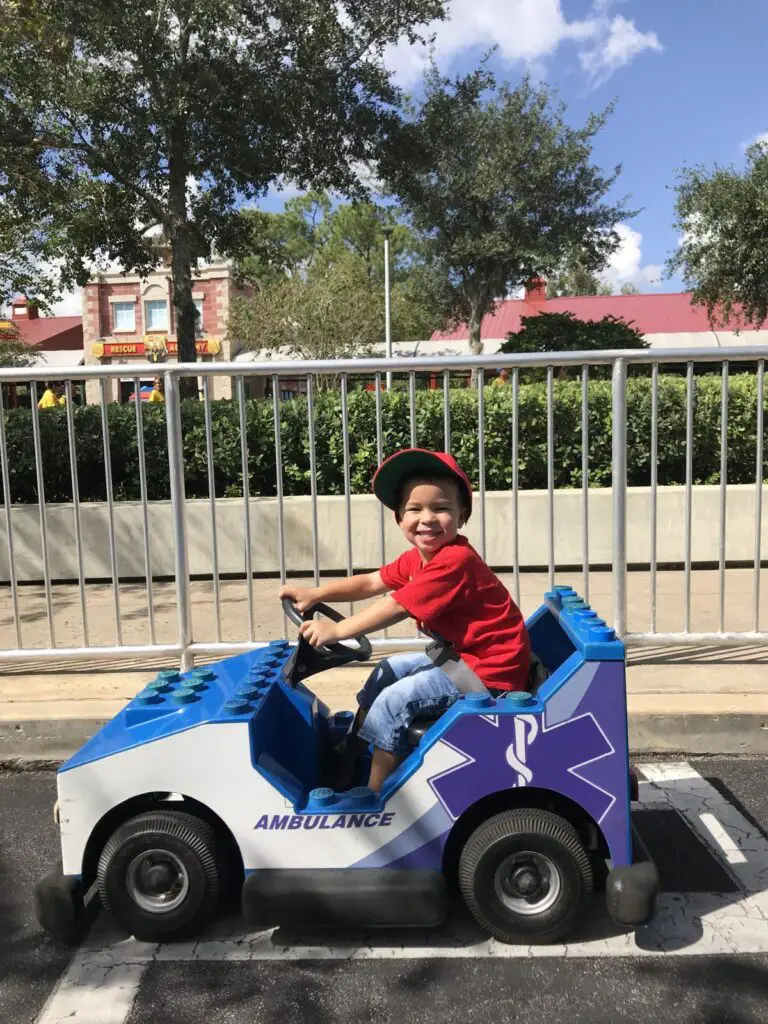 Create While You Wait
One added touch that I loved about LEGOLAND was that there were LEGO stations attached to all the lines for the rides so kids could play while you wait. We went in September and then again in October and there were NO lines on any rides. We literally waited no more than 5 minutes for any ride.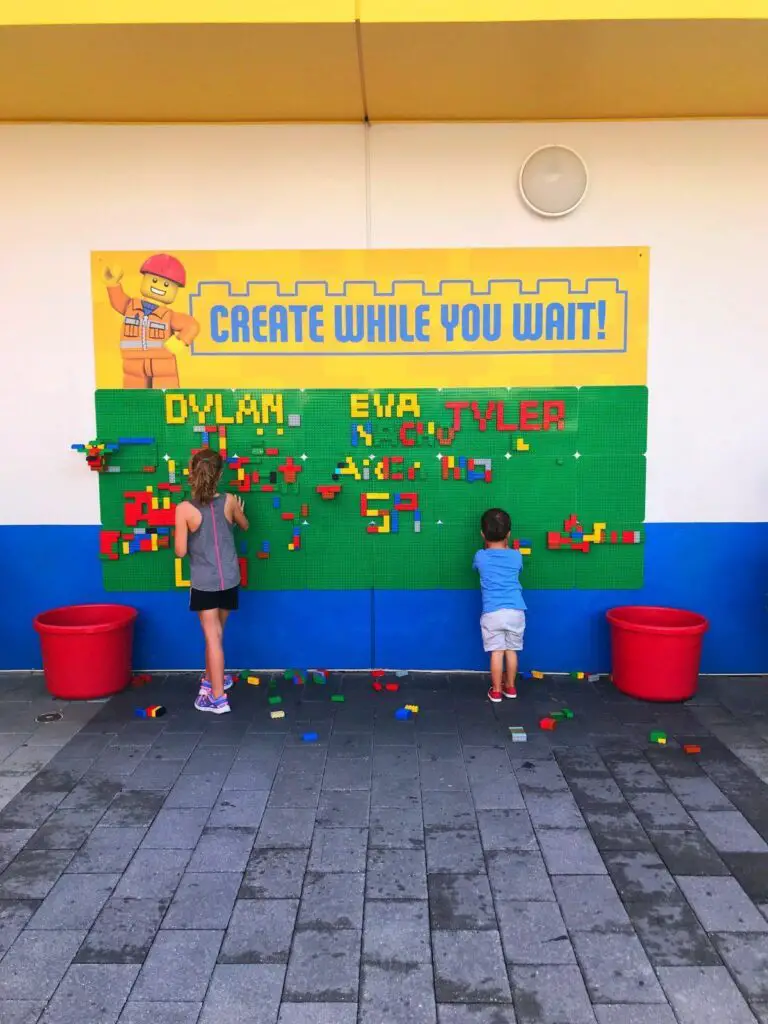 LEGOLAND Water Park
I wasn't sure if the LEGOLAND Water Park was going to be worth it because my son isn't tall enough for any water slides at this time. I am SOOO glad we booked tickets to this part of the park! The water park is perfect on a hot Florida day to get a break from the sun. There are lots of fun attractions for kids and adults of all ages. We really enjoyed the wave pool and the lazy river and my son likes riding on the mini slides in the Joker soaker splash pad.
The 'build a boat station' literally entertained my son for 60 minutes straight. It was probably his favorite part of the whole park. In this area, you can launch a plastic boat with your own lego creation down a series of water passages ways to the finish. My son did this activity AGAIN and AGAIN.
Duplo Splash Safari is a toddler/preschool area where younger kids can do mini slides.  My son also loved this area. It wasn't too busy so my son felt more confident going up and down the slides.
The wave pool was SOO MUCH FUN and again my son just couldn't get enough. There are life jackets available for free and my son loved bobbing up and down in the waves (for me that part was less fun haha!)
We also checked out the lazy river (complete with lego shaped floaties) and the Joker Soaker Water Park area.
Florida is hot! Cool down in the water park for a break from the hot sun
The wave pool and the lazy river are perfect ways to relax after a busy day on your feet
The joker soaker water area and the Duplo splash safari are perfect for younger kids
Brick or Treat Halloween Celebration
We went to LEGOLAND in October which is when they run their annual Brick or Treat Halloween Celebration. Along with all of the regular attractions, there is special Halloween programming and activities that take place during Brick or Treat. One of the favorites was, of course, the trick-or-treating in the park. I was happy that there were some healthy choices including applesauce and yogurt among the other sugary treats. Kids can dress in costume on this day – expect a lot of LEGO-inspired costumes!
At the end of a long day in the park, there was an awesome fireworks celebration at 8 pm. We watched this from LEGOLAND Beach Retreat and it was a great show. I really liked that the time was 8 pm – still early enough to put the kids to sleep at a reasonable hour! We also did Disney on this trip and the Mickey Halloween celebration had fireworks at 10:15 pm. I saw a lot of miserable kids the next day following that late night!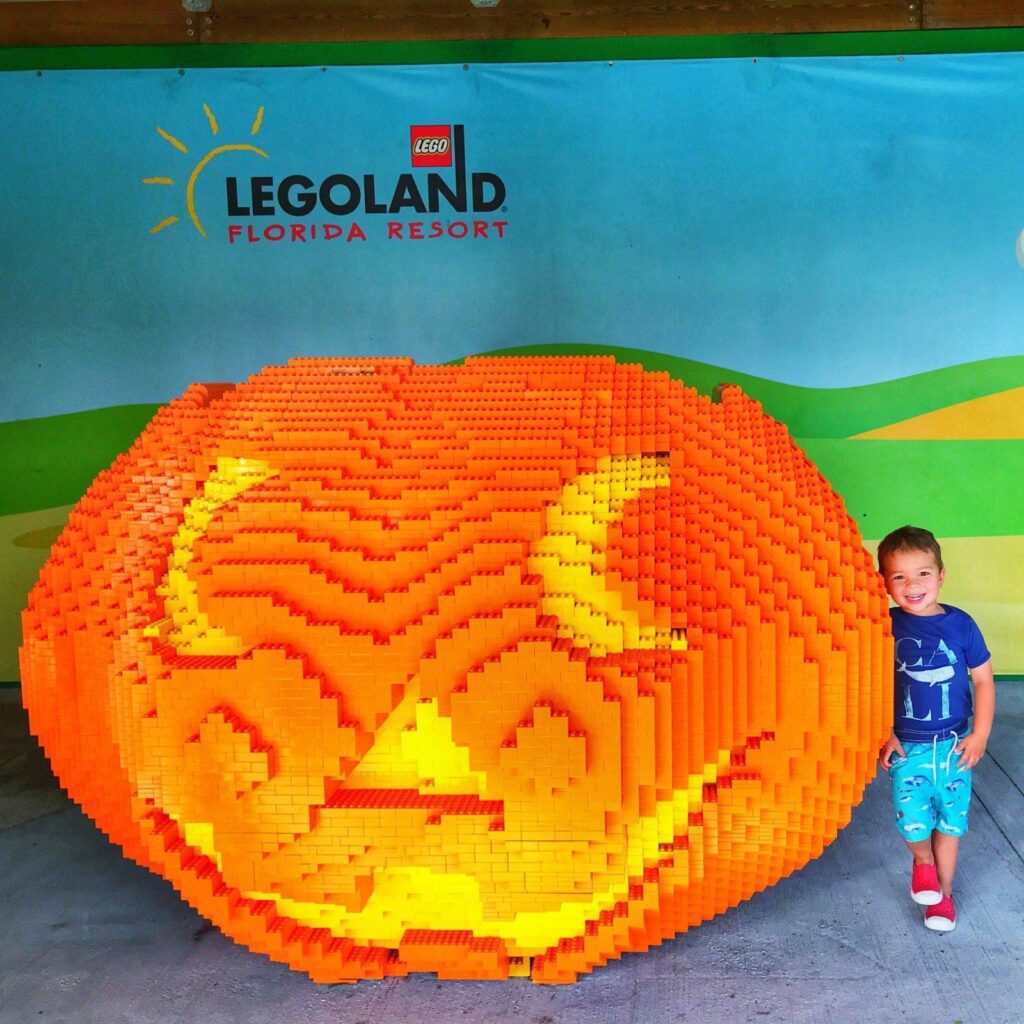 Where to eat at LEGOLAND
We ate only at LEGOLAND and the hotel restaurants during our 3-night stay. My son and I were there to enjoy the park and I didn't want to complicate things with traveling outside the resort to eat. In general, the food at LEGOLAND is pretty typical 'theme park food', so I can't say I would ever rave about the food on this trip. When considering where to eat at LEGOLAND, your options are:
Restaurants within LEGOLAND Park
Within LEGOLAND there are several options for dining. There are quick bites throughout the park with typical staples like hot dogs and burgers.  There are also several larger restaurants just as you enter the park, including The Market Restaurant, Pepper and Roni's pizza shop, and the Pizza and Pasta Buffet.
We ate at the Pizza and Pasta buffet for lunch both days we were in LEGOLAND. My son loves pizza so I knew this restaurant would be a hit and I didn't want to deal with a grumpy child on vacation. I liked the selection here and found the pizza to be really tasty. Kids 3 and under were free!
If you are looking for a unique LEGOLAND snack, Granny Apple fries are the most famous snack in the park! We tried these delicious fries and they are definitely worth a taste!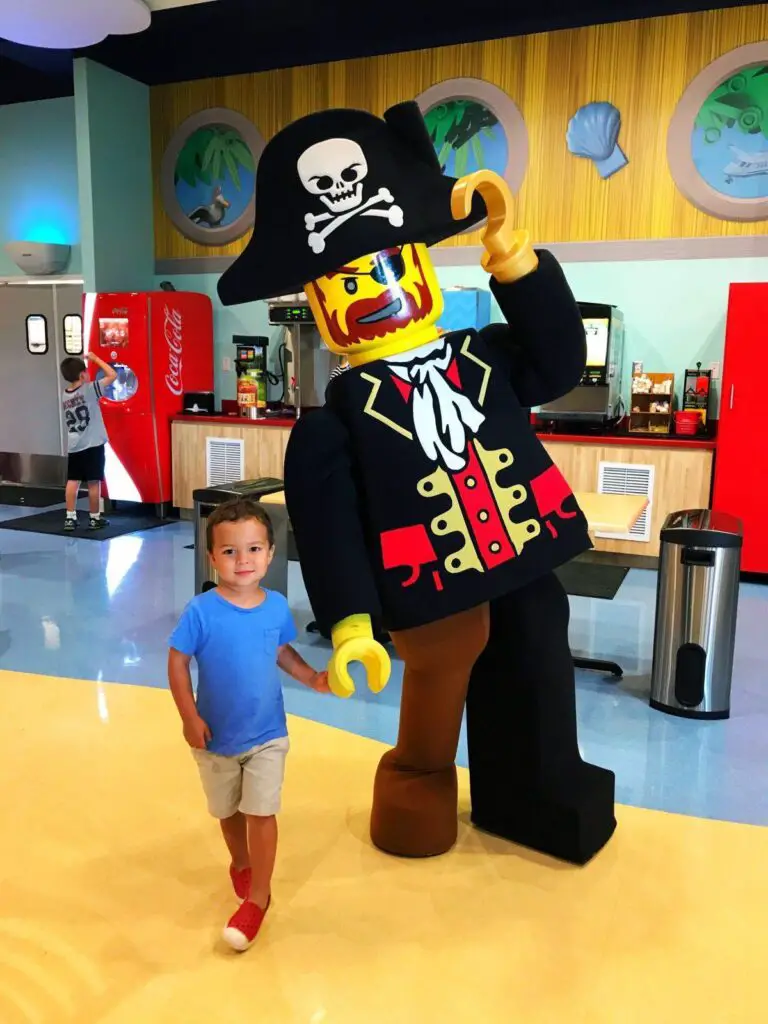 Beach retreat has a buffet breakfast and a menu style dinner. Breakfast was included in my stay at the Beach Retreat hotel and we ate at the restaurant for dinner one night. I liked the LEGO station that the kids could play at while the grown ups ate their food. The prices were reasonable and I preferred the food here to that of the buffet. Again, the choices were pretty typical 'American Favourites'.
LEGOLAND Hotel Restaurants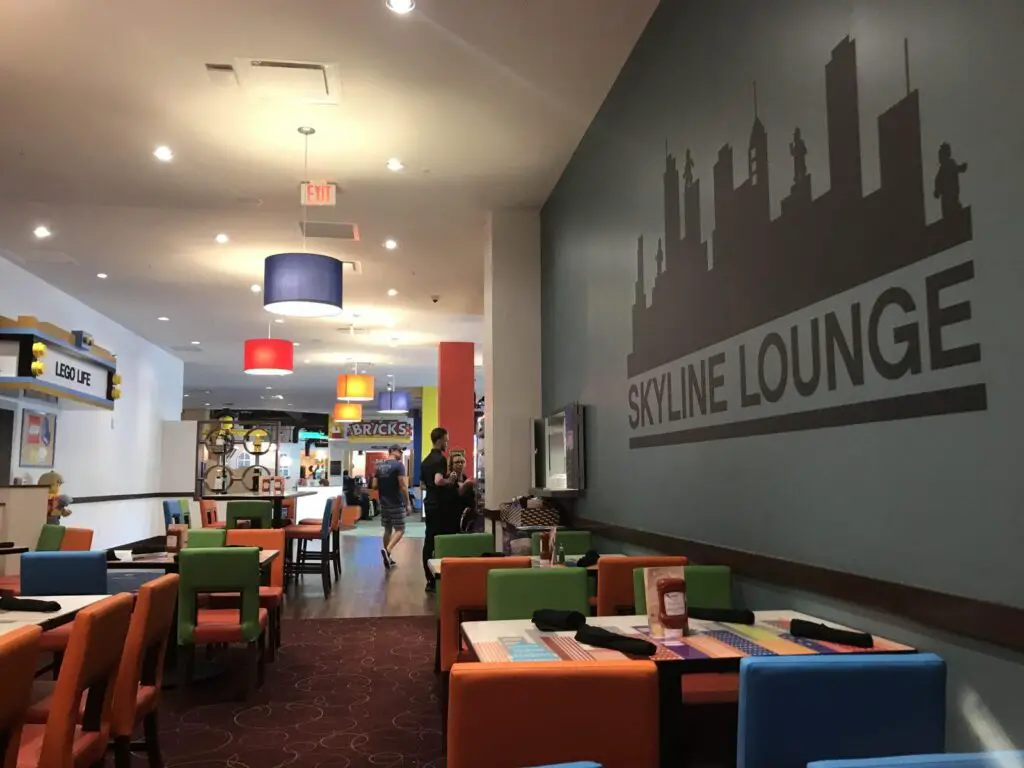 Bricks Family Restaurant
Bricks family restaurant offers a dinner buffet inside the LEGO hotel. You do not have to be a guest of the hotel in order to eat here.  The dinner buffet has a wide selection and lots of kid-friendly options. It certainly did the trick and my son was very happy to have jello and fruit for dessert!
Skyline Lounge Restaurant
Skyline lounge offers menu service for those who aren't interested in a buffet. We ate here for lunch one day and it was perfect to be only minutes from the park. Skyline has a large selection of 'American classics'. My son enjoyed his kid's meal and I enjoyed a plate of chicken fingers and fries.
Where to Stay near LEGOLAND
If you are planning to do a trip to LEGOLAND, staying at one of the LEGO-themed resorts is the icing on the cake. The hotels themselves are jam-packed with fun activities for kids that you may not even want to leave. There are two choices for LEGOLAND hotels: The Legoland Hotel and Legoland Beach Retreat.
Mostly because I procrastinated and booked our trip late, we ended up staying at the LEGOLAND Florida Beach Retreat. I was worried it wouldn't be as awesome as the main hotel and I WAS SO WRONG! Having spent time at both hotels during the trip I would always book the Beach Retreat again when I go back.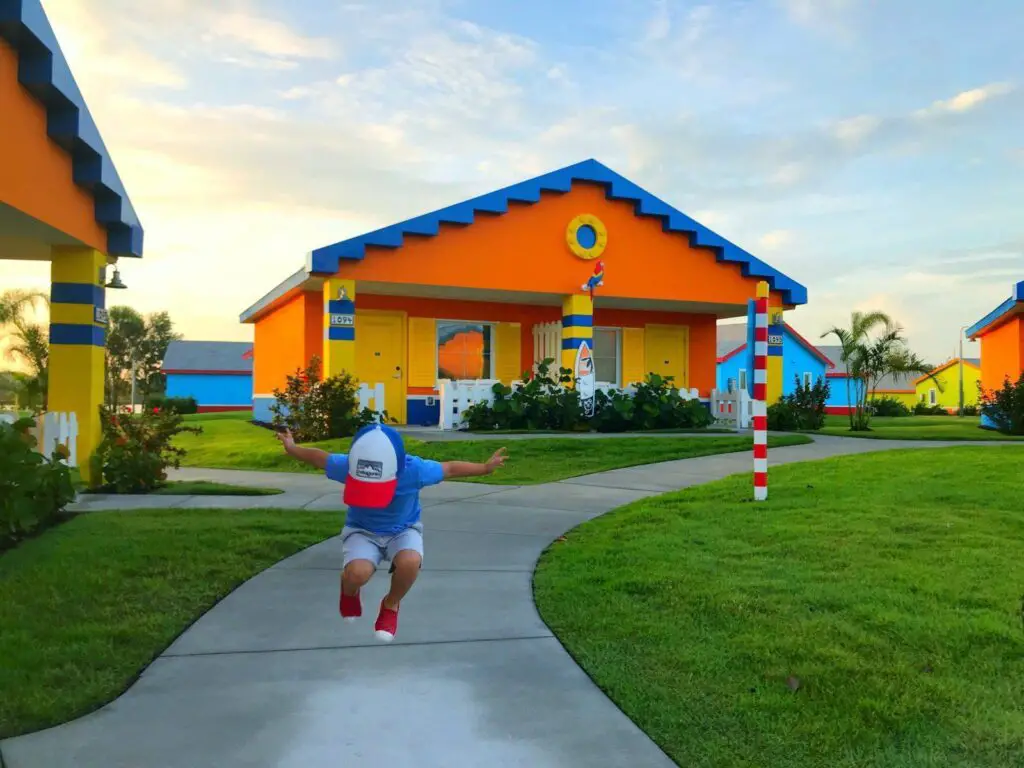 Hop on over to my full review of LEGOLAND beach retreat. If you want just the highlights, I've included them below!
Quieter! The Legoland hotel is pretty wild with kids running everywhere. Beach retreat feels like a peaceful oasis. I forgot I was at a theme park and actually felt quite relaxed.
Great room setup. The rooms are perfect with a separate area for kids and adults. There is also a playground for kids in the middle of each 'pod' of rooms so you can sip your morning coffee and watch your kiddo from your porch.
Restaurant: LEGOLAND is clearly not a foodie haven but I thought the breakfast buffet offered a lot of selection to please adults and kids. The restaurant was organized and there weren't a lot of lines. There is a play area where kids can play (LEGO, of course!) while the parents finish their meals. I thought this was a really nice touch!
AHHHmazing pool! The pool area at the beach retreat is awesome. The lego floaties are so much fun and my son loved the sand area for playing with his diggers and toy cars. The water was warm and I really enjoyed being able to relax with my son always in clear sight. It was basically empty too! Score!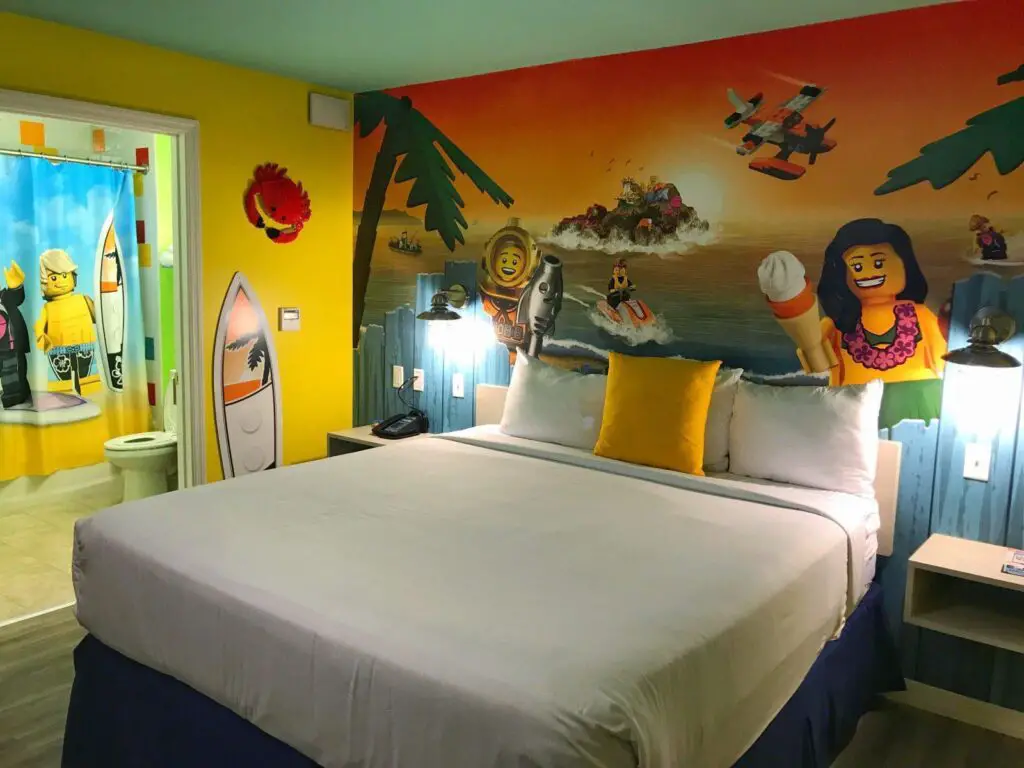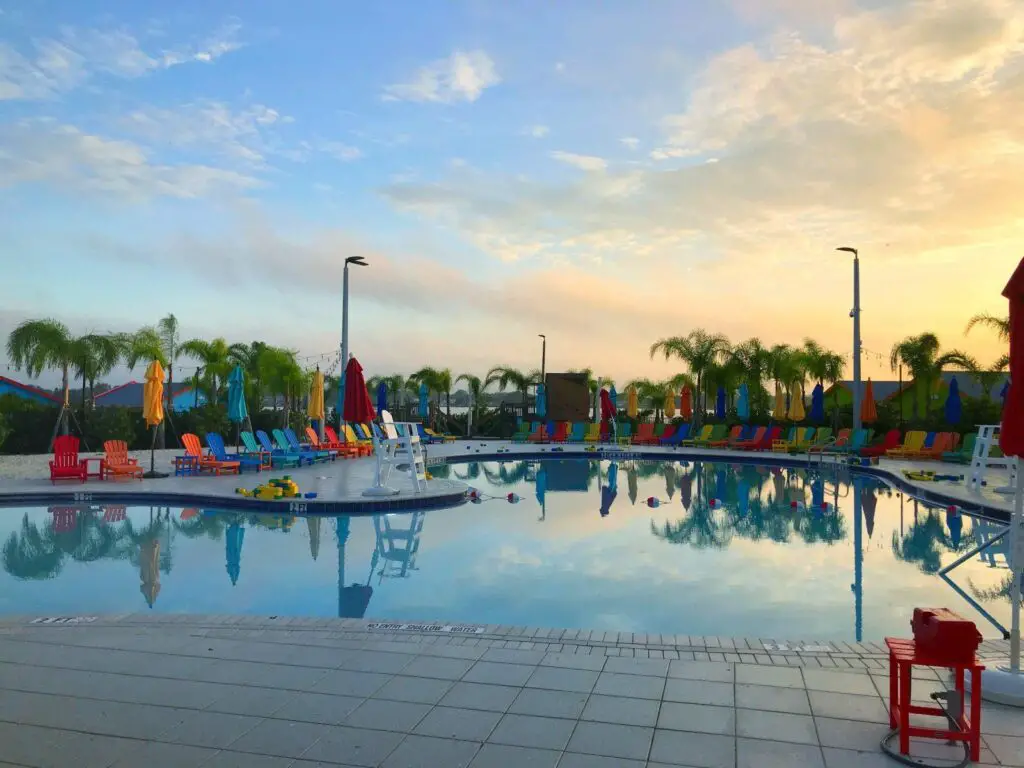 Closer to LEGOLAND. We walked from Beach retreat to Legoland on our first day and it took 15 minutes. There is also a shuttle. The LEGO hotel is literally right next to the entrance to the park. Very convenient!
More activities: There are more activities at the Legoland hotel for avid fans. There are builder workshops, more character meet and greets and nightly entertainment. Beach retreat has campfires with s'mores but has less in the early evenings.
More LEGO! The lobby of the LEGOLAND hotel has huge pits full of LEGO for kids to play in. It is pretty awesome! We would head over to the main hotel before we went to the park to play here for a bit each morning.
Buffet Dinner: The LEGOLAND hotel has a buffet dinner which some might prefer over the menu style at the beach retreat. Of course, regardless of where you are staying, you can always eat at either restaurant.
How to book a LEGOLAND Package?
I love Booking.com for finding the best deals on hotel stays. They offer both the Beach Retreat and the main hotel and you can add on tickets to your stay. You can also check out the Legoland website to compare.
Have you been to LEGOLAND?
Have you been to LEGOLAND? What did you love? What did you hate? Don't be shy! Drop me a line in the comments below and let me know your experience. I would love to hear from you about your experience at LEGOLAND.
Pin for Later!