Are you looking for the best portable car seat for travel with your baby, toddler or child? Are you wondering about the best car seats for airplanes? One of the biggest pains of traveling with young kids is figuring out what to do about the car seats! Seriously, I have planned so much of our travel around "well, how are we going to travel with the car seats??!"  
Not only do we want to keep our kids safe on vacation, but we also want a lightweight travel car seat that isn't going to break the bank. My car seat for my 3-year-old (although AWESOME) is super heavy and bulky – I needed a better toddler travel car seat option! In this post, we are going to teach you all the tips and tricks I've learned to make traveling with car seats a breeze.
The Best Travel Car Seat: Quick Comparison
Should you buy a separate portable toddler car seat?
We love the car seats we have at home and we also spent a lot of money purchasing them. We didn't want to take the chance of having them ruined at the airport or while traveling which is why we decided to buy a separate portable carseat for travel. The portable car seats we purchased were all super affordable, which is why we weren't too fussed if they got scuffed or damaged in our travels. We also bought the most lightweight portable child car seat we could find! It never hurts to lighten your load when you are traveling. One extra bonus to having separate travel carseat is that you don't have to uninstall and reinstall your car seats at home! One time was hard enough to get it all perfect, I'm happy not to have to reinstall my seats every time we take a trip.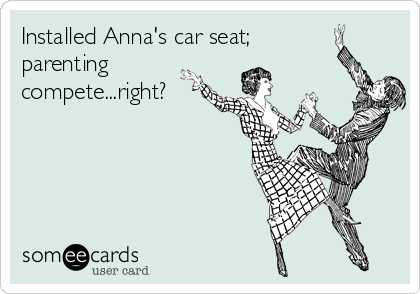 If you are looking for some excellent basic information about car seat travel, please check out this awesome article by the American Academy of Pediatrics which is a primer on Car Seat Safety and FAQs. 
Top Choices for Portable Car Seats
We're going to be reviewing all of these car seats in massive detail below but in case you just want to get to the good stuff, here is our list of the best portable car seats for travel:
Top Choice: Portable Car Seat for 1 Year Old
Our top choice for a 1 year old (or less) is an bucket car seat. These seats are easy to travel with as they can be easily installed using a regular seat belt. We chose the Maxi Cosi Mico 30 for its lightweight design. This is provided that your one year old has not yet outgrown a bucket car seat. Our top choice infant car seat has a weight limit of 30lbs and a height limit of 32 inches. The reason we love bucket seats is that they usually connect to strollers really easily and that means one less piece of equipment on your trip. Read more reviews of the Maxi Cosi Mico 30 and compare prices on Amazon.
Top Choice: Portable Car Seat for 2 Year Old
In the two-year-old category, we are LOVING the Cosco Scenera Next car seat. This convertible car seat is one of the most popular travel car seats for a reason, literally, every single friend of mine owns the same one. The Cosco Scenera Next is super lightweight and you really can't beat the price. Read more reviews of this travel car seat for 2 year old toddlers here.
Top Choice: Portable Car Seat for 3 Year Old
We still love the Cosco Scenera Next for most 3 year olds. The upper weight limit for this car seat is 40lbs, so most average sized 3 year olds will still fit in this seat. This seat can be used rear facing and forward facing, making it super versatile. If you are short on space or planning to travel for a long period, you may want to consider the Ride Safer Delight for this age group. This nifty ride safer travel vest is the perfect travel car seat for 3 year old and 4 year olds that are too small for travel booster seat options. Read more reviews here!
Top Choice: Portable Car Seat for 4 Year Old
For the 4 year old and up kids, a travel booster may be appropriate. This is all depending on the size of your 4 year old – keep in mind that the majority of boosters have a minimum weight of 40lbs. We love the mifold for its compactness and portability. We have been using this car seat with our now 5 year old son and it has totally changed our lives when it comes to traveling (safely) with kids. Read more reviews and see the weight and height restrictions here.
Should I bring my travel car seat on the plane?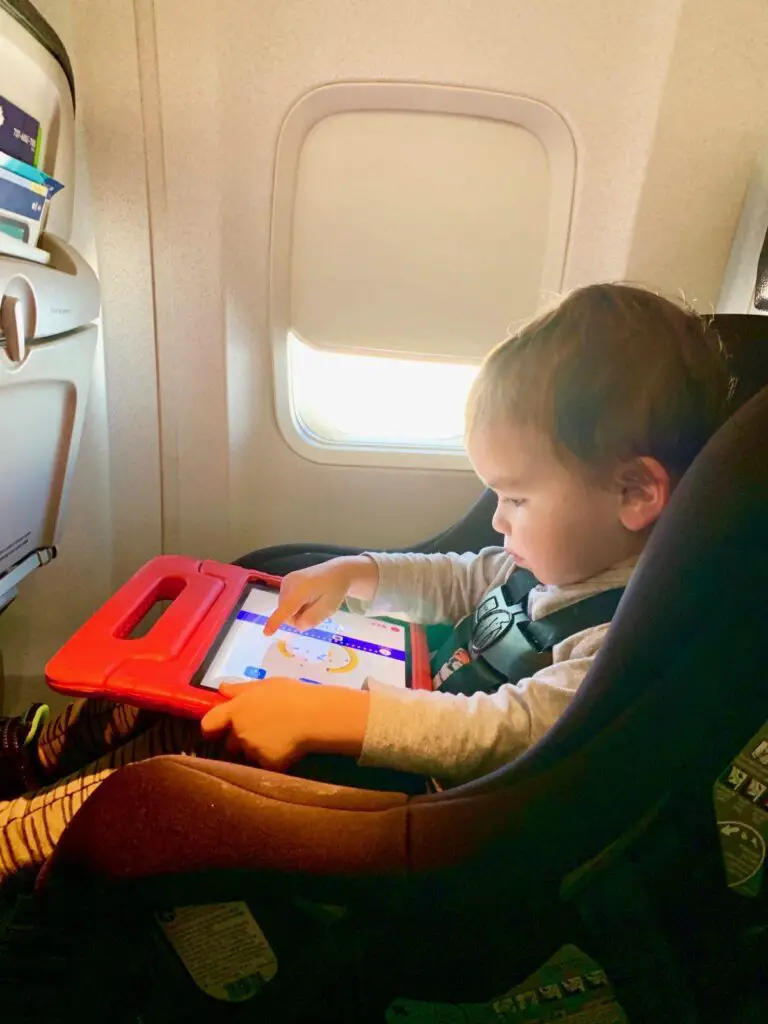 One of the questions that I am asked most by readers is whether it is worthwhile to bring a car seat on the plane. If your child is over age 2 and you are already going to be bringing the car seat along, my answer is always YES!! We were actually late to the game in bringing our car seats ON the plane. I hadn't really considered it until my second son was almost 2. We've now brought our Cosco Scenera Next on the plane for multiple trips and it has been an absolute lifesaver! Not only is it safer to have kids safely strapped into a car seat in the case of turbulence, it also makes flying with kids SO much easier! With my son strapped in, we didn't have to worry about him constantly trying to bother the people in front of us or trying to hide on the seats. Our kids also sleep super well in the car seats, so it really helped the travel go as smooth as possible. Check out the latest prices on the super affordable Costco Scenra Next here.
One important thing to note is that having a forward facing car seat on a plane puts your kids' feet at premium seat kicking range! We solve this problem by seating our older child in front of the car seat. It's something to consider before you book your seats!
Now if your child is less than 2 years old, the decision whether to bring the car seat is entirely personal. If you want to bring your seat, you'll usually have to pay for the seat. It is definitely safer to have a child strapped in the case of turbulence. Commercial airplanes travel at a speed of 250mph during takeoff and landing and a sudden stop or jolt could send your child flying no matter how tightly you are holding them. That being said, the majority of individuals I know do not buy a seat for their child under age 2. Air travel is one of the safest forms of travel, and in the majority of cases, an infant in your lap will be just fine. One pro tip is to ask the flight attendants whether the flight is full before you board. I have scored a free seat for my less than 2 year old infants twice using this method and both times was able to bring on my car seat without difficulty.
If you aren't planning to use a travel carseat at your destination, you may consider using the CARES airplane travel harness. The CARES travel harness keeps your kids safe on the flight by strapping them in with an extra chest strap. It is rated for kids 22-44lbs and is approved by the FAA for travel. Not only does the Cares harness keep kids safe, but it also keeps kids contained in their seats. I love that my kids are happier to stay put in their seats when they are all buckled in and relaxed. One thing to note about the CARES harness is that you do need to secure it around the back of the seat behind you. I've never had anyone complain about it.
How do I know if my Airplane Car Seat is Approved?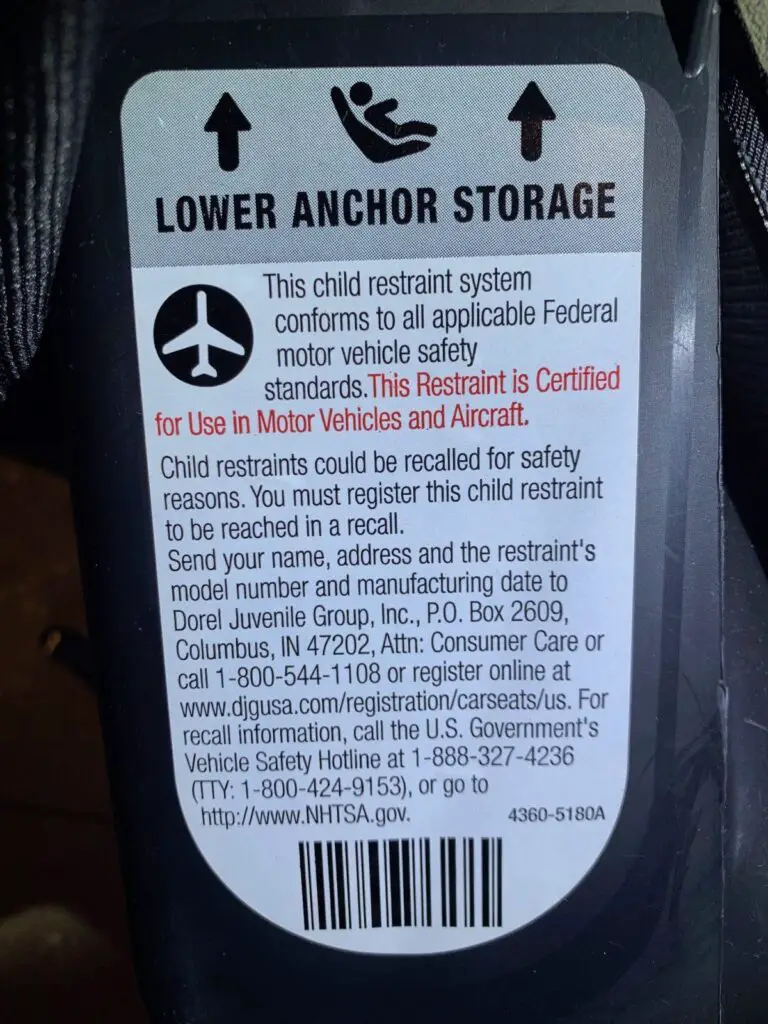 Before you fly, you'll want to know if your carseat is FAA approved for flight.  Please note that it is important to check your local car seat regulations as these may vary from country to country. In the US,  you will need FAA approved car seats. You can look for your car seat sticker to see if yours is approved, if approved, it should say "this restraint is certified for use in motor vehicles and aircraft"
Our quick list of FAA approved car seats:
Please note that booster seats are not FAA approved and cannot be taken on flights.
To check or to gate check?
If we aren't planning to bring our car seats ON the plane (we almost always do now), we usually gate check out seats. I personally trust the gate checkers to be more careful with the objects than the regular luggage line. I have friends who have checked theirs at the desk and have had damage to the seats which made them unusable.
Should you use a car seat bag?
Check out the latest Car Seat Bags on Amazon here.
There are lots of travel car seat bags available to help you lug your car seats around the airport. Some even have backpack straps and some have roller wheels to make it even easier to bring them along. I have lots of friends who use (and rave!) about these accessories. Personally, I don't use a car seat bag. For me, it's just one more thing to bring along!
I also find that when the luggage attendant sees something in a bag they tend to be less careful about it! When they see a car seat out in the open they know they can't just toss it around (hopefully!). Perhaps if I traveled with my more expensive car seats, I would be more inclined to use a bag, but for now, I'm not sold on the need for one.
How do you bring your car seat through the airport?
If you gate check you can use the seat to transport your child around the airport. Check out this neat product which straps the car seat right to a piece of luggage turning it into a stroller for the airport. Or you can even buy a travel car seat cart to turn your car seat into a temporary stroller at the airport. Read more reviews and compare prices of these travel car seat accessories here.
Personally, one of the reasons that we LOVE the Cosco Scenera NEXT Car Seat is that it fits in the basket of our Uppa Baby Vista stroller. With the car seat tucked in the bottom of our stroller, we still feel like we are traveling light! Check out the Cosco Scenera next in detail here.
Portable Travel Car Seat Rundown
Ok, now it's time for the detailed reviews! Here are the best car seats for travel that I have tried and tested. These opinions are my own, and I was not paid or sponsored by any of these companies.
Weight and Height Restrictions:
FAA Approved?
Yes!
Where to buy it:
Check out prices at the following retailers:
Why we love it
Taking a car seat with an infant is the easiest and simplest. I have always used a bucket seat with my kids and I take the same bucket seat that I use at home with me when I travel. We have the Maxi-Cosi Mico 30, and I think this is the most lightweight car seat around!  Any bucket seat, as long as it meets safety requirements, will do!
For the best car seat stroller combo,  our car seat attaches to our UppaBaby Vista which makes it great for use in the airport and also while we are on the trip. We never bring along our actual stroller seat until our little one has outgrown the bucket seat. It is too much to carry and our little ones have always been happy in the bucket seat with a few toys to play with. I LOVE traveling with my full-size stroller. Find out more about why I always bring my full size stroller here!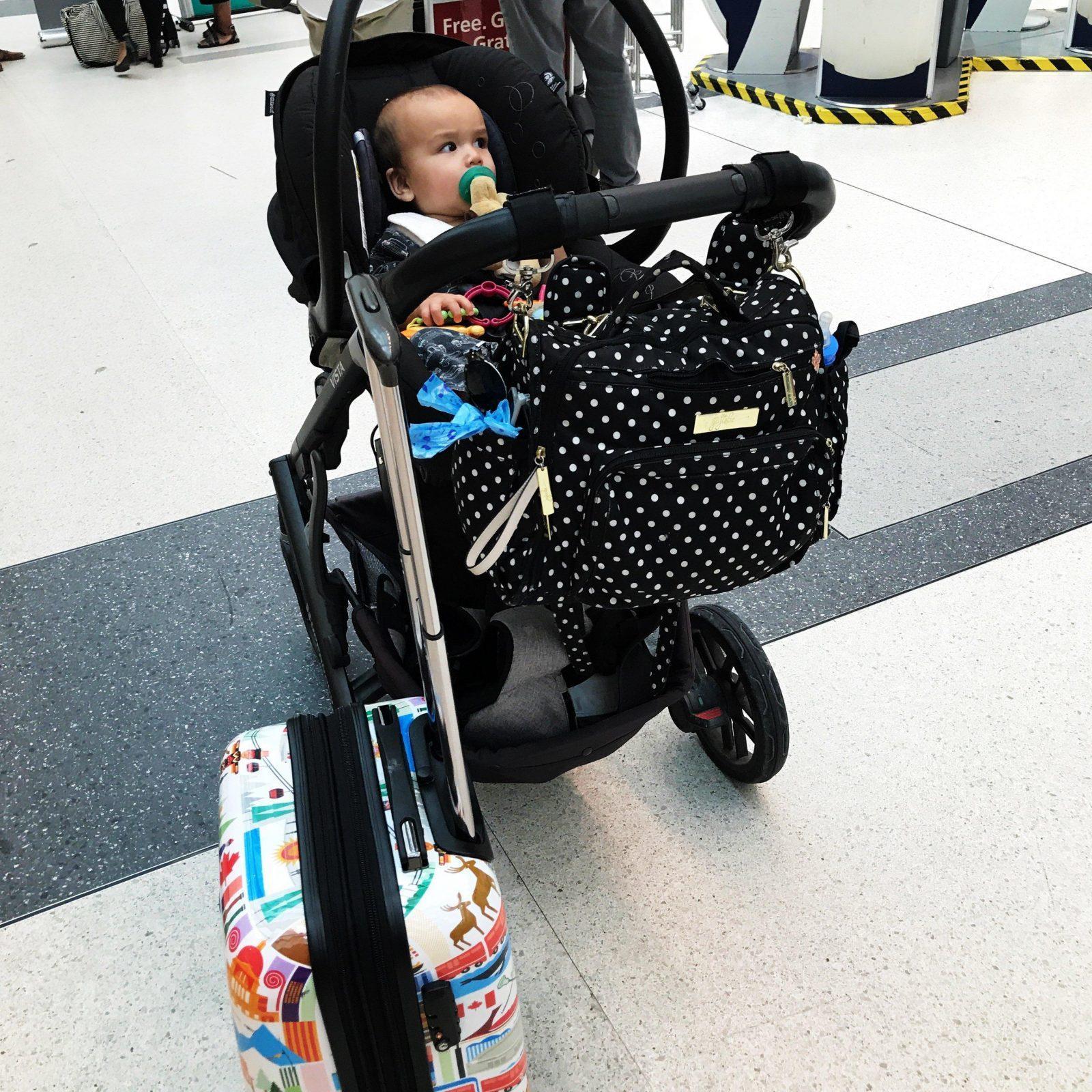 Weight and Height Restrictions:
5-40lbs (rear facing 5-44lbs, forward facing 22-40lbs)
19 to 40 inches
FAA Approved?
Yes!
Where to buy it:
Check out prices at the following retailers:
Why we love it:
For me, toddlers are the trickiest age for bringing car seats for travel. My 2-year-old certainly doesn't fit into a bucket seat, but also is way too small for a more portable booster seat. A lot of the toddler car seats are so bulky and that makes them difficult to transport in the airport. At the advice of a friend, I purchased what I consider the ultimate portable car seat for my 2-year-old,  the  Cosco Scenera Next.  I use this car seat exclusively as my toddler travel car seat and I can not stop RAVING about it. This seat is seriously the best car seat for travel!  The car seat is SUPER lightweight, which makes it great for airplanes as it's easy to transport and not a huge pain in the airport. It also fits perfectly in the basket of my Uppa Baby Vista Stoller (score!).
The biggest plus of this super portable car seat is the price!! It is the best value around, and with such a low price I am not afraid of it getting ruined when we travel.  We don't use this car seat for anything but travel, and it's also AMAZING not to have to uninstall our regular car seats from our cars because we have this one. If you are like me, installing the car seat the first time was challenging enough, I prefer to keep my regular car seats installed when I can! In the US, this portable car seat is FAA approved,  meaning that it is an airline approved car seat for travel. I prefer to take this car seat and risk it getting damaged than to take the expensive car seat that I use every day.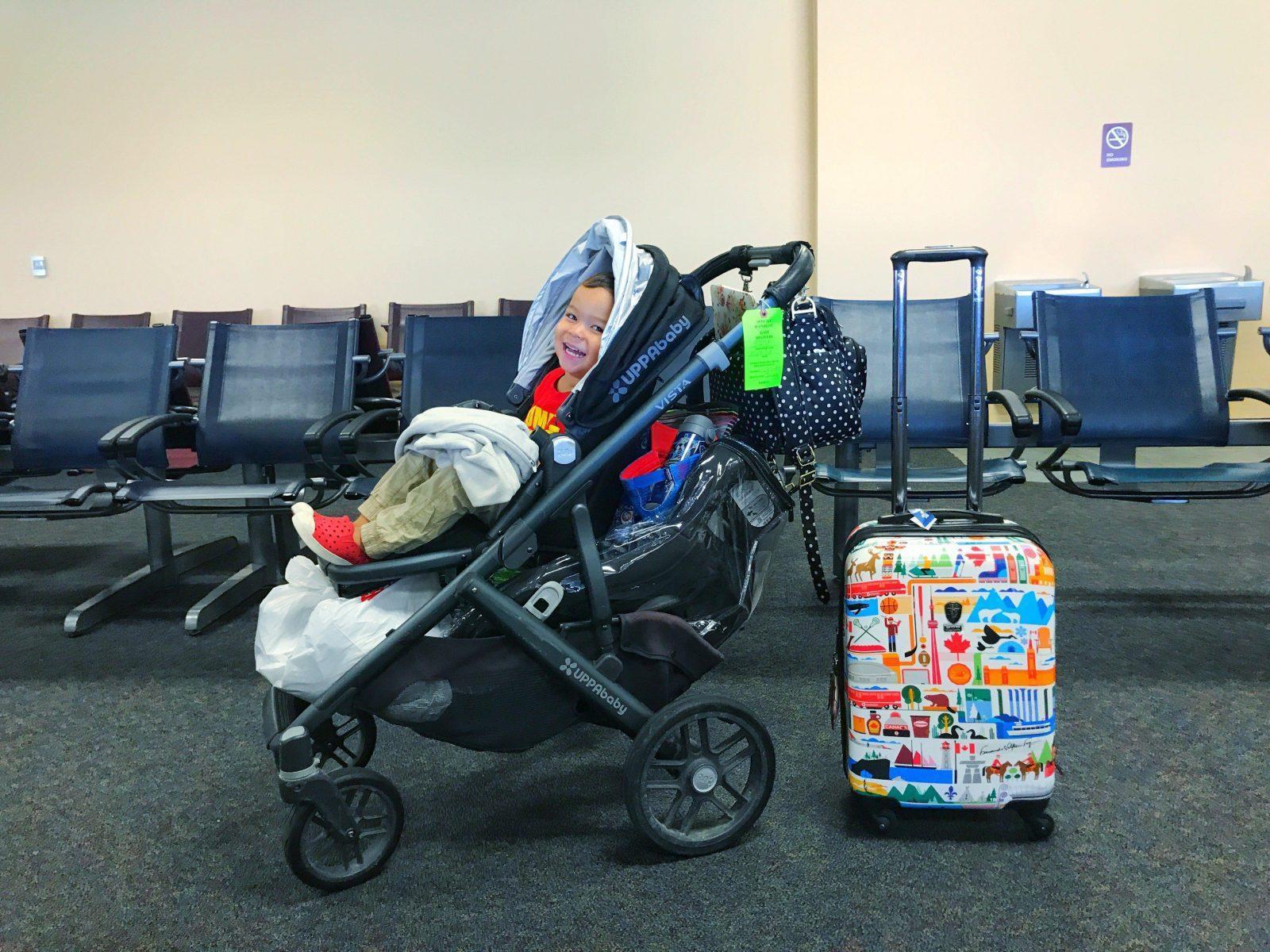 Portable Booster Seat: The MiFold



Weight and Height Restrictions:
40 lbs – 100lbs
40 -57 inches
FAA Approved?
No! Booster seats are not permitted on airplanes.
Where to buy it:
Check out prices at the following retailers:
Why we love it:
My kids are still little but I recently learned about an amazing new product from my friend. The mifold car seat is a super thin and portable booster seat that was designed by a couple who also felt the pain of constantly traveling with their seats. The mifold is so compact, it can fit in your purse! The design is simple, yet safe, as it currently meets all of the safety requirements for booster seats in the US. The minimum weight is 40lbs (and 4 years of age).
My friends review? She loves it! The only complaint would be that she says her kids say the seat is not the most comfortable for long car rides. This usually isn't a huge problem when we travel. Certainly, I would still be using my 5-point restraint car seat at home (as its safer until you reach the maximum weight!). Once my son is big enough I plan to just use the mifold for trips, carpooling, taxi rides etc. My son is soon to be 4, but far away from 40lbs. I can't wait to try this for myself!
For those kids who are a bit small for their age,  another cool option is the Ride Safer Delight. Although a bit bulkier than the mifold, this safety restraint is rated for smaller children who are at least 3 years old and at least 30 lbs.  You can compare prices and read reviews of the Ride Safer Delight here. Check out my fellow blogger friend from The Family Voyage for a detailed review of The Ride Safer Delight.
*** Update *** My son is now almost 5 and we are LOVING the mifold! It is so great to have something that literally fits in my purse to take with us on our travels. We don't typically use a car a lot when we travel so having this option is SO GREAT! It sure beats lugging a bulky car seat along for only 40 minutes of total drive time! At home, we use it for taxi rides as well, which is SUPER convenient on the go. Definitely, love having this option! You can read more reviews of the MiFold here.
Should you just rent a car seat for travel?
Sometimes even the most portable car seat is just too much of a pain to bring on your trip. On several occasions, especially when we have been renting a car, we have rented a car seat. A few times we had a car seat that was quite old and worn, and on one occasion we had a seat that wasn't properly rated for my child's size. These are the problems with renting travel car seats from a rental company. Renting from a car rental company is at your own risk, as they don't reserve the seats ahead of time. We will still occasionally do this, especially if we aren't planning on using the seats a lot during the trip.
There are also companies that rent out car seats specifically for travelers. These baby gear companies will tell you the exact model of car seat that you are renting. The main disadvantage to a company like this is that unless they deliver to the airport you will be left without the car seat for your trip to go pick it up! This is why we have never rented a car seat from a company like this in the past.
Don't forget your car seat accessories!
This post would not be complete without a shout out to some of my favorite car seat accessories!
The Best Car Seat Fan
I love my Diono Stroller Fan that attaches easily to the handle of the bucket seat to keep my baby cool on a hot vacation. Check out my other favorite beach hacks in this post on what to pack for the beach with kids.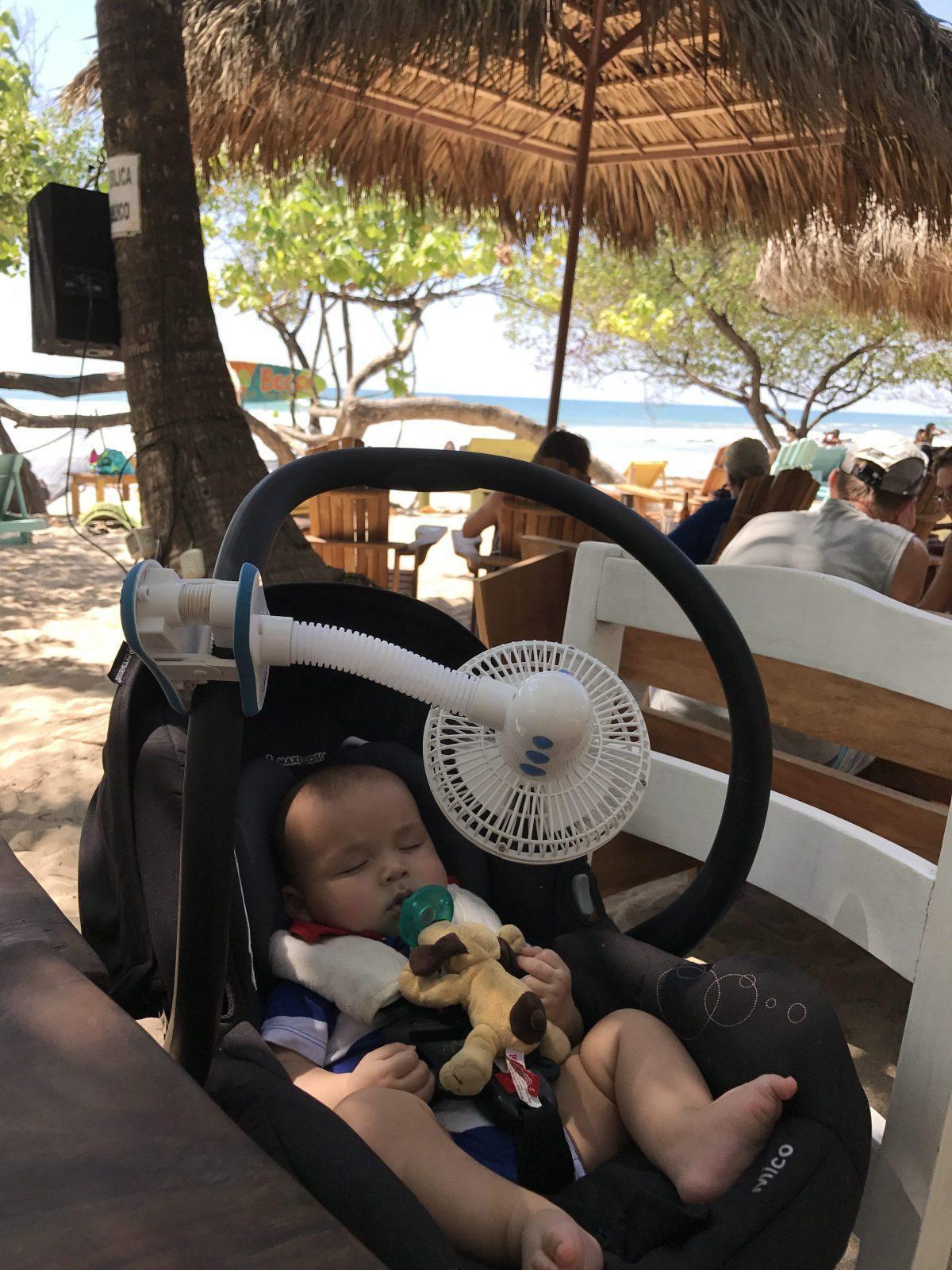 Car Seat Lap Support
If you are headed on a road trip with kids, a car seat lap organizer is a perfect accessory. This Lap Desk for kids has a spot for a drink and can easily hold a few coloring books and markers. It can be worn like a backpack which makes it easy to carry through the airport when travelling.
The Best Car Seat Head Support
If you are doing a road trip with kids, you may have concerns about 'head slump' in the car seat. Mostly because it was freaking me out to see my kid's heads contorted in such ways, I bought this portable car seat head support. Now when we go on long trips my son doesn't look so darn uncomfortable when he sleeps! And seriously, the panda face is super cute!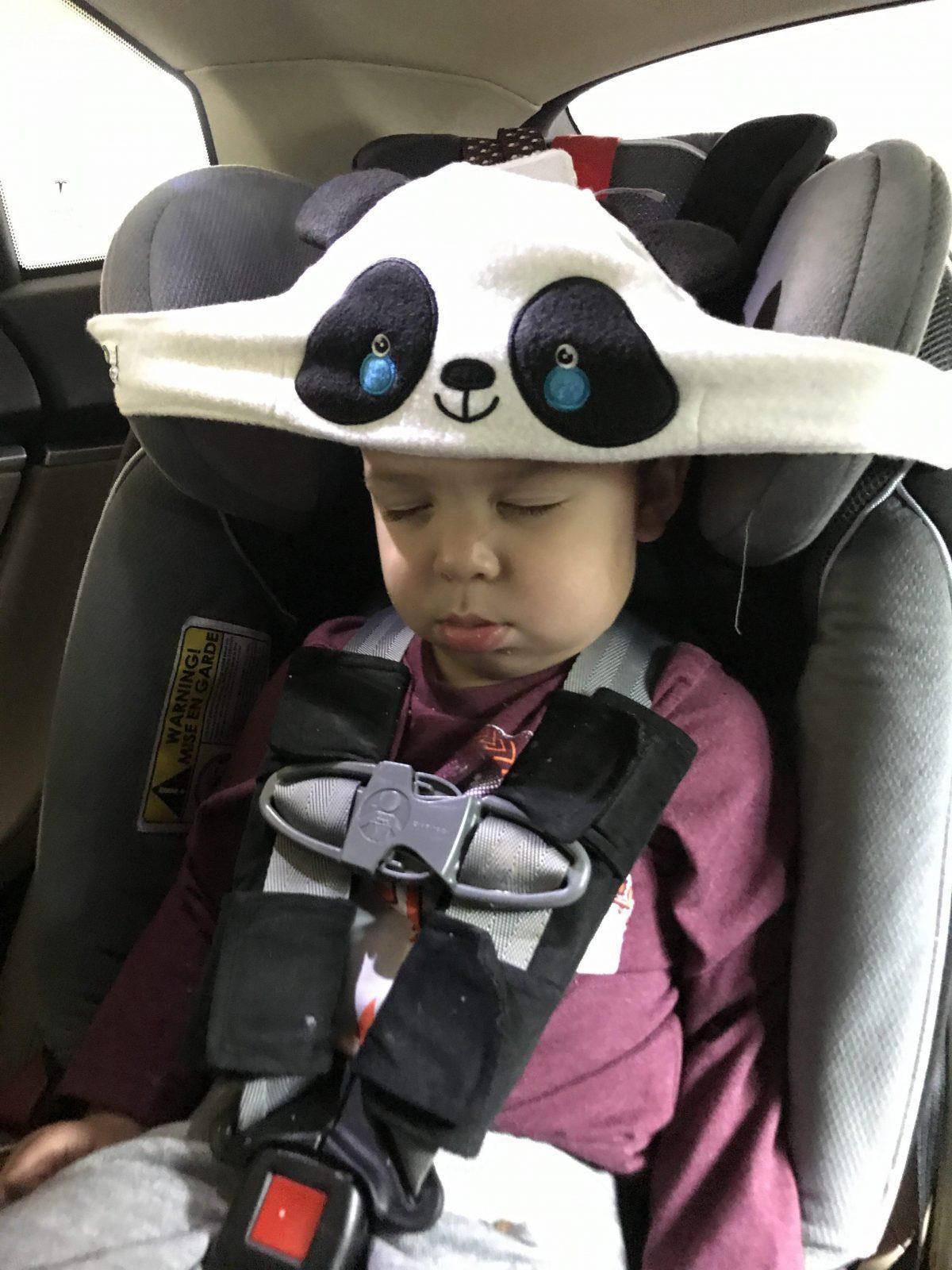 Best Car Seat Cover
I love this car seat cover particularly for travel. It comes with a UPF 50+ sun shade that is perfect for hot vacations where you want to keep your little one protected. Under the sun shade is a mesh layer that is perfect to keep the Mosquitos out at night. With all of the worry about mosquito-borne illnesses like Zika, I wanted to prevent my little ones from getting bit as much as possible! Check out the pricing for this car seat cover here.
What is the best stroller for travel with car seats?
We are huge fans of trying to bring our full size stroller whenever we can on vacation. We have an Uppa Baby Vista and absolutely love it. The only exceptions would be when we are really limited on space (e.g. cruise, small rental car etc). I love our full-size stroller and I've found every travel stroller I've owned to be completely lacking in so many important features. The basket on our stroller is larger enough to carry our travel car seat – you would never see that on a travel stroller!
I've never regretted bringing my bigger stroller and I've also never had any damage to my full size strollers. I have, however, had a wheel break on a flimsy travel stroller during a flight! Check out prices on the Uppa Baby vista here.
We do have a travel stroller that we use occasionally when we are really short on space. We used the Zoe XL2 travel stroller when we went on a Disney cruise and there was no room for a full size. I like that the Zoe XL has a decent recline and a really large canopy. The storage space isn't great but it's the best travel stroller I've owned yet. You can read more reviews and check out prices of the Zoe XL2 stroller here.
Have any more travel car seat questions?
Drop your questions in the comments below and I will be sure to answer them in this post.
While you're in trip planning mode, be sure to check out my other guides to the top baby travel gear and toddler travel gear posts for more ideas.
Pin for Later