We recently returned from a 3-night Bahamas cruise aboard the Disney Dream. Our family had a blast, and it is a trip we will remember for a long time! Coming back though, I was reflecting on my Disney cruise experience and wondered, are Disney Cruises really worth the cost?
Let's not kid ourselves, these trips are expensive! There seems to be no such thing as a discounted Disney cruise or a Disney cruise deal. I found that our trip cost easily 2-3x the cost of other cruises! I'm not sure if all the Disney extras were really worth the inflated price.
At the end of the day, my Disney Cruise advice to others is to wait until your kids are older to splurge on Disney! It seems the best age for a Disney cruise is likely between ages 5-12 when Disney mania is prime, and kids are more independent!
Although we did REALLY enjoy the awesome infant babysitting service on our cruise, I'm not sure we got out as much as we put in.
Every family is different though and every family values different things on vacation. When I was researching Disney dream cruise reviews I read a lot of blogs and I hope this review of the pros and cons will be helpful to others.  
Here is my list of the pros and cons of a Disney Cruise:
Disney Cruise on Your Horizon? Get a Quote from a Disney Travel Agent now!
My Disney Cruise Experience
Pros of a Disney Cruise:
Your Kids Will Have a Good Time
The kids will have a blast. ESPECIALLY if they like Disney Characters. My two sons were 10 months and 3 years old when we went on our cruise.
My eldest son does like Star Wars and Mickey but he wasn't very interested in Princesses or other characters. In fact, he was mostly petrified of them.
R2D2 in the kids club was the highlight for him. He still talks about it months later! Pirate night was also great fun! (Don't forget to bring a pirate costume!)  I don't think it's possible for a kid to have a bad time on the Disney cruise.
The staff will certainly bend over backward to put a smile on your child's face. Oh, and did I mention? Unlimited ice cream = guaranteed good time.
Disney Cruise Child Care
HUGE pro: They have child minding for children under age 3! This one is HUGE. This is basically the entire reason I booked the cruise and it is something we took advantage of.
Of note, this service does cost extra (for under age 3), but given the price of the cruise, it was small in comparison. The ladies at the Small World Nursery were experienced with babies and infants. I never worried at all when I dropped off my son.
When I picked up our 8-month old I got detailed reports on how he had done. The sitters were able to detail what he ate, if he slept, and what he enjoyed playing with. I felt comfortable knowing that the sitters were attentive to all of the babies needs.
My older son who was 3 was also allowed to attend the small world nursery and I much preferred the individualized attention he got there.
One nice feature is that you can use your portable cruise phone to contact the Nursery while you are away to check up on your kids. I really loved this feature and it came in handy one day when my son was grumpy!
We left our infant son at the nursery by himself when we went to Castaway Cay. Babies who like to crawl + Sand are generally a tough combo! It was nice to have some one-on-one time with our older son who loved the beach at this age!
We also booked one night at Remy and it was great to be able to have a mommy-daddy date on board.
Check out all my tips for bringing a baby on a Disney cruise here!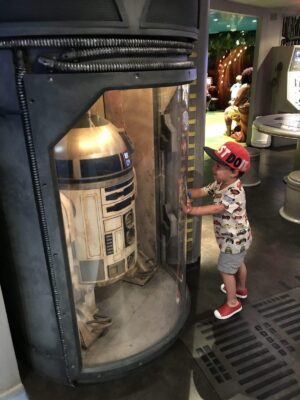 The staff love kids!
The staff are wonderful and cater to children. Every single staff on the Disney cruise, right down to the housekeepers are good with kids. Clearly, it's in the job requirement.
The servers in the restaurants go out of their way to win over your little ones. Our server had jokes, paper airplanes, and other games ready for my three-year-old at every meal. This extra mile service was definitely appreciated when my son was a bit grumpy and the servers worked hard to cheer him up.
Thinking of heading to Disney World instead? Check out my ultimate guide to doing Disney for the first time!
Disney's Remy Restaurant is the best!
The adults-only restaurants are amazing, seriously AMAZING! We booked one night at Remy and it was literally the best meal I have ever had in my entire life. We are not novice diners either. The service was exceptional, the food delicious and the wine pairings were great as well.
Again, this was another (significant) added cost, although it was worth every penny! It did make me think twice about the whole cost of the cruise.
If you have one 'treat' on the cruise I would absolutely recommend dinner reservations at Remy! You won't' be disappointed!
Wondering what to pack on vacation with little ones? Check out my ultimate packing guide for a beach vacation with a baby.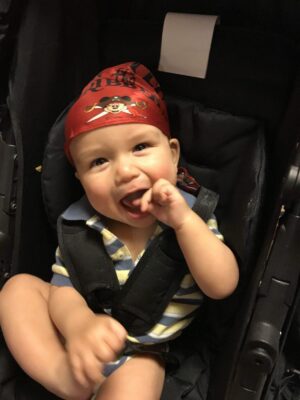 We always use a travel agent when we book a Disney vacation. A certified Disney vacation planner does not cost extra and they often know insider deals and tips! Get a Quote Now!
Cons of a Disney Cruise:
They aren't cheap!
This is obviously the biggest drawback to the cruise. I spent more on this 3-night vacation than I would normally spend on 7 nights at an all-inclusive resort.
I have only been on one other cruise line, NCL, and I went on it without kids, so I don't have a great comparison to other cruises. It's worth saying that I found my NCL cruise to be of similar quality in terms of service, food, and amenities. The only thing missing was the "Disney-ness"
I haven't been on a Royal Carribean cruise, but I've heard from many friends that they compare to Disney for a fraction of the cost. We may just have to try this cruise line next.
Thinking of a family cruise? Read our review of the best cruises for kids!
There are lines everywhere.
If you want to meet a character on a Disney cruise expect to get in line. This drove me CRAZY. I do not understand why they don't have at least one meal where the characters walk around freely and come to your table. Update: As per the comments below this does happen on longer cruises, which is great!
Although getting on and off the cruise at the various ports went better than expected, I still can't shake that feeling of being herded on a cruise.
I'm not the only one who has had concerns about lines on the Disney cruise either. This is a definite drawback of cruising in general and is probably not specific to Disney.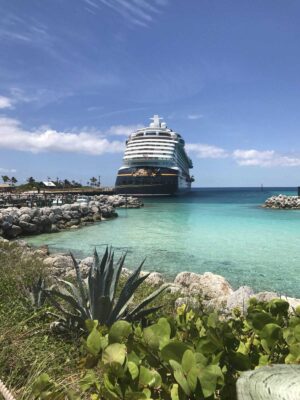 The food at the main restaurants is ok.
I really wasn't that impressed with the Disney cruise dining options. The breakfast buffet was quite good, but I found the dinners at the sit-down restaurants to be only ok.
The food felt a bit like cafeteria food. It was clearly pre-made for mass serving, as evidenced by the fact it took over 20 minutes for them to actually make the pureed food for my infant son.
Perhaps it was related to my expectations because everyone I knew RAVED about the food on the Disney cruise. It was definitely not anything special to me.  I prefer a nice buffet at an all-inclusive any day!
One thing I will note, that I have heard from several of my mom friends, is that Disney does a great job with food allergies. Certainly, this attention to detail is paramount when you have a child with an allergy, so that's a huge plus.
Check out Smart Mouse Travel's Disney Cruise Food Allergy Guide. She has some great tips!
For the best food, I prefer a trip to Disney World itself. There are so many great options and the food at Disney World is delicious! Check out my guide to the hardest disney dining reservations for more tips.
The pool is RIDICULOUSLY crowded.
There are two small Mickey Shaped pools on the main deck. The kids are crammed into these pools like sardines. Literally. Kids who could normally swim had to wear lifejackets in the deep pool because there was no room to hold onto the edge.
Of course, the kids really didn't seem to care. They were all having a blast!
I found it less pleasant for the adults trying to watch their little ones though. I've heard from some others who have read this blog that the crowds are much less on longer cruises.
So if you are looking for a quieter cruise, choose a longer cruise, and consider a destination less popular with young families like Alaska or the Panama canal.
The adults-only pool, which we lounged at when the kids were at the kids club was much more relaxing. I at least appreciated that there was a quieter place to sneak off to and escape the chaos of the main pool area.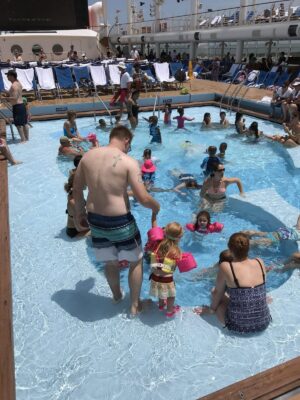 Don't forget your floatie! Check out our guide to the best baby and toddler floaties for your next vacation
So, are they worth it?
Overall, Disney Cruises are a nice splurge, especially if your kids (and you) LOVE Disney. We are just starting to get into the Disney Movies, Walt Disney, and all the Disney Magic in our house.
When my kids are older, and will really enjoy the kids club more I may book again and take advantage of the R&R for me and my hubby. For now, I think that Disney doesn't offer quite enough to make me convinced it's worth the $$$ again.
Wondering how to book your next cruise vacation? Whether you want to book Disney or another cruise line, we recommend an experienced travel agent. Travel agents book your vacation at no cost to you and can help you plan a magical vacation for the entire family! Get a Quote Now!
What do you think? What did you love about your cruise? Do you have a Disney Dream review? I welcome all your comments below!
Pin for Later!