Today I'm going to be sharing my review of the Quarterdeck Resort in Nova Scotia, Canada. When thinking of destinations for a family resort beach getaway, most people think of going south – the southern US, Mexico, the Caribbean, etc. I know I typically do! However, we wanted something a little different while still being on the beach….and so we ended up at the Quarterdeck Nova Scotia which is one of the best resorts in Nova Scotia. 

Yes, that's right. We went to Canada to go to the beach. And it did not disappoint!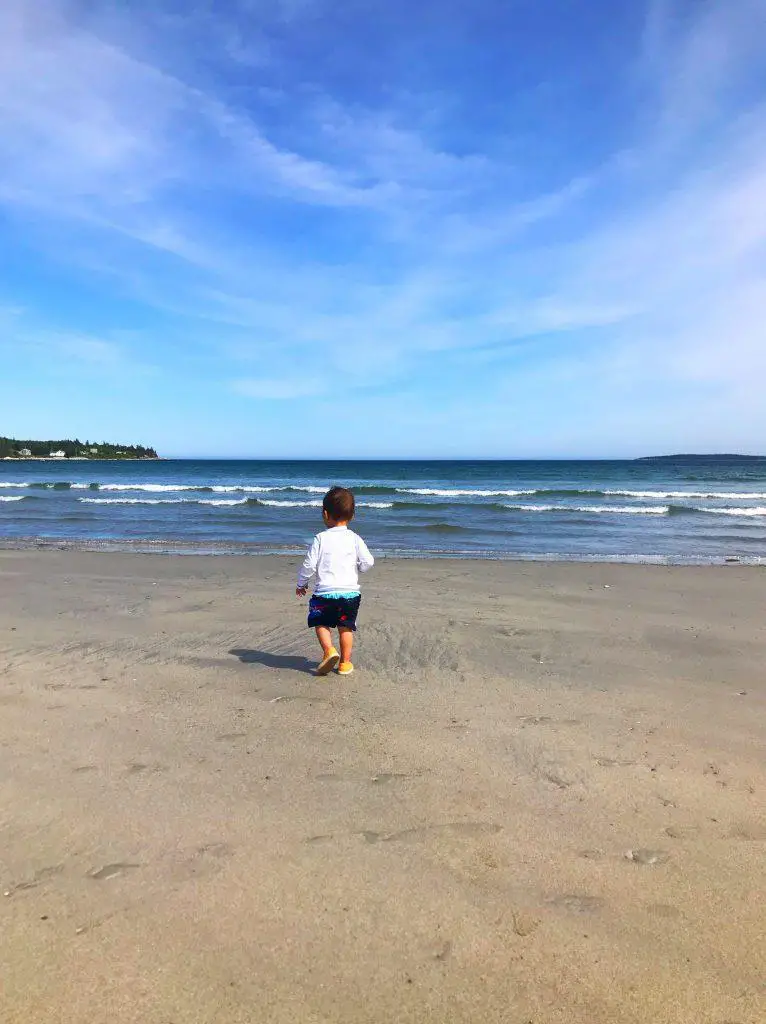 It turns out that Nova Scotia has an absolutely stunning coastline and The Quarterdeck Resort has a mile of white sand shore on their property. They say they're one of Nova Scotia's hidden treasures and I can honestly say that's very true. We felt like we'd discovered a hidden gem while we were staying there.
Quarterdeck Resort Rooms and Villas
We traveled to this Novia Scotia resort as a family with two adults and two kids. The Quarterdeck Beachside Villas have a variety of accommodations to choose from. There are beautiful beachside suites and villas as well as the newly built modern Oceanview lofts.  We chose to stay in one of the 2-bedroom Oceanview Loft rooms.  The room was very modern, gorgeous, and spacious. We enjoyed the private terrace and the ocean view immensely. It was the perfect place for us to enjoy a cup of coffee in the morning (no rushed mornings on vacation!!) or just hang out and relax while the kids napped. The floor to ceiling window offered a stunning view, even when we were inside.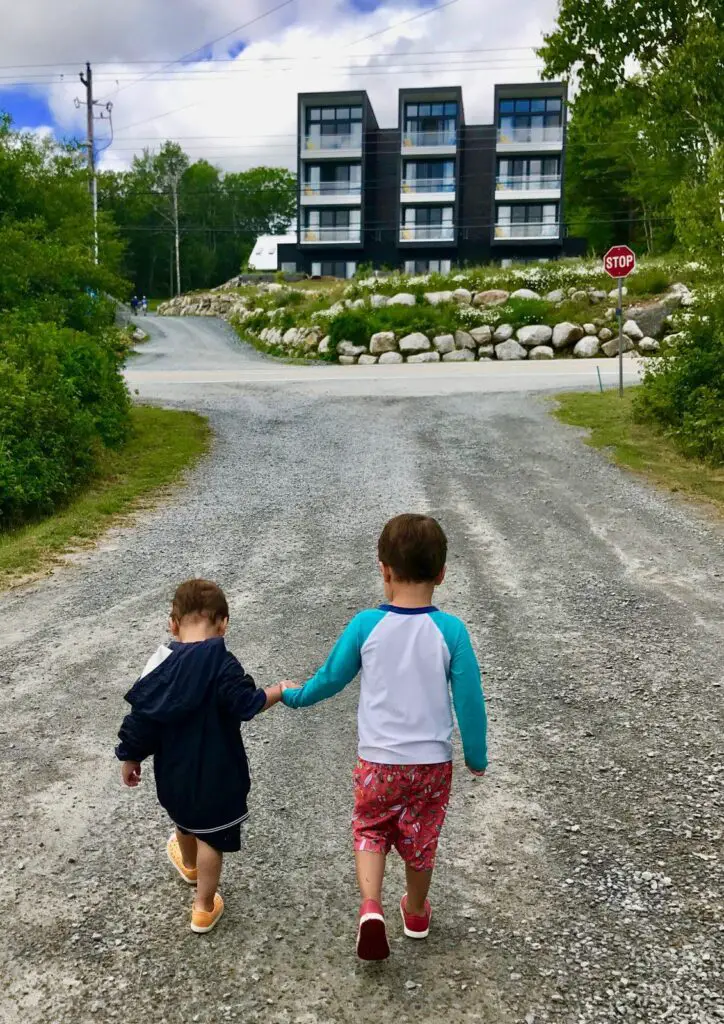 We had more than enough space in the two bedrooms to spread out as a family. This was especially nice at nap and bedtime as the kids were able to have their own sleeping space and we didn't have to worry about disturbing them. One of my favorite tips for *actually* relaxing on vacation with kids is to have separate sleeping space for young kids. It makes such a difference to have space where the kids can get to sleep easily and the adults can enjoy some time to themselves without having to sit quietly in a dark room trying not to wake anyone up!
Room Amenities
There's also a kitchenette, which was so helpful for preparing breakfast, snacks, and lunch for the kids. One of our top tips for saving money on vacation is to make as many meals as possible yourself so having a kitchen or at least a kitchenette is very important to us. It saves a ton of money, as there's no need to spend $20 on breakfast for kids who will take 5 bites and decide they're done.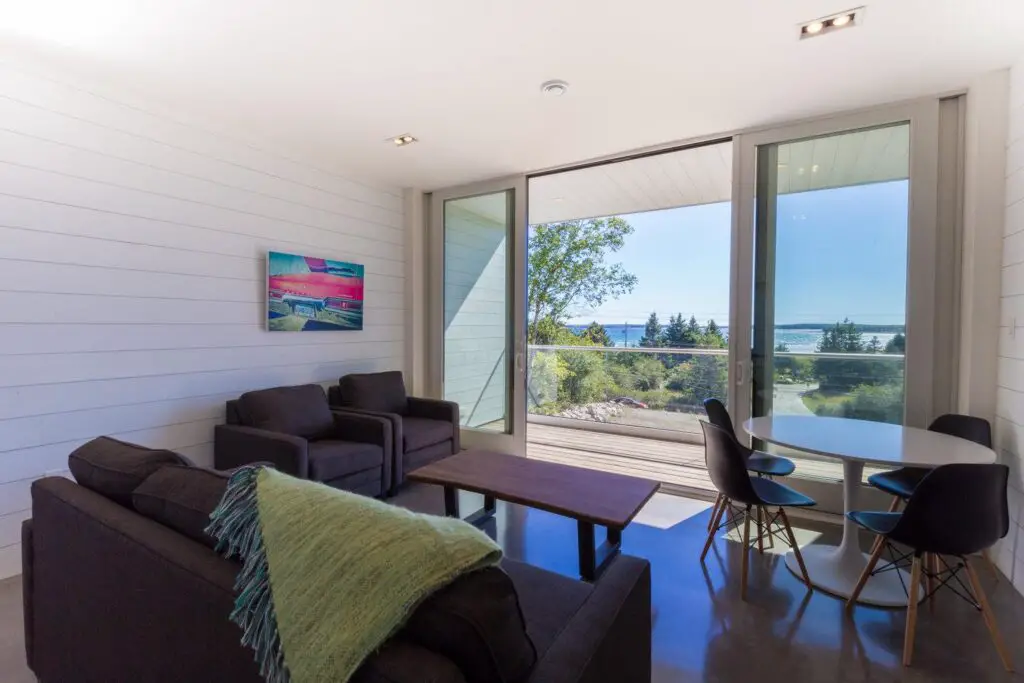 The entire room was very updated and classy but was also a space we felt we could live in, which is nice when traveling with kids. There was a nice space to eat breakfast and the kitchen was stocked with everything we needed. The large King bedroom was perfect for mom and dad. We found the bed and the linens to be extremely comfortable.  In the kids' room, there was a bunk bed and a television. It was perfect for two rambunctious boys and was a great space for them to relax at the end of the day. 
One thing to note is that though they have a beautiful ocean view, the lofts are set back from the beach. It's about a 2-minute walk to the beach which slightly less convenient for naps or if the kids needed something from our room but the privacy was nice. It was only a slight inconvenience and if you weren't traveling with kids, it wouldn't be an issue at all. However, we were very close to the pool and the activity lodge.
Quarterdeck Resort Pool and Activity Centre
The pool was actually the one thing we didn't love about Quarterdeck Resort. It was a very small, basic indoor pool and even my kids, who usually can't get enough of swimming pools, weren't very interested in it after the first dip. Since the kids didn't care about it, we didn't spend very much time there. We were really there for the beach anyway.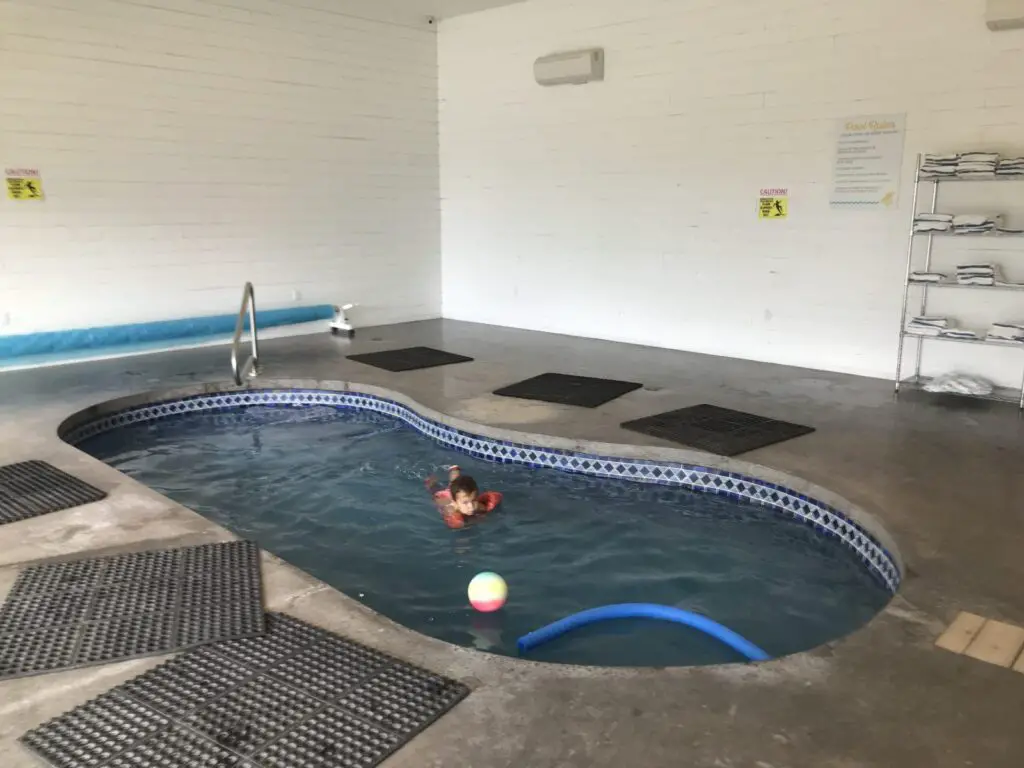 There was also an outdoor spa tub, which I thought was nice because it was heated but it was also quite small and required you to lift a heavy cover off of it to get it open. I used it a few times while the kids were napping because I love heated pools and spas.
The activity center offers a small theater and some games but these weren't really of interest to my kids so we didn't spend any time there. The theater did look nice, though.
But, let's be real, the reason we ended up at a Nova Scotia resort was not for the pool, spa tub or rec center…it was for the beach.
Quarterdeck Nova Scotia Beach
This is where Quarterdeck Resort truly delivers. Their property features a gorgeous, expansive beach. It really is as beautiful as the pictures show! We went just before the busy season started in June and all but had the beach to ourselves. I expect that even during busy season it still won't feel crowded.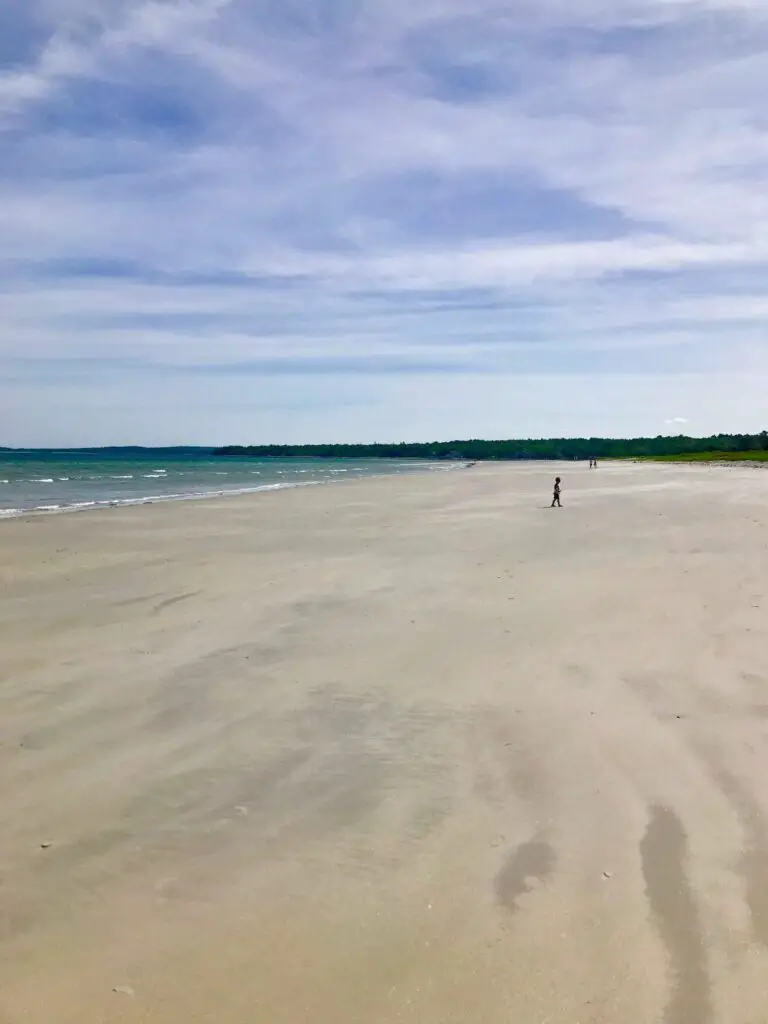 As I mentioned, I love warm water so the water here was a bit too cold for me. Nova Scotia certainly isn't known for its warm waters. Even in August, the water is on the cooler side.  My kids, however, still loved playing and splashing near the shoreline. The water is calm, which was great for them.
We made walking up and down the beach an almost daily activity while at Quarterdeck Nova Scotia. We'd stop along the way to let the kids play in the sand and it was a great way to tire them out for naptime since there's not a ton of extra kid activities at Quarterdeck Resort. There are also some trails and a beautiful boardwalk behind the beach that was perfect for kids with lots of energy.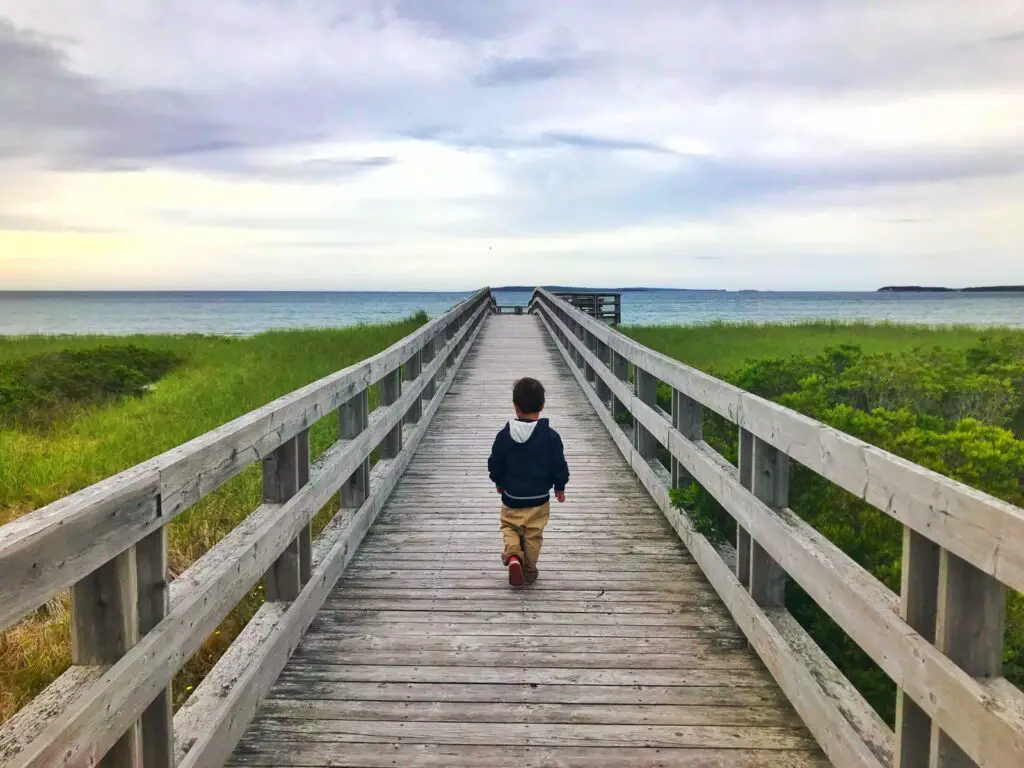 Quarterdeck Resort Restaurant
The other absolutely outstanding thing at Quarterdeck Nova Scotia is the restaurant. It was probably one of the most gorgeous restaurants I've ever been in, with beautiful water views. We found it best to make reservations, especially for dinner as they're only open from 5 pm to 8 pm. They are not open for breakfast, though they do open at 10 am for brunch which is always a fun option on vacation, especially if you're sleeping in (if the kids can last that long without dying of hunger, of course). We tried several dishes and enjoyed them all.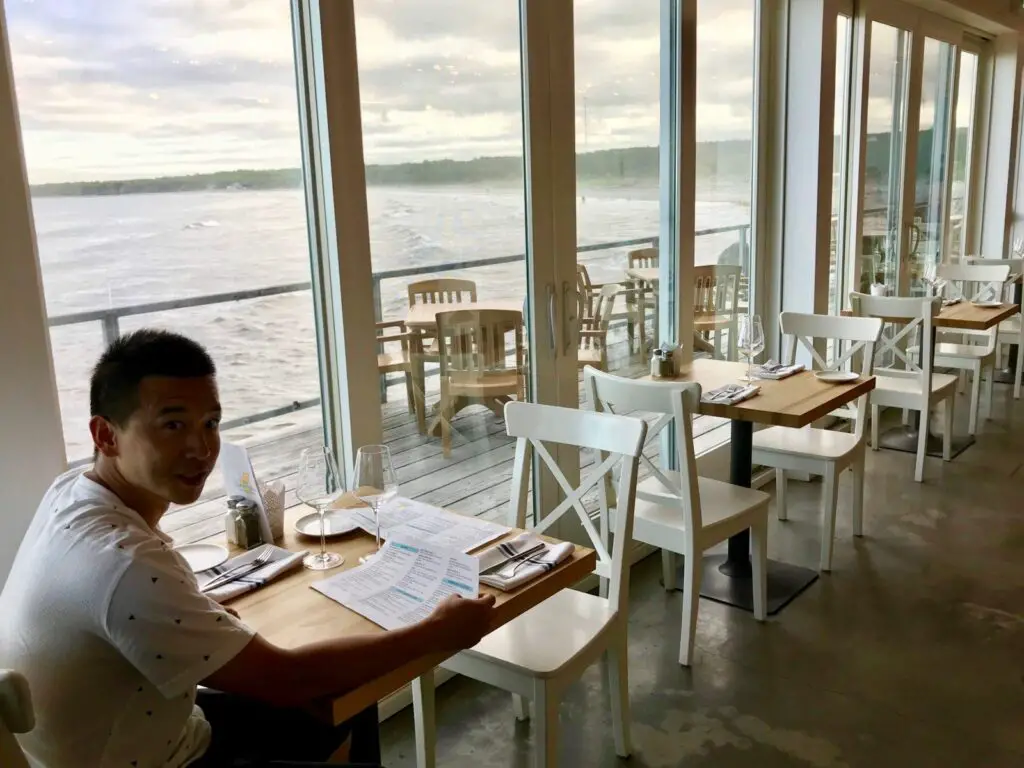 But, most importantly for someone who travels with kids, the restaurant staff was very accommodating to kids. Our youngest was grumpy at one lunch and the server went out of her way to try to find some crayons and activities to keep him entertained while we waited for our food. I've been to many restaurants with a grumpy child and can say that sort of treatment is not standard! We truly appreciated it.
What else to do in Nova Scotia
While you're in the area, the south shore of Nova Scotia is the perfect place to do some sightseeing. You won't be disappointed with nearby Lunenburg and Mahone Bay. You can also check out the iconic Peggy's Cove and stop for a traditional Nova Scotian lobster supper. Don't forget about Nova Scotia's largest city, Halifax. Halifax was the first stop on our Nova Scotian journey and we had so much fun with the kids in this wonderful city. Check out our top 10 things to do in Halifax with kids.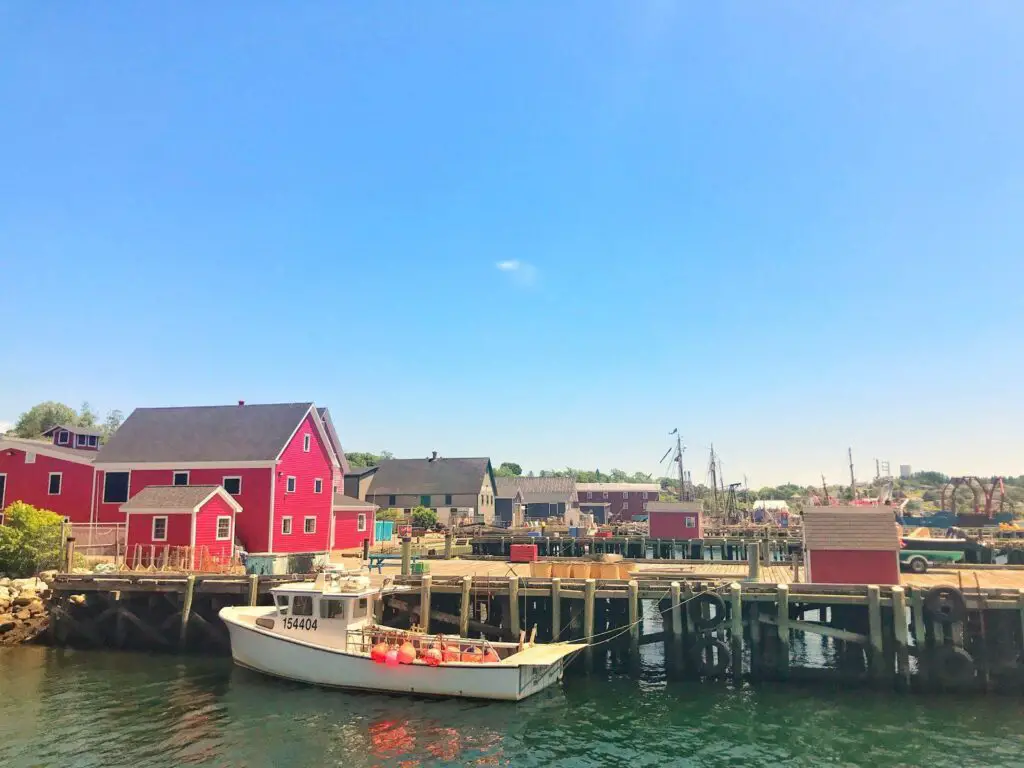 If you're looking for a beach resort that's not your typical Caribbean getaway, don't forget to look north to this Nova Scotia resort. It may not be your first thought of an idyllic beach getaway but if you're looking for beauty and tranquility over hustle, bustle and are okay with cooler water, Quarterdeck Resort is definitely an option to keep open!
Pin for later!