Thinking of doing a cruise with a baby? Disney offers the ultimate in baby-friendly cruise amenities.  We just returned from our first Disney Cruise with a baby on board the Disney Dream! Our cruise was the 3 night Bahamas itinerary with one day in Castaway Cay (also known as PARADISE!). We traveled with our 3.5-year-old and 8-month-old sons. The trip was a blast and you can read my full review of the pros and cons here. Cruising with a baby is easy, and Disney goes out of their way to provide you will LOTS of baby amenities on board.
Cruising with an infant is a super easy way to travel. It's great to be able to unpack only once, especially when I end up bringing the entire house for one 8-month-old baby! A Disney cruise with an infant is really the ultimate for a carefree vacation with a little one. Disney offers so much for every age and I found their cruise daycare to be absolutely top-notch.
There are a few tips that I think will make your cruise easier with a baby on board.
Here are my top 10 tips for a Disney Cruise with a baby
1. Get on the ship early
Ok, so this one isn't really baby-specific because it's ALWAYS a good idea to get on the ship early! However, with all of the extra stuff we were lugging in I was certainly glad to have booked the earliest possible entry time for my cruise. You can do this by adjusting your check-in time on 'My Disney Cruise' section of the Disney website. We got on at 11 am and had time to eat lunch and check out the pool and splash pad before we even left port.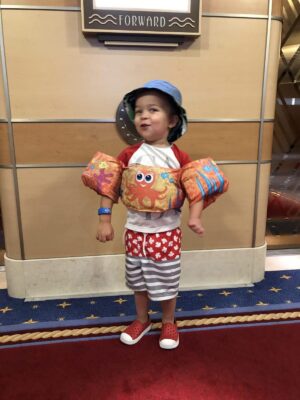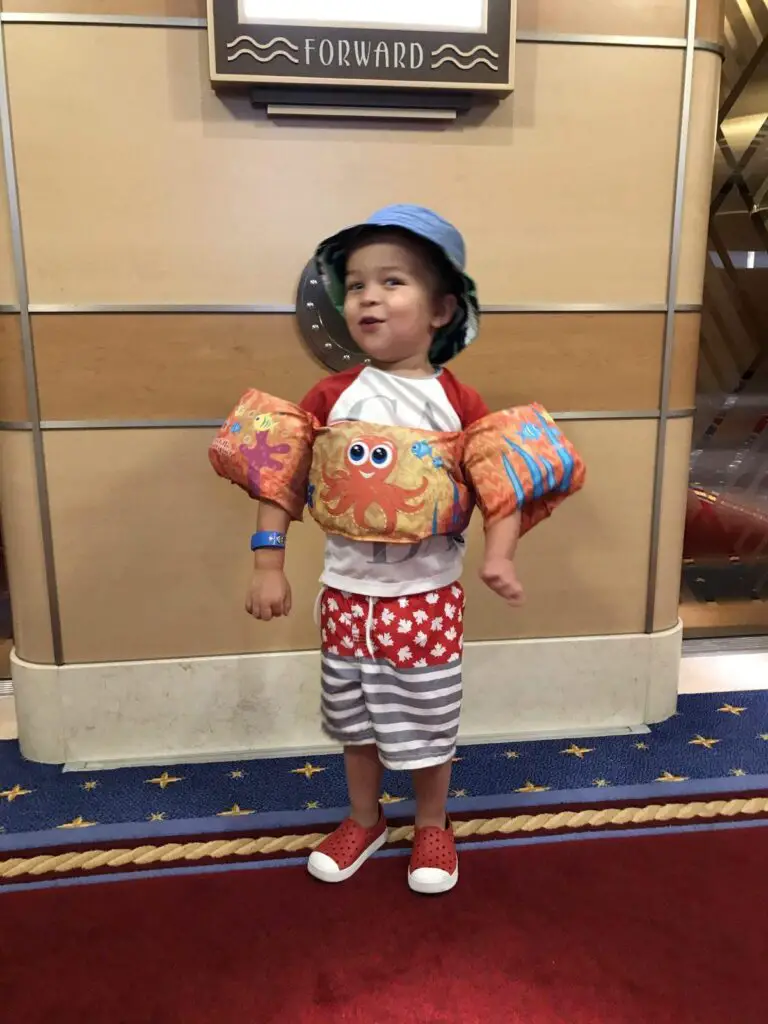 Remember that you might not have your luggage for a few hours after departure, so it's really important to have a day bag with all everything you need! I've included my Disney cruise day bag packing list below. For a full list of what to pack for a vacation with kids, you can check out my family packing list pdf! Or if you are looking for some Disney must-haves, head on over to Fill My Passport for an awesome Disney Packing List.
Our Day Bag Packing list: Disney Cruise With a Baby:
Change of clothes each child
Swim Suits
Regular Diapers
Wipes
Diaper Cream (this spray kind is the best for travel!)
My emergency medical kit (click through to my post!)
Soother
Two baby bottles
Snacks
Being that this was our first Disney experience we were totally underprepared when it came to all the Disney themed accessories to wear on the first day. Next time we will be on it for sure! Check out this great list of Disney accessories and gifts for ideas.
2. Use the small world nursery
One of the main reasons that we decided to book with Disney was because of the Disney cruise nursery on board. The nursery is called "the small world nursery" and it was amazing for our children. Childcare for babies and toddlers is hard to come by at other resorts and having this service was amazing! We got to enjoy an AH-MAZING evening at Remy (see below) and we also booked our 8-month-old in for a few hours while we were at Castaway Cay with our older son. 8-month-old babies just don't really care for sand, unless they are eating it, and this way we got to have a little date with our older son.
The ladies at the small world nursery on the Disney cruise are amazing. They were all so caring and clearly very experienced with young kids. I loved that they gave me a full report on how my son did when we would come to pick him up. As I was still nursing they also had a nice area for me to sit and nurse my son when he got hungry. It was perfect. The small world nursery does cost extra, but given the cost of the cruise, it was a small fee to pay for an amazing service!
Check out this youtube video by PassPorter Guides that details the entire nursery space.
3. Book Remy for an Adults-Only Dinner Date
Remy is the adults-only restaurant on the ship. We booked both our kids into the Small World Nursery and enjoyed the BEST MEAL OF OUR LIFE at this amazing restaurant. I seriously can not say enough good things about the food here. We are not novices when it comes to eating out, but Remy topped all of our expectations. Traveling with young kids can be exhausting, treat yourself to a date night on the Disney cruise and you won't be disappointed! Remy does cost extra, but IMHO it was well worth the price!
4. Watch the shows from your room
I'm always amazed when I go on vacation and I see so many kids up and about at 9 or 10 pm enjoying the night. I guess there are two types of kids: those who can stay up late, and those, like mine, who absolutely have to go to bed by 8 pm or EVERYTHING WILL BE AWFUL for the rest of the trip. To be fair, I think they came by it honestly, I'm pretty grumpy when I don't get my beauty sleep. With the kids tucked into bed, my husband and I would watch the shows on the TV in our rooms. We would also sit out on our balcony and enjoy a glass of wine before bed. The blackout curtain that separates the "kids sleeping quarters" from the adults was perfect for this. Also, we were basically both asleep by 9 pm as well. My kind of vacation!
If you have a 'tough sleeper' like we do, make sure to check out my post on how we get our kids to sleep on vacation.  We have a lot of tricks for getting our kids to sleep just like they do at home.
5. Use the SAFE-Go to lock up your stuff by the pool
If you've read any of my other blog posts, you will know that I am kind of obsessed with this product. Seriously though, this is literally the best "travel gadget" I have ever purchased. The Safe-Go is a portable safe that is big enough for a couple of cell phones and a wallet and attaches to pretty much anything (stroller, beach chairs, etc etc). I loved having this thing on the cruise. It was especially great for a cruise with an infant because you can leave your stuff while you chase around a toddling baby.   With two young kids, there is really no such thing with 'one person staying back with the valuables' My kids were all over the place and being able to lock up my cell phones and my room card was key. I felt more at ease knowing my stuff was safe wherever I left it.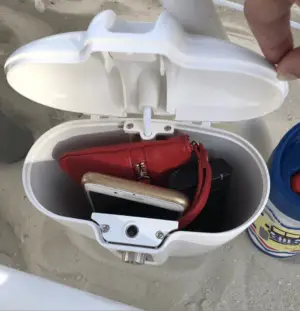 6. Stay on the ship in Nassau
Unfortunately, this wasn't much of a 'secret tip' on my cruise as I estimate that at least 75% of people seemed to stay on the ship in Nassau. Despite it being a bit crowded, we still had a great day on the boat in Nassau and I'm glad we decided to stay on the ship. My sons both loved the splash pad, and it was great that little ones who are not potty trained were allowed to use this area. We also took advantage of the Small World Nursery again this day for a few hours during my son's nap and my husband and I got to relax in the adults-only section. Win!
7. Bring a stroller for your Disney Cruise with a baby
Before going on my cruise I joined a few Disney facebook groups and read a whole bunch of blog posts on Cruising with a baby. MANY people said not to bother with a stroller and just bring a carrier. When I mentioned on a facebook group that I was thinking of bringing a DOUBLE stroller I got a lot of comments about how it was really NOT a good idea. Of course, I didn't listen (what else is new!) and I brought a double stroller on the cruise and ABSOLUTELY DO NOT REGRET IT!
My kids love the stroller and I love the stroller too. Both of my kids will sleep in a stroller, and if the kids are asleep in the stroller, the adults can be outside enjoying the fresh air and not cramped up in a small stateroom. Yes having a double stroller was a bit awkward in the tight hallways on the trip, and yes getting it into and out of the room required fully folding it up, but I WILL BRING IT BACK AGAIN AND AGAIN!
We chose the ZoeXL2, which is a great double travel stroller.  It folds up super small but still has a lot of the features of a full-size stroller (recliners, great canopy, decent under-basket). If I did it again, I might consider taking two super compact travel strollers as it would have been easier to navigate the halls.
8. Get a Balcony Room
We booked our trip somewhat last minute (1 month before departure), and when I compared prices at this time the balcony room was not much more expensive than an inside stateroom. The balcony is great for the adults when kids are napping or sleeping in the room. We used it at night to have a drink and watch the sunset. According to the concierge, we also could have watched the fireworks from our balcony but my husband and I didn't make it to 10 pm when they were happening (HA!!)
At first, I was nervous about the balcony room safety because my 3.5-year-old son is definitely a climber and could easily climb up onto the furniture and jump overboard. There is a really good childproof bolt at the top of the sliding door so I immediately felt much more comfortable knowing that he couldn't try to open the door.
9. Get the early dining seating
Since we booked so last minute the only seating that was left was the late seating. I have to give it to Disney though, my travel agent called to tell them that we were cruising with an infant and the seating was immediately changed. I am so glad because I think it would have been a big struggle to try to keep my kids up for the late seating. If you do end up with a seating that is not your first choice you are able to go to the Cabanas buffet instead, but my understanding is that Disney tries their best to give everyone the seating of their choice.
Most cruise ships do not let toddlers and babies who aren't potty trained near the pool. This is the same for the pools on Disney. They are quite strict with this rule, I was asked a few times if my 3.5-year-old was potty trained when he went swimming in the pool.   Babies and toddlers ARE allowed to use the Nemo's Reef splash pad. This cute splash area was perfect for the little ones and both my son's loved it. The splash pad is a huge plus compared to other cruise lines I looked at.
Reusable swim diapers help to save on space and they come in lots of cute designs! Save some packing room (and the environment!) and go with a reusable diaper.
Disney Cruise Baby Facts
The minimum age for a Disney cruise with an infant is 6 months. Some specific Disney cruises require infants to be over 12 months of age.  Check with your booking agent for more details.
Infants are not free! As compared to an all-inclusive, you will pay more for a Disney Cruise with a baby.
You can request amenities like a diaper disposal unit, bottle sterilizer, pack and play and pureed foods from guest services when you arrive on your cruise.
Have you cruised with a baby? Do you have any tips for a Disney cruise with a baby? Drop me a line in the comments below if you have any questions or suggestions. Enjoy your cruise!
xoxo
Kate