Our trip to explore the Cabot Trail in Cape Breton Nova Scotia was hands-down one of the best trips we have ever taken. The beautiful vistas, amazing food and friendly people made this trip so worthwhile. The Cabot Trail and all of Cape Breton, Nova Scotia is perfect for travelers of all ages. We had a blast bringing along our toddler but would have loved this trip before kids as well.  There are beautiful (and toddler-friendly!) hikes including the Skyline Trail, budget-friendly Cabot Trail accommodations with AMAZING amenities, along with gorgeous drives and a great selection of places to eat (lobster, of course!). Check out my post below for my guide to this amazing part of Canada, and be sure to drop me a line in the comments if you have any questions before your next trip to the Cabot Trail.

A Week in Cape Breton (Cabot Trail) Nova Scotia
[toc]
Where to stay in Cape Breton Nova Scotia:
We spent a week on Cape Breton Island and stayed in 3 different towns while we were there. I think this was perfect because we got to see a lot of the island and minimized our driving all day long. Take a look at this Cape Breton Nova Scotial map to see our route. We didn't do a full circle because of time but usually the best plan is  to do the trip around the island  "clockwise" or "counter-clockwise" stopping in 2-3 places along the way. We stayed in Margaree Forks, Cheticamp, and Port Hood.

Popular Cape Breton Towns::
Baddeck: A very cute lakeside town with lots of activities and great restaurants. They have a great beach that you take a ferry to and offer sailing trips which are really popular among tourists.
Ingonish: Home to the famous Keltic Lodge and Ingonish Beach.  This town is located right next to the Cabot Trail and provides a great starting point for exploring the trail. Lots of great cabot trail accomodations options in this small town.
Cheticamp: We stayed in Cheticamp for the two nights that we explored the Cabot Trail. It is also right next to the park entrance (on the other side of Ingonish) and is the closest town to the Skyline Trail which is very popular for hiking the Cabot Trail. There are no large hotels here (or on all of Cape Breton island), but there were lots of great options for accomodation near the Cabot Trail.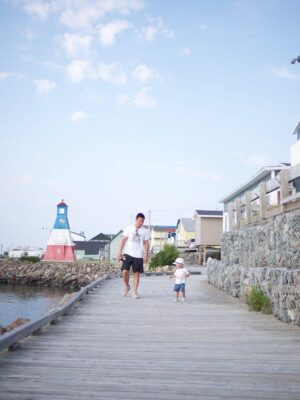 Mabou: A lively town, which is home to the famous Red Shoe pub.  Close to the famous Cape Breton golfing and beaches. Lots of great options on Airbnb and HomeAway in this area.
Port Hood: We stayed here on our trip and loved it. It is close to the highway that heads to Halifax and makes for a great stop either on your way there or back. This place has more of a cottage feel and seems to be popular amongst locals. The house we stayed at was right on the ocean and even had its own beach. What a great way to relax at the end of our trip.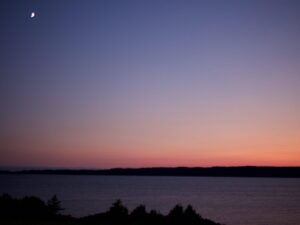 Hotels on the Cabot Trail:
The Keltic Lodge: This is the most famous hotel on Cape Breton Island and is close to the entrace of the Cabot Trail. The setting is breathtaking and the hotel is being updated.
Cabot Links: This is the only true luxury option on the island. We did not stay here but we golfed and ate here and the views and landscaping were gorgeous. Expect to pay for the luxury, but you will be amazed! It is a short drive to the entrance to the Cabot Trail.
We stayed at HomeAway and VRBO rentals while we were on our trip. There are not a lot of hotels on the cabot trail or on the island, so rentals seem to be very popular in Cape Breton. We love renting a house on vacation with kids because you have lots of amenities. We were so happy to have separate bedrooms for our son so we could all sleep in peace! Finding a rental with a crib can be difficult so we brought along our Phil and Ted's Traveler Crib which I highly recommend!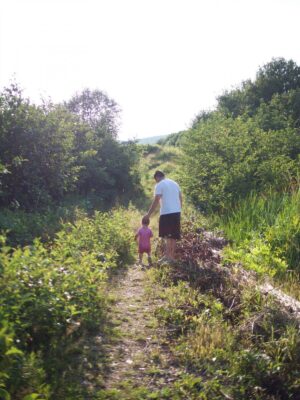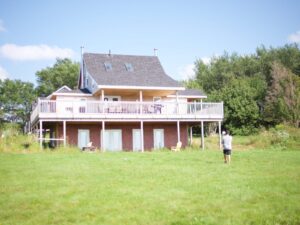 The Best Restaurants on Cape Breton Island:
Baddeck Lobster Suppers: You have to eat lobster at least once on a trip to the Cabot Trail in Cape Breton! We went to this restaurant in the lovely town of Baddeck which provides a "lobster supper" experience. They offer all you can eat lobster, salmon, snow crab or steak. They had crayons for the kids and the restaurant is loud enough that we weren't bothering anyone. Check out their TripAdvisor rating, there is a reason they are #1!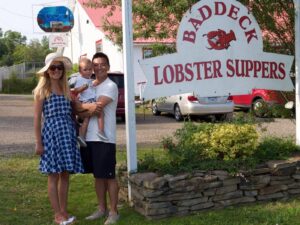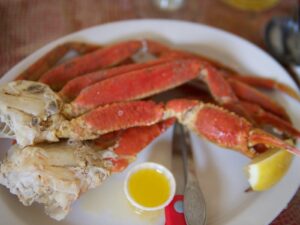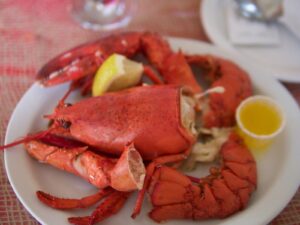 Red Shoe Pub: We went to the Red Shoe Pub three times on our trip we loved it so much! Owned by the famous Rankin Sisters, this landmark restaurant was always packed each time we went. There is entertainment every night with live traditional music. The place is always loud and lots of kids get up to dance. Its a great hang out for the family crowd.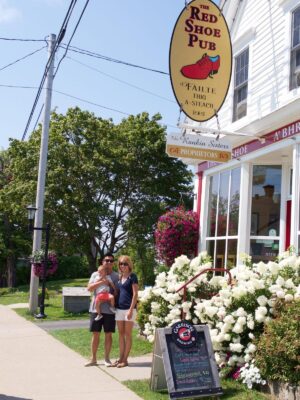 The Dancing Goat Cafe: A must stop!! We also went here more than once on our trip because it was so amazing. This cute little bakery is family friendly and had a great selection for kids and adults. Try the pancakes, they are amazing!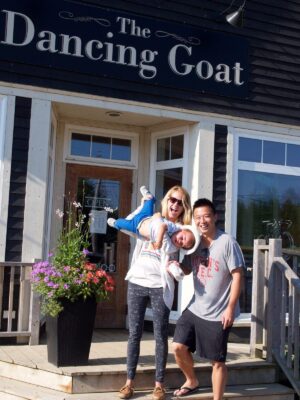 Cabot Links Panorama Restaurant: My husband and I went here on a "date night" during the trip and we left the kids with our babysitter. The food was delicious and the setting was very romantic.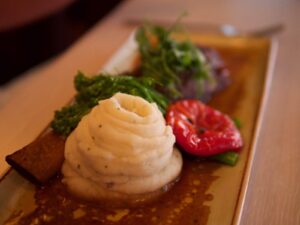 High Wheeler cafe: This cute bakery and cafe has amazing baked goodies. So yum!!
Rusty Anchor: For your day hiking or driving the Cabot Trail, we stopped at the Rusty Anchor which is one of the few restaurant options on the trail. There is a great selection of seafood options. Try the lobster rolls, they are delicious!
What to do (with kids!):
There is so much to do on the Cabot Trail and on Cape Breton island. It is easy to spend a week and still feel like you haven't explored the whole island.
Hiking is an absolute must on the Cabot Trail. The most popular hike is The Skyline Trail and this iconic hike is perfect for young children. The majority of the trail is stroller friendly. It is only for the last 15 minutes of the trail (which is the part with the breathtaking views) that it is not stroller friendly. What we did is parked our stroller right when we got to the first set of stairs. There is a bench and if you have a lock/safe (like this one that is AMAZING and I highly recommend) you can lock your stroller and valuables up. We didn't have a lock on this trip and I just left my stroller folded up. I don't think there are too many people wanting to steal a stroller on this trail, so I took my chances!
Hiking with kids has so many benefits, including fostering their fitness and gross motor development all while allowing them to naturally explore their environment. At first I was a bit nervous to bring a toddler on a hiking trip, but it turned out to be such as easy activity. Kids love open spaces to explore, and my toddler will run and full speed and climb things any day, so this was a fun adventure that we all enjoyed.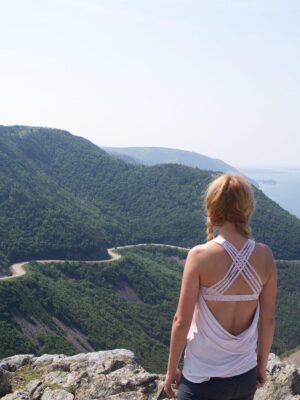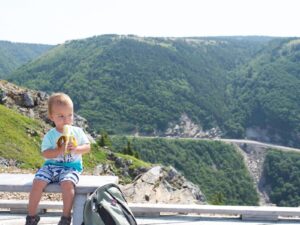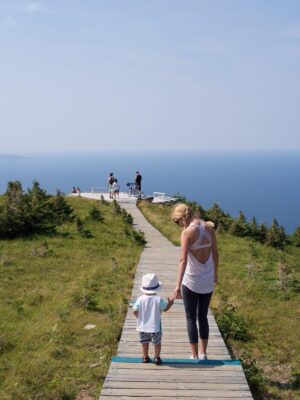 Driving the Cabot Trail:
If your kids will nap in the car I highly recommend doing some naps "on the go." I feel like my husband and I had our mouths dropped the whole time we drove around the island. There are gorgeous views everywhere you look. We stopped to take pictures at the many 'scenic spots' along the way.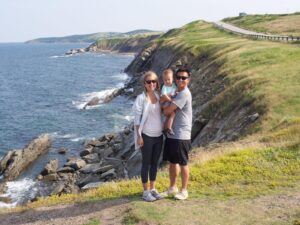 Fishing in Cape Breton Nova Scotia:
There are lots of places to fish on the Cabot Trail and the rest of Cape Breton island. You can organize a tour through one of the many companies available on the island. We have basically zero experience fishing and we just wanted to give our son the chance to catch a fish. We went to a trout farm run by a local family on the island and had a wonderful time. The couple who owns this place are so lovely, you must visit! My son and our babysitter caught a fish right away but my poor husband had to go to the "small pond" which is basically more fish than water in order to catch one. He doesn't have much luck with the fish!
 The Best Beaches in Cape Breton:
There are lots of gorgeous beaches on the island. You don't have to drive far to get to a beautiful spot anywhere on the island. Several times we came upon a beach that was completely deserted. If you are looking for the best beaches, check out this review here. The water on Cape Breton isn't warm, so it wasn't swimming weather for me! My son still went in the water but I enjoyed making sandcastles on the beach. The best time for beach weather is August.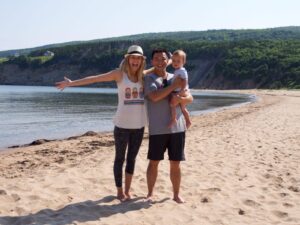 On our day doing the trail itself we went whale watching. We went with guaranteedwhales.com and absolutely it! We saw at least 6 whales and my son (who at the time didn't really understand the whales) thought that going on a boat was the coolest thing he had ever done! Book in advance, especially during the peak months, it gets busy!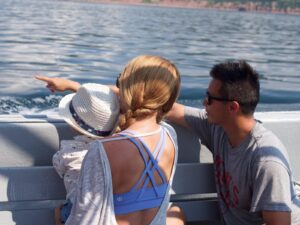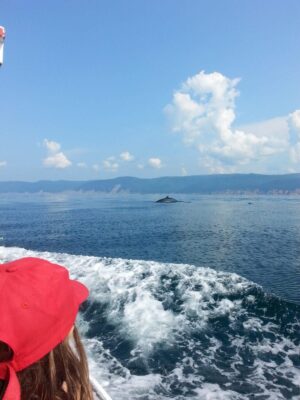 Obviously, this activity is less kid-friendly, unless you have older kids who like to golf! We were fortunate to be able to bring our babysitter on the trip, and spent one afternoon doing "adult-only" activities. The Cabot Links golf course is certainly one of the best in Canada. It's sister course, Cabot Cliffs, has some of the most breathtaking views of Nova Scotia. My husband is the golfer in my family (as you might be able to tell from my swing ha!) and he absolutely loved this course and we will certainly be back again!
This golf course also has some of the nicest accomodations near the Cabot Trail. The rooms at Cabot Links look amazing!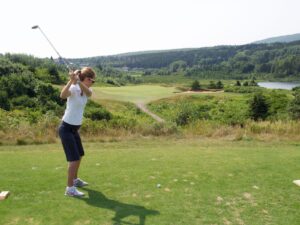 This was part of our "kid-free" afternoon and was a great stop for a tour and dinner. The Glenora Distillery makes single-malt Canadian Whisky, called "Scotch" if it's from Scotland. Learning about the history of this place was great and our tour guide was really knowledgeable and entertaining. The highlight for my husband was getting to purchase his own bottle to fill right from the barrel! We loved it!
Things we missed:
We didn't get a chance to check these things out but have heard they are great with kids!
Alexander Graham Bell Museum in Baddeck
How to get there:
Flying: Airports in Nova Scotia
There are two options for flying to Cape Breton: Syndey, Nova Scotia and Halifax, Nova Scotia both have airports with a variety of flights. I always use Skyscanner to compare prices and get price alerts, so I know I am are getting the best deal on my flight!


The first option is to fly into Sydney, Nova Scotia and rent a car from there. These flights are harder to get and the rental car selection isn't as large. However, it is convenient if you can get a flight that works because the drive from Sydney to the entrance of the Cabot Trail is only about 2 hours.
The second is to fly into Halifax, Nova Scotia and rent a car from there. This is what we did as there were more options this way for flights. The drive from Halifax to Cape Breton island is about 3 hours and the drive from Halifax to the entrance of the Cabot Trail is about 4.5 hours.
Driving to the Cabot Trail:
If you live on the East Coast, driving to Cape Breton Nova Scotia is an option. For Canadians, the drive through Quebec is beautiful and there are lots of great stops on the way.
Example drive times:
Toronto to Cape Breton: 19 hours
Montreal to Cape Breton: 14 hours
Boston to Cape Breton: 13 hours
Weather in Cape Breton Nova Scotia:
The peak time to go with the best weather is definitely July and August. August is the most reliable month for warm weather. We went in August and the locals joked that summer had 'just begun' and was coming to an end soon. Our days were hot enough to wear tank tops and short sleeves but not so hot that we felt like we couldn't function. The ocean was way too cold for me, even at the warmest time of the year!  Fall is also a nice time to travel to see the leaves change on the Cabot Trail. Keep in mind that in the off-season many of the restaurants, cafes, and even lodgings are closed.
What to pack: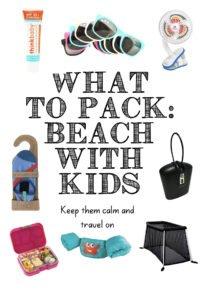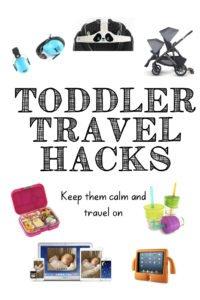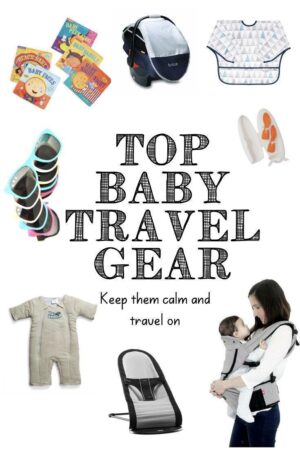 Hope you have enjoyed my guide on Cape Breton Nova Scotia with kids. The Cabot Trail is absolutely a must see and should be on everyone's bucket list! Would love to hear about your favorite spots on the island for our next trip back. Drop me a line in the comments and let me know!
xo
Kate