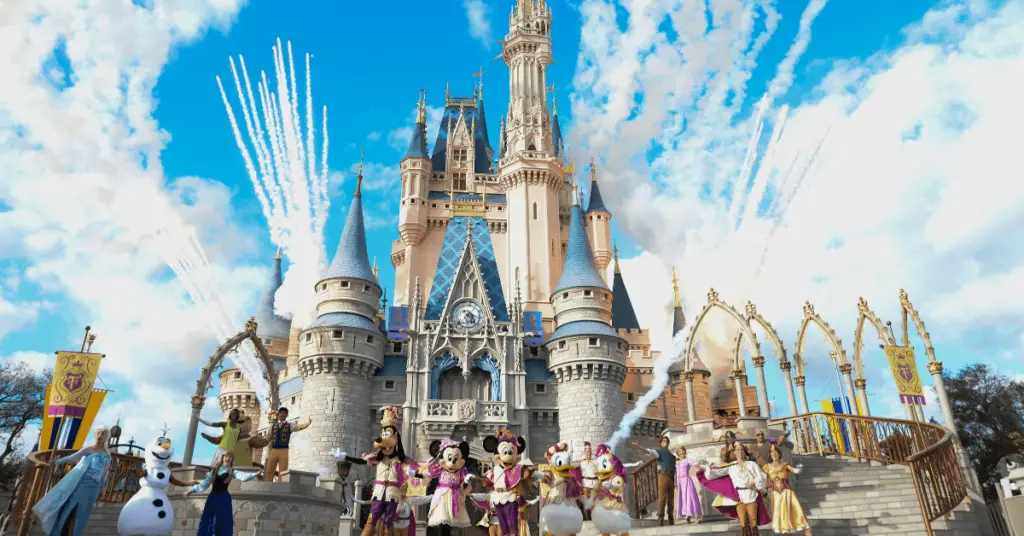 Going on vacation in Disney World you would expect temptation to be everywhere.  From Dole Whips, Mickey bars, and other delicious treats, it can be hard to stick to your goals of eating healthy at Disney World. Today we are going to be sharing our ultimate guide on how to eat healthy at Disney!  If you plan ahead, it's actually very easy to find healthy options at Disney World. Eating healthy on vacation also doesn't mean giving up all indulgences. In this post, we are going to show you how to eat healthily and still enjoy a few indulgences on your Disney vacation.
Luckily, it has never been easier to stick to a diet at Disney World, thanks in part to all the planning required.  Since many Disney vacationers plan their meals and stops in advance, it's easy to pick and choose restaurants with healthy options before your trip has even started. These dining tips will help you stay the course and avoid temptation as you navigate Disney on a diet.
How to eat Healthy At Disney: The Ultimate Guide
Read Menus Ahead of Time
Of all the dining tips, this is the simplest yet often overlooked.  You can actually access all of the menus in Disney World online. This also helps with your budget, because pricing is also listed.  This is an immensely helpful planning tool, especially when you are on a diet.
Leverage Quick Service
There are some ways to use quick service restaurants to your advantage when you are on a diet. In some cases you can share a meal and be satisfied.  You can also get away with ordering a kids meal without getting weird looks.  That's one of my favorite dining tips.  Disney has special Mickey Check Meals that are closer to regular entrees.  They are usually healthier items and come in a smaller portion.
Reservations
One of the best ways to ensure you will have healthy options is to reserve your dining in advance. Be sure to check the menu and plan out healthy stops on your trip. When you reserve a table at a restaurant you've chosen to eat at, make a note of any special dietary restrictions.  If allergies play a part in your diet, they are especially accommodating.  Mention it again when you arrive at the restaurant, and the chef will come out to speak with you about what you require.
Order Healthy Groceries or do a Grocery Run
Bringing our own food is not only a great way to stick to a diet, it is also a great way to save money on your Disney vacation. You can order Amazon Fresh to your hotel, or home rental to save time on vacation.
Pack Snacks for the Park
Disney parks allow outside food into the park, so save your dollars and buy snacks ahead of time! We pack a variety of healthy snacks including dried fruit, protein bars, slices fruits and veggies and pretzels and hummus.
Use Fruit Stands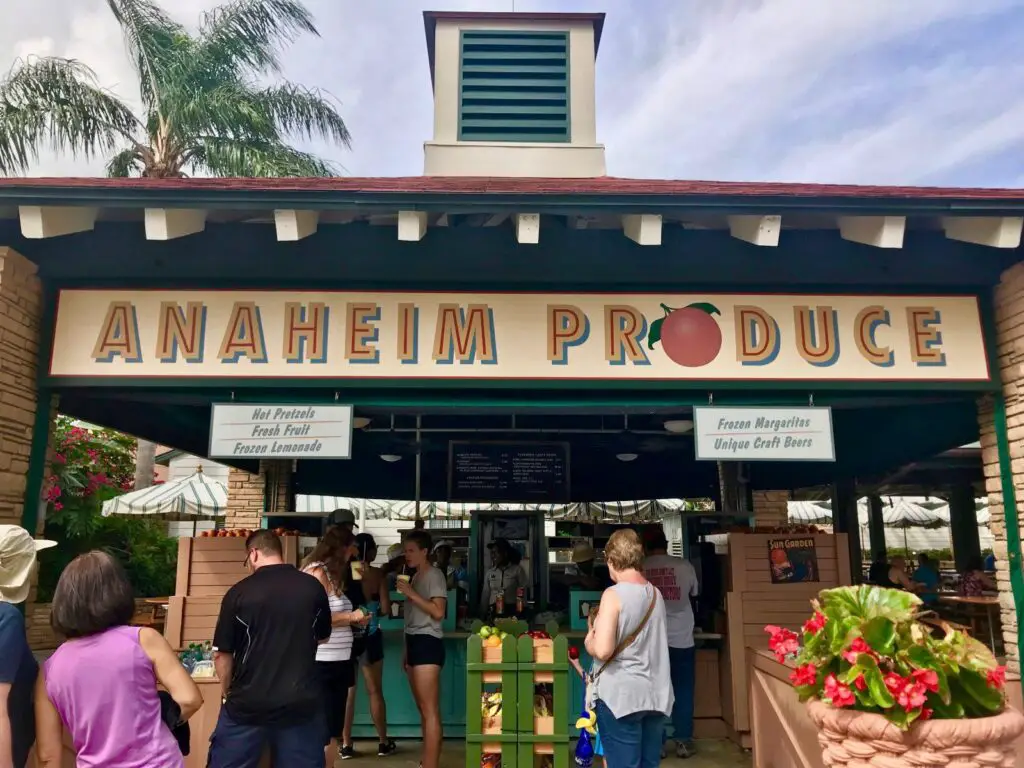 This is a really helpful dining tip while dieting at Disney.  Disney World has its fair share of fruit stands wherever you happen to be.  Be on the lookout for sheltered locations that carry things like veggies with hummus dip, apples, bananas, and other healthy grab and go options.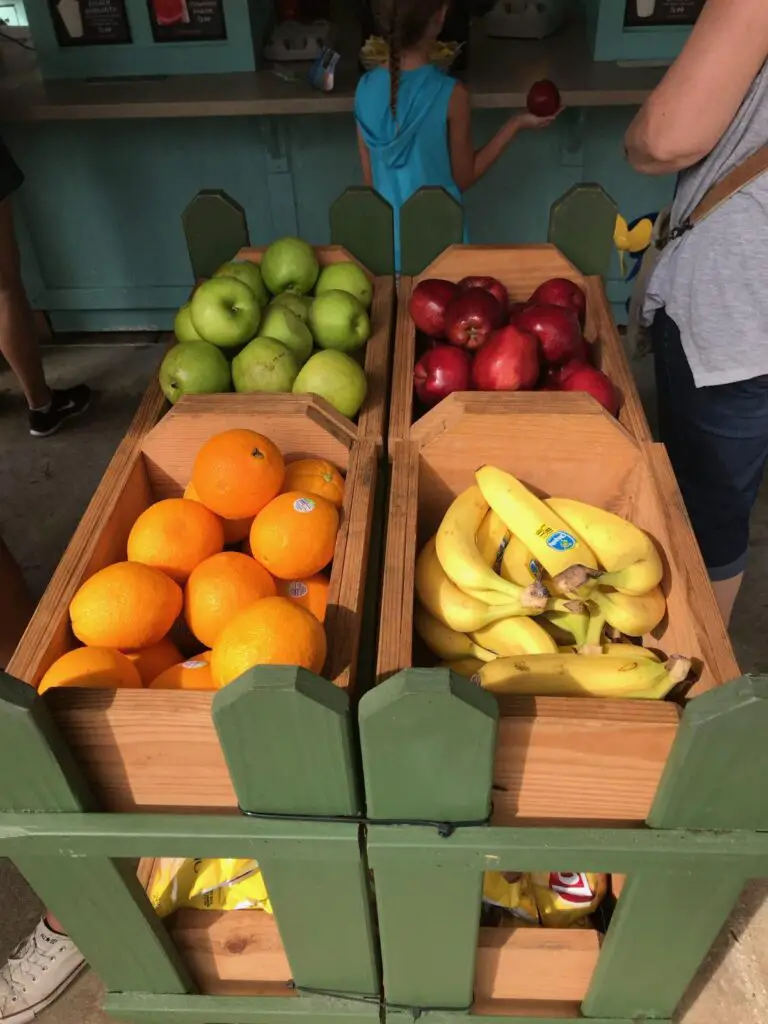 Pack Water
The most important dining tip is to stay hydrated with your own water.  It will save money to bring your own water and drinks. It also prevents having to go buy water somewhere where temptation might be lurking.  Another good plan is to have snacks packed with you just in case you get hungry, so you don't end up buying more food than you need.
Avoid the Buffets
If you are trying to stick to a diet, avoid the buffet restaurants at Disney. You won't want to feel like you need to eat more to get your 'money's worth' and the buffets tend to be filled with lots of unhealthy indulgences.
Pick Your Cheats Ahead of Time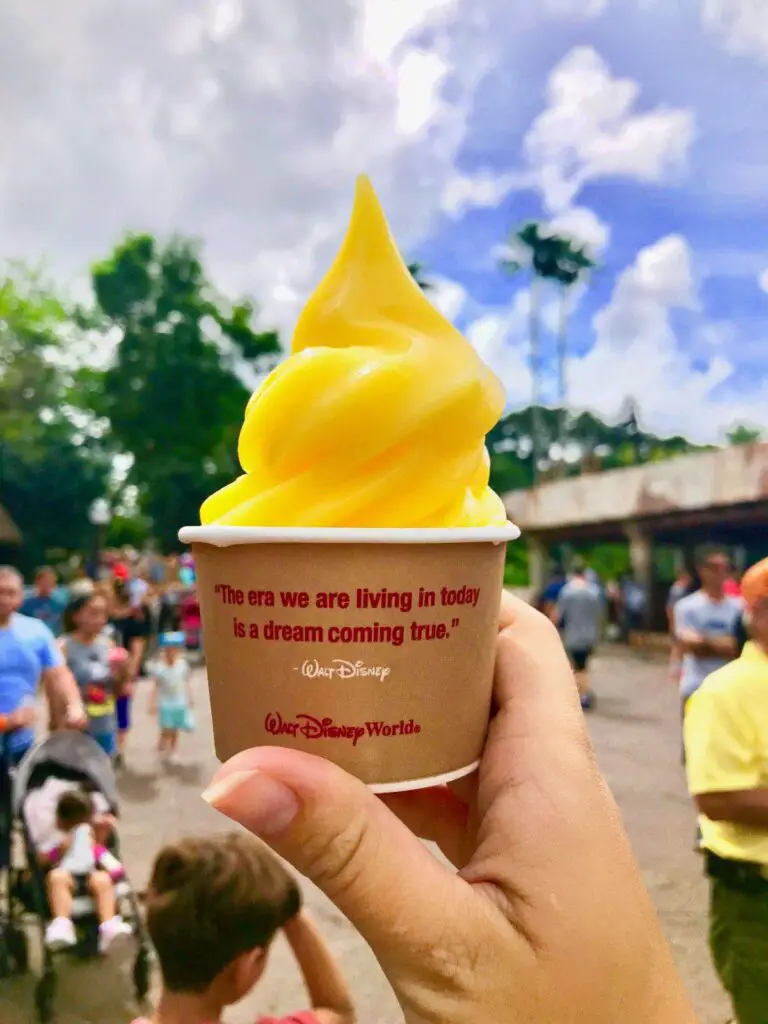 Thankfully doing Disney on a diet doesn't mean you can't have a few small indulgences. Pick a few splurges ahead of time (hello, Dole whip!) and stick to your plan.
Pin for later!