Are you headed on vacation with a baby? Check out my essential baby travel packing list here! These tried and true items made beach vacations with a baby SO much easier! I call this my ultimate packing list for a beach vacation with a baby because I've tried to cover everything you need! I'll highlight the best baby travel gear and baby travel essentials to make traveling with a baby a breeze.
Save this baby travel packing list for your next beach vacation *HINT* You can access the PDF version of this baby packing list at the bottom of the post!
Packing List for a Beach Vacation with A Baby
Baby Clothes
I typically bring 2 outfits for every day because baby clothes pack light and my babies LOVE to make a huge mess! If you have access to laundry, you can definitely bring less! Laundry is one of the many reasons I love to Airbnb with kids.
My babies have always been really good at being, well, exhausting! To keep my sanity, I have to have some fun with adorable baby outfits on vacation. I always make sure to have a few 'picture-perfect outfits' on my packing list with baby, because they are just so darn cute in them!
For a beach baby packing list, I try to keep the outfits lightweight and breathable. I'll also pack a few long sleeve outfits in case it gets cool at night.
Baby Swimsuits and Swim Gear
Under 6 months, my babies didn't spend much time in the pool. We always took them in for a few quick splashes, but mostly kept them out of the sun in the shade. I usually only put 1-2 swimsuits on my baby packing list when they are that young.
Once my babies were closer to the 9-12 month mark they LOVED the water. I usually bring 3-4 swimsuits at that age because we are often in and out of the pool all day! Add these adorable swim outfits to your baby beach vacation packing list!

When it comes to baby beach gear, I have a lot of favorites! You can find out all my favorite beach hacks in my post here on the best beach gear for toddlers and babies.

Baby Beach Accessories
I LOVE the Ro Sham Bo sunglasses for babies as they are completely INDESTRUCTIBLE. I also love reusable swim diapers to save on space. We have a wide brim sun hat with a back flap for the maximum sun protection.
If you are looking for the best baby floatie, be sure to check out my post on 'the best floaties for toddlers and babies'.
Baby Travel Sleep Essentials
We are VERY SPECIFIC about our sleep routine and we try to keep this up on vacation. We have two TOUGH sleepers, so we need all the help we can get in the sleep department! I have a whole post about the '8 tricks I use to get my kids to sleep anywhere' if you want to read more!
Our packing list for traveling with a baby MUST include our sleep tricks! They are so essential to us! We pack a noise machine, blackout curtain, sleep sack/sleepsuit, and a baby monitor. When it comes to getting a baby to sleep on vacation, I don't think you can be overprepared!
Baby Feeding Supplies
Lots to remember on this list! One of my favorite vacations was when my youngest son was 3 months old.  We went to Costa Rica because I was nursing him exclusively and I didn't need to bring anything with me at all!
Other times I have brought formula, pumping supplies, and bottles and MAN OH MAN was it a pain. Washing baby bottles is already the worst, and it's not any better on vacation.
On our Disney Cruise with our 8 month old they provided a bottle sterilizer and that was amazing. They also provided pureed food for babies at all the restaurants. It's those little touches that make a huge difference! If you are planning to use bottles on a breast pump on vacation, be sure to add these items to your baby packing list.
Diapering
I usually bring 8 disposable diapers for every day we are on vacation. If I'm tight on space I will buy diapers on arrival because they really do take up a lot of space! I bring two large packages of wipes for a week-long vacation and that's usually enough for diaper changes and the millions of spills and messes my kids will make.
One travel hack that I ALWAYS bring is disposable doggie bags. There is nothing worse than a stinky garbage in a hotel or Airbnb and having a disposable bag to wrap it in makes a huge difference!
Another vacation lifesaver is Zincofax SRAY diaper cream. I love this stuff and it is great when you are out and about. I love that my fingers don't get messy and its perfect for hot humid days when kids are more likely to get a diaper rash.
We use the Ju-Ju-Be BFF Diaper bag for everyday and travel and I love this bag. I love the backpack style that is so much easier on my sohulders and allows be to be totally hands free with my kids. There are so many gorgeous designs, and I've found that the quality has been superior to a few other diaper bags I had before this one.
Baby Gear
I have an entire post dedicated to the 'top baby travel gear' – be sure to check it out for all my ideas! It's a running joke among my friends that I could open my own daycare with all the baby gear and gadgets that I own. I'm more than a little obsessed.
On vacation, I do try to pare down, but there are some things I am not willing to 'downsize'! Although we occasionally bring a travel stroller, I usually opt to bring my 'full size' stroller. I can see the appeal of a travel stroller with an older child, but with a baby, the stroller is your go-to!
We always have so much stuff when we are going to the beach that I want a full-size stroller to lug it all! Especially if your baby is still in a bucket car seat, a full-size stroller makes the most sense.
I also LOVE babywearing on vacation. I have a baby carrier collection that rivals my stroller collection and I've used them all on vacation. Babywearing is perfect when you want to travel light, or if you are going to be going to places that aren't stroller friendly.
We did a lot of babywearing on our Disney Cruise because the hallways are narrow and it's a bit harder to navigate with a stroller. Check out my post on the 'best baby carriers for travel' for more details on my favorite carriers for each occasion and age!
Baby Toiletries
Babies don't need a lot in the toiletry department, but I do have a few favorite products that are perfect for travel.
My favorite sunscreen for babies is the ThinkBaby Sunscreen. This is a sunscreen that is completely safe for babies, as it made from the same ingredient as diaper cream!
I also LOVE boogie wipes for my baby and toddler as they aren't as harsh as regular wipes on the face and provide a gentle saline cleanse.
I come prepared on vacation, so be sure to check out my OVER PREPARED mom travel first aid kit for everything I bring!
Toys
A few toys can go a long way on vacation with a baby. I've added a few simple toys to my packing list with a baby – and these are great to throw in your carry-on for the plane!
I traveled with my young son at 6 months on a 5-hour plane ride to Victoria, BC. You would not believe that I completely forgot to bring any toys with me on the plane!! I was so not on my Pinterest game that day! All was well, it's amazing how much airplane cups, the seat tray, and the safety instructions can provide a lifetime of entertainment. Older babies might enjoy the iPad as well, and there is nothing wrong with that on a plane!
Do you want a PDF of this entire baby packing list?
Download my full packing list with a baby HERE on PDF.
Enjoy! and Safe Travels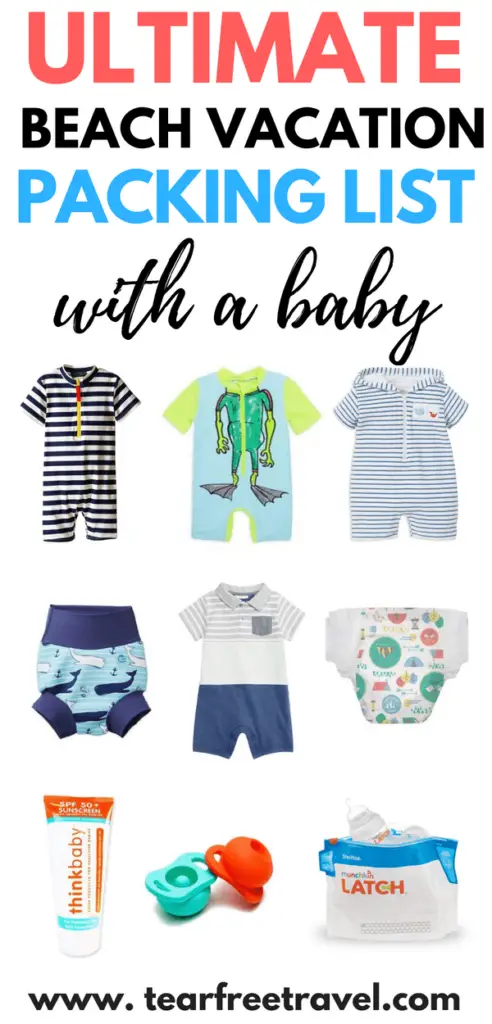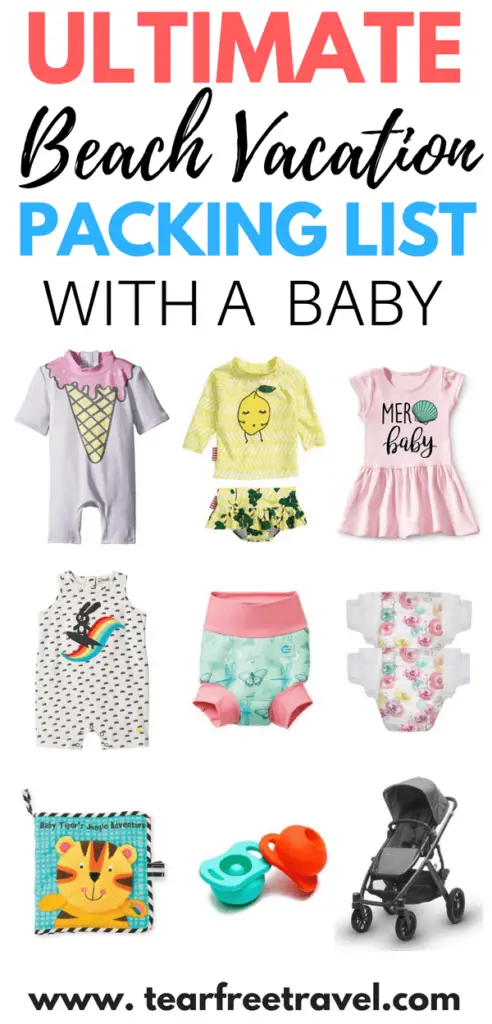 xo
Kate