We all know that taking a toddler on an airplane is the ultimate test of parenting patience.  Getting a toddler to SLEEP on an airplane, well that's just the stuff dreams are made of! Wouldn't it be great if there was an easy way to make a toddler bed on an airplane?!? Well, your prayers have been answered! There are now INFLATABLE toddler travel beds for airplanes. That's right, a toddler bed for the airplane that will allow your little one to STRETCH OUT and (most importantly) SLEEP WELL on the airplane.
When I first heard about these inflatable footrest pillows for planes I was dying to try one! This is one of those inventions where you think, WHY didn't I think of that?! Such a simple idea, and so genius! Naturally, I was SUPER EXCITED when Kooshy Kids offered to send me one of their Kooshy Kids Kooshions for review.
A toddler bed for the plane ?!? How does it work?
Basically, the Kooshy Kooshion inflates to fill up the space in between your seat and the one in front of you.  This creates a flat surface for little ones to spread out. This is perfect for babies and small toddlers who might need to take a nap on the flight. Even taller toddlers (like my four-year-old) can appreciate having their legs up on board.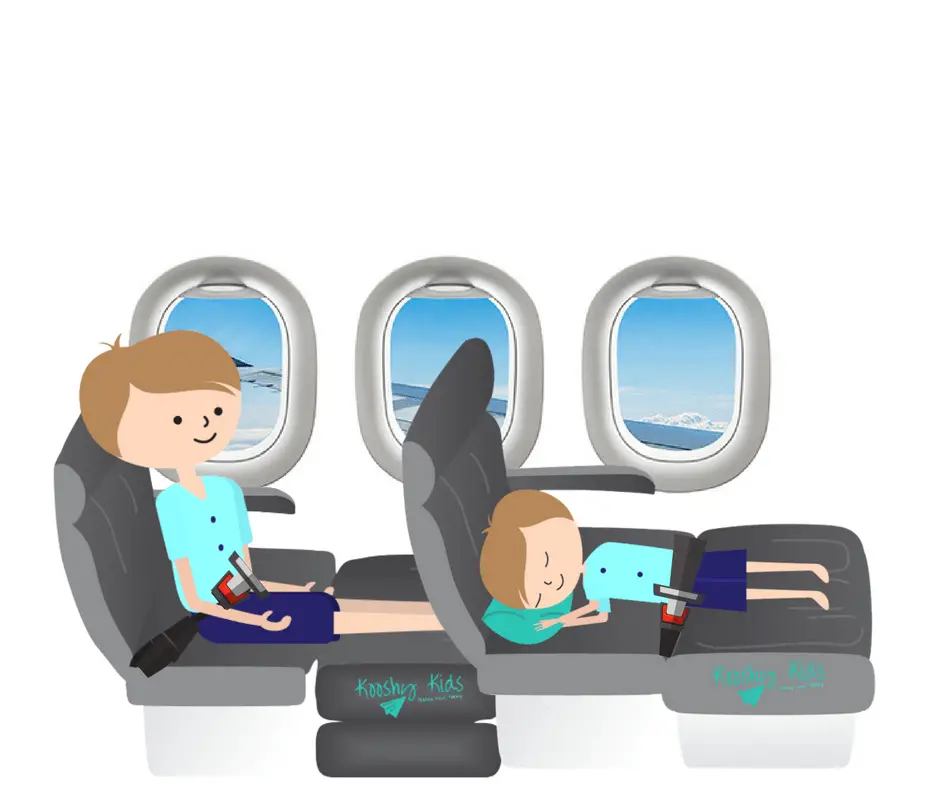 Our experience with the Kooshy Kids Kooshion
We have used our Kooshy Kooshion on two flights so far and I have to say I AM IN LOVE with this thing. I just wish I had it earlier, as my youngest is now almost 2! If I had one of these things when my youngest was little, I might have even braved a long haul flight with my kids! (Probably not though, because I get REALLY grumpy with jet lag)
The size and setup
The Kooshy Kids Kushion comes with a small drawstring backpack for storage. As it's made of durable material it does take up some space in your carry on which you will have to account for. With a standard size backpack, the Kooshy Kooshion (including the pump) took up just less than half of my backpack space.  If you are wondering what to bring in your carry on, check out my family packing list (it's DETAILED, and everything you need! )
The Kooshion cannot be inflated during takeoff and landing so I didn't set it up until after the seatbelt sign had been turned off. I used the manual pump and it took me about two minutes to pump up. There is also an option for a battery operated pump.
Is my airline approved?
Having hung around enough travel Facebook groups I have heard stories of certain airlines or flight attendants not allowing these inflatable pillow beds. I was happy to see that the Kooshy Kids Kooshion has been officially approved by over 50 major airlines. I have flown on the two major Canadian airlines (WestJet and Air Canada) with the Kooshy Kooshion and I didn't have any issues.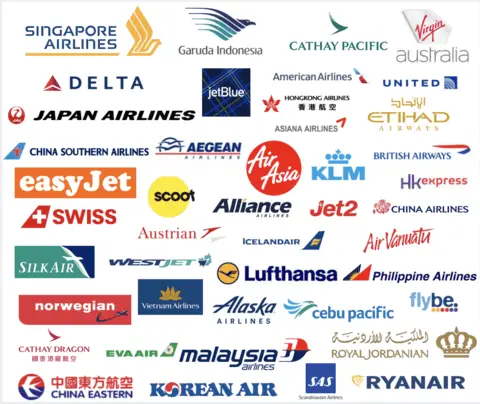 For the most up to date list of approved airlines, click here.
There ARE some rules however for WHERE and WHEN you can use this airplane travel bed:
It is not used in an exit row
Does not block the way for other passengers
It is not inflated during takeoff or landing (or when seat belt sign is on)
The child's seatbelt is fastened at all times (you can request an infant extender belt to help with this).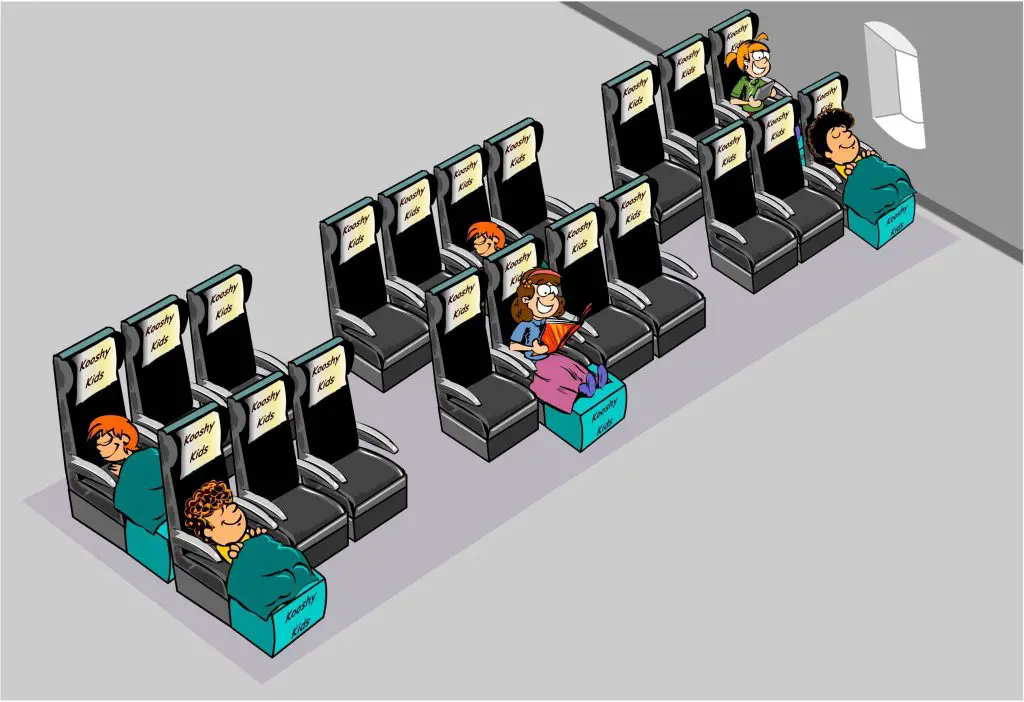 Stretching Out
We used the Kooshy Kooshion travel pillow for toddlers with my (short) 4-year-old and he was too tall to completely stretch out with the pillow. Since our eldest falls asleep in all moving objects (yay us!) he fell asleep immediately curled up on the flat sleeping surface. Watching him rest so comfortably on the pillow, I was SOO jealous!! Can we somehow figure out a hack to make this work for adults?!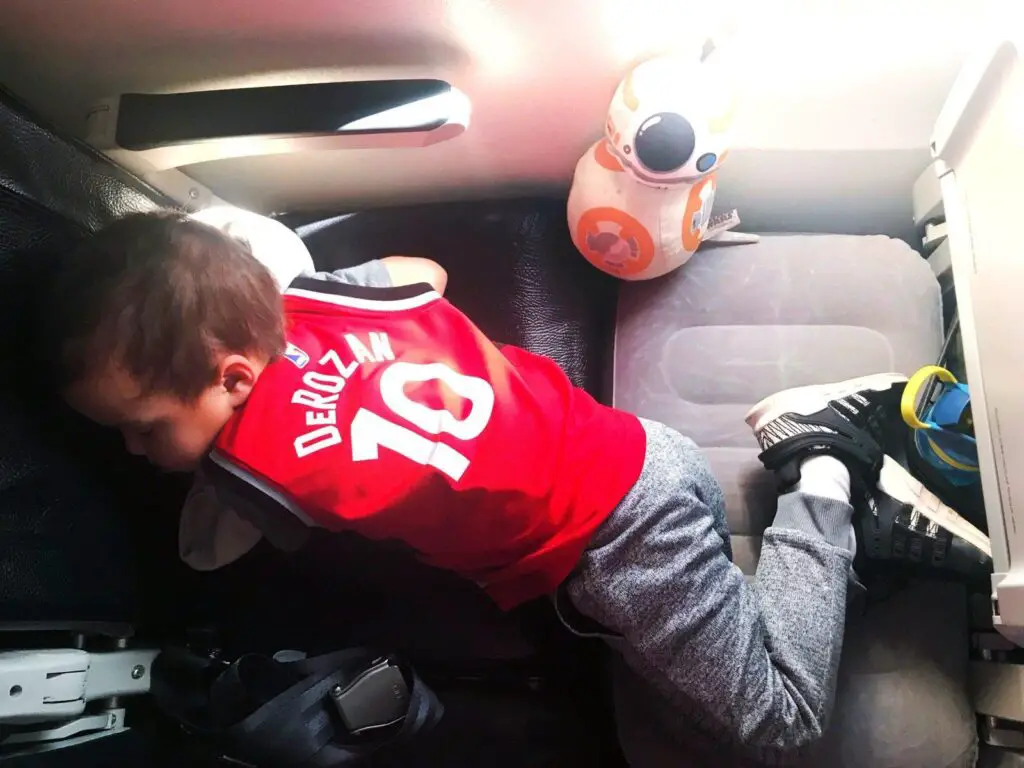 In my opinion, I think this pillow is essential for a long haul flight with a baby or toddler. My son definitely could have slept HOURS in this position. In fact, I actually woke him up from his nap because he slept 3 hours on our flight to Turks and Caicos and I didn't want him up all night!  Despite doing so well with this pillow, my son is NOT usually known for being a 'good sleeper', he's more in the 'terrible sleeper' category MOST OF THE TIME. For the tips I use to get my kids to sleep on vacation, check out my post!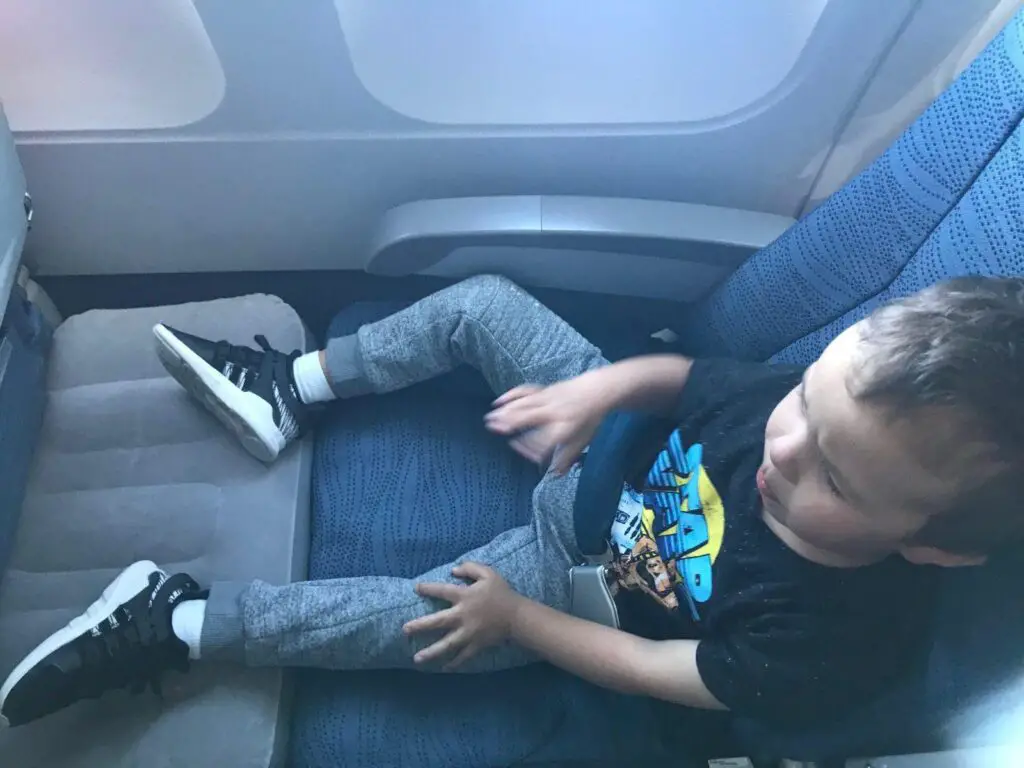 Even if you aren't planning a long flight, there are a few great features of this pillow. If you have two young kids (with one in a lap) this would free up some extra space for the littlest one to hang out! I also like that the pillow stops things from FALLING UNDER THE SEAT. Our son loves to play his cars and LEGOs on the plane and we are CONSTANTLY picking stuff up off the ground. With the Kooshy Kooshion inflated, my son could play his LEGOs and wasn't constantly having things drop to the ground. Check out my post on the best toddler toys for the airplane for more of my favorite airplane friendly toys. 
Disassembly
Taking down the Kooshy Kooshion is super easy! Simply unplug and squish the pillow down before the plane lands and you are good to go. Of course, I couldn't get it quite as flat as the original packing so expect it to take up a bit more room in your carry on once you've inflated it once.
Once you're at your destination, you'll need an awesome toddler travel bed at your destination. Check out my post on the best toddler travel beds below!
Have you tried the Kooshy Kooshion?
Let me know in the comments below what you thought! I'd love to hear your feedback 🙂
Happy Travels,
xo
Kate