Today on the blog we are going to be sharing our review of the Finest Playa Mujeres by Excellence Group. This is our hands-down favorite all-inclusive family resort in Mexico. We are just back from our third trip to the finest resort and we seriously can't stop GUSHING about this resort. Before our first trip to this resort, we scoured plenty of Finest Playa Mujeres reviews, so we hope that this super detailed and comprehensive review will help you plan your trip to the Finest Playa Mujeres Mexico!
In our opinion, Finest is absolutely one of the best all-inclusive resorts in Mexico for families. What we love so much about 'The Finest' as we lovingly call it, is their attention to detail, delicious food, and clean and modern design! We often joke that we don't really need to try any other all inclusive resorts in Mexico or the Caribbean because we've already found one that we love! If you are looking for an all inclusive vacation with young kids especially, this review is for you!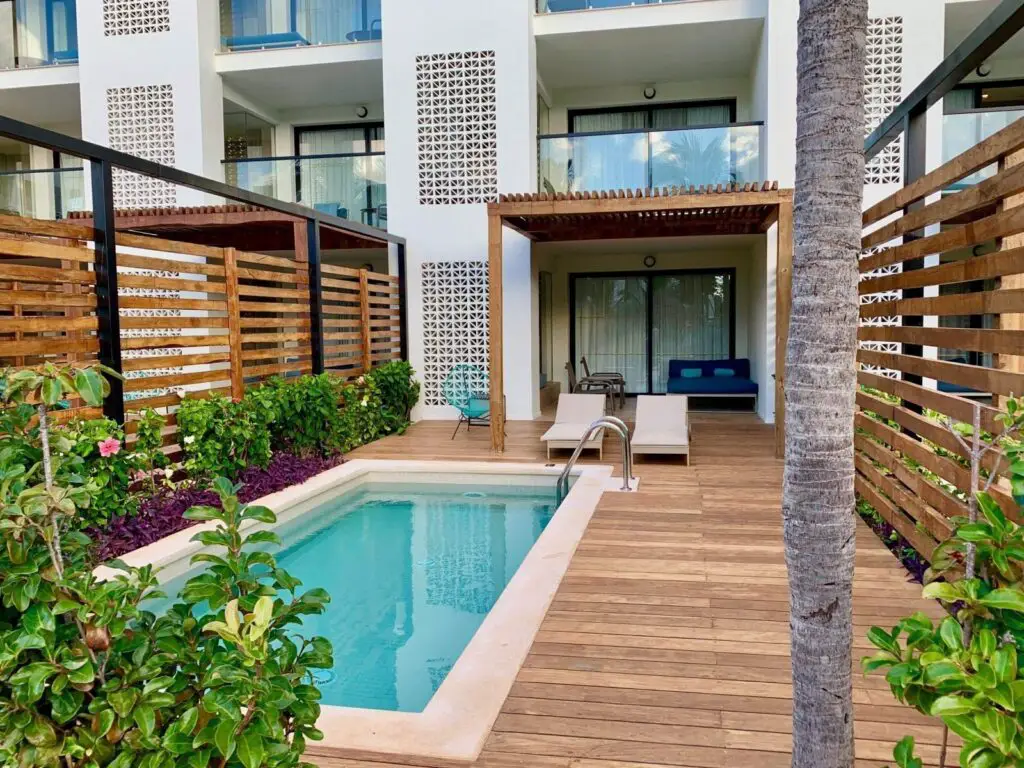 Where is Finest Playa Mujeres Mexico?
Finest Resort is located on Playa Mujeres, about 30 minutes from the Cancun international airport. Don't get Playa Mujeres confused with Isla Mujeres, a small island off the coast of Mexico that directly opposes the Playa Mujeres beach. Finest is not located on an Island and you can arrive at the resort via car transfer! By the way, you should totally take a trip over to Isla Mujeres if you get a chance, as it worth the short trip from the Finest resort!
Although there are a few resorts in Playa Mujeres, Finest is definitely the best all inclusive resort in Playa Mujeres, especially when it comes to families. You can read more Playa Mujeres resort reveiws here.
We arrange our transportation every year through Canada Transfers. The service has always been pleasant and reliable. They always have our car waiting for us at the airport and the drivers are super friendly. We usually order a cooler of drinks and some sandwiches for the trip over the resort. The first day of travel is always hectic and we like to make it as painless as possible. The kids are usually starving when we get off the plane despite us offering unlimited snacks, so having lunch in the car helps us. We've really enjoyed having this option on the way to the resort! Some families will also choose to schedule to stop off at Walmart to pick up some basic items like diapers, wipes, or even sand toys and floaties. We have never stopped but it's a popular option that your transfer can arrange.
For ideas on how to keep kids entertained on the flight, check out our list of toddler friendly plane toys that don't suck
Check-In: First Impressions
When you arrive at the resort you will be greeted by the finest staff who will offer you a cold towel and a drink. It's the little things that make you first feel welcome on vacation! The resort is gorgeous, and despite being super kid-friendly, still feels luxurious for the adults. I love the modern appeal of the resort,  and the main lobby is no exception.
If you are staying in a 'regular' room you will complete your check-in in the lobby. If you are staying in a 'Finest Club room' you will complete your check-in in the Finest Club area. We have stayed in Finest Club once and in a 'regular' room twice. More on the pros and cons of the Finest Club below but in my opinion, the Finest Club check-in is nothing particularly special.
Finest Resort Rooms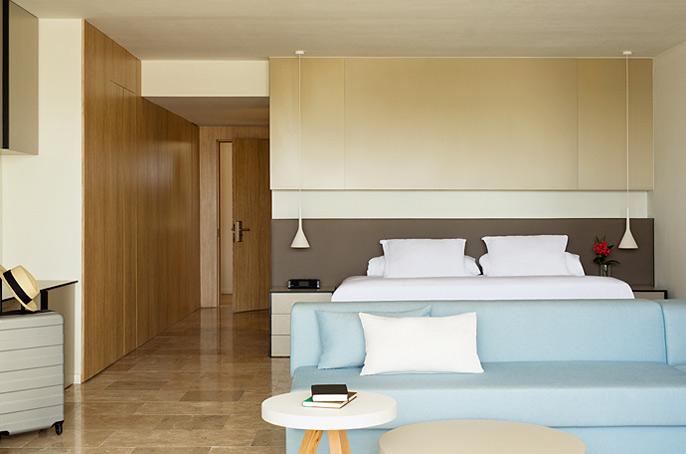 This resort is beautiful. The rooms are clean and modern and despite it being a very family friendly resort, it still looks and feels quite luxurious! We have always booked the family suite because it has an extra bedroom for the kids to sleep. Our room had a main room with a king size bed, a pullout couch, and the second bedroom with two twin beds for the kids. Cribs are available for young ones. The cribs are wooden folding cribs that are approximately the size of an average playpen.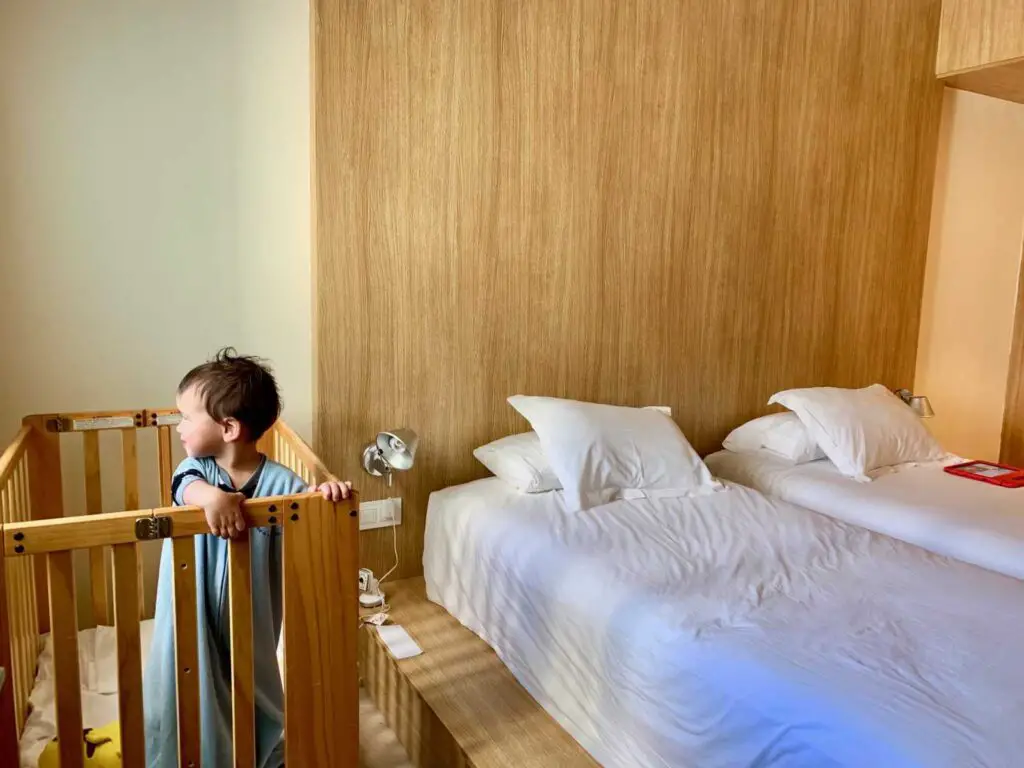 Finding an all-inclusive resort with an extra bedroom for kids to sleep is key for us! Especially with young kids that are going to bed much earlier than the adults.  Although we can make it work in one room, having the extra bedroom is SO nice for naps and nighttime sleep. We bring our video baby monitor and use it on the deck, and even in the swimming pool depending on the location of our room.
If staying in a family suite, your options will include a ground level pool room, a 'regular' family suite, or a  'finest club' family suite. There are some rooftop and swim-out Finest Club family suites but you can not request these in advance. Essentially you have to get lucky to be 'upgraded' to one of these suites. When we stayed in the Finest Club, we were in a regular mid-level family suite.
In your room, you will find a nice selection of alcohol, snacks, and (our favorite!) a Nespresso machine! There is also a super large jacuzzi tub that is perfect for the kids to have a little fun in. Instead of an iron, this year I noticed that Finest had switched to having clothing steamers in the room. I loved this feature! So much easier to de-wrinkle your evening clothes with a quick steam.
Finest Club Rooms
One decision you need to consider when staying at this resort is whether to upgrade to the 'finest club' rooms. For a list of all the amenities that come with the finest club, check out this link. The amenities that we thought were most valuable to the finest club are:
Upgraded liquor in the room
Private beach area with towel service, upgraded chairs, loungers, and drink service
Private check-in
Access to the new Seaside restaurant
One hydrotherapy session per adult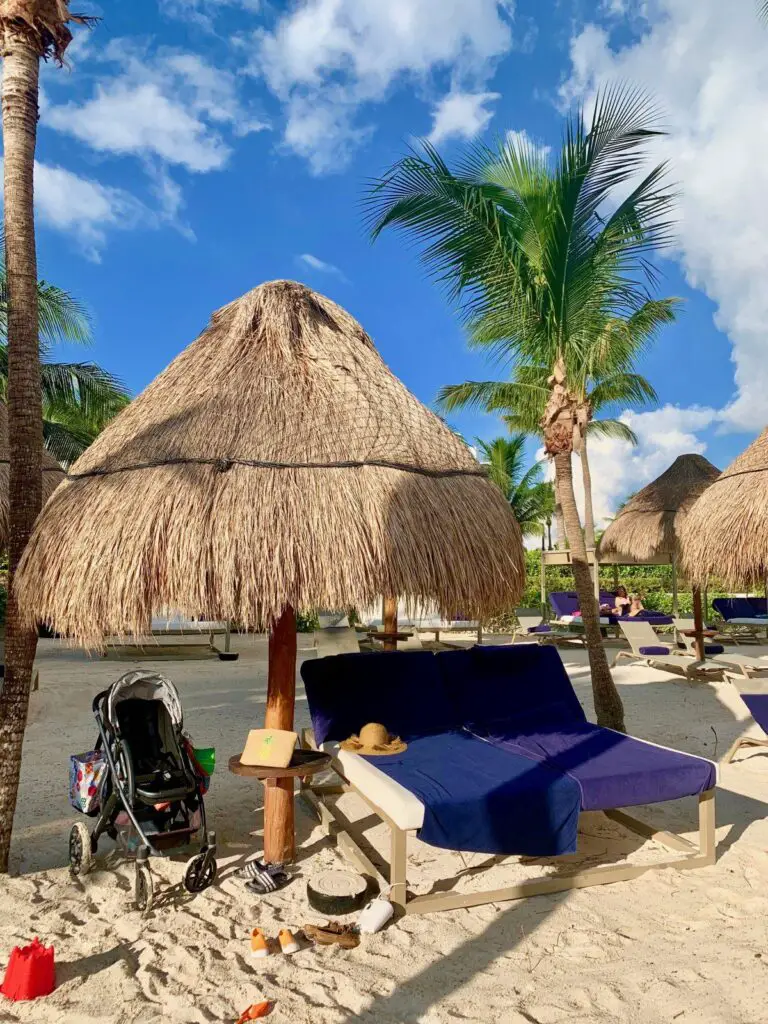 Some things to note: The finest club rooms are located more centrally, which means that resort amenities are closer but you will also hear the hustle and bustle of the main pool and the Sky Bar. The family suites in the regular part of the resort are located in a quieter area of the resort near the Juice Bar and we much preferred this location. The finest club swim up pools are supposed to be 'heated' in the winter but their standards for what is considered 'heated' are Ummm… frigid. It would be best to try to request a swim up room in the sun.
The biggest 'negative' of a Finest Club family suite is that you can not 'book' a swim up room, you have to hope to get lucky! For this reason, I prefer to book a family pool suite in the regular section that I know will be on the ground floor and will include a private swimming area where we can swim while the littlest ones nap.
Check out my 8 tricks for getting my kids to sleep on vacation to avoid meltdowns on your vacation!
Finest Room Hacks:
Now that we are 'regulars' at the Finest Resort, we've come to know some great hacks to make your hotel room stay more enjoyable.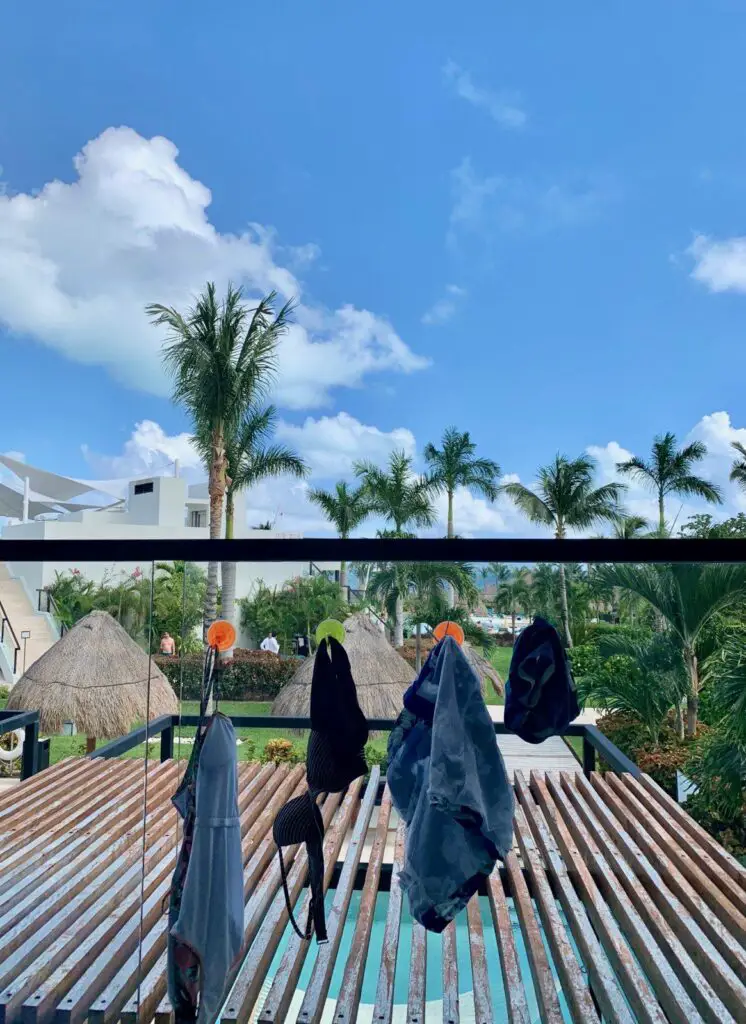 Bring some suction cup hooks to put on the shower door or the glass bathtub wall. There are not a lot of hooks in the bathroom and this will help you to dry all your wet clothes and bathing suits quickly.
Bring a cheap pop up laundry hamper to put your dirty clothes in. This keeps the clothes off the floor and is especially helpful when you are traveling with young kids. We usually bring some laundry detergent and hand wash a few sets of clothes mid-week.
A USB plug. There are never enough plugs in hotel rooms and Finest is no exception. Although they recently added some USB plugs, I still find there aren't enough plugs to get all my devices plugged in at night. We like this travel charger for our phones and iPads.
Finest Resort Pools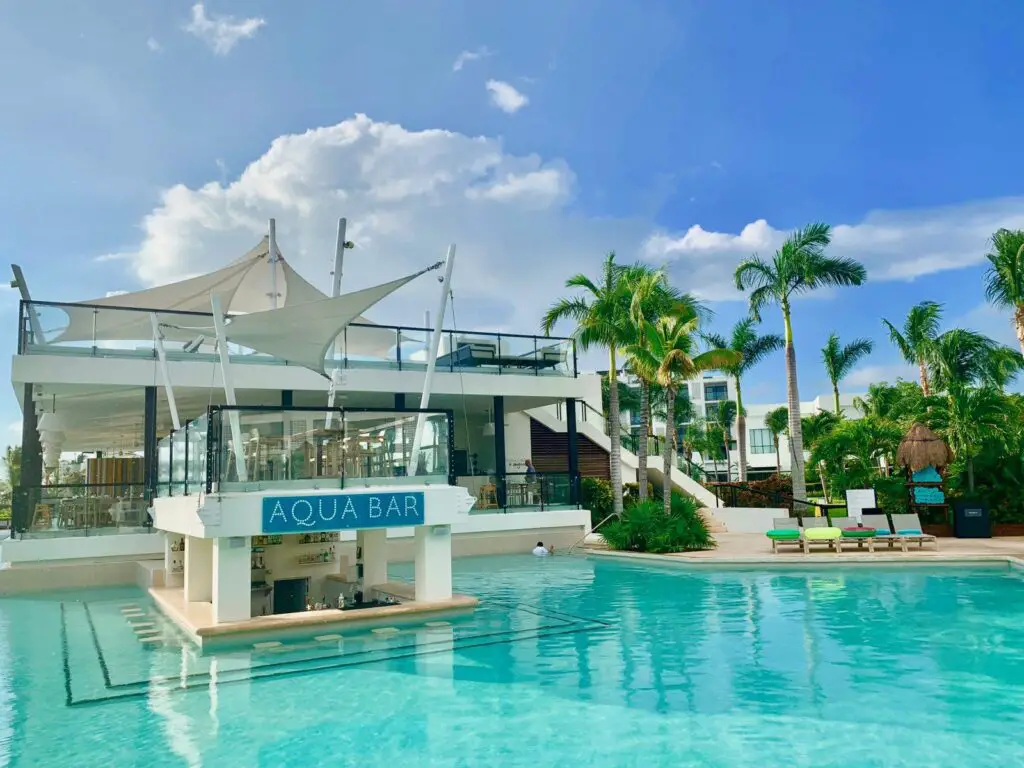 We have to give the pools a huge A+ as this is certainly our favorite place to hang out on our trips to the Finest Resort. There are so many pools at this resort that you can always find a great spot for your family to relax.  There are no issues finding lounge chairs or pool towels at this resort. Having to reserve seats or hoard pool towels is awful, and I have found this to be a huge problem at other resorts. No need to get up early here!
The main pool is heated and is a little busier at times but our favorite spot was the pool by the smoothie bar. The smoothie bar does not serve alcohol so it's usually a quieter part of the resort and great for the kids. Also, the smoothies are amazing! Try a 'Power' smoothie, a healthy option for the kids in between swims.
There are jacuzzis scattered throughout the resort attached to many of the hotel pools. The jacuzzis by the main pool are heated and can be quite hot at times. The other jacuzzis are hit or miss, sometimes the water is only lukewarm, which is actually fine when you are with small kids!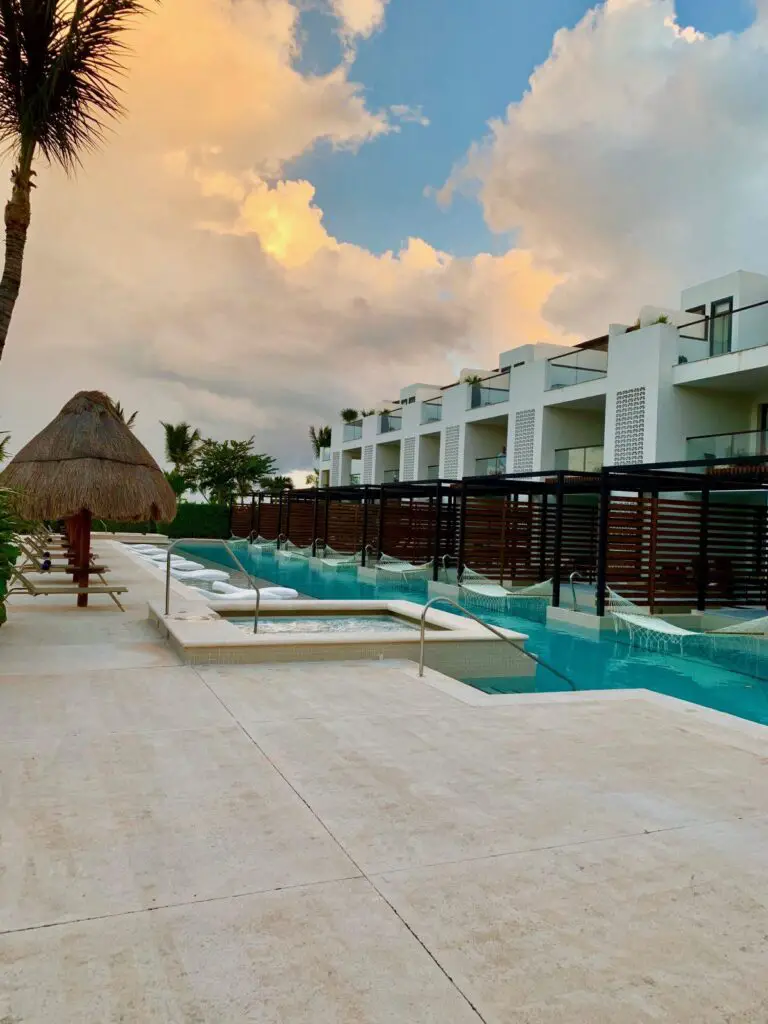 Don't forget your floatie! Read my review of the best toddler and baby floaties for your next trip!
The Finest Playa Mujeres Beach
Although the beach is still great at this resort, I am only giving it a "B" because I just don't think that Mexico has the most beautiful beaches. If you are looking for crystal clear water and white sand, a place like Turks and Caicos might be more up your alley! The beach at The Finest is clean and there are plenty of chairs and loungers to go around. My kids enjoy playing in the sand and there is lots of shade from the umbrellas.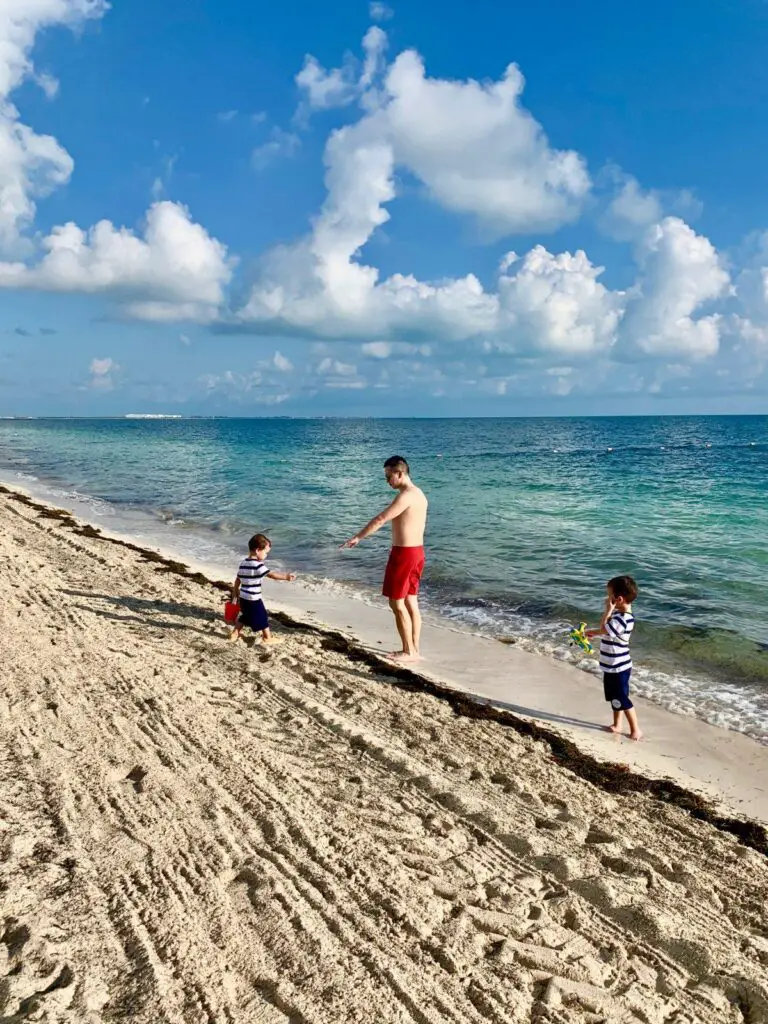 One perk of the finest club beach is that there was a huge bin of sand toys for kids to enjoy. Despite my best intentions, I always either forget to pack toys or run out of room for sand toys, so this was a very nice surprise! We enjoyed bringing some inflatable floaties to the beach for relaxing in the ocean. If you pack them in advance you won't have to pay the inflated prices at the resort store. Hot tip! We found out on our last trip that the dive shop will inflate your floaties for you.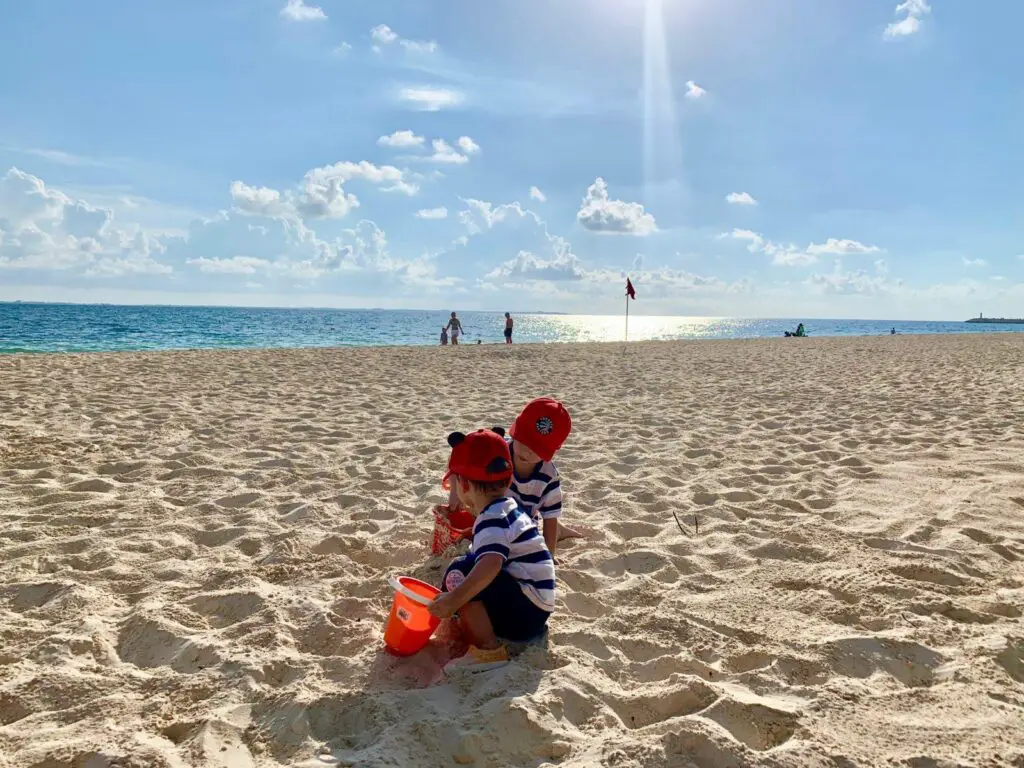 Finest Resort Food:
The reason we will keep coming back to Finest Resort, again and again, is the high-quality food selection at all the restaurants. There are 10 restaurants at this resort, and each one offers something different (and consistently delicious!) When I read TripAdvisor reviews critiquing the food at Finest I really have to think their expectations must be totally unrealistic! It IS an all-inclusive resort so expecting 5-star foodie dining is just not going to happen! I have been to many all-inclusive resorts in Mexico and the Caribbean and I think the Finest Resort really delivers its value here. The food is high quality, tasty, and there is a large selection.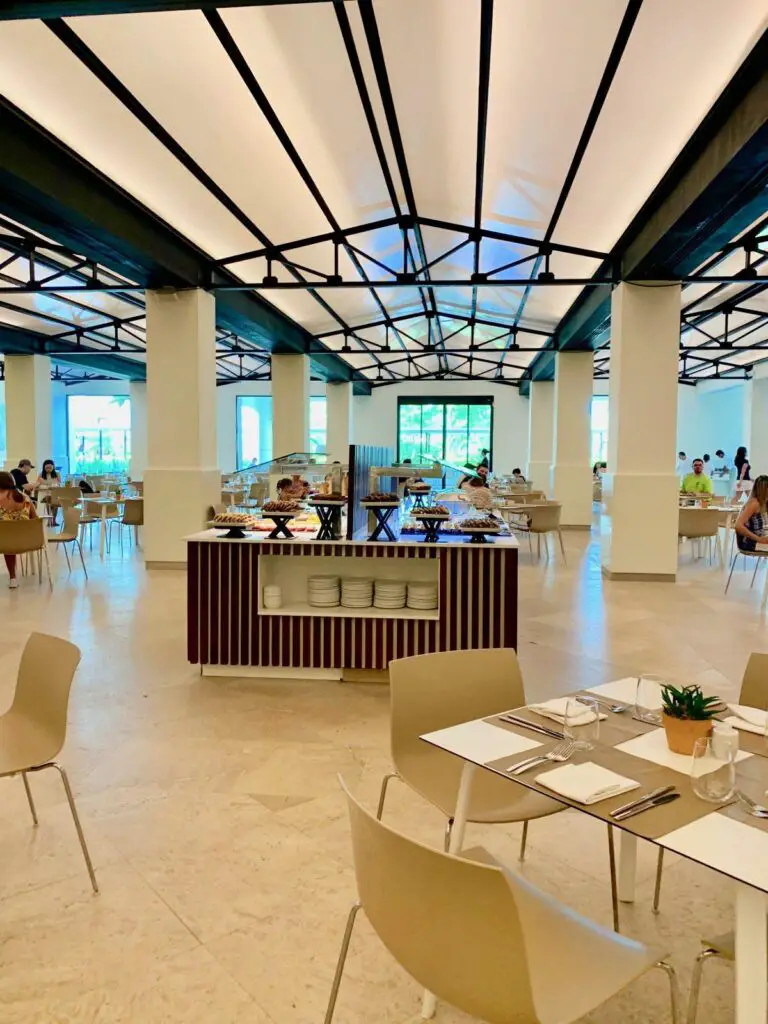 The Market buffet is the go-to restaurant for a large selection of buffet choices for breakfast, lunch, and dinner. We usually ate here for breakfast and lunch, although there are also some menu options if you choose. Finest has some unique items at their buffet that are sure to please everyone. My kids particularly loved the fresh selection of sushi available at lunch!
One awesome feature of the Finest resort is all included room service. This is perfect when you are having a quiet morning with the kids (you know, it could happen! ). It's also perfect if the kids are napping.  We used the room service option on a few occasions and we were really pleased.
A La Carte Restaurant Choices
The a la carte restaurants are excellent and are a nice change from the buffet and theme nights. We especially liked Duke's Lobster House (love their fish selections at lunch) and the Shoji Asian Restuarant (Try the Lychee Mojito, it is amazing!). For adults-only fare, check out the French restaurant, Le Petit Plasir.
Adults should note that there is a dress code at the Finest Club restaurants. Men need to wear long pants and a collared shirt. Kids under 12 are typically not required to abide by the dress code. Women need to wear long pants, skirt, or dress.
If you are staying in the Finest Club or Excellence Club (adults only) room, you will have access to the Seaside restaurant and the adults only Bistro restaurant as well. Seaside was one of my favorite meals of our entire trip! The risotto was amazing and the lobster tail delicious. We also had a chance to eat at Bistro, the adults-only restaurant and my husband thought that was the best meal he's had at Finest.
Snack Options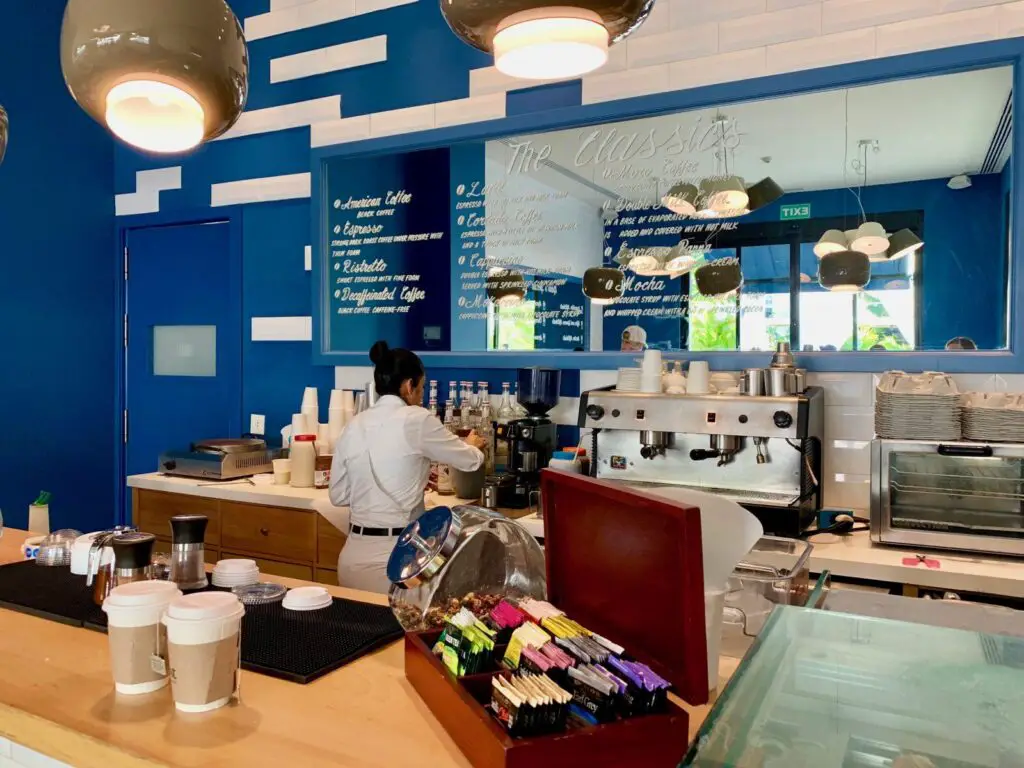 If you have kids, you will know that having 'snacks' is pretty much number one on their priority list at all times. Let's be honest, it's also a priority for adults, we just try to keep it under wraps. One of our favorite features of the Finest resort is the Cofee Shop, 'The Sweet Corner'. The sweet corner offers a delicious selection of ice cream, milkshakes, pastries and of course coffee! The coffee shop is always getting shout outs when I read the finest playa mujeres reviews on TripAdvisor. It's a great place to stop for a quick snack and a boost of caffeine. Try the Snickers milkshake, you won't be disappointed!
Next to the sweet shop is a newer addition to the Finest Resort, the La Cocinita Food Truck. Here you can grab a quick hot dog, taco, or french fries. This is a great mid-afternoon break to keep the kids fed until dinner time.
The Finest Resort Kids Club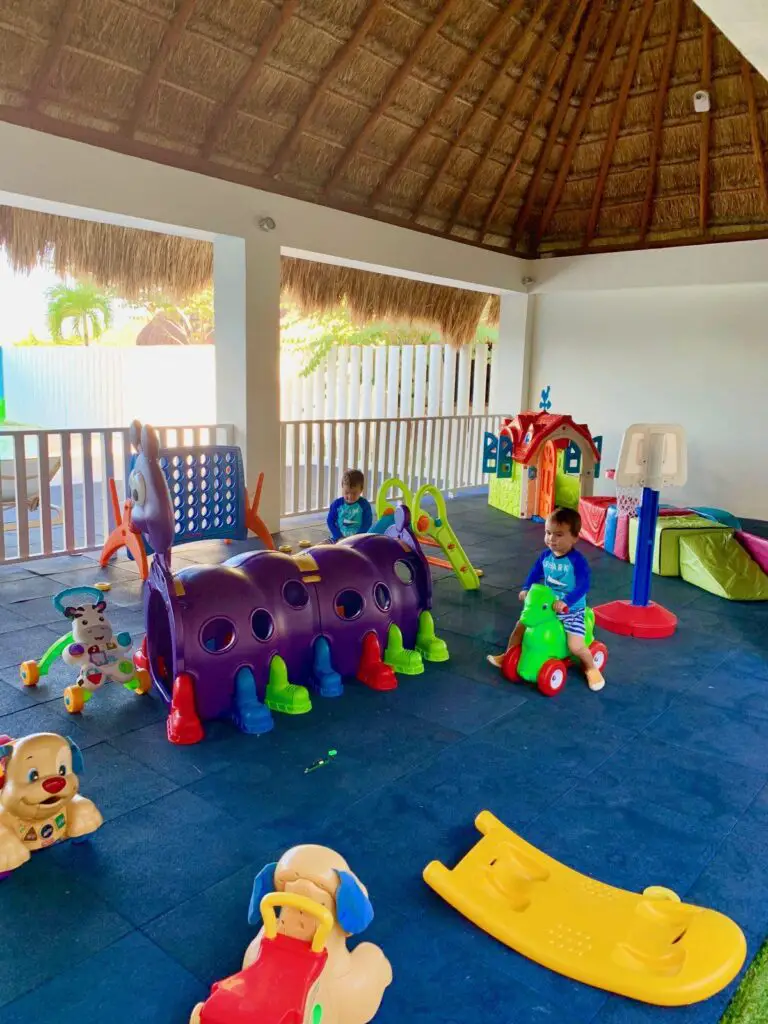 The finest playa mujeres kids club, much like the rest of the resort is very modern and clean. There are two water park areas, one for the little kids and one for the older kids. Children age 3 and above can be dropped off at the kids club and are supervised by the staff. If kids are dropped off to the kids camp to be supervised by their staff they have to participate in the planned activities. This was a negative for some parents when I read finest resort reviews.
Within the kids club, there are separate indoor areas for younger kids and older kids. In the 'mini club,' there were a lot of toys that our kids (age 0-5) loved to play with. This is perfect for a rainy day, or if you are wanting a chance to chill after a busy day at the pool or beach.  Children younger than 3 can still play at the kids club but need to be supervised by their parents. I would love to see some all-inclusive resorts in the Caribbean that cater to young babies. Having an option for drop off of infants/babies with a low staff: child ratio would be amazing! You can check out our list of all inclusive resorts with awesome kids clubs here.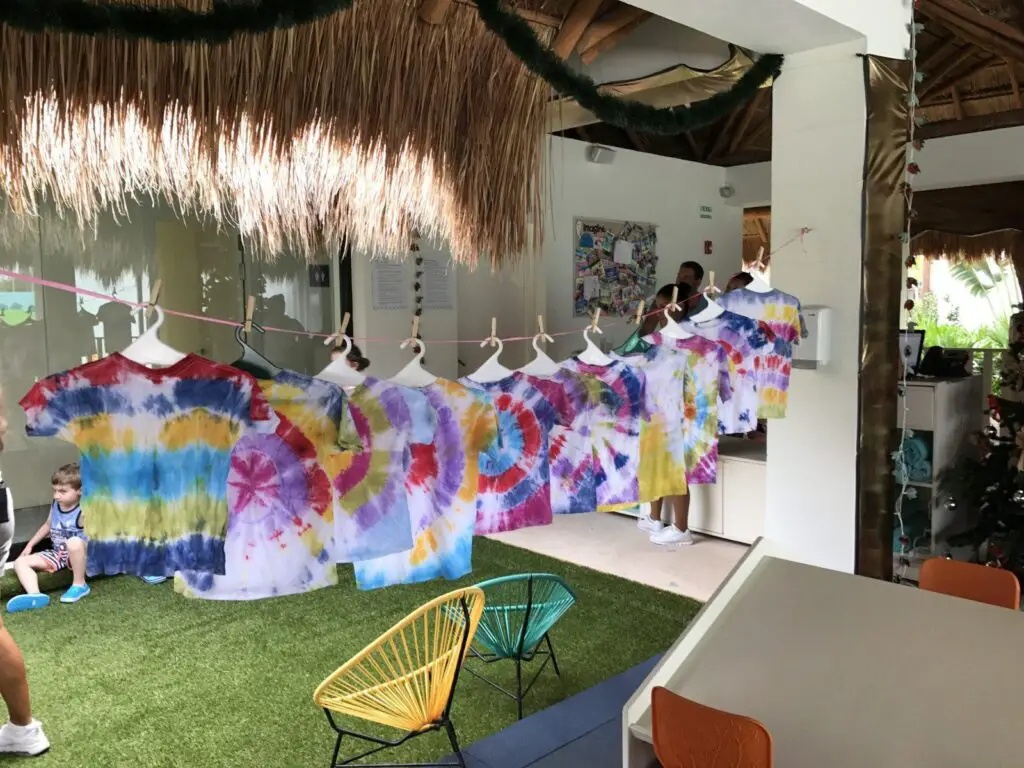 My son also enjoyed the kids club activities put on by the staff, he did play-doh, made a tie-dye t-shirt and even got to try horseback riding! There are new activities every day and the staff does a good job of keeping the kids entertained.  The children's shows at night were also cute, my son loved the Disney show! My biggest criticism of the club would be the age cutoff.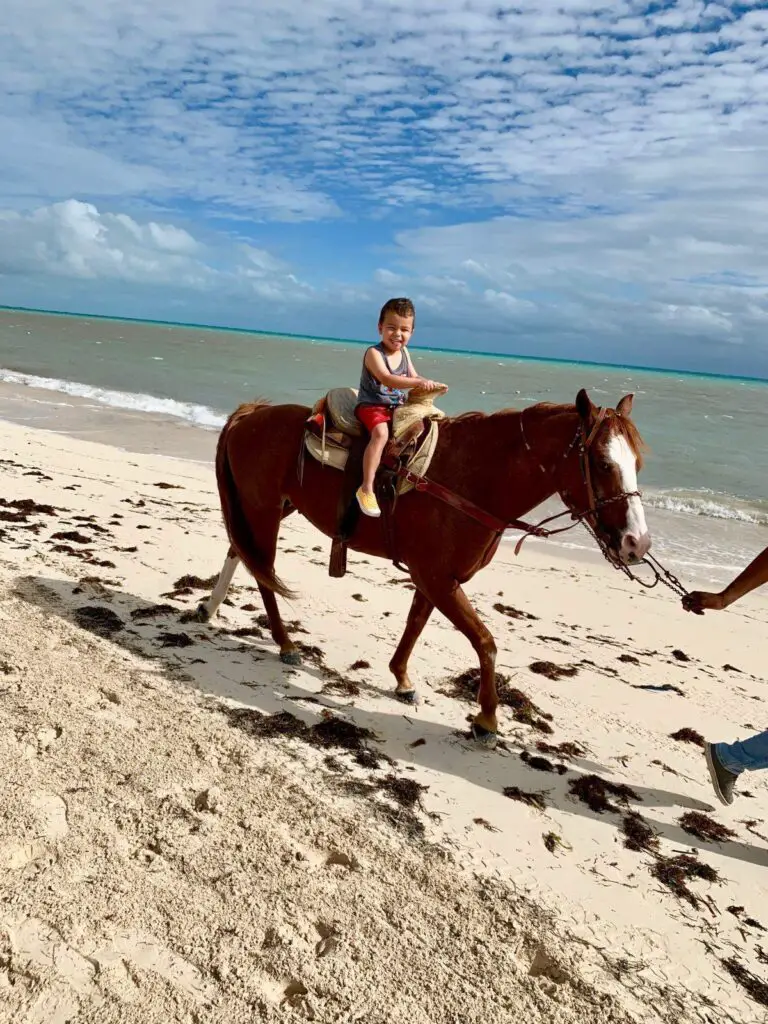 The Finest Resort Water Parks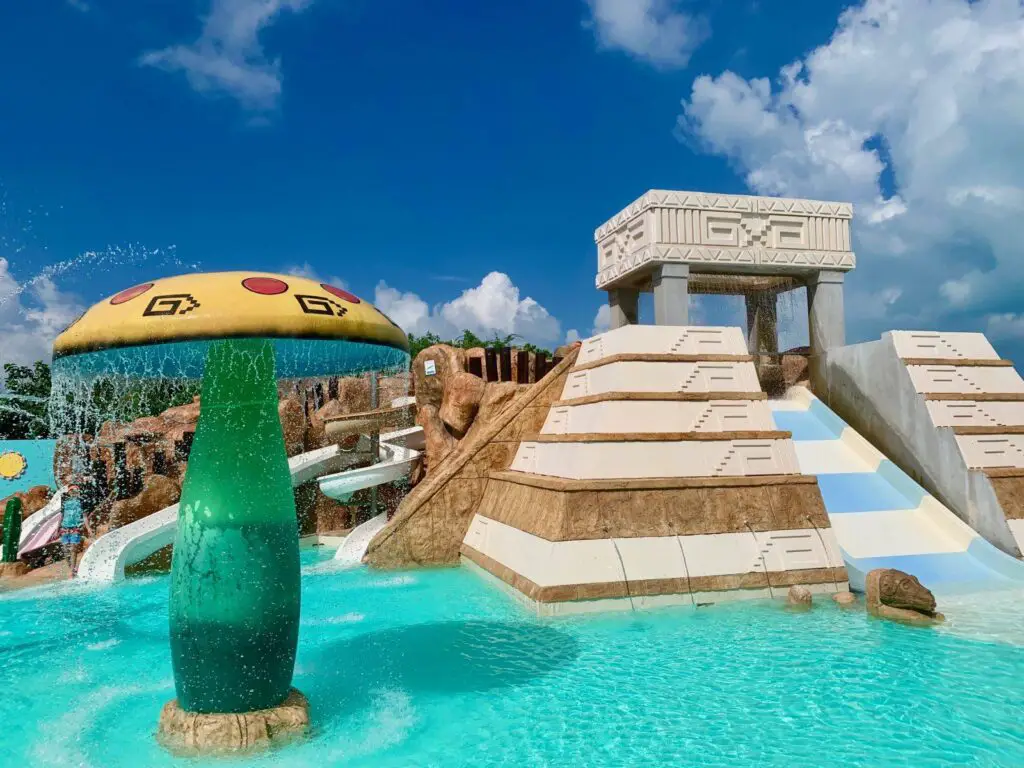 Finest Resort has two awesome water park areas for kids: a 'mini' water park for young kids, and a bigger waterpark that is perfect for older kids. My son loved playing at the water park and this was a great activity to do a few times throughout the day. It's nice that it is separate from the other pools so that it can be an "event" and so that the kids aren't wanting to just play in the splash area all day long.
Adults are not allowed on the slides and I would love to see this rule changed. On our first visit, my son was just a bit too small for the bigger waterpark and really wanted his dad to be able to take him down the slides. There is also a minimum height for the 'bigger' waterpark (100cm). Our youngest son just made the cutoff and was perfectly fine on all of the bigger slides.
Another thing to note about the kids club is that alcoholic drinks are not allowed in the kids club. There will be no daiquiris while you are watching your kids in the park! Luckily, the smoothie bar is close by so smoothies are a must at the kids club!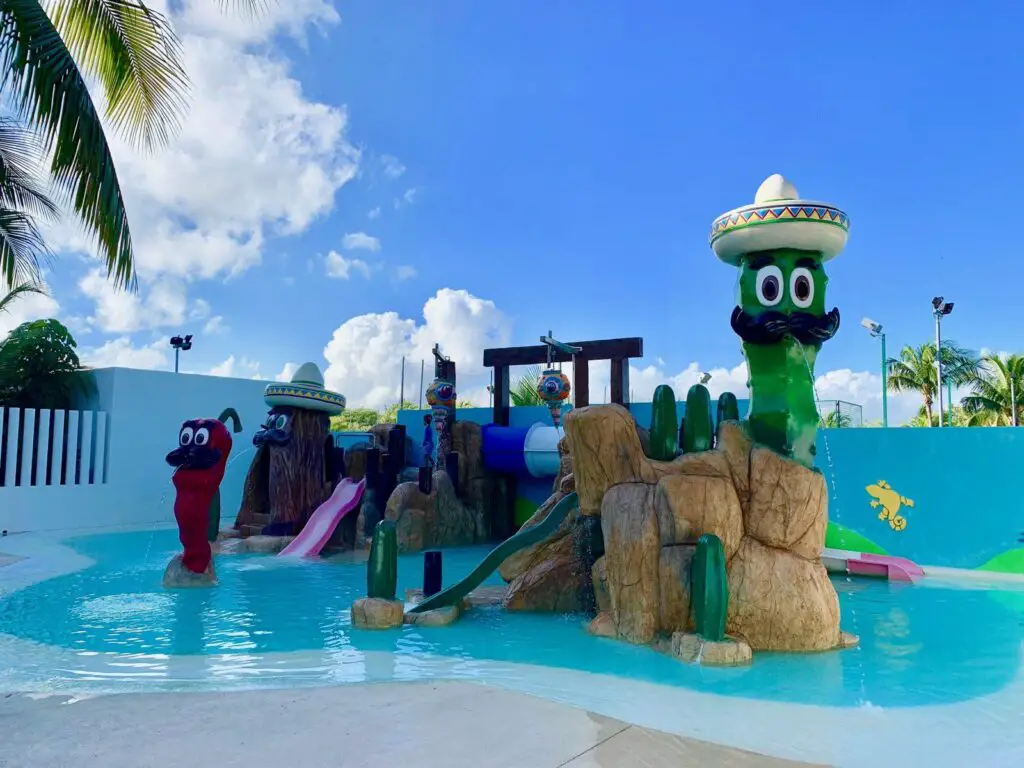 Finest Resort Spa
When you choose to stay in a 'Finest Club' room, you will have access to a hydrotherapy session at the Finest Club spa. You can also pay for this service if you are staying in the main resort. I went to the spa each of the three times that I visited this resort! The spa itself is gorgeous and the hydrotherapy circuit is very relaxing. I also booked a massage and really enjoyed this service. It's nice that the spa is indoors, as its a perfect activity if you run into bad weather.
The hydrotherapy circuit is an hour-long service where you get a chance to rotate among multiple spa activities. I enjoyed the steam room, the sauna, and of course, the 'ice bucket challenge'. The circuit ends with a change to relax in a heated bed. A perfect way to end a busy day in the sun!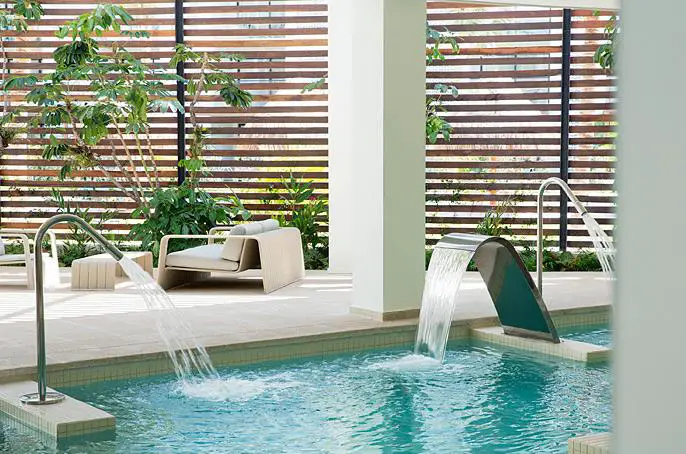 Finest Resort Entertainment
Every day at the resort you will receive a list of the days' activities. There's lots to do at the resort both for kids and adults. From Spanish lessons, bicycle tours, Bocce ball, bingo, aqua gym and beach volleyball, the list of activities at the resort is endless.
For fitness lovers, there is a gym and a variety of exercises classes to take part in. Of course, when in Mexico, a run on the beach is always a great idea. It was cool to see a paddleboard yoga class that looked like a fun option to stay fit while on the resort.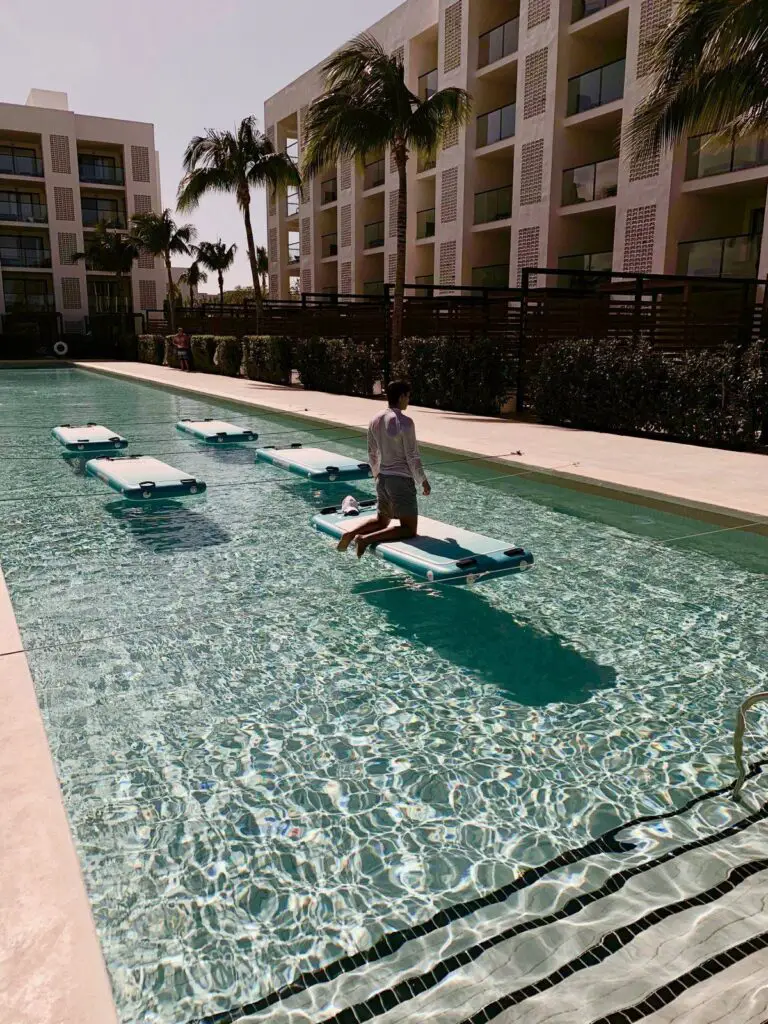 You can also book an excursion through the resort provider or your own tour provider. We went to Isla Mujeres on our trip and arranged this ourselves. We took a taxi to the Porto Juarez ferry and took the ferry into Isla Mujeres. When we arrived on the island we rented a golf cart and toured the island. Highlights included the beautiful bright blue waters and the turtle sanctuary!
In the evenings, there are nightly shows and live entertainment at the resort. We enjoyed listening to a variety of the singers and bands after our dinners each night. We never made it to a show, as our kids were always in bed early! I heard good reviews from other guests.
Finest Resort Bars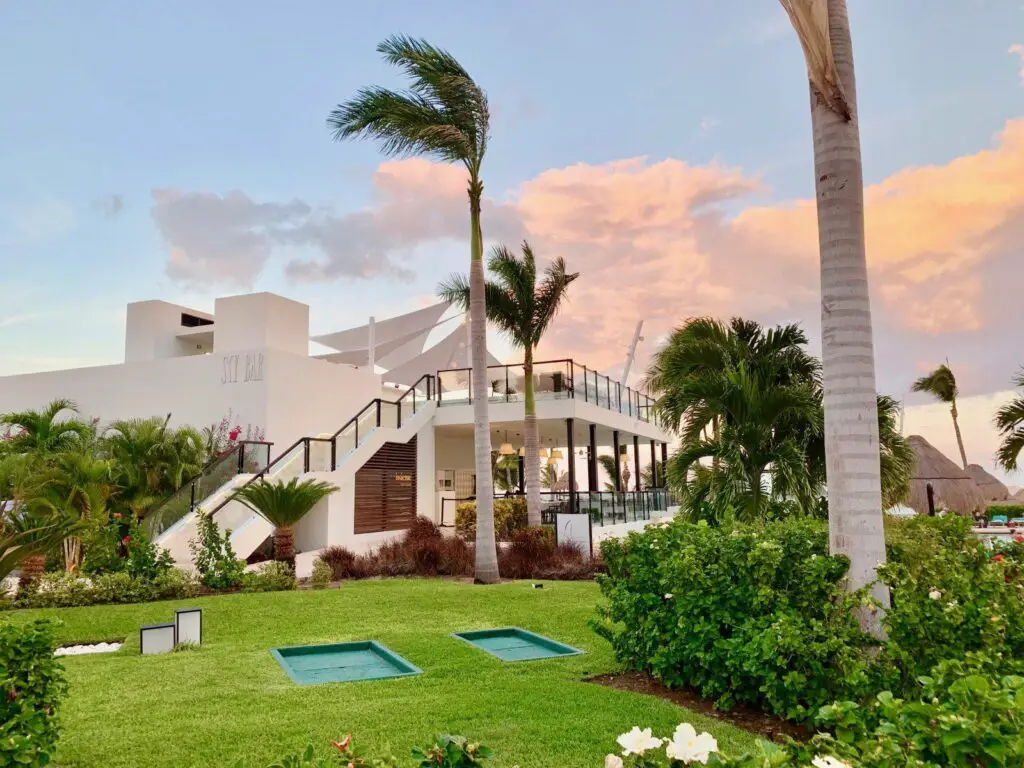 There are a huge variety of bars at the Finest Resort. Each bar has a specialty and you can find a large variety of martinis, frozen drinks, and specialty liqueurs to suit your tastes. My go-to drink on the trip was definitely a Carribean Mojito. Delicious!
Sky bar is a popular spot for a great view of the ocean. We enjoyed the main lobby bar as a place to enjoy a pre-dinner martini and let the kids run off some steam.
Finest Resort Family Photography
This year we decided to get family photos done at the resort. I was really happy with how the photos turned out! We used Seasons Photography (resort photographers) and they did a great job with our two rambunctious kids. The photo session is free and you only pay if you like the photos. The photo package is not cheap, but I was willing to pay for these awesome family memories.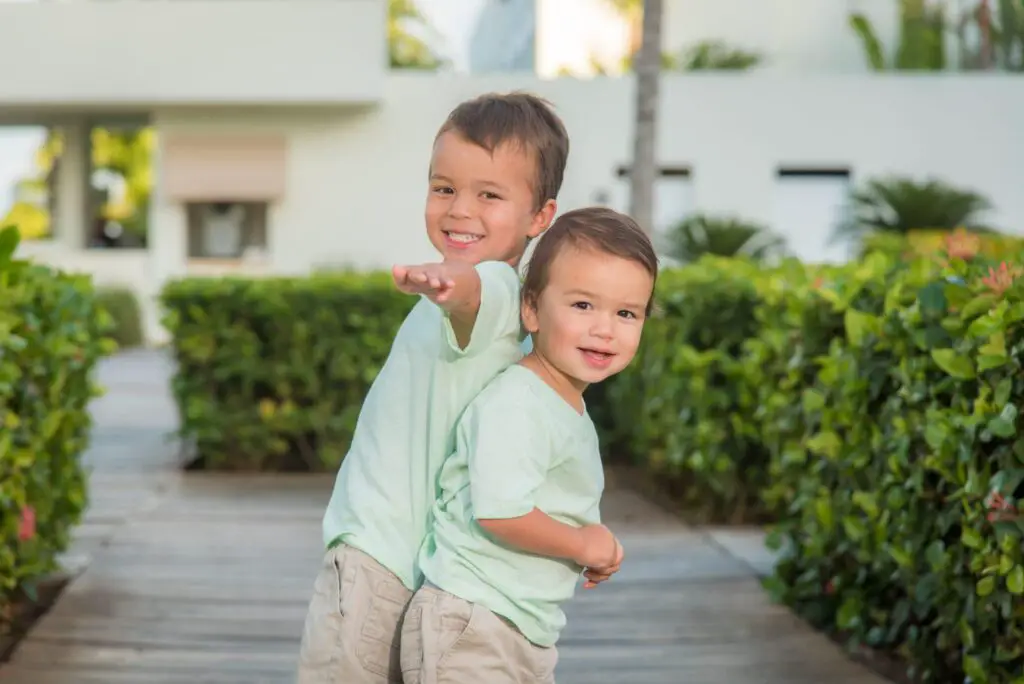 Book your stay at the Finest Resort!
Whenever I book an all-inclusive vacation I always use either Expedia.com or Tripadvisor.com (Check which one is cheaper!) Both websites are easy to use and reliable. I have had great customer service from both. You can also book directly through the hotel, however, I find the package deals usually work out to be of better value.
Want to know more?
If you are thinking of staying at Finest resort, I highly recommend you join the facebook group, Fans of Finest Resorts. I joined this group before my 3rd trip and I was amazed to see all the information on this group. If you have a question, it will be answered in this group!
Check out real reviews and pictures and hear from others who have stayed at other family-friendly resorts in Mexico. I found the information on this group to be invaluable!
Pin for later!