Taking your little ones to Disney can be such a magical experience! They can get the opportunity to meet some of their favorite characters, and they can get into the park for free if they're under 3. When going to a Disney park, there are already so many things to pack in your Disney day bag, but what about packing a diaper bag for Disney World? You don't want to carry a suitcase with you to the park, but you need to be prepared! Here is how to pack a diaper bag for Disney so you can have a magical trip to Disney with a baby.
Go for a backpack style diaper bag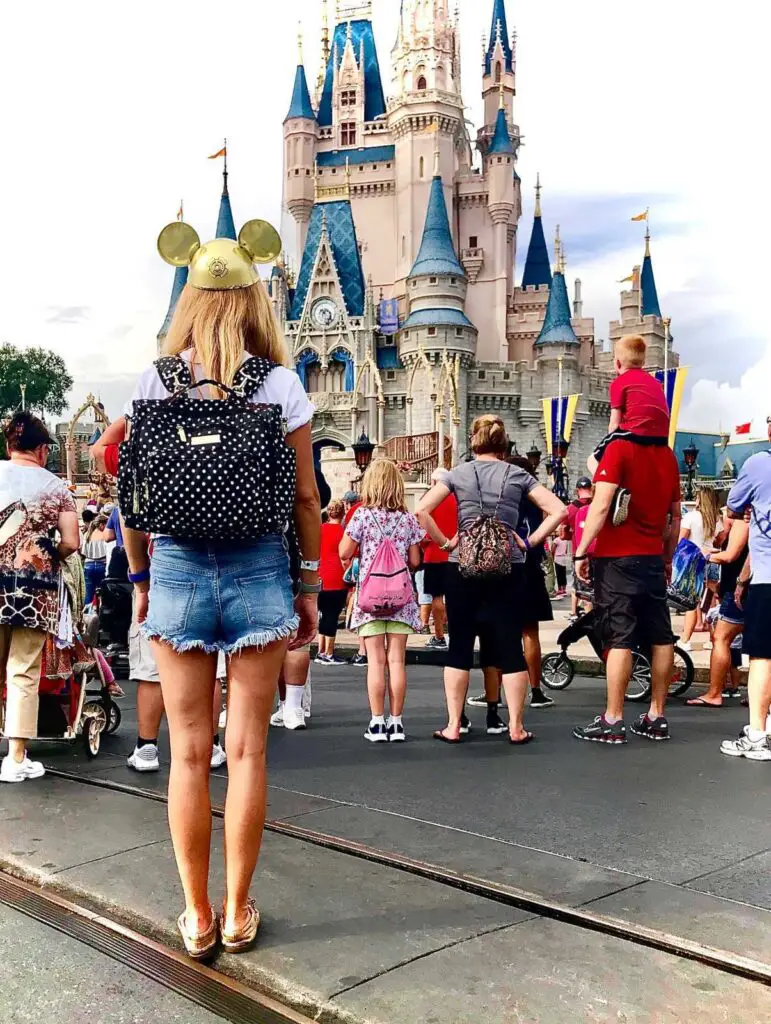 When it comes to packing a diaper bag, go for a backpack style bag so you can carry it on the rides or hang it on a stroller. You want to keep your lesser used items such as a change of clothes at the bottom and use the top for diapers and other essentials. Backpacks are ideal because they allow you to put items like snacks and cups in the side pockets for quick use.
We use the Ju-Ju-Be Legacy Collection B.F.F. Convertible Diaper Bag and love it! There is lots of great storage and they are made to last. We bought these handy stroller clips to attach the bag to the stroller and we were good to go.
Of course, if you are going to Disney World, why not consider a Disney themed diaper bag to complement your whole look 🙂 There are some adorable Disney Diaper Bags available on Amazon.
Make sure your bag is prepared for anything
Of course, you'll need to keep wet wipes and diapers on hand for changing, but what about those times you get an explosion in their diaper? You want to keep Ziploc bags or a wet bag handy to keep soiled clothes away from other items, and if you can, make sure you have a waterproof bag for easy cleanup if something spills.
Bring extra clothes
I would recommend at least two changes of clothes. Most people spend half or more of the day in the park with their kids. Between water rides, spilled food, and other messes, you want to make sure you are prepared. Keep them in Ziploc bags or a wet bag just in case so you don't have to worry about anything else in the bag getting dirty.
Don't forget a spare change of clothes for the adults! Diaper explosions have a habit of leaking onto adults and you don't want to be caught without a change of clothes yourself!
For food, we always bring a full sleeve bib. Although it's not perfect, it's much better for trying to keep the kids' outfits clean during the day. Otherwise, they would be changing after every meal!
Keep some of their favorite toys and snacks in the bag just in case
A fussy baby is going to be rough in the middle of a theme park. Keep a few of their favorite toys and snacks for when they get fussy during those long lines. Keep these near the top of the bag so they're easy to reach and you can grab them as soon as your baby starts to cry.
We love the YumBox for holding snacks on vacation (and at home!). The YumBox is great for holding a variety of snacks in a tight space. You can even hold wet foods like yoghurt. Disney allows outside food into the parks and this is one of the best hacks for keeping to your budget at Disney.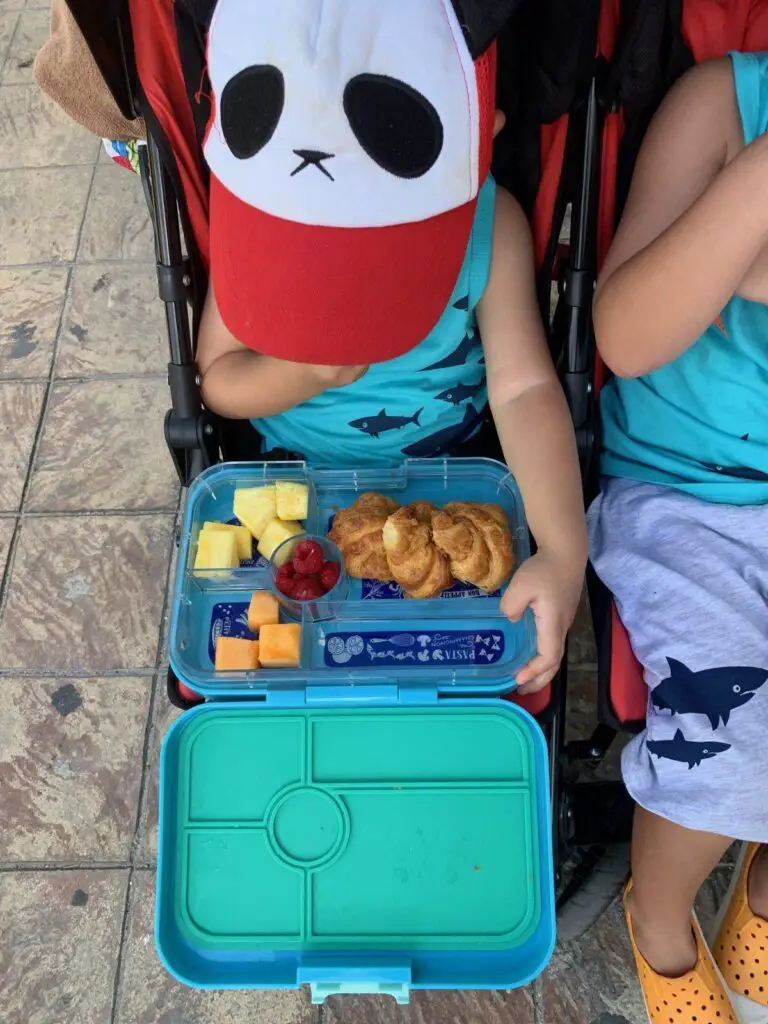 Don't forget sun protection!
Even your baby need a little sun protection. While they're at Disney, don't forget to keep their heads covered and sunscreen on. Keep sunscreen on hand so you can reapply often. Travel sized sunscreens work great since they're small and can easily fit in a side pocket.
We love ThinkBaby sunscreen for little ones. It's a natural mineral sunscreen that is safe to use on babies and provides really great sun protection. You can check out this guide to the safest sunscreen for kids for more sunscreen tips!
Consider a portable safe for valuables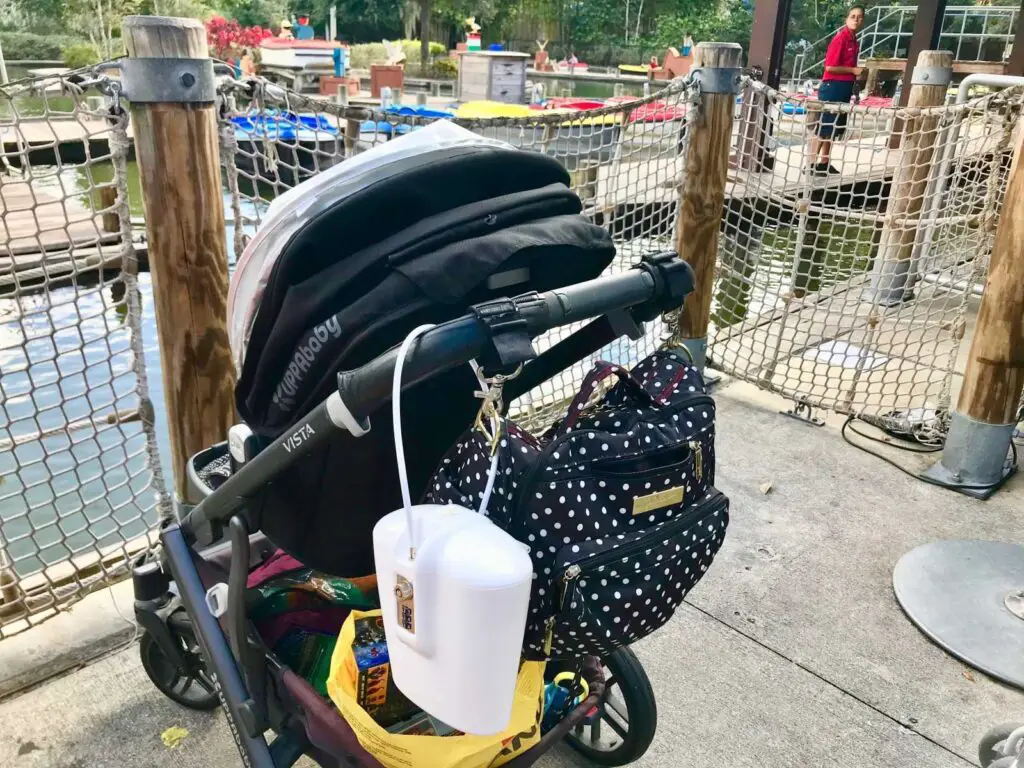 A portable safe is actually super practical at a theme park. If you are planning to leave your stroller and belongings in the stroller parking while you wait for rides and attractions it's nice to know that your valuables are locked up. We bring our safe-go portable travel safe with us everywhere on vacation. It's perfect for locking up valuables at the beach, on a cruise, or wherever you might be.
I found it great to have at Disney World because all I needed to have was my magic band and I could lock the rest of my valuables right up. The safe can be locked right to your stroller. This thing is absolutely my favorite travel hack with kids!
Take advantage of the onsite lockers
Disney has lockers available for rent. This means you don't have to cram every single thing into your diaper bag. You could consider a secondary bag on hand with more food and other essentials that you can grab if you need to.
Personally, I like to take my full size stroller with me on vacation. My UppaBaby Vista can hold a LOAD of stuff, it can even fit a Cosco Scenra Next Car Seat in the basket! I usually stuff my stroller full with everything I need for the park and then don't have to worry about a locker. I personally don't see the need for a travel stroller, since they often lack storage space.
Pack your Disney Diaper Bag Ahead of Time
Make sure you pack your diaper bag ahead of time so you can make sure you are prepared for whatever Disney throws your way! For more space saving packing hacks for your next family vacation check out my post here
With these tips, you'll be ready for any park while you're at Disney.
Disney Diaper Bag Packing List
Wet wipes
Diapers
Diaper cream
Changing pad
Water bottles
Formula with bottle
Snacks with YumBox
Extra change of clothes
Hat 
Sunglasses
Ziploc bags or a wet bag
Toys
Pin for Later