Today I'm sharing my review of the Grand Palladium White Sands, which is a family-friendly all-inclusive resort in Mexico. The Grand Palladium Riviera Maya White Sands is an awesome resort that is perfect for families looking at a midrange budget in Mexico.  We attended a family wedding at this resort complex, and prior to our trip, I spent HOURS trying to decide which of the four grand palladium resorts to stay at. After looking on TripAdvisor at a grand palladium white sands review, I decided to book this resort and I wasn't disappointed!
The Grand Palladium White Sands Resort and Spa is part of a complex of Grand Palladium hotels in the Riviera Maya. Within the resort complex, there are actually 4 resorts. This includes the Grand Palladium White Sands, Grand Palladium Colonial Resort and Grand Palladium Kantenah Resort and Spa. These three resorts have some differences in styling and room layouts but otherwise, guests of any of these resorts will have access to the amenities and restaurants at all three. The wedding we were attending was actually booked at Grand Palladium Kantenah, but we chose to stay at White Sands because of the room layout and it did not make a difference that we were at this resort at all. We were still able to spend all of our time with other guests from the wedding.
The fourth resort within the Grand Palladium Complex is The Royal Suites Yucatan by Palladium. This resort is adults-only and guests at the other Grand Palladium hotels are NOT allowed access to the amenities of the more upscale TRS Yucatan property. So if you are looking to access the amenities of the The Royal Suites Yucatan it would be important to book this hotel directly.
Grand Palladium White Sands Resort and Spa Review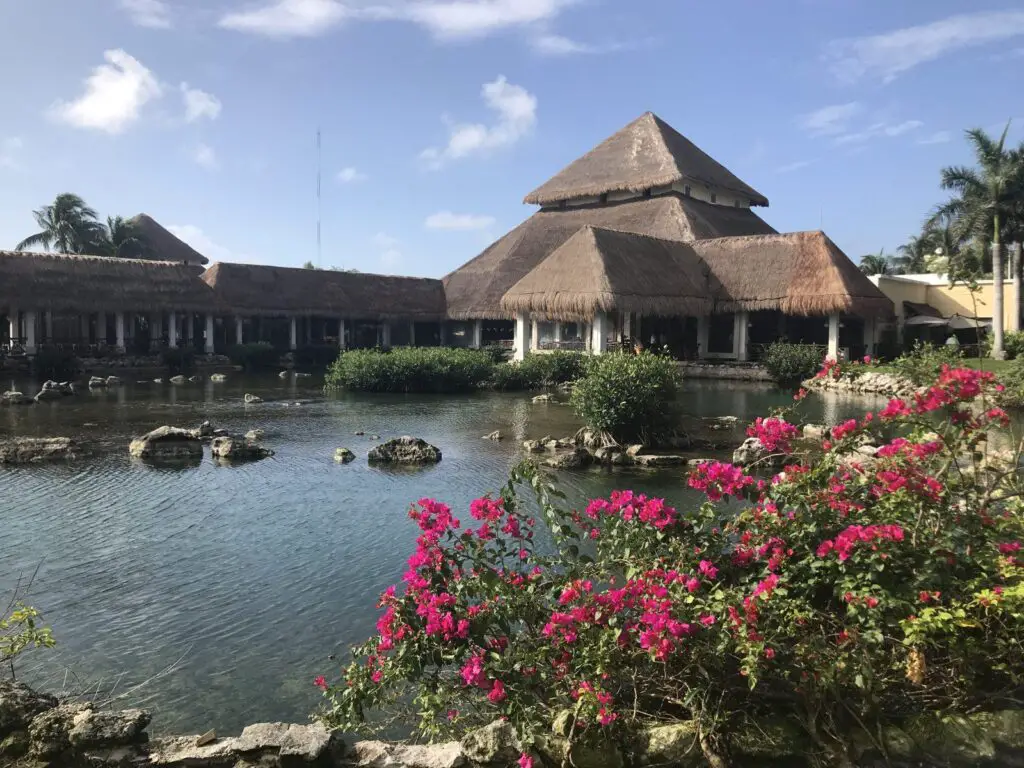 Let me just start by saying that we had an amazing vacation. The kids had a blast and mom and dad finally got to put our feet up and relax at least a little bit. This hotel offers a lot that will make families of all ages and stages happy. Highlights for us included the baby club, the kids' water park and the a la carte restaurants. The grounds of this resort are well maintained and beautiful. What we love about the Maya Riviera is that the resorts always have lush surroundings and this resort did not disappoint. 
Since this resort is essentially a 'mega-resort' with four resorts in one the property is understandably gigantic. There are golf carts that run throughout the property and are ready to pick up guests to take them across the resort. They came pretty often and I don't think guests were ever waiting more than 5 or 10 minutes. Since we brought our full-size stroller along for the trip we mostly walked everywhere. It was around a 15-minute walk to get from the White Sands where we were staying all the way over to the Kataneh lobby. We didn't find the walking too cumbersome, but others might appreciate a smaller resort.
Grand Palladium White Sands Room
Since we travel as a family instead of a couple, we decided to get a one bedroom suite. This is one of the main reasons that we chose White Sands over the other resorts as their one-bedroom suites were priced well and allowed us the extra space.  This meant my husband and I had a bedroom and the kids had a separate sleeping area. Having a separate sleeping area is one of my most important tips for a stress-free family vacation. It meant they had their own space during naptime so we didn't have to constantly worry about waking them and we didn't feel like we needed to go to bed at the same time as them either.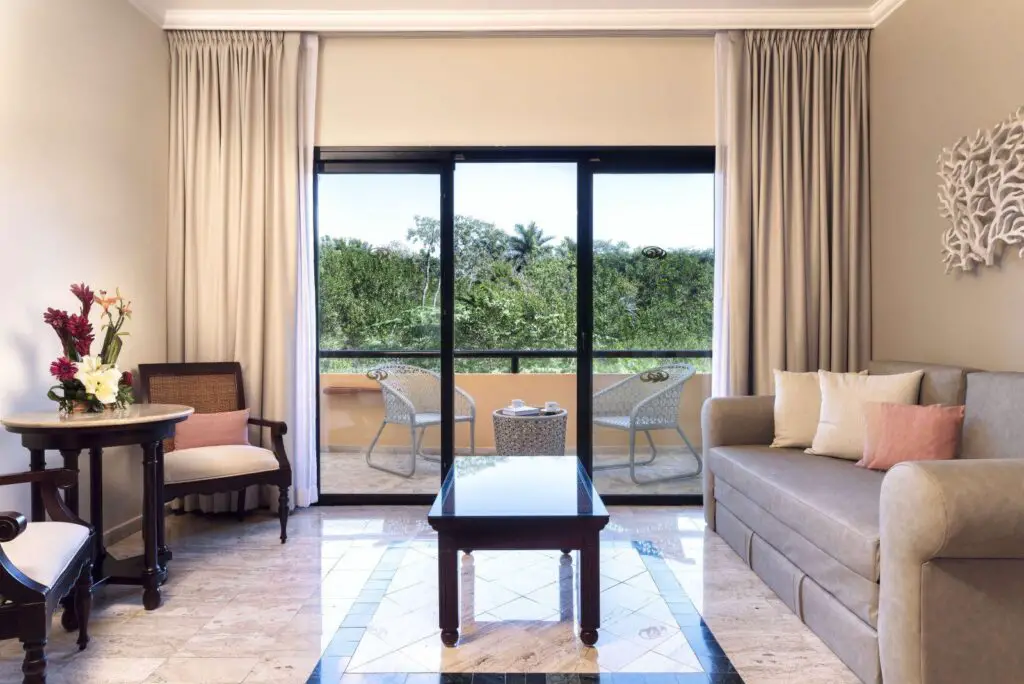 The Grand Palladium White Sands Resort rooms are arguably the most modern of all the resort options in the Grand Palladium Complex. Our room was very modern, with an amazing jacuzzi tub (my favorite!), AC, a minibar and all the other amenities you'd expect from an all inclusive like the Grand Palladium White Sands. The furniture had recently been upgraded and we really enjoyed the styling of the room. The room was well stocked with a variety of alcoholic and non-alcoholic drinks. The bathroom was large and clean. We found that the room service was excellent throughout our stay. Overall, we were very happy with the one bedroom suite, that worked perfectly for our family of four. Having the larger room stopped us from feeling crowded and driving each other crazy.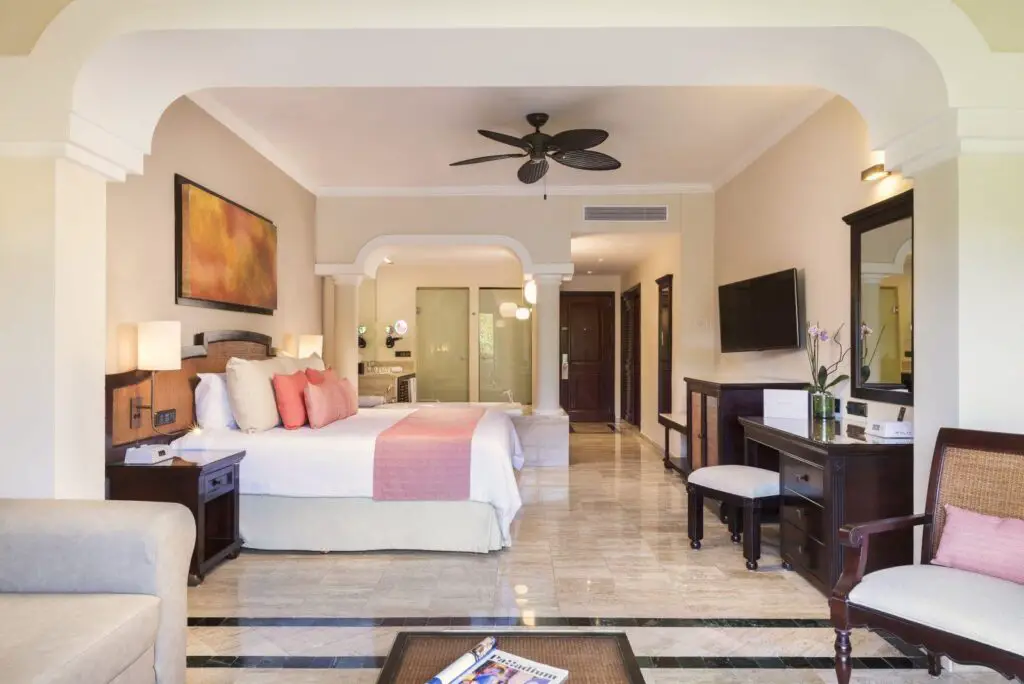 Grand Palladium Riviera Maya Restaurants and Bars
There are several bars and restaurants on the Grand Palladium Riviera Maya White Sands Property. Since we were spending most of our time as a family, we didn't get to check out many of the bars.
However, we did take full advantage of the a la carte restaurants. There are 9 of them to choose from and we were able to try most of them. The options were a bit overwhelming at times! We particularly enjoyed the Japanese and the Thai restaurants. The food was delicious and the service was awesome.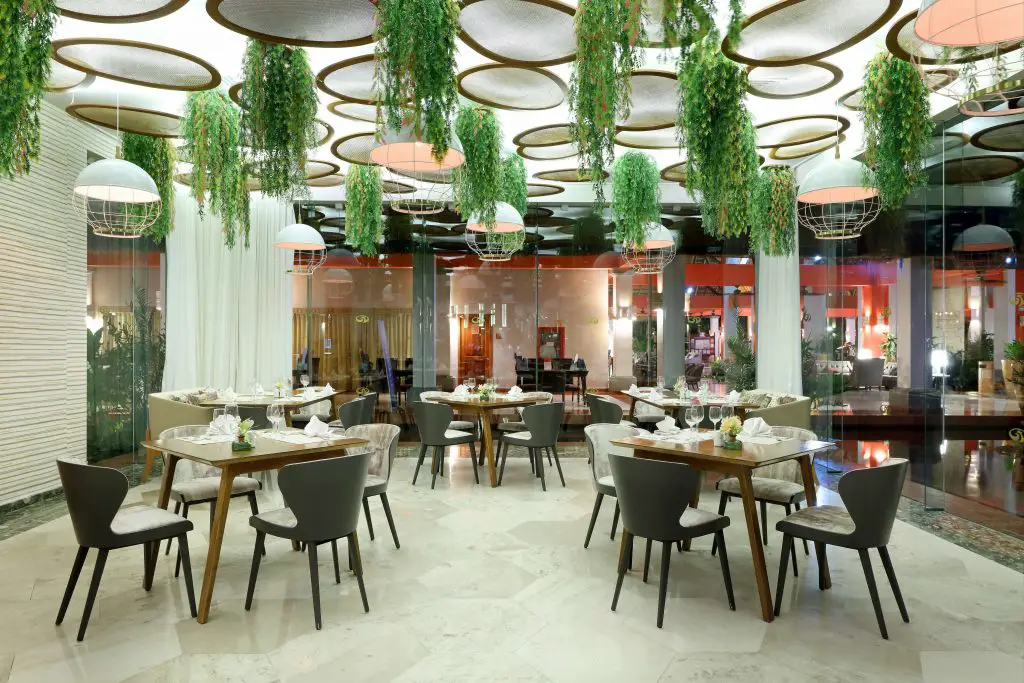 There were just so many restaurants to choose from and so many options are each restaurant. However, we enjoyed every meal we had!
We also tried out all of the buffet restaurants, which also offered a pretty endless selection. One thing that's nice about a large complex resort like Grand Palladium is that you can eat at a different Buffet for breakfast and lunch almost every day! Buffet nights are also great for picky eaters because there's always something for everyone. All my kids need are plain pasta with butter and they think we've taken them to the best resort ever! We found the food at the Grand Palladium to be much better than other resorts that we have stayed at in a similar price range. Although it wasn't as good as some of the true 5 star properties we have stayed at, for the price, I think the food offerings were quite good! 
The one negative thing I can say about the restaurants at Grand Palladium White Sands is that it took forever to get a high chair at any of the restaurants! Since so many families visit this resort, it was surprising that they either did not have enough high chairs or have them somewhere easily accessible. 
On the plus side, the Grand Palladium did offer a kids breakfast with characters on one day of our stay and this was truly awesome. The kid-themed food items were adorable and both my sons had fun dancing any playing with the characters. I really thought this was a nice touch!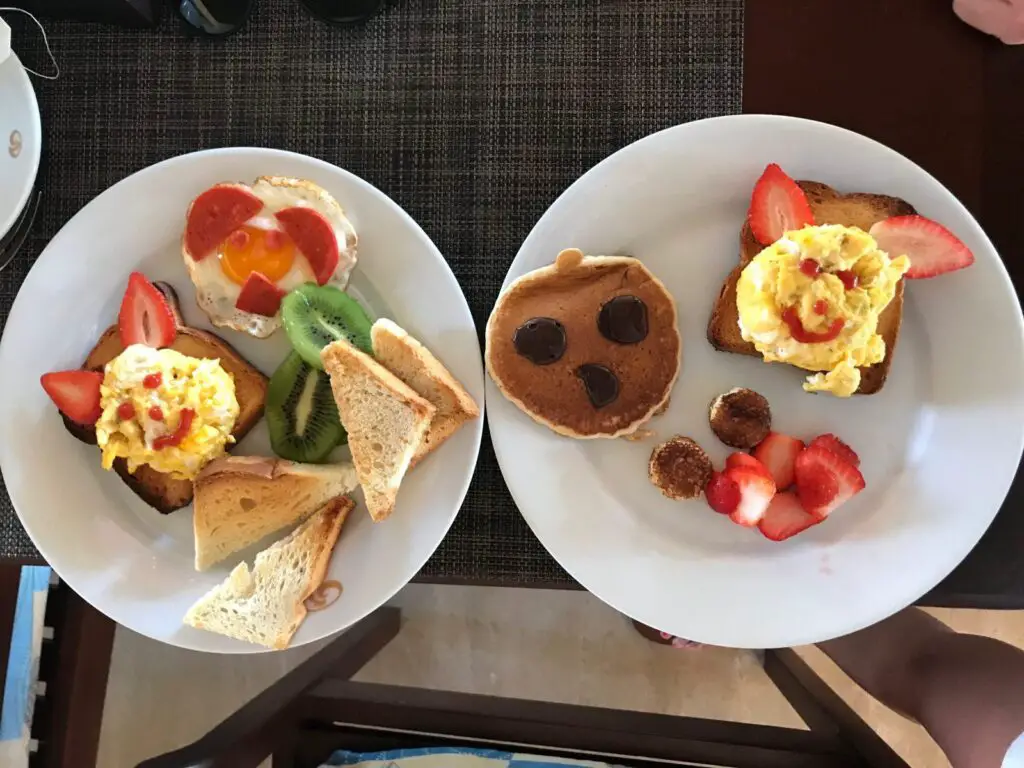 Grand Palladium White Sands Beach
The biggest draw to the Riviera Maya region is, of course, the beach. The beach at the Grand Palladium Riviera Maya White Sands is, well, beautiful white sand. The water was really nice and parts of it had a beautiful turquoise blue color. Compared to our trip to Turks and Caicos, the beach doesn't compare, but for Mexico, it was one of my favorite beaches that I have been to. We definitely spent a lot of time splashing in the water and building sandcastles as a family!
There is some seaweed but that's very common in Mexico and pretty hard to avoid no matter where you go.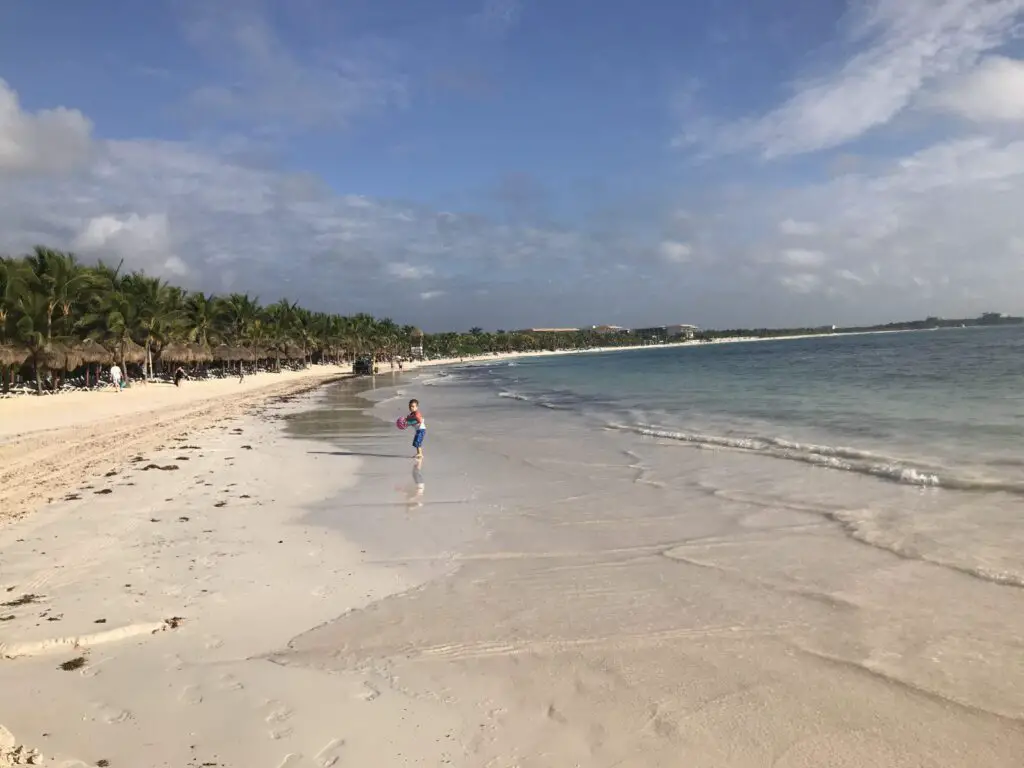 Grand Palladium Riviera Maya Pools
When we weren't at the beach, we were probably at one of the expansive pools at the resort. The main pools were not heated so it was on the cooler side. I know some people find that refreshing and the kids certainly didn't mind but I would have loved a heated pool! Our absolute favorite resort in Mexico for families is the Finest Resort and one of the things that I love about that resort is that the main pool is heated! I am a bit of a baby when it comes to cold pools, so this was definitely a negative for me. 
Otherwise, the pool area was excellent. I didn't find it too hard to get a chair which is always a struggle at some all-inclusive resorts. There were always fresh towels available which have been a problem at other resorts I have attended. I saw a lot of staff tending to guests around the pool and the service was really nice. There is at least one area with a beach entry and this is great for little kids.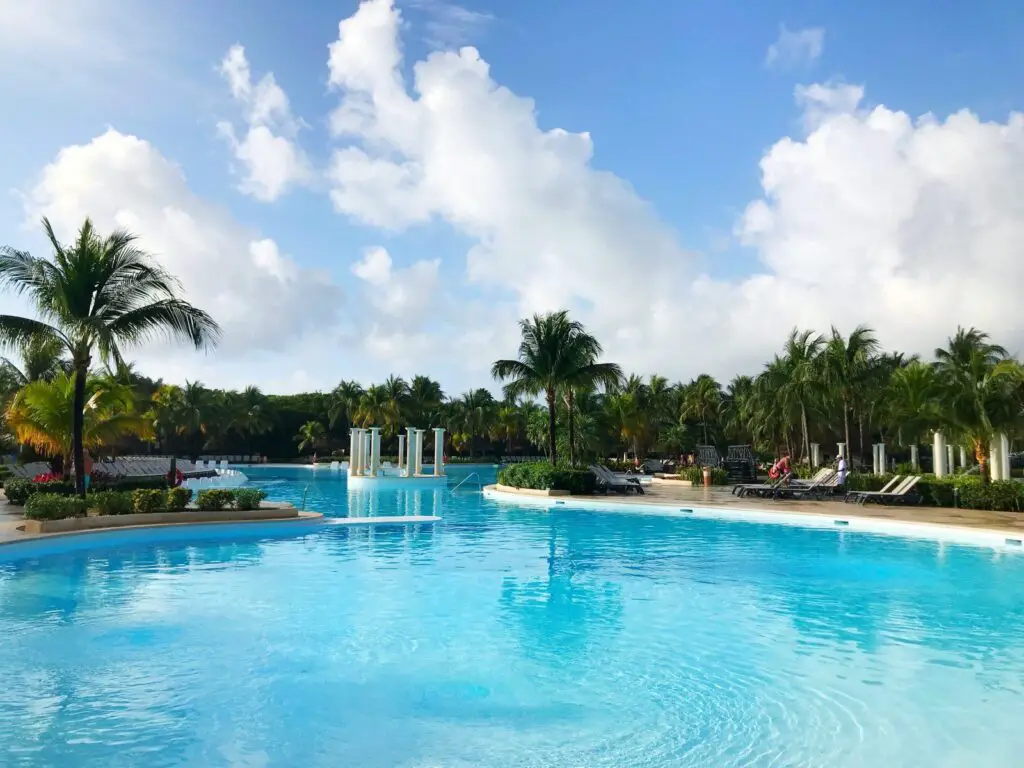 Grand Palladium White Sands Kids Club and Baby Club
One thing I love about all inclusive family vacations, something that helps me them even more relaxing, is that they all typically have some type of kids club or babysitting service. However, some clubs at other resorts won't accept kids until they are age 3 and potty trained.
At Grand Palladium White Sands, I was SUPER excited to find out that the kids club took babies as young as one year. That meant we could leave both of our kids there while we went off for some quality adult time. The baby club is well set up. It is a large room with a lot of interesting toys and a foam ball pit. My kids immediately were excited to play when we brought them in. The room is entirely enclosed so I felt safe that neither of my kids would try to escape when we left them there.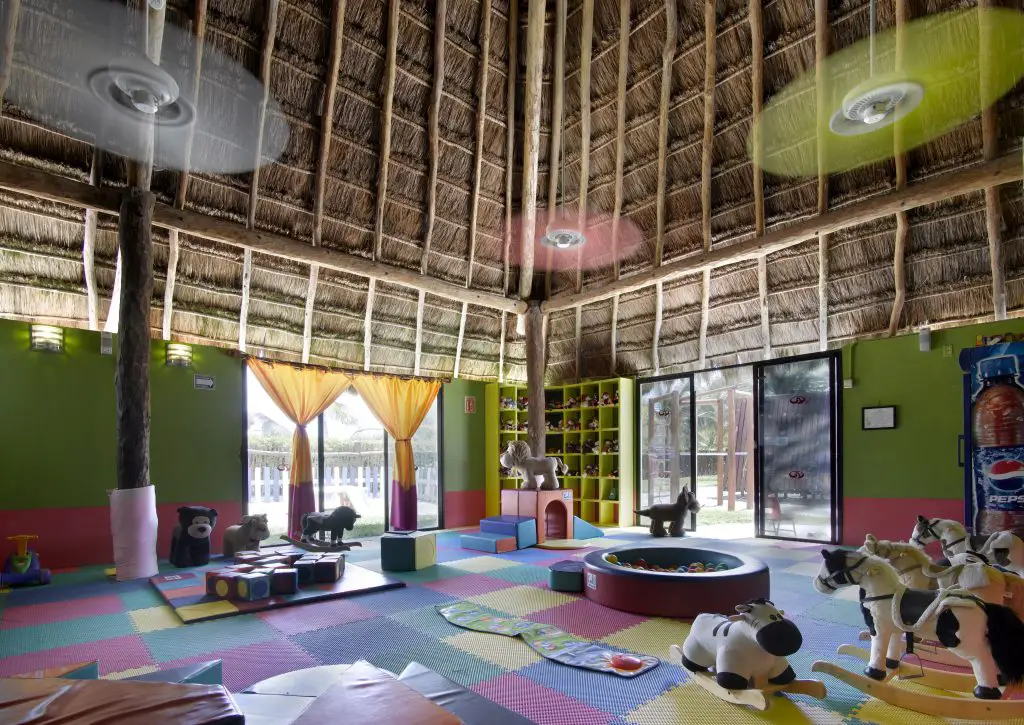 Unfortunately, I was much less excited when I discovered that the majority of the kids club employees did not speak any English. Unfortunately, being Canadian, I don't have any exposure to Spanish so I felt a little bit uneasy leaving my kids without really knowing if the staff understood what I was saying. The kids club does provide you with walkie-talkies and this is a really nice feature so that they can get ahold of you if your kids are upset. We had a similar phone system on our Disney cruise, and I really felt more comfortable leaving my kids with this setup.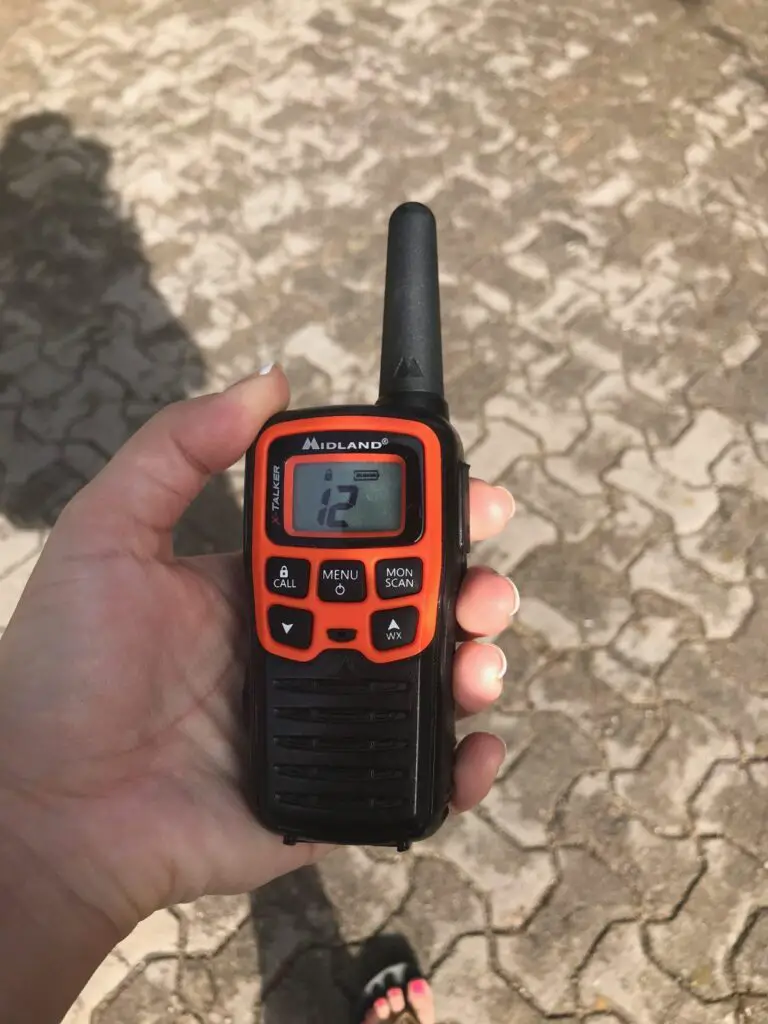 Despite the communication concerns, we still left both kids a few times for a short while so that we could enjoy a romantic walk along the beach or read by the pool but it was hard for the kids to enjoy the kids club when they couldn't understand what anyone was saying.  Communication is so important with small kids in a new environment so I think if the kids club employees had at least basic kid-level English, it would be a huge improvement.
The kids club also has a playground with a trampoline, a sandpit and some playground equipment. My kids loved to go here throughout the day and play. We would typically stay and supervise them here and it was a great chance for us to unwind after a busy day on the resort.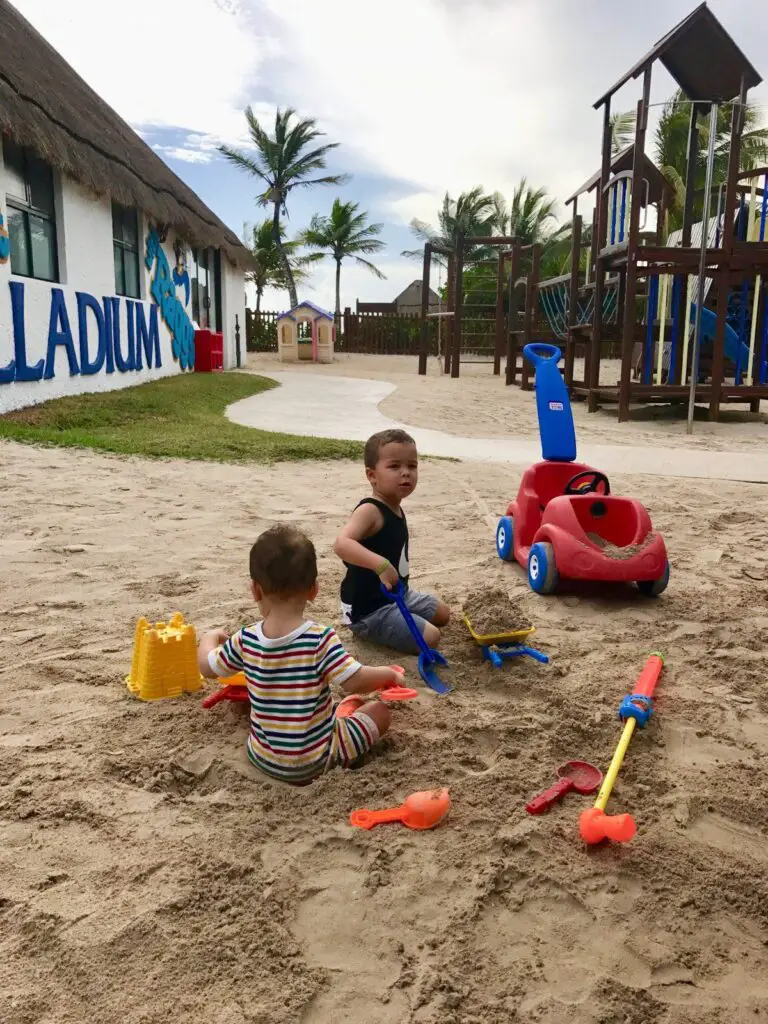 Grand Palladium Riviera Maya Waterpark
My eldest son's favorite part of staying at the Grand Palladium was the waterpark and I am now convinced that a waterpark is an absolute essential for any resort aimed at families. My eldest son could have spent all day, every day at the waterpark if we let him. He LOVED the slides, which were perfect for age 4+.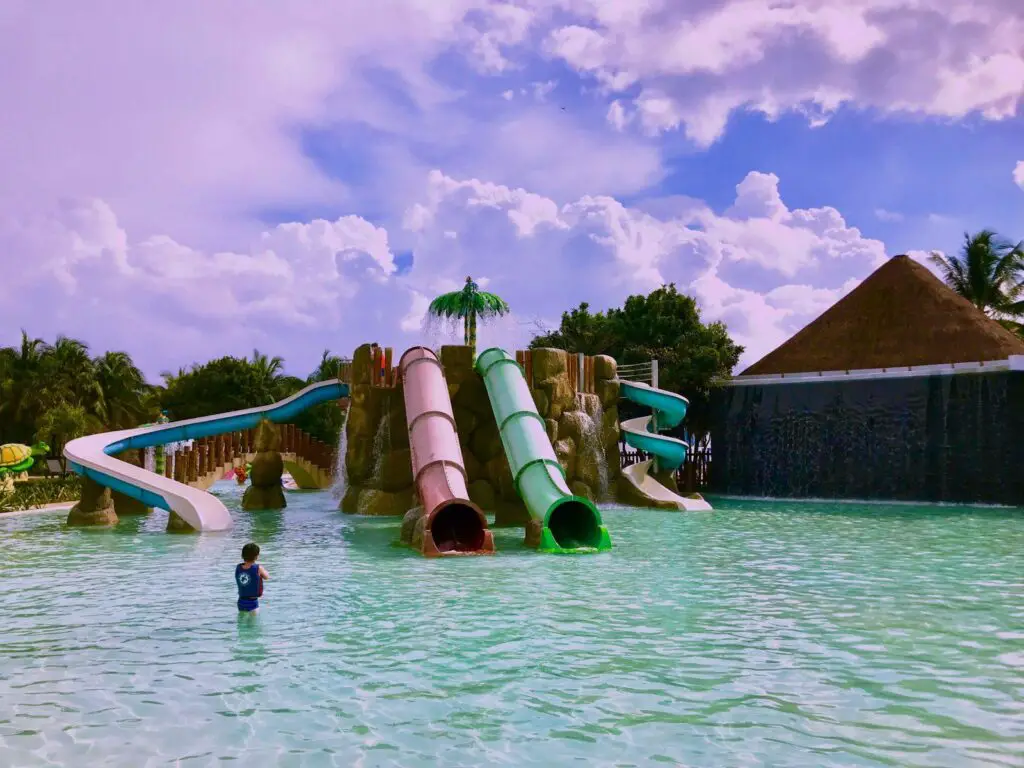 What I personally loved about the waterpark was that there was also a small baby waterpark area, where my younger son was able to enjoy some time playing in the water. This was perfect for our one year old who was pretty timid in the water still. 
Grand Palladium White Sands Spa and Pool
Grand Palladium has a beautiful spa on the resort property. As part of the spa, there is a large (heated!!) pool and a water hydrotherapy circuit. There is a cost to this feature unless you are staying in an upgraded room class. We used the spa one day while my parents babysat our kids and it was wonderful. I honestly wish that the heated pool was open to kids because that was the best pool in the whole resort.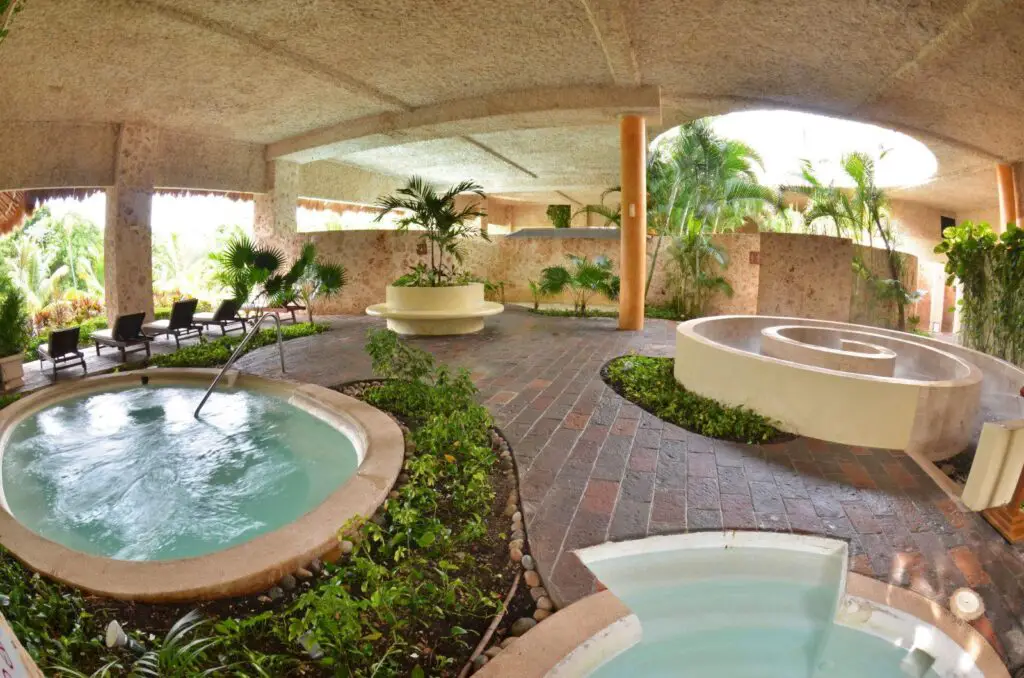 The water circuit was a lot of fun and I liked that we were free to use the circuit as many times as we wanted in whatever order we wished. My entire family raved about the water circuit, and a few of us did it multiple times.
I also had a chance to have my hair done as part of the wedding and received massage therapy in the spa. Both of these services were awesome and I would certainly use the spa again if I come back to the Grand Palladium. I would love to check out the adults-only TRS Yucatan resort. The saltwater pool built into the ocean looks incredible!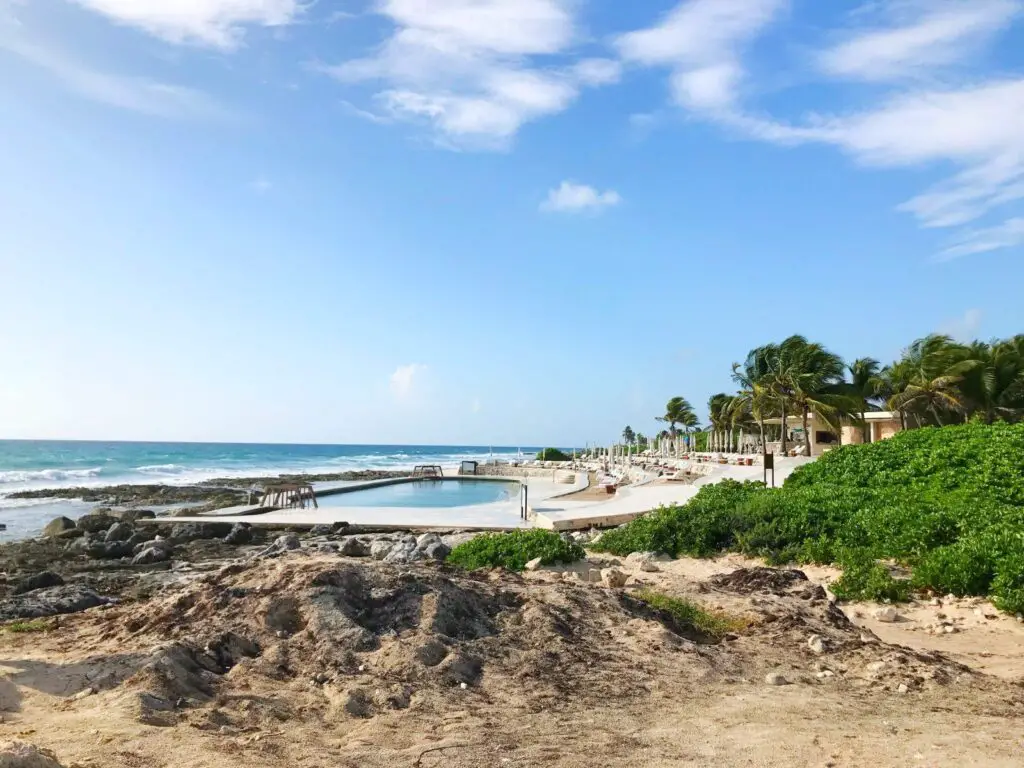 Grand Palladium White Sands: Final Thoughts
Overall, we enjoyed our time at the Grand Palladium and would probably return. If you have any questions not answered in this Grand Palladium White Sands review, just let me know in the comments!
Pin for later!