A few years ago there was a viral post that floated around the internet entitled "Vacation or Trip? A helpful guide for parents." I read this honest and hilarious guide to traveling with kids and immediately sent it to my husband and every friend I knew who had kids. Yep, we've all been there on a  'family-friendly vacation' and feeling like we are working overtime.
I've always loved to travel. Before having my first child, I was absolutely certain I would be backpacking through Southeast Asia while on maternity leave. I was constantly googling 'the best baby-friendly destinations for adventurous parents' and I imagined that wherever I went the locals would surely be smothering my extremely well-behaved baby in kisses and I would be drinking tiger beer casually watching the sunsets. My kid would probably speak at LEAST four languages by the time he was 12 months old.
Then I actually had my first child. My wonderful, feisty, and strong-willed son who never slept, cried constantly and who absolutely in no uncertain terms would have made a horrible backpacking buddy. The best age to travel with a baby? I was starting to think never.
We went on our first trip as a family to Great Exuma, the Bahamas when my first son was 3 months old. Thankfully, we traveled with my parents which was obviously a huge help. We genuinely did enjoy this trip but I laughed thinking of all those grand travel plans I had as we spent 45 minutes with the wind blowing on the beach trying to "shush-pat" our son to sleep only to have him wake up approximately 45.6 seconds later. Yup, vacation was the same as being home but with nicer weather.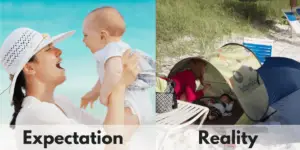 We did persist though. My son has more stamps in his passport than many adults and we have been truly blessed to be able to travel with our kids to some wonderful 'bucket list trips'. Along the way, things have gotten easier. Despite adding a 2nd (equally feisty) child, we've managed to come back from many of our 'trips' feeling like we actually had a vacation. We've come to realize that the Instagram family trip is not the reality for ANYONE and aren't fooling ourselves with ridiculous expectations for traveling with our kids.
How to Keep Calm and ACTUALLY Enjoy a Trip with Kids
#1 Choose the right trip.
Believe me, I am all about not letting 'having kids' be the thing to cramp my style, or reset all of my expectations for what my life will be like. I am absolutely not going to be going to all-inclusive resorts for the rest of my foreseeable vacations. However, I now realize that there are some trips that just AREN'T meant for little kids. Although some (particularly jaded) young parents may quip that NO TRIP is good for little ones, I beg to differ!
Here are some examples of trips that just aren't a good idea with kids under age 4: Sightseeing trips which involve museums, art galleries or places where you generally have to be quiet. City trips that are focused on eating, especially at fancy restaurants. Jam-packed trips with lots of stops and multiple accommodations. Adventure trips like ziplining, safari-ing or advanced hiking or trekking. Yoga retreats. Surf Camps. I could go on.
You better bet that I absolutely want to take my kids on some of these trips one day. We have so much on our family vacation bucket list.  And we will get there! But if you are like me, and looking for a chance to actually relax on vacation, pick a trip that is going to be a home run from the start. There is so much time, later on, to take your kids on amazing adventures!
Trips that I love for kids UNDER 4:
Cruises
All Inclusives
Airbnb by the beach or lake
Scenic Countryside
We have done a Disney Cruise, a few All-Inclusive vacations, a gorgeous Oceanview AirBnb, a Lakeside Cottage, Legoland and a sightseeing trip along the Cabot Trail in Nova Scotia. These trips all had their strengths, and each was perfect in their own way.  You can check out my post on the pros and cons of various trips with young kids here.
#2 Bring some Help! (Or hire some)
I have to admit, I never expected my husband to get excited about the possibility of taking a trip WITH my parents. Certainly, as young 20-somethings, the idea of bringing our parents along on all future vacations would have sent me into a deep depression. But here we are now, two kids in, and the idea of bringing along Nana is pretty damn appealing!
Grandparents, siblings, and friends are all great babysitters on vacation. Let's be real, the best way to turn a 'trip with kids' into a 'vacation with kids' is to not actually be looking after the kids the whole time (Don't hate me because it's true!). Of course, we still spend LOTS of valuable time WITH our kids on vacation, but those few hours of freedom allow us a chance to enjoy some much needed R&R. We often use our 'babysitting hours' for a night out to dinner or for an adventurous activity like scuba diving or jet skiing.
Of course, bringing along extra help can be costly. This is why we've been really into the Airbnb thing lately as there often isn't an extra charge for more people if there is enough space. This also gives everyone enough space so we don't feel on top of each other on the trip!
We have gone to a few all-inclusives without anyone else and hired the babysitters through the resort. The babysitters are usually the kids club employees and we have never had any concerns. We always stay in a resort with high standards in this regard. We don't even use the babysitters while the kids are awake anyway, we just get them to watch the kids while they are sleeping so we can enjoy a nice dinner and drinks at the resort.
# 3 Use the Kids Club
This goes hand in hand with item #2, but for us, a resort with a great Kids Club is a must if we don't have grandparents along. You can check out my post here on the best all-inclusive resorts with awesome kids clubs for kids AND babies. My kids always have a blast doing crafts, playing games, and enjoying unlimited hot dogs.  It's really a win-win for all of us.
One of the best kids club experiences we have had was on the Disney Cruise. The kids club and the nursery for kids 3 and under is every kid's dream. Our son STILL talks about the kids club months later. I especially liked the nursery as the staff there were obviously highly trained in dealing with little children and the communication system via ship phones with the parents was excellent.
# 4 Accommodations Matter
Cramming four people into a hotel room, especially if your kids are terrible sleepers is not my idea of a fun 'vacation.' Especially with two kids, the chances of us getting both kids to sleep without epic meltdowns is basically ZERO. We always try to choose an accommodation that has a separate area for kids. I prefer a separate bedroom, which is one of the main reasons we have been loving AirBnbs as of late. A few resorts, like our favorite, the Finest Resort, in Mexico, offers family suites with separate bedrooms (huge plus!)
If a separate room isn't possible, even a divider can be a lifesaver. On the Disney cruise, there was a blackout curtain that went across the small stateroom and this was perfect for letting our little one sleep while our older kid watched a (Disney!) movie. In Legoland, there was a separate sleeping nook for the kids which again had a curtain to keep the light out. Anything is better than sitting in the dark while your kids sleep! When we only had one kiddo, we bring a toddler travel bed.  We definitely put his crib in the washroom and several large walk-in closets to keep his area and ours separate (points for creativity!)
#5 Stay in the Time Zone
So I think this one is probably quite 'kid-dependent,' but for us, staying in the time zone is key. My husband and I both need our sleep. We are both very grumpy when we don't sleep (read: we have been grumpy for the past four years and counting..). Did I mention we also have two kids who generally do not sleep well?!?! We have a hard enough time with changing the clocks one hour for daylight savings let alone going on a long-haul flight! I'm so obsessed with my kids to sleep, I wrote an entire guide to getting your baby to sleep on vacation. 
So, although I would love to go to Hawaii and Asia and Europe with my kids it is just going to have to wait a bit until they understand how time works. And until they can both be totally preoccupied with an iPad if they happen to wake up and a ridiculous hour.  We know that if we are tired we just aren't going to have fun, and that sucks for everyone!
#6 What do your kids hate? Don't do that!
This one may seem obvious, but I am totally guilty of doing this! For a while my son was petrified of the ocean. He hated the waves splashing up against him and he hated the way the sand stuck to his hands and feet. Oh and sunscreen? Not happening! Basically, he hated the beach. Of course, I love the beach so we kept going to the beach. Each time more disastrous than the next.
You know your kiddos and what they will enjoy and what they won't. Although I'm certainly not advocating for bending over backward to your toddler's every demand, if you want to score a home run on vacation chose something your kids' love, or at least don't hate.
#7 Not too hot!
Although we recently had a great time in Costa Rica staying at a beautiful Airbnb (Casa Makasi), this vacation was hot, hot, hot! Thankfully our toddler-friendly villa had a pool because it was not fun to do anything in the middle of the day.  Kids get cranky when it's hot. Adults get cranky when it's hot. Adults like to nap when it's hot. Kids like to protest naps when it's hot. You see how this turns out.
One of our best trips ever was to Cape Breton, Nova Scotia in August. Fellow Canadians will know that although August is summer in Nova Scotia the weather is still a bit hit or miss. Certainly, the ocean is pretty chilly and although my son loved splashing around, I stayed dry. These moderate temperatures were actually perfect for young kids. No one was ever too hot, and we were all comfortable walking around outside.
#8 Nap on the Go
If you have a kid who is still taking two naps a day there will not be much point in going on vacation if you have to be stuck in a boring hotel room for hours on end. Solutions to this problem are 1) rent a toddler-friendly villa as above 2) bring your (sleeping) kids with you. Since my youngest would basically ONLY nap 'on the go' I am an expert at getting my kids to sleep in the stroller. I tend to use the stroller a LOT for naps on vacation. I will usually park the stroller next to my beach chair and chill out.
We even brought our awesome travel double stroller on the Disney cruise, despite MANY people (and Facebook forums) telling me I was crazy. It worked out just fine. We also do a lot of car naps in between destinations if we are doing more of a sightseeing trip. Both of our kids (thankfully) sleep well on the go!
#9 Go on a vacation WITHOUT your kids.
Ok, what?! Yes, you heard me right. There are just some things that will never be the same going on vacation WITH your kids. Although I absolutely love my kids to death, spending some time away from them as absolutely refreshing for the soul. We went on our first 'kid-free' trip 3.5 years after our first son was born and it was such a great time. We are hoping to make it a yearly tradition (Mom, if you are reading this, hope you are good for babysitting!).
Read more about all the reasons you should go 'Kid Free' on my post about vacationing without your kids.
#10 Be Realistic!
Let me repeat. Instagram is not real life. Instagram is not real life. Instagram is not real life.
On every trip we have gone on we have had some genuine 'instagrammable' moments. Our two kids have developed a special bond, our eldest has been in awe of all the sights and attractions. My son BEAMING when he got to meet a minifigure character at LEGOLAND will forever live in my memories. The joy that we see in our kids when they get to try something new fills up our hearts.
Our kids also cry (ALOT), throw sand, steal each other's toys, misbehave at dinner, eat only carbohydrates, and take FOREVER to fall asleep.
'Vacations' with kids are all about filling up our hearts with those moments to treasure and accepting that there are also going to be less than perfect moments too. So get your coffee ready, your running shoes on, and pack an extra dose of patience, your trip with kids is the new vacation, and it's going to be a wild ride.